The Best 'Bachelorette' Recap You'll Ever Read: Be Still, My Cold, Dead Heart
Well, friends, we did the impossible. After 11 weeks, two Bachelorettes, and one global pandemic, we've made it to the finale! Tayshia is down to her final two three men. As per usual, Chris Harrison is doing the most in his intro voice-over:
Chris Harrison: Will she get engaged to her soulmate, or will she DIE A LONELY OLD SPINSTER?!
Damn, Chris. I know we're living in the time of COVID, but there are other men on this planet if she decides she's not into these guys!
We pick up where we left off, with Tayshia having a sidebar with a producer. She's being filmed behind some blinds after being blindsided by Ben. You gotta love the producers' commitment to imagery and metaphors on this show. They had to get them where they could, because lord knows Ivan wasn't going to liken love to his testicles morphing into icicles on his fantasy suite date. Ben is sitting awkwardly on Tayshia's couch. He says that by looking at Tayshia's eyes, he sees there's more under there. Kind of a strange way to point out under-eye bags, but Ben's never really had a way with words. I guess it beats the alternative I'm used to getting:

Who can relate?
Ben's talking a lot about his "love" for Tayshia, but isn't really saying much. When Tayshia pushes back and asks him if he's always going to run when things get hard, his response is, "I blew it". Accurate, but not promising! Instead of sticking with her gut and sending him home for a second time, SHE INVITES HIM TO THE ROSE CEREMONY! They then walk out together, hug, and Tayshia initiates a very passionate kiss. Who knew she was a sucker for a moose knuckle?! While I definitely don't agree with her decision, I can't wait to see Zac and Ivan's reactions when Ben rolls up to the rose ceremony.
The Rose Ceremony
Ivan walks into the rose ceremony with the pre-elimination confidence that has become a hallmark of this show. Feeling the pressure from the producers for not delivering the required love similes on the ice bucket date, he offers the consolation prize of saying it feels awesome to be "open" and "vulnerable" (or "vonurble", as Tayshia would say). Not for long, buddy. Zac says he's ready for a proposal. Ben walks in with a goofy grin on his face, as if he expects Ivan and Zac will be happy to see him. I think Bennett gave the book about emotional intelligence to the wrong guy.
Ben:

Ivan & Zac:

Like many people who've gotten dumped, Tayshia proceeds to explain Brendan's absence by saying "it just didn't work out." Control that narrative, girl! She's about to start handing out roses but then stops and asks Ivan if they can go talk. Ivan's face says he knows what's coming next. They then have a cryptic talk about religious differences, but give no specifics about said differences. Is Ivan a Scientologist? That's the only legitimate theory I can come up with for this abrupt dismissal.
All kidding aside, it may be that Ivan is atheist or agnostic. Tayshia has always been open about her devout Christian beliefs, so it's possible this is the reason she sent Ivan home. It'd be a shame if that were the only reason she eliminated him, but, let's face it, she's been favoring Brendan and Zac for weeks. Given the honest conversations Tayshia and Ivan had about race, it seems strange, and frankly frustrating, that ABC isn't allowing an unfiltered exchange about religion. Then again, this is ABC we're talking about, so maybe that's asking for too much. Ivan takes the elimination in stride like the angel he is. Love you, Ivan! See you in Paradise.
Ben Meets The Family
The next day we catch up with Tayshia writing in her burn book journal. She meets up with her family and I remember how much I enjoyed Tayshia's dad, Desmond, eviscerating Colton when Tayshia was competing on his season. Like most viewers, Desmond doesn't have time for BS. Tayshia tells her family that they'll be meeting Ben, whom she had previously sent home. Desmond is understandably skeptical and wants some answers. This is gonna be good.
Ben meets with Tayshia's mom, Rosario, first and keeps talking about how he's never felt this way before, and the way Tayshia makes him feel, yet he can't seem to identify the feeling(s) in question. Everything he says is surface-level and there's no real substance to any of it. It seems like Ben is in love with the idea of love, more so than Tayshia specifically. It doesn't go much better with Desmond.
Desmond: What do you see in Tayshia?
Ben:

Ben also tells Desmond about how he and Tayshia talked about "showing up" for Tayshia. Does he think that physically coming back after being sent home is what showing up means? She meant showing up for her emotionally, Ben!
Zac Meets The Family
The tone of Zac's meeting with the family is completely different. Instead of making his answers all about him and his feelings, he expresses his love for Tayshia by showing love to her family. He even seems to win over Desmond, who says he's going to be tough on Zac. Instead of saying the things he thinks Desmond wants to hear, Zac is honest about his failed marriage and is able to reflect on his past mistakes, even weaving in a reference to the standards Desmond has set and how Zac wants to live up to them.
I gotta give it to Zac; he is incredibly authentic and eloquent. He talks about marriage with Tayshia like it's a real thing that's going to happen, not some abstract idea like Ben does when he broaches the subject. Zac is making my job as snarky recapper very difficult, but he totally won me over — until he started pretending he was an authentic New Yorker with that whole pizza charade. Zac, you're from South Jersey! Rep some hoagies like the Philly boy you are and cool it with the tired NYC cliches.
No one:
Zac:

The next day Tayshia hears a knock at her door. Fearing that Bennett has gone full American Psycho, she reluctantly answers. It turns out to be her dad, which isn't a much better sign. He tells her that the family doesn't want her to make the biggest mistake of her life by rushing into another marriage. Tayshia starts to break down recounting how her dad was there for her in the throes of her divorce. It was raw and one of her realest moments thus far. She's starting to have doubts.
Zac & Tayshia's Date

On their date, Zac reassures Tayshia that he's ready to take the next step, but Tayshia seems skeptical. Damn, Desmond really got to her! They find out that their date is to learn a wedding dance routine and Tayshia looks about as excited as Brendan did when he met Neil Lane to try on wedding jewelry. Gotta love karma. She keeps getting in her own head and is struggling to relax into the dance moves. Zac is patient with her and they actually pull off a sweet little routine. I'm honestly impressed they learned that in one lesson. It took me and my husband about two months to put together a solid first dance. Respect.
Later that evening they have a casual night in, and Tayshia is honest about her fears that Zac's feelings will change. He tells her that he is nine years sober today and that his sobriety allows him to not run away and that he'll love her no matter what she decides to do with her life. Ok, why am I crying in the club right now? And by "in the club" I mean "on my couch".
Tayshia seems convinced, and frankly, so am I. It's one of the most authentic exchanges we've ever seen on this show and it's nice to see a couple talk about real-life issues for a change. "I think she believes in me," Zac says, and I start to tear up. WTF is happening? Is this show…actually making me feel genuine human emotion?
Me watching this season of The Bachelorette:

Ben & Tayshia's Date Breakup
When Ben meets up with Tayshia "the next day", she is wearing the same tragic denim number she was wearing when her dad came to talk to her. So she's either running out of wardrobe options in quarantine or there's a bit of a continuity issue here and she went to dump Ben after talking to Desmond. She tells Ben that her heart is with Zac and, as usual, Ben looks like a deer in headlights. He takes it pretty well, albeit with way too many "umm"s, and says he's happy for her. I do feel bad for Ben. He's a sweet guy and he deserves to find love, but he needs to work through some of his issues with self-worth before jumping into a serious relationship, let alone a marriage. We're rooting for you, Ben!
The Big Day
It's engagement day! Tayshia and Zac are getting ready and Neil Lane is back to shill his gaudy rings. Zac looks handsome in his blue suit. Tayshia meets up with Chris Harrison and the exchange is kind of odd. She says she questions if she's ever been in love until now and then bursts into tears that don't really look happy. Even Chris seems confused.
Chris: What is going on?
Tayshia:

The proposal set-up is kind of a hot mess. The area rug from the Airstream trailer fantasy suite isn't helping. Tayshia tells us she feels stressed, overwhelmed, and scared. So basically all of the things one should be feeling right before getting engaged after knowing someone for 30 seconds. She says she doesn't know if she's doing the right thing. I'm a little concerned. Is she feeling the pressure of not wanting to disappoint ABC and the fans given the whole Clare debacle?
Things improve when Zac arrives. His engagement speech is really personal and from the heart. It's undoubtedly the best one I've ever heard on this show or The Bachelor. Tayshia starts her speech and after telling Zac that she knows she told him she loved him, takes an extremely long, producer-suggested pause. I admit they got me for a second and I was scared she was bolting. But she continues and tells Zac she wants to jump in fountains all over the world with him and star in endless FabFitFun endorsement deals together. He gets down on one knee and she says yes! Like the true New Yawkah he is, he yells "TAXI!" and the two ride off Flintstone-style into the desert sunset in a cardboard cab the way god and Chris Harrison intended.
And there we have it! Unfortunately (or fortunately, given the endless hours of our lives ABC takes each year) we have no After the Final Rose to catch up with Tayshia and Zac, but it looks like they're still going strong. This was an excellent season with some of the most mature and authentic men we've ever had. Keep it up, ABC! Thanks for joining me this week, guys, and congratulations to the happy couple!
Images: ABC/Craig Sjodin (2); Giphy (6)
The Best 'Bachelorette' Recap You'll Ever Read: Quarantowns Week

Welcome back to night two of The Bachelorette! Well, it's not so much a "welcome back" as it is an intense feeling of being held in a hostage situation by ABC producers and their sick talent for manipulating plot lines out of literally nothing. But at least Hometown dates are finally here! That means the end is in sight. Praise be. 
This is usually one of my favorite episodes of every season, because by meeting their families the psychopaths who raised them it allows me to really get to know the guys on a more intimate level. On Monday night Tayshia narrowed her hunt for a husband down to the final four: Ivan, Ben, Brendan, and Zac. Normally, if we were living in a world that didn't double as some nightmarish hellscape, this would mean that Tayshia would be traveling to each of their respective hometowns to get an up close and personal look at the origin of each of their deep-seated emotional issues, or at least the start of their steroid addictions. But in quarantine times obviously that format has to change. So, I have a lot of questions. 
For one, are they going to travel to said hometowns in full-on hazmat suits? Or is ABC truly expecting all of their families to quarantine before filming this? Like, they are fully expecting parents in their 60s to just hop on a plane and risk their safety during a public health crisis… for this? I already learned back in March that my mother wouldn't even share her Costco bulk orders of toilet paper with me, let alone fly across the country and potentially expose herself to droplets and small talk with any of these idiots. That said, I suppose they must quarantine because it would be terrible press if The Bachelorette was a super-spreader event. Super-spreading of venereal diseases is always cool with them, but not COVID, that's for sure. 
And indeed they are quarantining! Within the first few minutes of the show Chris Harrison tells us that there will be no traveling to hometowns. Instead, ABC is bringing the hometowns to the La Quinta Inn. I for one cannot wait to see how these guys decide to cobble together their own hometown dates with whatever spare objects they packed and loose trash they can find around the hotel's premises. This should be interesting.
View this post on Instagram
Brendan's Hometown
Brendan has the first hometown date of the week and I'm truly interested in seeing more of Brendan's connection with Tayshia. I felt like they had a moment at the beginning and then we never saw him onscreen with her again. Case in point: I didn't even know how to properly spell his name until this episode. That's a problem. 
As it turns out, Brendan was unable to secure any adult members of his family for the hometown date. Instead, they pulled up curbside and deposited their district's tribute—in this case a small child named Aliyah. "Aliyah" is supposedly Brendan's niece but until I see A) a birth certificate or B) a legal guardian or parent, I will remain suspicious that this is even a member of Brendan's family at all and is not actually just a random kid ABC found walking around the hotel's property line and paid $20 to be on this date. 

Brendan sets up a carnival date for himself, Tayshia, and "Aliyah," which is cute but represents his home state of Massachusetts… not at all. I guess Brendan was thinking if they could handle a totally unsupervised day (minus the film crew, ABC producers, and probably a CPS caseworker) of watching "Aliyah", then the two of them are ready to get married and start a family. I'm not 100% sure I agree with that logic, but I will say Tayshia handled "Aliyah's" withering stares like a f*cking champ. 
Despite all of this, I don't see any chemistry between the two of them. I think at one point one of them says something like "listening to music is something I can see us doing outside this" and it's like, I SHOULD HOPE SO. Were they planning on sitting in silence the rest of their lives? Is that what they imagined marriage to be? I'm seriously questioning how they'd describe their ideal person. Apparently it's something like "likes music as a concept and does not immediately spit in a small child's face." The foundation of all great love stories, people!
Eventually we learn that "Aliyah" does have parents and in fact those parents are related to Brendan. What a relief. I know this to be true because Brendan's brother looks exactly like him. Except his brother looks like he drank all of the whole milk growing up. 
Brendan's brother seems to think Brendan is mature enough for marriage and approves of Tayshia. It's weird that he phrased it like that because Brendan is 30 f*cking years old and has definitely been married before. Whatever. I'm sure Brendan's brother really meant that and isn't just saying that as a precautionary CPS measure, since he did leave his child with these two all day. 

Zac's Hometown
Zac's hometown is up next, and again there seems to be a bit of a stretch when defining one's "hometown." He says he's going to bring New York City to La Quinta, and he says that with all of the confidence of someone who most definitely spent his formative years in suburban New Jersey. This feeling is reinforced when Zac hails a cab like he's an extra on the set of Mad Men instead of calling an Uber like a normal person.
He takes Tayshia to a "true New York" bagel stand that has more fresh fruit than a Dole farm, and not one single browning banana or apple covered in a fine layer of dust like the New York bagel stands I'm accustomed to. Then there's the New York-style pizza he offers her, which was most definitely cooked in California, if not the CiCi's down the street. Quick question, Zac: have you ever actually been to the city before? Because I'm not convinced, buddy!
ZAC ON THIS DATE RN: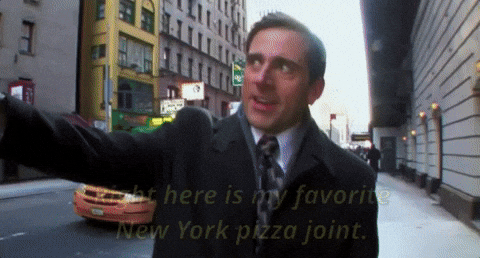 It's clear Zac knows absolutely nothing about New York culture when the final stop on his city tour is to hop into the hotel's fountain and dry hump Tayshia to completion. If this was a true NYC date there would be a homeless person mumbling vague threats under their breath right next to them, and they would be moments away from getting a citation from a disgruntled police officer.
Eventually, Tayshia gets to meet Zac's actual family, and it's fun watching her explain this date to his parents who are also supposedly from the New York area. "How did he show you New York?" "Well, we walked around in a cardboard box and made out in a fountain." Actually, you know, that might be a more accurate New York experience when described that way.
View this post on Instagram
Even though Zac's brother is just as skeptical of this relationship a as I am of Zac ever having spent an actual day in NYC, the rest of his family seems to be on board with Tayshia. His mother especially looked grateful that she might actually get some grandkids out of this, or at the very least spend an afternoon in the same general vicinity as Chris Harrison. 
Ivan's Hometown
Let's all just take a moment to feel grateful that we finally get to have some uninterrupted Ivan time on our screens this week. Truly, watching his adorable, normal face on my screen is putting years back on my life. *takes deep peaceful sigh* Okay, moving on. 
Their date is very cute and down to earth. They cook a meal picked out by his little niece, whose cuteness is no doubt being closely monitored by Aliyah. If she rushes their date with a piñata and some sassy one-liners we'll know she's feeling upstaged. Honestly, the whole thing feels very normal. At one point Tayshia even says that this date feels like something that they'd do in the real world, and it does. I actually feel like I'm watching a real, fully-formed romantic relationship on my screen, and not just some gimmicky sideshow that makes me feel better about my personal life but worse about the human condition.
Ivan lets it slip that Tayshia is only the second girl he's ever brought home to meet his family. This is good intel to have so that after I slide into his DMs and charm him with my nudes sparkling personality I won't be surprised to learn that I'm the third girl he's bringing home to mom. 

I have a very real connection with this face oh my goddddd.
As far as meeting the family goes, Tayshia shows up in the exact same dress as his mother and Ivan's dad brings up Tayshia's divorce. So, like, it could have gone better. The real heartwarming moment from this date is when ABC brings out Ivan's brother who'd recently been incarcerated. It's unclear whether ABC commandeered his freedom specifically for ratings this purpose or if he'd been released prior to this episode, but either way it's a moment. It even made me tear up a bit. Honest! My dog looked so alarmed she started barking and knocked over my wine, and I wasn't even mad. 
Ben's Hometown
Though Ben is from Indiana, he decides to make his hometown where he feels at home most: Venice Beach. Okay, that's not how this works, Ben. I feel most at home on a rooftop in Miami drinking rosé by the bottle dancing my face off in a crop top, but that doesn't mean I can claim it as my hometown! 
View this post on Instagram
You're right, Ben. This feels just like Indiana!
Honestly, what's more shocking is that Ben's idea of an authentic good time is something straight out of any romantic comedy montage reel. Like, I would not be surprised if he presented ABC producers with the storyboard from Billboard Dad and was like "no, this is how I grew up, honest!!" They go rollerblading, take wellness shots at a juice bar (shudders), stumble upon their couple caricature, and spend the day at the "beach." By "beach" I mean another pool date that's masquerading as something exciting. Is anyone surprised? 
Ben doesn't have a great turnout with his family for this date, but he does bring his sister and a famous-adjacent friend who just seem excited to get sh*t faced on The Bachelorette. Relatable. 
They both seem over the moon that a human woman is willing to put up with Ben's sh*t, and that feels like a giant red flag to me. Perhaps what's most disheartening is that despite all of the chemistry Ben and Tayshia definitely have, Ben's friends have to coax an "I love you" out of him like I have to coax my blackout friend to drink water after 1am. It doesn't go great. In the end, he isn't able to admit his feelings for Tayshia. He resolves to be honest with her after he makes it through the next rose ceremony, and he says this with all of the confidence of an emotionally unavailable f*ckboy who girls have picked time and again at the loss of their own sanity. 
View this post on Instagram
Sure enough, Ben's downfall is that he never said "I l love you." Tayshia sends him home at the rose ceremony and, honestly, she doesn't even seem sad about it. At one point Ben says "Don't worry about me, I'm always alright", which is definitely something I've said before eating three gallons of ice cream and sending a "do u ever miss us?" text to my ex. I do actually feel really bad for Ben. Even though he is absolutely stone faced during this conversation, I think that's a defense mechanism more than anything else. That's something I do when I'm upset or, like, read through any of the comments section of these recaps.  
And on that note, fantasy suite dates and the finale (??) are next week! I'd say it's a holiday miracle but I know no one would every willingly ask to spend their holiday season with the vultures at ABC. Until next week!
If you're someone who gets emotionally invested in the journey of The Bachelorette, you may also be sensitive to all the #hairbreak moments happening this season. We get it, it's stressful watching the lead get more split ends each week. But it's not as painful as your own hair suffering from heat damage, stress, and other causes of #hairbreak. Pantene's Daily Moisture Renewal, Repair & Protect, and Sheer Volume Collections will bring softness, hydration, body, strength, and overall health to your hair. So even though you can't keep Tayshia from giving the Final Rose to the wrong guy, you can stop #hairbreak. Click here to get the Pantene core collection and prevent up to 90% of future damage.
Images: ABC/Craig SjodinGiphy (2); ABC (3); @thesnatchelor, @thebetchelor, @bacheloretteabc, @bachelor.jpg (1)
What Is Hannah Ann Doing At The 'Bachelorette' Filming Resort?
With this week's bombshell news that Tayshia Adams will be replacing Clare Crawley as the Bachelorette, it's no surprise that this season is in a state of flux. After just 12 days of filming, Clare found true love, and she might even be engaged to Dale. Some sources say Tayshia called back some guys that Clare sent home, but it's unclear if any of them actually made the trip back to Palm Springs. And this week, ABC released the most cryptic teasers ever, suggesting that this could really be (say it with me) the most dramatic season ever.
So what could possibly make this season just a little bit more dramatic? Well, in a turn of events that is very exciting to me personally, Hannah Ann Sluss has been spotted on the property. That's right, according to a report from Us Weekly, Bachelor Nation's resident supermodel has arrived at the resort where filming is taking place. I thought she would be upset about not even being the backup Bachelorette, but what if she's the backup-backup Bachelorette?? Okay, I'm getting ahead of myself, but let's go over what we know so far.
Hannah Ann rolled up to the La Quinta Resort on Tuesday, and Us Weekly's photos show her arriving with a big-ass suitcase. I'm no model, but that doesn't look like the kind of suitcase you bring if you're only staying for a night or two. Then again, maybe she just overpacks. In another photo, Hannah Ann is wearing a mask and talking to another woman, who is reported to be Bachelor producer Julie LaPlaca. If you recall, Julie is the producer who people (myself included) thought Peter Weber was dating at the end of his season (yes, that happened this year; no, time isn't real).
Hannah Ann has arrived on #TheBachelorette set with a large suitcase. So, she must not be there just to give Tayshia advice. 🤔#TheBachelor #BachelorNation pic.twitter.com/AqIIO6hCWj

— The Chris Harrison Show (@RosesTearsDrama) August 5, 2020
So, based on this evidence, Hannah Ann seems to be involved in filming in some way. But how?? In the past, it's been pretty common for some past Bachelor Nation peeps to come back and give the lead some advice. That could be what's happening here, but I'm not convinced. First of all, and I mean this as nicely as possible, but who the f*ck would take relationship advice from Hannah Ann? I don't think Pete should have proposed to her in the first place, but come on, that relationship isn't a shining beacon of success. And besides that, do Hannah Ann and Tayshia even know each other? They follow each other on Instagram, and there's a chance they've met IRL, but Tayshia surely has closer BN friends who could come help her out, right?
Also, with quarantine rules theoretically in place, it seems like a lot of work to drive out to Palm Springs and quarantine just so you can attend a group date and give some mediocre advice after. Taking into account the large suitcase, what if Hannah Ann is planning on staying for a while? They've already essentially thrown out the rulebook for this season, so who knows what twists could lie ahead? Two Bachelorettes at once? It could happen—in fact, it's happened before.
But Hannah Ann's arrival at The Bachelorette's desert palace isn't the only thing we need to talk about, because there are also rumors that Becca Kufrin is there. There isn't specific photo proof like there is with Hannah Ann, but IG account @bachdetective has matched up details from several of her recent photos with the resort where filming is taking place. There's a door, a window, some flooring, and perhaps most telling, a green wristband that resort guests have to wear (the same account also spotted Hannah Ann wearing the green bracelet yesterday). Those details could easily mean nothing, but I'm not not intrigued. BECCA, WHAT IS THE TRUTH?
Did Becca really dump Garrett? Is she back for another chance at finding love?? What if there's like… a whole group of Bachelorettes??? At this point, I'm basically turning into a Bachelorette conspiracy theorist, but really, how else should I be spending my time right now? Based on recent social media posts, Hannah Ann and Becca both still had their phones yesterday, but if they go silent on Instagram, we'll really know something is up. Until then, I guess I'll just frantically refresh Reality Steve's Twitter feed every 10 minutes in case I miss anything.
Images: ABC/Craig Sjodin; rosestearsdrama / Twitter; bachdetective / Instagram
SPOILER: All The Evidence That Tayshia Really Is Replacing Clare As Bachelorette
Last month, after months of delays, production on the upcoming season of The Bachelorette finally got under way. Of course, due to COVID-19, this season will look a lot different, with the entirety of shooting taking place within a quarantine bubble at a California resort. Due to the closed setup, my expectations for spoilers were low. Normally, we have group dates at concerts and theme parks, one-on-ones at restaurants, tons of opportunities for eagle-eyed Bachelor fans to figure out what's going on.
Well, someone in that quarantine bubble is looking out for us, because in the past week, rumors have been exploding left and right, and this might actually be the most dramatic season ever. First, there was a report that some guys from the potential contestant list who didn't end up being cast got called to come back. Did Clare send everyone home? Did some guys test positive for COVID? It was all unclear, but this definitely didn't seem normal. Then, there was another rumor that Clare was "falling for" one of her contestants, and was quitting the show mid-filming. And the, there was ANOTHER rumor that Clare was, in fact, done, and TAYSHIA is the new Bachelorette.
Okay, let's go through this. On Friday afternoon, a Reddit post popped up, providing some very intriguing (though unverified) tea. According to the poster, who said they run a Bachelor spoiler account, they received information that "production is having a lot of problems with Clare during filming." Apparently, Clare canceled certain filming events and wouldn't leave her room—which would check out with the rumor of her wanting to quit. The Reddit post continued, saying that last week "they called in a new bachelorette"—that would be Tayshia. The poster said that Tayshia was already quarantining at the hotel, and they would be taking her phone to start filming shortly.
I'm sorry, what?? I love Tayshia, and seeing her as the lead would make me incredibly happy, but WTF Clare?? If she found love, that's great for her, but did she not understand what she was signing up for? If she already knows who she wants to pick, that's great—she can just act! I'm not saying The Bachelorette is fake (low-key I am saying that), but do you think every other lead really didn't know who they were going to pick until the last moment? It's a TV show! If she really did quit, I hope she and are happy, because I'm sure ABC is never going to call her again.
But anyway, back to Tayshia. The Reddit mods stated that the poster's "sources are 100% legitimate," and our most trusted spoiler machine seems inclined to agree. Initially, Reality Steve called the rumor about Clare quitting "so dumb," pointing out that she signed a contract, and suggesting that "PLENTY of former leads" would have quit once they knew who they wanted to end up with. But over the weekend, he changed his tune, saying that he feels there is "some serious validity" to the report of Tayshia being called in.
(MAJOR SPOILER): I've been made aware of this Reddit post making the rounds. Been on the phone for the last 2 hrs digging. I cannot confirm with 100% certainty if it's true yet, but if you ask my opinion, I think there is some serious validity to it based on what I'm hearing now pic.twitter.com/y0SudK7Pcl

— RealitySteve (@RealitySteve) July 31, 2020
I desperately want to know who he spent two hours on the phone with, but obviously he'll never tell. In general, Reality Steve has a very solid record for being right about these things, so he wouldn't have tweeted this if he didn't really think it was true. Over the weekend, Reality Steve also did an Instagram Live with Demi, and while she said she didn't know anything, she dropped an important piece of evidence. She said she had texted Tayshia to ask what was going on, but the text turned green and didn't deliver. DUN DUN DUN. This could definitely be a sign that her phone has been taken by production.
And on Sunday night, the plot got even thicker when Clare Crawley liked a tweet about Tayshia joining the show. Unless someone else is logged in to her Twitter account, this would suggest that Clare has her phone back, which would basically confirm she's no longer the Bachelorette. It's f*cking happening, people!!! The tweet has since been unliked, so it seems like she probably tapped it by mistake—oops! I'm sure ABC already isn't happy with her, and a slipup like this can't have helped.
Honestly, it feels like all of these rumors are probably true, but it's too soon to know for sure. We're still going off of unverified Reddit tea and Reality Steve's mysterious sources (and that tweet Clare liked), but hopefully we'll have more concrete information soon. If Tayshia is replacing Clare, I'm interested to see how ABC chooses to handle the announcement. Usually, the new Bachelor or Bachelorette is always announced before filming starts, so they're not trying to keep their identity a secret during production. Given the amount of spoilers that leak out, it doesn't really seem like they have the ability to keep something so big secret for more than, like, 15 minutes.
Whatever ends up being true here, I am totally here for it, because I need some DRAMA on my TV screen. Thankfully, The Real Housewives of Potomac is finally back, but a messy AF season of The Bachelorette would be a welcome addition to the fall TV lineup. I just hope that ABC shows us what's actually going down, not some glazed over Chris Harrison bullsh*t. BREAK THE FOURTH WALL!
Images: ABC/Craig Sjodin; realitysteve / Twitter
Don't miss out on anything happening in Bachelor Nation. Subscribe to our weekly newsletter
here.