The Best 'Folklore' Lyrics To Use As Instagram Captions
As I'm sure you're aware by now, there's a new Taylor Swift album! Announced just 16 hours before its release, folklore comes less than a year after Taylor's last album, and it's a major departure from her recent music. She wrote and recorded the album entirely in quarantine, which officially makes me feel like the least productive person on the planet. Oh well.
The album is actually pretty great, and it's the perfect soundtrack to what is definitely the saddest summer in recent memory. Taylor Swift stans are already picking apart the hidden meanings in every little lyric, but I don't have the attention span (or the desire) to do that, so instead, I picked out the lyrics that will make the best Instagram captions for all your summer 2020 posts.
I'm Doing Good, I'm On Some New Sh*t
Song: "the 1"
This is the very first line of the album (the song is "the 1"), and right away, Taylor lets us know she's not f*cking around. Idk exactly what being "on some new sh*t" means for Taylor, but it's an instant classic caption. This works for any photo where you want to convey that you're a queen, like a beach pic or a rooftop shot. This summer might be lame, but you can still remind everyone how hot you are and rake in the likes on Instagram.
"I'm doing good I'm on some new shit" – me, on the same exact shit I was on before

— Betches (@betchesluvthis) July 24, 2020
You Know The Greatest Films Of All Time Were Never Made
Song: "the 1"
Wow, a second banger of a caption, and we're still on the first verse of "the 1". This lyric stuck out to be because it's basically the 2o20 version of "you are a cinema, I could watch you forever." If you didn't have a Facebook album with that as the title, you're too young to be reading this. This is definitely a caption for an annoyingly cute photo of you and your S.O., which I will begrudgingly double tap.
When You Are Young They Assume You Know Nothing
Song: "cardigan"
I'm still deciding how I feel about "cardigan," but this lyric is perfect for any photo that makes you look smart. Reading a book, posing with a book, just wearing glasses, you get the idea. I wouldn't personally use this caption, but I went to college with about 500 people who definitely would.
There Goes The Maddest Woman This Town Has Ever Seen
Song: "the last great american dynasty"
The title "the last great american dynasty" sounds like a Lana Del Rey knock-off, but I digress. This lyric is a fun general vibe that could basically go with any picture of you. It's kind of like a modern update of "well-behaved women seldom make history," meaning it's only a matter of time before your middle school English teacher has it printed on a bookmark.
I Think I've Seen This Film Before, And I Didn't Like The Ending
Song: "exile"
I mean, talk about a 2020 mood. This year feels like a combination of 2016, 1918 (I imagine), and every sh*tty year in between. This second film-themed option feels appropriate for any post that's generally about 2020 being awful, which is like, most posts these days. Also, Bon Iver is perfect, so "exile" is automatically one of my favorite songs on the album.
I Want You To Know I'm A Mirrorball
Song: "mirrorball"
The actual song "mirrorball" is pretty depressing, but when it comes to Instagram captions, the mental image of a shiny disco ball is too good to pass up. Sadly, going out photos aren't really a thing right now, but if you're doing fun makeup for any reason, or wearing something sparkly, this is a solid option.
August Sipped Away Like A Bottle Of Wine
Song: "august"
August is somehow only a week away (what is time?), so file this one away to use in a month. July went by way too fast, and next month will probably be the same. This will be THE caption for any posts complaining about how another lame month has already come and gone. Summer 2020 is basically just a blur at this point, but at least Taylor found a creative way to say it.
This Is Me Trying
Song: "this is me trying"
Whomst among us cannot relate to this?? Both in quarantimes and like, always, "this is me trying" is basically my response to anyone asking me for anything. Especially in 2020, this is an ideal caption for a photo where you did the bare minimum (but still look hot). Think pajama pics, no makeup selfies, or bragging that you finally washed your hair. You're doing amazing, sweetie.
when my boss says I need to give 50% more effort pic.twitter.com/WuIpijDyAN

— Betches (@betchesluvthis) July 24, 2020
Gave Me The Blues And Then Purple Pink Skies
Song: "invisible string"
If you're posting any kind of sunset pic, this is IT. This lyric from "invisible string" strikes the perfect balance between sad girl summer vibes and just sounding vaguely pretty, so it kind of goes with anything. Everyone loves a caption that goes with the color scheme of the photo.
It's Obvious That Wanting Me Dead Has Really Brought You Two Together
Song: "mad woman"
There's a rumor that this lyric from "mad woman" is about Kim and Kanye, which like, maybe. But speculation aside, this is the perfect caption if you have an ex who still follows you that you absolutely hate. He knows what he did! Or even if you're perpetually single and the whole dramatic ex scenario is just in your imagination, it's still kind of a fun and mysterious caption idea.
when you tell a Karen she can't get a haircut for three months pic.twitter.com/3pn1KDl5ua

— Betches (@betchesluvthis) July 24, 2020
Happy listening, and happy captioning! This is probably the nicest article I've ever written about Taylor Swift, so if you have thoughts on these caption ideas, please feel free to not slide into my DMs. It's not that deep.
Images: Tinseltown / Shutterstock.com
A Taylor Swift Hater's First Impressions Of 'Lover'
Taylor Swift's new album Lover is finally here, and I guess I'm excited? If you've read my articles about Taylor in the past, you know that we've gone on quite a ride. It's been a rollercoaster, and I haven't always been nice to Taylor. And you guys f*cking dragged me in the comments. Life is a journey, so I won't apologize for how I felt in the past, but I will give Taylor the benefit of the doubt. I sat down to listen to her brand new album with a completely open mind, and here are my first thoughts about each song. If you disagree with me, feel free to let me know in the comments or on Instagram (@dylanhafer if you wanna slide into the DM), but remember that this is just music, and Taylor Swift will still be very rich and successful, no matter what I say about her.
I Forgot That You Existed

In the first 30 seconds of the album, Taylor Swift has already made a Drake reference. What planet am I living on? If you had any illusions that Taylor has moved on from being petty toward people who have done her wrong, the album opener "I Forgot That You Existed" should clear that right up. It's catchy, but I was really hoping that we had left behind the lyrics like "Got out some popcorn / As soon as my rep started going down." Taylor, this is 2019! No one cares about your ~rep~ anymore! You're still selling out stadiums, no one feels bad for you.
Cruel Summer
Is it a coincidence that this song has the same name as a Kanye West album from 2012? Perhaps, but I feel like Taylor Swift isn't really a coincidence kind of person. This song is catchy AF, and I probably would've preferred this as the lead-off track, but oh well.
Lover
Now we get to the first one of the singles. I think "Lover" is a solid song, though I don't really care enough to dissect the lyrics. I stand by the fact that this sounds like a Taylor Swift-ified version of "Welcome To The Black Parade" by My Chemical Romance, but maybe that's the 2000s kid in me talking. 
Three songs in, I feel like we've gotten three very different vibes, so I'm curious to see where the album as a whole falls.
The Man
Okay, this sounds like a Carly Rae Jepsen song. If you haven't thought about Carly Rae Jepsen since 2011, go check her out, because she does this but better. In this song, Taylor makes a great point that she gets roasted for the same behavior that powerful men are celebrated for. This isn't a new concept, but it's definitely something that affects Taylor. 

With the bridge where Taylor talk-sing-raps about flashing her dollars, I'm starting to feel like there's a little too much wannabe-bad-girl angst lingering from the Reputation era. I expected Lover to feel like more of a fresh start, but two of the first four songs are about haters. I miss 2011.
The Archer
I loved this song when Taylor released it a few weeks ago, and it's still going strong for me. I love the driving bass paired with the dreamy synths, and I think this kind of song is what Taylor does best. It doesn't feel like she's trying too hard—it's just a simple, good song.
I Think He Knows
Here I am just plugging on through, and then I get to the lyric "He's got that boyish look that I like in a man." Uh, what? Yeah, I guess Joe Alwyn looks kinda young, but this feels like the weirdest possible thing to say about your taste in men. Also, is it true? Taylor dated Jake Gyllenhaal, Calvin Harris and John Mayer, three of the least boyish people I can imagine. I'm going to stop thinking about this before I start to spiral, but I'm still confused.
Aside from raising an eyebrow at that lyric, I actually love this song. The chorus is definitely going to be stuck in my head, and this feels like the best of 1989. I'm into it.
Miss Americana & The Heartbreak Prince
I have no idea what this title is, but it's gotten my attention. 
Wait I love this. It kind of sounds like Lorde or Lana Del Rey, which is a good thing. I've always felt like a darker indie-pop vibe is a much better fit for Taylor than anything resembling hip hop, so this feels like a step in the right direction. There's a great nostalgia thing going on here, and the "Go! Fight! Win!" chant seriously makes me feel like I'm at a high school football game. This is my favorite song so far.
Paper Rings

And now for a total 180, we immediately move to a song that sounds like a Meghan Trainor album cut. Like…why is she doing this to us? I'm eight songs in now, and there have barely been two songs that feel like they actually go together. I suspected this might be an issue from the time Taylor released "ME!", but it's worse than I had hoped. I'm not saying the album is bad, but it doesn't feel cohesive, at least for the first half.
Cornelia Street
Taylor brings it back down to a floaty, cool girl mood, and I'm really starting to get whiplash. If this song was right after "Miss Tropicana & The Prom King," or whatever it's called, it would've transitioned perfectly, but there's a clunky Meghan Trainor B-side crammed in the middle. I swear my Spotify isn't on shuffle! 
I really like this one though. In general, I'm really liking about half the songs, and the other ones feel unnecessary. Crazy thought here, but maybe this album didn't need to be 18 tracks long?  
Death By A Thousand Cuts
This one is a little cute for my taste, but I'm not mad about it. But the guitar/piano line with conga drums in the background comes out of literally nowhere on this album that has been 100% synths up until now. I really don't want to beat a dead horse, but I would love just like, one shred of continuity.
London Boy
This song starts with a clip of Idris Elba talking, so it's an automatic 10/10, we're done here. "London Boy" is obviously a love note to Joe Alwyn, and it is nice to hear Taylor actually sing about a positive relationship. Maybe this one is a little cheesy, but I'll allow it. Even though you all love to say I hate Taylor Swift, I want nothing but the best for her. And maybe an album that flows a little better, sue me.
Soon You'll Get Better
High school me is literally dying of excitement that there's finally a Taylor Swift/Dixie Chicks collab. I'm not sure why this took so f*cking long, but here we are, and honestly? It's perfect. Taylor has never had a lot of guests on her songs, but they really knocked it out of the park. Does it go with the rest of the album? Hell no! Do I care? Absolutely not. Taylor, please go back to country and make an entire album that sounds like this. It's all I need.
False God
Where did this come from?? And why did it take us 45 minutes to get here?? This production sounds like Disclosure-meets-Phil Collins, and it's amazing. Wait, can Taylor Swift and Disclosure PLEASE do a song together? This song reminds me of "Don't Blame Me," but better in every single way. This might be a top ten all-time Taylor Swift song for me, I'm calling it now.
You Need To Calm Down
I don't have much new to say here, and I still like this song a lot. For whatever reason (probably "Old Town Road") it didn't end up being a massive hit, but it was still a really strong single. Way better than "ME!", which we'll get to in a minute.
Afterglow
This feels like a classic pop-era Taylor Swift song, which means it's serviceable, if not special. This probably could have been on 1989 or Reputation, but it works just as well here. 15 songs in here, my attention span is starting to wane, but we're getting close to the end.
ME!

Can we just like, not? I will really never understand the point of this song, and the fact that it's shoved at the end of the album makes me think that Taylor Swift might not even like it that much either. The only saving grace here is that they took out the "Hey kids—spelling is FUN" part from the album version, but they should've just ditched the whole song. I feel like I need a drink right now, and it's not yet 10am. Taylor, you do scary things to me.
It's Nice To Have A Friend
I'm not sure whether I like this song or not yet, but it really feels like something different for Taylor. And not in the way I was talking about before, where every song sounded different. With the minimal production and syncopation of the rhythm, it actually sounds more experimental than what Taylor usually goes for.
Daylight
Well friends, we made it. "Daylight" feels like textbook Taylor Swift, and it's a perfect way to finish off the album. Even though this song sounds moody, it's an optimistic finish to an album that feels strangely positive for Taylor Swift. She seems like she's in a happy place in her relationship and her life as a whole, which is great. The song finishes out with a voiceover of Taylor talking about the things she loves, and I'm genuinely happy for her.
Overall, I think Lover is a pretty strong collection of songs, but there's no unifying factor that makes it feel like a cohesive album. If she had cut out a few songs, it probably would've gelled a little better, but I'm not going to pretend to be some pop music magician. The album is full of things that Taylor Swift fans will love, and there are even a few songs that I'll probably have on repeat this weekend. It's never been in doubt that Taylor Swift can write a great song, and Lover is no different. It's a massive improvement from the petty bullsh*t that made up too much of Reputation, which is probably a sign of growth.
I wouldn't really classify myself as a Taylor Swift hater (blame my editor for the headline), but I'm never going to blindly love everything she does. I don't have any need to tear her down, but any artist who's won two Grammys for Album of the Year can handle a little criticism. Is this so wrong? Now, if you'll excuse me, I'm gonna go listen to "False God" on repeat. That sh*t slaps.
Images: Shutterstock; Giphy (4)
Taylor Swift Actually Sounds Like An Adult On Her New Song
Over the years, my feelings about Taylor Swift have varied wildly. From going to one of her concerts when I was in high school, to writing scathing reviews of some of her more recent work, Taylor and I have been on a journey together for over a decade. My thoughts about her are always evolving, and with her new song "You Need To Calm Down," we might finally be entering a positive chapter.
Back in April, Taylor Swift kicked off her new era with her single "Me!". I was really ready to embrace this new chapter with open arms, but things quickly went south. I'm all about having a good time, but Taylor's new song felt like it was better suited for an episode of Sesame Street than a pregame playlist. The candy-coated video didn't help things, and the entire effort came across like a high-budget music video for kids. Taylor, who turns 30 later this year, seemed lost, and a little desperate. Is this really what she thought we wanted from her?
The single underperformed by Taylor Swift's standards, so at least I wasn't the only one who was confused by this direction. I'm all for rainbows and catchy pop music, but I don't want to be shouted at about spelling. The biggest question left in the wake of "Me!" was what Taylor Swift would put out next. Yesterday, she finally announced her album, called Lover, that will be released in August. Along with the album announcement, we also got a new single, and…
I love it.
After the perplexing elementary school vibes that she brought with her last single, Taylor Swift has finally returned to form. "You Need To Calm Down" is classic Taylor Swift from top to bottom, with a trademark long title, a hook that's instantly catchy, and lyrics that are already burned into my head after approximately three listens. Okay, like 10 listens, but only for research purposes.
This song sounds like the best of the 1989 era, with layered vocals and synth beats that sound both moody and triumphant at the same time. There are some Reputation influences in there too, but luckily not the vague talk-rapping about her enemies. Hopefully that's gone for good.
As for the lyrics, Taylor Swift really takes a step out of her bubble here by centering "You Need To Calm Down" as a pro-LGBTQ empowerment anthem. The lyrics contain references to Pride parades, GLAAD (Gay & Lesbian Alliance Against Defamation), and men wearing gowns. In the prechorus, Taylor sings:
You just need to take several seats and then try to restore the peace
And control your urges to scream about all the people you hate
'Cause shade never made anybody less gay
Basically, Taylor is telling people to stay in their lane, and that putting other people down doesn't actually accomplish anything. Whatever your feelings about Taylor Swift, it's nice to see her including messages like this into her music. She still has a wider impact than anyone else in music, so she actually has the power to influence people who might not be exposed to Pride parades on a regular basis.
Over the past year, Taylor Swift has become more active in the political sphere, something that she was hesitant to do for years. It's refreshing to see her owning her status as an ally, especially during Pride month. We could argue about whether she's benefitting from it, or how genuine it is, but sometimes it's just nice to have visible support from people in places of power.
Of course, this is still a Taylor Swift song, so there are some classic Taylor references to snakes and crowns, but overall, "You Need To Calm Down" feels like a major step in the right direction for 2019 Taylor Swift. Whereas "ME!" almost felt like a publicity stunt, Taylor's second single feels like an organic step in the right direction. There's no argument that Taylor Swift can write catchy hooks and lyrics, so this shouldn't come as a huge surprise.
Hopefully you like this song as much as I do, because Taylor Swift is going to be everywhere over the next couple of months. She still has an 18-track album coming later this summer, so that's a lot of opportunities for things to go very wrong or very right, but I'm at least cautiously optimistic now.
Images: Shutterstock; betches, taylorswift / Instagram; taylorswift / YouTube
All The Hidden Clues You Missed In Taylor Swift's 'ME!' Video
Last night, Taylor Swift ended the long wait for new music, and her song "ME!" has been polarizing across the internet (and in the Betches office, lmao). While I've already gone into detail on my feelings about the song, there's no doubt that there's a lot to unpack here. In particular, the music video is a four-minute explosion of colors and images, and there are no coincidences in the world of Taylor Swift. Whether you like her or not, you can't deny that she is meticulous about the clues and Easter eggs she hides within her videos.
Taylor Swift's intense army of fans have already combed through the video and found a lot of hidden things, but I know that you, a non-superfan who is probably at work right now, does not have time for that. So I've decided to break everything down here. What does Taylor have up her sleeve next? Let's walk through some of the biggest theories and questions about "ME!"
The Secret
On the YouTube livestream for the video premiere, Taylor Swift revealed that there is a secret hidden somewhere in the video. V mysterious. Fans obviously lost their minds when she said this, and they won't rest until they figure it out. Right now, the prevailing guess is that Taylor secretly got engaged to Joe Alwyn, as evidenced by Brendon Urie's proposal to her in the video. This definitely isn't verified, but it could be true.
Taylor and Joe are engaged???? Is that the secret she's keeping for months? @taylorswift13 @taylornation13 pic.twitter.com/iDwqeC4B2v

— ????????? (@candiceXtayswft) April 26, 2019
While an engagement would be exciting, there's another theory about the secret that's honestly pretty lame…
The Cat
After the proposal in the video, Brendon gives Taylor a kitten. This, plus the fact that the mural in Nashville has three cats, made everyone think that Taylor now has a third cat. This has now officially been confirmed, because Taylor posted a selfie with her new cat this morning. So, we know that the third cat is real, but we still don't actually know whether this is what the secret is about. If Taylor doesn't reveal an engagement pretty soon, then it's probably about the cat. Boo.
The Dixie Chicks
One video Easter egg that actually has me really excited is the possible reveal of a collaboration with The Dixie Chicks. In the apartment at the beginning of the video, there's a portrait of The Dixie Chicks hanging on the wall, and rumors of a collab between them and Taylor were already starting to spread before the video. Additionally, look at this tweet that they sent after the video premiered:
— Dixie Chicks (@dixiechicks) April 26, 2019
It's all happening.
The Chrysalis
She wants to break fucking free ????? !!!! pic.twitter.com/g93umGBs2n

— Mayi (@9march2) April 26, 2019
I needed a second to wrap my mind around this one. Throughout Taylor Swift's onslaught of Insta teasing, butterflies have been one of the main themes. What do they mean?? The butterflies were first referenced in the video when the snake exploded at the beginning, but there might be a larger metaphor at play here. Based on how the sky looks in the video, it seems like the whole thing might take place inside of a giant chrysalis (aka the shell where a butterfly turns into a butterfly). "ME!" represents the beginning of a metamorphosis into a new era, and this is a way of visualizing it. If this is the beginning, then it makes sense that after this, Taylor Swift will break out of the chrysalis as a beautiful butterfly. I believe it.
The Queer Message?
I'm going out on a limb for this one, and I have no idea if it's true. Leading up to the video, there were rumors that Taylor Swift was going to come out as bisexual or queer. This obviously wasn't directly addressed in the song or the video, but there's a possibility that there are still some queer symbols present. First of all, there are rainbows everywhere. Of course, rainbows occur in nature, but no one in 2019 is unaware of the rainbow's significance to the LGBTQ community. Taylor had to know that this would cause conversation, and she still went ahead with it.
Going a little deeper, there's a lyric where Taylor says that she's "Like a rainbow with all of the colors." This could just be referring to her vibrant personality, but the repeated use of the rainbow theme definitely makes you wonder. Like I said, it's likely that nothing in this video/song is a coincidence. Whether Taylor is trying to say anything about her personal sexuality, the rainbow theme is a nice tribute to the LGBTQ community.
The Upcoming Music
Obviously, there are going to be more songs and an album after this, and it appears that Taylor might already be dropping some hints about what's coming next. First, people are fixating on the appearance of the word "Lover" in the video. Many are saying that this could be the next song from the album, and possibly even the Dixie Chicks collaboration. We'll see.
is the next track going to be called "Lover"? #TaylorSwiftTONIGHT pic.twitter.com/XuCYA7rjoV

— nikkie is ME! (@delicatenik) April 26, 2019
People also think that Taylor might have included a clue to when her album is going to be released. In the video, we see a clock that's set to 8:30, and for this reason, people are saying the album could be released on August 30th. I'm less than convinced about this one, mostly because that seems like a really long time to wait, but I've been wrong before.
We've got a long way to go in terms of Taylor Swift speculation, so I'll leave it at that for now. I'm sure there are hundreds more symbols buried deep in the music video, but I really have other things to get done. Let me know which ones you spotted!
Images: Shutterstock; @candicextayswft, @dixiechicks, @9march2, @delicatenik / Twitter; @taylorswift / Instagram
Are We Supposed To Like Taylor Swift's New Song?
Over the past decade, I've had a fraught relationship with Taylor Swift. While I was openly critical of Taylor during her last album/era, I haven't always had issues with her. Back in 2013, I was thrilled to attend Taylor's Red Tour, and I have no problem admitting that I think most of her music is great. So when Taylor Swift started teasing her big new project, I was honestly excited. I wasn't a fan of the Reputation era, but I was ready to start fresh with 2019 Taylor. 
Oops. 
At midnight on Thursday, Taylor Swift released her new single and video, "ME!", featuring Brendon Urie of Panic at the Disco. Brendon was a perfect choice, because he's very talented, very hot, and most importantly, very fun. From what we know so far, that's what new-new-Taylor (or new-old-Taylor, I can't tell) is all about: FUN! The video for "ME!" begins with a snake exploding into a cloud of butterflies, signaling that the angst of Reputation is officially gone. 
But other than convincing us that she's ready to be bubbly again, I'm not sure I get what she's going for with this song. Lyrically, it's a pretty straightforward declaration about how great she is, with the most memorable lyric being "You can't spell awesome without ME!" In the past, Taylor has written some really beautiful, moving lyrics, and these feel like elementary school poems in comparison. 
"I'm the only one of me / baby that's the fun of me."
While the song is definitely catchy, it feels like it was meant to play during the credits of an animated kids movie. The video, which was released at the same time as the song, only helps to drive this family-friendly vibe home. Taylor Swift and Brendon Urie are a couple arguing in French (why?), but then they go outside and everything turns into some kind of rainbow fantasy world, complete with hundreds of extras in penis-colored marching band outfits. The visuals really drive home the idea that old-new-Taylor is FUN!, and it is! The video is fun! Seeing Taylor Swift and Brendon Urie do their best Hairspray imitation is fun! Flying on umbrellas over the rooftops of Paris is fun! But that doesn't take away the fact that this song is…baffling.
Like I said, it's catchy, but then the whole thing gets derailed for the bridge, which starts with Taylor shouting "Hey kids, spelling is fun!" I'm sorry, but I am a grown-ass adult, and I don't want a song on my Spotify playlist in which I'm being lectured about the joy of spelling. I left that sh*t behind in 4th grade, and I have no desire to go back.
Of course, "ME!" will most likely be a major hit, if only because Taylor Swift has some of the most dedicated fans in the world. The entire rollout strategy of this new era, from the months of clues on Instagram, to the YouTube livestream, feel designed to appeal mainly to the Taylor Swift diehards. In fact, she commented in the YouTube stream that the video contains a secret that she's been keeping for months, which of course the fans are having a field day with. Right now, the top theory seems to be that she's engaged to Joe Alwyn, because in the video, she turns down an engagement ring from Brendon Urie.
Taylor and Joe are engaged???? Is that the secret she's keeping for months? @taylorswift13 @taylornation13 pic.twitter.com/iDwqeC4B2v

— ????????? (@candiceXtayswft) April 26, 2019
Other theories include that the clock in the video is a hint about the album release (8/30, if you're too lazy to look it up), that Taylor now has a third cat, and that there will be a Dixie Chicks collab on her new album. I'm super here for that third one, by the way.
So this means @dixiechicks is confirmed. Right? @taylornation13 @taylorswift13 #eastereggs ??‍♀️ pic.twitter.com/JKZ8WaxoYL

— ??? (@FrecklesSwiftie) April 26, 2019
I'm really hoping that this is another "Shake It Off" situation, where the first single from the album is kind of just a fun throwaway, but right now I don't get what Taylor Swift is going for with this vibe. From this song/video, all I'm really getting is that she's into rainbows and butterflies, but then the actual song is still just about how great she is. It's a nicegirl anthem, with just the right amount of narcissism (she probably thinks of it as "self-love"). Maybe this has always been Taylor Swift's brand, but it'd be nice to see a little more growth by now.
If you're reading this and you love the song, that's great. I don't think it's awful, I just don't get what we're supposed to do with it. I'm really not here to bash Taylor Swift, I just want her to explore her full potential (and give us iconic bops). Maybe her next song or the album will be more of a step forward, but for now, I guess we'll just practice our spelling.
Images: Universal Records; @taylorswift / Instagram; @candicextayswft, @frecklesswiftie / Twitter; Taylor Swift Vevo / YouTube
What Is Taylor Swift Teasing On Instagram?
In case you deleted Instagram and threw your phone out a window a few weeks ago, I've got some news: Taylor Swift has been teasing something big. Over the past several weeks, she's completely overhauled her Instagram aesthetic, and now she's counting down to April 26th, which is this Friday. Taylor has kept things very mysterious about what's coming, but now we're only a couple days from finding out. In the past, I've been outspoken about my issues with Taylor Swift, but I'll admit that I'm more than a little curious about what she's up to this time.
Obviously, it seems extremely likely that this is all leading up to new music. Taylor Swift can be a shady bitch, but I don't think she's petty enough to tease her fans for two months just to drop a new perfume or something. That would really be brutal. Based on all of Taylor's past album eras, it's most likely that this Friday, she'll be releasing the first single from her new album. Taylor has never been into the whole Beyoncé surprise album thing, so the chances are slim that we'll be getting more than one song this week. According to the Taylor Swift stans on Reddit (doing the lord's work), the best guess for an album release date is sometime in July, based on the schedule Taylor has followed in the past.
So, assuming we're getting a new Taylor Swift song this week, let's go through her Instagram, and talk about what to expect from Taylor's impending seventh era (which would be her Neoproterozoic Era, if we were talking about geology).
Despite turning 30 later this year, it looks like Taylor has gone back to an aesthetic that would also work for decorating an 11-year-old girl's bedroom. I'm not mad about it, I'm just kind of surprised, after the Reputation era was all about seeming as hardcore as possible. This time around, Taylor is all about rainbows, butterflies, and bright colors. At least the snakes are gone.
One of the first big moments of this new Taylor Swift era was the iHeartRadio Awards on March 14th, when Taylor wore a holographic romper covered in paillettes, and butterfly shoes. Taylor honestly looks amazing, and this outfit was just the beginning of new Taylor (which honestly just harks back to the old Taylor, who we thought was dead).
After the iHeart Awards, Taylor took almost a month off from posting on Instagram, but then she came back with a vengeance on April 13th. That's when she first started teasing the April 26th mystery, and she's been pretty relentless since then. Based on the types of photos she's been posting, I would imagine that her new music is in more of a pure pop direction, which I'm excited about. Her outfits and current hairstyle have drawn a lot of comparisons to Carly Rae Jepsen's last album E∙MO∙TION, which is basically a perfect pop album, so I hope Taylor is going down this path.
On Tuesday night, Taylor Swift took a break from posting cryptic Instagrams and made an appearance at the TIME 100 Gala. As one of this year's honorees, Taylor made a speech at the event, and even performed a few songs. Sadly though, she only performed past hits, without so much as a snippet of new music. While we all would have appreciated a sneak peek, obviously Taylor has planned this all too perfectly to let loose a minute too soon.
Her dress at the Gala, totally draped in pink and yellow silk, was perfectly in line with her 2019 aesthetic. While the dress is a little prom-but-make-it-fashion for my taste, Taylor really does look amazing.
At this point, we're only about 36 hours away from new Taylor Swift music, and I'm ready to give her another chance to impress me this time around. I'm hoping for a glittering pop anthem that will lead us into summer on a high note, but will try to keep an open mind no matter what she releases. Are you excited for new Taylor Swift music? What do you think she has up her sleeve? Let me know in the comments!
Images: Shutterstock; @taylorswift (3), @carlyraejepsen / Instagram
'Reputation' Is Taylor Swift At Her Best
Buckle up betches, because I'm about to offer a hot take on Reputation that you likely won't find anywhere else on this site: It's good. Feel free to light me up in the comments.
Full disclosure: I'm a Taylor Swift fan. Have been since Fearless. It's a dangerous stance to take these days and one that I don't generally discuss, unless I'm drunk and yelling at someone in a bar about Red's tragic Grammy snub, something that happens far more often than I'd care to admit.
That being said, I was skeptical when it came to Reputation. The singles, while enjoyable in their own ways, hadn't reached the caliber of what I've come to expect from Taylor. If I'm being honest, they are some of my least favorite songs on the album, which I'm starting to think was purposeful.
Say what you will about Taylor Swift, but she's smart. No move she makes is without meaning, without intention. The singles painted a picture that the internet relished in mocking: Perpetual snake and die-hard romantic Taylor Swift has decided to become a bad girl in the way that you did after one trip to Hot Topic in 7th grade. It was laughable, predictable, and, what I'm now realizing after one listen through of the entire album, 100% planned.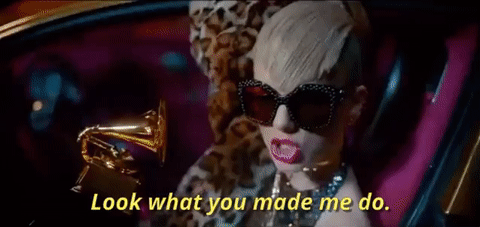 Maybe this new Taylor isn't the one we needed, but it's the one we deserved: darker, sultry, kinda pissed off, synth heavy, unapologetic af, and most importantly, honest. She's open in a way that she never was before, and it's provided me with something I never thought I'd get: Taylor Swift songs that I can pregame to. God bless.
Sure, the old Taylor drank, and had sex, and made mistakes, but the new Taylor actually talks about it. At 28, Taylor Swift has finally cursed in a song. She's finally talked about intimacy. She's not only recognized her reputation, but owned it.
Nowhere is this more obvious than in the Hiddleswift songs ("Getaway Car" is a BOP), which offer up a side of Taylor that we haven't really seen: one who has fucked up and doesn't give a shit. She's open about the fact that maybe she didn't treat Tom the best, but what's important is that she's not apologizing or asking for forgiveness. It's a refreshing stance for her, and one that I want six more albums of.
Reputation represents a new era for Taylor Swift, that's been clear from the start. But it's so much more than just an "edgy" image and some questionable fonts: It's extreme character development. After being nonstop shit on for a year (or if we're being honest, her entire career) Taylor has stopped defending herself. She's stopped trying to win people over and, ironically enough, that might be what actually does it in the end.

You can mock Reputation all day long, but at the end of the day you're still talking about it. Hate her, love her, make money by talking shit about her on the internet—it doesn't matter, because she's already won. Now excuse me while I spend the rest of the weekend listening to this shit on repeat.
Peace and blessings.
10 Things We're Sure To See From Taylor Swift On 'Reputation'
Welp. Here we are. The day before Taylor Swift's over hyped new album will drop. Here's what we know already: The album will be 15 tracks, with the first track being "…Ready For It?" and the sixth track being "LWYMMD", presumably because 6 is the devil's number. (I don't actually know that is why it is the first track. That is just conjecture. Please do not sue me, Taylor. I know you're reading this.) The Target edition of the album (lol) also comes with two 72 page magazines full of "poetry, watercolors, paintings, handwritten lyrics, and fashion photography." So basically, a very sad handwritten book.
So that's what we know, but there are still many questions. What fresh hell will this new album bring? Who will be roasted? (Everyone.) And who will be spared? (Taylor.) Only time will tell. But knowing Taylor—well, the old Taylor who is kinda also the new Taylor—there are definitely a few things we know we can expect from the #1 album to ever be featured on the side of a UPS truck.
1. There Will Be Snake References
Well, this one is obvious. Taylor is pretty clearly still pissed about the whole "people calling her a snake" thing and has spent all year trying to "take back" the snake. Question: How long does a person have to try to take something back, before it turns around and takes back her take back? Taylor appears to be trapped in a ouroboros (look it up) of snake-related take backs, with no end in sight, so obviously there will be more snake references. TBH, I wouldn't be surprised if one of the tracks was called "Hiss Hiss", and was literally just audio of her hissing for 15 minutes. I also wouldn't be surprised if it hit #1 on the Billboard charts for 10 weeks in a row. It's still Taylor Swift, after all.

2. Songs About Hiddleston, Calvin Harris, And Joe Alwyn
Again, this is fairly obvious. Swift's last masterpiece, 1989, came out before any of these relationships occurred, meaning that they are all due for a thorough roasting. Considering how dramatic the Calvin Harris breakup was, and considering his penchant for talking shit about her in the media, I think it's fair to say that he'll be one of the main targets of New Taylor's wrath. Many are already speculating that "Gorgeous" is about her fake relationship with Hiddleston, whereas Joe may or may not make the cut, depending on how long they've been together, when she actually finished the album, and how much she secretly hates him.

3. The Old Taylor Is Actually Still Very Much Alive
Maybe this makes me a conspiracy theorist, but something about the New Taylor's behavior seems suspiciously similar to the Old Taylor. Personally, I believe that the Old Taylor is really alive, living on an island with Tupac and Aaliyah, waiting for the right time to return to the U.S. as a hologram. Think about it. What I'm trying to say is, Taylor Swift is absolutely back on her bullshit, and this album will probably just be all the same shit we've seen from her in the past, with a slightly darker beat and a fuckton of eyeliner.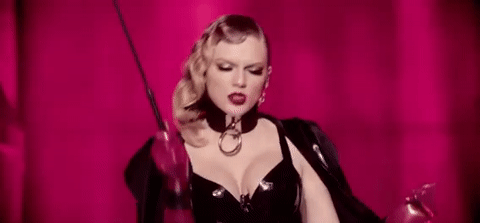 4. She Will Rap In Some Capacity
Taylor Swift has been badly dancing around the idea of actually rapping for years. She's done what all white pop stars who want to rap do and talk-sung her way through several tracks in the past ("Shake It Off", "We Are Never Getting Back Together", etc…) but she has never fully attempted rapping. I'm sorry to say, that I think this album will be the album where that happens, at which point a portal to hell will open up in the middle of TriBeca, and we will all surely be damned.

5. Maybe A Drake Collab?
Around this time last year, everybody was talking about how the fuck Donald Trump became president the fact that Taylor Swift and Drake were hanging out. Were they dating? Were they friends? Were they PROFESSIONAL COLLABORATORS? Many Swifties (also known as "the criminally insane") are predicting the Swift-Drake collab that only nightmares dreams are made of.

6. More Obvious References To Kim And Kanye
Say it loud for the people in the back: Taylor is still very pissed about the Kim/Kanye thing. And what does a pissed off Taylor Swift do? Write songs. That's songs plural, meaning that the references to the feud in "LWYMMD" are only the tip of the iceberg. We'll know when she's talking about them because it'll be the first time in history she's ever mentioned brown eyes in a song.

7. Feminism??
As we all know, Taylor Swift likes to dabble in some white light feminism, when the mood suits her. And by "feminism" we of course mean, "having friends who are models and also Lena Dunham," because that's usually as far as Taylor likes do go down the feminist rabbit hole. Move over, Gloria Steinem, there's a new skank icon in town. Now obviously, Taylor isn't going to release a feminist ballad or anything like that—she has to appeal to her base, who may or may not be white supremacists—but maybe she'll like, release her own brand of Diva Cups or something?

8. Trump-Style Digs At The Media
If I said to name a very famous person who hates the media and should have better things to do, but instead spends their days responding to petty grievances on Twitter with legal threats, who would come to mind? If you said Donald Trump, you would be correct. If you said Taylor Swift, you would also be correct. See the connection? Considering the fact that this entire album is built around media slander (the album cover is literally clips of the media roasting her and I feel personally victimized that none of my articles made the cut), I feel like we know of at least one very powerful person who will be listening to it on the reg. And no, I'm not talking about Selena Gomez.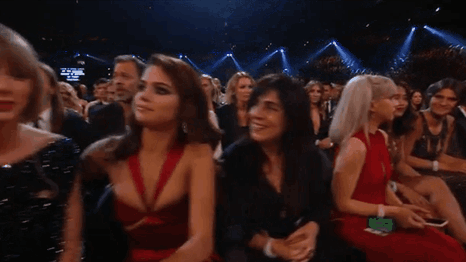 9. It Will Go Platinum
I mean, it's Taylor Swift. She could release literally anything and it would go platinum. Also—and to pause my intense hating for a sec—Taylor Swift is like, good at music. The girl has yet to put out an album sans jams, so I highly doubt this one won't have at least three tunes that will get stuck your head for all of time. I mean, even "LWYMMD" was catchy. And "Gorgeous" is a certified bop. If there's one thing to be said about Taylor, it's that she's not fucking around.

10. She'll Take The Opportunity To Apologize For Her Bullshit
Lol JK. If lawsuits her fans are Taylor's first love, not taking responsibility for actions is definitely her second.