All The Hidden Clues You Missed In Taylor Swift's 'ME!' Video
Last night, Taylor Swift ended the long wait for new music, and her song "ME!" has been polarizing across the internet (and in the Betches office, lmao). While I've already gone into detail on my feelings about the song, there's no doubt that there's a lot to unpack here. In particular, the music video is a four-minute explosion of colors and images, and there are no coincidences in the world of Taylor Swift. Whether you like her or not, you can't deny that she is meticulous about the clues and Easter eggs she hides within her videos.
Taylor Swift's intense army of fans have already combed through the video and found a lot of hidden things, but I know that you, a non-superfan who is probably at work right now, does not have time for that. So I've decided to break everything down here. What does Taylor have up her sleeve next? Let's walk through some of the biggest theories and questions about "ME!"
The Secret
On the YouTube livestream for the video premiere, Taylor Swift revealed that there is a secret hidden somewhere in the video. V mysterious. Fans obviously lost their minds when she said this, and they won't rest until they figure it out. Right now, the prevailing guess is that Taylor secretly got engaged to Joe Alwyn, as evidenced by Brendon Urie's proposal to her in the video. This definitely isn't verified, but it could be true.
Taylor and Joe are engaged???? Is that the secret she's keeping for months? @taylorswift13 @taylornation13 pic.twitter.com/iDwqeC4B2v

— ????????? (@candiceXtayswft) April 26, 2019
While an engagement would be exciting, there's another theory about the secret that's honestly pretty lame…
The Cat
After the proposal in the video, Brendon gives Taylor a kitten. This, plus the fact that the mural in Nashville has three cats, made everyone think that Taylor now has a third cat. This has now officially been confirmed, because Taylor posted a selfie with her new cat this morning. So, we know that the third cat is real, but we still don't actually know whether this is what the secret is about. If Taylor doesn't reveal an engagement pretty soon, then it's probably about the cat. Boo.
The Dixie Chicks
One video Easter egg that actually has me really excited is the possible reveal of a collaboration with The Dixie Chicks. In the apartment at the beginning of the video, there's a portrait of The Dixie Chicks hanging on the wall, and rumors of a collab between them and Taylor were already starting to spread before the video. Additionally, look at this tweet that they sent after the video premiered:
— Dixie Chicks (@dixiechicks) April 26, 2019
It's all happening.
The Chrysalis
She wants to break fucking free ????? !!!! pic.twitter.com/g93umGBs2n

— Mayi (@9march2) April 26, 2019
I needed a second to wrap my mind around this one. Throughout Taylor Swift's onslaught of Insta teasing, butterflies have been one of the main themes. What do they mean?? The butterflies were first referenced in the video when the snake exploded at the beginning, but there might be a larger metaphor at play here. Based on how the sky looks in the video, it seems like the whole thing might take place inside of a giant chrysalis (aka the shell where a butterfly turns into a butterfly). "ME!" represents the beginning of a metamorphosis into a new era, and this is a way of visualizing it. If this is the beginning, then it makes sense that after this, Taylor Swift will break out of the chrysalis as a beautiful butterfly. I believe it.
The Queer Message?
I'm going out on a limb for this one, and I have no idea if it's true. Leading up to the video, there were rumors that Taylor Swift was going to come out as bisexual or queer. This obviously wasn't directly addressed in the song or the video, but there's a possibility that there are still some queer symbols present. First of all, there are rainbows everywhere. Of course, rainbows occur in nature, but no one in 2019 is unaware of the rainbow's significance to the LGBTQ community. Taylor had to know that this would cause conversation, and she still went ahead with it.
Going a little deeper, there's a lyric where Taylor says that she's "Like a rainbow with all of the colors." This could just be referring to her vibrant personality, but the repeated use of the rainbow theme definitely makes you wonder. Like I said, it's likely that nothing in this video/song is a coincidence. Whether Taylor is trying to say anything about her personal sexuality, the rainbow theme is a nice tribute to the LGBTQ community.
The Upcoming Music
Obviously, there are going to be more songs and an album after this, and it appears that Taylor might already be dropping some hints about what's coming next. First, people are fixating on the appearance of the word "Lover" in the video. Many are saying that this could be the next song from the album, and possibly even the Dixie Chicks collaboration. We'll see.
is the next track going to be called "Lover"? #TaylorSwiftTONIGHT pic.twitter.com/XuCYA7rjoV

— nikkie is ME! (@delicatenik) April 26, 2019
People also think that Taylor might have included a clue to when her album is going to be released. In the video, we see a clock that's set to 8:30, and for this reason, people are saying the album could be released on August 30th. I'm less than convinced about this one, mostly because that seems like a really long time to wait, but I've been wrong before.
We've got a long way to go in terms of Taylor Swift speculation, so I'll leave it at that for now. I'm sure there are hundreds more symbols buried deep in the music video, but I really have other things to get done. Let me know which ones you spotted!
Images: Shutterstock; @candicextayswft, @dixiechicks, @9march2, @delicatenik / Twitter; @taylorswift / Instagram
What Taylor Swift Music Video Are You Based On Your Zodiac Sign?
We're just under a month away from an Album of the Year drop by the Artist Formerly Known as Taylor Swift, or maybe she's still Taylor Swift? IDK, that whole "Why? Because she's dead" thing still has me super confused. Anyway, in honor of the upcoming release of Reputation, let's take a little gander back through the T-Swift music video catalog and tell you what video speaks to your soul based on your zodiac sign. Get out your fake nerd-glasses and spiral ringlets, betches.
Aries: "Bad Blood"
As an Aries, you're adventurous and energetic. Since Aries is the first sign in the zodiac, they usually see themselves in leadership roles, not unlike Taylor in the "Bad Blood" video as she wrangles her Army of Skanks—I mean, battalion of models to fight the evil Selena Gomez. The Aries betch loves a good challenge, you know, like being able to stand next to Karlie Kloss, Cindy Crawford, and Zendaya without developing an eating disorder. Also, Aries is a fire sign. Like, duh, "Bad Blood" has the most literal fire out of all the T-Swizzle videos.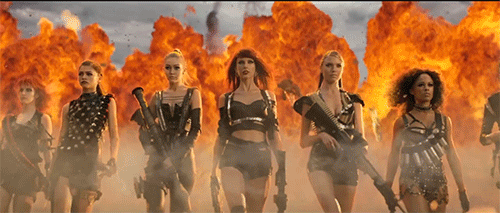 Taurus: "Wildest Dreams"
The Taurus betch has been known to be a bit of a self-indulgent pleasure-seeker. Sounds a little bit like the raven-haired actress Swift plays in the video, right? Likewise, Tauruses (Tauri?) are known for their stubbornness and jealousy. Like, yeah, I would be a little jealous too if I hooked up with Scott Eastwood in the middle of Africa, and then he went back to his dumb wife. As an Earth sign, it makes sense for the Taurus to be matched up with "Wildest Dreams." The video features like, a lot of nature, even if Tay Tay is standing in the middle of it in a ball gown with a bunch of diamonds.

Gemini: "You Belong With Me"
I feel like this was the video that made SO many people into Swifties. Like, it was one of her first big departures from her former Country Cutie persona as she forayed into Pop Star status. Anyway, Geminis are known for their dual personalities. You know, like how Taylor plays herself (a glasses-wearing, sexually active band geek) and a mean girl (a brunette version of Taylor Swift as we know her now). Geminis love to talk, but they are also great listeners—qualities perfect for a peeping-tom type who communicates with her hot neighbor through a series of sad, handwritten notes.

Cancer: "Love Story"
In this video, Taylor plays a Juliet/Renaissance Fair version of herself who falls in love with a swoopy-haired guy definitely circa 2008. Nice. Cancers can be moody and have been known to sulk, possibly in a castle after daddy says you can't date that hot older Romeo type. Cancers can be emotional, imaginative and clingy, often getting lost in their own personal fairy tales—you know, like if you were to daydream that you and a random campus hottie were so in love you killed yourselves. Yeah, that only happens in the play and not the video, but still.

Leo: "Look What You Made Me Do"
Often known for their ferocity, Leos can also be super pompous and patronizing. You know, like if one was to, say, dress up like their archnemesis and metaphorically get in a major car accident. You know, just something silly and light like that. Leos are used to being given the royal treatment, so it's understandable that you'd relate to Taylor sitting in a bathtub full of diamonds or on a throne of snakes. Likewise, you're always reaching for the top, even if the top is that of a pile of your former personas.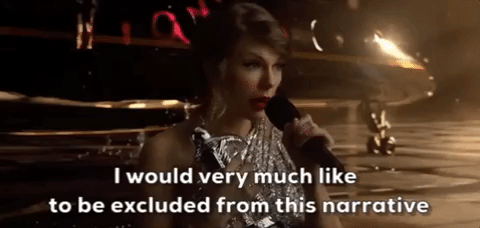 Virgo: "White Horse"
It makes total sense that in honor of the Virgo betch, we'd go back to a more virginal, innocent Taylor like in the "White Horse" video. Sidenote, this video stars Laguna Beach's Stephen Colletti as the love interest. Um, okay. Anyway, Virgos are known for being one of the more subdued signs. In this video we see a more casual and low-key Tay. The video's storyline and sad, heartbroken Taylor should appeal to their more tender and emotional side, even if that emotional side hasn't matured past that of a 17-year-old.

Libra: "The Story of Us"
Partnership is important to the Libra betch, so it only makes sense that you'd relate to how Taylor is pining for the relationship she once had with a nerdy hot guy in this video. Libras are not into conflict, so the fact that it's totes awkward between Taylor's character and a guy she probs hooked up with for a couple months during freshman year but now doesn't really talk to kind of speaks to your soul. Like, you feel for her in this, because you really seek that conflict resolution. Sure, the video ends with the two just shrugging and walking away, but at least you get a hot library makeout scene mid-vid.

Scorpio: "Blank Space"
Damn, Scorpio, you crazy. Kind of like how fucking batshit Taylor goes in this very literal interpretation of her song "Blank Space." Scorpios can be very jealous and often get violent when they're enraged, like how Taylor stabs a weird blood cake and also slices up her lover's dress shirt into having Regina George nipple cutouts. Also, I think my bf legit cringed when she took the golf club to that car. Anyway, Scorpios generally seek a grand passion, totally relatable to the passion between characters in the video. I mean, instead of breaking up with her, the guy just buys a new car. That's true love.

Sagittarius: "I Knew You Were Trouble"
Sagittarius are known for being idealistic like Taylor in this video, always looking for the best in her dumpster fire of a boyfriend… who I think leaves her stranded in the desert/poor man's Coachella in the end? IDK, it's hard to tell what really happens here when you're so distracted by that disaster of a wig. Still, a Sagittarius seeks freedom, travel, and would probs easily be talked into attending an outdoor concert/festival. Like how Taylor shucked her nicegirl appearance to be a bad girl who stays in a shitty motel, a Sagittarius betch doesn't like being confined by the opinion or expectations of others.

Capricorn: "We Are Never Ever Getting Back Together"
A Capricorn can be a bit of a know-it-all; that's why she'll relate to the seemingly silly antics of Taylor in the "We Are Never Ever Getting Back Together" video. Saturn's control over Capricorn can make these ladies a tad unforgiving—you know, how Taylor has to keep saying "boy bye" to whatever hot male model got recruited to play here ex here. Capricorns like to make plans and execute them perfectly, so they'll appreciate how Taylor's band members were prepared to dress like furries and run around probably sweaty AF to make this one-shot video work.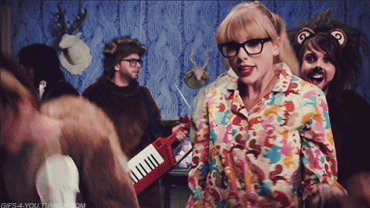 Aquarius: "22"
As an Aquarius, friends are one of the most important aspects of your life, so of course your fun-loving and friendly nature is best exemplified by the video for "22." Though some under the sign are born shy, they're usually seen as more outgoing because of their energetic and eccentric nature. "Eccentric" like how Taylor attends a house party wearing cat ears. Cat ears! What will this girl think of next? An Aquarius feels best in a group, that's why it makes sense that we almost never get a solo shot of Tay in the video. She always has at least one member of her girl posse by her side.

Pisces: "Out of The Woods"
A Pisces is known for being a dreamer, relating to the dream-like journey Taylor goes on in the "Out of the Woods" video. As a water sign, it makes sense for Taylor to be facing the elements like snow and water. Wolves probably symbolize something too, but once again, I'm not really sure what's going on here. Whatever it is, though, it makes sense, because a Pisces is multifaceted and what they say or do will often be interpreted by others in a number of ways. The Pisces betch can often get so lost in their own heads they could totally miss the fact that Tay's blue dress in the video is the same one she crawls out of the grave in at the beginning of "Look What You Made Me Do." And I bet you just re-watched the "LWYMMD" video to double-check, didn't you?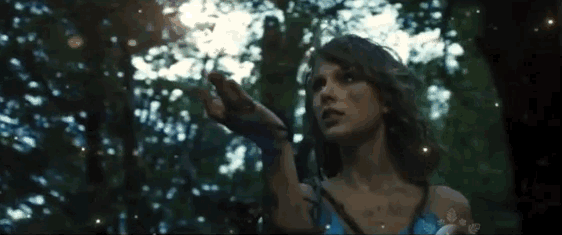 Taylor Swift Has Officially Gone Off The Deep End
Remember last week, when we talked about how Taylor Swift had been prancing around London shooting a music video and generally being the worst? Scratch that. Well, not completely, but file it away somewhere for now, because Taylor's next music video is actually going to be much, much worse different than we expected.
Taylor teased a few seconds of the "…Ready For It?" video on Instagram, and our minds are melting. The girl has gone wild. The preview is only a few brief shots, but there's already so much to talk shit about discuss.
First of all, we see her name in some Transformers type font with lightning bolts going across it. It's basically what a sixth grade boy would design for himself if he knew how to do animation, so it's a major vibe for Taylor.
The actual shots of the video are giving strong sci-fi dystopian imagery, which I guess is the logical next move for her career. We briefly see her as some sort of naked cyborg, which is honestly a very big deal because up until this point, Taylor has made (what I assume to be) a conscious decision to never show herself naked. And when Kanye infamously portrayed her naked figure in the "Famous" music video, Taylor lost her shit. So this decision is actually, dare I say, huge. Does it mean Taylor has finally said "fuck it" and embraced the new Taylor (whoever she is)? I guess we'll have to wait to find out.
A lot of people are comparing this video clip to Scarlett Johansson in the movie Ghost in the Shell, which would be cool except that movie bombed at the box office and got tons of criticism for white-washing the main character. Good thing Taylor is super exotic looking and definitely not white!!
We also get little glimpses of Taylor in a cape with a hood, as well as controlling lightning with her fingertip like she's about to introduce a Disney Channel Original Movie. Basically, Taylor is going for some high-concept shit with this video, and we're very curious to see how this turns out. Can't wait for Thursday!
The Guy Who Directed "Bad Blood" Thinks Beyoncé Copied Taylor Swift
If you felt a random pain directly in your heart for no reason today, it may be due to an egregious act of blasphemy committed against Her Holiness The Queen Beyoncé. What kind of monster would commit such a heinous crime against the world's most beloved religious musical figure? Why, the same person who brought us Taylor Swift's "Look What You Made Me Do" video, of course! Joseph Kahn, or as he shall be known from this day forward, Beelzebub, actually had the audacity to tell the LA Times that not only does he not think "LWYMMD" copied Beyoncé's "Formation" look, but that in fact Beyoncé copied Taylor's look from "Bad Blood."
Umm…excuse me…? There is only one response to an outrageous statement like that, and it is:


How is it even legal to make a statement like this? The world is out here trying to focus on North Korea and hurricanes while Joseph Khan thinks it is okay to go around blaspheming Beyoncé? Hell the F no. So what exactly did Benedict Arnold Joseph Kahn say? Well, I hesitate to even copy/paste it for fear that my keyboard will melt in protest, but here's the full quote:
It's not "Formation" at all. They say she's wearing a black crop top and Beyoncé wore a black crop top. But they don't realize in 2015 in "Bad Blood," Taylor Swift was wearing a black crop top. I really do think, by the way, that Beyoncé copied "Bad Blood."
And then, I assume, he was sucked back down into Hell where he belongs.

So first of all, the Taylor Swift/"Formation" comparison was mostly a joke used as a vehicle for some very funny tweets about Taylor being unoriginal white AF. And for those who did take the comparisons seriously, it was never about a crop top. Honestly, the crop top is the least comparable part of this whole thing:

Joseph Kahn is clearly out here trying to start shit because nobody liked his dumb music video or the dumb song the music video is for, and while I get the impulse to throw shade on others to distract from your own fuck ups, keep Beyoncé's name out ya mouth. I'm pretty sure that's like, the 11th commandment.
Now, of course, Kahn is trying to backtrack saying that he was "just trolling" via Twitter, but we all know the truth. You came for the queen and you missed. Hard. Next thing you know he'll be saying he was hacked or some other bullshit. Whatever Joseph. Why don't you stick to making mediocre videos and leave the high art to Beyoncé?
Except for Blank Space. That video was good.