The 10 Best Sunscreens To Keep Your Face & Body Safe All Year-Round
Betches may receive a portion of revenue if you click a link and purchase a product or service. The links are independently placed and do not influence editorial content.
Summer is almost here, so it's time to start thinking about sun protection (although, SPF should be worn year-round, just sayin'). Whether you're headed to the beach, going for a hike, or just spending time outdoors, it's essential to protect your skin from the damaging effects of the sun's harmful UV rays. And with so many options out there, it can be tough to know where to start. But don't worry, our team has got you covered. Here are some of the best sunscreens for 2023, including options for face and body, as well as mineral sunscreens.
Supergoop! Unseen Sunscreen SPF 40

This lightweight, oil-free sunscreen is perfect for daily use on your face. It's formulated with antioxidants to help protect against environmental stressors and has a matte finish that works well under makeup.
Shop It: Supergoop! Unseen Sunscreen, $48, Ulta
Neutrogena Ultra Sheer Dry-Touch Sunscreen SPF 75

If you're looking for a sunscreen that will provide maximum protection for your body, this is a great option. It's water-resistant, non-greasy, and has a lightweight feel. Plus, the high SPF means you'll be protected from both UVA and UVB rays.
Shop It: Neutrogena Ultra Sheer Dry-Touch Sunscreen SPF 75, $16, Ulta
La Roche-Posay Anthelios Mineral Sunscreen SPF 50

This mineral sunscreen is perfect for those with sensitive skin. It's free of parabens, fragrance, and oxybenzone, and has a silky texture that won't leave a white cast. Plus, the addition of antioxidants helps protect against environmental damage.
Shop It: La Roche-Posay Anthelios Mineral Sunscreen SPF 50, $26, SkinStore
Aveeno Positively Mineral Sensitive Skin Sunscreen SPF 50

Another great mineral option, this sunscreen from Aveeno is perfect for those with sensitive skin. It's made with 100% zinc oxide and is free of fragrance, parabens, and phthalates. Plus, the non-comedogenic formula won't clog pores.
Shop It: Aveeno Positively Mineral Sensitive Skin Sunscreen SPF 50, $17, Amazon
Coola Mineral Face Matte Tint Sunscreen SPF 30

If you're looking for a tinted sunscreen that can double as a makeup primer, this one from Coola is a great choice. It has a matte finish that helps control oil, and the tinted formula provides a subtle, natural-looking glow.
Shop It: Coola Mineral Face Matte Tint Sunscreen SPF 30, $36, Coola
Coppertone Sport Sunscreen SPF 50

If you're planning on being active outdoors, you'll want a sunscreen that can keep up with you. This sport sunscreen from Coppertone is water-resistant for up to 80 minutes and won't run into your eyes when you sweat.
Shop It: Coppertone Sport Sunscreen SPF 50, $8, Amazon
EltaMD UV Clear Facial Sunscreen SPF 46

This lightweight, oil-free sunscreen is perfect for those with acne-prone or sensitive skin. It's formulated with niacinamide to help soothe and calm the skin, and the zinc oxide provides broad-spectrum protection against UVA and UVB rays.
Shop It: EltaMD UV Daily Broad-Spectrum SPF 40, $36, Dermstore
Hawaiian Tropic Silk Hydration Weightless Sunscreen SPF 30

If you're looking for a sunscreen that smells amazing, this one from Hawaiian Tropic is a great option. It has a light, tropical scent and is infused with hydrating silk proteins to keep your skin moisturized.
Shop It: Hawaiian Tropic Silk Hydration Weightless Sunscreen SPF 30, $10, Amazon
Shiseido Ultimate Sun Protector Lotion SPF 50+

This sunscreen from Shiseido is perfect for those who want to protect their skin from both UV rays and environmental pollutants. It's formulated with the brand's proprietary WetForce technology, which means it becomes more effective when it comes into contact with water or sweat.
Shop It: Shiseido Ultimate Sun Protector Lotion SPF 50+, 50, Sephora
Banana Boat Simply Protect Sport Sunscreen Spray SPF 50+

If you're looking for a sunscreen that's easy to apply, this spray from Banana Boat is a great choice. It provides broad-spectrum protection and is water-resistant for up to 80 minutes.
Shop It: Banana Boat Simply Protect Sport Sunscreen Spray SPF 50+, $13, CVS
No matter which sunscreen you choose, make sure you apply it liberally and reapply every two hours, especially if you're sweating or swimming. And don't forget to protect your lips with a sunscreen lip balm as well. With so many great options on the market, there's no excuse not to protect your skin from the harmful effects of the sun. So, stock up on your favorite sunscreens and enjoy all the outdoor activities that summer has to offer, knowing that your skin is well-protected.
You Won't Believe The Before & After Results Of This Viral Self-Tanner
Betches may receive a portion of revenue if you click a link and purchase a product or service. The links are independently placed and do not influence editorial content.
Picture this: glowy, bronze, hydrated skin minus the sun. That's exactly what you get with the Coco & Eve Sunny Honey Bali Bronzing Foam. This amazing product has been making waves on TikTok and for all the right reasons. It's the perfect self-tanner for anyone who wants a gorgeous, natural-looking tan without exposing your skin to harmful UV rays or risk turning orange and giving major Cheeto vibes.
On top of the fact that it's easy to use and has color that lasts for days, it also smells incredible (and those of us who self-tan know how stinky that can get). This bronzing mousse comes in a beautiful golden bottle, and the formula is enriched with natural ingredients such as mango, papaya, and cocoa to nourish and hydrate your skin while giving you a sun-kissed glow.
Applying the Coco & Eve Sunny Honey Bali Bronzing Foam is a breeze. Just pump some of the foam onto the included tanning mitt and apply it evenly all over your body. The foam is tinted, so you can see exactly where you have applied it, which is a lifesaver for those hard-to-reach areas. And don't worry about any streaks or patches–the formula is foolproof and guarantees a flawless finish every time.
One of the best things about this self-tanner is the incredible scent. Unlike many other self-tanning products that have a strong, unpleasant odor, the Coco & Eve Sunny Honey Bali Bronzing Foam smells like a tropical vacation in a bottle. You'll feel like you're lounging on a beach in Bali, even if you're just hanging out in your bedroom.
But what really sets this self-tanning mousse apart is the fact that it's so long-lasting. Unlike other self-tanners that start to fade after a day or two, the Coco & Eve Sunny Honey Bali Bronzing Foam can last up to a week. That means you can enjoy your gorgeous, golden tan without having to reapply every day.
And TikTok agrees. There are so many videos of content creators and self-tanning fans showing their before and after results, and the proof is right there in front of us. Everyone is left looking a few shades darker and like a glowing, radiant goddess. Don't believe us? Check it out for yourself below.
All in all, the Coco & Eve Sunny Honey Bali Bronzing Foam is a game-changer in the world of self-tanning. It's easy to use, smells amazing, and gives you a beautiful, natural-looking tan that lasts for days. So, if you're looking for the perfect self-tanner, this one's got you covered from head to toe–literally.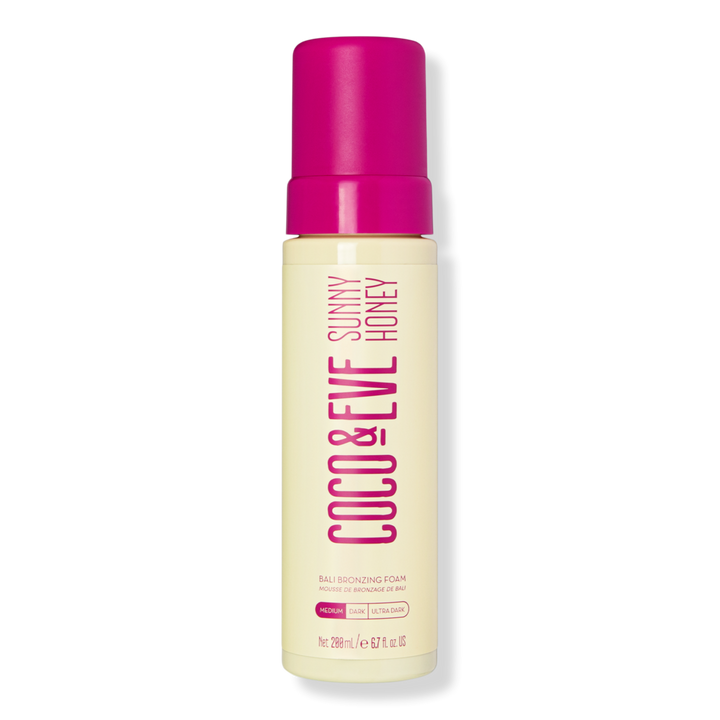 Shop It: Coco & Eve Sunny Honey Bali Bronzing Foam, $35, Ulta
12 Common Sunscreen Myths Debunked
You've heard it from your mother, your dermatologist, your first-grade teacher, and even Baz Luhrmann: Wear sunscreen. With the wealth of knowledge we now have on sunscreen's ability to reduce our risk of skin cancer and to protect against sun damage like wrinkles, dark spots, and sagginess, it seems wild to think that some still skip this crucial step in their daily skin care routines. But in reality, the increasingly oversaturated sunscreen market and the onslaught of information, studies, and data surrounding it can often have a detrimental effect on consumers, leaving them unsure of what to believe and whom to trust. Over the years, certain myths about sunscreen have permeated our culture, and even the wisest of skin experts have fallen victim to them. With a scorching summer already upon us, it's more important than ever to not only debunk these misconceptions but also to understand why they're inaccurate.
Myth #1: Sunscreen Is Not Necessary Indoors, On Cloudy Days, Or Inside A Car
"False, false, false!" says Dr. Shereene Idriss, a board-certified dermatologist in New York City. "Yes, clouds do reduce some of the harmful UV rays, but they don't block them all, particularly in areas where the ozone layer is dramatically reduced." It's also important to realize that UV light is not alone in its ability to cause harm. Outdoors, UV light, in the forms of UVA and UVB, can impact skin aging and increase the risk of skin cancer. Some of that light can travel indoors through windows, but we're also exposed to other types of light indoors, including visible light and blue light, which can also impact the skin. For that reason, it's crucial that sunscreen be worn daily, and it should not be skipped just because you're inside.
Myth #2: One Application Of Sunscreen Will Last All Day
"If you have discovered the sunscreen that lasts up to 24 hours, please let us all in on that secret!" Dr. Idriss jokes. In fact, not only will one application of sunscreen not last all day, but it will last just a couple of hours. "Most sunscreens are tested for a specific amount of time, and that's on average two hours," explains Dr. Caroline Robinson, a Chicago-based board-certified dermatologist and founder of TONE Dermatology. "After two hours, the SPF protection goes down significantly, so you do need to reapply to maintain that initial level of protection." If you are in the sun, reapplication every two hours is imperative, but if you're mostly indoors, you can be slightly more lenient in reapplying so long as you apply before stepping outside again. "I tell people to bring a sunscreen brush, like ISDIN's, with them wherever they go and quickly apply that to their arms and face and any exposed skin before going back outside," Dr. Robinson notes.
Myth #3: The Higher The SPF, The Better The Protection
While this is not totally true, there is some logic behind the belief. "The SPF number does not reflect the duration of efficacy of the sunscreen; it indicates how long it would take for your skin to redden when using the product," Dr. Idriss says. "So, for example, if you are using an SPF of 30, it would take 30 times longer for you to burn while using the sunscreen versus if you didn't use it all." There is also proof that the higher the SPF, the more protected you will be—but only to a certain point. "SPF 15 blocks 93% of UVB, whereas SPF 30 blocks 97%, and SPF 50 blocks 98%," the New York dermatologist explains. "This may seem like a negligible gain in protection, but if you are prone to sunburns or skin cancers, that little gain can make a world of a difference."
Once you go above SPF 50, though, the difference in protection is quite small. Dr. Robinson says a nickel-sized amount of sunscreen is required to cover the whole face and about a shot-glass full is necessary to cover the whole body. "But if you know that you're not going to follow those recommended amounts—and most don't—then you can actually benefit from a higher SPF," she advises. "In doing so, you can get a similar protection to an SPF 30, which is what those measurements are based on, but you can get it with less than the nickel- and shot-glass-sized amounts." Essentially, it will be more thinly spread than the recommended amounts would, but because it's a higher SPF, it will be roughly as powerful.
Myth #4: People With Darker Skin Tones Don't Need To Wear Sunscreen
"This is a misconception I've been fighting for a very long time," says Dr. Robinson. "While people with darker skin tones are indeed less likely to burn, they aren't immune from sun damage, and oftentimes, it will develop in the form of hyperpigmentation—potentially even more dramatically than sun damage would manifest on lighter skin tones." Additionally, certain conditions, including post-inflammatory hyperpigmentation (dark spots that result from acne or irritation to the skin) and melasma, can be worsened by sun exposure, especially in people of color. So, even if your sun damage doesn't come in the form of the traditional sunburn or freckles, it's still important to wear sunscreen in order to protect your skin from other damage.
Myth #5: If You're Not Prone To Burning, You Don't Need To Wear Sunscreen
Much like the belief that those with darker skin tones don't need sunscreen, there's a misconception that if you don't burn, you similarly don't need SPF. "There's this idea that just because you tan, you're fine, but tanning can actually be a system of sun damage," Dr. Robinson explains. "You can have enough exposure to the point where you no longer burn; your skin just goes straight to tan, and that's not a good thing." Immediate tanning can be an indication that your skin has skipped the warning response of burning entirely, and that's actually a sign that your skin is damaged.
Myth #6: If You Wear Sunscreen, You Won't Get A Tan

Many refrain from wearing sunscreen because they claim it will keep them from achieving that oh-so-coveted sun-kissed glow. But, as Dr. Idriss says, this is once again false. "Sunscreen makes your skin slower to react to UV rays," she notes, "but it doesn't prevent it from reacting altogether." You can definitely still get a tan while safely protecting your skin with sunscreen.
Myth #7: Wearing Makeup That Has SPF In It Is Enough
Absolutely not! "Most makeups that include an SPF are not tested to the extent that sunscreens are, especially compared to the sunscreens that carry extra credentials, like an endorsement from the Skin Cancer Foundation, or anything like that," Dr. Robinson explains. In order to reap the full benefits of the SPF listed on your makeup, you would need to use a hefty amount, up to the size of a nickel, and unless you're a Kardashian, you're probably not equipped to wear that much makeup. You also likely won't be putting makeup on your ears, neck, chest, or any of the many regions of the body that are not the face but are equally susceptible to sun damage, and you won't be reapplying makeup every two hours as you would sunscreen.
Myth #8: Spray Or Powder Sunscreen Is Just As Effective As Lotion
As new agents of delivery have come to the sunscreen market over the years, they've often appeared to be solutions to the stickiness and getting-it-in-your-eye tendency of traditional lotion, and while that can be true, spray and powder sunscreens can also have their shortcomings. "They can definitely be as effective, but a lot more needs to be applied in order to reach the same level of effectiveness," says Dr. Idriss. Unlike lotion sunscreens, applying a spray or powder means that some of its contents will not land on the actual skin, so you'll need to as much as double the amount you're using.
Myth #9: Sunscreen Can Lead To Cancer Or Other Health Problems
While an alarmingly common belief, the idea that sunscreen can cause cancer or any other health issue is founded in no truth. "I wish this myth would go away because it's been disproven time and again," Dr. Robinson says. "Sunscreen does not cause cancer, and there have been so many studies to show that, but they sadly don't make the headlines as much." And if you're really worried, do as Dr. Idriss suggests and simply opt for a physical sunscreen instead of a chemical one.
Myth #10: There's No Real Difference Between Chemical And Mineral/Physical Sunscreens

Although both types of sunscreen achieve the same goal, scientifically, they work very differently. "Mineral and physical are interchangeable terms, and the most common ingredient in those sunscreens is either zinc oxide or titanium dioxide," explains Dr. Robinson. "Those are metals, and if you think about a sheet of metal, you know that it literally just reflects light; so, physical sunscreens sit on top of skin and reflect the UV rays and scatter light." Chemical sunscreens, on the other hand, absorb the UV light and put it through a chemical reaction (their namesake comes from this) that converts the light to heat. "Because the chemical sunscreens have to first absorb the light, they take a little longer to become active, so you can't apply them while you're outside or even right before," the Chicago dermatologist notes. "You have to allow at least a few minutes, which the bottle will tell you."
Some people can be more sensitive to the ingredients in chemical sunscreens, so for babies, children, and anyone with sensitive skin, a physical sunscreen is the way to go. Historically, some consumers have shied away from physical options because they can leave more of a white film, but some recent additions to the sunscreen market have gotten around that with advanced technologies. Dr. Robinson recommends SkinBetter's SunBetter Stick, a physical SPF 56 sunscreen which uses a new technology to uniquely shape the zinc particles so that they sit atop the skin without leaving the familiar white cast. She also loves Eryfotona Actinica from ISDIN, another physical option that uses DNA Repairsomes to repair DNA damage that can come from sun exposure, and Revision Skincare's IntelliShade TruPhysical, which has Vitamin C in it and effectively serves as two necessary products in one.
Myth #11: If You Didn't Wear Sunscreen When You Were Younger And Already Have Sun Damange, There's No Point In Wearing It Now
"Although most of the damage is actually accumulated while you're younger (typically before the age of 18), it doesn't make you immune to worsening damage," Dr. Idriss says. Indeed, sunscreen protects from the visible signs of aging caused by sun exposure, but it also reduces your risk of skin cancer, and that alone is reason to start or continue wearing it even if you've already suffered some sun damage. "I recommend you adopt a 'never give up' attitude," suggests Dr. Idriss. "You only have the skin you're in, and hopefully your life will be long, so you might as well protect and enjoy it every step of the way."
Myth #12: Sunscreen Never Expires
Of all the myths that exist about sunscreen, the notion that it doesn't expire might be the most outlandish. "Sunscreen is doing a lot of work, so when you're applying it, you want to be confident that you're getting the coverage you think you are," Dr. Robinson explains. Like everything in life, sunscreen has an expiration date, and you can find it by looking at the back or bottom of the bottle. As for any wiggle room when it comes to that expiration, like the "five-day rule" for milk, Dr. Robinson says, "we don't take chances with sunscreen."
Images: Retha Ferguson / Pexels; Maciej Serafinowicz / Unsplash; Antonio Gabola / Unsplash; Taylor Simpson / Unsplash
The 5 Best Tanning Lotions With SPF
We all love the ~lewk~ a well-deserved, hard-earned summer glow gives us. Generally, we are just all-around better (and happier) people when we're slightly bronze. However, regardless of whether we're three shades darker or still pale AF come August, we've got to protect ourselves when it comes to basking in the sun. I mean, looking orange straight out of a tanning bed was cool in the early 2000s, but it's now 2018 and putting yourself at risk for cancer is like, v uncool. Not to be a total buzzkill and get all mom-like, but we should all be using sunscreen religiously on a daily basis—sun or no sun. While it may seem as though you have to choose between finding a sunscreen that protects you against annoying UV rays or going for a tanning oil instead, life doesn't always have to be so hard. We can have nice things every once in a while, and those nice things come in the form of tinted sunscreens or tanning lotions with SPF. The best of both worlds do exist, betches. Bless. Here are the best ones to stock up on so you can live your very best tanned life responsibly.
This oil-free sunscreen has a ton of SPF, which, honestly, can only be a good thing. Despite being SPF 50, it features a natural tint for all skin tones (and all sensitive skin types!) so you can still glow without fear of turning into a lobster. It leaves a matte finish and is water-resistant for up to 40 minutes. You know, for on the off chance you actually go into the pool.

I admit, sunscreen in a stick sounds reaaally weird. BUT it's actually like, really smart. This one is perfect for traveling, but also super efficient when it comes to all-over coverage. It boasts 80 minutes of water-resistance, which is effing impressive, and a universal gold tint that enhances your rich tan.

I don't only love this stuff simply because it's conveniently sold at my beloved Target, but also because it works so damn well. If you love the famous Jergens moisturizer, then you'll be obsessed with this sunscreen version that's one of my favorite tanning lotions with SPF. While you lay out on the beach, this will gradually darken your skin tone for a healthy-looking glow and prevent pesky sun damage at the same time.

People seriously swear by this. I'm told it like, works wonders, performs miracles, and maybe even does magic or something. While serving as a shield from cancer-causing rays, this gel offers an instant caramel-like bronze glow after application, so you always have a luscious tan regardless of how much time you spent under the sun. It can also become water-resistant for up to 80 minutes, which again, is a really long time to be hitting the waves. So really, it's a life-savior.

This is legit a total game-changer for all of us who enjoy wearing makeup to the beach. This multi-functioning cream is a skin perfector, sunscreen, and tinted primer all in one. The formula corrects skin imperfections, protects against UV rays with a high SPF 50, and fixes any skin tone irregularities with any of its three shades. It's v lightweight, hydrating, and buildable, so it works fab under a foundation of your choice. Praise be.

Images: Chelsea Fern / Unsplash; Ulta (2); Sephora (1); Anthropologie (1); Target (1)
Betches may receive a portion of revenue if you click a link in this article and buy a product or service. The links are independently placed and do not influence editorial content.