15 Trendy Swimsuits To Buy So You Can Pretend Summer Is Happening
Unlike most people, I actually enjoy swimsuit shopping. It gets me excited just daydreaming about the possibility of being somewhere other than my couch—namely, somewhere warm with a marg in hand. Ugh, remember being outside? Those were the days. Plus, I'm pretty sure that online shopping is a form of therapy, and that by buying swimsuits, I'm willing summer into existence. Yeah, I read The Secret and I'm putting this out in the universe. If nothing else, there's always summer 2021, I guess. Anyway, these are the swimsuit trends we would have seen all over the beach this summer, but now will probably just be seeing all over TikTok.
1. Tangerine

Maaji Orangesicle Ellen Triangle Bikini Top, $69 & Orangesicle Sublime Reversible Bikini Bottom, $60

Lovers + Friends Wiles One Piece, $128

PilyQ Papaya Reef Tube Bandeau Bikini Top, $88 & Papaya Reef Hipster Bottom, $76
Somewhat surprisingly, orange or more formally, tangerine, is the trending color for swim 2020. Now, I'm pretty sure orange is one of the hardest colors to pull off, especially when it comes to a swimsuit. If you're naturally pale and survive off of self-tanner *raises hand*, then this trend might be a risky choice. But, the good news is, if you decide to embrace the trend anyway then at least you won't have to worry about your spray tan ruining your suit. Small wins.
2. Covered-Up

Free People Oracle One Piece Swimsuit, $187

Public Desire Bandage Underwire Bikini Top, $24

L*Space Prism Bikini Top, $72 & Frenchi Bitsy Bikini Bottom, $55
Ironically enough, just as thong bikini bottoms have become a thing, so have ultra covered-up swimsuits. You know that weird swim shirt your mom used to make you wear at the beach so you wouldn't get sunburned while boogie boarding all day? Yeah, that once dorky surf shirt has been now deemed chic by fashion bloggers. Figures, right? It's now cool right now to wear a high neck swimsuit, swimsuits with long sleeves, and even swimsuits that could pass as actual crop tops. 
3. Animal Print

Vitamin A Vinca Neutra Blue Snake Bralette Bikini Top, $110 & Hipster Bikini Bottom, $96

Wolf & Whistle Curve Wrap Bikini Top, $38 & High Waist Bikini Bottom, $26

Boys + Arrows Animalistic Animal Don't Trip Bikini Top, $98 & Animal Kiki Bikini Bottom, $106
Obviously, animal print has been trending for months now, so it's no shocker that it's made its way into swimsuits. From snake print to cheetah print, it's all trending. To wear the trend yourself in the least basic way possible, I'd recommend trying an animal print in a colored variety, such as the blue snake print one above. 
4. Ruching

ASOS DESIGN Ruched Tie Side High Swimsuit, $13.50 

Frankies Bikinis Dreamy Bikini Top, $84 & Sadie Bikini Bottom, $79

lovewave Sedona Top, $88 & Sedona Bottom, $80
Ruching can elevate an otherwise basic swimsuit with an added trendy, feminine detail. But don't just take my word for it—the black one from Frankies Bikinis is a current Revolve best seller. So, needless to say, I expect to see it on all of our favorite former Bachelor contestants.
5. High Waist

Kitty and Vibe Underwire Top, $50 & High Hip Bottoms, $45

Chelsea28 Easy Retro Bikini Top, $22.05 & High Waist Swim Bottoms, $13.50

L*Space Stone Tie Dye Beach Wave Bikini Top, $92 & Tie Dye Hi Waist Bikini Bottom, $99
Every guy's least favorite swim trend, high waist bottoms, is back. And honestly, screw them anyway. Speaking for myself, I won't mind the extra coverage, considering I've been mostly sitting on my couch for the past six weeks. I like the way a lot of high-waisted bottoms now have high-leg cutouts, though, because it balances out this otherwise conservative silhouette.
It's kind of crazy how swimsuit trends have become a thing. Like, I remember simpler days when you just ordered whichever swimsuit off of Victoria's Secret that your mom deemed appropriate enough. And now, here I am blowing an entire paycheck on several swimsuits in the name of fashion! Whatever, fortunately it's a sacrifice I'm all too happy to make.
Images: Roberto Nickson / Unsplash; South Moon Under (6); Revolve (4); Free People; ASOS (3); Solid & Striped; Kitty and Vibe
Betches may receive a portion of revenue if you click a link and purchase a product or service. The links are independently placed and do not influence editorial content.
16 Trendy Swimsuits Under $100
Look, I work in retail we were sell some nice-ass swim brands. So, I know better than anyone how expensive swimsuits are these days. Like, just the top alone can cost you $100. Which is UNREAL, and I'll remind you again, I work in retail. Thus, my personal alotted swim budget is pretty minimal. But, finding on-trend swimsuits that are reasonably priced is easier than ever with all the online fast fashion brands we have access to nowadays. Look, it's unlikely that your bright green neon swimsuit is going to be trendy come next summer, so why spend your life's savings on something that's just a passing trend? Here are this season's swimsuit trends and affordable options for each.
1. High Cut
A high cut bottom is not only trendy, it's v flattering. It has an effortless retro sex appeal for the ultimate summer vibe. It's very vintage Baywatch-cool and allows for some variety with your summer tan lines. A flattering swimsuit that looks sexy, stylish, cool AND allows for a more even flawless tan? Could you ask for anything more???

Missguided Mix and Match Bikini Set, $24.50

Asymmetric Colorblock Swimsuit, $17.99
2. Animal Print
We already know animal print is super trendy in general for spring and summer. So it only makes sense that the trend would translate to swim as well. Whether you go leopard, snake, or any other print, pick one in a neutral color to ensure it looks expensive, not cheap. As Countess Luanne would say, "Money can't buy you class," so don't go wasting yours on a pricey swimsuit. Rather, use your best judgement to pick one that just looks expensive. And, if you don't trust your own judgement in doing so, I'm here for you, just take one of my suggestions below.


Snake Print Straight Swimsuit, $50
3. Underwire
This is another retro swim trend coming back this season. It's an awesome trend for both small-chested and busty girls alike. For those who are smaller chested, it creates an illusion of fullness and depth. For those bigger chested, it gives added lift and support. So, regardless of your body type, this is def a trend worth getting behind.

Billabong Sol Searcher Underwire Bikini Top, $49.95 and Sol Searcher Hawaii Bikini Bottoms, $39.95

Out From Under Tulip Underwire One-Piece Swimsuit, $79
4. Belted
Belts are back, and they're here to elevate your swim game now, too. The belted swimsuit trend gives your one piece more shape by accentuating your waist, and gives your high waisted bottoms an added element of fashion blogger-level style. Like, if your swimsuit doesn't have a belt this season, do you even know "fashion" at all???

River Island Plunge Bikini Top, $38 and High Waisted Briefs with Belt, $29

Warehouse High Leg Swimsuit With Belt, $45.50
5. Textured
A great way to spice up your swim wardrobe this summer is adding some texture. Whether it's through ribbed detailing or shirred smocking, an element of texture makes even the most simple bathing suit more feminine and cool. So bring on the texture, baby!


Shirred Ring Plunge One Piece, $52
6. Neon
This season, it's all about the bright neons, and this trend is the perfect complement to your summer tan. In regards to your swimsuit, it's important to glam up your neon suit as much as possible so as not to look tacky. You want to look like Erika Jayne in the Bahamas, not like you got your bikini at one of those souvenir shops on the boardwalk.

Aerie Ribbed Side Scoop Bikini Top, $29.95 and High Cut Cheeky Bikini Bottom, $29.95

New Look Color Block Shirred Swimsuit, $40
7. Metallics
Done correctly, metallics are chic and add an element of glam to your beach day style. Of course, key words here are "done correctly." If you go buy a slinky gold triangle bikini top from Wet Seal, I can't guarantee it's going to be the epitome of glam. Opt for a more subtle bronze or rose gold shade to ensure you look effortlessly beach chic.

Topshop Metallic Ribbed Triangle Bikini Top, $38 and Ribbed Bikini Bottoms, $28

Topshop Metallic Cami Swimsuit, $60
8. Knotted & Bows
Knots and bows add a feminine flair to any swimsuit. Additionally, they allow for another way to adjust your swimsuit to make it fit best to your individual body. Or, if you just want to tie your suit tighter to make your boobs look bigger, you do you, sis.

ASOS DESIGN Neoprene Bow Front Bandeau Bikini Top, $23 and Hipster Bikini, $18

Gidget One-Piece Swimsuit, $84
The official start of summer is right around the corner, so stock up on these trendy swimsuits now before all the good sizes are gone! This way, as you're getting blacked out on random men's boats, the one Sunday Scary you won't be having is whether you looked good or not. Sure you got kicked out of the bar and called your ex 42 times, but we're all about the small wins here, people.
Images: Roberto Nickson / Unsplash; ASOS (5); Urban Outfitters; Free People; Topshop (4); Aerie; Nordstrom (3); Zara
Betches may receive a portion of revenue if you click a link and purchase a product or service. The links are independently placed and do not influence editorial content.
5 High-Waisted Bathing Suits That Don't Look Like Diapers
Is it just me or is bathing suit shopping more stressful than wedding dress shopping? At least the dressing rooms at bridal boutiques don't deploy meth lab lighting or mirrors that convince me I'm a chubby ghost who should just lead with my personality when I meet people. Look, when it comes to donning a bathing suit, I think every woman should wear whatever makes her feel her sexiest, but for me, that's def not a string bikini that exposes a casual 97% of my translucently pale body. Don't get me wrong, I like my body, but that doesn't mean I want to focus all of my beach/pool time silently praying that my SoulCycle ass doesn't swallow my bikini bottoms. Enter: high-waisted bathing suits!
Do you guys know about high-waisted bathing suits? I've always ignored these because they can look very diaper-esque if worn incorrectly. But there are some people out there who demonstrate the beautiful magic of high-waisted bathing suits, and I am here for them! There are so many flattering, non-diaper, high-waisted bikini bottoms out there, and if you don't have the energy (or time) to sift through them all, I got you. Whether you're thin, curvy, tall, or short (or any of the other 102 body types out there), accentuating your waist is always a good idea. These high-waisted bathing suits don't look like diapers, I promise you.

J.Crew slays bathing suits. This blue-and-white striped number is no exception. How cute is this thing, people? I always like to incorporate pale colors and/or white into my suits because lighter shades—especially white—make you look tanner than you are. As someone who actually wears a foundation shade called "Ivory," I can confirm that I don't look like a corpse in light-colored swimwear. No matter what skin tone you are, this color combo will def flatter your complexion and figure. Plus, this subtle red moment is giving me all the life I'll ever need. Yes, J.Crew, yes.

While trying on thousands of bikinis, I noticed that aggressive patterns weren't working for me. This could just be because my look already has a lot going on so patterns aren't really my vibe, but like a wedding dress, bathing suits shouldn't have too many elements because said elements take away from the shape. This Beach Riot bikini has the right idea, though. It has enough going on with the stripes, bold colors, and sexy shape, but doesn't overpower anyone wearing it. Most important to note, it's ribbed for her pleasure. Contrary to my summer internships at fashion houses, which, on a scale of Arya Stark's Faceless Men of Braavos apprenticeship to loving life, was a solid three, I'm not a fashion expert. However, I can confidently say that any simple shape or bright colors should be complemented by a ribbed material, otherwise it kind of looks like a sports bra. 

Concerning facial expression aside, this model looks absolutely fierce in this studded ensemble. I am living for the subtle sparkle and overall simple vibe here. Idk about y'all, but I will def be purchasing. The straps are removable (bless), so you can wear this as a tube top until you get sick of pulling it up every time you move, like, at all. I stan. Secondly, these bottoms are simple and chill enough that you can wear pretty much any top with them and not look like a complete idiot. I'll take it in all the colors, please!

If you don't want to spend more on a bikini than you would on dinner, Zaful has your back. As its prices imply, the bathing suits and other clothing it sells aren't exactly couture, but they get the job done and look cute in pics. The patterns are as trendy as trendy can get (just take a look at their Instagram if you don't believe me) and this mix-and-match situation is no exception. I never thought I could rock flowers and stripes in one look, but here we are and I'm not mad about it. I bought one of these saucy numbers last year for a beach trip and it def did not last the entire summer (do not machine wash, people!), but if you just want to boost your swimsuit collection for trips to the Hamptons, Rehoboth Beach if you're poor (hi), or Mexican bach parties, Zaful is the move. It may not be a huge financial investment, but it's an investment in your Instagram, and what's more important than that?

I love AE's mission statement to be inclusive, chic and fun. Like, I want to be those things, please! Teach me your ways, AE. Anyway, a simple black bikini is such a good call because black is slimming, which we could all use as we prance around the pool without any clothes, amiright? IMHO, what makes this look non-diaper-like is the fact that it is has seams along the sides and is slightly ruched. Otherwise, these bottoms would just be like black Spanx without Spanx's magical powers to hold all your sh*t in. So the ruched aspect is v important here. It's also on 50% off rn, so make it rain on these sales.
Images: Unsplash; Aerie; Zaful; Bloomingdales; Dolce Vita; J.Crew
Betches may receive a portion of revenue if you click a link and purchase a product or service. The links are independently placed and do not influence editorial content.
7 Brands You Didn't Know Make Super Cute Swimsuits
Swimsuit season is upon us, and I for one am thrilled for the chance to shop for yet another one to fill up my already-clogged closet. (It's not my fault; New York City apartments have notoriously small storage.) In addition to wearing swimsuits to the pool, I'm all about a bathing suit that can be transitioned. Sure, it's not necessary, but it's an added bonus if I can buy a swimsuit and wear that as a festival outfit (which I will be doing all next weekend at Shaky Beats, for anyone who cares). The problem, of course, is that we as a society are lazy and don't want to spend hours at Macy's or wherever or combing the internet. So I've done you the courtesy of finding a bunch of brands that you didn't know make super cute (and often very affordable) bathing suits. Prepare to be shocked.
Nike
I know, it's shocking, but Nike actually has some of the cutest swimsuits around, and the reason I love them so much are that you can wear these as more than just swimsuits. Anyone who knew me in Atlanta circa 2015 knows that one of my favorite pastimes was to see how far I could push the definition of "crop top". Like, I had a few bathing suits I would wear out to bars, and nobody said sh*t to me. Many of Nike's spring swimsuits fall right into this category, and can be worn as tops, bodysuits, etc. Of course, since they're made by Nike, you also can swim in them without fearing they will fall apart. As an extra bonus, many of the pieces are reversible, so you can get so many wears out of them. I'm obsessed.

Nike Flash Reversible Crossback Bikini Top

Nike Shine Stripe Crossback Midi
Maaji
Maaji is a Colombian swimwear line that recently launched in the U.S. Most of their pieces are super colorful and fun, and they have so many different silhouettes that aren't just the regular triangle bikini we're all sick of seeing. But here's the big deal with Maaji: all of their suits in their newest line are reversible—two ways. That means you can wear them fowards, backwards, inside out, and inside out and backwards. So you're getting four different suits in one. It's legit incredible.



To put it into perspective, all those photos are of THE SAME SUIT. Literally.
Victoria's Secret
No, that's not a typo, and no, it's not a mistake. Victoria's Secret's swimwear is BACK, baby, by popular demand (I assume, since we were all basically crying when it got discontinued). Thank f*cking god. From cute separates you can mix and match to sexy one-pieces, they have so much good sh*t at very reasonable prices (and plenty of other suits at higher price points, but I'm not made of money). I'm talking bikini tops for under $50. They've also got one piece options for under $100, which doesn't sound like a deal, but really is if you spend like, five minutes researching how much bathing suits go for these days.

Victoria's Secret Zip V-Neck One Piece

Victoria's Secret Asymmetric One-Shoulder Bralette & Asymmetric Cut-Out Hipster
Kona Sol
All you Target-loving betches, rejoice. Target's swimwear has been killing it for years now, and they just introduced a new line called Kona Sol that boasts inclusive sizing and good quality swimwear. Oh, and amazing prices. Like, a one piece for $40? Sign me up; I'll take 10.

Kona Sol Women's Plus Size Twist Front Cut Out One Piece Swimsuit

Kona Sol Women's Faux Wrap Halter Bikini Top
Aerie
If you are not yet a believer of aerie, you need to get on board with their swimsuits (but really, why don't you own 60 of their bras already?!). As far as swimwear goes, they offer very cute basics as well as fun, flirty patterns at super affordable prices—I'm talking a bikini top for $25 (and up). Many of these pieces can also transition from the pool to a music festival, or wherever else besides a body of water that you might wear a bathing suit.

Aerie Ribbed Side Scoop Bikini Top

Aerie Crochet Triangle Bikini Top
Curvy Beach
Curvy Beach, brainchild of former plus-size model Elizabeth Taylor, offers suits in sizes 4 to 26 and cup sizes A through J. It was initially such a big hit that its first line of swimsuits sold out in 24 hours, so you'll have to act quickly if you want to get your hands on one of these size-inclusive neon suits. Also, and I think this is crazy revolutionary, their site instructs you on how to order (like what situations you'd want to size down), and the padding is optional. Thank you. What a miracle.


Curvy Beach Neon Side Tie Bottom
Indigo Swimwear
Okay, so this brand is a little more expensive than some of the others, and speaking for myself, these silhouettes are a little more aspirational. Like, think lots of strappy and cheeky looks. If you can pull that off, I'm jealous, but I'd look like a sausage in casing. But they're so cute! Ugh, it pains me. It's fine, I'm fine. In any case, these come in fun colors, and all their suits are made from ECONYL yarn and 100% regenerated nylon made from ocean waste and fishing nets, so even if they're not the most sustainable for your budget, they are sustainable for the environment, and that's all the justification I need to go buy a few.

Indigo Swimwear The Amelia Top & The Amelia Bottom

Indigo Swimwear The Bay Top & The Bay Bottom
Betches may receive a portion of revenue if you click a link and purchase a product or service. The links are independently placed and do not influence editorial content.
3 Way Cleaner Alternatives To Sex On The Beach
It's starting to get warm again, y'all, and you know what that means. It's time to start having sex outdoors. If you're rolling your eyes and picturing sand in unmentionable places, bear with me. There are plenty of places to have sex outside that do not involve the ocean's toilet (aka the beach). Obviously, you'll want to start spending some time outdoors now, because you probably forget what the sun looks like. But I for one am not particularly interested in dragging all the outside dirt/sweat I pick up day drinking in Williamsburg home to my only slightly food-stained freshly pressed sheets. And you shouldn't be either. Stop wasting the lovely spring weather with boring indoor sex. Here's where you should be hooking up instead.
Private Boat
I want to be very clear here that I have never had sex on a boat. I am irritated with myself for even suggesting a boat, because I'm now in a tailspin of sadness about the fact that I've never acquired access to a personal boat, and probably never will. Boat-wise, I have no idea what I'm doing with my life. Also, if there are motion-sickness concerns when banging in a boat, I don't know about them. All that is to say, proceed with caution.
Anyway, a boat seems like the ideal place to have outdoor sex in so many ways. (Specifically, a sturdy boat capable of fitting 5-10 people comfortably.)  You're on the water, which is key for Titanic role play, and also privacy. Also, literally everyone feels sexier and more alive while out in the ocean, so you have that going for you. And since boats are basically a condo for the ocean, you get all the comfort/cleanliness of indoors while being able to multi-task sex with perfecting your tan.
Be more like Rihanna. Have sex on boats.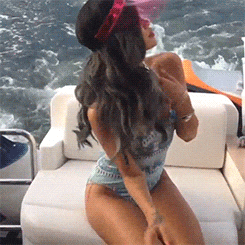 Cabana
Poolside, oceanside, I don't care. The important thing is that there's a nearby body of water. This will both make you feel summer-y and tropical, and the aforementioned nearby body of water should serve as a nice cool-down after. There should also be some level of seclusion/a mattress. Ideally, you'd pull a Kristen/James on Vanderpump Rules and find a private poolside, or just wait until 4am. If it isn't clear yet, I'm not one of those savages who enjoys the "thrill of being caught." I used to burst into tears if my teachers called on me—you can't reverse that type of shy.
Important disclaimer: If you're staying at a large resort (especially one with a family-friendly vibe), please don't do this. Having sex in one of the 65 cabanas lining the pool will only end with a soundtrack of screaming children, and probably two new additions to the sex offender registry. At that point, you're better off just pitching a tent on the beach (LOL puns).
Not directly related, but Dean and Kristina certainly just had sex in this pool, right?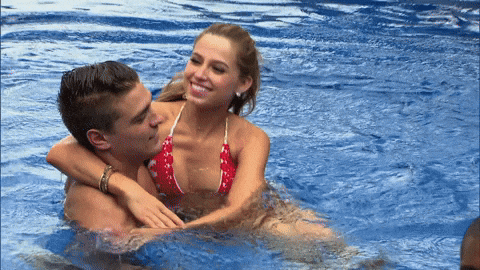 Hotel Balcony
This list has started sounding less like places to have sex and more like places Jordan Belfort does drugs. I'm sorry! I understand these are not all feasible, but you know the alternatives. And public, crowded outdoor places are just not going to be where I recommend you have sex. So, if you're taking a vacation this summer and staying in a hotel, try for a room with a balcony. Or if you meet a hot guy on vacation—after taking all necessary precautions to assess that he's not a murderer and allowing several girlfriends to track your iPhone location—and he has a sick suite, go take advantage of that. Hotel balconies give you the advantage of being able to duck quickly back indoors, typically involve some gorgeous views, and make you feel wildly adventurous without really posing a risk.
Cabana rule applies here: If there are multiple in a row, you'll be in too much contact with your neighbors. Also, it should go without saying but the only sex you should be having on hotel balconies is standing up and from behind. No way are you sacrificing your view (and, potentially, your life) to turn around and perch up on some ledge.
Your goals for this summer: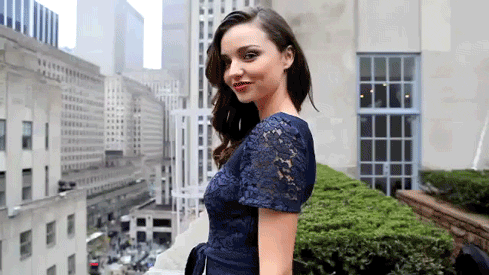 If you absolutely insist on having sex some place where your risk for arrest is high, at least listen to the following advice. Do not have sex in public pools, which are filled with more filth than you ever want to think about, let alone literally open yourself to. Do not have sex directly on hot sand, if you value your skin or that of your partner. And if you absolutely have to have sex in the bathroom of whatever establishment you're frequenting, at least see if there's a nicer bathroom down the block with less of a line and/or chance someone puked in it in the last hour. Everyone involved in the situation will thank you.
Images: Giphy (3)