The Hottest Swimsuit Sets For Your Bachelorette Party
If you're reading this, it's too late. You're past the point of pinning shit to your wedding board on Pinterest. In fact, you're already engaged, ready to marry the man who has seen you at your worst what you look like without makeup in the morning. Wedding planning consists of blood, sweat, and a fuck ton of ugly crying. The months prior to the big day you sign your life away are full of engagement ring selfies, a concerning amount of penis party favors, and a shit ton of alcohol—girl, you're going to need it. This is where your main betches come in. Assuming you were considerate of the rest of the group, your husband-to-be received BFF approval, so now these girls are helping you celebrate with an unforgettable bachelorette party in hopes that your marriage lasts more than 72 days.
Whether you're trying to go crazy in Vegas or soak up the sun in Miami, it's only mandatory you all match (in case one of you runs off) and look cute as fuck at the pool—with the exception of the bride, she always has to look hotter. Here are the hottest bachelorette swimsuit sets that will turn heads anywhere you go (as if you won't be causing a scene already):

For The Ride or Die Betchelorette Party


These are for the ladies who take marriage and true friendship vows v seriously. Have the bride show off her hot bod in a fab pink Bride Or Die Swimsuit while the total babe bridesmaids wear matching pink Bridesbabe Swimsuits. Both feature deep necklines and low backs so you'll all look as exclusive as your friendship. Damn right, until death do you part.
For The Hot Mess Betchelorette Party


You and your crew are the ones to cause a scene on a flight to Vegas, but not even make it there before getting kicked off. The Shop Betches Hot Mess In A Wedding Dress Swimsuit is perfect for a bride who probably gets drunk off of one shot. But don't worry, her girls in this Malta Caution Bridal Party Slogan Scoop Swimsuit will there to hold her hair back (like always). Use these swimsuits as a fair warning for the innocent patrons who have the misfortune of running into you obnoxious bitches.

For The Team Hitched Betchelorette Party


Every time there was trouble in paradise for the two lovebirds, your best friends were rooting for you both the whole time. They knew it was meant to be, regardless of how many fights you had over which Netflix show to binge. Most of these bridesmaids were probably on an annoying cheerleading team at some point in their lives so have them wear the Missguided Team Bride Swimsuit. Let everyone else know who the real captain is by wearing the Vanilla Beach The Bride One Piece.
For The Baywatch Betchelorette Party


You all may not have a lifeguard certificate and you may not even know what CPR stands for, but when the bride is unhappy in the slightest, you feed her alcohol when she needs it the most. So, that's basically pretty similar to saving lives, right? The classic Private Party Bachelorette Swimsuit comes in four different colors, and yes, black is one of them. Make sure the bride stands out (obviously) with her own Bride Swimsuit.
For The #SquadGoals Betchelorette Party


This squad is way better than Taylor Swift and her little posse will ever be. You're basically the spin-off to Sex and the City, which is saying a lot, so I hope to god you all fit these expectations. The soon-to-be-Mrs. should be glittering all day in the metallic gold Bride Swimsuit and have her true soulmates coordinate in the Costa Rica Bride Squad Slogan Swimsuit.

For The Modern Betchelorette Party


This is for the bride who likes to be traditional, but low-key wants to change things up a bit. A blue and white color combo screams summer so these two go hand in hand. Have the woman of the year hour wear an all white Bride One Piece with a touch of Powder Blue cursive writing. Her bridesmaids will contrast in a matching blue Custom Bridesmaid Script Bikini. Customize the bikini to whatever fun slogan you'd like written across all of your girlfriends' asses.
The Sexiest One Pieces That Will Still Hide Your Winter Weight
I never thought I'd see the day where one piece swimsuits would be considered must-haves. TBT to when they were only for moms, the body conscious, and those who went to swim team practice in the projection room above the auditorium. Plunging, strappy one pieces are taking over and to your advantage, they hide the three pounds you gained over winter hibernation. You no longer have to worry about whether the pink bikini bottom goes with the random blue bikini top you found in your closet. You won't have to pay twice as much for a set, because you're getting the only piece you'll need. Best of all, one pieces will hide all your bloat when you day drink on the beach.
Because I'm so nice, I've found styles for you that are 1,000 times better than a "free" boring lifeguard swimsuit. If you're one of those people who tried to get that stupid one piece from Sunny Co Clothing, I can guarantee you didn't miss out.
Here are some one piece wonders you needed to buy like, yesterday:

I don't usually go for stripes, but when they're in black and white, they flatter any body type. The vertical stripes elongate your figure making you look skinny, tall, and confident (YAY), so we'll forgive the obvious Beetlejuice vibes. The strappy detail on the back is to die for, especially if you're like me and like to see your tanning progress. That's usually the only time I feel like I accomplished something in my life. The cheeky fit will keep you and all that junk in the trunk cool and stylish all summer long.

Stay sexual with this plunging v-neck one piece. The bathing suit comes with padded cups if you feel like your girls need more support. This pale pink is one of the hottest colors of the summer so your tan (or burn) is bound to ~glow~ after a day of laying out.

There's no better color than a bright, crisp white in the summer. It's perfect for giving your skin a radiant glow when it's under the sun. The lace-up design pushes your boobs together so perfectly, you won't even have to push them together when you take a beach selfie. The finishing tassels add flair and say, "yes I'm fun, I can pretend to know how to play volleyball with those hot guys." Throw some jeans or denim shorts over this for an easy transition to brunch.

Be bold and go for an off the shoulder style. This suit comes with flattering high waisted bottoms and waist cutouts that show off your abs (or lack of). There's a little bit of street attitude with the accented gold zippers so basically, you're like, really cool. Maybe a hot guy will mistake you for a hot lifeguard and pretend to drown so you can perform CPR. This is clearly my wishful thinking.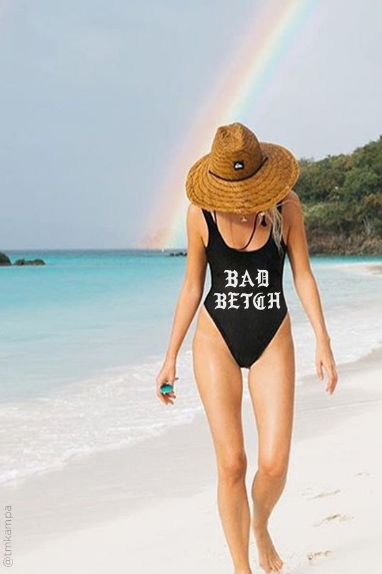 You are one bad and boujee betch, so why not remind everyone with this sexy swimsuit? Wear a graphic one piece with a fun saying because you just can't do that with a bikini. The suit comes in whatever color your little heart desires, but I know they're all irrelevant if black is an option. Feel free to get super creative and customize the suit with a saying of your choice. This one is better, though.

Floral prints and tropical chic patterns are always a good idea. This modern one piece comes in two different free-spirited prints and an intricate strappy design on the back. This is essential if you want to stand out (we do, always) and travel somewhere exotic this summer.