5 Oversize Sweaters You Can Wear Without Pants This Winter
We're in full swing of every thot's fave time of year, aka fall. With October upon us, the temperatures are getting colder faster than we can say PSL. In addition to the little black boot, sweaters are like, the best trend fall fashion has to offer. There's nothing better than nursing your hangover, running errands, or even meeting your posse at the bar while wearing the world's comfiest oversize sweater—with no pants, of fucking course. Sweater weather already has models we strive to be as skinny as (Bella Hadid and Kendall Jenner, obviously) strutting streets in baggy sweaters and cute heels, because IDK, maybe even celebs run out of clean leggings, too. If worn correctly, a bulky sweater will most def *not* make you look bloated af or look like a sack of potatoes. Just take it from the expert, okay? Here are the most comfortable, yet trendy oversize sweaters you can totally wear as a dress, because like, fuck pants.
This pullover hoodie screams Kardashian in the sense that I'm almost positive every single one of them wears a hoodie as a dress at least once a week. This cotton high-to-low hoodie comes in two different colors (our go-to black and millennial pink), each with a drawstring hood. The asymmetrical hem provides good enough coverage to go pants-less in confidence. Pair with sock boots and you can totes go out in public in this before indulging in a low-key wine night.

Wool is typically avoided because it's uncomfortable and itchy AF. I know beauty is pain, but wool is usually the exception because it's just not worth it most of the time. Thank god this lightweight oversize sweater is designed with luxury wool—the shit that doesn't itch—to keep you warm and v comfy in the cooler months. It features an extra wide neck so it can be worn off the shoulder for an effortlessly chic look while you Netflix and chill with your latest cuffing season fling. Order a size up from your usual so you can easily style, no pants required.

Nothing says "I'm an important fucking person" like wearing some high-class cashmere. With dropped shoulders and a tie front, this sweater dress looks perf over any body type without making you look (or feel) pudgy. Even after several vodka sodas, you can adjust the tie to hide your bloat and still look skinny. Pair with sexy thigh-highs and your friends will be begging to borrow your outfit next time you go out.

Whether you're doing the walk of shame or lying comatose on your couch, you may as well look semi-decent doing it. Opt for a textured sweater that brings a fun element to a carefree look by styling with a non-suffocating corset belt and ankle strap heels. From night to daybreak, you'll be the last one standing in absolute comfort and style, two words that are rarely in the same sentence.

For an option that balances sex appeal and classiness, this oversize sweater comes with off-the-shoulder sleeves and a ribbed trim for the ideal relaxed fit. Bless. The length comes to just above the knee, but you can def go up a size for extra comfort. Feel free to take this to the office and pair with your overly worn Adidas Superstar sneakers for something more casual. If you plan on grabbing drinks, elevate the look with block-heeled boots.

The 5 Jackets And Cardigans You Need To Get Through Fall
Fall is the shit because I can wear leggings 24/7 and get away with wearing just a big-ass sweater because like, fashion. Even though there's a 30% chance my breasts can tell weather experts say it's going to be a v warm fall, temps are already cooling down. Maybe I'm being ~a little bit dramatic~ but I can no longer take on the night without a jacket. It's getting brick and although I'm sick of wearing the same old denim jacket, I'm not quite ready to sweat profusely in wear leather jackets, either. Layering up doesn't have to be a major buzzkill or make you look like a prude, though. You can still look hot and stay warm, because risking your health for your outfit is totally valid not okay. If you look hard enough, or just take my fucking advice, you can find the most perf lightweight jackets that take you from work to your 5:01pm blackout. Or, you can simply elevate a Sunday walk of shame outfit and die on the couch lounge in the comfiest hangover clothes. Either way, we can only go up from here, so start prepping for chilly fall nights you can def still look good af for.
A duster jacket is the boss-ass bitch of all jackets. They kinda remind me of a cape, but like, a sexy cape. It's business-y, warm, and v comfy for striding in the streets. Yes, comfy and warm *can* be in the same sentence as business-y. Tell your HR rep to suck it. You can totally dress this up with a really good heel or keep it casual with a sexy boot. Although this one comes in black (bless), you'll have one in every color by the time October rolls around.

I might be biased because I have one, but I'm also considerate enough to share my goodies with you. Let me just say, this is the comfiest shit ever. It's a denim jacket and a hoodie in one. Any time I feel like channeling my inner Damian Leigh, I just pull my hood up and throw on my biggest shades and stifle the urge to yell, "She doesn't even go here!" It's also trendy enough to wear with a dress and your go-to little black boot. You can totes get away with wearing this when you drag your boyfriend to go apple picking, or when you go on your sorority's Instagram shoot field trip to a pumpkin patch.

This is the inconspicuous celeb style we all aspire to have. Olive green is always huge for fall, so let anyone tell you it's fugly. This is actually a cold weather jacket so you can justify the price by telling yourself you'll wear it more than just the awkward one week span between summer and fall. The jacket is v lightweight but it blocks out the chill and is like, water resistant??? Fucking grool. Easily throw it over a mini skirt or slutty tight dress for a night out.

This is basically a black leather jacket but like, in gray (fucking obviously) which makes it sooo much better. It's not yet basic so you might as well grab it and be the trendsetter. This one is soft, breathable, and obviously goes with literally anything—from your overly worn leggings to a casual T-shirt and mini skirt.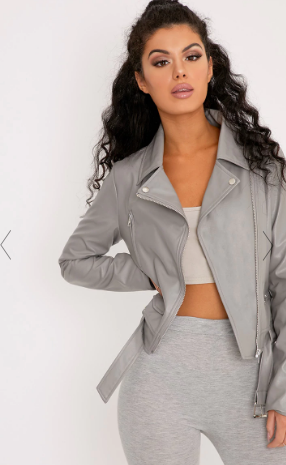 This may look like your grandma's sweater, but that's the whole principle of fall and stocking up on cardigans that end up looking the same. The fringe detailing is modern, laid-back, and says, "I'm not trying hard at all, but this cardigan is over $100." It's honestly not the warmest, but if you sweat even in a blizzard under any coat (uh, same), this is good enough to just throw over for dinner or when hopping a bar strip. Since it's neutral, contrast with something dark (aka probs most things in your closet) or layer up with a light-colored scarf.