5 Free Fitness Apps You Can Do From Home
Sometimes there's not enough time, or motivation, in the day to get to the gym. And sometimes, we simply don't have the funds for a membership (or you'd rather spend what little money you have on food or alcohol…no judgment). But, thanks to the invention of the smartphone, you don't have to actually step foot in a gym to get your workout in. There are a lot of good fitness apps that require a paid subscription, but I'm going to go ahead and jump to the conclusion that if you don't want to spend $10 a month to go to Planet Fitness or wherever, you probably also don't want to spend money for an app, either. That's why I picked out my top five favorite free fitness apps to download and get sweating to. (I don't feel bad anymore about seeing 5 + hours at the end of the day on my screen time…I'm working out!) Grab your weights and your cutest pair of leggings, and let's get started.

This app offers categories of workouts for every muscle in your body, including abs, butt, back, shoulders, arms, and more. The exercises are mostly for your at-home gym sesh, but they do offer a few workout routines for during the day, like "deskercise", "chair exercises", and "office stretch"… but please, be low-key if you're doing them at work. What I love about this app is that they offer plenty of workouts that you can do in only seven minutes. These include 7M Butt, 7M Sweat, and 7M Beginner. I love these guides because I know I can get through seven minutes of work without the thought of "when is this overrrrr??" repeating in my head the entire workout. You can see your progress on a calendar based on your workout history and calories burned. Def recommend.


When setting up the app, it will ask you a few questions to help personalize your workouts. It asks for what you think your level is (beginner, intermediate, or pro) and how many sessions a week you want to work out (2, 3, or 4). It then asks you for your goal, whether that be to lose weight, stay fit, or gain muscle. This way, the experience will be tailored to you and your body. Fitness Challenge gives you an outline of your workout before starting, so you know what you're getting into before you begin. It tells you how much time the workout will last, what exactly you'll be doing, and how many times you're doing it. It comes with five categories to choose from: full body, sexy legs and butt, abs and flat tummy, bikini body, and skinny toned arms. Count me in.


If you're a yogi, this is the app for you, but in addition to yoga, Daily Yoga also incorporates other mainstream workouts. Once signed in, you choose your goal. This app's options are: start as beginner, stay healthy, lose weight, skill improvement, muscle tone, and stress relief. I LOVE how they named these goals. But Daily Yoga doesn't only provide workouts—it goes one step further, offering audio and music to guide you through your practices. They have guided meditations, mantras, mindfulness training, and more—all of which you can download straight to your phone. I recommend listening to the music before bed at night for a spa-like relaxation that'll put you into a deep sleep.


You can sign up for FitOn through FACEBOOK, which is great, because then you don't have to waste time plugging in personal info and can get moving instead. It does ask a few questions to personalize your experience, though, which I do appreciate. It first asks you about your goal. Are you using the app to lose weight? Reduce stress? For post-natal fitness? I like this app because it doesn't just give you three basic goal choices; it has a bunch more to offer. After that, it asks for your favorite types of workouts ranging from yoga, to HIIT, and dance. Then, you're in! If you aren't ready to work out right away, you can set reminders to do so later on, which I use way too frequently. It gives you a ton of choices, like which trainer you want to take, the target area you want to work on, and trending activities to start. FitOn even gives you a custom-made schedule. You can see all your upcoming workouts and the intensity of each. You can even invite your friends to share your progress, if you're competitive like that. There is also a section on advice from trainers, ranging from articles to videos that are informational and worth a watch.


If you aren't into high-intensity workouts or sweating too much, this app is perfect for you. It's all about walking, and only walking. Walking is the perfect way to burn off calories and reduce stress. I think walking is one of the most important workouts—especially walking outside. Obvs if it's crazy weather, just hop on the treadmill, NBD. The app goes by days, so they have a list of workouts designed for you each day to complete. You can walk for meditation, renewal, midlife women, stress, or for burning off the cheese pizza you had for dinner last night, which I like to do. (Okay, so that last option I made up.) All totally great. It also tracks your steps and calories burned, if you're over your iPhone health app after the latest update, which most of us are.
There are so many other free fitness apps you can check out, but these ones offer a good range of services that everyone can enjoy and are easy to use. These are the perfect start to get motivated and move throughout your week. You can use them in your living room, at your office, outside walking your pup, or even in class (def be cautious though…). Hope these apps help you and guide you to achieve your goals.
Images: Dane Wetton / Unsplash; Workout For Women; Fitness Challenge; Daily Yoga; FitOn; BetterMe: Walking
What Are Infrared Saunas For, And Are They Worth The Hype?
A few months ago, I came across an article from The Cut about the potential mental health benefits of infrared saunas. Even though I was in Los Angeles at the time, the sun was still setting at 4pm, and my mood levels had definitely been suffering for it. At that point, I'd tried exercising six times a week, meditating, and gratitude journaling to keep my Seasonal Affective Disorder at bay, and frankly, sweating it out in a sauna sounded like a way more appealing option. Once I was back in my beloved NYC, I promptly booked an appointment with HigherDOSE, an infrared sauna spa with locations all over NYC, New Jersey, and Connecticut. It's also the preferred spot of celebs like Leonardo DiCaprio, Michelle Williams, and Bella Hadid, if you're into that. Read on to find out the alleged benefits of infrared saunas, and what I thought after my 60-minute session.
What Do Infrared Saunas Do?
Simply put, infrared saunas claim to make you hotter in every way (obviously, pun intended). Not only does an hour of intense sweating knock off some water weight, but infrared heat may actually help boost your metabolism. According to Dr. Frank Lipman, who spoke to The Cut, just half an hour in an infrared sauna could help you burn up to 600 calories. (That's like, one million squats or an hour on the treadmill. If this is what celebs have secretly been doing instead of working out, I will never feel okay again.)
For those of you less obsessed with losing weight (tell me your secrets), infrared saunas also have major skin benefits. Again per Dr. Lipman, infrared heat boosts circulation, blood flow, and collagen production, giving you an immediate post-sauna glow, as well as long-term benefits from regular use. Lipman, along with HigherDOSE's co-founders, also hype up the detoxing capabilities of infrared saunas. Co-founder Lauren Berlingeri claims that infrared pulls "heavy metals, environmental pollutants, and radiation" from your system, and the instructional pamphlet inside the sauna room advised that some of your sweat may come out as black from all the toxins being released. (Sidenote: I'm still not sure that I believe "detoxing" is a real thing, but I really want it to be.) Other potential benefits include pain relief (from sore muscles to chronic headaches) and a boosted immune system.
Finally, the mental health benefits: a 2016 study showed that whole-body hyperthermia (whole body heating, specifically to 101.3º F, for the non-scientists among us), could have antidepressant effects lasting up to six weeks. Claims have been floating around for years that infrared heat can influence serotonin levels or release endorphins, but evidence is tenuous. The 2016 study, however, focuses on the "stress" aspect of sitting in a sauna—the extreme heat—and how these bursts of stress can better train your brain to deal with non-sauna stressors, like anxiety or depression. Again, no one's claiming that this is rock-solid science, but these studies, along with the fact that everyone seems to feel f*cking amazing after leaving one of these saunas, was enough to make me desperate to try it for myself.
So, What's An Infrared Sauna Like?
I visited the 11 Howard location of HigherDOSE, and was immediately thrilled by the spa-like room I entered. Each sauna room has a private bathroom (with a nicer shower than the one in my apartment), a Bluetooth speaker system, water, chilled eucalyptus towels, and of course, the sauna itself.

You're given a chromotherapy menu, which tells you the different light therapy colors available to you, and the benefits of each type of light. It's pretty intuitive (yellow and orange are more activating, blue is more relaxing), but given that I'm a type-A weirdo, I spent the first half hour cycling through all of them anyway. The first 20 minutes felt like sitting in a colorful, less-hot-than-normal sauna. I was warm, but I didn't have that slowly-being-cooked feeling I get after about 10 minutes in a regular sauna. At the 20-25 minute mark, things got really satisfying, by which I mean sweat started pouring down my entire body. Again, in regular saunas, I'll notice a drip here or there, then walk out and be surprised at how sweaty I actually am. In the infrared sauna, there was no doubt that I was coated in sweat, and steadily producing more.
I also have a pretty short tolerance for regular saunas; I'd say 20-30 minutes and I'm begging to leave. With the infrared sauna, I was happy to stay in there a full 50 minutes (I left 10 minutes to shower), and honestly could have stayed a bit longer. Promptly after showering, I noticed a few things. My skin was baby-soft, the dull full-body ache from yesterday's boxing class was greatly improved, and while I didn't suddenly feel an all-around calm or "mental high," my anxiety was noticeably tamed. I know this because my face, which is highly sensitive to many things, including heat, got some crazy red blotches about ten minutes post-sauna. But the last time I'd gotten blotches like this, I locked myself in a bathroom for two hours, crying furiously and sending my dermatologist selfies. This time, I washed my face, said "f*ck it," and moved on with my day. See? Anxiety calming.

I'm not including a description of my blotchy face to alarm you. Any discoloration was gone within the hour, and I trust that if you have skin like mine, you already know that heat is a trigger. But it was truly remarkable to look in the mirror at something that would have typically ruined my day and be able to let it go. In terms of a mental boost from the infrared sauna, I was expecting something like a runner's high (which I've also never achieved, possibly because I've never run long enough to get there). But the mental boost I got instead was actually way more valuable to my life—for the next few hours, at least, I didn't get derailed by minor sh*t. As far as superpowers go, I'll take it.
So, the only real major con of infrared saunas? The price tag. HigherDOSE sessions cost $45 and up for solo sessions, or $30 and up if you go with two people. As a one-time expense, it's not bad, but given that many of the benefits are unlocked by regular use, I wish the experience were slightly more accessible. Given my experience, I'd love to go more often, but until my wellness influencer career really takes off, I'll likely have to limit it to a once-monthly treat.
Images: Keziban Barry; @higherdose (2), @busyphilipps / Instagram;
How To Feel Better About Your Body Post-Pregnancy
Unless you live in a cave (which at this point, I wouldn't blame you), you're probably aware that if you ever need a quick slap to your ego and confidence, you can just click on Instagram. Influencers with seemingly perfect lives can be super depressing to follow. Especially for women who have just had a baby. Recently, we spoke with SWEAT Trainer and creator of PWR Weight Training and PWR Post-Pregnancy, Kelsey Wells, on our Diet Starts Tomorrow podcast. She opened up about her struggles with body image and anxiety post-pregnancy. And also gave us the story on how she got into creating her own workout programs.
Kelsey talked about how women forget sometimes that they just pushed a literal f*cking human out of their vagina. Their bodies have changed and need a second to recover. There was a physical being growing inside of you, which is like, really quite the accomplishment (you also didn't drink for nine months). So how are you supposed to get back into working out after this? Kelsey explained, "There's really not much for that delicate phase of life ." That's why she created her program: "you have to let your body heal."

The first step to working out post-pregnancy: simplify. Kelsey says, "you need to take a step back, take off the guilt, and focus on nourishing your body and moving your body in simple, small ways, and those are going to compound over time." Taking it slow is her key piece of advice. You don't have to be extreme you just have to be consistent.
This can obviously be super frustrating when Insta fitness mommies who look like they gave birth one day and are ready for the VS Fashion Show the next. But that's not really how it works. Insta is a highlight reel, not real life. What mom is going to post her baby's vomit in her hair? None. Kelsey says you have to remember that: "it's not about one super diet or super exercise that's going to get you to your goals," Kelsey says. "You can't look at it as this finite thing to be done. It has to be a shift, a small lifestyle shift."
Women also should not feel that they have to suffer in silence. It's super normal to be upset with your body after pregnancy. You likely put on weight (which is normal when you're literally eating for two living things) and you most likely don't look like you did pre-pregnancy. So do yourself a favor and un-follow those intense workout accounts, that's not the inspo you need right now.
Instead, look for the Insta-moms out there who have opened up about day-to-day challenges of postpartum (there are a ton). You can also follow Kelsey on Instagram and download SWEAT to follow her PWR Post-Pregnancy program. You can also listen to her full interview with us on the most recent episode of Diet Starts Tomorrow.
Even if you're not a mom, Kelsey is like totally inspirational. She has a lot of great tips for self-love and making slow progress. That's the type of sh*t I'm here for. Listen to the whole episode of Diet Starts Tomorrow below, because it's one of our realest episodes yet.
Images: Giphy (4)
The Best Instagram Trainers For Quick At-Home Workouts
Don't get me wrong—I have nothing but
deep-seated disgust
respect for all the SoulCycling betches out there. But for me, paying $40 to feel bad about my Target sports bra and distinct lack of abs is not really something I'm willing to do. In my very busy, #adulting life, I have specific requirements for my workouts. They should be free, doable from home, and under 30 minutes. Oh, and actually feel like a workout—aka I should break a sweat and/or actively find it difficult. As it turns out, not everyone is as
lazy
innovative as me, so finding workouts that met all these criteria actually took a while. We all know the queen of quick at-home workouts,
Kayla Itsines
, but here are a few others for when you want to mix it up/be able to walk the next day. Without further ado, here are my favorite trainers with quick at-home workouts that actually work. You're so welcome.
Pamela Reif
I don't remember how or where I came across
Pamela Reif
, but she now plays an alarmingly large role in my life. Like, my boyfriend knows her name because I show him her Instagram so often. It's weird. Anyway, a quick scroll through her IG will reveal that her fitness routine is no joke—and neither are her abs. While she does legit gym sessions too, she's also the creator of several 10- and 20-minute
no-equipment workouts
that will leave you feeling like you just got out of Barry's in one-third of the time. She also reposts pictures on her story of ~regular people~ who do her YouTube workouts and tag her, and no lie, over half have mini six packs. My favorite videos are the 10-min "
Booty Burn
," 10-min "
Sixpack Workout
," and 20-min "
Flat Belly & Round Booty
". (Leg day freaks, don't @ me). If you only have 10 minutes to work out but want to be sore for three days, I can't recommend her ab workouts enough. Oh, and here's what HER abs look like, if you needed more convincing:
Gina M. Florio
I came across Gina Florio for the first time through
Popsugar Fitness
, which posted
this kettlebell workout
. Yes, the fact that it requires equipment is a little more high-maintenance than I care to get, but if you don't own two kettlebells (pro tip, dumbbells will work too), you should seriously consider investing. It'll cost less than a month's access to a very cheap gym, and you can do SO MUCH with them.
Gina's Instagram
is filled with quick at-home workouts with kettlebells, and every one I've tried so far is brutal in the best way. She breaks her workouts down so you're only doing 2-4 reps at a time, but you'll do 4-5 sets total. Personally, I love this system because it's much easier to trick your body into doing just 2 more than it is to do just 25 more. You'll definitely feel like you're dying between rounds, but you'll be done in 20 minutes and feel like a badass now that you know how to do things like snatches and dead cleans.
Fiji McAlpine
Some days, any kind of jumping/lifting seems like too much—even if it's only 20 minutes. When I really can't stomach HIIT-type action but want to justify the cookie I ate a lunch, I turn to my all time favorite yogi: Fiji McAlpine. You'll note that I did not link to an Instagram there. In demonstration of what a pure and legit yoga-teaching soul she is, she doesn't have one. Instead, you can find her workouts on
DoYogaWithMe
, an amazing website that shares a ton of free yoga videos for all lengths/focuses/levels. I discovered Fiji in particular early on through a friend's recommendation, and I'm obsessed with all the videos in her
14-Day Challenge
. Especially, as I'm sure you guessed, the ones that are
20
or
25 minutes
. Her classes are labeled as Intermediate, but I am by all accounts a Beginner and really didn't struggle with her classes. I just had to work my way up to certain poses, which she assures you in her very soothing voice is normal and ok. Fiji's approach to yoga is a perfect combination of deep stretches and active movement, so you don't get burnt out on either way but you never feel like you're wasting your time. If you're up for some light core work and can't remember the last time you stretched, Fiji's yoga classes will feel amazing. Just trust me.
There you have it! My fave ab/butt-focused, full body, and yoga workouts. All free, all minimal equipment, and all under 30 minutes. So next time your flaky friend pulls a bad sushi excuse and bails on SoulCycle, maybe put the $40 toward a new pair of shoes and try one of these instead.
How To Increase Your Vagina Confidence From The Inside Out
Sponsored by Queen V
I'm sure I'm not alone when I say I've often thought life would be easier without a vagina. I know I'm supposed to embrace it and take pride in my womanhood and blah blah but come TF on. The only times I'm really paying attention down there are when it's busy ruining my favorite underwear with a surprise period or surprise infection, or busy ruining my sex life by suddenly being bone dry. It's not exactly the perfect recipe for a loving relationship with my platinum vagine. (I kid. I'd probably give it like a bronze.)
Luckily, sexy new company Queen V is here to solve all my problems. A group of like-minded women got together and decided they were sick of out-of-touch dudes manufacturing bogus vaginal products (same). Instead, they thought the women of today deserved cute, affordable, and genuinely effective vaginal products. (Groundbreaking, right? Sadly, it really is.) Here are the products you're about to be obsessed with. You and your "Queen V"—as founder Lauren Steinberg refers to it, a term I fully intend to steal—can thank me later.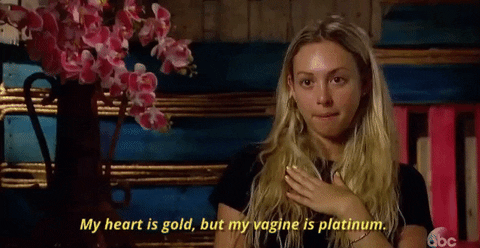 Make It Reign/V Bar
You know how gynecologists are always telling you not to douche up there? How your vagina is "self-cleaning" and body wash will just fuck up the pH? Well, while the pH stuff is spot on, I've never loved the alternative of "just throw a little water on it and hope for the best." Enter Queen V, with not one, but TWO cleansers I am allowed to use for my whole entire body! With V Bar or Make It Reign (moment of credit for the cute-ass names), you can actually clean yourself without worrying about accidentally giving yourself BV. And they say women's lib is a myth. As an added bonus, they're made with yummy ingredients like rosewater, aloe, green tea, mango, and chamomile. So you can still smell like you paid an extra $10 for a marked-up "women's soap"—when you could actually buy both for a total of $9. Score.

DD Probiotic
Honestly, if you're not taking some kind of probiotic right now, it's time to move into 2018. We already discussed how good they are to beat bloat—but did you know they can also help prevent yeast infections? Queen V's Daily Dose Probiotic has all the same digestive health properties, but is specially formulated to keep your yeast/bacteria levels where they should be. It also includes turmeric, which has amazing anti-inflammatory properties in addition to helping skin conditions like acne, eczema, or psoriasis. Basically, this shit will keep you 100 from head to toe. Buy ASAP.

The Eraser
Speaking of yeast infections—is there anything that makes you hate your vag more? Sure, there's the excruciating pain of UTIs. (And should that problem arise, Queen V's UTMI supplement is formulated with cranberry to promote urinary tract health.) But at least most UTIs can be treated with an antibiotic that's meant to work within 24 hours. With yeast, you're basically told to handle it on your own for the coming week, and shove a bunch of chemical goop up there whenever it gets unmanageably itchy. (So like, every second of every day until it's gone. Seriously, I don't know why I even buy cute underwear anymore.) Enter The Eraser: a boric acid suppository for soothing yeast symptoms. It's basically a less-scary and longer-lasting alternative to the creams that promise to remove all feeling from the area and wear off 20 minutes later. (Neither of which is an ideal outcome). With The Eraser, you get relief without the mess, and without the ingredients you can't pronounce.

P.S. I Lube You
Finally, we've arrived at my favorite of the bunch. As my local Rite Aid can attest from watching me crouch for 45 minutes in the "family planning" aisle, lube options often really, really suck. Also, as my local Rite Aid can hopefully NOT attest, lubes can often seriously fuck up your vagina. (Anyone think they'd test the ingredients more if lube went inside men? Yeah, me too.) Anyway, all the more reason to buy lube made BY women, FOR women. P.S. I Lube You (another adorable name, minus the images it conjures up of a sobbing Hilary Swank) is an aloe-based lubricant that does more than make sex better. (Though honestly, that's enough for me.) It actually protects and hydrates you down there—which, given my obsession with moisturizing, was incentive enough for me to double my order. Oh, and it's organic. Gwyneth would so approve.

If nothing in this list spoke to you, you should absolutely check out their full list of products here. Whether you're looking to #maintainyourv, #enjoyyourv (hint: this is the section with lube in it—also a nice bubble bath), or #healyourv, Queen V has you covered. Now that Queen V has pointed out that men really shouldn't be selling you vaginal products (and are in fact getting it wrong a lot of the time), I'm not sure I can ever go back. These products are available at Walmart across the country, affordable AF, and come in way cuter packaging than vaginal products have any right to—without the insulting "pink tax" connotations. It's basically the Glossier of vaginas, and I for one am obsessed.
Images: Giphy (1); Instagram (4)