'Vanderpump Rules's Danica Called Out Stassi On Twitter
As much as I hate to admit it, this season of Vanderpump Rules has been disappointing. We had to sit through nearly a dozen episodes dedicated mostly to Jax and Brittany's nightmare fairytale wedding, and things haven't gotten much more interesting in the weeks since. But just because the actual episodes have been slow doesn't mean there's not some interesting drama playing out in real life—or, because we're all quarantined, playing out on social media.
Last Friday, Stassi Schroeder tweeted a joke about how she would willingly go back to being a waitress at SUR if it meant the quarantine would be over. If you watch the show, you know that Stassi never actually liked working at SUR, so this is a pretty big statement for her.
I'm willing to go back to waitressing at SUR for this quarantine to be over. Honestly— at this point, I'd pay to put on that SUR dress and clock in.

— Stassi Schroeder (@stassi) April 10, 2020
Stassi obviously meant it as a joke, and plenty of people found it funny, including SUR manager Peter Madrigal, who responded to Stassi with a shift assignment. But not everyone appreciated Stassi's joke. Danica Dow, a SURver who is new to Vanderpump Rules this season, called Stassi out for being tone-deaf. She noted that due to the closure, SUR employees have had to file for unemployment, and Stassi is "insensitively cracking jokes" while the Toms are raising money for their employees (more on that in a minute).
While Tom & Tom are raising money for their employees, you're kind of insulting this pandemic that has left everyone at sur having to file for unemployment. Everyone at sur is struggling while you're insensitively cracking jokes & sitting pretty in your new house smh.

— Danica (@Danicadowww) April 11, 2020
While I wasn't immediately offended by Stassi's tweet, Danica definitely has a point. Though COVID-19 has affected everyone—Stassi even had to postpone her tour—it's not quite the same. She'll probably be just fine, while all of the people who actually work at SUR (they're not all TV stars) are struggling, and would probably love to be able to go back to work right now.
Some people replied calling Danica thirsty or jealous, but even if that's true, she's not wrong about the situation at SUR. According to some reports, Lisa Vanderpump and the other owners aren't doing anything to help out their restaurant employees right now, which is really disappointing. Lisa even told Andy Cohen that "they're all on unemployment." I don't know the details of her finances, but if she's anywhere near as rich as she comes across on the show, paying some bartenders seems like the least she could do. Lisa, what's up?
But who here is actually doing the right thing? Tom and Tom! As much as Tom Schwartz is on my sh*t list right now on the show, he and Tom Sandoval are at least trying to do something good for their employees. The Toms are together during quarantine, and they joined Cameo to raise money for the TomTom staff. 100% of the money they earn from Cameo goes to the employees, and they're matching everything up to $10,000. I'm not expecting these people to be writing million-dollar checks, but this feels like they're really doing what they can.
In Tom Sandoval's comments, someone tried to come for him for not just paying his employees normally. Tom, who is an angel on earth, responded that "as a 5% owner, this what I can do." Okay, we stan. As we all know, Tom and Tom are not actually the majority owners here—that's Lisa Vanderpump! This response from Tom feels like both an actual explanation and some subtle shade at Lisa, and she kinda deserves it.

So what does this all boil down to? Right now is an extremely tough time for people in service industries, and it's sad that more employers (especially those with money) aren't helping their staff out. So Stassi's joke was probably in poor taste, and Danica wasn't wrong to point that out, but the real issue here is that Lisa Vanderpump could probably be doing more to help her employees. Thankfully, Tom and Tom are doing what they can, but it's just not enough. All I know is that when this is all over, I'm going to SUR, and I will be tipping generously to thank these people for all they've given us. It's the least I can do!
Images: Featureflash Photo Agency / Shutterstock.com; stassi, danicadowww / Twitter; tomsandoval1 / Instagram
What We Know About The 3 New 'Vanderpump Rules' Cast Members
I know I complain a lot about how much time The Bachelor takes up in my sad little life, but the one show I would never dare speak ill of is Vanderpump Rules. There's just something so comforting about watching borderline sociopaths lie to their friends and family without emotion or remorse. It's like mozzarella sticks for the soul. And just as I was starting to really miss my precious garbage angels, they popped right up to give me that sweet, deep-fried, cheesy fix. This week, the cast members got together to film the opening credits for season 8. Now, while I care about my OGs very much, I've seen enough pictures of Jax and Brittany's wedding to last me a lifetime, so it's time to take a gander at the fresh blood. Let's stalk the Vanderpump Rules newbies.
Max Boyens
According to US Weekly, the place I got to for all my C-list celebrity news and the occasional legging recommendation, Max is the general manager of TomTom. Which sounds like a sweet gig in theory, but having to follow the insane whims of a man rocking a Flock of Seagulls haircut day after day must be a tough pill to swallow. So, I'm already proud of you, Max. You're doing amazing, sweetie. 
US Weekly also reported that Max was briefly linked to Scheana, which I assume means that he went over to her apartment one time, ate a handful of pretzels, and now she's filed the paperwork needed to acquire a marriage certificate.
Now that we have that out of the way, let's make some broad assumptions based on his Instagram! It appears that Max likes karaoke, is from San Diego, has style that Sandoval approves of, has a cocktail company he's looking to promote, and is way too wordy for a man whose career is clearly based on his looks. I hate him already. I can't wait. 
Dayna Kathan
Dayna appears to be a SUR employee, which must be nice for Lisa because I'm pretty sure the others don't actually work at the restaurant anymore, and those goat cheese balls aren't going to serve themselves!
Apparently we've already seen Dayna on VPR, because Celebrity Insider reports she was one of the women in the hotel room at the Mondrian when Jax FaceTimed Brittany. According to the article, she will be bringing drama to their relationship, and fingers crossed it happens quickly, because I have $100 that says their marriage only lasts 125 days and I'm looking to cash in. Mama needs some new shoes! (Kidding, I really need some dinner that's not 99-cent ramen noodles). 
Based on the T-shirt she over-wears, Dayna is a Beyoncé fan, which is not surprising because she is a human woman with ears. She also appears to be a comedian, which I'm surprised Ariana is okay with since she takes sketch comedy VERY seriously. I don't expect Dayna to last long on Vanderpump Rules, but I hope she has fun. 
Brett Caprioni
And finally we have reached Brett Caprioni, the most horrifying fairest one of all. He works at SUR, but I'm more interested in the fact that he's a YouTuber, which explains why I have no idea who he is since I spend my weekends shaking my cane at teenagers and hollering things like "back when I was a kid we had RESPECT!" from a safe distance. I took a look at his page, and he seems to be very into eating healthy and working out, which explains his hot bod and why Jax will most likely attempt to destroy him this season. Just a guess! 
I'm also taking an educated guess that he has had lip fillers (that baby picture he posted has no lips to be found—sorry baby Brett, you were still cute), and I'm also guessing that he makes people call him "BrettCap" in full, every time they talk to him, and if they don't he spits in their drink. He just gives off that vibe, ya know? Plus he's from Jersey and we do that sh*t. Maybe I will like him, after all. 
And that's what we have to look forward to this season on Vanderpump Rules. I can't wait to watch even more beautiful people in dysfunctional relationships drink to excess! 
Images: Shutterstock; Giphy, issamaximillian, dadadayns, brettcap / Instagram
Conspiracy Theory: James Kennedy Got His Job Back At See You Next Tuesday
As you all know, one of the main plot lines of this season of Vanderpump Rules is that James Kennedy got fired from SUR, meaning his See You Next Tuesday gig was taken away from him. Some say it's because of his drinking problem and the fact that he lashed out at Katie. Others say it's because Kristen Doute is the one who brought James into the show, and now that she's third fiddle to her more entertaining ex, she's obsessively trying to take him down. In my professional opinion, it's a little column A and a little common B. But no matter the reason, the demise of See You Next Tuesday and the revolving door of Tuesday night programming at SUR have become a plot point this season.
Those who have a completely unhealthy obsession with Pump Rules, like I do, have noticed that James has been showing face at SUR on Tuesdays again. This obviously could be a huge deal. Did DJ James Kennedy get his job back? We investigate. *insert Law and Order: SVU theme here*
One of the stipulations of James getting his job back was that he give up drinking. So far on this season, we've seen him put the booze down and noticed the almost instantaneous change. Funny how James actually targets the locus of his toxic behavior by giving up drinking, and yet Jax thinks self-actualization is buying tampons for Brittany and making her a sandwich. But back to James. Look at the above picture of him taken at SUR. He doesn't look Litney Houston at all. He's holding a cigarette, but anyone who's ever tried to take an Insta story when drunk knows that it's physically impossible to look sober in a picture when you are not.
Then we have the most recent Tuesday night event at SUR, which has been taken over by Tom Sandoval, for reasons unknown.
Ugh, calling that drink a "Tsandy," really Tom? Also, compared to the iconic See You Next Tuesdays and Girls Night, Spicy Tequila Tuesday sounds super anti-climactic. So the fact that James was there is super interesting to me. My first thought was, wouldn't James be so bitter about his successful Tuesday nights getting replaced by a much lamer event that he wouldn't want to show face there? But then I thought, what if this is a cover-up for the fact that James Kennedy is turning tables on Tuesdays on the DL? Sure, that Instagram says DJ Mickey is spinning, but the fact that James was present at all makes me wonder if they are ramping up to something.
While James has mostly been photographed with fans and not DJing, there is this Instagram from Guillermo, WHICH HAS SINCE BEEN CHANGED, which appeared to be a nod to James's former Tuesday night gig.
The original caption read," not Tuesday's Night at SUR without around". And then it was changed to "Celebrating national Pasta Day.. today is all About The Pasta." Exsqueeze me? Why did Guillermo change the caption? Did somebody get mad that he leaked a potential spoiler? Or did somebody else throw out an ultimatum? I guess we'll never know, but the picture at least is a clear sign that James has not fallen out of favor completely with the management at SUR. But the fact that Guillermo changed the caption so as not to endorse See You Next Tuesdays makes me think there's something more going on.
There's also this tweet from James that proves he has gotten his DJing job back at SUR, even if it isn't on his coveted Tuesday nights.
YO! HELLO!! IM DJING AT SUR TODAY AND IM GONNA FREESTYLE MY HEART OUT ???? fr tho I'm spinning at 4pm ???? come to SUR today

— James Kennedy (@itsjameskennedy) December 9, 2018

At the end of the day, what's the difference between a Sunday afternoon and a Tuesday night? I feel like it's mostly semantics at that point if James is going to be allowed to DJ at SUR at all.
So I don't have concrete signs that See You Next Tuesday is a thing again. However, Elle Woods didn't have concrete evidence that Chutney killed her father. Instead, she used context clues to get Chutney to admit guilt. And that's obviously a solid way to concur that See You Next Tuesday may very well be making a comeback. I rest my case, betches.
gzsur, tomsandoval1, stevemartini / Instagram
Raquel Leviss Is Shading Her 'Vanderpump Rules' Co-Stars Online
Dear, sweet Raquel Leviss. When James Kennedy's pageant girlfriend officially joined the Vanderpump Rules cast this year, no one was sure what to expect. We knew her as soft-spoken, college-aged, and possibly delusional about James' alleged cheating. This season, as the rest of the cast turns against James, Raquel has decided to show her personality. This is happening both on-camera and off, as Raquel has decided to talk sh*t online about James' former friends. This is the kind of drama I live for.
Exhibit A: Today, Raquel posted this tweet sharing an article discussing the feud between Lala and Billie Lee. Her caption? "Lala Kent Joins The Mean Girls Club And Never Looks Back."
Lala Kent Joins the Mean Girls Club and Never Looks Back https://t.co/FOZaoOtenQ

— Raquel Leviss (@RaquelLeviss) January 22, 2019
Okay Raquel! Given your interactions with Lala last year, in which you asked her to please stop sitting on your boyfriend's lap quite so much, I guess it's not totally shocking that you're going after her now. But if you're hating on her for hanging out less with your boyfriend, that does seem a little counter-intuitive to me! (Yeah, I will not for a second pretend Raquel's real stake in this is somehow about Billie Lee.)
In Exhibit B of Raquel's (admittedly pretty tame) shade, we have her comment on this Instagram from Tom Sandoval. He's announcing a "Spicy Tequila Tuesday" that he's hosting at SUR (guess Girl's Night In was not a huge success after all).
Raquel responds to this news (screenshotted below) with the following comment: "You've got me thinking about what I would call my Tuesday night." Innocent enough, but in my opinion, this is a dig that pretty much anyone can have their own Tuesday night now that James' super-successful event is out of the mix.
Lest you think that Raquel Leviss is taking over James Kennedy's title as Queen of Internet Shade, James was quick to get in on the action here too. On Tom's Tuesday night post, he responded to a comment saying, "We Want C YOU NEXT TUESDAY!" by tagging Lisa Vanderpump herself and Guillermo Zapata, the other owner of SUR whose last name you probably never knew. (Did anyone else read that comment in a "Pump-ti-ni!!" voice btw?)
Honestly, James and Lisa better be on good enough terms that this reads as something of a joke. Otherwise he is literally just sad at home tagging his ex-boss on Instagram to say "SEE YOU SHOULD NEVER HAVE FIRED ME!" If possible, it is even sadder than drunk-tagging an ex.

Honestly, I'm always up for a new girl stirring the pot. Raquel, I may find your home decor Instagram stories insufferable, bur I am here for any and all petty fights you'd like to start.
Are Lisa Vanderpump's Restaurants Actually Good? I Went To All Four
As a local LA resident, I am subject to high rent, high crime, horrific traffic, no weather, and a high risk of murder. Luckily for me, though, it also means I get to go to and rate all of our lord and savior Lisa Vanderpump's restaurants. To be able to eat and drink at fun and nice establishments as "work" is literally my dream, so please let my editor know in the comments other fun/nice places in Los Angeles you really want reviews on. Seriously. That said, my super supportive and Vanderpump Rules-loving friends accompanied me to LVP's finest establishments so we could try as much as possible to give you an honest review of what these places are like IRL. Let's begin.
SUR
We started our adventure having dinner at the place that started our favorite reality TV trash, SUR. We'd been once before and while the food was great, it was 9:45pm on a Friday and there was a DJ. We literally ate our meals and screamed to each other like we were in "da club". I say that like a person that does not go to "da club" because I f*cking hate "da club". But knowing this, I booked our reservation far in advance and was able to get a v normal dinner res at 7:30pm, and we had a way better experience. We went to the famous SUR lounge first, where we ordered the most coveted of items, GOAT CHEESE BALLS, cocktails (Big Pinky's), and the chicken steamed dumplings.

First of all, the goat cheese balls are really f*cking small. Like, teeny tiny little baby balls. They were also amazing, so yes, Stassi is right about them.

Here is a photo for scale:

I look really sad, but I ended up being really happy because they are v good and their small size did not stop my friends and I from ordering 3 more plates of them. We spent $44 on goat cheese balls alone. There are 3 balls per plate, so it's roughly $3.67 for each tiny ball. Worth it? Yes. There is some sexual innuendo here that would hilarious, but I do not care to make it.
We sat down to dinner and our server was super helpful. Probably because he is not on Vanderpump Rules so he actually cares about his job. We got filet mignons and a roasted lamb (right), all of which were amazing.

We sat in the middle room near the host stand, which I decided is not where I'd like to sit in the future. SUR has a second room to the right, as well as tables outside that seem to be way better to sit at, especially if there is a DJ being loud in the lounge. Thankfully, we were not victim to any DJ this time, particularly woman-hating DJ James Kennedy, so we got out unscathed. Guillermo was there both times I've been to SUR. I love to see that he's around checking on the quality of the restaurant, because it shows.
We ordered many of Lisa Vanderpump's Big Pinky: a cocktail full of Vanderpump vodka, lime, mint, and cranberry. It is sooooo good.

We ran into Max Vanderpump Todd himself on the way out (he and I have other issues, we will get to that later). We also ran into Ariana's brother, to which my friend shrieked within two feet of him, "THAT'S ARIANA'S BROTHER", to which Ariana's brother turned and looked at us and it was extremely awkward. I do not remember the name of Ariana's brother. Overall, we loved SUR and would definitely go back.
Pump
Did I love Pump? Yes. In fact, it was almost my favorite. But let's just talk about it chronologically. When we first arrived, the two bouncers decided they are also struggling comedians, as they told us we were in "Jacob's Lounge" and welcomed us. This was super weird and awkward, also because the strip that SUR, Pump, and TomTom are all on is super crowded and the signs aren't necessarily visible when you're directly under them at night. Had I not been going there with a specific intention, I probably would have just assumed I was in the wrong spot and left. Pro tip: maybe don't tell paying customers they are in the wrong spot when they are not.
Despite the really awkward entrance, we went to the bar and were greeted by many a beautiful gay man. Like literally, everyone who works there is incredibly attractive. With really high cheekbones. The bartenders were very disinterested in speaking to us ("because we have vaginas," my friend interpreted), but the cocktails were really good, so we could not complain. We tried the famous Pump and Glory, Pumptini (both fabulous), and a new cocktail called the Smoke & Mirrors, pictured, which was the best. It tasted like orange blossom heaven and was our favorite cocktail out of all the restaurants.

The highlight, though, was when we were seated for dinner in the gorgeous garden (which my friend called a "magical elf garden"), and ran into LVP herself. She was there with Ken, Giggy, and Puffy (?). She's somehow even more gorgeous in real life (and TINY). She graciously took a picture with me and said she would definitely read Betches for my article (Hi Lisa, we love you!). They sat right next to us and put Giggy on the table like a little furry purse. Good thing we weren't the health department. Then again, I kiss my dog on the mouth so I don't care. I think we need more dogs in places and less people. And way less children.

Our server and busser were both adorable and super friendly, telling us exactly what to order. It was actually hilarious, the busser was chatting so much with us that he finally was like, "ooh sorry, I have to go work, my boss is right there," like yeah buddy, we are totally aware we're seated next to LISA VANDERPUMP. But I love that she's at her restaurants so often checking everything out. My favorite item was the Rock Shrimp Tempura appetizer. It was just sooo good. We also got the Chicken Milanese, the Pan Seared Sole (pictured), a Pump Burger, and a Mushroom Chicken.

All were really good, and our bill was somehow cheaper than SUR by a lot. I will be back in a heartbeat, and I particularly want to try the brunch menu. Also, I asked our server what Lisa usually orders here and he said, "Oh, Lisa does not order off the menu," which is my favorite thing I've ever heard.
TomTom
Okay, so I told Lisa I would definitely give her restaurants amazing reviews, but also, this was before we actually went to TomTom, so Lisa, please look away. Or also, maybe you shouldn't, because TomTom needs some work.

Can I just say I love the decor at TomTom so much? It's so steampunk chic. It's aesthetically my favorite, although it is way tinier than all the other restaurants. I wanted to love TomTom. My first experience here was actually a few months ago, when my friends and I were drinking in the beautiful garden, only to be told that the garden was closed and we had to move inside. We did so, moving to a teeny dark booth across from the bathroom, only to see Max Vanderpump Todd go out to the garden and take our table. Needless to say, I was a little bitter that we were obviously removed just so Max and his friends didn't have to sit next to "regular people". But I was like, "hey, fine, I'll go back to TomTom and have dinner. I love the decor, it will be fine."
TomTom is the only one out of the four Vanderpump restaurants that does not take reservations so we got there early (~7 on a Saturday) to ensure that we didn't have to wait long. We didn't have to wait at all and got seated out in the garden, next to the table that was stolen from us last time.
Okay, so here's what's hilarious. Betches recently did an article on the Worst Dressed of Vanderpump Rules. Betch Dressed wrote that Sandoval "always adds in some element that takes it over-the-top and makes it instantly repulsive", referring to his style. This is literally exactly how I feel about TomTom's cocktail list. Self-proclaimed master mixologist Sandoval treats his restaurant the same way he treats his hair—by adding an unnecessary gray streak to everything that could have been good. Every single cocktail had something in it that made it weird and unpalatable such as mezcal, bee pollen, and pea tea (wtf). Also? The menu here was somehow the most expensive.
I tried the Clockwork Pink first. I took one sip and was like "f*ck no". I stirred it a bit and it made it better. By better, I mean drinkable at least. Maybe the bartenders didn't make it right? We still had hope.

My friends ordered the Alchemy Rose, pictured left (which tasted like straight-up gin, who is mixing these drinks?) and the Kentucky Muffin, pictured right (which is a hilarious drink name, I'll give props for that).

It also prompted this text exchange with her boyfriend:

At least they look pretty. Our server—which btw, love their outfits, they wear little suspenders and it is adorable—recommended we try the Madame Butterfly, which tasted exactly like extremely watered-down Mike's Hard Lemonade except it also cost $16.

It was hugely disappointing considering Sandoval's "many years in the food service industry" and "mixologist" skills. Hey Ariana? You should probably finish your cocktail book because clearly your boyfriend needs help.
Unfortunately, it got worse with the food. The menu is all supposed to be shareable, but they have items like burgers and steak on it which is sorta weird to share. We started with the Cauliflower Wings (which were actually really good) and the Portobello and Zucchini fries (fine). We then got the Kobe Sliders (pictured), which were also good and came with a little piece of potato on top—like that little bite is your side of fries (kind of disappointing). So far, all of these things we could get at any other restaurant in LA, and tbh, for a lot cheaper.

But then we ordered the Shrimp Salad (unfortunately pictured) and the Shrimp Flatbread. Big mistake. Huge. The shrimp tasted like it was reheated from a frozen package, i.e., weird texture and kind of like cardboard. It was so bad, we were all eating just the lettuce out of the salad and avoiding the shrimp. What does that say? My friend that literally never eats bread, took the flatbread and scraped off all the toppings just to eat the bread. That is how strange and gross it was. Like, how do you ruin pizza? If the best thing on your menu is cauliflower, we have a problem. I think there is a reason Lisa was eating at Pump and not here. We seriously debated sending it back, but like, were we going to send back everything? Is it rude to ask our server to just send us something edible? So we did not.

TomTom was packed and we wondered if everyone else was as disappointed as we were. Then we saw the table next to us get up and leave their full cocktails on the table. We decided to look at TomTom's Yelp page, and what do you know? It wasn't just us. According to Yelp, TomTom has a policy where you can't return a drink, which I've never heard of. Also? Any bar that doesn't swap drinks obviously has no confidence in their cocktails. There were other accounts on Yelp of people leaving full cocktails on the table, so it wasn't just us.
Toms. We want to like TomTom so bad, but I can't even go there for a decent drink. I'm hoping maybe they were just having an off night, as they are a new restaurant. The bartenders and chefs were maybe all having an off night. Also? Our bill was the same price as Pump but we had one less person. You'd think shareables would make things cheaper. It was still so early in the night but we didn't want to spend any more money on drinks that sucked, so we left by 8:30pm to go to a bar in our neighborhood for some $8 amazing cocktails and good food. Sandoval, maybe these bartenders are butchering your genius cocktails? If you want to invite us for a redo with your supervision, I will write a new review.
Villa Blanca
Villa Blanca was a literal Godsend after our experience at TomTom. It is the only one in a different spot, being in Beverly Hills instead of WeHo. It's so beautiful, calming, and the perfect place to meet up with friends and talk sh*t about everyone you know. The decor is just incredible. But here was the real test: How are the drinks?

We tried the #RoséRules, Peach Bellini, Chambord Spritz, and a flowery take on a French 75 that I think was called something like a Gala 75 but it must be new because it's not on their online menu. Every drink was absolutely fabulous. They also have the Pump & Glory and Pumptini on their menu, which we already knew we liked as a backup in case the drinks sucked here too. They weren't needed, as everything was perfect, including the staff that were super friendly and amazing to us. Our favorite cocktail here was the #RoséRules.

We also got crab cakes at the bar, which also did not have anything weird and were amazing.

Now here is where I would post pictures of our calamari and artichoke appetizers and my divine lobster ravioli. But I was so excited to eat, I literally forgot I was supposed to take pictures and just unhinged my jaw like a snake and swallowed everything whole. I was basically licking the plate clean when my friend was like, "oh we didn't take pictures". But. It's really a testament to how good all the food was. The food here was easily the best of all four restaurants and I loved the relaxed vibe. I will definitely be back for brunch, dinner, happy hour, everything.
Here's the lobster ravioli from Villa Blanca's Instagram instead:
Let's be real, all these restaurants have weird, dark (and occasionally pink!) lighting, so this is way better than my sad photography skills anyway. Here's the calamari:
Seriously, just go look at their Instagram if you're bored at work and salivate. Here's the thing too: with Villa Blanca, both drinks and food and just overall experience are worth every penny. And the drinks there are actually $14, whereas at TomTom they are $16. That two dollars adds up when you have a bunch of people. Who are alcoholics. Villa Blanca cost us only a bit more than TomTom, but once again we had four people instead of three this night. Villa Blanca is nothing but class and I could eat there literally every day of my life. Except I would also not be able to pay my rent. SUR was the most expensive overall (but again—for four of us), but I think that was more user error considering we got four orders of goat cheese balls.
TL;DR: SUR is my pick for happy hour in the lounge or cocktails later in the evening. I would go back for dinner too, though. But you have to get all the goat cheese balls. Both food and cocktails were equally great. Pump has the best cocktails overall. It's such a close second favorite for me, but also the vibe is so different than Villa Blanca, I'm going to go ahead and call them dual favorites just for completely different evenings. Pump is like the perfect place to get dinner before you're going to go out. I also cannot wait to go back for brunch because the garden is just so pretty. TomTom sucked. Go in, look at the gorgeous steampunk decor, order nothing, leave. Villa Blanca is my true favorite hands down, but it's more for a relaxed, nice dinner, like for date night or catching up with friends over a bottle (or four) of wine. But also get cocktails because they were awesome. Villa Blanca's food is also easily the best and the staff doesn't even judge you when you ask for more bread five times.
Overall, I loved the restaurants (not you, TomTom) and I love being paid to go eat and write about it even more, so if there are other places you want me to review, let me know in the comments. PLEASE.
James Kennedy's Mother Posted A Wild Statement About Her Son's Behavior
While I've absolutely loved this season of Vanderpump Rules so far,I've loved the off-camera drama even more. AKA James Kennedy's multiple meltdowns between aired episodes, as his life slowly unravels on screen. The latest in this series? An Instagram statement from James Kennedy's mother, Jacqueline Georgiou. Before I tear this woman to shreds begin, I'd like to acknowledge her struggle with alcoholism, and put forth my sympathies for how it has affected both her life and the lives of her children. THAT BEING SAID: James Kennedy's mother has had more than enough time to thoughtfully respond to his behavior, and the fact that this is what she comes up with is halfway between hysterically funny and rage blackout-inducing. Let's dive in, shall we?
The Background
In case you haven't been avidly watching, here's a quick recap of James Kennedy this season. He rapped about Jax sleeping with Faith while Brittany was working at SUR, then got drunk and body-shamed Katie at Pride. Lisa promptly fired him from SUR for both his alcohol problem and his treatment of the women who work there. (If you're on board with the logic of that sentence, congratulations. You're already miles beyond Kennedy's mother's understanding.) In last week's episode, Lisa Vanderpump met with James' mother, Jacqueline. We learned that Jacqueline is nine months sober (very sincere congrats!), and struggling to justify her past failures as a mother (also congrats, important step).
On the not-so-great side, she also said James was entitled to his behavior because he was "provoked." She also told Lisa she "can't give up on James" because he considers Lisa a "mother figure." To which Lisa responded, as gently as possible for such an obvious burn: "no, you are his mother figure."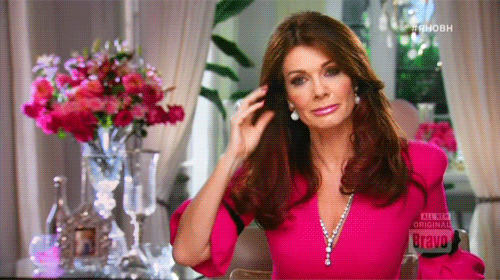 Next, James doubled down on all his crazy by talking sh*t about the recent deaths of Lala and Jax's fathers. (A risky move! Do not recommend!) Lala, not to be outdone, screenshotted the VPR scene with James' mom and posted an Instagram story, captioned like this. "Is this for real? Did this woman actually raise someone?" It's unclear whether this was the final straw for Jacqueline, but we now have her response.
The Statement
I'm too lazy to re-type the whole thing You've waited long enough, so I'll put the statement in full here for you to peruse.
Done? Still breathing? Excellent. Many, many comments off the bat from me! In a baffling first move, she begins with the phrase "to whom it may concern." I understand this is (to an extent) celebrity Notes app protocol, but it's also a phrase that feels overly formal when used in a cover letter, let alone an Instagrammed picture of a note handwritten on a piece of looseleaf. Also, someone should inform Jacqueline that Notes app exists, because the handwritten aspect makes it that much more upsetting.
Next! It is shocking to me how little anyone even peripherally involved with VPR understands what "feminism" means. And they use the word all the god*mn time! In this instance, Jacqueline accuses Katie of "claim to be a feminist then play victim." While "playing victim" is generally a bad move, I kind of fail to see what it has to do with "claiming" to be a feminist. Maybe Jacqueline is one of those feminists who believes women showing any kind of weakness detracts from the whole movement, but I think more likely she doesn't care about feminism or anything really other than continuing her moment of fame. Which will very, very swiftly end if James is not reinstated at SUR.
On this particular incident, she also defends James by saying he "never used the word 'fat'" (low bar there, Jackie), "nor did he speak to Katie first." Ok but Jackie!!! Inappropriate comments do not have to come out of a void to be inappropriate. And the fact that you can't condone, even a little bit, what he did say to Katie makes it impossible to take anything else you might say seriously. Sorry!
Also me:

On the Kristen/Hope situation, she has a similar take (TL;DR James is blameless, hire him back). Yes, Kristen has a serious problem when it comes to finding people's past hookups and bringing them to their workplace, but Jacqueline manages to void her criticism on this point too. She refers to it as "harassment (single white female style)," at which point I became incapable of thinking about anything Kristen has done wrong and could only focus on how truly insane this woman is. Also, if all else fails I hope James releases a single titled "harassment (single white female style)".
The note wraps up with a few more baffling moments, like the mention that "Ms. Doute repeatedly beat the shit out of my son on previous episodes." (Was it repeatedly? Not that once is okay—just trying to gauge how mentally sound this letter writer is). There's also "Mother figure…anyone with ½ a brain should know what I meant." (Lisa did know what you meant! She just wasn't down for you to offload your maternal responsibility!) She finishes off with a note to "all you judges and jurors," who she warns "before you speak and give your opinion," "unless you are living your best 'Oprah Life' then SYMFM." I cannot find backup for this on the internet, strangely, but I can only assume that stands for "shut your mother f*cking mouth." What "your best 'Oprah Life'" means, I can't begin to guess at.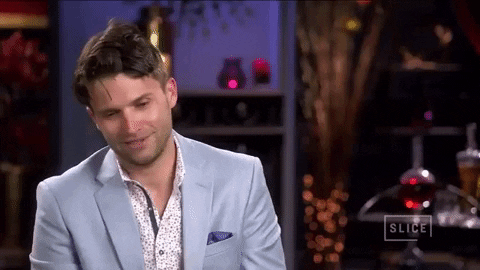 Finally, Jacqueline signs the note like this: "Jacqueline Georgiou/Mother." Because honestly, after reading through that, you may have been tempted to forget that she's an adult woman, let alone a mother. I can't f*cking wait to see James' response to this, and I can only hope it's half as savage as me tearing my mother apart in middle school for calling my teacher when I got in trouble. Until the next tweet storm, have a great weekend!
Images: Giphy (3); @jacquelinegeorgiou / Instagram
'Vanderpump Rules' Recap: The Annual Birthday Meltdown
Hi friends! I'm taking over the Vanderpump Rules recap for two weeks while Sgt. Olivia Betchson is out living her best life. I'm so excited to be writing these recaps, but I have to be honest and say that I'm a recent VPR convert. After resisting for many years, I finally binged the show this summer, and realized just what I had been missing. And now I ask anyone who has gone remotely near LA if they've been to SUR. It's cost me a lot of friends, but I do not regret it.
As a reminder, last week James Kennedy got fired from SUR yet again, Jax, Brittany, and their limited knowledge of business-ownership tried to start a beer cheese company, and Stassi and Ariana planned their first-ever joint birthday party where definitely nothing will go wrong and zero lives will be torn apart. Let's begin!
We kick off the episode at Vanderpump Dogs aka my actual Heaven, where Lisa is enjoying a delicious dog biscuit with her tea. Rich people are weird, y'all. Our crew has all shown up to take pictures with their dogs to post on Instagram, which will somehow stop the torture of dogs in another country. A noble cause, and also how very smart of Lisa. All she had to do was whisper the words "more Instagram followers" in a dark corner of Villa Rosa and her staffers came running to support her.
Jax is telling everyone that James got fired, while barely managing to contain his glee. Dude, didn't I just see you get fired last season? Talk about the 'roided up pot calling the alcoholic kettle black, no?
Kristen upon hearing this news:

Then, "Official Vanderpump Rules Cast Member" Raquel (What? That's what it says on her IG) and James walk in. Man, this guy has no shame. I am literally a walking ball of shame at all times for like, saying hi a weird way, and these people will just saunter into the place of business of the woman who recently fired their *ss. It takes balls, I'll give him that.
Lisa calls James over to talk and tells him that she's going to tell his mommy he has a drinking problem. That statement made me feel like I want to throw up, and she's not even tattling on me. I'm so nervous.
Ariana and Stassi sit down to talk about their birthday party, and call James over to disinvite him from it. Yet again, he claims that Katie is the one who got him fired! I cannot even find the words to say how pissed off this makes me! As my therapist would say, you are responsible for you, James, so stop acting like a b*tch baby. Okay, that last part is my own personal embellishment. After what is essentially the Red Wedding of West Hollywood, James decides to spare himself any more humiliation and leaves.
Next, we move on to Lala and Brittany getting a butt facial. Damn. I don't even have enough money to get an actual facial, let alone one on my butt. In fact, I think I have exactly enough money for a pinky toe facial. Do they offer those? Side note: I do have to say that while Lala's makeup is still bonkers and I hate it, I'm really feeling the brown hair on her.
Anddddd I immediately take that compliment back and remember why I often wish Lala would would disappear back to whatever plastic surgery clinic she crawled out of. Her "man" is, "an *ss man. A vagina man. A tit man. He's just a man."
Me:

Seriously though, why does she speak like this?
Stassi has Beau over for date night and they drink Aperol spritzes and eat meats and cheeses and talk about Italy. Okay wait, this might be my actual Heaven. No, I take it back. Put this date inside Vanderpump Dogs and now you have it!
Okay, this whole situation with Scheana and Adam is making me incredibly uncomfortable. Is she sexually harassing him? Is he interested in her at all? Is he stringing her along so that he can be on this show and make mad money promoting Flat Tummy Tea on Instagram for the rest of his life? WHO CAN SAY.
Cut to TomTom. Lisa is meeting James' mom at an actual construction site. How lovely. It's basically like, "Your son is an alcoholic and I fired him. Sorry you just sat on a nail. Will you be a dear and get me a cup of tea?"
Kidding! What actually happens is Lisa tells Jackie that she fired James because he has displayed a pattern of mistreating and demeaning women. Jackie tells Lisa that she's all for  "the movement of women," unless her son is the one treating women like sh*t, and then that's totally fine. She then tells Lisa she was a bad mom and begs her to give James his Tuesday night gig back. No! I am shocked!! A woman who produced a misogynistic, alcoholic, reality star was a bad mom?! Say it isn't so! I won't believe it!
Tom and Tom head over to Lisa's house to be her man servants, and they find her in the backyard clutching a tiny bird like she's Lenny in Of Mice and Men. Fly away little bird! Fly away before you end up in her pocket!
While there, Lisa asks Sandoval to look out for James, which I'm sure will work out for everyone involved. I know they say you can't see an ego, but I swear I just saw Sandoval's inflate ten times when Lisa asked for his help. I'm basically like one of those apps that will tell you how large your gestating baby is, except for with egos.  "Congratulations, Tom Sandoval! Your ego is now officially the size of a cantaloupe. Soon you will reach watermelon status!"


Lisa gave Schwartzie ONE JOB and he used that opportunity to prove he doesn't know how to count. Schwartz is lucky he is so loveable, because I'm pretty sure without that quality he would be playing video games in his mom's basement right now. Hey Lisa, I can count and I'm willing to change my name to Tom! Wanna go in on a bar?
What do you guys think of this makeup right now? I know Stassi thinks they are beautiful ice queens, but to me they look like that guy in Union Square that's painted silver and dressed like a robot and calls me a f*cking b*tch when I don't throw money in his hat.
Brittany pulls Jax aside during the makeup session to tell him that Lala told her while they were getting their butt facials that Tom and Ariana don't think Jax really changed. It was a very revealing moment. Get it? Because their butts were out. Sorry, I hate me too. Jax says that they're just trying to tear him down because he's doing better in life than them. Yes, that's definitely it. A guy opening a bar named after him with Lisa Vanderpump is most definitely jealous of a nearly 40-year-old serial cheater who can't make a drink more difficult than a glass of rosé. You hit the nail on the head, Jax.
Cut to James' apartment, where Lisa shows up on his doorstep. He must have had warning she was coming, right? I don't believe for one second his apartment is always that clean, I say as I stare at my exploded suitcase from Christmas break. Lisa speaks for all of us when she tells James that when he drinks he is a "rude, aggressive little prick." PREACH, GIRL! You should see his Twitter, Lisa.
Party time. Is Schwartz dressed as Peter Pan? Personally I can think of no fictional character more perfect for Schwartz to be dressed as, and I'm ashamed I haven't thought to call him Peter earlier. Oh wait, they're saying he's an elf on bath salts. Whatever. Tomato, tomahto, am I right?
WTF is on Sandoval's head?!?!?!? This guy is more extra than anyone I ever met. And his contacts! Stop. Stassi actually does a butt shot this year (the cause of last year's meltdown), and I'm feeling like this episode is very butt-centric. What part of the body will we focus on next week? I'm waiting with bated breath.
Lol of course Lala is dressed all in black. You always need a devil at a party with people dressed like ice angels. Official Vanderpump Rules Cast Member Raquel shows up, and Kristen immediately smells blood and starts circling her in the water.
Jax pulls over Tom of House Sandoval, Queen in the North and confronts him about the earlier sh*t talking he and Ariana did. I have no idea what is said in this conversation, because I'm pretty sure I just figured out that Tom's eyes are the monsters in Bird Box. They are freaking me OUT.  Jax is lucky he escaped with his life. I think they hug it out and everything is fine, but I can't be sure because I had to blindfold myself.
Official Vanderpump Rules Cast Member Raquel comes over and immediately starts problems. She's praising James for not drinking since Pride, which happened about a minute ago. Bravo! Do they give out a chip for that, or just a pat on the back? Stassi starts getting heated and now I think we all know where this is going.

Shockingly, we are all spared a meltdown, despite the fact that practically everyone in this scene is double fisting.
Oh boy. I spoke too soon. At 1:49 AM Stassi decides it's time to go to bed, and Beau is still at the party. Stassi immediately turns from ice angel into that woman that texted her ex 159,000 times and told him she'd make sushi out of his kidneys. Wait, was that actually Stassi? When she gets no answer, Stassi smashes her phone, and along with it all her hopes and dreams of a healthy relationship.
And that's all! Tune in next week to see if Beau escapes with his balls!
Images: Bravo; Giphy (4)
James Kennedy's Latest Twitter Meltdown Proves 2019 Is Doomed
New year, new me, am I right? Not if you're DJ James Kennedy (AKA the white Kanye West). In a turn of events that may shock you for someone with this nickname, James Kennedy kicked the new year off with a series of questionable tweets. If you've been watching Vanderpump Rules, you'll know that James has been getting heat from fellow cast members after body-shaming costar Katie Maloney. Oh, and rapping about Jax cheating on Brittany while she was working. And also kind of for cheating on his girlfriend two years ago? How many episodes are we in again? What year is it? Anyway, James had a bad week, which in the VPR universe means he was uninvited from a birthday party and lost his job. Here's the rundown of the first James Kennedy Twitter meltdown of 2019.
Let's start with a screenshotted January 2nd tweet uploaded by Brittany:
The disgust continues. @itsjameskennedy I pray YOU will find peace some day. pic.twitter.com/OywfbyoRgC

— Brittany Cartwright (@BNCartwright) January 2, 2019
In case you're too lazy to click on her tweet and read the quoted text, here's what he says. "And Jax?! He is just a sad man after his daddy died. Coming for me cause I'm the only man he don't like- brother make peace with your dead father please so you can be set free that's goes for Lala also. Btw he made fun of George when he left." As a side note, I cannot figure out who George is and it's driving me wild. Fan theories in the comments please.
In other good news, James was apparently still drunk mad when he read Brittany's tweet, because he responded with the following:
Wow…. just wow. pic.twitter.com/qOOKYquerR

— Jax (@mrjaxtaylor) January 3, 2019
Yes James. In case your drunkenness isn't evident from the content of what you're posting, please add random periods to drive the point home. Brilliant. Eventually, James—because he has publicists who require him to keep making money—deleted his tweets and tried two very different tactics to get out of this. First, the "I got hacked," with a side of blatant lying about how he is perceived by the public. (James Kennedy? Positive? I think not.)
@mrjaxtaylor I don't buy this pic.twitter.com/TV0YWuY6fR

— Lisa (@txldallas) January 2, 2019
Then, the sincere apology with a side of "but it wasn't my fault because I was provoked." Quick note to any celebs in need of PR guidance out there—you should do ONE or THE OTHER of these. Both is the worst look imaginable.
Hey I'm sorry for what I said about Jax and Lala and I apologize deeply to them and anyone I offended. I hope you guys also stop provoking me, thank you and I wish everyone a happy new year.

— James Kennedy (@itsjameskennedy) January 3, 2019
Jax and Brittany continued offering up swift rejections of this apology, with Jax doing the lord's work posting new screenshotted evidence from James' drunken Twitter spree as well.
There is a difference between someone who notices his wrongs and changes everything about his life for the better and someone who just doesn't care who he hurts no matter what and has no intention of admitting his wrongs or changing. We know what's real. Y'all see 30 mins

— Brittany Cartwright (@BNCartwright) January 3, 2019
Wow.. again with insulting women. After he just apologized. You are a joke my friend. You must seriously hate who are as a person. https://t.co/vDzOlC8Ba9

— Jax (@mrjaxtaylor) January 3, 2019
My favorite part of this whole drama is from an hour ago, in which Jax Taylor continues to rain hell down on James in whatever way he can. This time, it's by tearing down a tweet Raquel posted from the Vanderpump dog show. According to Jax, Raquel "attempted to bid" on a puppy, "looked for money from James," (who "has none so he bolted"), and then was ultimately rejected as a dog owner out of hand by Lisa—who "told the auctioneer "no way" and gave to the next bidder. Is any of this related to the rest of James' tweets? Nope! But you're out of your mind if you think I'm missing the opportunity to include some dog show drama.
You did not get out bid, we sat 10 feet from you when you attempted to bid on the puppy, you looked for money from James, he has none so he bolted and then Lisa saw it was you and told the auctioneer "no way" and gave to the next bidder. How can you lie when 300 people saw this. pic.twitter.com/tJvLFy5unN

— Jax (@mrjaxtaylor) January 3, 2019
And there you have it! Only three days into 2019, and if the James Kennedy Twitter meltdown is any indication, his resolutions are off to a great start. (I can only assume they were "drink less" and "win my friends back," both of which are going exceedingly poorly right now.) If Jax's resolutions, on the other hand, were "be more petty" and "continue to use Twitter as a catalog of personal vendettas," then I'd say he's doing great. I don't usually like to support anything Jax does (gtfo with Mamaw's Beer Cheese), but I'm really enjoying these twitter clap backs.