5 Foods That Will Make Your Skin Literally Glow
You can buy all of the $80 face serums in the world, but if your diet is trash, it'll definitely show on your face. We already know that increasing water intake and cutting out dairy and sugar will improve our skin. But there are also foods you can add to your diet to eat your way to a better complexion. If you're sad about having to cut the milk out of your daily latte in the name of clear skin, try these five foods for better skin in addition to your skincare routine.
1. Strawberries
Strawberries are like a superfood for your face. They're a major source of antioxidants, which can prevent sebum from oxidizing, aka preventing blocked pores and acne. Additionally, the fruit is packed with Vitamin C which is key to producing collagen which helps to provide a clear, smooth, wrinkle-free complexion. Tom Brady doesn't know what he's missing.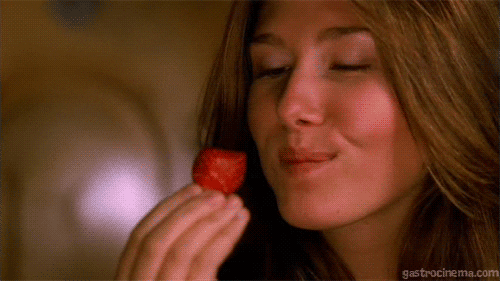 2. Salmon
Adding wild salmon to your diet helps keep your skin supple and moisturized since salmon is a major source of omega-3 fatty acids. What's more, swapping out other meats for salmon means you're increasing your vitamin D intake which helps to strengthen your skin, teeth, and bones.
3. Broccoli
Broccoli (the kind your mom tried to shove down your throat as a kid, not Lil Yachty's kind) is actually one of the major foods for better skin. Not only is the veggie good for your health, but it contains a substance called glucoraphanin that gets converted into sulforaphane inside the body. Sulforaphane aids in skin repair and renewal, leaving you with a natural glow. The little trees are packed with Vitamins A and C which, like strawberries, contribute to collagen production to prevent wrinkles.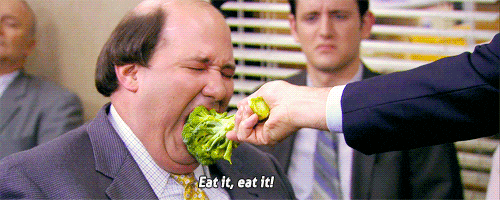 4. Walnuts
IMO, walnuts are like the unsung hero of nuts. They're a source of "good" or nourishing fats that attract moisture from the air to soothe dry skin, reduce skin inflammation, and can help to protect your skin from harmful UV rays. You still need sunscreen though, just so we're clear.
5. Kale
If you're one of those people that pays like, $9 for a kale smoothie just to look like you're doing the whole health thing right, then you're already on to something (and you probably don't have dark circles under your eyes, either). Kale is loaded with Vitamins A, C and K, plus iron and antioxidants. They help reduce the dark circles under your eyes, reduce fine lines and wrinkles, reduce swelling and detoxify your skin. Basically, eating a shit ton of kale targets just about any skin issue.

Images: Rakicevic Nenad / Unsplash; Giphy (5)
Foods That Will Make Your Nails And Hair Grow
We already know that you can add collagen supplements to your fave shakes and smoothies to get your hair and nails to grow (in addition to giving you supple skin, of course). But what you may not know is that there are plenty of other foods for healthy hair and nails that will give you nail beds like baby Stormi Webster's and locks as long as her mom's (weaves). Because honestly, if you're consuming calories you may as well make them worth your while and eat your way to enhancing your beauty.
So if you're in the market for naturally long hair that doesn't look like Shawana's cheap K-Mart polyester hair extensions, include these foods in your diet for longer hair and nails.

1. Avocado
Lucky for all the basic betches, avocado toast has another purpose beyond providing weekend brunch content for Instagram. Avocados are high in Vitamins B and E which work at the cellular level to protect, strengthen, repair and stimulate hair growth. So go ahead, pay extra for guac at Chipotle and feel no remorse. What you're spending on mashed up avocados, you're saving on hair extensions.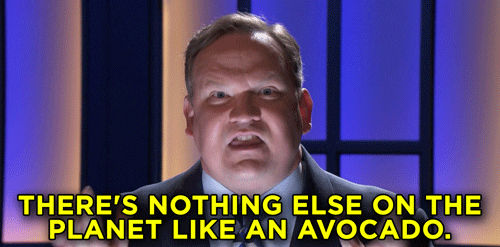 2. Almonds
A major reason to justify paying like, a million dollars for a bag of almonds? The healthy nuts are a great source of biotin, which is a water-soluble B vitamin that stimulates hair growth and turns weak, brittle nails into strong talons like Cardi B's.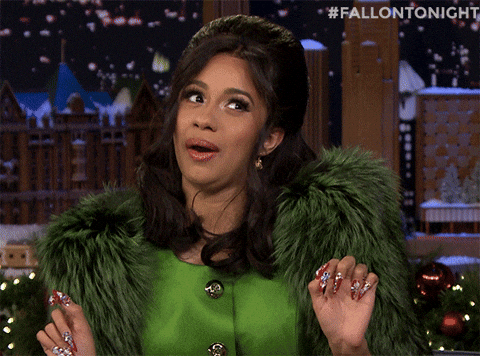 3. Carrots
Am I the only one whose grandmother used to tell her that eating carrots made your eyes pretty as a way to convince her to eat them? I passed on the carrots, because I knew at a young age that carrots weren't going to turn my shit brown eyes into baby blues. But had I known that the veggies would make my hair grow long like Rapunzel's (I exaggerate, slightly), I probably would have chowed down. Missed opportunity, grandma. Carrots are filled with almost every vitamin in the alphabet (A, K, C, B6, B1, B3, B2) in addition to fiber and potassium. When combined, these nutrients provide a shit ton of benefits for your hair—including strengthening, stimulating growth, and providing a lustrous, silky-smooth texture.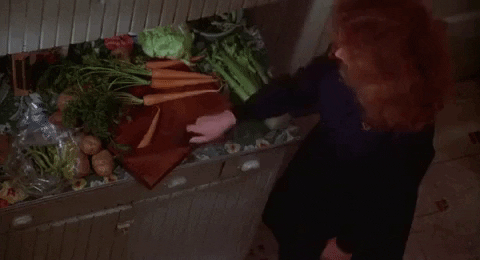 4. Pineapple
Thanks to that one episode of Kourtney & Kim Take Miami, you're probably well aware of the benefits that pineapple can have on oral sex. But what you may not know is that the sweet tasting fruit can also benefit your nails. Eating chunks of pineapple helps your body to use protein more effectively and supports collagen production, which help your nails grow longer and stronger.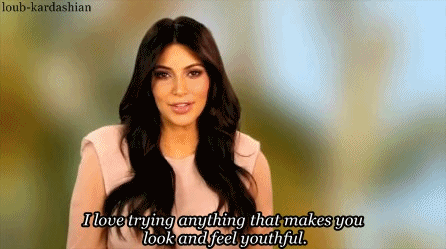 5. Chickpeas
Your questionable obsession with eating an entire container of Sabra hummus is now deemed completely healthy. Chickpeas are loaded with protein, zinc, and B vitamins, which are critical for strong hair, nails, and even clear skin.

6. Pumpkin Seeds
Another reason for basic white girls to love pumpkins: eating pumpkin seeds can make your nails grow. The seeds are a major source of zinc, which is a mineral that supports connective tissue in the body, and ultimately stronger hair and nails. Now we wait for Starbucks to start garnishing PSLs with PSs (pumpkin seeds, duh).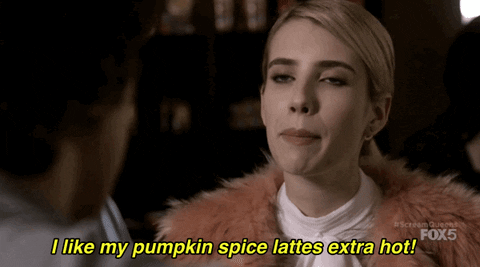 7. Spinach
You've probably heard the term "superfood" before, which basically means a food has like a million different benefits. Exhibit A: spinach. The leafy vegetable contains vitamins B, C, and E and a shit ton of iron. Those all help your red blood cells carry oxygen to hair follicles, which is essential for healthy hair growth and stronger strands. So alas, those green juices do more for your looks then just making you look healthier by holding them.

Images: Valerie Elash / Unsplash; Giphy (7)
6 Fat Burning Foods You'll Want To Add To Your Diet Right Away
It's pretty damn tempting to buy every skinny tea and diet plan you see on Instagram, but honestly there's no real trick to fat burning unless you're eating a balanced diet and working out regularly. It took us a while to accept this tragic reality, but after trying every diet on social media and experiencing continual disappointment, it might be the hard truth. With that being said, there are definitely some foods that have certain compounds and nutrients that could help you burn fat more easily—fat burning foods, if you will. We did some research to find the superfoods that have been proven to help with weight loss, and we're currently ordering each one in bulk. Here are the fat burning foods you to add to your diet.
1. Cayenne Pepper
Pepper has a compound in it called capsaicin, which has been proven to spike your metabolism and boost your body's ability to convert food into energy instead of storing it as fat. Spicy foods also tend to suppress your appetite, which is one of the reasons why you may be super full after eating something spicy for lunch. According to the American Journal of Clinical Nutrition, you just need to add a pinch of cayenne pepper to your meal and it'll help your body burn fat after you eat. So like, pass the pepper.

2. Black Beans
Just in case you needed that extra push to order Mexican for dinner tonight, black beans may be one of the coveted fat burning foods, although that burrito might not be. If you ask me, black beans should be trendier than they are, because they're low-key magical. In fact, some researchers say they're equivalent to a fat-burning pill, but like, much more legal (some disagree, but over all, adding beans to your diet as part of a healthy weight loss regimen can help you lose weight). Black beans are filled with slow-digesting fiber that feeds the bacteria in your gut and trigger a chemical called butyrate, which basically helps your body burn fat more efficiently.

3. Grapefruit
It may be time to stalk up on grapefruits ASAP. In a 2006 study, scientists realized how magical grapefruits are when they asked a group of participants to drink apple juice everyday and another group to drink grapefruit juice everyday. It turned out the grapefruit people lost more weight and their bodies' metabolic rate sped up dramatically, and the apple juice people went home in shame (I paraphrase). Not only are grapefruits rich in bioactive compounds that help break down body fat and regulate your blood sugar, but they also lower your body's insulin and speed up your metabolism. Game changer. Just don't douse it in sugar, duh, because that defeats the purpose of fat burning foods.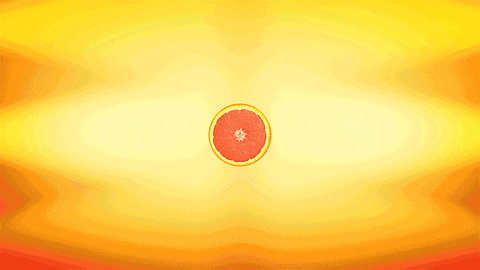 4. Bone Broth
You may have seen your favorite health bloggers sipping on homemade bone broth recently, but this trend actually has a ton of scientific proof behind it. Bone broth is filled with vitamins and collagen, and its nutrients can also help reduce inflammation in the gut, which often leads to weight loss. By healing the gut and filling our bodies with good bacteria, bone broth can make you less bloated, be better protected against sickness, and promote fat loss in the body.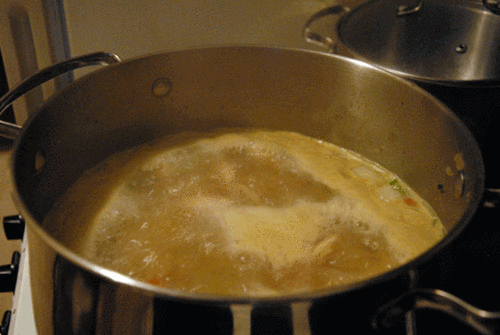 5. Eggs
People used to think the cholesterol in egg yolks would make you fat, but actually the opposite may be true. The egg yolk myth started decades ago, but it turns out we were wrong back then and we're like, much smarter nowadays (cue the video of people eating Tide pods in 2018). Eggs are packed with protein and vitamins, and the cholesterol in the yolk has no real impact on cholesterol metabolism in your body. Some evidence even shows that eggs may raise levels of HDL cholesterol in your body, which helps prevent heart disease. The protein and healthy fat combination in eggs will keep you full for longer and have been linked to fat loss, so like, it may not help you burn fat as expressly as some of these other fat burning foods, but eggs may help you lose weight overall. Bottom line, you can stop pretending you like egg whites.

6. Anything Fermented
Fermented foods, like sauerkraut, Kombucha, kimchi, kefir, tempeh, and miso are all foods that could majorly help your body burn fat. This comes back to the whole idea of the good bacteria in your gut. By improving your gut health, you help your digestion work better and boost your body's immunity. Nobody's promising that if you start drinking Kombrewcha you'll lose three pounds overnight, but these foods are super healthy for you and they just get your system working better, which could very likely help you lose fat, as long as you're not like, eating the sauerkraut on a hot dog. You're on your own in that case.

Images: Trang Doan / Pexels; Elle Hughes, Charisse Kenion, / Unsplash; Tiburi, Edwina MC / Pixabay;  Giphy (2)
The 8 Best Foods For Your Skin, Hair & Teeth AKA How To Eat Yourself Pretty
We've already established that you can now drink yourself pretty, but what's better than incorporating drinking into your beauty regimen? Food. Food is always better. Like, sure, blacking out off vodka sodas is fun and all, but if I could take those calories and use them towards eating my weight in cheese without becoming the "before" girl in a commercial for Nutrisystem, best believe I would. So yeah, now that we've established that food is objectively the best thing ever, it's time to talk about how you can consume unlimited amounts of (certain) foods and not only not turn into a hideous troll creature, but actually look even prettier than you do now. I can understand why you don't believe me—it goes against basically everything we've ever been taught—but this is literally real. We've rounded up the best foods that are good for your hair, skin, abs, and just overall attractiveness WITHOUT sending your waistline into a death spiral. And it's here just in time for you to drink excessively and ruin your diet by drunk eating pizza. Yas. So let's see which secret beauty boosting foods are basic and which ones are betchy. Here's a list of the betchiest beauty foods ranked:
8. Flaxseed
This seems like something Kourtney Kardashian would feed her children for "dessert." Is this why Reign always looks like he wants to set someone on fire?

​Seriously, someone get this kid a Capri Sun.
It's recommended that you ground the seeds up into a "meal" for a better taste, but I'm still skeptical about calling shit you'd find on a bird feeder a meal. Aside from looking fucking miserable to eat, the omega-6 and omega-3 fatty acids in flaxseed actually can help fix skin conditions like acne or eczema. But all the flawless skin in the world isn't going to take this food out of last place for the reason that when I want to eat like a small bird, I'm talking about the quantity of food I'm eating and not the actual food itself.
7. Greek Yogurt
Is it just me or does a part of you die inside every time you eat Greek yogurt because you're wishing it was actually frozen yogurt? Just me? K. Fine, if I have to eat this tasteless paste at least it's packed with enough calcium and protein to keep my teeth looking gorgeous. Yogurt also contains natural live active cultures or "good" bacteria (sorry, I just vomited in my mouth for a minute) that aid in digestion and keep your stomach flat. Blessings.

6. Almond Butter
It has the word butter in it, which makes me want to root for it but it's not actual butter or even peanut butter so now I'm just disappointed. It does have vitamin E, manganese, and selenium in it, which helps keep your hair shiny so it has that going for it. What puts it as #6 on the list is that health weirdos everywhere are rubbing this shit all over their bodies as some sort of DIY beauty serum. Jesus Christ, I hate people. Body hair and butter should never mix and for that, coupled with the fact that this shit costs like $11 a jar, Almond Butter gets the sixth spot.

5. Sweet Potato Fries
Okay, finally, something I actually want to put in my mouth. Full disclosure here, I may have added on the fries part to the end of this one, BUT sweet potatoes are hella good for you and promote glowing, gorgeous skin thanks to all the beta-carotene in them. They also have a shit ton of vitamins A, C, and E in them, which can help improve the look of your hair and skin. Mr. Potato would have been higher on the list had this beauty food actually been in fry form, but I guess you can't win 'em all. 

4. Berries
Aside from looking chic AF in your champagne glass, berries are loaded with anti-inflammatory agents and vitamins that help protect your skin from showing signs of premature aging. They're also packed with vitamin C, which helps produce skin that's firm and strong. Basically berries are natural botox for your skin and I AM ABOUT IT. 

3. Kale
Other than being betchy as hell, Kale is actually one of the most nutrient-dense superfoods and one cup of it can literally fix your whole life (i.e. give you gorgeous hair, strong bones, and awesome teeth). Kale can definitely sit was us. 

2. Dark Chocolate
About fucking time. This is something that's already incorporated in my daily diet because #FitLife. Chocolate contains anti-aging antioxidants, which fight free radicals to protect your skin from UV damage and help prevent the appearance of wrinkles, fine lines, and skin discolorations. Plus it tastes like a dream and may or may not curb all of my homicidal tendencies. 

1. Avocados
Avocados are the betchiest beauty food for sure. Not only are they the most Insta-worthy vegetable fruit (WTF seriously?), but avocados are also super fucking good for you. All of those monounsaturated fatty acids will make your hair look better than a Garnier Fructis commercial. Plus I love anything that brands itself as the "good kind of fat." Better get these while you can, girls, they're about to cost more than your senior year spring break trip to Cabo—because aside from ruining our lives, President Cheeto also wants us to look ugly. Ugh.