5 Dangerous Mistakes You're Making With Sunscreen
As a very pale person living in Southern California, where we get 360 days of sunshine a year, I am very well-versed on skin care, particularly sunscreen. I'm already for sure going to die of skin cancer due to my teen beach bum years. I didn't use sunscreen at all, went in tanning beds on the reg, and burnt my skin so badly it peeled several times a year. It is now my life's mission to not make it worse. With the sun coming out in those other, bad weather parts of the world (why do you people live there?), it's time you all step up your sunscreen game. Do you want to be wrinkled and sad as you get older? Do you want to be skin cancer buddies with me?
Your skin if you don't wear sunscreen:

Here are the sunscreen myths and mistakes you didn't even know you were making.
1. Not Using On Cloudy Days
You should be putting sunscreen on your face and hands (we'll get to that) every. single. day. even if it is cloudy. Your skin is exposed to so much just from being outdoors at all, walking, driving, etc. even on cloudy days. The sun can reflect through clouds and even if you don't see a "burn", you will still get skin damage and increase your risk of cancer. Even just driving, the windows filter out UVB but not UVA rays. Always, always use sunscreen as your base under your makeup. Just use a nice face sunscreen as your day moisturizer, and boom! Two in one taken care of. This one is my new fav:

SUPERGOOP! Glow Stick Sunscreen SPF 50
2. Forgetting Your Hands
Hands are the biggest giveaway of someone's age. Just look at celebrities. They have baby soft face skin of someone 20 years younger and the hands of the Crypt Keeper. It's because of sun damage. Next to your face, your hands get the most sun exposure and people don't think to care of them. Unless you're like, a hand model. In which case, they wear gloves everywhere anyway. So when you apply your sunscreen to your face, just rub it into your hand skin as well. There is no Botox to fix old lady hands. (I mean, I think?)
3. Thinking SPF Is Strength
Most people think SPF is the strength of the sunscreen. Like as in, "Oooh, I won't use your SPF 70 Holly, because I don't want some scary sun shield ruining my tan." Good, I didn't want to share my sunscreen with you anyway, asshole. Why is everyone always mooching off my sunscreen? Anyway. SPF actually means the length of time that you're protected from the sun. So the higher the SPF, the less often you need to reapply. Also? That SPF 4 that your tanning oil has? Basically stops working the second you put it on. My dermatologist told me anything less than 15 is bullsh*t and you should wear a minimum of 30 on your face/hands daily.

4. Not Reapplying
So SPF is the length of time your sunscreen will work for. However, most idiots think they can apply sunscreen once and then be good indefinitely. That's just not how it works. You need to reapply every few hours and more frequently if it's a lower SPF. You also need to reapply if you get wet or sweat at all. It's pretty easy when you're at the beach to reapply on your body, but most people don't reapply their face if they have makeup on. I get it! You're not redoing all that sh*t and your foundation is expensive. Also, it probably creates a force field hiding your face skin, right? Not necessarily. Unless you really cake on your foundation like a Kardashian, you should reapply. Enter: SPF Setting Spray! This is one of my holy grail products. I keep it in my purse always. A few spritzes and your sunscreen is reapplied and actually preserves your makeup instead of melting it!

Supergoop! x Rebecca Taylor Defense Refresh Setting Mist Broad Spectrum Sunscreen SPF 50
5. You Don't Need It If You're Already Tan
Just because you may not see a burn as clearly does not mean you aren't absorbing sun damage. Having a "base tan" is a complete myth. You'll receive the same amount of sun damage as a ghost person like me, even if it is less obvious (or painful, for that matter). However, I'm out here with my SPF 70, so I'm good. It doesn't matter what your pigmentation is, or if you "never burn", the sun damages your tissue and you're just as likely to get cancer or old lady hands. I don't even know which is worse. So SPF up.

Images: Drew Dau / Unsplash; Giphy (3); Sephora (2)
Betches may receive a portion of revenue if you click a link and purchase a product or service. The links are independently placed and do not influence editorial content.
Types Of Sunscreen That Are Bad For You & What To Use Instead
Look, I'll start this article by saying I'm no dermatologist. In fact, I'm like, the opposite—just a girl with a career in fashion and a degree in Communications. Credible, I know. But, regardless, I love me some good research and staying up-to-date on the latest in wellness. (With my greatest claim to "health extraordinaire" being that I switched my whole family over to almond milk before it was a mainstream thing to do so. Am I like, Dr.Oz??? ) That being said, I've come across a lot of articles recently about the potentially harmful effects of sunscreen, particularly chemical sunscreens. And, considering as a generation we're becoming hyper-aware of not only what we're putting into our bodies, but also on our bodies, I had to dig further into the matter. Especially since I'm like, v into skin care, too. A girl who works in fashion AND also happens to be into skin care?! Who would have thought!?! Did I mention I was in a sorority, too??? But like, believe it or not, I'm actually smart, and in my quest to better my own life and yours, I'm here to share my findings. Here are some suncreens that are not as harmful for you as some of the ones you might see at a drugstore near you.

Okay, so to put it into the most simplistic terms, there are two types of sunscreen: chemical and physical. One uses chemical ingredients that actually absorb the sun's rays to protect the skin, while the other creates a physical barrier to reflect them. And, as you can probably guess, the better-for-you option here is the one that creates the physical barrier. This is because, with a physical barrier, you're not absorbing all those potentially harmful chemicals into your skin. There are ingredients in chemical sunscreens that are thought to be endocrine disruptors, which may interfere with thyroid and hormone function. Unfortunately, physical sunscreens, typically mineral sunscreens, tend to be thicker and more pasty, which is a huge deterrent for most people. Fortunately though, nowadays, there are plenty of high quality and more sheer options. You know, so you don't have to look like Casper the friendly ghost strutting around the beach in your best bikini.

I know I'm going to crush a lot of souls here, particularly that of middle aged dads everywhere, but spray sunscreens are the worst culprits of the chemical sunscreens. Again, not only do you have to worry about the chemicals soaking into your skin, you also need to worry about breathing them in as well. *Sigh* Must everything in life we love be so bad??? Well, fortunately, no. Switch to a different type of spray sunscreen, such as the one above from BeautyCounter, which is a non-aerosol mineral mist, to help prevent a lot of those potential health risks while still protecting your skin.

I don't know about you, but I've trusted Neutrogena with my life. And apparently, quite literally. I've been using Neutrogena for my go-to face sunscreen, because if I'm going to put anything on this stunning face of mine, it should be a dermatologist approved skin care brand, right??? Wrong. Apparently, according to the EWG, Neutrogena is one of the top sunscreen brands to avoid because they use high concentrations of hormone disrupting chemicals. What else in my life has been a lie?? Of course, no one wants to be walking around with a white chalky face like a mime, which can be the case with some mineral sunscreens. So, try this one from Drunk Elephant, which is not only sheer, but also protective and even simultaneously addresses other skincare concerns as well.
I know this isn't what you guys want to hear, but, at the end of the day, the best way to protect your skin and overall health is to minimize the time spent in the sun. Or, if you must go in the sun, primarily protect yourself with clothing and beach accessories. Then, also follow with a mineral sunscreen, applied every hour or so. I mean, I definitely don't want to be an old wrinkly hag, and I certainly don't want skin cancer either. (#Priorities.) So, personally, I'll just be sticking with my trusty self-tanner. Sure, my hands may be orange, but that sure beats the health risks associated with too much sun exposure, or now even with my sunscreens. Thank you, next.
Images: @tomasalas / Unsplash; Attitude Living; BeautyCounter; Sephora
Betches may receive a portion of revenue if you click a link and purchase a product or service. The links are independently placed and do not influence editorial content.
I Actually Believe In Day And Night Creams Now—Here's Why
As someone who reads and writes about skincare on a daily basis, I find myself hitting something I call "skincare fatigue." Just when I'd mastered toner (kind of), I start hearing about serums, retinol creams, and whatever the f*ck an "essence" is. Thankfully, the concept of day cream vs. night cream isn't new to me—but actually using a different moisturizer for morning and evening is. I'd always kind of figured that "needing" two different moisturizers was just a way for companies to sell you more products. But three weeks in to my new regime, I'm sold. Here's why.
Night Cream Needs Time To Sink In
The purchase that kicked off this whole venture is Tatcha's Dewy Skin Cream, a moisturizer I feel confident in calling pure magic. From the moment I got my hands on all that silky lavender goodness, I loved it so much I wanted to take a bath in it. This moisturizer has brought my skin back to life after a night out, scared burgeoning pimples back into hiding, and—praise be—NOT activated my rosacea, which just about every other celeb-approved moisturizer does. (Looking at you, La Mer. I wanted so badly to love you.)

Now that my shameless Tatcha evangelizing is out of the way, on to the real point. Because I was so excited about this moisturizer, I was using it morning and night—and quickly realized my mistake. I have a four-step routine I stick to: cleanser, toner, treatment, moisturizer. Because the sun exists, and because my skin is so dry that sunscreen alone does not moisturize it, I have to follow up that four-step routine with an SPF cream in the morning—all before adding any makeup.
Now, anyone who's tried to quickly apply five different face products and then add foundation on top will immediately see the problem here. My beloved Tatcha moisturizer is on the thicker side, which is perfect for my dry skin—but it takes a solid 15-20 minutes to be completely absorbed. That would be fine if it were my only morning skincare step, but I also have to give my toner and treatment steps 5-10 minutes each to sink in. That gets us up to 30 minutes on pre-make-up skincare, minimum. In my week of trying to use the Dewy Skin Cream as a day cream, I don't think I managed to put foundation on once. Since I never had enough time to let the moisturizer sink in all the way, even my sunscreen was barely getting absorbed—which means I was going out looking like a greasy, white-tinged mess.
Note: Dewy Skin Cream isn't advertised specifically as a night cream—there's a different night cream from that product line—but that's how it works best for me. As a rule, night creams will be thicker than day creams, and are formulated to moisturize while you sleep.
Me, waking up post-Tatcha moisturizer: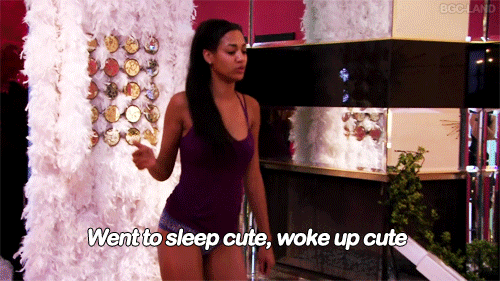 Day Cream Protects; Night Cream Repairs
Day cream, I learned, has one major job: to protect your face from the sun, so basically to contain as much SPF as you can stand. (For reference, I use SPF 46—do not come at me with your SPF 15 liquid foundation). Like I said before, I have a special breed of lizard skin that requires me to pair said SPF 46 lotion with a second day cream—but if you have the option of combining these steps, I strongly recommend you do. I love this one from Origins (so brightening), or this SPF 50 IT Cosmetics CC cream. (No, I don't know what a CC cream is, and my head will explode if I research further.) I own this cream, and would refer to it as somewhere between light coverage foundation and tinted moisturizer.

Scott Disick knows what's up, a sentence I never thought I'd utter.
If you are like me, and SPF products aren't moisturizing enough on their own, I recommend a super lightweight cream that sinks in quickly. My personal fave for this is Cerave, which makes both a day cream and a night cream.
While day cream bears the brunt of sun protection, your night cream can and should have active ingredients too. We've already discussed the benefit of adding retinol to your daily routine, and 2019 is heading toward being the year of glycolic acid. These ingredients are both great, because they help speed up cell turnover, AKA get rid of the dead skin and bring in the new, better skin. Very scientific, I know. However, both of these ingredients also make your skin more sensitive to the sun. I can personally attest to this—this past December, I used a retinol oil and then went out for a day of skiing. Within 24 hours, I developed dark, rough patches of sunburn on my face like I'd never seen before, and they lasted well through New Year's Eve. Happy 2019 to me!
So, while retinol and AHAs are a good addition to night creams, they should absolutely be avoided in your day creams. On the flip side, you're welcome to put on SPF at night—but unless you're sleeping at a campsite, I'm not sure why you would.
Ultimately, you could just say f*ck it and use the same lightweight moisturizer with zero active ingredients for both day and night (plus sunscreen, obv). But if you have skin that's on the dryer side, I highly recommend investing in a thicker night cream—and not making the mistake I did of piling it on in the morning, too.
Images: Tatcha; Giphy (2)