5 Things You Definitely Should Not Still Be Wearing At This Point In The Year
For most betches, pulling together an acceptable fall outfit is almost as easy as finding a friend with an Adderall prescription. Thanks to the Olsen twins, it's just a matter of throwing on an oversized black sweater, some sort of black bottoms and a pair of black boots. However, if you're the kind of person who has that whiney "But I want it to be summer all year long!" mentality, and you've developed some sort of sick resistance to the fool-proof fall uniform, this might prove more difficult. If you believe that a "cute fall outfit" consists of a sundress, a duster sweater, and some vaguely fall-ish footwear, listen up. These are a few things you definitely should not still be wearing at this point in the year. And before you ask, no. I do not give a shit about the fact that it keeps getting hot AF in the middle of the day. If that's something that bothers you then, idk, call your senators or some shit. The fact remains, if you wear any of these things past September, you can't sit with us.
1. Eyelet Materials

Fold these up and stick them in that storage container under your bed, because you should not even be looking at anything made out of an eyelet material for at least the next six to seven months. Nothing says, "I'm a barely functioning member of society who has no clue what fucking season it is," like a flowy white eyelet off the shoulder top in the end of October. Unless you're being your summer self for Halloween, in which case, you're fucking weird and have other problems to deal with.
2. Espadrilles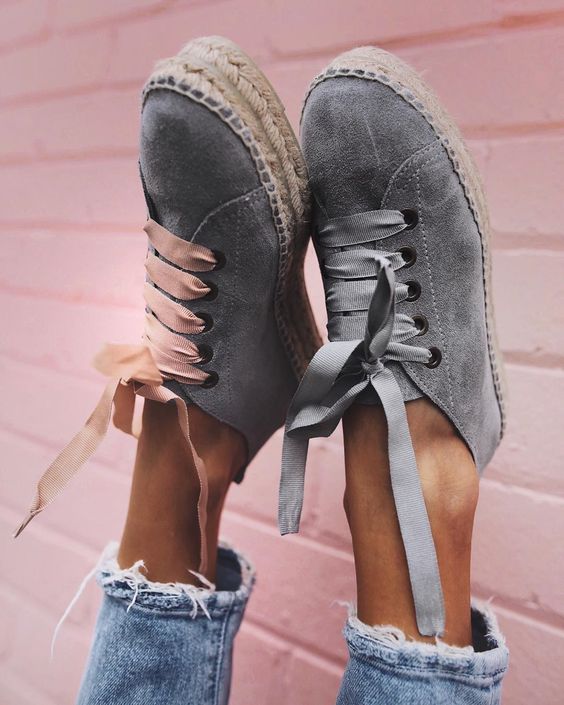 I'm going to assume that you understand the world well enough to know that you should put away your summer wedges as soon as you get your first craving for a hot coffee instead of iced. The real offender here is any shoe style that's like, an espadrille hybrid. Specifically, think of all those platform espadrille sneakers that aesthetic bloggers were rocking this summer.  You should never have to pick a crunched-up leaf out of your carefully woven espadrille sole, so just don't let it happen.
3. Gingham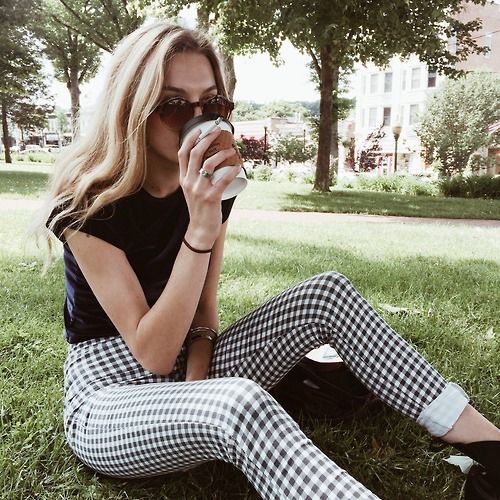 You know that part at the end of Mean Girls when Regina George becomes a jock, and it should be really sad because she used to be the HBIC, and now she's wearing a fucking mouthguard? The only reason this scene isn't totally heartbreaking is that she had a really good run as a popular betch before her downfall. The same goes for gingham. Gingham had a strong summer as one of the most popular prints, but it's time for it to leave the spotlight and take its talents somewhere more subtle… like to the tea towel industry or something. If you're still really feeling that vibe but want to update it for fall, just look for pieces that are a more autumn-y plaid or the checkerboard print Forever 21 keeps vomiting all over the place.
4. Palazzo Pants

In most cases, you should stop wearing palazzo pants in the fall and winter months. There are obviously some actually cool palazzo options that would pass as acceptable, but these are the exception and not the rule. Since the beginning of time (okay, maybe just since the beginning of Pinterest) most of you have been under the impression that if you throw on a sweater and boots, you can transition most summer wardrobe staples into fall outfits. However, a cable knit sweater and Frye boots does not a fall outfit make! Generally speaking, bohemian printed palazzo pants are for girls who want to brag about the fact that they have a great butt and/or smoke a lot of weed, and they (the pants) really have no place in your fall wardrobe.
5. Rompers

At first, I assumed that including rompers in this list would be as obvious as including bikinis. Like, clearly you're not going to wear a romper in the fall. Then I came across a bunch of photos of fashion bloggers wearing rompers with tights on Pinterest. Yep, TIGHTS. Unless you're the manager of a Free People, you have no excuse to be wearing a romper in the fall, no matter how many floor length cardigans and pairs of thigh high boots you're willing to disguise it with. Rompers are really already on their way out, so this shouldn't be that difficult. Also, peeing in rompers is hard enough as it is. Don't make it more difficult by adding fucking tights into the mix. Just don't.
Images: Shutterstock; Pinterest (5)
What To Wear For The Perfect Labor Day Insta
Well, the time has come and we've (somehow) made it through another summer of blacking out more times than we can count from too much frosé and vodka sodas. The nights are getting colder, as are your hearts, since you know you'll probs never hear from your summer fling again. Well, maybe just one more random "U up?" text. Although summer has its perks, I'm like, so over feeling repulsive every goddamn day from being in a jam-packed subway with millions of sweating New Yorkers. IDC what you say, winter has arrived in Westeros I'm rejoicing in fall's arrival. So with Labor Day weekend approaching, aka the last unofficial weekend of summer, it's only natural to celebrate with too much alcohol and calorie-loaded drunchies in one hell of an outfit that leaves a lasting impression. Whether you're *trying* to stay away from hot dogs at a family BBQ, bar-hopping (if you don't die at the pregame), or chugging sipping on some wine in the Hamptons, here are all the essentials you need to really honor the fact that you're a hardly hard-working contributing member of society.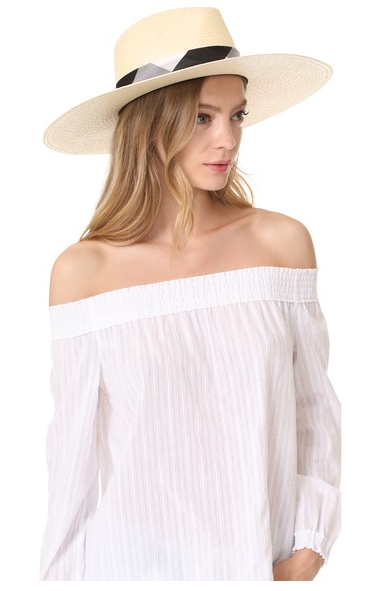 Just one last time, wear an obnoxious sun hat to feel like a classy judgmental betch. This may be the last time you step foot on a beach until next summer so this crisp neutral hat is pretty close to being the next best thing. It even has a gingham band which is like, so fall so you'll look really trendy and can def get away with wearing it again next year.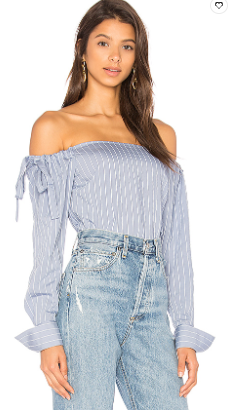 Every person literally has this shirt or some version of it, but even if you don't, you were def planning on buying it anyway. Kinda basic, I know, but it's so versatile and playful that you can really dress up the work vibes it has with your hottest stilettos and fave jeans that hide your muffin top. The off the shoulder look is v flattering on everyone, especially because it'll show off your summer tan (fake or real, you decide). Plus it has blue and white, which is fitting for a 'Merica look so you can look a little patriotic for your judgy fam who posts too much shit on Facebook.

Wearing white alone is pretty risky. Wearing white pants and getting away with it is reserved for the true queens. It's LDW though, so YOLO. Even though no one, except maybe your grandma, follows the "no white after Labor Day" rule, be bold and wear white this weekend if it's gonna be your last time for a while. (Whatever, those rules aren't even real.) Opt for a pair of white pants that make you look like a Insta model, aka tall and skinny. These are cropped just above the ankle with frayed hems so your legs will look five miles long.

Long live the block heel. These are the perf transition from work to weekend festivities, with the 3-inch heel making it easier to stumble walk around in. The neutral brown goes with any of the 20 outfits you'll try on before deciding, and it's the best color to ring in the new season. Like you needed an excuse to buy more shoes, though. Since they're open-toed, you'll have another chance to show off the last of your summer pedi.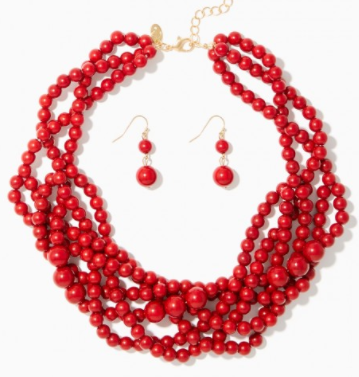 I'm honestly so over chokers rn, so I'm gonna advise you to wear a statement necklace because those are just timeless—at least the ones that don't look like your mother's. If you plan on wearing an off the shoulder top (which you should because I said so) or even a high neck style, opt for a chunky necklace to really elevate your look with a bright pop of color. In this case, red is probs best because again, 'Merica. You can adjust the length of the piece for your liking, but it'll sit right on your collar so if anything, it kinda feels like the choker you're used to but without it being a choker. Same thing.
The Best One Piece Swimsuits For Girls With Big Boobs
Shopping for swimwear is pretty much the most miserable activity for everyone in the world besides maybe like, Chrissy Teigen, but it's especially shitty for betches with big boobs. The one piece trend is basically fashion's middle finger with a tacky acrylic nail to anyone with more than a C cup. Without exaggerating (which is like, physically painful for me because I effing love exaggerating), I've probably tried on more than 100 one pieces and have only found a couple that actually really fit properly. I'd literally rather go on bad Tinder dates for a week straight then every try on another ill-fitting one piece. Because I'm like, so nice (lol) and want to share my findings with the rest of the big titty committee, here are the absolute best big boob suits I've found.

Finding this one piece was practically a spiritual awakening for me. It has everything I've ever wanted in a swimsuit; an open back, a little side boob window, a cheeky bottom and high-cut legs. Normally, I can't wear anything with an open back that shows off side boob, but this little masterpiece has adjustable straps to prevent gravity from shitting all over my entire life.

Halter tops are totally perfect for big boobs, as long as they're easily adjustable. This one has removable padding, which is something you should always look for in swimwear if you're "busty." (Seriously, can we come up with a new word to replace busty? It's like, so gross.) Anyway, a lot of extra padding can make you look bulkier than you are, and considering your boobs are probably already bigger than the padding, you'll end up with mystery bulges all over your chest if it's a bad fit. Removing the padding is totally a game changer if you haven't tried it yet.

You know when you find a swimsuit on Instagram but you're terrified to buy it because literally everything looks so much better on IG? Well, I was feeling adventurous AF and ordered this anyway. I'm so glad I did, because the lace up front magically shows off and holds up boobs at the same exact time. The best thing about this is the lace up is super adjustable, so you don't have to worry about what size to order considering the fact that you're typically an XS bottom and an XL top; just order whatever size you'd typically get in bottoms.

Normally, I'd tell anyone bigger than a B cup to avoid ruffled swimwear harder than I'd advise avoiding a dude who uses the pretty filter on Snapchat, but I was so surprised when I tried this one on. The ruffle is on the shoulders, so it doesn't create an optical illusion that adds 100 pounds to your figure like most ruffled tops would. The fabric of this one piece is basically Spanx. So amazing.

Realistically, we'd all wear literal trash bags if they said Calvin Klein across the front. Thanks, Bieber. Anyway, this super simple design is super flattering, too. Like I said, adjustable straps are lifesavers. Plus, the material is lined and really comfortable. I surprisingly have zero complaints about something for once!

The bottom line: When shopping for one pieces as a betch with big boobs, adjustable shit is key. One pieces are tricky because unlike two pieces where you can mix-and-match sizing, there's no way you can describe your body as small, medium or large when you have ~curves~. Whether that's straps or a lace-up front, look for designs that have some kind of movable feature that you can easily tailor to your own shape.
7 Non-Basic Rompers That Will Seriously Up Your Instagram Likes
Rompers are nothing new, unless you were homeschooled so, chances are you obviously know what this one piece fashion staple is. When we're too lazy to find a clean pair of shorts or when we've Instagrammed the same dress way too many times, rompers are our go-to in the summer. They're the most casual thing in our closet that makes our lives so much easier, hence why we're okay with peeing naked because if we're honest, that's not the worst thing we've done.
With the thousands of styles to choose from, you can easily throw one on for your next GNO, take it from the beach to bar, and even get away with wearing one to work—if you pull it down enough. However, since you're constantly day drinking trying to forget your work week, you're def going to rooftop bars with a view that makes it forgivable to pay for an overpriced drink. Taking a faux candid in front of a skyline probably gets you a decent amount of likes, but add the perfect romper and watch those likes turn into triple digits. Get your credit card ready, because these fab rompers will flood your next Insta with a ton of "omggg, I love your romper, where did you get it?!" comments.

So like, this is basically our homegirl Lilly Pulitzer on crack. Inspired by gypsy free-spirited hippie shit, this romper is full of bright colors that are bound to turn heads for sure. Pair this with your fave sunnies and a white or neutral wedge for the perfect summer OOTD. Have your partner in crime find good lighting (because what else are friends good for) and slay in your Insta photoshoot. #DoItForTheLikes

I've seen this pattern honestly everywhere this summer and although it reminded me of my grandma's chinaware at first, I've come to enjoy the homey feel. As usual, white and blue are plastered over every summer fashion trend and this romper is no different. With bell sleeves and off the shoulder fit, you'll pull off an effortless look like no other. Just swipe some gloss on and you're good to chug.

This brand's name sounds like a literal diaper brand but, they actually have cute af clothes so whatever sells. It focuses on bringing back the 90s—as if that wasn't a trend since forever already—with laid-back, carefree styles made for doing the bare minimum. This modern versatile romper will become your first choice to the next wedding you're invited to or a spontaneous night full of bar hopping. Don't try to wear it with Vans like the model—let's not get carried away. Instead, opt for strappy sandals and Y necklace to complete this trendy look.

Made in the world's second best color ever (don't try to disagree), this classy romper features an elastic waistband that you can adjust each time you feel bloated. The flirty, feminine style will probably get some guy to buy you tons of cranberry vodkas so in addition to getting a shit ton of likes, you'll probs get free alcohol. What more do you need?

Today's fashion basically says we were born in the 90s, wishing we could be back in the 70s, and this romper is no exception. Another romper, another brand inspired by "gypsy life". To dress up this easygoing romper for an upscale rooftop, strut in a pair of v sexual black thigh-high boots and a chic crossbody. Since it comes with an attached choker, you obviously don't need to wear another fucking choker.

Who needs to wear another basic white dress when you could slay in this sleek secret romper? With an open back and plunging neckline, you'll stay refreshingly cool for a day that's full of binge-drinking in 90 degree weather. Pair with block heel sandals, a tequila sunrise, and be sure to always take a pic on your good side in this romp.

Stripes, stripes, and more stripes are all anyone who's relevant is wearing right now. Impress your snobby friends by staying in tune with the latest trends in this tied off the shoulder romper. The vertical stripes will elongate your nonexistent abs so you look skinny in whatever picture you decide is worthy of making both your ex and loyal followers jealous of how good you look.
The Cutest Denim Shorts That Won't Show Your Butt Cheeks
A betch wearing distressed denim shorts, in the summer? Groundbreaking. Whether they were your mom's in the 80s or an Abercrombie pair you never grew out of, you def have quite the collection. Here's my problem, though: I, for one, am honestly broke and lazy AF to buy new pairs every year so I settle for ones that still fit because I wear the same pair multiple times a week as long as they miraculously still button. Despite fitting around my waist, the hems obvs get shorter and therefore, ride up my crotch. As a result, I not only look like an idiot who has pockets hanging out (so not cool, btw) but, I incidentally end up mooning everyone on the sidewalk since my ass cheeks are out on display. Now, some of you may think this is socially acceptable, but news fucking flash—it's not. I highly doubt you want to see the girl's butt standing in front of you on the train on your way to work, so no one wants to see yours either. Hoping this is your wake up call, here are some cute high waisted denim cut-offs to replace your booty shorts.


This v simple pair has a mid-rise fit and cuffed hems that fall at about 11 inches. You can dress this versatile pair up or down and stay looking classy because your butt won't be showing for all to see. The shorts feature a 3 inch inseam, which FYI, is a solid indicator that your cheeks won't be peeking out.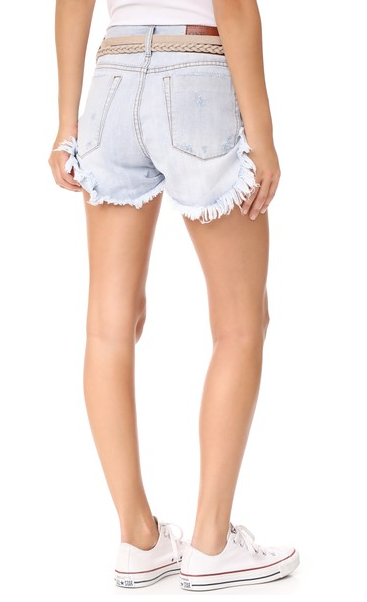 You can wear a shredded, carefree style without having to pull your shorts down every five seconds if you opt for a pair like this. With a shorter hem in the front, you can still show off your long tan legs while your backside is still very much covered. I guess that fingertip rule in high school actually works.

Your beloved high waisted style in black elongates your legs (if you're 5-foot-something like me) and thins out your torso, so don't worry about beer bloat for all those dagers. With the shorts being 10 inches long (which is more than enough before they become Bermudas), you'll keep what's meant to be hidden inside the denim. These will def be the next pair you abuse multiple times before realizing you should probably wash them at some point.

This loose fit on your hips will make your friends think you actually lost weight this summer (LOL, as if) and make a super casual outfit a slutty flirty one with its raw-cut hem. These fall a little before your mid-thigh, but at least you won't look like you're wearing a denim diaper.

Everything about a white pair of high-waisted shorts with floral details is a yes for summer. You'll still prove to everyone you have something worth showing off in the back, but without actually showing it off. The latest mom fit trend, because apparently all sizes have to be named after member of your family, makes for a longer, more comfortable fit. Wear this stylish pair with your fave bralette or bardot crop top so you don't look like an actual mom.

The right picture is bothering me just as much as you, don't worry. Someone should've pulled her corner down, god. Anyway, these shorts come down to 11 and a half inches so I assure you that you'll still slay a backside rooftop picture without being semi-pornographic trashy on Insta. It's only a plus that the millions of buttons make you look skinny AF but, um, have fun trying to undo them when you gotta break the seal.
5 Beach Cover-Ups You Can Wear To The Bar
I deal with stressful things in life like most rational people: procrastinate incessantly by doing other equally important things (shopping, thoroughly organizing my closet, eating takeout…etc.) and delaying until the last possible second. Then I wonder why my anxiety level is constantly that of Britney Spears' 2007 meltdown. For example, this often happens with packing. Like, running a mile sounds better than packing for anything ever, even a vacation that I know will be fun. It is literally so annoying to plan out your outfits because no matter how hard you try not to, you end up packing enough clothes to last you 6 years, even when you're only staying 3 days. Whether it's for a tropical vacation or just spending the day at the beach, I know overpacking is almost as bad of a habit as binge drinking. To (slightly) condense your beach suitcase bag, here are cover-ups that you can easily throw over your swimsuit and also run to the closest happy hour in. Because time is money when two-for-one specials are involved.

1. Kimono

I'll only accept the fact that you don't own a kimono by now if you were like, homeschooled or something. If you have yet to buy one, find a bright, fun-printed style like Camilla Open Front Cardi Carpe. If you're feeling extra bold, keep your bikini top on or opt for a lacy bralette underneath, and pair with denim shorts or jeans.
2. Off-The-Shoulder Dress

Why wear pants to the beach (or at all, honestly) if you can just wear a dress? Wear a comfortable, loose-fitted one like Lush Stripe Off The Shoulder Dress, so that way, you can slip off your swimsuit when you're ready to leave. If tan lines make you feel better about yourself, find a strapless dress so everyone can compliment your dramatic transformation.
3. Romper

Rompers are my go-to because nobody has the time to search for both a shirt and a pair of pants. Whether you laid outside or on a tanning bed recently, you can show off all your hard work by wearing white like this Topshop Jersey Wrap Cover Romper so that it's bound to highlight your (faux) tan on a rooftop. I'd say don't forget to pack a strapless bra, but it's 2017 so no one really gives a shit whether you wear one or not anymore.
4. Bodysuit

Even though it's basically like wearing a sexualized child's onesie, bodysuits are the easiest and most convenient thing to make a hot AF outfit ASAP. Find one like the Chase Me Down Plunging Bodysuit that comes with a strappy design and attached choker. Pair with dark jeans and your fave pumps—just don't fucking forget that you need to unclasp before you break the seal.
5. Matching Set

It's about time fashion companies came to the realization that we need everything already done for us because like, life is hard and I shouldn't have to stress over whether my outfit matches too. It just leads to frustration aka settling on wearing all black. Get a matching set from Fashion Nova (a company celebs also buy from). This ivory La La Land Set can be worn together (fucking duh) or you can mix and match the items with other pieces in your closet. It's cute and you're getting two for the price of one so, get ready to buy multiples.
7 Flip Flops To Wear This Summer That Aren't Lame
Flip flops are like that guy who (selfishly) only care about school, his mom, and his friends, and get friendzoned anyway. They're always the one shoe who's always there and who we can depend on when we get hurt by our Louboutin's, but yet, we never choose them first when we're running out the door. No matter how much of an asshole you are, they'll always be around somewhere in your room. As a result, they're usually my go-to when I need to change after a long night in heels or when I'm like, getting the mail. Army pants and flip flops will always have a special place in my heart for being so damn comfortable and versatile, but I think it's time we put away the Havaianas because they're boring, lame, and probably sit with the art freaks. If you considered going to Old Navy's $1 flip flop sale for even a split second, please grab your passport, jump on the next flight to Timbuktu, and never fucking come back again. I will not look for you, I will not pursue you, but if you don't, I will look for you, I will find you, and I will kill you.
Now that I'm done being a little dramatic, spice up your flip flop collection with these fun styles that are (obviously) embellished and worthy of going to bottomless brunches. You'll probably love them so much, you won't be afraid of wearing them in front of your judgy friends.

Do you see how smooth these are? These aren't rigid and made out of fucking rubber. These sandals are made out of leather and have scalloped straps. And they're like, millennial pink. They're the perfect upgrade for your ordinary, lame Havaianas if you want something V simple.

All you have to know is this pair has a shit ton of glitter. With its slip on feature, these are perfect to grab when you're running late for Margarita Mondays. If you're not into heels anyway (what kind of sick person are you), these are great to wear when going to a summer wedding. Dress them up with a lace babydoll dress and you're good to comfortably go.

Make an "I know, I'm extra" statement when you walk into any place with these bow-detailed sandals. These are perfect to pack when you're headed for a day at the beach and have plans to go out after. They come in several colors, but try to go for a nude so that they match with any outfit.

If you enjoy letting everyone know who you're wearing all year round, these Tory Burch flip flops are for you. They're classy, simple, and feature a big-ass logo cutout. The soles have a foam cushion so they're ideal for long days on your feet such as shopping with Daddy's Amex in Nantucket.

If this doesn't overwhelm you with childhood nostalgia, then you're too young to be here. You probably never let go of those jelly sandals from middle school, so these are the perfect excuse to bring back the 90s in a stylish way. They also feature an iridescent emblem that reminds me of like, Lisa Frank or more unicorn shit. But in a good way.

6. ÁLVARO Alberta Leather Thong Sandals
These sandals take a V modern twist on the basic white flip flop. The multi-strap and braided thong details add an elegant element to an everyday outfit. Wear with a bright, colorful dress and you'll at least make an attempt of looking classy as you eat lobster and low-key black out in the Hamptons.

It says it all in the name. If you wore your Valentino's down to the heel and still consider them your pride and joy, buy the flip flop style so you can enjoy them in the summer. You may come off as flirty and everything nice with these blush bow sandals, but the fierce studs clearly say, "don't fuck with me, do you know who I am?". These are not only something you just need to buy, but they give you a boost of confidence you probably don't really need.

What Summer Haircut You Should Get Based Off Your Face Shape
Summer is just around the corner and suddenly I'm feeling personally victimized because I've spent the last 3-4 months sitting on my couch eating cheese and drinking wine and judging Bachelor contestants on Instagram. And I am certainly not ready to be, like, social or in clothing that covers less than 90% of my body. But I guess I'll have to make the transition to my summer self at some point and instead of, say, tackling the areas of my life that might actually take work and commitment like eating healthy and going to the gym, I'm going to actively avoid those parts and focus on an issue that money can solve. Like a new haircut. I'll most def be consulting my very trusted hair stylist, Susi, who may or may not give me an extra complimentary glass of chardonnay in exchange for a very overpriced haircut and 3-4 expensive AF beauty products that I did not need in the first place. What we have, you can't fake that, ya know? *laughs into empty wine glass* I recognize that we don't all have a Susi in our lives to con trick exploit guide us on our summer hairstyle journey, but that's why I've put together this super extensive and not at judgmental list of summer haircuts that are the best for your face type:
HEART SHAPED: Shoulder Length Bob
Picture Aria's haircut from PLL season seven or whatever fucking season is still somehow getting air time. I know, I know. Never did I ever think a haircut on Aria fucking Montgomery would actually be in season for summer, but then again I also didn't think people were stupid enough to spend 12K on a music festival that didn't actually exist. You learn something new every day.
But back to the haircut. Instead of assaulting my eyes with like, glittery graphic tees and metallic jeans, Aria's actually on trend. *questions entire existence* This cut looks good AF on Lucy Hale's heart shaped face and you should ask your stylist for a shoulder-grazing bob with layers placed around the bottom. Lower layers help create extra movement and dimension in your hair without you having to do a damn thing. Style it with a center part to add length to your face and create more symmetry.

HAIRCUT RISK LEVEL: Lower than all of the Liar's IQ's put together
ROUND SHAPED: Face Framing Bangs
I know what you're thinking, BANGS? Does everyone regret getting them? Yes. But should people with round faces still get them? Also yes. Baby faces of the world, pay attention because this is your time to shine. Face framing bangs are the perfect way to take your summer look from Wizards of Waverly Place to Justin Bieber Sends Me Dick Pics and that's really the best transformation you can ask for. The fringe is the focal point of this cut and it's v important that the stylist cuts your bangs to that focal point. Be sure to reiterate this to your stylist lest she feels the wrath of your Yelp review. And sorry if you end up hating your bangs. Feel free to skewer me in the comments.

HAIRCUT RISK LEVEL: Posting a selfie with the dog filter to your story
OVAL SHAPED: The Pixie
This cut can seem terrifying, especially if you have super long hair to begin. I bet it's because you have this theory that if you cut off all your hair you'd look like a British man BUT if you have a very petite, oval face shape then you were literally made for this haircut, so grow a pair and take the plunge. Plus you'll look like Millie Bobby Brown aka the betchiest preteen to ever grace my Netflix account (and a personal style icon of mine because, yes, I take style advice from 12-year-olds). Ask your stylist for a short, layered cut with a longer top that stops just below the cheekbone and tapers in the back toward the nape. That way your hair won't overpower your face and you'll just look sleek AF.

HAIRCUT RISK LEVEL: Day drinking on an empty stomach and literally hoping for the best
DIAMOND SHAPED: Angled Lob
You've got cheekbones and, as a person whose winter face resembles that of the Pillsbury doughboy, you should absolutely stop fucking around and get this haircut. Take a page out of Kim Kardashian's book for a dramatic, edgy summer look. Make sure your stylist emphasizes the clean angles of your face to really play up your features.

HAIRCUT RISK LEVEL: Posting the group vacation photo on Instagram when everyone else looks like shit in it
SQUARE SHAPED: The Perm
UGH I did not want to have to put this one on the list but apparently perms are back in style because people have lost their goddamn minds. And by people I mean me because I'm seriously considering this cut for summer 2017. You know something's in when your overpriced salon with 100k Insta followers is posting about it. If you have naturally curly hair then you should ask your stylist for a lot of short, vertical layers in the hair, which gives your curls a more bouncy/full shape.

​
If you don't have naturally curly hair then be sure to ask your stylist to use a larger rod when perming your hair. It's less overpowering on your face, but still gives you enough volume to resemble the less hot cousin of a lesser known Victoria's Secret model. Now, no one spread this shit around lest my mother find out. I've already been tagged in two very smug Facebook posts and I've reached my quota for told ya so's this week.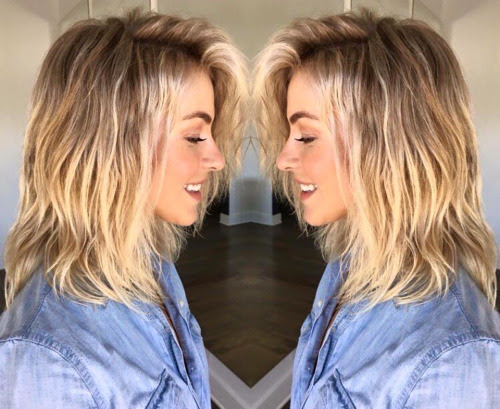 HAIRCUT RISK LEVEL: Having to tell your mother "You were right"
IDFK SHAPED: The Buzz
I had to address this one because this cut is all the rage among Hollywood's biggest cries for help stars. Technically, the right face shape for this cut is a diamond shape but I'm also thinking "lost your damn mind" or "my acting career is clearly struggling" are more accurate face types for this hair trend. I know this year has been, like, hard with our dwindling rights and Donald J. Cheeto casually leading us into WWIII but that's no reason to regress back to Britney Spears circa 2007. Handle your shit like an adult by taking slow, calming breaths and also consuming alcohol. N'amastay.