The 7 Most Iconic White Sneakers—Because I'll Be Wearing This Style All Summer
—±Betches may receive a portion of revenue if you click a link and purchase a product or service. The links are independently placed and do not influence editorial content.
If you would have told my high-school self that one day I'd be wearing jeans and sneakers, I would have told you to get lost. I mean, there's no greater "dad" look than wearing a pair of white New Balances with a pair of light wash jeans and you won't convince me otherwise. But frankly, this season it's perfectly on-trend to rummage through your dad's closet and borrow a blazer, jeans, and a pair of white tennis shoes. And while the oversized blazer and jeans trend might meet its end soon, there's one thing that remains a classic regardless of what's happening in fashion: a great, comfy, white sneaker. This spring and summer are no different.
Putting on a new, crisp white pair of sneakers is like ordering a caesar salad and table fries, it just feels right. So, I asked the Betches audience which white sneakers were elite and you did not disappoint. Here are the 7 most popular answers.
Veja Campo Sneaker

While these are classic in their own right, they are 100% the new kids on the block. It's like all the sudden in 2017 I saw every single human that graced the streets of NYC wearing a pair, and for good reason. They are sustainably made with organic cotton and wild Amazonian rubber. Something your ego (and wallet) can feel good about.
Shop it: Veja Campo Leather Sneakers, $175, Nordstrom
Superga 2750 Cotu Classic Sneaker

I'd be remiss if I didn't tell you a brief story about why I personally love Superga's. TL;DR It was 2008 and I saw Joe Jonas wearing Supergas, so I bought Supergas. They're super comfy, come in a ton of colors, and make me feel cultured since they're made in Italy. Honestly, TG for Joe Jonas or I would have never found my favorite shoes.
Shop it: Superga 2750 Cotu Classic Sneaker, $69, Revolve
Air Force 1s

Honestly, if you don't know what these are, are you even a zillenial? I swear these paired with a black onesie and an oversized white button-down is the equivalent to the "cool girl" uniform. You can catch me grabbing an iced matcha in these everyday for the foreseeable future.
Shop it: Nike Air Force 1 '07 Lv8 Sneaker, $120, Revolve
Dr. Scholl's Time Off Platform Sneaker

I'm not going to lie, these threw me for a loop. Before I tried these, nothing screamed, "I'm getting old" quite like officially investing in a pair of Dr. Scholls. But, don't judge a book by it's cover, because not only are these cute-AF wearing them is like walking on clouds.
Shop it: Time Off Platform Sneaker, $70, Amazon
Hoka Bondi 8

If you're looking for a new pair of shoes for your hot girl walks, look no further. These might not be your obvious choice for a normal, everyday sneaker but nothing can compete with these if you're walking long distances. Like, they're even approved by ​the American Podiatric Medical Association.
Shop it: Bondi 8, $165, Hoka
Reebok Women's Club C Sneaker

If it isn't broken, don't fix it. That how I feel about these Reebok sneakers. I've seen these for as long as I can remember. (No, really, I remember seeing these on the playground in kindergarten.) They were a staple then, and they're a staple now. A perfect addition to your capsule wardrobe.
Shop it: Reebok Women's Club C Sneaker, $44.71, Amazon
Leather Converse

This wouldn't be a complete list without the obvious classic: Converse. What makes these a bit more trendy (and honestly, grown-up) is the fact that they're leather. They'll also stay clean for a hell of a lot longer than the canvas ones, so it won't look like you just came from a frat party basement even though you're 30.
Shop it: Chuck Taylor All Star Lift Platform Leather, $75, Converse
Five Summer Sandal Trends For Under $100
Believe it or not, summer is pretty much here. We all know that once Memorial Day weekend hits, everyone is straight ~summer state of mind~ from there on out. That being said, it's time to go treat yo' self to a nice-ass pedicure because sandals season is here. And, if you haven't started shopping for your summer sandals yet, don't worry, I'm here to help. Of course, I'm not here to recommend you just go buy yourself a basic pair of Rainbows and call it a day. No, no, you're better than that. You've got more style, and if you don't, well then take a cue from the following list! Here are the biggest trends in summer sandals and a few must-have styles for each.
1. Barely There Minimalist Sandals
The minimalist strappy sandal trend is yet another '90s trend making a come back this season. This style has been big recently among celebs, like the Kardashian and Jenner sisters, so like, what more proof do you need? This style sandal is perfect for pairing with all your sundresses this season because it's elevated without being over-the-top (contrary to some of the other trends on this list). This style sandal also looks cute worn with denim shorts and a button-down, or ripped jeans and a tee. Basically, it's a must-have sandal because it's guaranteed to look good with all of your outfits. Can't beat that!

Jeffrey Campbell 'Kaine' Sandal, $90

Zara Strappy Mid-Heel Leather Sandals, $79.90

Urban Outfitters 'Ana' Strappy Heeled Sandal, $74

Topshop HIPPIE Flat Sandals, $40
2. Sporty Sandals
Sporty sandals are v trendy this season, something that I'm sure a lot of you will disagree with me over in the comments section. Look, I don't decide the trends, I just report on them, so take it easy on me. But anyways, these once deemed "nerdy" style sandals are all the rage right now, with all the designer brands showing them on their runways. It's a hard style to pull off, but if you're up for the challenge, I'd go for it because these sandals look comfy af.

Zara Flat Padded Athletic Sandal, $69.90


Zara Multicolored Sporty Low Heeled Sandal, $59.90

3. Animal Print Sandals
If you haven't already seen leopard and snake print EVERYWHERE this season, well then, you're blind. It's everywhere from clothes to accessories to, of course, sandals. It actually makes for a chic and wearable print for sandals because it can be styled as a neutral. They add a stylish and unexpected element to your outfit, without clashing or taking away from it. They're an easy print to mix and match into this season's wardrobe, making them an overall essential sandal to have in your arsenal.

Topshop HOP Neon Flat Sandals, $40

Zara Mid-Height Heeled Elastic Strap Sandals, $49.90

Coconuts by Matisse Leopard Pebble Sandal, $35

Chinese Laundry Montezuma Snake Sandal, $69.99
4. Neon Sandals
Again, if you don't already know that neon is a HUGE trend right now, I'm judging you. (Okay, not really because like, my ability to inform you of trends is the only reason I have a job, so thank you.) Neon is big for spring, and will continue to be big for summer as well. And tbh, this is a trend I'm here for. I mean, what looks better with your bronzed summer tan than a bright neon? Nothing. This trend was made for summer, and especially summer sandals, and I'm here for it.


ASOS DESIGN 'Fleeky' Mule Sliders, $32

ASOS DESIGN Heckle Toe Loop Barely There Block Heeled Sandals, $48

Zara Tube Strap Low Heeled Sandals, $29.90
5. Woven/Raffia Sandals
This is a sandal trend that is pretty much a given every summer. This style sandal just makes you want to take an Insta-worthy tropical vacation…or more realistically, at least hit up a rooftop happy hour on a summer Friday. They have a boho natural vibe, but are elevated enough to also dress up your outfits. This style usually comes in natural colors, so they'll match everything in your closet. Which, is a great quality when you're packing for your summer vaca since you and I both know that suitcase is easily already over 50 pounds.

UO 'Rosalie' Raffia Platform Sandal, $49

Jeffrey Campbell 'Dane' Sandal, $75

Zara Woven Platform Wedges, $69.90

Seychelles 'Everlasting' Slide, $69
So there you have it, five types of summer sandals and four options for each! Now, you have NO excuse to be wearing Rainbows this season or, dare I say, your Old Navy flip-flops. I don't care how cheap they are, you're a grown-ass woman and shouldn't be buying her summer shoes from a store that advertises via commercials with adults jumping around and singing. Understood?
Images: @jonathanborba / Unsplash; Revolve (4); Zara (6); Urban Outfitters (3); Free People; ASOS (3); South Moon Under (2); Topshop (2)
5 Trendy Summer Sandals You Should Invest In
Summer is here, and I swear to God if I see any of you bitches in nasty, dirty, smelly, run-down Rainbow flip-flops that you've had since high school, you will be dead to me. Summer is the time to show some skin—including your feet. So get a pedicure and upgrade your sandal game so you can live up to the chic summer outfits you've already purchased. Here are the types of summer sandals you need to add to your closet.
1. Slides
Slides are the new have-to-have summer sandal. They're easy to put on, are super comfy, and can be super chic with the right outfit. If you're bougie af, these Givenchy ones are on my wishlist. Otherwise, if you're a poor like me, waiting for everyone to recognize that you're actually this artistic genius and pay you a bunch of money for it, buy these (considerably less chic) Ivy Park dupes.


2. Birks
Birkenstocks have been back in for ages, and I feel like a total hypocrite because I hated these hippie monstrosities in 7th grade. However, they've grown on me, and they're super fashionable right now (which, like, what does that say about our current fashion?) and they're comfy af. Get a cute color, like metallic, studs, or white—NOT those hideous greenish suede ones. Those give me PTSD flashbacks.

Birkenstock Arizona Soft Footbed Sandal
3. Mule
STFU about mules being old or ugly, they're cute af and they're the top pick for summer sandals. They're casual but give you a little bit of height. I recommend getting both a black and a neutral, like this pretty blush.

Steve Madden Relax Platform Mule
4. Wedge
Wedges are always a summer classic, and you can wear them to a Vegas pool party or your friend's outdoor summer wedding. And you won't even get stuck in the grass. Win, win. These ones are also perforated and espadrilles, both styles that are so hot right now. They're the basic wedge upgrade. Plus, they add ventilation so you don't have nasty foot sweat.

Marc Fisher LTD Annie Perforated Espadrille Platform Wedge
5. Decorative
To add a little glam to your summer casual wardrobe, add in a sandal with some embroidery or design. These little sandals from Michael Kors are gorgeous, espadrilles, and have this super cute leaf design to add some interest. It's the perfect vacation sandal. Or if you're not into chic and classic looks, here are slides with cats flipping you off. Whatevs.

Michael Michael Kors Fisher Espadrille Sandal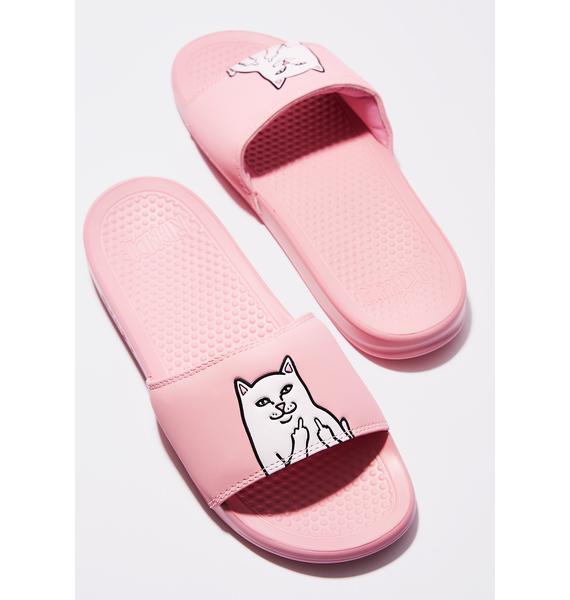 RIPNDIP Pink Lord Nermal Slides
Images: Nordstrom (6); Dolls Kill
Betches may receive a portion of revenue if you click a link in this article and buy a product or service. The links are independently placed and do not influence editorial content.

3 Summer Shoe Trends You Can Wear To The Office
Figuring out what shoes to wear to the office is difficult, especially in the summer. Like, is Richard in accounting going to get his delicate sensibilities offended by the sight of my bare toes? But at the same time, why should I have to sweat my feet off in close-toed heels? Let's start with what you shouldn't wear. Anything that resembles something you would find in a retirement home is a no-go. Feel like that should go without saying, but figured I'd spell it out for you so there's no confusion. The basic rule here is that anything that looks too comfortable is also probs too ugly.
Now that I've laid the groundwork of what not to wear, let's discuss some alternatives to your tacky Naturalizers. Shoes are something worth investing in, especially shoes to wear to the office, because you're going to be wearing them every day. If you wear crappy shoes, then no one is going to take you seriously (and your feet will hurt). You can say looks don't matter all you want, but how you choose to present yourself undoubtedly affects people's perception of you. And, if perception didn't matter, then you wouldn't have spent two hours doing your makeup for the beach, just to get a bikini pic for your perfectly curated Insta feed. So we can agree—how you look does matter. That being said, you don't need to spend tons of money on your shoes, but you do need to take the time to make sure you're finding quality ones.
Finding stylish shoes to wear to the office is especially hard during the summer, but luckily, you have me. These shoes are work-appropriate and won't leave your feet sweaty and gross, and they also won't leave you with an HR complaint.
1. Mules
Fortunately for you and your otherwise pitiful office wardrobe, mules are currently back in style. This is great because they're, like, legit everywhere right now and there are some really cute styles out there. Mules look great with everything from your tailored pants to your pencil skirt. And, most importantly, the open back allows your foot to breathe. I probably would stay away from the open-toed styles unless you know for sure your office is okay with that, and even then, I'd probs stick with a more subtle peep toe. Like, woahhh don't want to be considered the office slut because you're strutting around the office exposing your bare toes! Just use your best judgement and be mindful of your office's "culture."

Jeffrey Campbell Complete Plaid point toe pumps

Dolce Vita Cinda point toe mule

2. Open Back Flats
To quote Hannah Montana, you get the best of both worlds with open back flats: no heel (more comfortable) and no back (more breathable). Open back flats look polished and professional. There's just something sweet and innocent about a flat—like, no one would suspect that the girl in flats spent the majority of the workday in the bathroom scrolling through Instagram…speaking for a friend of course…

Rebecca Minkoff Alexis Bow point toe flats

Raye x Stone Cold Fox Kensie slide

3. Slingback Pumps
As much as I hate to say it, this may be the only time and place where kitten heels make sense. Slingback pumps are the perfect summer shoes to wear to the office because they offer a breathable open back heel, plus a strap around the ankle so that you can actually walk in them. Please don't make it weird by wearing  full-blown stilettos to your 9-5. Who would have thought Caila Quinn might have been on to something with her kitten heels? Turns out, there are actually a lot of cute styles of slingback pumps with kitten heels that aren't basic.

Sam Edelman Ludlow slingback pump


Linea Paolo Carly slingback pump
In addition to those, you could also toss in a loafer or a short ankle boot to wear to work in the summer as well, but just know they're a lot less breathable. I gave you a fuck ton of suggestions for each style of shoe, so if you don't like any of them, this is no longer my problem.
Images: Shopbop (5); Revolve; Nordstrom (3)
Betches may receive a portion of revenue if you click a link in this article and buy a product or service. The links are independently placed and do not influence editorial content.
3 Comfortable Summer Heels You Can Wear All Day & Night
We're a little over two months away from the first day of summer, and praise fucking be considering the weather we've been having. If you're anything like me when it comes to procrastination, then you've most likely done your spring cleaning already. Assuming you've emptied out your closet and cleaned out your dresser, you've miraculously paved the way for new and better shit to take up more room this summer. There's no better motivation to look your absolute best come bikini bod szn than shopping for sexy rompers, skin-tight bodycons, and of fucking course, brand new summer heels. From non-fugly mules and cut-out booties, this summer's shoe trends don't look so hideous. For once. Here are a few summer heels you can go from day to night drinking in.
More often than not, mules are fucking disgusting. It's true, they're most likely worn by the Patricias in your office. Of all the ridiculous trends so far, this year's summer shoes seem to  have one thing in common: comfort. That being said, don't wear regular mules. Wear like, ~cool~ styles like ones with a platform heel in different materials, and especially ones that show off your new pedicure.

Low wedges with ankle ties are a boho chic staple, especially during festival season. They make your legs look miles long and v toned. Bless. With a low block heel we've been obsessed with since last summer, you won't whine throughout the night that your feet hurt, or look like Bambi stumbling home.

Booties are the shit. You can wear them all year round (sometimes the same pair) and still get a ton of likes on your Insta. The heels are always thick, so you can totally last hours in them without having your feet hate you. And with all the different colors, you can never have too many—says someone who owns at least 10 pairs, six of them black. Moving on! This summer is all about the open-toed bootie that come in neutral shades like taupe, so your summer vacay tan looks a whole lot better when you go from the beach to the bars.

Images: Shopbop; DSW; MOBS Design
Betches may receive a portion of revenue if you click a link in this article and buy a product or service. The links are independently placed and do not influence editorial content.
8 Sandal Styles To Elevate Your Summer Wardrobe
Everything sucks. It keeps snowing, it's literally always freezing outside, and no rooftop bars are open yet. Summer has honestly never felt further away, but shopping for summer shit is usually a pretty solid way to fight off my seasonal depression. I mean like, until you see your pale, sickly looking skin under the fluorescent light of a Nordstrom fitting room and everything feels 10 times worse. But whatever. Thankfully, all of the new sandal styles are now available, so go treat yourself to a pedicure, your first iced coffee of the season, and shop for some summer shoes. Here are the eight most popular sandals you'll want to stock up on. Just like, don't wear them yet. When New York finally hit 60 degrees last week, I wore a dress, and have never felt so personally victimized by every single passerby in Manhattan.
1. Ankle Strap Sandals
If you're going to buy one pair of sandals this summer (moment of silence for thinking you'd ever make it through a summer purchasing only one pair of summer shoes), it should be a pair of ankle strap sandals. I am honestly such an advocate for ankle strap shoes, there's like, prob going to be something about them on my tombstone. Is that too morbid? Are tombstones even still going to be a thing by the time we die? Have any of you seen a good YouTube conspiracy video on death in the future? Is there a Black Mirror episode about it? LMK. Anyway, ankle strap sandals go with everything, and you should already own a pair by now. If for some reason you don't, buy these.

Madewell The Boardwalk Ankle Strap Sandal
2. Birkenstocks
I used to relentlessly rip on people who wore Birkenstocks, but like most questionable things I used to hate and now can't get enough of, I changed my mind when Kourtney Kardashian started wearing them. Birkenstocks are literally so comfortable and now that the brand has realized that people besides pothead philosophy students have started to wear their stuff, they've stepped it up. You can wear these with everything from T-shirt dresses to the cropped Lululemon leggings you probably live in all summer. Just like, don't accidentally step on the back end of the sandal while you're walking because it's literally worse than stepping on a Lego. 

Arizona Natural Leather Soft Footbed Metallic Copper
3. Slide Sandals
Honestly, bless the footwear industry for making slide sandals a thing. You know exactly why these are a gift to the universe if you've ever broken a sandal strap on vacation or dealt with ridiculous foot tan lines. These literally solve all problems. It's amazing. Besides the fact that these will make an insanely loud noise while you walk down a flight of stairs (you will get so many dirty looks if you are trying to run down to a subway with these on, just a warning), these summer shoes are pretty much the perfect solution to your entire life.

Treasure and Bond Mere Flat Slide Sandal
4. Boujee Sliders
Boujee sliders are like the shoe version of that friend you have from college that you want to hate, but love to party with with, so you stay in contact with her for life. Like, I don't want to be wearing a pair of rubber slider sandals with a fur or glitter strap, but I'm going to because it's a good fucking time. Sure, these will basically turn you into Snooki, but she's doing pretty well for herself these days so like, don't fight it.

5. Those Sandals From 'Wolf of Wall Street'
Okay, so, remember in Wolf of Wall Street when Leo DiCaprio and Jonah Hill were like, all fucked up and freaking out about Steve Madden? Well, the sandals that Steve Madden was making at the time are back, and these are them. Like most 90s trends that we're rewearing, these are kind of ugly, but everyone's like, obsessed with them. You can make these your go-to summer shoes for 2018, but I can't speak for any period of time after that.

6. Espadrille Sandals
You know how, a few summers ago, every travel blogger was wearing those sandals with pom-poms on them? Well, espadrille sandals are the 2018 version of that trend. Sure, they've been around forever, but that's not going to stop said travel bloggers from acting like they just invented them. It's kind of like how they think they discovered that small Caribbean island they're getting paid to convince you to visit. Or like, how Christopher Columbus thinks he discovered America.

Banana Republic Peep Toe Espadrille Sandal
7. Mules
Mule sandals aren't just for trendy high school art teachers and Anthropologie store managers anymore. Apparently we're all supposed to be wearing them now, too. The most ridiculous part about this trend is that everyone's like, "wow they're so comfortable!" While that may be true, the majority of the mule sandals out there are light, neutral colors like blushes and nudes that come in suede materials. This pair is also called "Commute." Obviously, whoever named these has no clue that there is no worse footwear than a blush, heeled suede sandal to wear to commute in. But, whatever. These are a trend in summer shoes this year, so here you go.

Platform Sandals
Platform and flatform sandals have definitely been popular for the past few summers. The way this look has been switched up for 2018 is by making them look like posturepedic footwear. These are basically the sandal version of those fugly Balenciaga sneakers that every fast fashion outlet is ripping off right now. I'm not exactly sure how, but I feel like Kanye West is to blame for this.

KENDALL + KYLIE Wave Platform Sandals 
Betches may receive a portion of revenue if you click a link in this article and buy a product or service. The links are independently placed and do not influence editorial content.
Non-Fugly Slides To Buy Since Everyone Is Wearing Them Now
There are things that have happened in the past that seriously just need to stay in the fucking past, especially when it comes to fashion. I know it's been said that fashion tends to repeat itself, but now that I've seen literally every staple that was in my closet pre-puberty, I feel nauseatingly ancient AF. Case in point: slide sandals. First, there were the OG Nike slides that basketball douchebags only wore with socks (and yet they still do, GROW UP). Flash forward a decade, everyone suddenly acted like they blacked out during their entire childhood because they all flipped the fuck out when Rihanna brought back the iconic jelly slides. Ya, okay, they were only cool because they were transparent and as a child, you get easily entertained. As a twentysomething adult? I'm going to go ahead and say you need to leave that shit in the past. But since we're in the 21st century, everything old is new again (yeah, you can quote me on that) so if you desperately want to fit in, here are some chic slides you have to buy:
People are not only going crazy over the jelly style of Rihanna's FENTY Puma slides, but this pair has constantly been selling out too. In addition to pink, they also come in green and white (but pink is the best, obvi) with a satin bow. They're comfortable and give off many Paris Hilton vibes. I guess these are tolerable.

Even though I'm totally shitting on slides rn, I tend to grow a little weaker every time I see someone rocking a furry style. Probably because they look comfier than anything I've ever owned and also because this means I can totally get away with wearing slippers out in public. I'm not going to admit whether I've actually done that because it's currently not the right place or time, but let's just say desperate times call for desperate measures. P.S. No animals or Cam'rons were harmed in the making of this shoe, so you can breathe now.

These just barely make it over the line of acceptable to wear out to a winery or some other upscale event. With a polished chain and white fringe detail, make sure to choose your outfit wisely. Opt for a casual summer dress or your go-to everyday jeans for a clean, classy look that isn't over the top.

The more I look at these, the more I convince myself to pull my card out because I have no self-control when it comes to shopping. These are v stylish and modern for your typical slides. The bright colors make a perfect addition to any outfit. You might have RBF, but whenever someone appreciates your shoe game, they'll see you're not so much of a bitch if you can wear a color other than black.

If you're low-key the world's biggest hypocrite because you think slides are kind of ridiculous and you've shat on them so many times to your friends but now you're starting to think they look cute (aka me), then this pair might be the one to go for. Featuring only the most basic colors EVER, these aren't obnoxious enough to draw a lot of attention so you'll subtly still fit in, despite how much shit you talk.

Get a pair of slides that take your average outfit to the next level, literally, with a slip on style that features a 2 inch heel. You'll dip it low all night long in these. The neutral colors allow you to wear them to work (lame) or for your next alcohol binge (yay).

At first, I only added these as a joke, but I also know that you're definitely a basic betch who just needs to get her hands on a pair of jellies—just for old times' sake, you know? If you really just have to be that girl, only wear them near a body of water. Not to Trader Joe's and don't even think about going near a bar in them. Just don't do it okay, promise?? Now, everybody take some rubbers jellies.

Trendy Summer High Heels That Are Comfortable Enough To Day Drink In
NGL, I've never been a shoe person until like, this year. I know, who even am I? Luckily for me, I left that dark period behind. I went from having a solid five pairs of shoes I used for every occasion, to having my own shoe closet—aside from my wardrobe, duh—because I'm basically Carrie Bradshaw now (or so I tell myself). This season's shoe game has been my fave ever since the naked shoe got serious upgrades (thanks for the trend, Yeezy), and velvet block heel sandals became a thing—because anything in velvet is always better, don't fight me on this. From time to time, I enjoy sporting Adidas and strutting in ballet flats even in unbearable heat, but when I'm trying to capture the very essence of a well overdue blackout in broad daylight, I need some wedges and heels to stumble around in. I mean, despite how many times I say, "I'm totaally fiiine, baarely tipsy," how else would my friends know to cut me off from ordering another shot?
Because you should look good from head to toe for all of your day drinking affairs, here are the cutest shoes you should most deff add to your (already existing) cart:
First and foremost, your basic wedge is a necessity so if you don't have one by now, hell yeah, I'm judging you. Get yourself a pair in a nude color so you can wear them with multiple outfits. These espadrilles are perfect for wearing with ass-flattering dark jeans or a lightweight summer dress.

With a heel just a little under 4 inches, you can easily slay the shit out of these wedges. They come in a crisp ivory with lace-up ribbons and fringe detailing. Can these be anymore summery? The street is your runway, so flaunt these as dramatically as you want. You are Beyoncé, always. Don't let anyone tell you differently.

For a long time, kitten heels were only worn by Paris Hilton and the woman in your office who works in accounting. But, now they're like, cool, chic, and modern so it's socially acceptable to wear these out again. These suede heels come with a bow ankle strap in a neutral sand color that makes throwing them on last minute really convenient.

These block heels take a modern twist on the adored chunky-heeled sandal. This black (hallelujah) pair is finished in suede and comes complete with a clear plastic band, combining this summer's hottest trends. At 3.5 inches, the thick heels will have you comfortably stumbling all night long.

The "nothing shoe" trend is still very much a thing. I'm not saying you should go berserk and buy some plastic thigh-high boots that honestly make you look like you Saran Wrapped yourself. However, a transparent slip-on heel says you still know your fashion shit, and you're also very down-to-earth because without them you're basically barefoot. I guess they're also cute because they show off your fresh pedicure, and partly because Kim Kardashian made it happen.

Because graphic tees aren't enough, graphic wedges are coming around in an assortment of designs and patterns so don't say I didn't warn you. Whether they're covered in cacti or rays of sunshine, the fun style will add bright colors, flair, and originality to any lame-ass simple outfit.