27 Books To Add To Your End Of Summer Reading List
Betches may receive a portion of revenue if you click a link and purchase a product or service. The links are independently placed and do not influence editorial content.
Hate to scare anybody with that title, but it's almost August, meaning that we're coming up on the last few precious weeks of summer. The good news is that there are still plenty of new books coming out to keep you occupied, whether you're at the beach, pool, sweating through all your clothes on public transportation… whatever floats your boat. If you just keep adding to your summer reading list, that means it has to stay summer forever, right? Check out these titles that are coming out towards the end of the season.

Some Of My Best Friends

by Tajja Isen
In this essay collection, the child voice actor, former law student, and editor-in-chief of Catapult examines the ways in which the media, law, and other aspects of society pay lip service to social justice causes, and the ways in which our words and actions don't always match up. 

American Seoul: A Memoir

by Helena Rho
Born in South Korea, Rho and her family moved to America when she was 6. As she assimilated, she kept fulfilling others' expectations, keeping silent about the traumas she endured in the process. At age 40, Rho experienced a catastrophic event that caused her to leave her job and reclaim her Korean identity. 

One Of The Girls

by Lucy Clarke
A bachelorette party in Greece starts off picture-perfect and ends with a dead body. But whose? That's the question. Bride Lexi arrives in Greece with a ragtag group of women who don't all know each other, and who each have their own reasons for being on the trip.  

Can't Look Away

by Carola Lovering
From the author of Tell Me Lies and Too Good To Be True comes another twisty suspense novel that will keep you guessing until the very end. In her early 30s, Molly Diamond doesn't fit in with the other women in the wealthy suburban town she lives in with her husband and young daughter. When a new neighbor named Sabrina moves to town, Molly thinks she's finally met someone who gets her — but Sabrina has her own ulterior motives for befriending Molly, and they're not so innocent. 

The Dead Romantics

by Ashley Poston
Florence Day works as a ghostwriter for a famous romance book author, but when a breakup takes her by surprise, she starts to doubt if she even believes in love. Her (v handsome) editor won't give her an extension, but then Florence has a family emergency and has to return home. In a twist that's like Sweet Home Alabama meets The Sixth Sense (but not scary), Florence returns home for the funeral and sees a familiar face: her editor. Turns out, he's dead and has some unfinished business to attend to on Earth. 
Set in 1889 in the wake of a fire that ravaged Spokane, Washington, Fire Season is told from three perspectives, each one a grifter with a supernatural ability and who stands to benefit from the fire. 
Hannah Jones didn't quite fit in with her posh classmates at Oxford, but her wealthy, popular roommate April Clarke-Cliveden immediately took a liking to her and they became fast friends. One fateful night, Hannah finds April dead in her dorm room — murdered. Thrust into the spotlight, Hannah becomes the star witness of her late friend's murder trial. Decades later, new evidence that emerges forces Hannah to wonder if she'd helped put the wrong man in prison, so she returns to Oxford to try to find out the truth. 

Things We Do In The Dark

by Jennifer Hillier
This thriller starts with Paris Peralta, much younger wife to the famed comedian Jimmy Peralta, passed out on her bathroom floor, clutching a razor, covered in her husband's blood. Her husband is dead, and Paris is the number-one suspect—except she knows she didn't do it. But as Paris works to clear her name, she's also working just as hard to keep her past a secret, since it can threaten to blow up everything. 

A Strange And Stubborn Endurance

by Foz Meadows
In this queer fantasy romance, protagonist Velasin vin Aaro is set to marry a woman for political reasons — until it comes to light that he's gay. While his family wants to disown him, he instead becomes betrothed to the brother of the same family. But a new faction opposes the alliance — so much so that they're willing to kill for it. Vel and his new husband, Cae, have no choice but to trust each other so they can make it out alive. Pub Date: July 26
This feel-good rom-com is the sequel to Real Men Knit, the story of four brothers who are working to keep their late adoptive mother's Harlem knitting shop in business. In Knot Again, Lucas Strong, a firefighter, decides to participate in an FDNY charity calendar and becomes something of a local celebrity. By chance, he ends up meeting the daughter of his high school flame, and the two rekindle their romance — but is it love or just lust? Pub Date: July 26
After graduating college, Sneha moves to Milwaukee to become a consultant. Even though it's the Great Recession, she finally has a healthy bank account, new friends, and the freedom to date women. But it wouldn't be a good book without any tension, and pretty soon, Sneha's great life falls apart, so she has to try to put it back together again. Pub Date: August 2

Ben and Beatriz

by Katalina Gamarra
Gamarra's novel, a retelling of Much Ado About Nothing in the Trump age, was named a most-anticipated read by Buzzfeed, Bookriot, She Reads, and others. Beatriz is a first-generation immigrant who becomes linked to poster boy of white male privilege, Ben, after they save someone's life at a party. Turns out, saving a life can change your feelings about someone, but is love enough for them to overcome all their differences? Pub Date: August 2

Husband Material

by Alexis Hall
Even though Luc and Oliver got their happy ending in Boyfriend Material, in the sequel, there's some trouble in paradise. Luc is feeling the societal pressure to propose, since it seems like everyone around him is taking that step. But even though Oliver is totally husband material, it's going to take a lot to get these two from "I don't know what to do" to "I do." Pub Date: August 2

Long Past Summer

by Noué Kirwan
Mikaela Marchand is living the dream: she's a high-powered attorney in NYC and dating a handsome doctor. But things go sideways when a decades-old photo of Mikaela and her former childhood best friend is used as a magazine cover (and ends up on a billboard in Times Square). Her best friend sues the magazine, and the photographer, who just so happens to be Mikaela's ex. Of course, Mikaela's firm is tasked with defending the magazine, meaning Mikaela has to defend her ex against her ex-BFF. Talk about conflicts of interest! Pub Date: August 2

Mika In Real Life

by Emiko Jean
35-year-old Mika Suzuki has no romantic prospects, no job, and a strained relationship with her roommate and parents. Then, out of the blue, Mika gets a call from the daughter she put up for adoption 16 years before — and her daughter wants a relationship. Mika makes up a little lie to impress her daughter which quickly spins out of control, and suddenly Mika is living a full-on fake life. Pub Date: August 2

The Codebreaker's Secret

by Sara Ackerman
This historical fiction novel focuses on Isabel Cooper, who is one of only two female codebreakers following the attack on Pearl Harbor. When the other female codebreaker at her station goes missing under mysterious circumstances, she becomes less focused on her mission of avenging the death of her brother, who was killed in the attack on Pearl Harbor. Over 20 years later, a fledgling journalist begins covering a disappearance, and ends up discovering wartime secrets and an unexpected connection to Isabel Cooper. Pub Date: August 2

The Many Daughters Of Afong Moy

by Jamie Ford
Dorothy Moy has suffered from dissociative episodes and struggled with mental illness and is dismayed to see her 5-year-old daughter exhibit similar behaviors. In fact, her daughter starts remembering events from the lives of their ancestors, like Faye Moy, a nurse in China; Zoe Moy, a student in England; Greta Moy, the tech executive of a dating app, and others. As Dorothy works through her generational trauma she seeks to find peace for her daughter and the love she's been looking for for years. Pub Date: August 2

Sister Friends Forever

by Kimberla Lawson Roby
Serena, Michelle, Kenya, and Lynette are childhood best friends who have helped each other through it all. They're now 40 and still meet on the first Saturday of the month for lunch, even if their lives are vastly different from each other's. This poignant novel traces the friendship as each woman deals with family issues, finds love, and learns about forgiveness. Pub Date: August 9

The Last Karankawas

by Kimberly Garza
Garza's latest novel is told through multiple POVs to paint a portrait of Fish Village, a neighborhood of popular tourist spot Galveston, where all the locals live. It's also the only home Carly Castillo has ever known — she's a descendant of the Karankawas, an indigenous Texas tribe that no longer exists. Carly struggles against the expectation to stay in Fish Village, and when Hurricane Ike threatens to wreak havoc when it hits land, the Galveston residents have to decide if they will weather the storm or pack up and leave their homes behind. Pub Date: August 9
Sarah Lai went from star Hollywood producer to a lecturer at an obscure college, all because of a harrowing incident that thwarted her career. When a journalist reaches out, Sarah realizes she can no longer hide what happened to her. As she starts revealing Hollywood's dark secrets, Sarah realizes she may have been complicit in sins as well. Pub Date: August 16

Sophie Go's Lonely Hearts Club

by Roselle Lim
After three years in Shanghai, Sophie Go moves back to Toronto, ready to embark on her new career as a professional matchmaker. There's just one hiccup, though: she never actually graduated from matchmaking school, making her a pariah in the industry. Sophie turns to a secret club of Chinese bachelors called the Old Ducks and manages to persuade them to hire her as a matchmaker. Soon, she's tasked with finding matches for seven septuagenarians all while coming to terms with her own desire for love. Pub Date: August 16

The Darkness Of Others

by Cate Holahan
Imani Banks is a psychiatrist who lives in a nice townhouse in Brooklyn with her husband Philip. When Philip's restaurant is forced to close during the lockdown, they decide to take in Tonya Sayre, a single mom to a teenager, as a tenant. But when a prominent couple in the neighborhood is murdered, Imani wonders if her new tenant had something to do with it — but she can't exactly evict her in the midst of the pandemic, even if Tonya is a suspected killer. Pub Date: August 23

Bad at Love

by Gabriela Martins
Think How To Lose A Guy In 10 Days, but make it young adult. Kind of. Up-and-coming journalist Sasha meets Brazilian bad boy Daniel, a famous musician, and realizes that getting close to him would give her the chance to move up the ranks at the celebrity gossip magazine she works at. Daniel, though, is surprisingly sweet (not to mention, hot), potentially compromising Sasha's story. But Sasha's not the only one with a secret; Daniel is hiding news of his own. Pub Date: August 30

The Thread Collectors

by Shaunna J. Edwards and Alyson Richman
This historical novel, which takes place in 1836, tells the stories of a Black indigenous woman in New Orleans and a Jewish abolitionist in New York City, and their acts of resistance. Stella embroiders maps to help enslaved men flee the Confederacy and join the Union Army. Lily stitches quilts to send to soldiers. They are both in love with Union soldiers in the same battalion, and as they work to bring their men home, Stella and Lily's lives intersect in unexpected ways. Pub Date: August 30

Lizzie Blake's Best Mistake

by Mazey Eddings
Ok, so, relatable premise: Lizzie has had more of her fair share of fuckups in life. I'm talking kitchen fires (been there), bangs (double been there), pyramid schemes (not so much, but I get it). She has one rule: don't let anyone get too close. But when a stressful day caused by her ADHD causes her to break her rule, she has a hookup with love-shy Rake that changes everything. Pub Date: September 6

Rules of Engagement

by Selena Montgomery
Selena Montgomery is the pen name of Stacey Abrams — yes, that Stacey Abrams. How does she find the time…? Anyway, Rules of Engagement is about Dr. Raleigh Foster, an operative for a top-secret intelligence organization who's tasked with infiltrating a terrorist group. It all seems fairly straightforward, until she's assigned the handsome Adam Grayson to not only be her partner in the mission, but also to pretend to be her romantic partner. Pub Date: September 6
I was told to include some nonfiction on here, so this—er, hysterical—memoir deals with Bassist's issues with repressing her voice. It deals with feminist topics, the many ways women and femmes are gaslit and silenced, and how we are taught to silence ourselves. Pub Date: September 13
Images: TINO RENATO / Deathtothestockphoto.com
The Betches Summer 2022 Reading List
Betches may receive a portion of revenue if you click a link and purchase a product or service. The links are independently placed and do not influence editorial content.
The seasons are changing, and you know what that means: it's time for another list of books to read this season. And I have to pat myself on the back over here for being ahead, for once. As in, it's not midway through the summer by the time I'm putting this together. Progress is progress!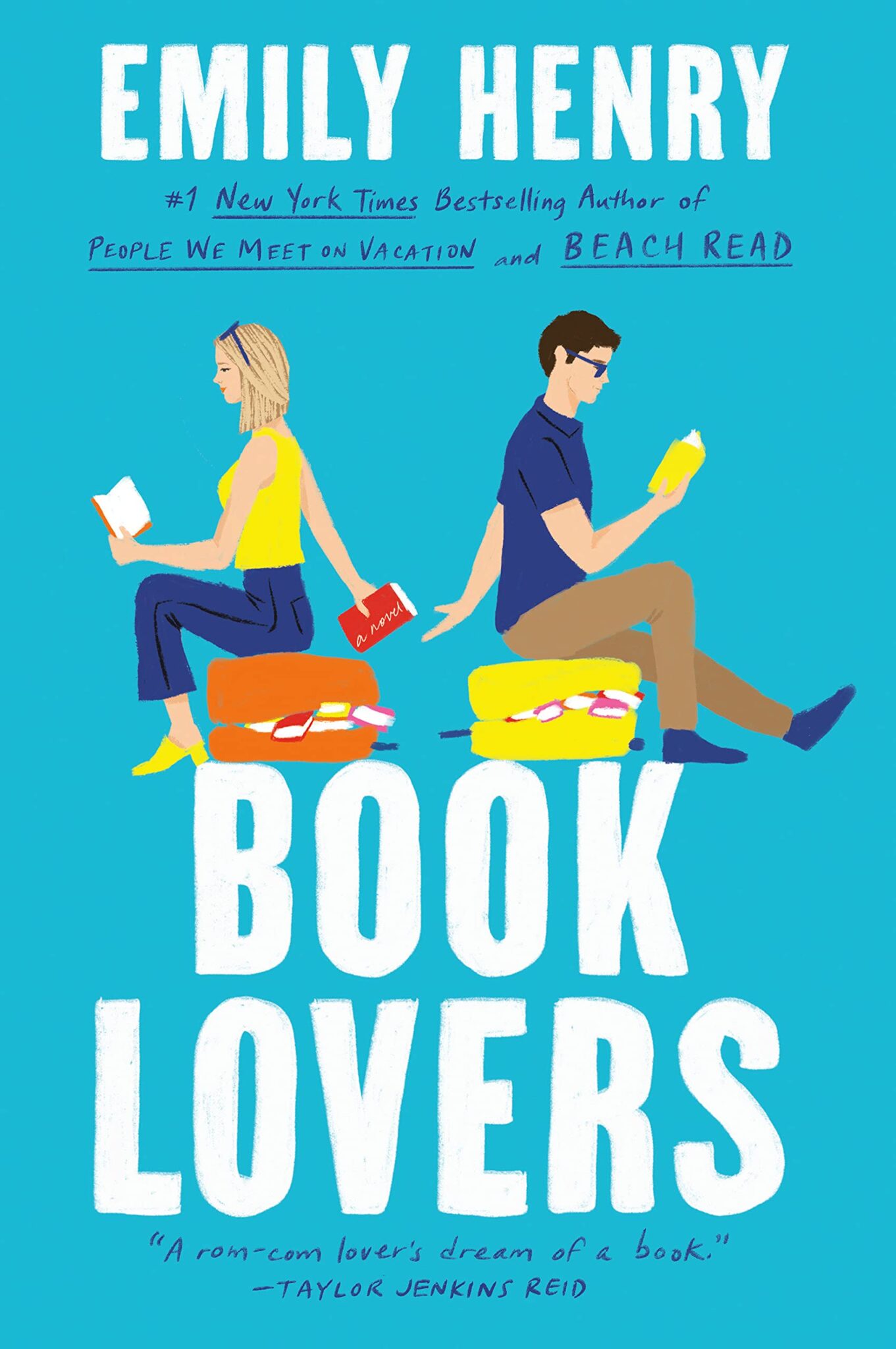 Book Lovers
by Emily Henry
The romance queen herself is back with another perfect beach read, set in a small town. Nora Stephens is a hard-working literary agent who doesn't leave much time for herself, unless it comes to her Peloton rides. Her sister Libby drags her to the picturesque town of Sunshine Falls for a sister's trip, where she keeps running into brooding book editor Charlie Lastra from back home. Ugh, why is it always the ones you don't want to run into? Chance encounter after chance encounter, these two bookworms just might become the main characters of a love story. (I say "just might" when really, we know they will.) Pub Date: May 3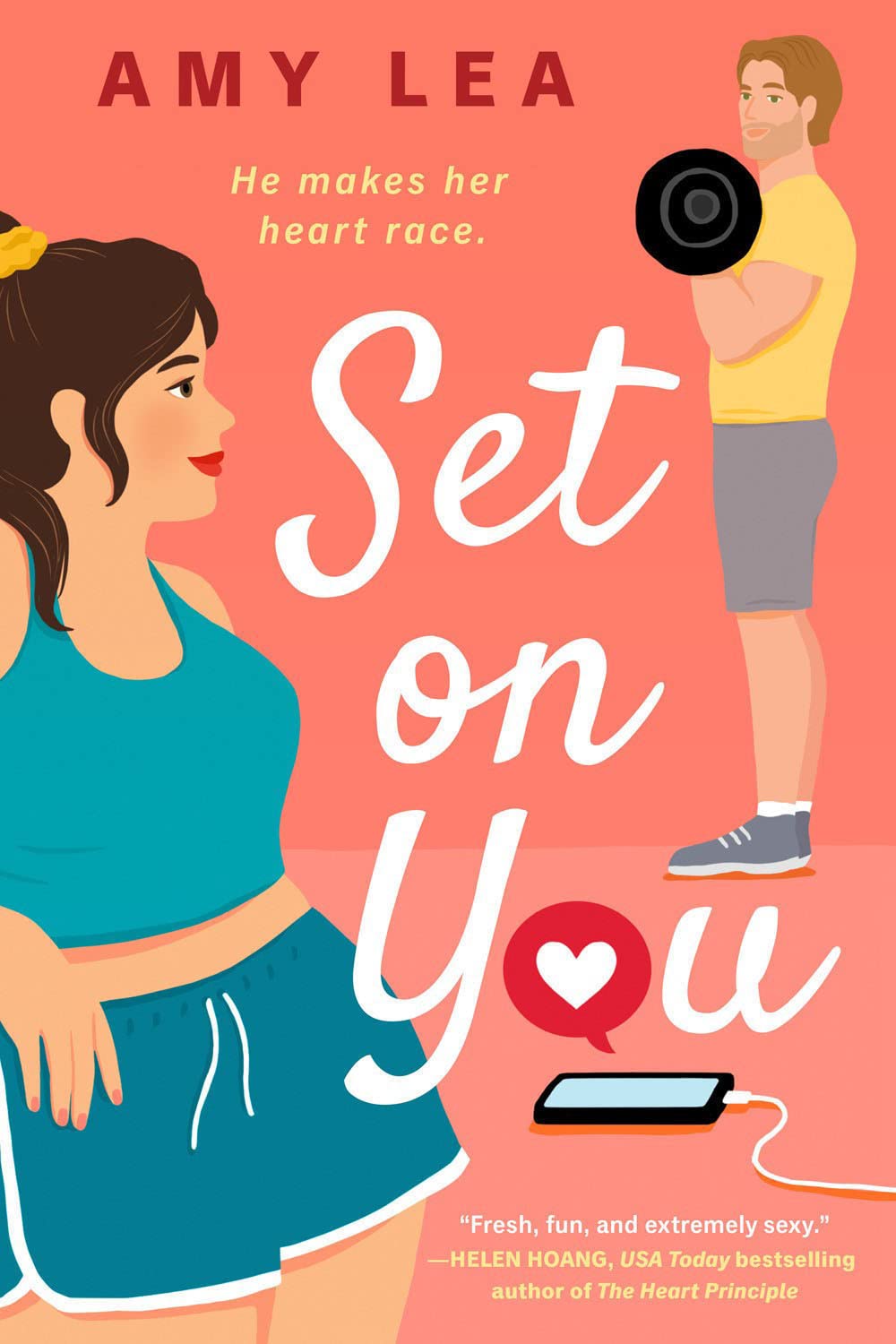 Who doesn't love a body positive rom-com? Crystal Chen is a curvy fitness influencer who doesn't let any man get in her way, especially at the gym. That is, until one man literally gets in her way at the gym, when a handsome firefighter steals her squat rack (and maybe her heart?). A relationship starts to take off, until a picture of the couple goes viral and trolls come after them, threatening to tear their budding relationship apart. Pub Date: May 3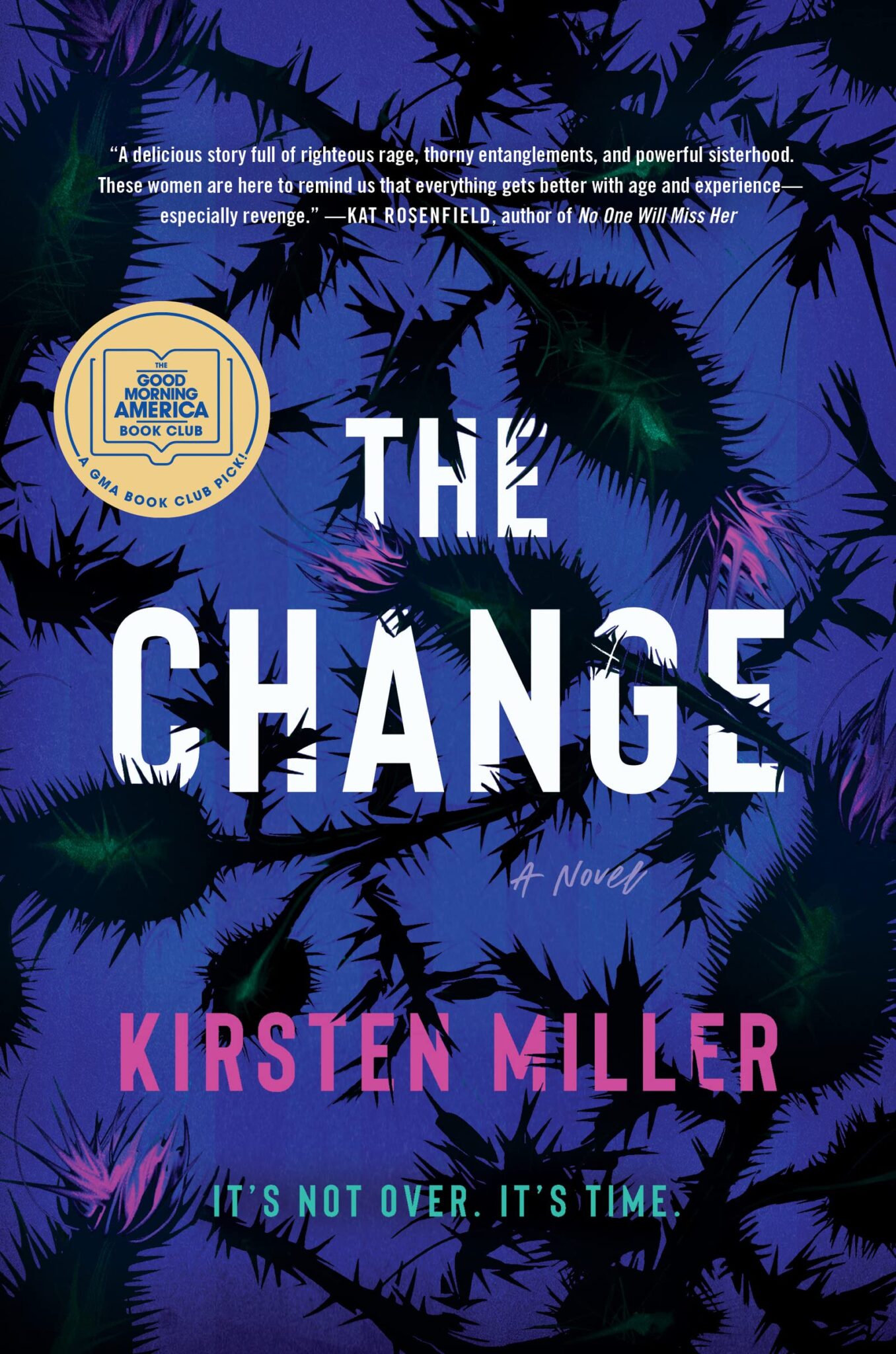 The Change
by Kirsten Miller
It's a supernatural Big Little Lies set on Long Island—need I say more? Ok fine, we've got a trio of women whose lives intersect. One of them can communicate with the dead. One's life has just imploded. And one starts channeling her menopausal hot flashes. And then they discover the body of a dead teenager whom the police have written off, and suddenly find themselves solving not one, but multiple murders.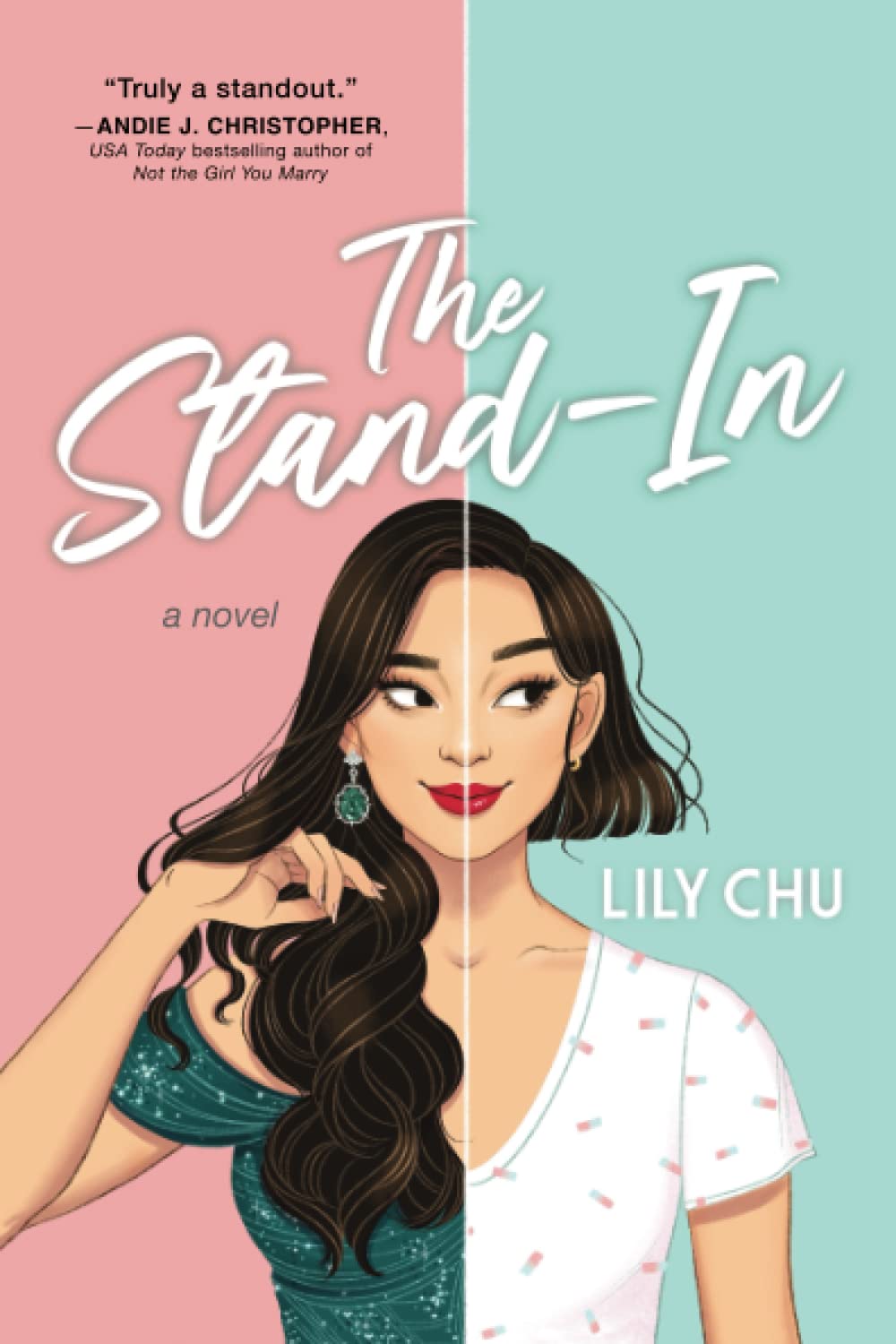 It's giving Lizzie McGuire Movie, and I'm obsessed. Gracie Reed's life changes when, one day, an SUV pulls up alongside her with Wei Fangli and Sam Yao, Chinese cinema's power couple, inside. Wei wants Gracie to be her (you guessed it) stand-in, and she'll get paid to pretend to be the A-list actress—and be escorted everywhere by her gorgeous husband. Yep, can't foresee any shenanigans with this plan. Pub Date: May 3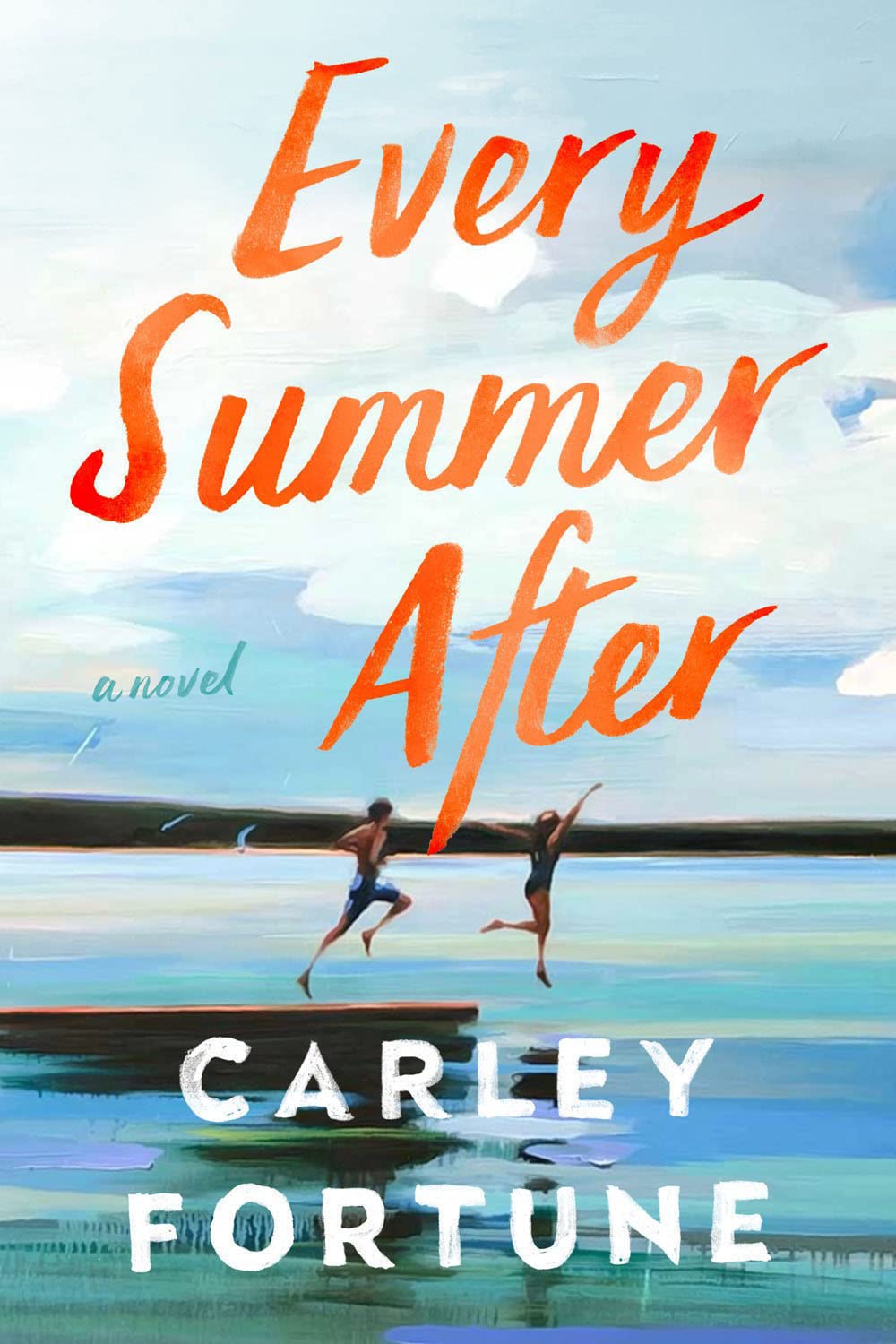 Every Summer After
by Carley Fortune
This debut love story is the perfect beach read. Persephone and Sam spent six summers together practically joined at the hip, until Percy made a choice that changed everything. Ten years later, her mother's funeral puts her back in the town where everything went right, and then wrong—and this time, Percy has a chance to change the ending of her and Sam's love story. Pub Date: May 10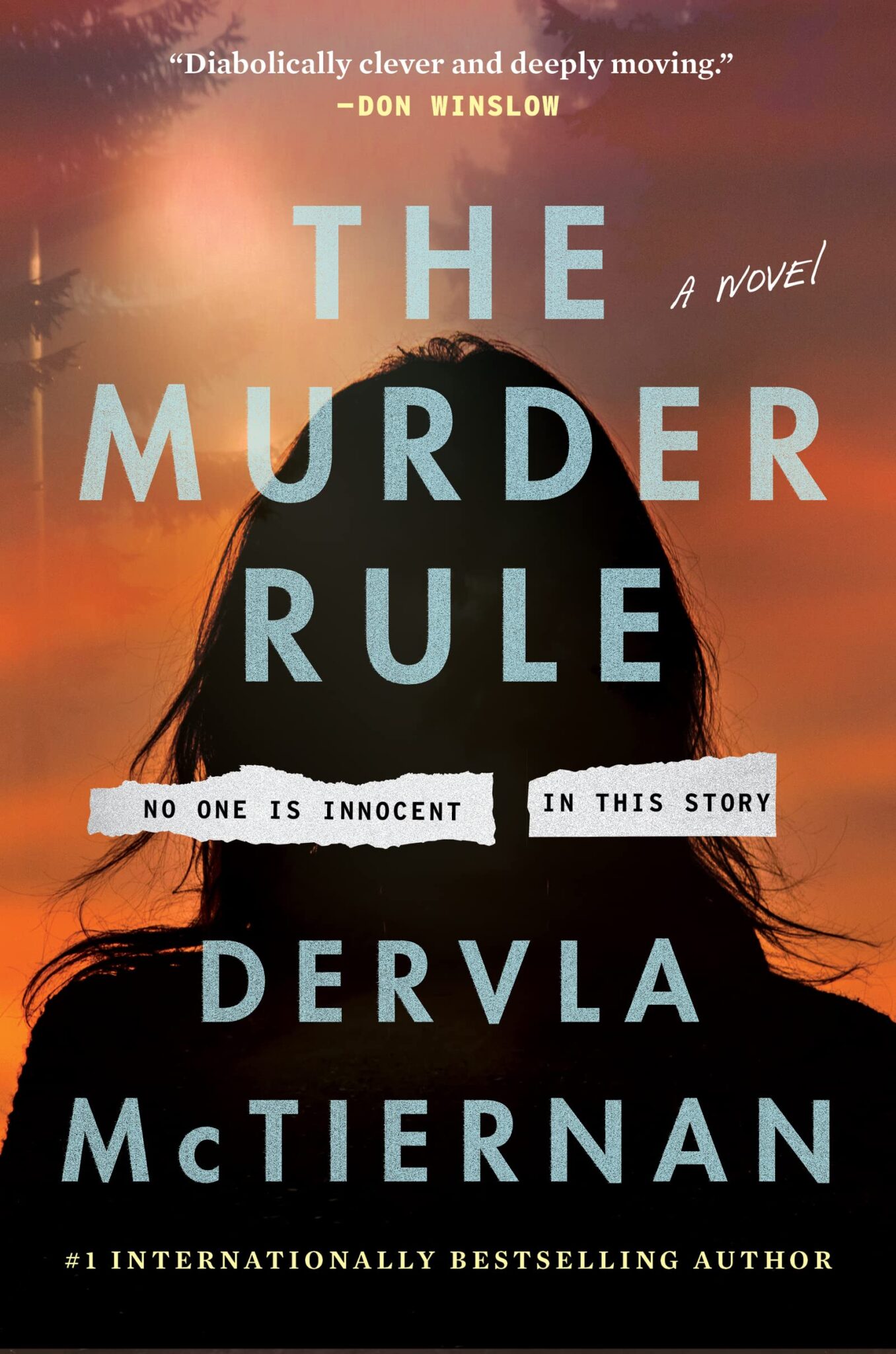 The Murder Rule
by Dervla McTiernan
Inspired by a true story, The Murder Rule centers around a Virginia-based chapter of The Innocence Project and its efforts to free a man who's been convicted of murder. But little do they know, their efforts are being thwarted by newcomer Hannah, a law student who infiltrated the Innocence Project with one goal: to keep their client in prison for the rest of his life. Hannah's efforts to thwart the exoneration eventually lead her to uncovering the truth, which causes her to question everything she's ever known. Pub Date: May 10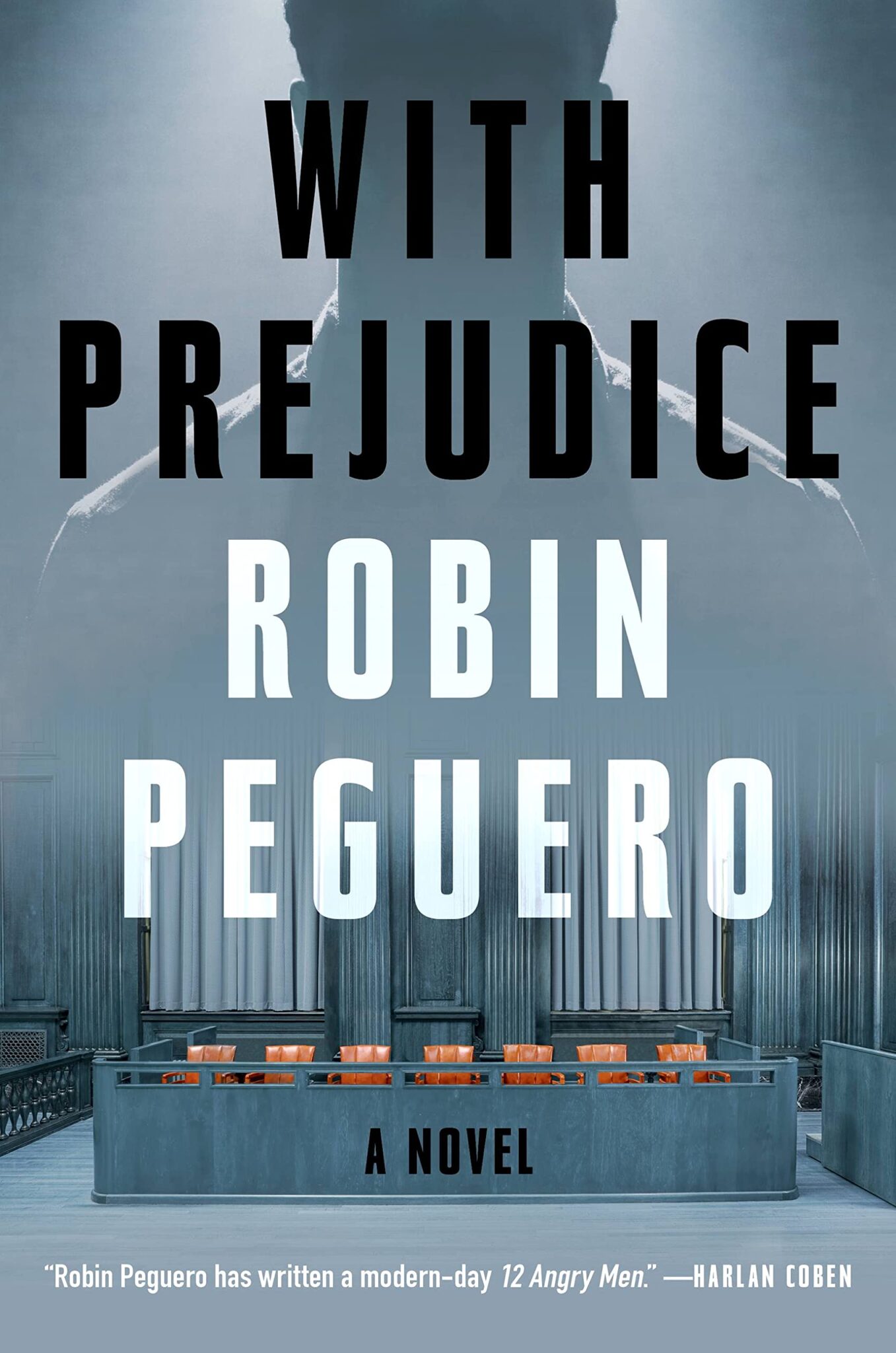 With Prejudice
by Robin Peguero
The three main characters are sitting on a jury for a murder case—one with no body, no weapon, and no eyewitnesses. They must decide a man's fate, all while they try to be unbiased and not let their own experiences with the justice system influence their judgment. All the while, an ambitious young prosecutor's career is resting on a guilty verdict, while a public defender has an explosive piece of evidence up his sleeve… if only the judge will admit it. Pub Date: May 17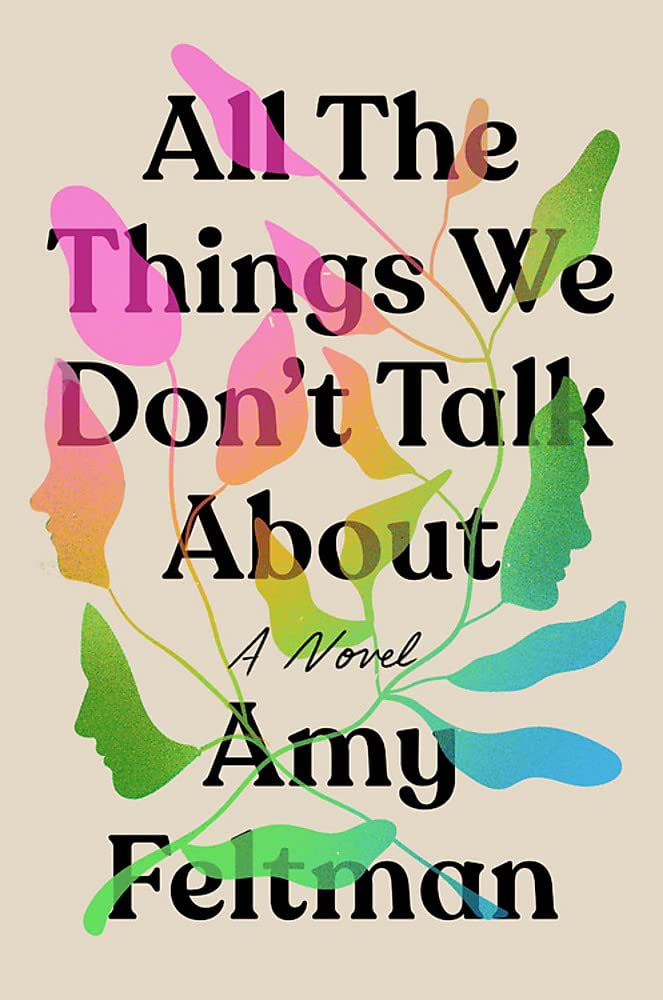 All The Things We Don't Talk About
by Amy Feltman
Morgan Flowers is struggling to navigate their gender identity and fill the gap left by their mother, who abandoned Morgan and Morgan's neurodivergent father. When a breakup causes Morgan's mother to try to come back into their life, her presence threatens to disrupt everything. Pub Date: May 23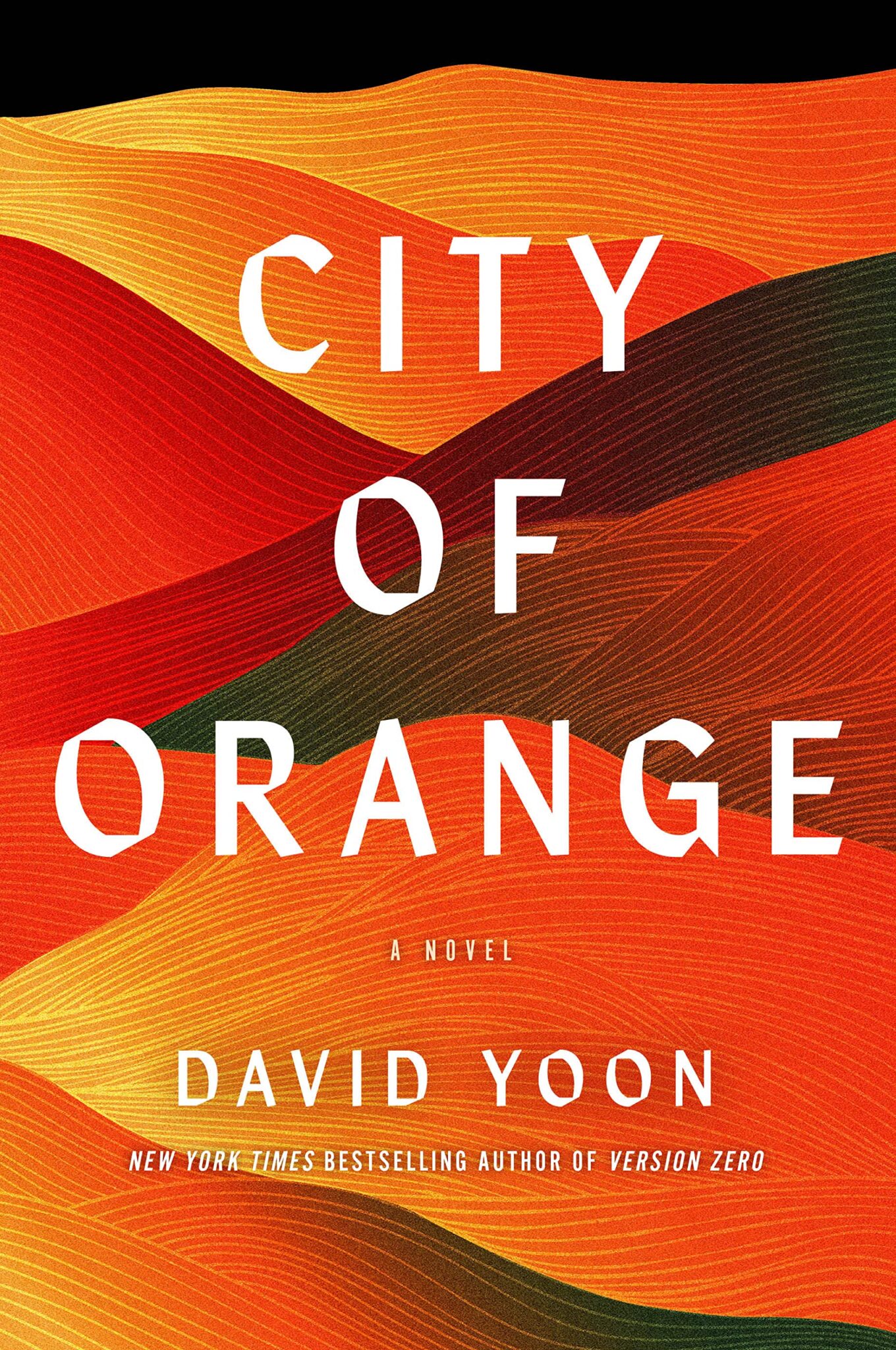 City of Orange
by David Yoon
Post-apocalyptic but with a sense of humor, City of Orange's protagonist is nameless. He wakes up one day with only hazy memories, trying to piece together how he found himself in the apocalyptic landscape he wakes up in. Not to mention, he's trying to survive by himself. A chance meeting causes the man to realize that nothing is as it seemed. Pub Date: May 24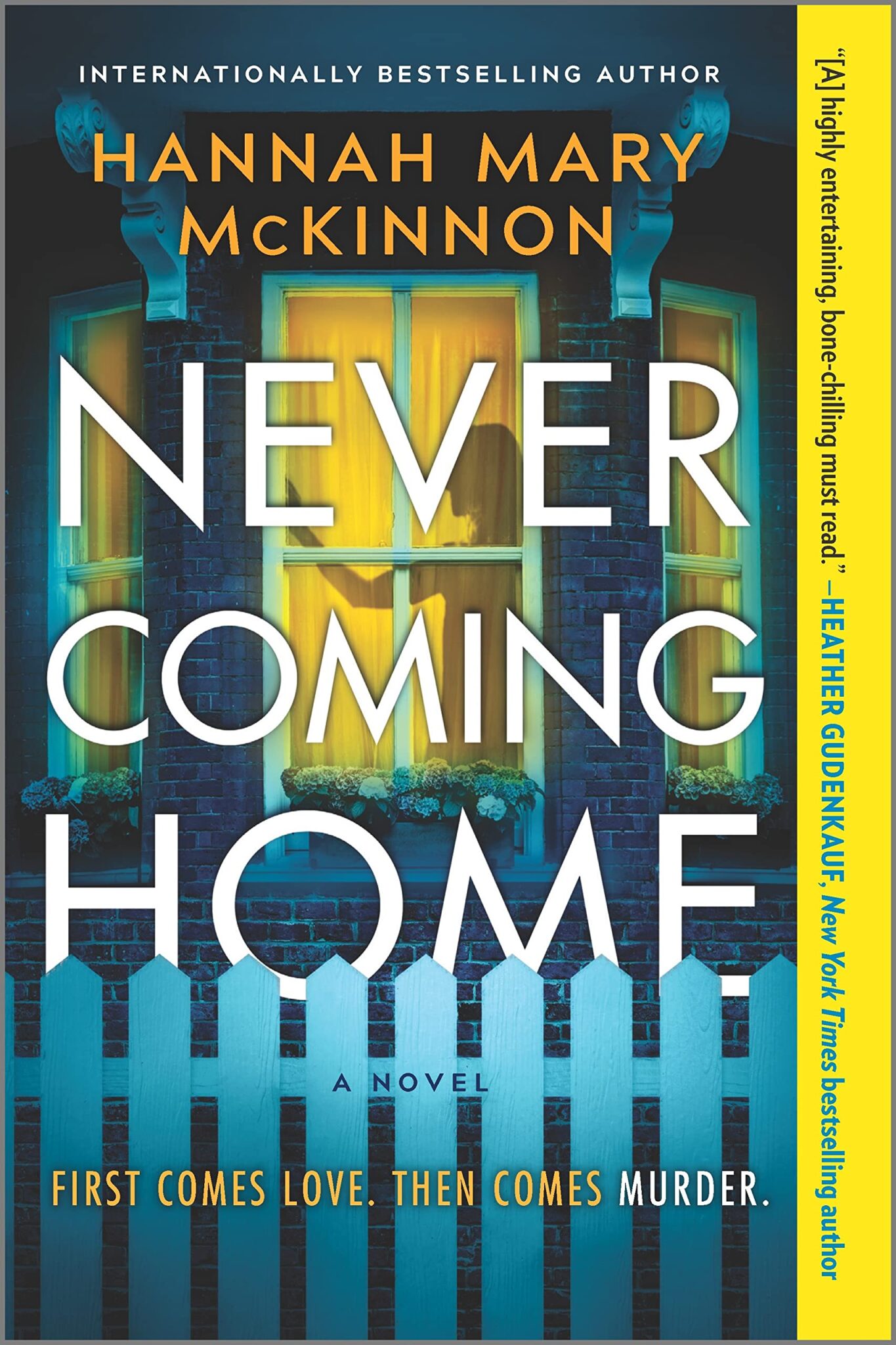 Never Coming Home
by Hannah Mary McKinnon
Lucas Forester married for money. He just wanted to get his hands on his uber-rich wife Michelle's money, divorce her, and disappear into the night. But an ironclad prenup made that impossible, so he had to resort to a drastic measure: having her killed. Lucas was meticulous, careful; he planned the perfect murder. Or did he? When mysterious postcards keep showing up, he starts to think there may be someone out there who knows something, as impossible as that seems. Will he get away with it after all? Pub Date: May 24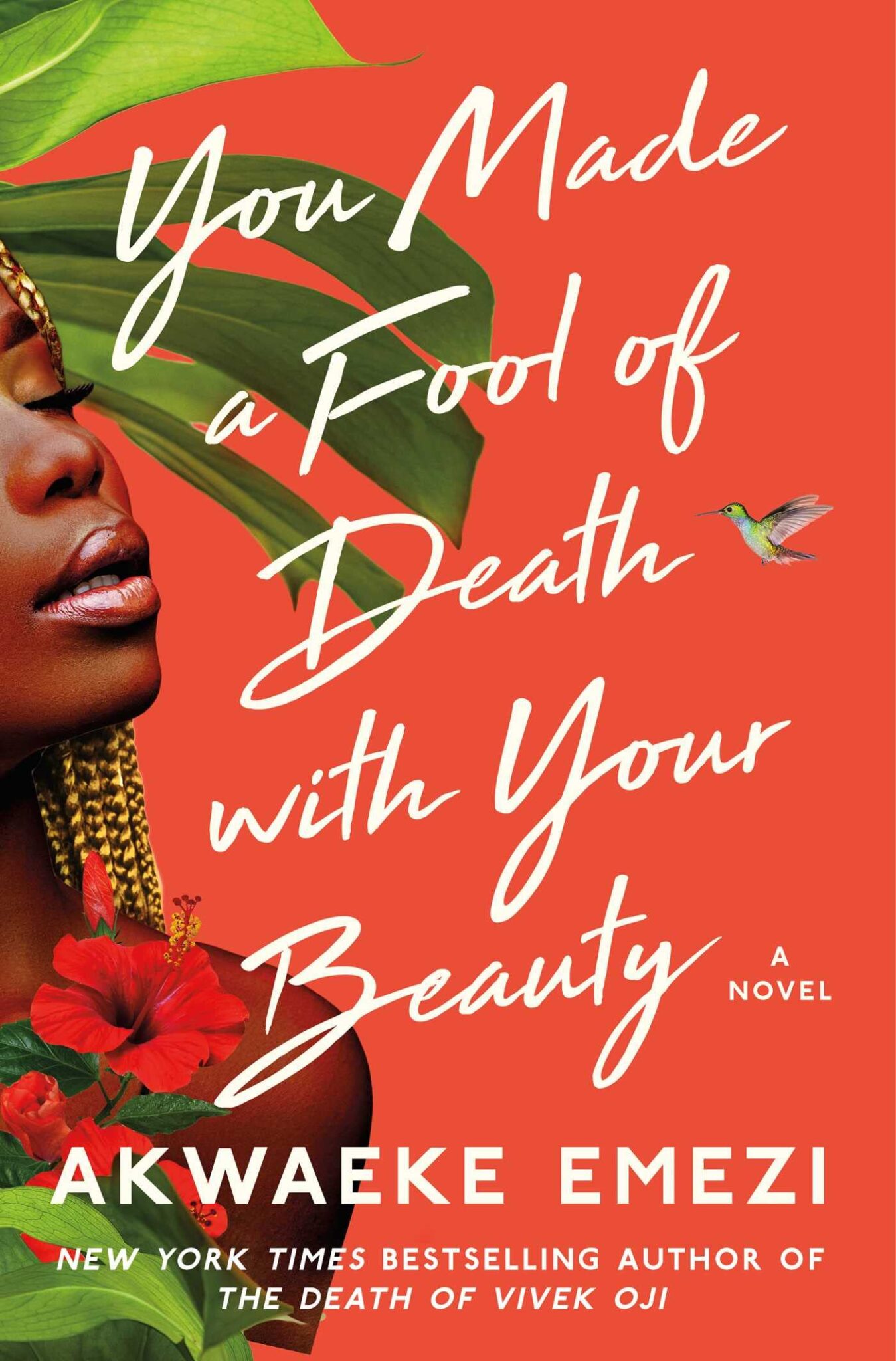 You Made A Fool Of Death With Your Beauty
by Akwaeke Emezi
This much-anticipated novel is inspired by Emezi's own love for romance novels. Five years after the love of her life died in an accident, Feyi Adekola is piecing her life back together. She's living in a studio in the same building as her best friend and painting again. She's not ready for a serious relationship, but when Feyi meets a hot stranger at a party, they begin a whirlwind romance—one with fancy trips, indulgent meals, and serious connections for Feyi. The only thing threatening to put a damper on her new life? The fact that she can't keep her eyes off her new beau's father. Pub Date: May 24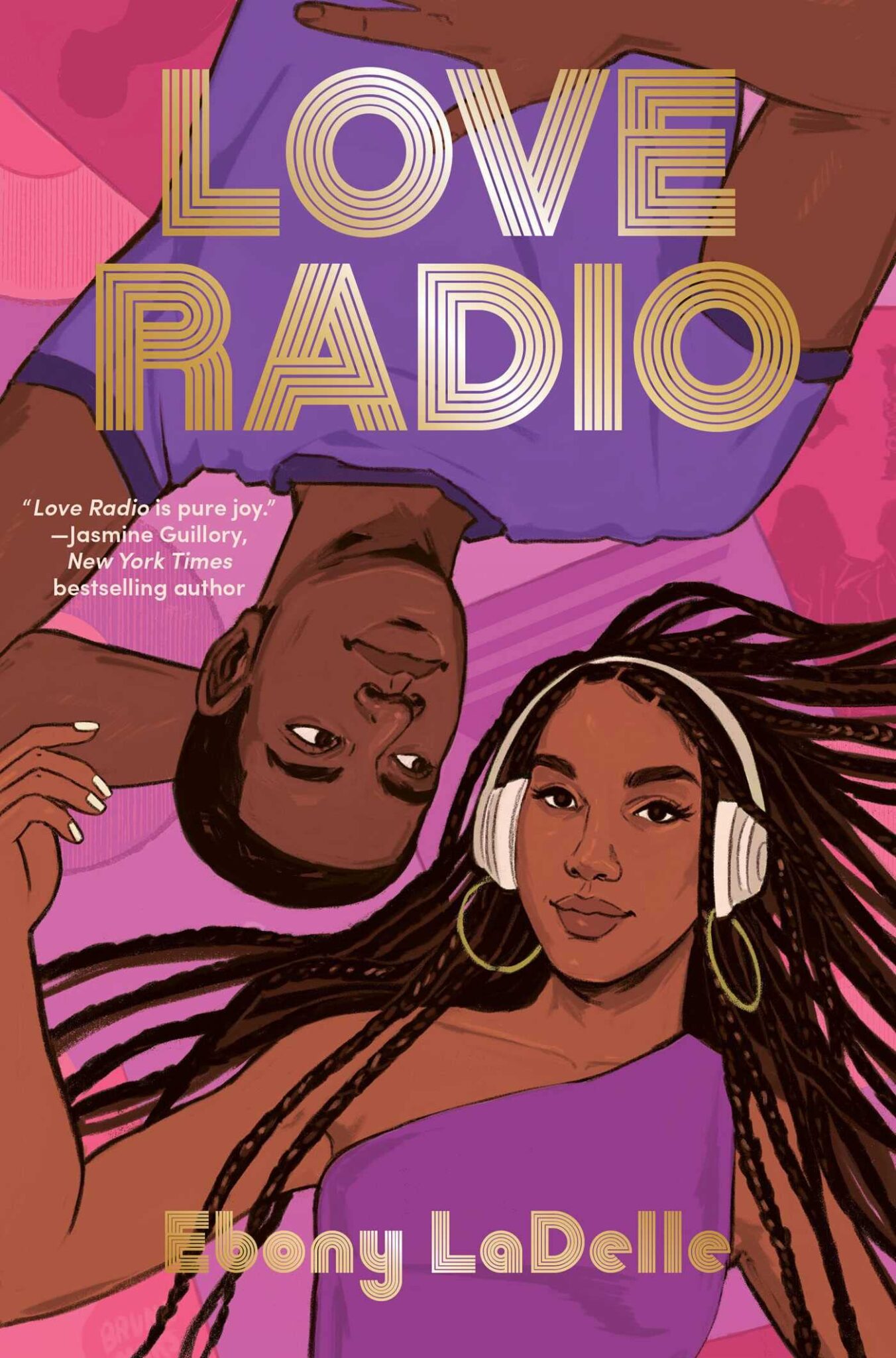 Love Radio
by Ebony LaDelle
I've been waiting for this one for what feels like forever—it's been described as Hitch meets The Sun Is Also A Star. It's about a teen DJ who's a total romantic, who meets (and falls for) an aspiring novelist who couldn't care less about all that mushy stuff. Pub Date: May 30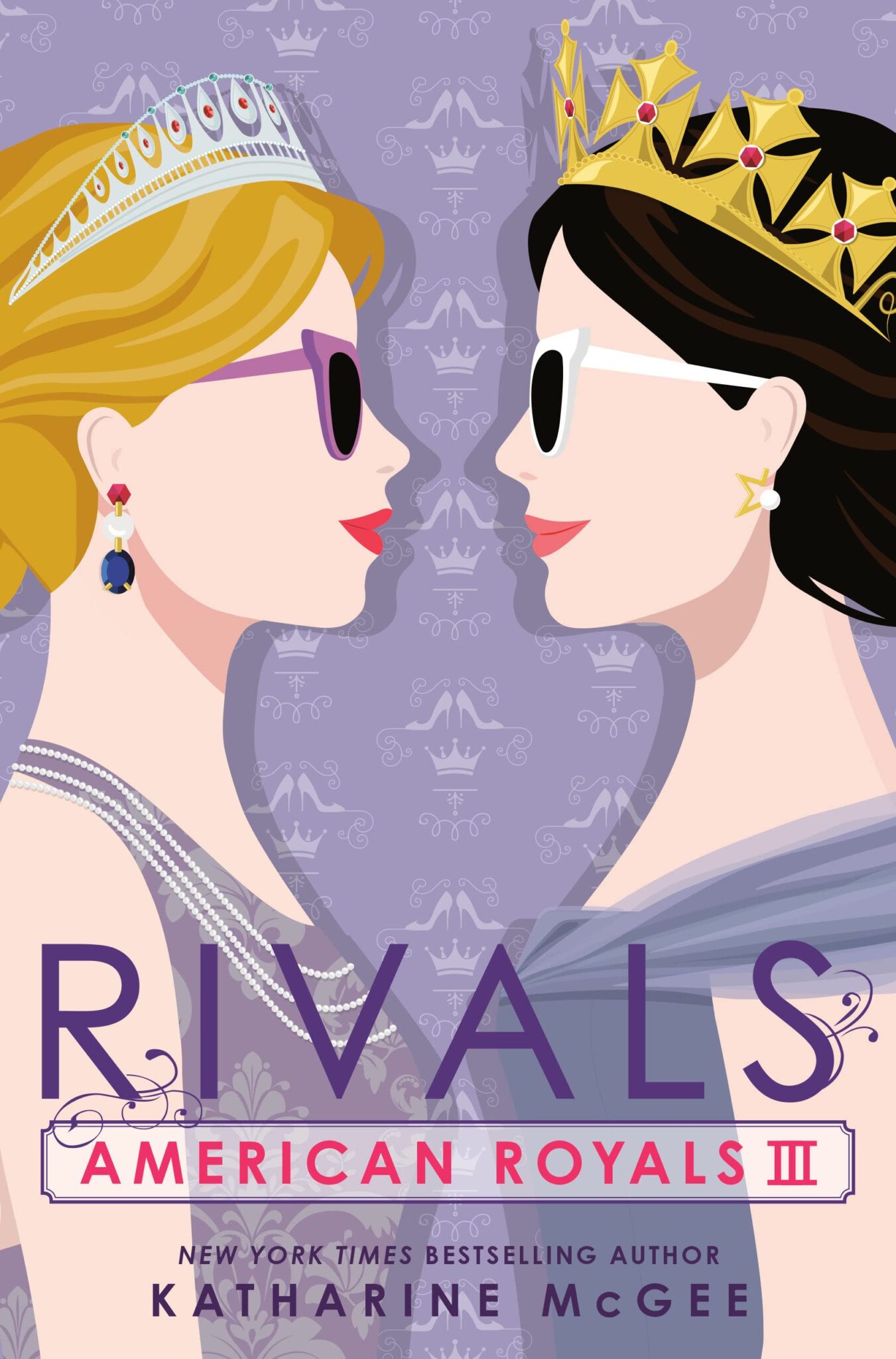 American Royals III: Rivals
by Katharine McGee
The American Royal family (no, not the Kardashians) are back in the third installment of this beloved series. Queen Beatrice gets drawn into the inner circle of a glamorous foreign princess, which presents complications. Speaking of complicated, so is Sam's relationship with Lord Marshall Davis. And Nina and Daphne team up to take down the scheming Gabriella Madison. It's all coming to a head in the next part of this saga. Pub Date: May 31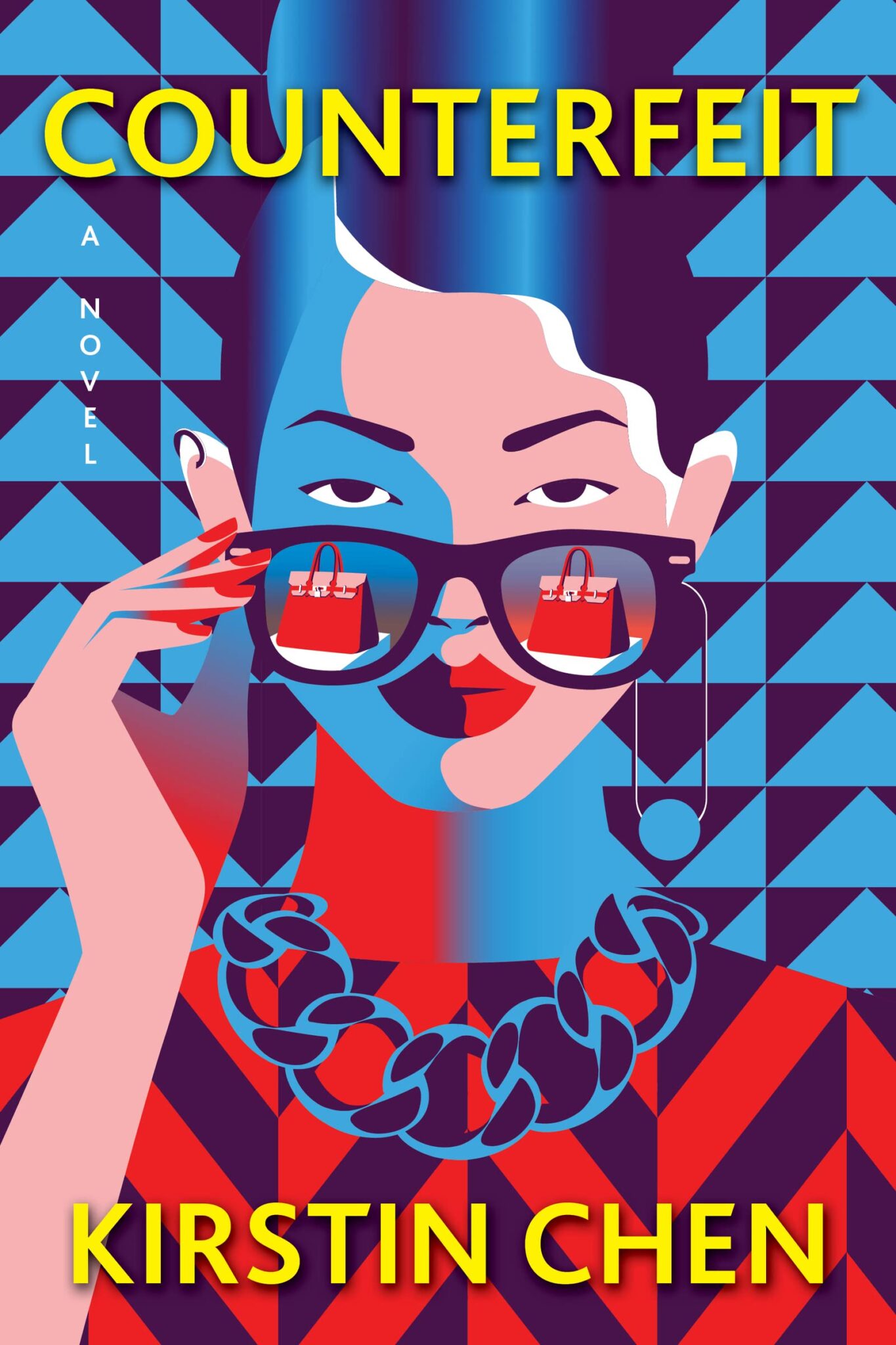 Counterfeit
by Kirstin Chen
We've got crime, we've got estranged friends reuniting, we've got an interrogation of the model minority myth. Former BFFs Ava Wong and Winnie Fang reunite when Winnie needs Ava's help running her lucrative counterfeiting scheme. Pub Date: June 7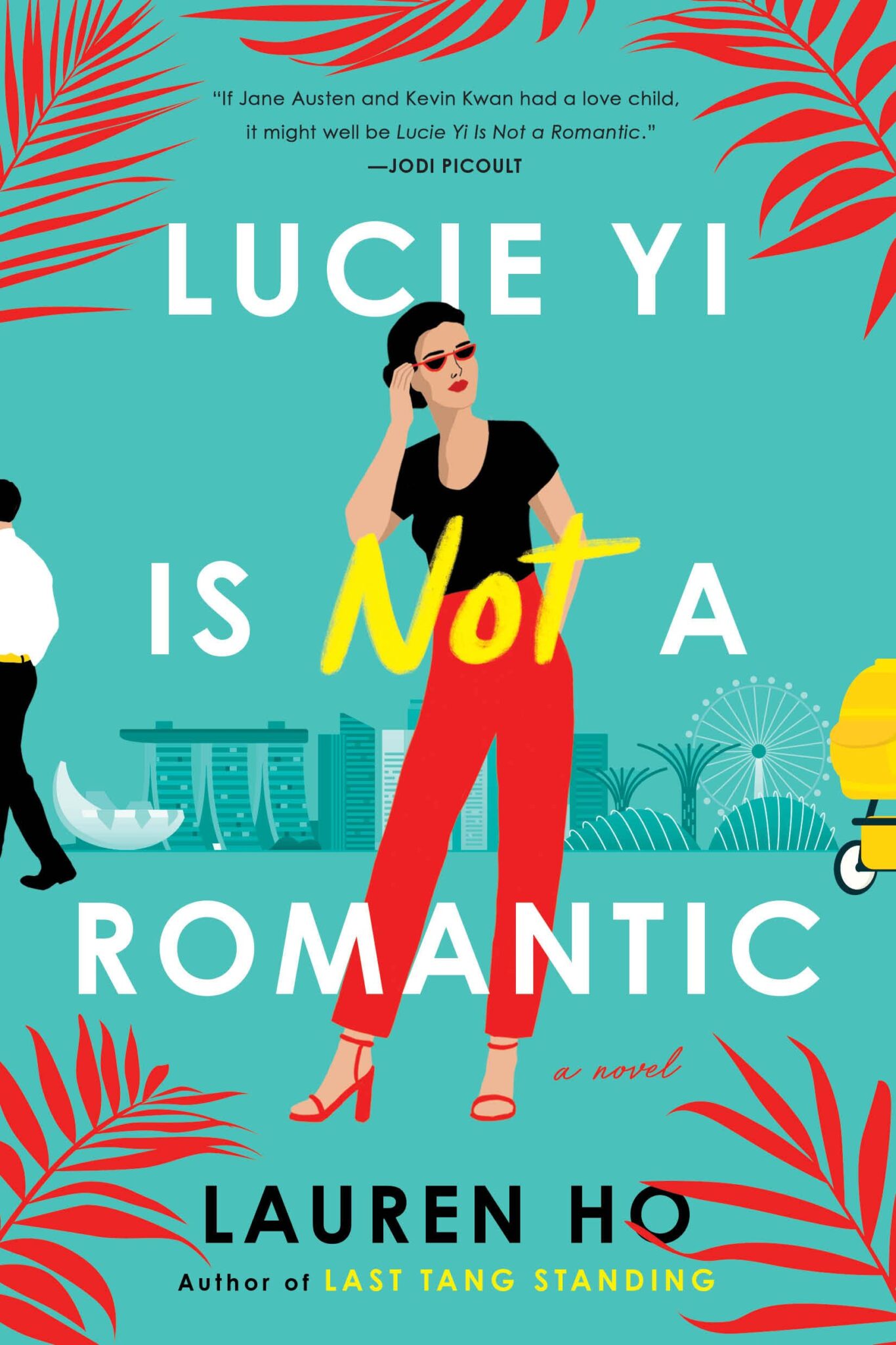 Lucie Yi is Not A Romantic
by Lauren Ho
Written by the author of Last Tang Standing, you're in for a funny and relatable ride. After suddenly bursting into tears at a baby store (relatable), Lucie realizes she wants kids. Only problem? She's nowhere close to being in a relationship. But that's not really a problem since it's 2022 and there's an app for everything, which is how Lucie finds herself on a site that's basically Match.com, but for co-parenting. She and her match, Colin, agree to raise a baby together without a romantic relationship. Sure, what could go wrong with that plan? Pub Date: June 21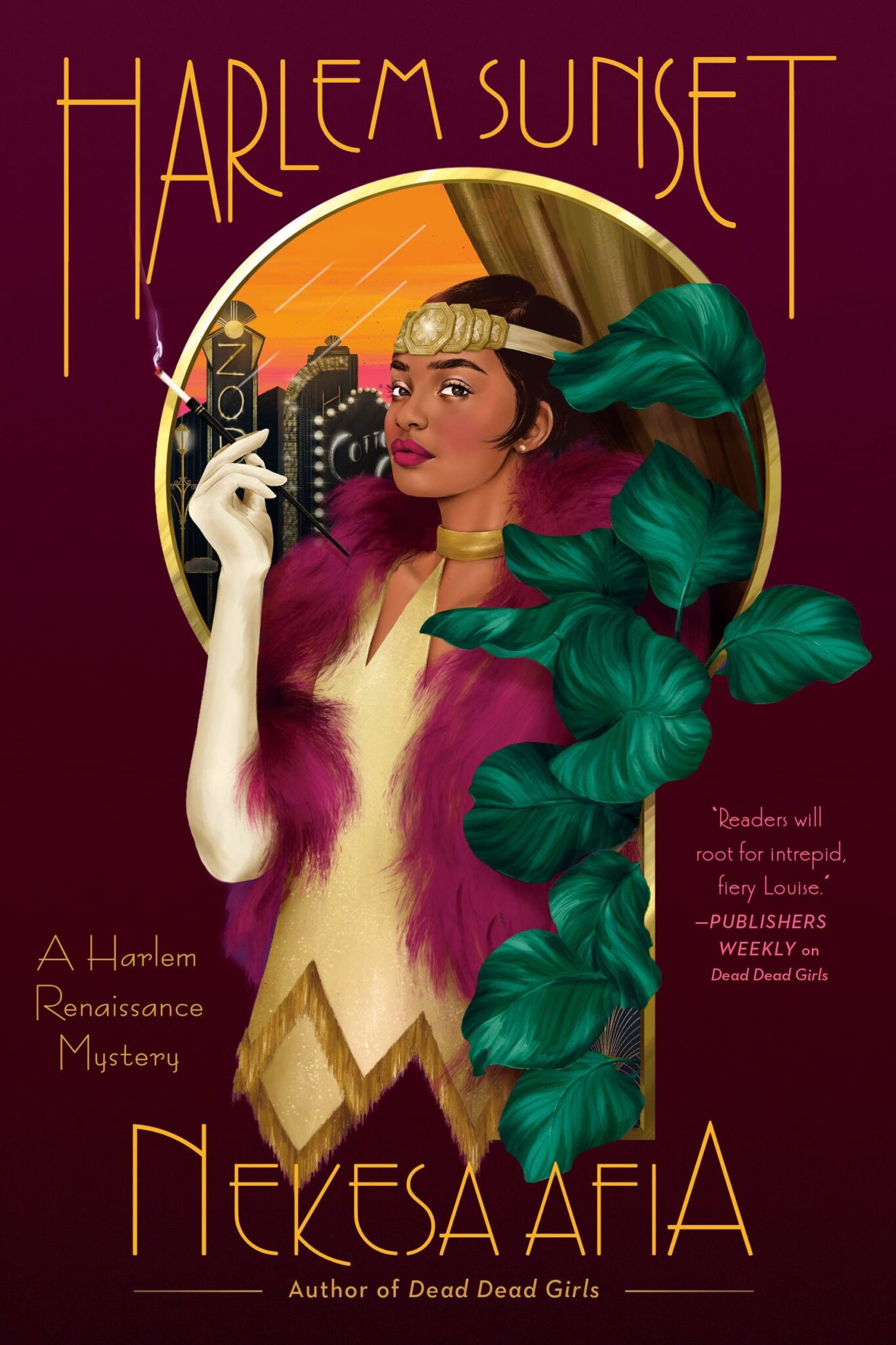 Harlem Sunset
by Nekesa Afia
In the sequel to Dead, Dead Girls, Louise Lloyd is back, but still haunted by her first case. She reconnects with a woman whom she was kidnapped alongside as a teen, and they (along with Louise's girlfriend) spend the night drinking and catching up. The next morning, Louise's girlfriend wakes up covered in blood, with the other woman lying dead. Knowing there's a target on her back, Louise has no choice but to solve the murder before she gets wrapped up in it. Pub Date: June 28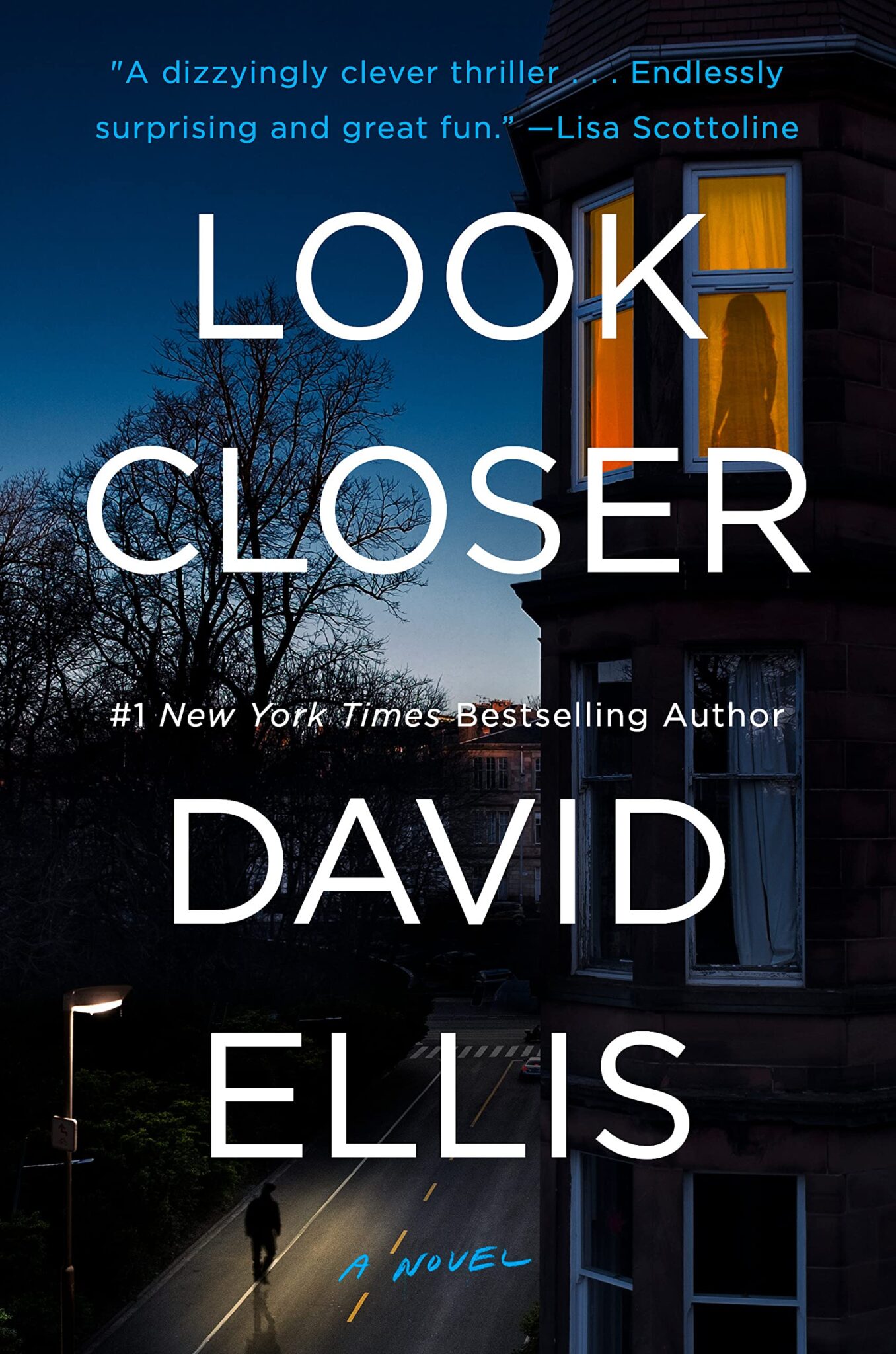 Look Closer
by David Ellis
It's rare that a thriller actually catches me by surprise these days, which is why I can't recommend Look Closer enough. It opens with the brutal murder of Lauren Betancourt, a beautiful young housewife living in a ritzy suburb of Chicago, who's killed on Halloween night. Then, we meet Simon Dobias, a super smart law school professor who's married to Vicky, a domestic violence counselor, who has a connection to Lauren. I don't want to give too much away, so I'll just say that down to the very last page, nothing is what it seems. Told through diary entries, text messages, and multiple POVs, this will keep you guessing until the end. Pub Date: July 5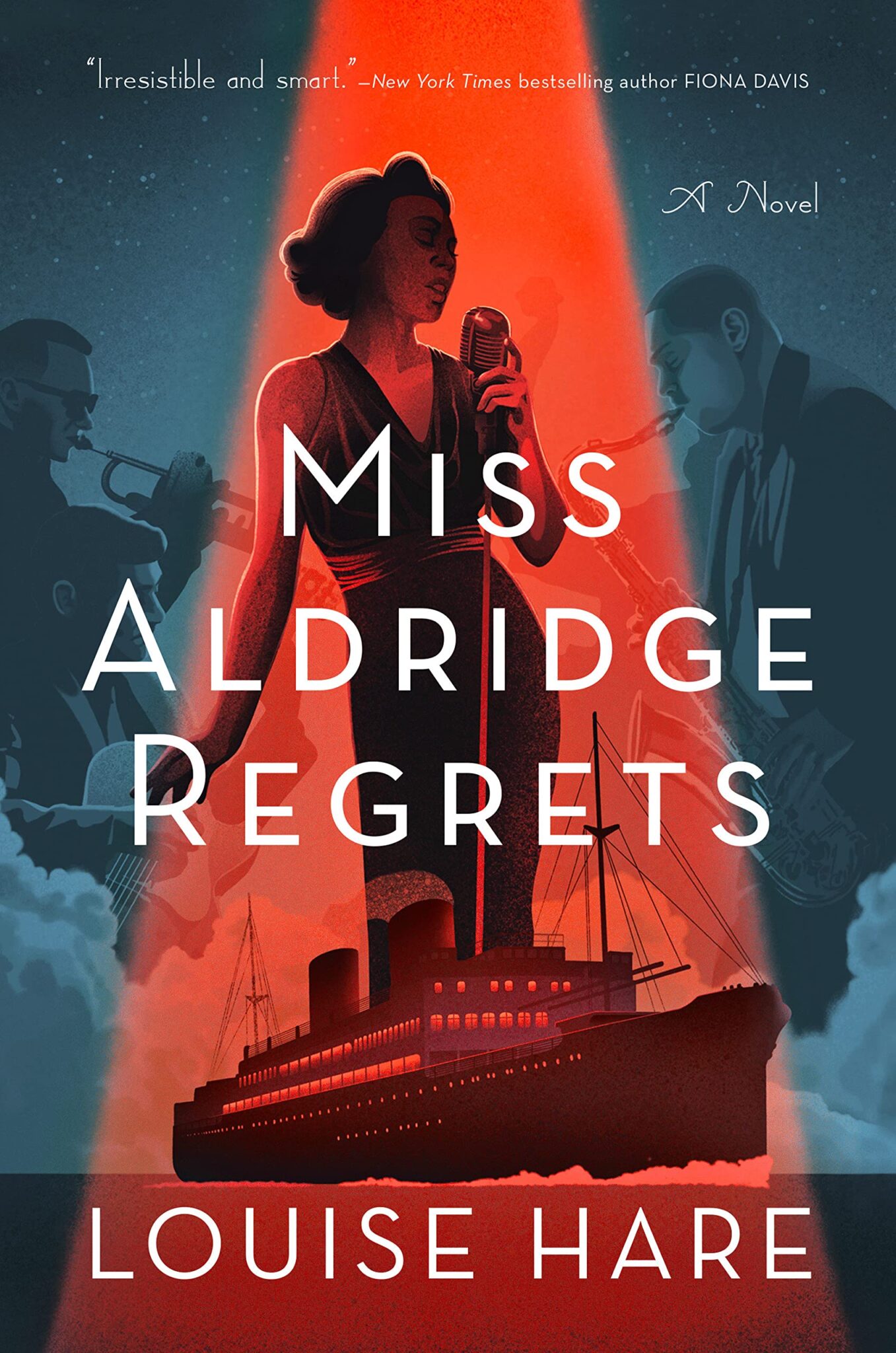 Miss Aldridge Regrets
by Louise Hare
If you like period pieces and mysteries, or are a fan of Passing or Death on the Nile, you'll love the first in a new series by Louise Hare. Miss Lena Aldridge is a multiracial jazz singer and actress who occasionally passes for white. While singing in a dingy club in London, she's approached by an American businessman with the opportunity to become a Broadway star. Once across the pond, she meets an American family who take her under their wing… until members of the family start dropping like flies, and suddenly Lena is the number one suspect. Pub Date: July 5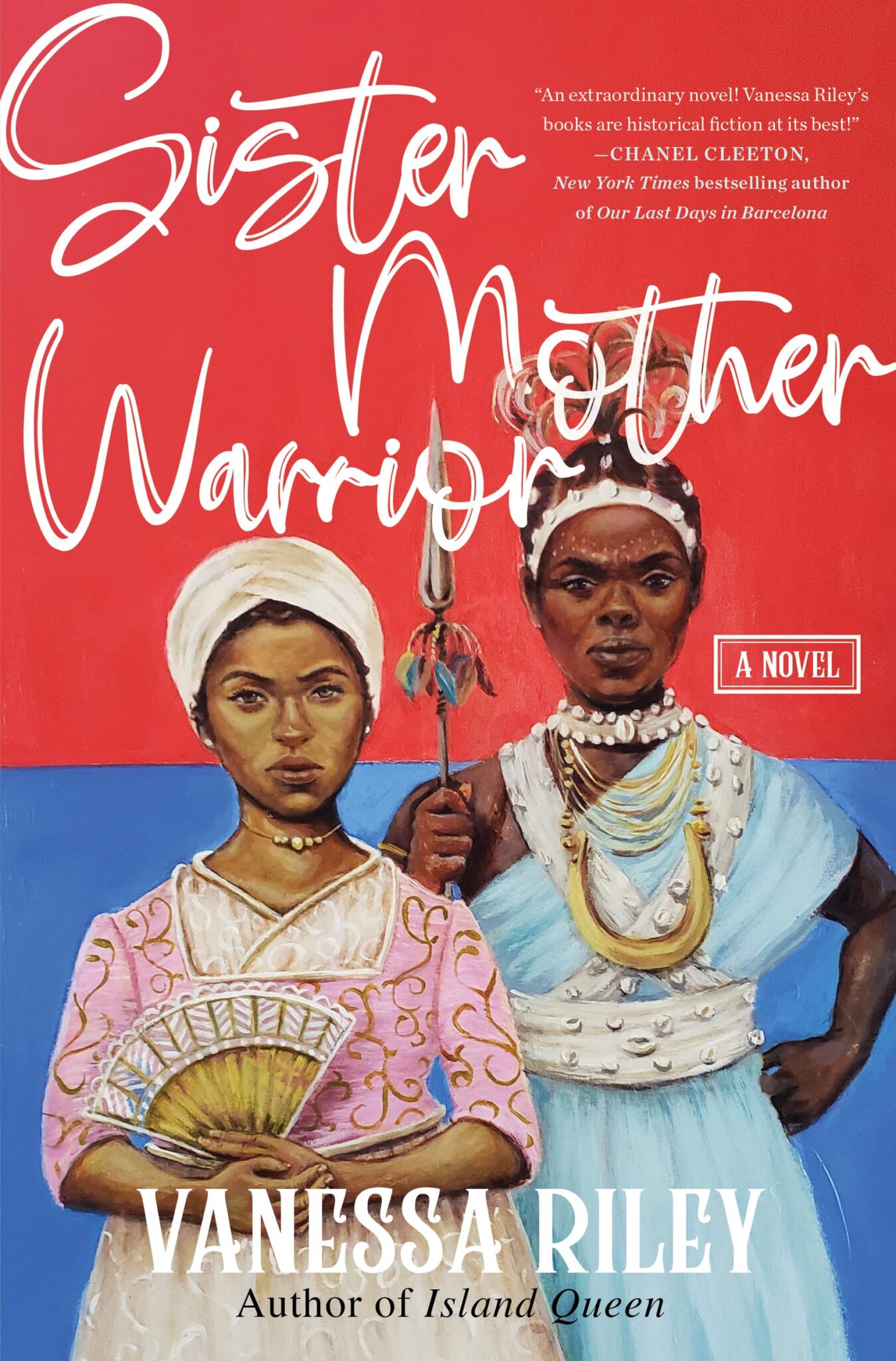 Sister Mother Warrior
by Vanessa Riley
This historical novel tells the stories of two real figures, Gran Toya and Marie-Claire Bonheur, and how their lives intertwine as both women play an important role in the Haitian Revolution: Toya as a warrior at the forefront, and Bonheur as the spouse of revolutionary and later, general, Jean-Jacques Desaslines. Pub Date: July 12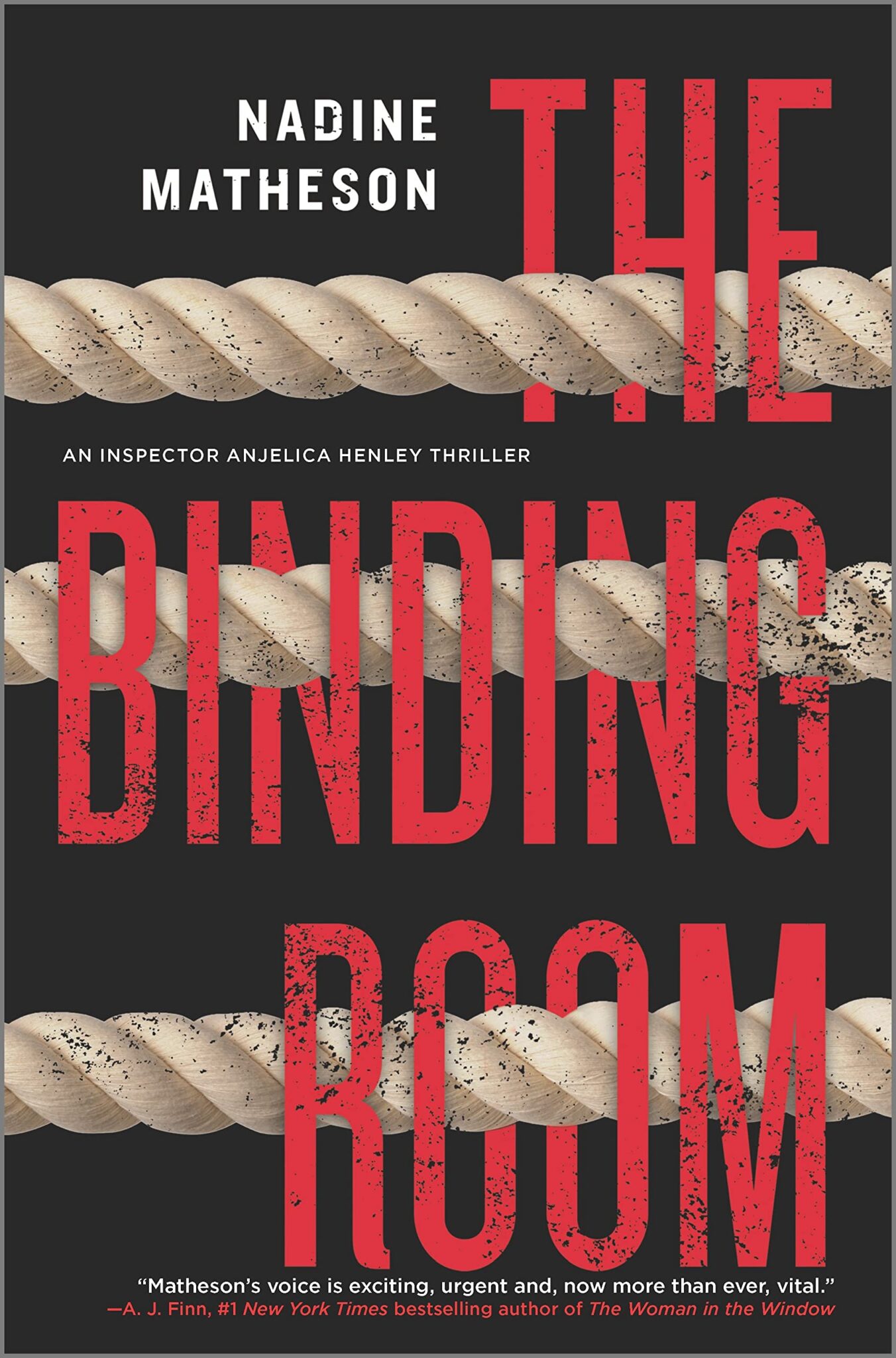 The Binding Room
by Nadine Matheson
From the author of The Jigsaw Man comes another Detective Anjelica Henley novel. DI Henley is called to investigate the murder of a well-liked preacher, and discovers a ritualistic killing in the process. Looks like the members of this church forgot the "Thou shalt not kill" commandment. As the victim count grows, the stakes get higher, since DI Henley might be next if she doesn't solve it. Pub Date: July 12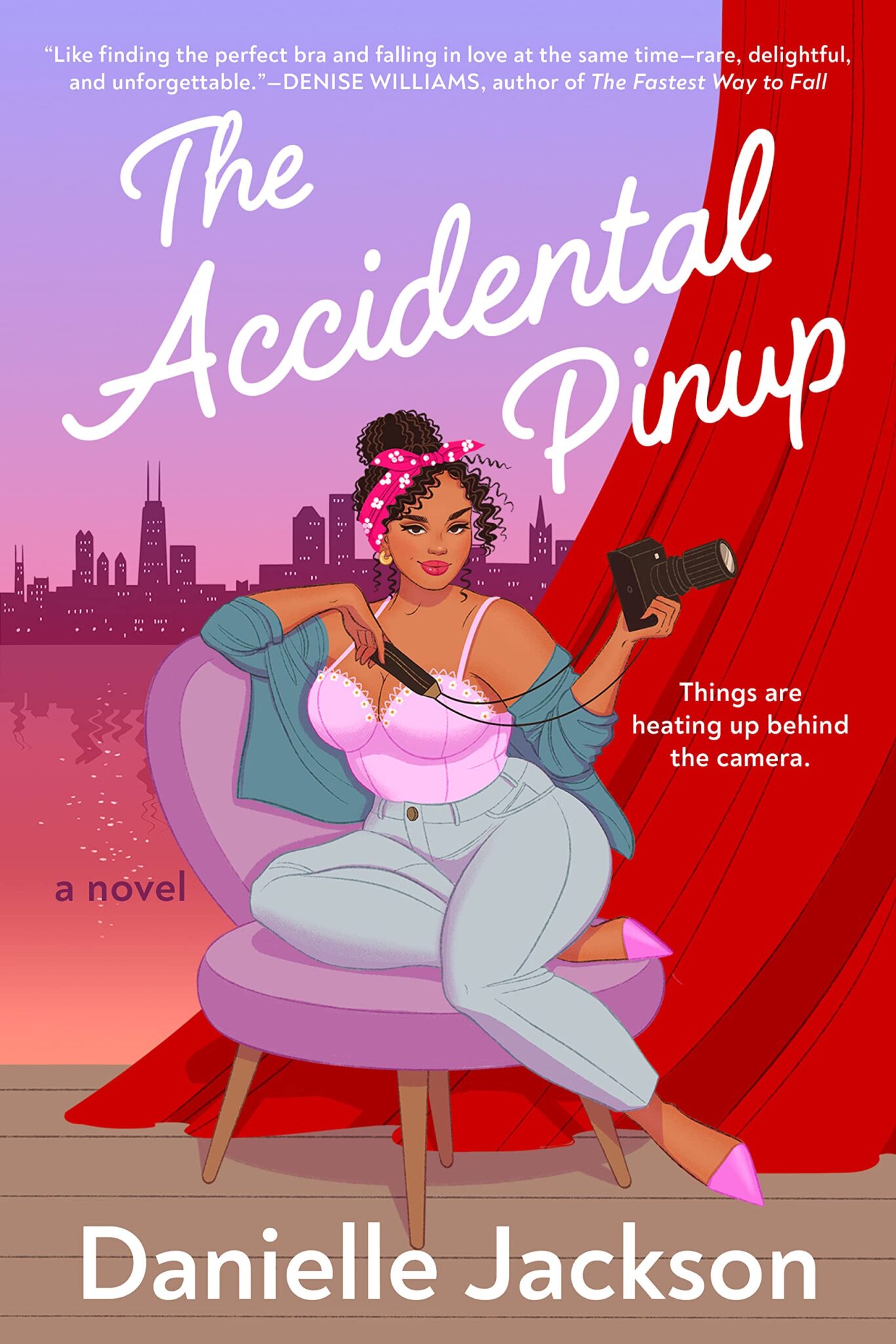 The Accidental Pinup
by Danielle Jackson
I wish that was the title of my autobiography, amiright? Anyway, this body-positive rivals-to-lovers rom-com is going to make you feel allll the feelings. When two competing photographers get contracted to work together on a body-positive campaign, they quickly go from butting heads to… nvm. Pub Date: July 19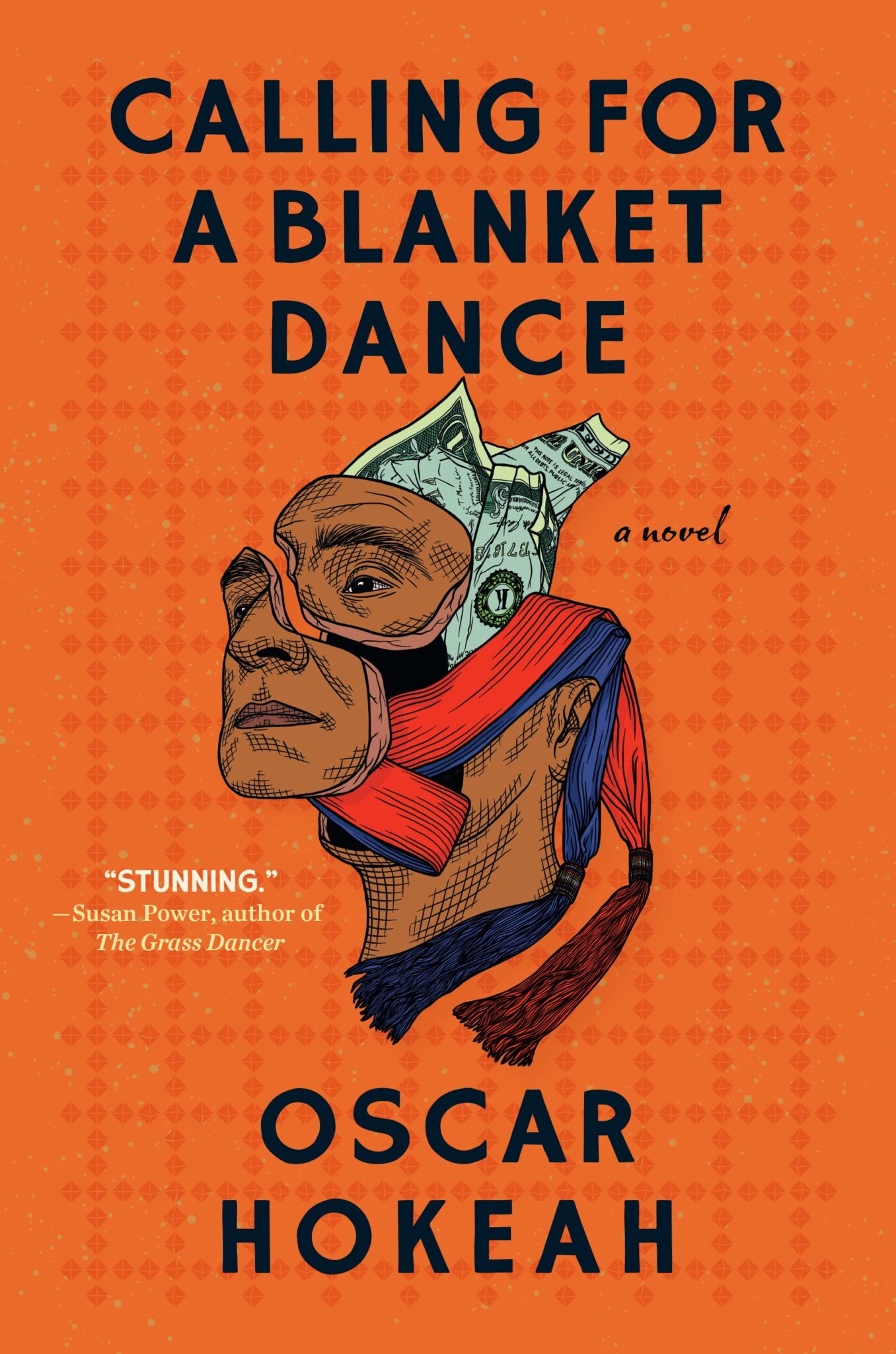 Calling For A Blanket Dance
by Oscar Hokeah
This novel, inspired by Hokeah's experience and Native American and Mexican heritage, tackles issues like financial instability, imprisonment, alcoholism, and the search for a familial identity, told through multigenerational POVs. It follows Ever Geimausaddle as he navigates hardships throughout his life, such as his father being brutalized by police and his mother's issues with employment. As an adult, he's faced with the choice to relocate and, in contemplating that, must decide the type of person he wants to become. Pub Date: July 26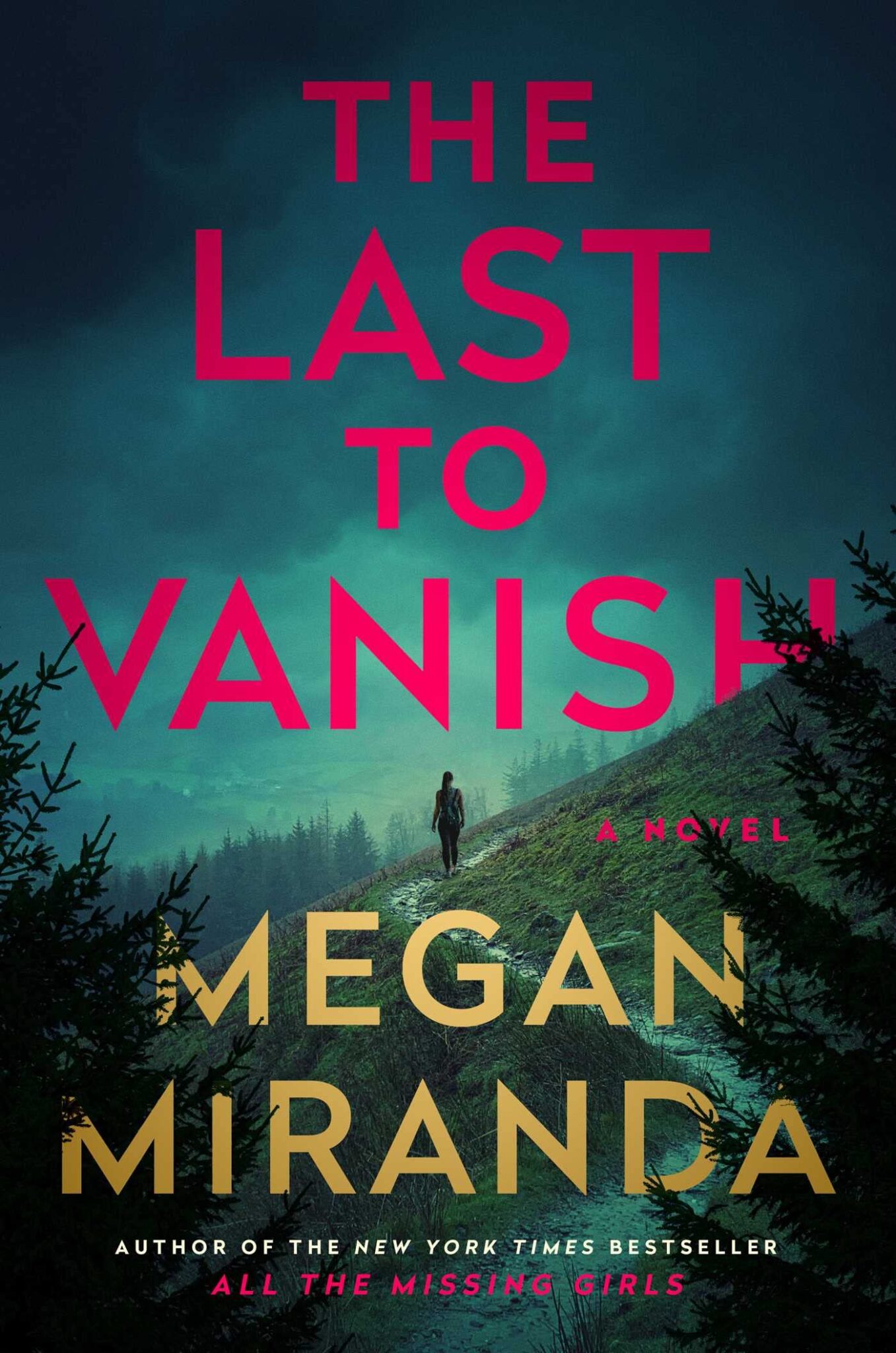 The Last To Vanish
by Megan Miranda
Megan Miranda fans, the wait is over. The Queen is back with another twisty thriller. This one takes place in a North Carolina town near the Appalachian trail whose major attraction is a quaint inn called Passages Inn… and whose claim to fame is a series of disappearances that go back decades. Newcomer Abigail Lovett starts rubbing people the wrong way when she starts asking questions about what happened. Pub Date: July 26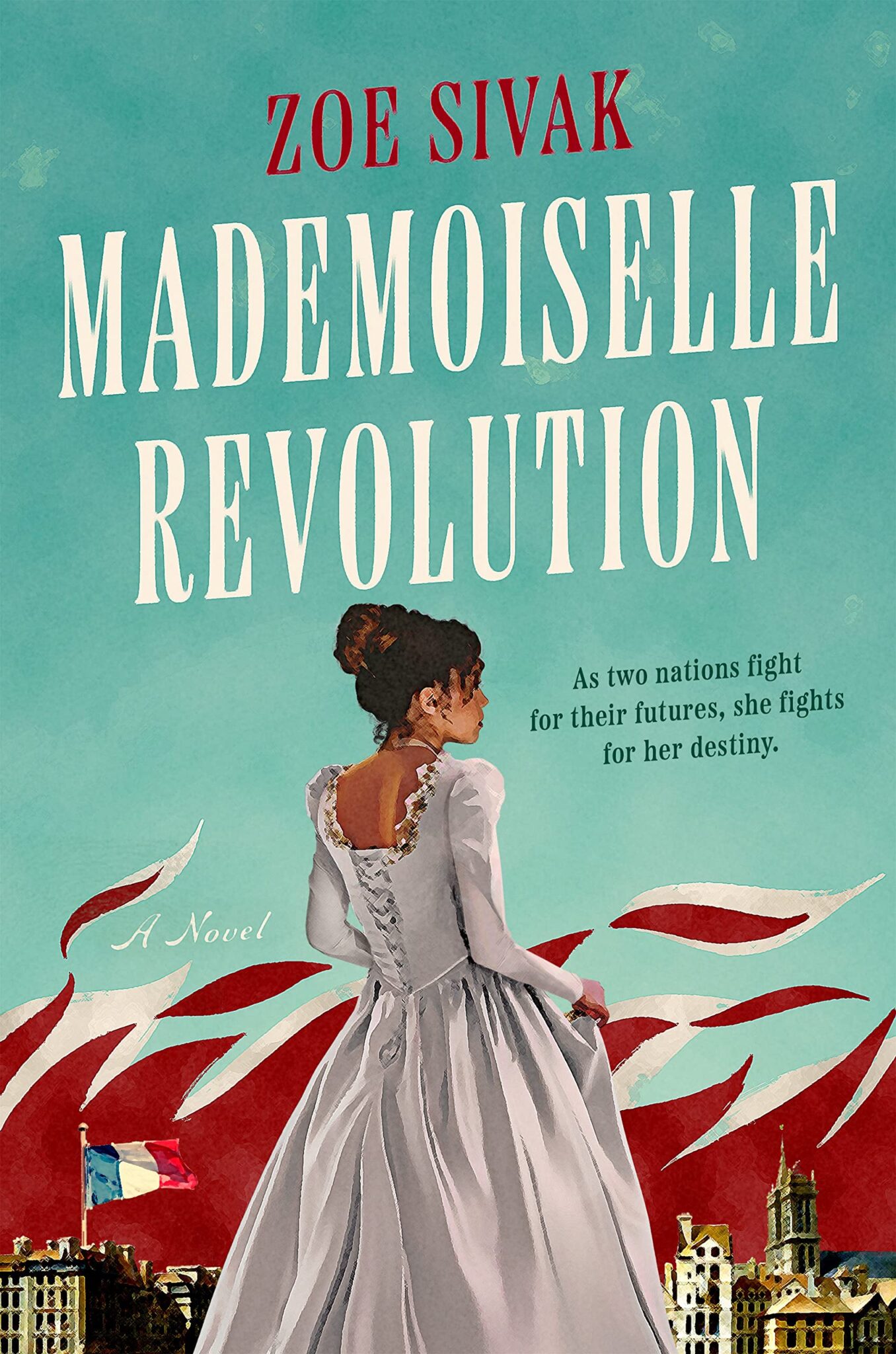 Mademoiselle Revolution
by Zoe Sivak
Sivak's debut is a historical fiction novel about a biracial and bisexual woman, Sylvie de Rosiers, who lives a relatively comfortable life in Saint-Dominque (later Haiti). Her life is uprooted when she flees to Paris during the uprising in the 1700s, only to connect with the minds behind the French Revolution. Pub Date: August 2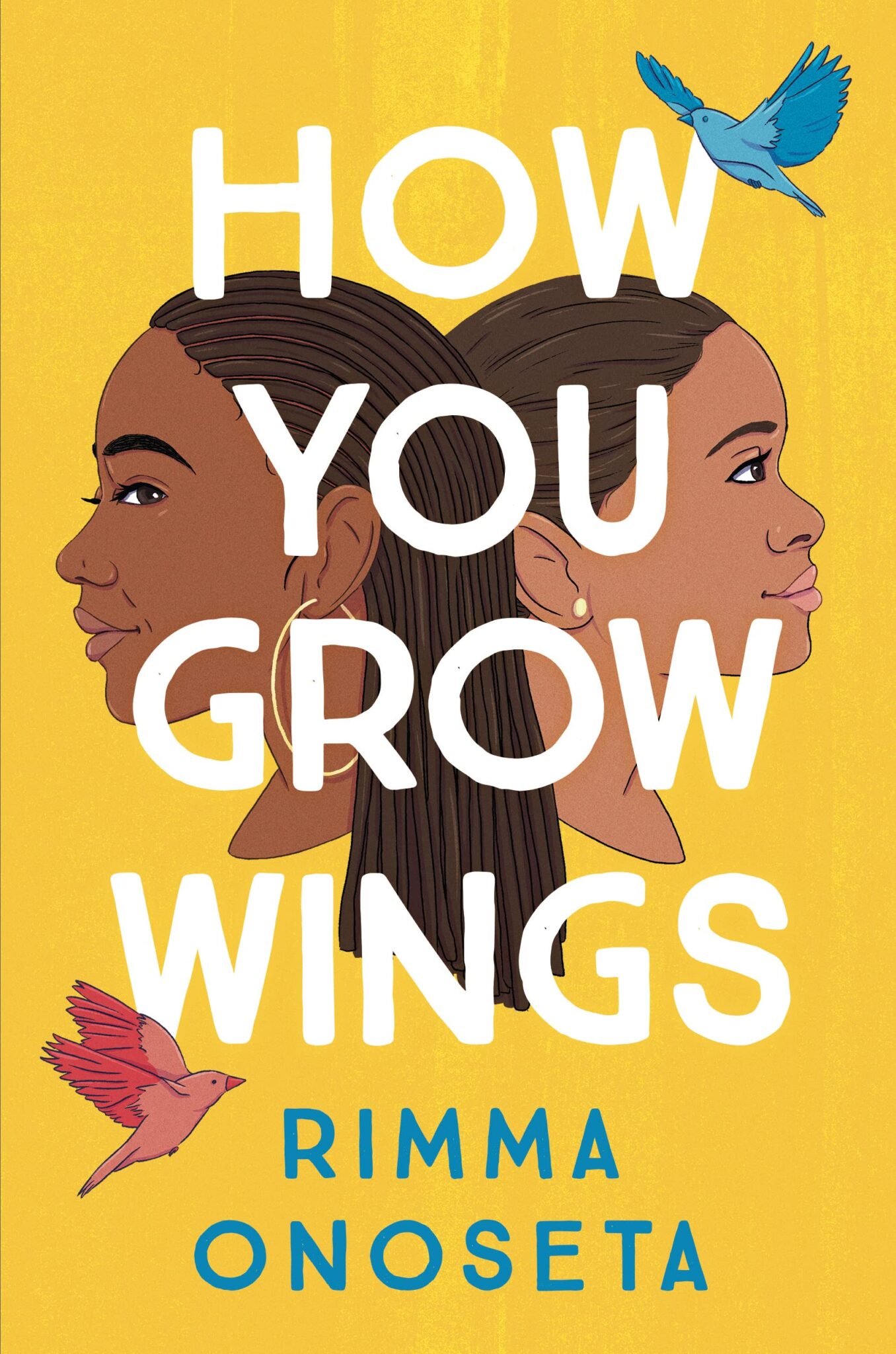 How You Grow Wings
by Rimma Onoseta
With an over 4.5 star rating on GoodReads, this novel is one you won't want to skip. It's about two sisters who are polar opposites and living with an abusive mother. Both sisters leave the home, but under vastly different circumstances, which changes the course of their upbringings. When they're reunited, they are forced to reckon with how much their paths have diverged. Pub Date: August 9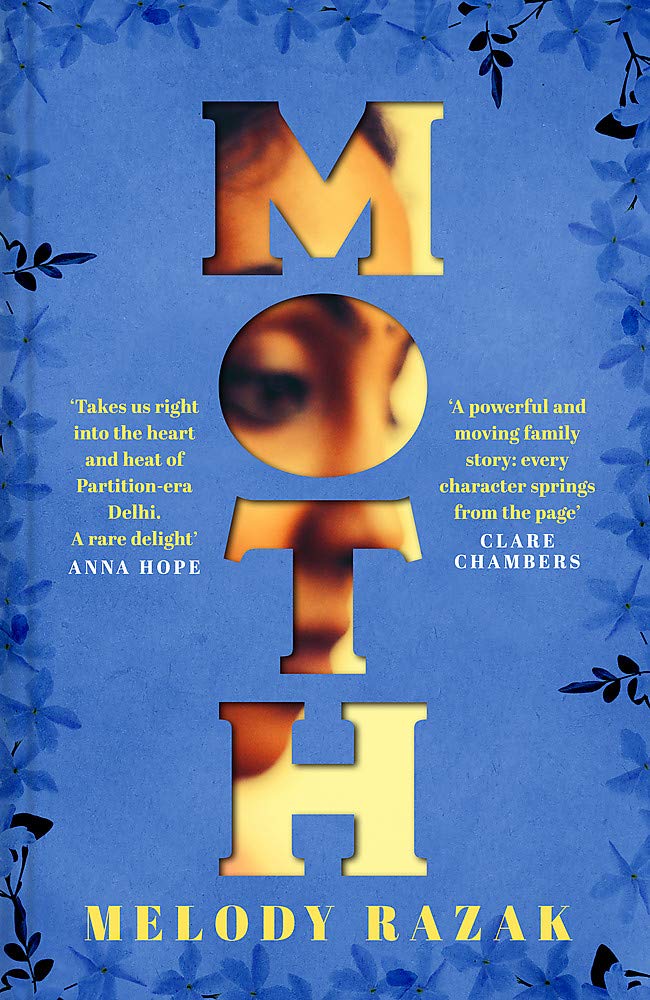 14-year-old Alma is set to be married, even though her parents are worried she's too young. It's Delhi, 1946, and political unrest threatens to throw the city into chaos. Alma's grandmother meddles in the engagement, which sets off a series of events that divide the family. Pub Date: August 9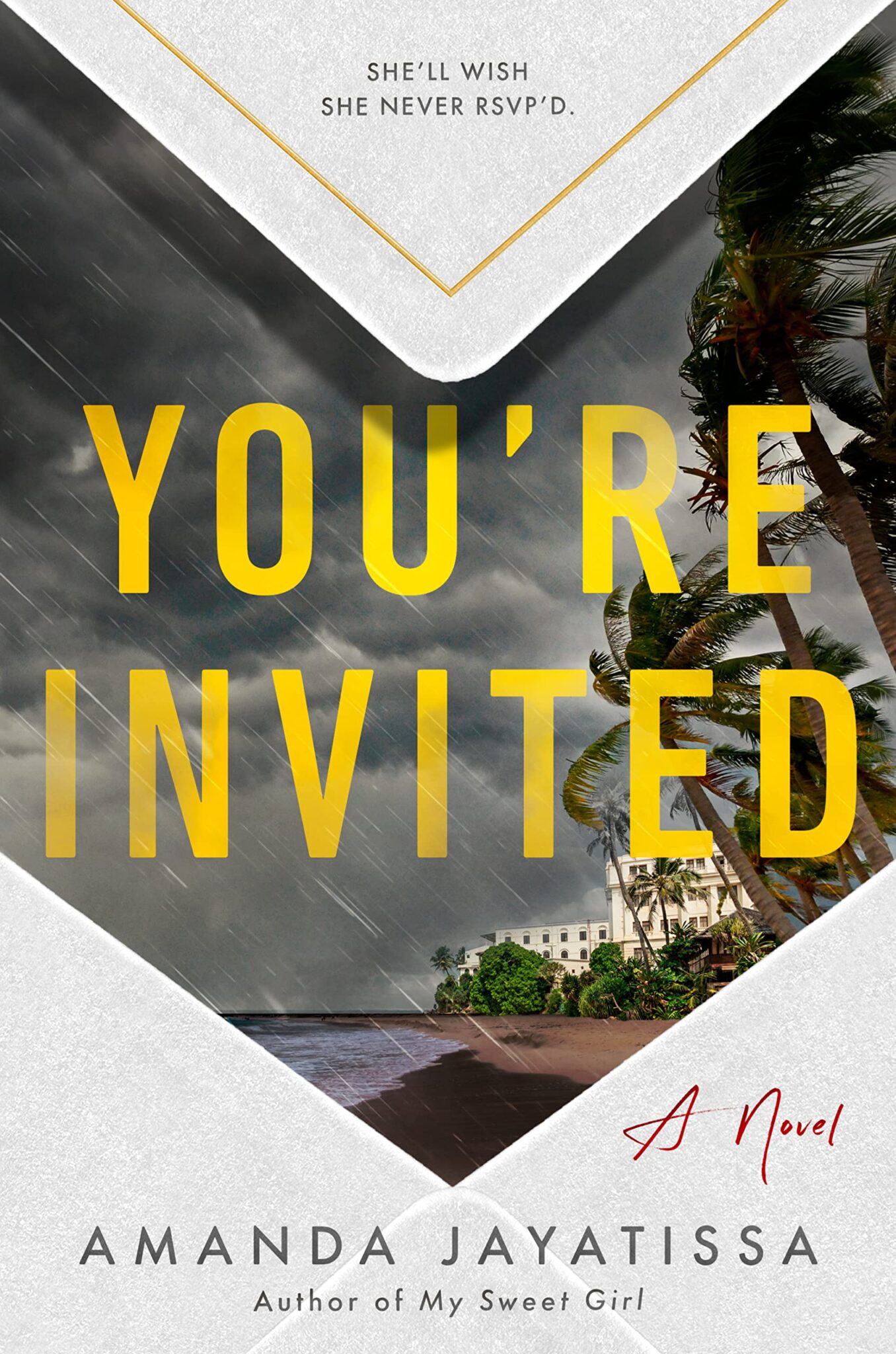 You're Invited
by Amanda Jayatissa
After receiving rave reviews for My Sweet Girl, Jayatissa returns with another gripping thriller about a bride who disappears, and her best friend, who might know more than she lets on. Amaya is surprised to receive an invitation to her former best friend Kaavi's wedding in Sri Lanka, since she's only gotten radio silence from Kaavi for the past few years. She's even more surprised to find out who the groom is: her ex. Amaya knows then that she has to stop the wedding from happening. Told in alternating POVs from Amaya's perspective leading up to the wedding and interviews with guests afterwards, you'll have to try to piece together what happened and figure out just how reliable of a narrator Amaya really is. Pub Date: August 9
Image: Les Anderson / Unsplash
15 Instagrammable Books To Read This Summer
Before this weird excuse for that season we used to call summer ends, it's about time I publish my list of the best books to read solely for your IG aesthetic. That's right, I'm talking about my annual Instagrammable books roundup! They say don't judge a book by its cover, but that's exactly what we're doing here. But don't worry, because the books themselves are obviously worth reading.
(March 12, 2020)

This book has been described as Mad Men meets Big Little Lies, which is funny because the cover is very Little Fires Everywhere. And for good reason, I think! It starts when a fire (Little Fires Everywhere) destroys the office of a prestigious ad agency (Mad Men) and three ambitious women all find themselves under the microscope, since each of them has a motive for revenge.
(April 2, 2020)

Truthfully, I opened this book and was already not excited: woman marries super-rich, handsome guy who is clearly abusive but she's too blinded by his looks and status to see it, then she's left high and dry when he leaves her for a younger model? Yawn—or so I thought. What makes The Golden Cage not cliche, and, actually, a gripping page-turner, is that protagonist Faye is incredibly smart, with a dark past of her own. She won't go down without a fight, and not before her ex-husband's life is ruined.
(June 2, 2020)

Told through three different points of view, this beautiful novel is a debut for the ages that you'll fly through in one sitting. Themes like class, fate, corruption, and justice make this book perfect for your summer reading list as three unforgettable characters with big dreams find themselves entangled in the wake of catastrophe in contemporary India.
(June 16, 2020)

Fudging the requirements of this list a bit because the paperback is what's new this summer, but I'm still counting it. And who wants to lug a hardcover to the beach anyway? Diaz's debut earned her the 2019 Whiting Award, as well as a whole slew of critical praise, so you know it's good. The memoir chronicles her upbringing in housing projects of Miami and Puerto Rico. She was, by her own admission, a runaway, a high school dropout, a suicide risk, and a street fighter. She was also the queer, biracial, displaced daughter of an absent father and a mother who struggled with mental illness.
(June 30, 2020)

From the king who brought us Crazy Rich Asians, Kevin Kwan is back with a dazzling love triangle that's sure to spice up your summer. It follows Lucie Churchill, who is torn between her WASP-y fiancé and George Zao, the man she adamantly denies having feelings for (so relatable). This book gives those of us stuck inside our studio apartments a look at fame, fortune, and travel, all while taking a jab at racism and snobbery. 
(July 7, 2020)

If you watch The Bachelor, this book is the takedown we've all been waiting for, and Stayman-London is hardly subtle about it, which I love (ABC is called ABS in the book, Fleiss is Faust, need I say more?). In One To Watch, plus-size fashion blogger Bea Schumacher gets drunk one night and writes a scathing hit piece on the Bachelor Main Squeeze franchise's lack of diversity, which goes viral overnight. But then, ABS does a surprising thing: they ask Bea to be the next Bachelorette Main Squeeze. Fun, sexy, and full of heart, you'll devour this book in a day.
(July 14, 2020)

Emily Proudman just lost her job, her acting agent, and her apartment—all in one day. Rough. To say the least, she's desperate. But when she runs into Scott Denny, the charming and successful CEO of the company she just got fired from, he offers her a summer job at his remote French estate that seems too good to be true. Her summer starts out totally Instagrammable, filled with plenty of day-drinking by the pool with Scott's wife Nina and their mysterious daughter Aurelia, but soon, Emily realizes that Scott and his family are hiding something. If she doesn't stop snooping, things may turn deadly.
(August 4, 2020)

I'm not even a lawyer, but this book feels so quintessential Big New York Law that anyone who even has one friend who went to law school will probably find this relatable. Alex Vogel has always been a high achiever who played by the rules: Harvard Law School, prestigious job at the biggest law firm in NYC, longtime boyfriend. But soon she gets seduced by the money of big law and the charm of her coworkers… and suddenly she might want to take a walk on the wilder side. When an incident reveals the dark culture of the firm (you can probably guess what), Alex is thrust in the middle and forced to decide between keeping her job and friends and doing the right thing.
(August 4, 2020)

When a mother in southeastern Nigeria opens her front door to find her son's body wrapped in colorful fabric, it sends a shockwave through the family. The Death of Vivek Oji explores the electrifying story of one family's struggle to understand their mysterious child and a heart-stopping act of violence that changes their lives forever.
(August 4, 2020)

After her abusive husband dies, Trinidadian native Betty Ramdin and her son, Solo, take in a lodger, Mr. Chetan, and the three eventually pull a Modern Family and form an unconventional bond. But one night, Solo overhears his mom spill a secret, causing him to flee all the way to NYC. Mr. Chetan continues to love and support his adopted family—until a secret of his own is revealed.
'Luster' by Raven Leilani
(August 4, 2020)

New Yorkers, I dare you to not find this novel relatable af. Edie is stumbling around her 20s, sharing an apartment in Bushwick, hooking up with the wrong people, working a job she doesn't care about. But then she meets Eric, a digital archivist in an open marriage with a woman who performs autopsies for a living. (I always said the next time I'd open up to someone would be on an autopsy table…) Edie then finds herself unemployed and invited to stay in Eric's home—though not by Eric, by his wife. And then sh*t gets compliated.
(August 4, 2020)

Telenovela lovers unite! For those of us who have felt empty since Jane The Virgin ended, You Had Me at Hola is the cure. After Jasmine Lin Rodriguez goes through a messy public breakup, she returns home to New York City to star in a new bilingual rom-com. Jasmine is determined to be a leading lady who doesn't need a man, but when she gets partnered with telenovela hunk Ashton Suárez, they both end up with more than they bargained for. Will their mounting feelings for each other upend their lives?
(August 11, 2020)

Even people who are "not short story people" (me tbh) will find themselves captivated by A House Is Not A Body, which has stories ranging from a young painter living alone in San Francisco who begins a secret romance with one of India's biggest celebrities to an exhausted mother who watches as a California wildfire approaches her home and more.
(August 18, 2020)

The cover is so gorgeous I can't stop staring at it. And once you pick up this gripping thriller, you won't want to put it down. Sylvie Durand has tried to forget La Reverie, her paradoxically named country home in the French countryside. Let's just say, bad things have happened there. But when a fire calls her back to care for the property, she's forced to confront the past she wants to put behind her. And that means confronting the memory of her first daughter, Elodie: beautiful, manipulative, reminiscent of one of the Manson girls, gone by age 14.
(September 1, 2020)

So this isn't out until September, sue me. That's what preorder is for!! So. Set in Ghana, His Only Wife is like a Crazy Rich Asians for West Africa. It follows Afi Tekple, a young seamstress, who is arranged to marry Eli, the successful son of her family's benefactor. Score. Eli's family agrees to the marriage because they want to get him away from his mistress, and Afi and Eli marry sight unseen (*Love Is Blind voice*), meaning Eli isn't even at the wedding. Afi moves into his luxury apartment, gets used to her fancy new lifestyle, and finally meets Eli. The problem? Eli doesn't magically stop caring about his mistress just because he's married. *Pretends to be shocked*
Images: Jairph / Unsplash; Algonquin Books of Chapel Hill (3); Farrar, Straus & Giroux; Gallery Books; HarperCollins (2); Knopf Doubleday (3); Penguin (2); Random House (2); St. Martin's
The Betches Summer 2020 Reading List
The summer solstice happened last weekend, meaning it's officially summer (even if we all think summer begins on Memorial Day). That means we have a whole new bunch of books to get through! Guess the f*ck what, even if we can't get drunk on rooftops, we have so much time to read. Wow, okay, I sound like a middle school librarian, but it's true. From gripping thrillers to LGBTQ romances, from vivid historical fiction to empowering memoirs, there are so many good books coming out this summer (or that are already out). If there were ever a time when we needed an escape, it would be the middle of a goddamn pandemic. So here are some books coming out this summer that you need to read, whether on the beach (wearing a mask, six feet from others) or just in your bed. 
May 12, 2020

Attention theater kids, you'll love this charming read that takes place at a theater camp. Once upon a time, Charlie Savoy was the hottest actress in Hollywood, destined for superstardom—until she got too caught up in the partying (you hate to see it). Ten years later, she's forced to spend her summer volunteering at the summer theater in the Berkshires that launched her career. Even though Charlie is born to do this, it's not smooth sailing. The artistic director of the camp is none other than her former flame aka ~the one that got away~, and when Charlie's old rival gets brought on set, her summer threatens to turn into a tragedy real quick.
May 19, 2020

Have you ever said a hilarious joke that got no laughs, only to have your friend repeat it a little louder and get all the credit? I imagine that's a small-scale version of what Claire Martin feels when she gets kicked out of her band right before they get super famous for a song she wrote. Dejected, Claire takes a gig as the playgroup musician for a group of young Manhattan moms. As she befriends the moms, she discovers these ladies have much bigger problems to worry about than which Lululemon leggings to wear that day. The perfect summer read, Happy & You Know It is basically like The Assistants but with rich moms, or like Mean Girls mixed with The Nanny Diaries.
May 19, 2020

It's 1980, and 18-year-old Brian has just moved to New York City from his suffocating hometown in Ohio with hopes of a free, bright future. Soon, the AIDS epidemic ravages the city, taking the lives of his partner and many of his friends. It leaves Brian to contemplate staying in New York, where he can embrace his sexuality but is surrounded by death, or returning home to Ohio, where his family's ignorance prevents him from being his full self. Cue the more heartbreaking songs on the RENT soundtrack.
May 26, 2020

Claire is a "parachute," a teenager from China sent to study abroad at an American high school and live with a host family. Claire's host family includes smart and shy Dani, who's being raised by her single mom. Though they're going to the same school and living under the same roof, Claire and Dani couldn't be more different. Claire is beyond wealthy, while Dani is on scholarship, working at her mom's house cleaning business to make extra money to keep the family afloat. They spend most of the year avoiding each other, until an act of violence forces them together and they realize they're not as different as they think.
May 26, 2020

Berkley's first queer romance book is here, and it's about damn time. Anyone who loves celebrity gossip and is fascinated by the ins and outs of Hollywood will enjoy this tale of a high-powered Hollywood producer who falls in love with her assistant—smack dab in the middle of the #MeToo era.
June 2, 2020

So, We Were Liars is one of my top five favorite books, which is why I'm so excited E. Lockhart is back with another fun read that's full of surprises. Adelaide Buchwald survives a near-fatal family catastrophe and a breakup, after which she spends a summer falling in and out of love a thousand times (me after going on one date), all while confronting her ideas about love and her own secrets.
June 2, 2020

If you like fantasy but prefer your fantastical elements to be injected into a real-world setting as opposed to a completely new world, then A Song Below Water, which is about teen mermaids who live in Portland, will be just the thing for you. Tavia is forced to keep her siren identity a secret, and what makes it even harder is that Portland doesn't have many Black people, let alone Black people with magical powers. But she has her best friend Effie, and together they navigate crushes, family secrets, and the ins and outs of high school. That all changes, though, after a siren murder trial, and when Tavia and Effie's favorite fashion icon reveals she's also a siren, tensions start escalating.
June 2, 2020

Want to get the thrill of watching Knives Out again? Lucy Foley's latest page-turner is the next best thing. Very reminiscent of Agatha Christie, The Guest List takes place on an island off the coast of Ireland, where unsuspecting friends and family have gathered to celebrate a wedding. You can probably see where this is going: choppy waters, spotty cell service, and then one of the wedding guests turns up dead.
June 2, 2020

From the New York Times bestselling author of The Mothers comes a new novel about two twins who grew up in a small southern Black community and ran away at age 16. As adults, one twin finds herself back in the very community she tried to escape, while the other secretly passes for white, her white husband knowing nothing about her past. But you can't run from your past forever, which will become evident when the twins' daughters' paths cross.
June 2, 2020

We've all heard celebrities called "#brave" for Instagramming with no makeup or filter (never mind their lip fillers and Botox injections). In this book, Byer reclaims the hashtag to detail her personal journey towards body confidence and to advise her readers on how to say f*ck you to the trolls and haters.
June 2, 2020

Liz Lighty has never felt like she fit in at her small, rich, prom-obsessed Midwestern high school. She's just counting down the days until she can GTFO of there. Her grand plan? To get accepted into the elite Pennington College, play in the orchestra, and become a doctor. NBD. When Liz's crucial financial aid falls through, her plan starts to crumble—until she remembers her school's scholarship for prom king and queen. Liz doesn't want to open herself up to all the judgment and social media trolling that running for prom queen would bring (her school even has its own gossip app, Campbell Confidential, so you know it's catty), but she has no choice if she wants to get into Pennington.
June 9, 2020

Think John Tucker Must Die, but with an uplifting, female-empowerment twist. In The Boyfriend Project, three women learn they're all dating the same man. But instead of ruining his life, they band together to invest in themselves: no men and no dating for the next six months. Samiah, a software developer, is finding it particularly hard to put herself first (can relate). But just when she's on track to finally start developing the app she's been dreaming of bringing to life, she meets her hot new coworker who's hard to resist. Ugh, why does it always happen that way?
June 9, 2020

If you loved Crazy Rich Asians then you'll want to put Last Tang Standing in your cart immediately, because it's like Crazy Rich Asians, but more relatable and funnier.
You: 

Living in Singapore, 34-year-old Andrea Tang is still single, which, as far as Andrea's well-to-do family is concerned, may as well be a crime. Andrea is married to her job, though she is keenly aware of her family's pressure. Told through diary entries, Andrea tries out dating apps, gets wasted (see, I told you it was relatable), falls in love with a rich businessman, dukes it out with a newcomer at her law firm, and navigates the laser minefield that is her family's intricate dynamics and expectations.
June 23, 2020

Head Over Heels is Orenstein's third romance novel, and she's really nailed the millennial romance market. Avery Abrams trained her whole life to become an Olympic gymnast, but when an injury crushes those dreams, she's forced to reassess her life and move back to her hometown. She begins training a promising young local gymnast, and you know sparks are going to fly. But when a scandal rocks the sport, as well as Avery's past relationships, she must reevaluate her world and her past relationships.
June 23, 2020

Set in 1950s Mexico, Mexican Gothic is "a terrifying twist on classic gothic horror" according to Kirkus Reviews. Noemí Taboada receives a letter from her cousin, begging someone to save her from some sort of mysterious peril. Noemí heads to High Place, a house in the Mexican countryside. There she meets her cousin's scary yet handsome husband, his father, and the shy yet mysterious youngest son. Oh, and the house is probably haunted. Will Noemí be able to leave the house?
June 23, 2020

Fans of The Wedding Party, Jasmine Guillory is back this summer with yet another steamy romance, this one set in L.A. Lawyer Olivia Monroe flirts with Max Powell, who turns out to be a senator. Their whirlwind romance leads to them going on secret dates and trying to ditch the paparazzi, until they're forced to go public with their relationship and Olivia faces a ton of scrutiny, which causes her to question if the relationship is really right for her.
June 23, 2020

One of Oprah Magazine's 21 Romance Novels That Are Set to Be the Best of 2020, Take a Hint, Dani Brown is another charming romantic novel from Talia Hibbert. Danika Brown is over romance—it only brings disappointment (relatable). What she wants is a no-strings-attached, friends with benefits situation. Which is what she thinks she's found in Zafir Ansari, the hunky security guard at her workplace. That is, until he rescues her in a fire drill gone awry, and the video of that rescue goes viral and people from all corners of the internet start shipping them. So Dani thinks, what the hell, might as well fake it for the publicity for a little while. We all know where this is going to go! Should I start fake-dating more people "for the publicity"?
June 23, 2020

If you liked The Perfect Wife by JP Delaney, then get ready for more robots behaving badly in Nina Laurin's newest thriller (and if that name sounds familiar, it's because Laurin's The Starter Wife landed on my reading list last summer). But this one is like Smart House, but deadly. After a brutal home invasion, Cecelia, her husband, and 3-year-old daughter move into a new house with a complex AI-operated security system. All is well and good, until Cecelia starts suspecting that the system has killed the occupants of the house, and she's next.

June 30, 2020

Fans of Diet Starts Tomorrow will love this one! Millennials Maren Gelb and Devin Avery create Richual, a wellness app for women that's founded on the principle that women being happy with themselves and practicing self-care are forms of resistance against the patriarchy. Devin is the perfectly toned body and face of the app, while Maren is the behind-the-scenes cynic who makes everything work. Self Care is a smart critique of the wellness industry and how toxic, fake, and white-washed it is—but it's also a very fun read.
July 1, 2020

This one starts out as a breezy beach read, then gets real dark, real quick. Lindsey graduates from Bowdoin at the height of the recession with dreams of working in art galleries and a mountain of student debt. She ends up working as a nanny for a rich family on Martha's Vineyard for the summer, where she befriends Georgie, the 14-year-old girl she babysits along with her 5-year-old brother.
July 8, 2020

Pretend we live in whatever world Cinderella takes place in. It's 200 years after she found Prince Charming, and now teenage girls are required to appear at the Annual Ball, where the men of the kingdom select their wives. If they do not find a suitable match, the unchosen girls are never heard from again. Harsh. Enter: 16-year-old Sophia, who would much rather marry Erin, her best friend. At the ball, Sophia flees and finds herself face-to-face with Constance, the last known descendant of Cinderella. They team up to bring down the king once and for all. This fantasy-meets-queer romance-meets-patriarchy smashing novel is a fun read for everyone waiting for their fairytale ending.
July 18, 2020

Taking place in 1974 in the Cherokee Nation of Oklahoma, 15-year-old Justine is part of a family of tough, loyal women, presided over by her mother and grandmother after Justine's father abandoned the family. Justine's mother becomes heavily involved in the Holiness Church, a community Justine finds kind of terrifying and definitely restrictive. Justine tries her best to be a good daughter and devoted follower until an act of violence changes her thinking forever. As an adult with a daughter of her own, Reney, Justine tries to find stability in Texas amidst the oil bust of the 1980s—which is easier said than done.
July 21, 2020

Need a fun, flirty YA novel that takes on the "fake-dating" trope Netflix loves to push on us in all their teen movies? Look no further than NYT bestselling author Sandhya Menon's latest release, which follows two frenemies, Pinky and Samir, who each have their quirks. After Samir loses an internship, Pinky invites him to be her fake boyfriend, offering a new internship if he accepts. He needs something to do; she needs her parents to stop coming at her over her life choices. What could go wrong? Well, aside from them bickering constantly and struggling to sell their relationship…
July 21, 2020

Samantha Downing's highly anticipated novel He Started It is finally here! If you've read any of my book roundups in the past, then I feel like you can recite my little summary from memory, but here we go one more time. He Started It follows a family of liars and grifters who are on a road trip to disperse their grandfather's ashes, and at the end, collect a big insurance payout. But as you can guess, when scamming runs in your blood, you can't even trust your own family members.
July 21, 2020

The Woman Before Wallis is historical fiction, but stay with me! It's so dramatic you'll think you're reading a tabloid, or like, watching The Crown, I guess. Picture this: the summer of 1926. Thelma Morgan, the daughter of an American diplomat, marries Viscount Duke Furness and becomes a member of the British aristocracy (sounds familiar…). Because she's now a member of the ~elite~ she meets the handsome young Prince of Wales, with whom she starts having an affair. This is already precarious AF, and only gets more wild when Thelma's sister, Gloria Morgan Vanderbilt, gets embroiled in a scandal of her own.
July 28, 2020

First of all, love the title, even though it has now knocked one potential off my prospective memoir titles list. But anyway, influenced in part by the author's time as Carrie Fisher's beloved assistant, A Star Is Bored is about Kathi Kannon, a famous actress known for her role in a blockbuster sci-fi movie, and Charlie Besson, her new assistant. They laugh, they cry, they go on late-night shopping sprees, and they form a friendship that goes beyond that of the typical boss/assistant relationship.
July 28, 2020

After A Stranger On The Beach, Michele Campbell is back with her latest thriller, The Wife Who Knew Too Much. Tabby is a waitress living a fairly modest life, but she never forgot her high school summer love, Connor. He was handsome, kind, and extremely wealthy—which was why his family hated her, and broke them up. So when he shows up back in her life, it seems like a miracle, except there's a catch: he's married. And not just married—married to the incredibly wealthy and powerful Nina Ford. But he of course assures Tabby they're getting a divorce (sure, Jan), but there's another catch: if he's caught cheating, he gets nothing in the divorce settlement. So Tabby and Connor continue their affair in secret, until Nina winds up dead. Guess who's the number one suspect?
July 28, 2020

17-year-old Tracy Beaumont diligently writes letters every week to Innocence X, asking the organization to look into her father's case. Her father is an innocent Black man on death row, and after seven years of begging Innocence X, Tracy's father only has 267 days left to live. Then, things get even worse for Tracy: her brother Jamal is accused of killing a white girl. With Jamal on the run and her father on death row, it's up to Tracy to investigate what really happened and try to save her family.
July 28, 2020

Named a most-anticipated book of 2020 by Entertainment, Today Tonight Tomorrow is an instant classic rom-com. This enemies-to-lovers plot involves Rowan and Neil, two high school students who have been bitter rivals on everything: test scores, student council elections, and even gym class. When Neil is named valedictorian, Rowan's last chance at victory is to defeat him in Howl, a senior class scavenger hunt. Of course these two decide to form an alliance, and I think you can guess where this alliance ultimately takes them.
'Caste' by Isabel Wilkerson
August 4, 2020

In her latest work of nonfiction, Pulitzer prize-winning author and journalist Isabel Wilkerson demonstrates, through deeply researched stories about real people, how America has been shaped by a hidden caste system. She traces the caste systems of India, America, and Nazi Germany, exploring eight different criteria that link them all. In addition to diving deep into how this insidious system affects us every day, she offers ways America can break these divisions and try to move past them.
August 4, 2020

In a fiction debut that's all too timely, The Comeback is about Grace Turner, a young actress who returns to Hollywood after retreating from the public eye. Nobody but Grace knows the reason for her disappearance from Hollywood: the manipulation and abuse from a director who controlled her life. When she's asked to present this same director with a Lifetime Achievement Award, Grace must come back into the public eye to demand justice.
August 4, 2020

If you read Sadie and binged Serial, then The Night Swim was basically written for you. Rachel Krall started a true crime podcast that became a viral sensation and set an innocent man free. Her podcast's success has turned her into a go-to figure for people hoping to be exonerated for crimes they didn't commit. Now, her podcast has taken her to a small town torn apart by a rape trial: a golden boy—a swimmer destined for the Olympics—is accused of sexually assaulting the granddaughter of the police chief. But as Rachel investigates this case, she's also getting mysterious notes sent to her by someone who claims their sister who officials say was drowned, was in fact murdered. When Rachel starts asking questions about the drowning, suddenly everyone in town clams up, and the past and present collide as she investigates both cases.
August 4, 2020

New York Times bestselling author Karin Slaughter is back this summer with her 20th novel, The Silent Wife. In Atlanta, a young woman is attacked and left for dead. The case goes cold until FBI investigator Will Trent gets an assignment that brings him to a prisoner who recognizes the M.O. of the attack—because he's been falsely sitting in prison for it. Now, Trent must solve the old case in order to solve this new one.
August 4, 2020

If you enjoyed Lim's debut, Natalie Tan's Book of Luck and Fortune, then get ready for her follow-up, which is just as full of heart, heritage, and food. Lim's latest tells the story of Vanessa Yu, a fortuneteller who's been able to see people's futures at the bottom of their teacups for as long as she can remember. Try as she might to avoid using her powers, people's fortunes seem to find their way into Vanessa's life to f*ck things up. When Vanessa sees death for the first time after an appointment with a matchmaker (because, oh yeah, her romance life is also nonexistent), she decides she needs to get rid of her abilities, so she jets off to Paris. There, she learns more about her gift, and comes to realize that knowing your destiny isn't a curse, but not being able to change it is.
August 11, 2020

In this coming-of-age novel, 16-year-old Nevaeh Levitz never thought much about her biracial identity as a girl with a Black mom and Jewish dad, until her parents split up and she moves to her mom's home in Harlem. There, she gets sh*t from family members who think she's too privileged, pampered, and white-passing to relate to the injustices Black people face. On the other hand, her dad wants her to have a belated bat mitzvah instead of a sweet 16, which would earn her sh*t from the privileged kids at her private school. You can't win! Neveah stays silent until a secret from her mom's past, falling in love, and witnessing the racism her family faces firsthand forces her to find and use her voice.
'Raybearer' by Jordan Ifueko
August 18, 2020

Need a good YA fantasy read? Look no further than the debut from Jordan Ifueko, which is already getting buzz from Seventeen, Buzzfeed, Entertainment Weekly, and now me, and is based on West African traditions and mythology. Protagonist Tarisai was raised in isolation by an absent mother called The Lady, but she has always longed for a family. The adventure begins when The Lady sends Tarisai to the capital of the global empire of Aritsar to compete with other children to be chosen as one of the Crown Prince's Council of 11. If chosen, she'll be joined with the other Council members through the Ray, a bond deeper than blood—what Tarisai has always wanted. But The Lady has other plans, and wants her to kill the Crown Prince. Will Tarisai be strong enough to stand up on her own?
'Winter Counts' by David Heska Wabli Weiden
August 25, 2020

When the American justice system consistently fails you and your people, you become a vigilante of sorts—or at least, that's what Virgil Wounded Horse does for the Rosebud Indian Reservation in South Dakota. Things get personal, though, when heroin enters into the reservation and finds its way to Virgil's own nephew. With the help of his ex-girlfriend, he decides to find out where the drugs are coming from and how to make them stop. As Virgil starts to put the pieces together, he's forced to come to terms with his own demons and grapple with what it means to be Native American in the 21st century.
Images: Dan Dumitriu / Unsplash; Barnes & Noble (36)
Get Started On Summer Reading With An Excerpt Of 'Someone Else's Secret' By Julia Spiro
When it comes to picking out a new book, sometimes I can be indecisive. I'm about to commit to this for the next 300 or so pages. Do I want something summery? Something dark and twisted? Or maybe more domestic fiction? It can be a real head-scratcher. That is, until I picked up a copy of Someone Else's Secret by Julia Spiro, out July 1, 2020, which has a little bit of everything.
After graduating Bowdoin with a degree in art history, no job prospects, and no trust fund or rich parents to fall back on, Lindsey takes a job as a nanny for Carol and Jonathan, a well-to-do and well-connected couple on Martha's Vineyard. In her care are 5-year-old Robert aka Berty, and 15-year-old Georgina aka Georgie. Lindsey, who comes from a working-class family, doesn't exactly fit in with the types of people who summer on Martha's Vineyard (and use "summer" as a verb), like her fellow Bowdoin alum Joanna and her friends. Over the course of the summer, Lindsey and Georgie develop a sort of friendship (or at least, an understanding), until an act of violence shatters their bond. Someone Else's Secret is Julia Spiro's first novel, and Betches readers can get an exclusive excerpt right here, before it comes out on July 1.

When her alarm went off at seven thirty, Lindsey was already awake. She had woken up a few minutes earlier and stayed still in bed, staring at the warm sunlight streaming in through the shutter slats, painting the room in bright stripes.
She'd decided not to tell her mom, or Rose, or anyone, about her strange encounter with Jonathan the night before. He was probably just an awkward guy, she told herself. Not everything has to mean something, she resolved. And what was he going to do, really? Hit on her in his own house with his wife and kids there? This was real life, she told herself, not a bad movie.
She thought about Dylan as she rose from bed: the ease of his walk, the way he had gently picked up her bike, the way he had looked at her directly in her eyes when he said goodbye, the way his hand felt on hers, the way her feet seemed to float off the ground when they were together. But in the light of day, she was angry with herself for thinking about him. It was obvious that Dylan wasn't part of Joanna's crowd. He was a local, a townie, and even though Lindsey had been on the island for only one night, she knew already that someone like him wasn't part of her future plans. Where could it possibly go?
She brought her phone with her into the bathroom, skimming through emails as she brushed her teeth. Her phone buzzed with a text from a number she didn't recognize. Dylan, she thought. She opened the text. Hey, it's Brian. Nice meeting you last night. Hope to see you around.
Lindsey let the brush hang out the side of her mouth, foam frothing at the corner of her lips. Brian? She had to reread the text again. She had barely spoken to him last night. She hadn't given him her number. There was no way he would have gotten it from Joanna, she thought.She decided not to respond. And then it occurred to her: Did Brian suspect that she had done something to his car? Was this his way of telling her that he knew?
She remembered then that Brian was a Fitzgerald, that he was part of the family who Jonathan had told her owned the art gallery. She'd been on island one night, and she'd already jeopardized her entire future. She rubbed her eyes with her palms. She knew that she had to walk a tightrope with Brian. She didn't want to lead him on, but she couldn't be rude either. She would respond to him later.
For now, she had to focus on her job. It was time to get breakfast ready for Berty. It was a beautiful, clear, sunny day, and she could feel the heated sunshine through her window, even in the early hours. Berty had tennis after breakfast, and then Lindsey was taking him over to the beach club. She was looking forward to that. She could see the club from the Deckers' living room, just across the outer harbor. The club's shoreline was dotted with red, white, and blue wooden cabanas that made the beach look like a traveling circus. From what Carol and Georgie had told her about the club, it seemed like Berty would have plenty of things to do there to keep him busy. She might even get to relax a little bit.
Downstairs, she heard voices as she rounded the bend into the kitchen. Carol and Jonathan sat at the island, each sipping a mug of coffee. They both looked up as she walked in, and for a moment, Lindsey thought they seemed surprised to see her, like she had accidentally interrupted some intimate moment. She had started to feel that way a lot in the Deckers' house, like she was always in the wrong place at the wrong time.
"Lindsey," Jonathan said after a second. "Good morning." He smiled at her, a wholesome, friendly smile that belonged to a father, a doting husband, someone reliable and loyal. He seemed to be an entirely different person than the one she had seen last night. Had he mentioned to Carol that he'd seen her come in? she wondered. For a moment, she considered whether she had been drunker than she'd thought. Maybe she had exaggerated the interaction in her mind as being something more menacing than it actually had been.
"Good morning." She fidgeted, wishing that she'd worn real clothes over her suit instead of a somewhat translucent cover-up.
"Sleep okay?" he asked. Carol still hadn't said anything.
"Yes, great." She felt her voice raise up an octave, sounding too enthusiastic, too eager. "Everything is great." She felt her stomach rumble.
"Good, good," Jonathan said, rising. "I've got to do a little bit of work, and then I've got tennis at ten."
"What time did we all decide to meet for lunch? Two?" Carol asked him, seeming to ignore Lindsey.
"Yes, two." Jonathan gave her a kiss on the forehead, quick but gentle; then he turned and left the kitchen.
Lindsey was left alone with Carol, and despite her terrible encounter with Jonathan the night before, she somehow still felt more awkward with Carol. She smiled and exhaled. "Beautiful day, huh?"
Carol nodded. "It is a beautiful day, yes." She shut her laptop. "Berty is outside, as you can see," she said. Lindsey looked out onto the lawn. Berty was playing with what looked like a doll. "Georgie is already at work. But she'll meet us all at the club later for lunch."
"Great. Sounds good."
Carol went over some of the logistics with Lindsey again—directions to the tennis club, their account number at the beach club, what kind of sunscreen to use on Berty's sensitive skin—though Lindsey could tell it bothered Carol to do so. Her words were curt and quick, and she seemed distracted.
"I've already registered your name with the beach club. All you have to do is sign in when you get there. You can just put whatever you want on our tab. But Berty only gets one ice cream or treat a day." Carol stood and carried her coffee mug to the sink. "See you around two, then," she said and went upstairs. Lindsey felt as though Carol had given her a once-over with her eyes before leaving the room, and she wasn't sure if her expression implied that she approved of her outfit or not.
She called Berty inside for breakfast and made him a bowl of yogurt with granola and honey. He stirred it repeatedly but didn't seem interested in eating. After a few bites, he pushed the bowl away.
"I hate tennis," he whined.
"Well, think about it this way," Lindsey said, leaning on the counter so that she was level with him. "If you go to tennis this morning, then we can have the entire rest of the day to play at the beach. Doesn't that sound awesome?"
"I guess so," he whispered. "Okay."
The walk to the tennis club was only a few minutes. It was part of the yacht club, which was located on the harbor, Carol had told Lindsey, but there was a separate area just for tennis. Berty was in a tennis clinic with other kids his age. When they got to the club, he ran to his group immediately. They were gathered on one of the courts in back. There was a middle-aged instructor on one side of the net with a basket of balls. The kids lined up on the other side; they knew what to do.
Next to the court was a shaded area with some chairs and a watercooler. Five other nannies were already sitting there. One had a magazine open. They glanced up at Lindsey when she arrived, assessing her, the new girl. Some smiled; others didn't. Lindsey sat. She knew that none of them was the mother of any of these kids; it wasn't just that they were slightly too young to be mothers; it was that they looked different from the actual mothers. They weren't as polished; they all seemed a little bit exhausted. It was clear that they weren't there to socialize. They were working. They were outsiders. And she was one of them, a fact that she hated.
Looking around at the other women, she noticed that some of them wore outfits that seemed to be emulations of what Carol and other women in Edgartown wore—the flat, Navajo-style leather sandals, seersucker striped skirts, simple shift dresses—yet something about these girls seemed inauthentic to Lindsey, like they were trying too hard. She gazed down at her own clothing, at the silver Tiffany's charm bracelet that her parents had given her for her sixteenth birthday, and she knew that it was actually her own insecurity, her own feelings of inauthenticity, that bothered her, not theirs. She remembered how out of place she had felt her first week at Bowdoin.
She looked at the text from Brian again, deciding to respond. She started typing something and then deleted it. You too, she finally wrote, hitting "Send" and putting her phone away, deciding that Brian was probably just being friendly.
***
The club was just up the road on the Chappy side. Members Only read a sign on a white picket fence in front of the entrance. Berty swung the gate door open and barreled in. Lindsey stopped at the reception desk briefly. A young girl in a red swimsuit was manning the desk.
"Hi," Lindsey said, keeping an eye on Berty, who had gone ahead but was now waiting and looking back at her, annoyed. "I'm with the Decker family; I think Mrs. Decker called in. I'm Lindsey?"
"You're all set," the girl said knowingly.
Lindsey followed Berty forward, where the club opened up to a sweeping private beach. It was paradise. There was a long dock, at the end of which was a waterslide and a diving board. "Wow," Lindsey said to no one. The air smelled of burgers and saltwater, and there was an army of tan teenage lifeguards in red bathing suits parading around the club.
"Come on," Berty said, tugging her. "I need to get changed."
In the women's bathroom, she got Berty changed into his swim trunks. "Let's go," he demanded impatiently once they were on. She made him wait another minute while she slathered him in sunblock.
Lindsey found a free spot on the beach, and she put her things down and then took off her cover-up. She was glad that she had worn her one-piece. Everyone at the club—parents, nannies, and kids—were all walking around in their bathing suits, but it was somehow still entirely conservative. Thank God, Lindsey thought to herself, imagining the reactions she would have gotten if she'd worn a string bikini.
Berty liked to go off the waterslide at the end of the dock again and again. A couple of his friends from tennis were there, too, and they all took turns going off the slide, climbing up the ladder, and then waiting for their next turn. A bored lifeguard blew his whistle when one of the kids started to get on the slide before the previous kid had swum out of the way.
After a while, Berty was thirsty, so Lindsey took him to the snack bar. He wanted a lemonade. She got herself an iced tea. Decker was all she had to say. She wondered what the final bill was at the end of every summer. There were no prices on the menu. None of that seemed to matter to anyone there.
She and Berty went to their spot on the beach and sipped their drinks. When he was finished, he went and sat on the shoreline and started building a sandcastle. The club really was the perfect setup, Lindsey thought to herself. She could relax and suntan while Berty was just a few feet away, playing. Lindsey sank into her elbows and let the sun blanket her skin. She could get used to this, if this was what her summer was going to look like.
"Boo!" she heard, and she felt someone's cold fingers on her shoulders. She turned. It was Joanna. She was wearing a Shoshanna bikini with a pink gingham pattern and structured cups. Lindsey had seen it just yesterday in the store window of Nell. Joanna practically threw herself down onto the beach, stretching out on one of the towels that Lindsey had laid out, and released a dramatic sigh. Lindsey noticed that she was also wearing the exact Ray-Ban aviator glasses that she had wanted for herself. Now she couldn't get them.
"God, what a night, huh?" Joanna said.
"Yeah," Lindsey responded. It had been a night, though she wasn't sure which part had unnerved her the most: keying Brian's car, meeting Dylan, or the weird conversation with Jonathan. It had all become a surreal blur. "I'm kind of in shock about what"—she paused—"about what we did last night. To Brian's car." She wondered if Joanna knew that Brian had texted her. She opened her mouth to tell her but stayed silent. How would she explain it?
Joanna flipped over onto her belly, propping herself on her forearms.
"Don't worry," she said, swatting at Lindsey's thigh. "It's fine. In fact," she whispered, pushing her glasses down on her nose and peering out over them, looking around, "nobody will ever know that it was us. Brian totally thinks it was someone else." She smiled and raised her eyebrows.
Lindsey was relieved. She didn't like how Joanna had said us. She knew that she had participated in it, but Joanna was the one who'd really done it, in her mind. She just went along with it. Didn't that make her more innocent? she thought to herself.
"Well, that's good, I guess," she mumbled. "Who does he think did it?"
"Some townie guy," Joanna said, shifting her hips to get more comfortable on the towel. "There's this guy who has a rivalry with Brian. Something that happened in the fishing derby a few years ago. I don't know; it's so stupid. But I guess Whitney saw the guy driving by the party last night on his way back from the beach, so obviously now everyone thinks that guy did it. Makes total sense." Lindsey's stomach tightened. Dylan, she thought to herself. As if Joanna knew that Lindsey felt guilty, she continued. "I mean, the townie guy would have done it anyway. I mean, probably." She paused. "Like, they're enemies. But whatever, who cares? The point is, Brian got what he deserved, and no one knows that it was us."
"Joanna," Lindsey said with caution. "That guy . . ." She paused. She wasn't sure how much she wanted to tell Joanna. She could sense already that she'd be judged if she revealed that Dylan had asked for her number and she was excited about it. "He gave me a ride home last night. My bike broke, and he saw me and drove me home. He seems really . . . nice."
Joanna rolled her eyes. "Lindsey!" She pushed her sunglasses down. "You like this guy. It's so obvious!"
"I don't even know him . . ." But Lindsey could feel herself smiling. "He does seem like a good guy, though." She looked around. "You don't think Brian's going to, like, retaliate, do you? I mean, Dylan had nothing to do with it."
Joanna didn't respond for a few seconds. "Listen," she said, "Brian and this guy—Dylan, right?" Lindsey nodded. "They already had a beef together. It's not like we created this. They already had it out for one another. This is just one more thing added to the list. It doesn't even matter." Lindsey didn't agree with that logic. It wasn't right. Dylan was innocent. They were the guilty ones. How could Joanna just be okay with the fact that they were blaming someone else? "What's done is done," Joanna added.
Lindsey's only hope was that the whole thing might just go away. Maybe Brian wouldn't even care that much; maybe he'd just forget about it. Though she knew that wasn't going to happen. Her stomach churned.
"So has Mr. Decker flirted with you yet or what?" Joanna asked with a laugh, changing the subject. "I told you, didn't I? He's a little creepy, right?"
"I mean . . ." Lindsey chose her words carefully. She wanted to confide in Joanna, but she also didn't want to talk badly about her boss, especially when he knew Joanna's parents. "He does seem a little weird. I saw him last night when I got home. It was just . . . strange."
"Ew," Joanna huffed. "I mean, Mr. Decker is kind of hot, but he's, like, a hard fifty."
Lindsey shook her head and shrugged.
"Well, whatever. Next week is Brian's family's big party," Joanna said. "It's going to be so fun."
"Cool" was all Lindsey could respond. She was too distracted.
Joanna left an hour later. "I'm going home to my pool," she said, waving the sand off her towel. "It's so boring here now. All my girlfriends are gone this year. They're off in the real world, I guess."
Lindsey smiled, wondering if she should be somewhat offended.
"But thank God you're here," Joanna added.
Lindsey watched her as she left the club, her wet hair clinging to her back.
A few hours later, Carol and Jonathan showed up for lunch.
"We'll get a table," Carol said. She and Jonathan turned back toward the snack bar. Berty ran behind them. Lindsey tried to towel off as best she could and then threw on her cover-up. Immediately, big wet spots formed around her breasts. She pressed the cover-up over the rest of her stomach, trying to get the whole thing wet so that the spots would blend in.
Jonathan and Carol had put some of their things on a table and were standing in line to order. There was nothing healthy—a cheeseburger, BLT, grilled cheese, chicken salad sandwich. Lindsey wanted to order after Carol. She was curious what she was going to get.
"Hi," Carol said to the young girl at the counter. "Decker, 7625. Can we please have a cheeseburger, medium, a grilled cheese with tomato, and a garden salad with grilled chicken? Please put the dressing on the side. Jonathan?"
"A BLT, please. Thanks." It was Lindsey's turn. She had heard Carol order but didn't know what was for her or the kids.
"I'll have the turkey wrap, please. Thank you." She didn't really want that. She didn't want anything. She wasn't hungry all of a sudden. It felt too uncomfortable to eat lunch with them in the first place. They ordered a few iced teas and went to sit down.
"Georgie should be here soon," Carol said at the table. "Or at least that's what she told me."
Berty told Jonathan that he'd been off the slide a hundred times that morning. Lindsey was grateful that Berty talked so much. She didn't have anything to say.
A few minutes later, Georgie arrived. She was wearing her work clothes—jean cutoff shorts and a Picnic Basket shirt. She dumped her bag on the ground and sat down, looking around her as if she was trying to avoid someone or trying to find someone.
"Are you going to change?" Carol asked her before saying anything else. "Did you bring a suit?"
"Of course I brought a suit," Georgie said, annoyed. "I'll go change now." Lindsey shifted in her seat. She didn't see what was wrong with Georgie's outfit or why she needed her swimsuit on to eat lunch. It was as if Carol was ashamed of her in those clothes. Work clothes.
Georgie emerged from the bathroom in a white eyelet print dress. Lindsey couldn't tell what kind of bathing suit she had on underneath, but she had transformed from a normal teenager into a younger version of Carol—elegant, well groomed, and sophisticated. It didn't seem like her.
"So how was work today?" Jonathan asked.
"Good," Georgie responded, sipping an iced tea. "I saw Brian Fitzgerald."
Lindsey nearly choked. Did Georgie know something about what she'd done last night? Did she know that Brian had texted her? Had Georgie given Brian her number?
"How is he doing these days? I just saw his father at the club last week. Said Brian was working on some start-up idea. He always was a smart kid."
"Yeah" was all Georgie said. "He's really smart." Over the loudspeaker, their name was called, and Jonathan got up to go get their lunch. He came back with the food on two shiny red trays. Berty dove toward the grilled cheese.
"I took the liberty of ordering you a salad, Gigi," Carol said.
"Thanks." Georgie was pissed, that was obvious, but she didn't say anything else. Lindsey watched Carol dissect her cheeseburger. She ate the patty with a fork, ignoring the bun.
The rest of lunch went by quickly, and Carol and Jonathan left when they were finished. They gave Georgie and Berty pecks on the head and then walked out. Lindsey sensed a common feeling of relief between her and the kids when they were gone.
"We got a pretty great spot down the beach," she said to Georgie as they cleared the table.
"Cool. It's still pretty hot out. I need to get a tan."
Berty returned to his sandcastle on the shore. Georgie rolled out her towel next to Lindsey's and then took off her white dress. She was wearing a string bikini underneath, to Lindsey's surprise. Georgie looked around again, and this time, her eyes lingered on a group of girls down the beach. She dropped to her towel, lying on her stomach, and turned her head the other way.
"Cute suit," Lindsey said to her.
"Thanks." Georgie didn't lift her head. It was clear she didn't want to talk. Lindsey watched Berty for a few minutes, not saying anything.
Georgie released a sigh and flipped over, leaning back on her elbows. She turned her head toward the group of girls down the beach, her gaze settling on them. Maybe those girls had been Georgie's friends, and something had happened, Lindsey thought. Georgie hadn't mentioned any friends since Lindsey arrived.
"Everything okay?" Lindsey finally asked.
"Yeah, it's fine," Georgie said, turning to stare straight ahead at the water. "There's just, well, there's this guy."
Lindsey was surprised; she had assumed that Georgie was having issues with friends, not with guys. "Oh," she said, "guy stuff. What's going on?"
Georgie turned toward Lindsey so that she was on her side, as though to welcome the conversation and to keep it contained between the two of them.
"I mean," she whispered, "he's too old for me. I guess. Maybe not in a few years. I don't know. I just really like him."
"Well, how old is he?" Lindsey asked. She was thinking about how Georgie had mentioned Brian at lunch.
"I think he's, like, twenty-four?" she said. "Basically your age, I guess," she added.
Before Lindsey could even respond and tell her that twenty-four was too old for her, that she should find a nice guy her own age, Georgie interjected.
"He was flirting with me," she said defensively. "Anyway, it's dumb," she continued. "He used to teach me sailing when I was younger, and I think I've always liked him."
So maybe it wasn't Brian, Lindsey thought to herself, remembering that Joanna had said something about Brian being on Wall Street. Must be some local kid, she thought.
"I understand," she said, "but I think you're right. He's probably a little bit too old. At least for now. But you never know where life will take you. Maybe in a few years, when you're older, when you're eighteen, you'll be in similar places in life." Lindsey didn't really mean it; she was lying to Georgie, somewhat, but it felt like a kind lie and the right thing to do.
Georgie nodded. "You're right," she said. "Maybe it's just not the right time."
"Exactly." Lindsey couldn't believe how fast Georgie had come around.
"I mean," Georgie continued, "I've known Brian my whole life, basically, since I was a kid. Our parents are friends. I'm sure I'll still know him in a few years. Maybe later on it will be the right time."
Lindsey's ears pricked at the sound of Brian's name. What was it about this guy that everyone was so drawn to? He was charming, sure, and cute, in a way, but he seemed ordinary to her and somewhat arrogant. She didn't understand the magnetic pull he seemed to have on women.
"Well," she said, trying to figure out what to tell Georgie. She knew that there was nothing anyone could tell a teenage girl to convince her that a guy wasn't right for her. Georgie had a crush, and there was no going back. But she had to try. "Sometimes you think a guy is right for you, and he ends up being wrong for you." She started rambling then, telling Georgie about her own high school crush that had ended in heartbreak. Georgie nodded but didn't say anything. She took out a copy of Glamour from her bag and started reading.
In front of them on the beach, Berty knocked his sandcastle down with his feet, running through it with a slight scream. Lindsey looked at her cell phone but had no new messages. The phone itself felt like a duplicitous piece of evidence that she needed to bury deep down in her bag, like a forbidden weapon. She hadn't meant to, but already she had basically lied to Joanna, Georgie, and, in a way, to Dylan, and all the lies were somehow connected to Brian. She hadn't asked Brian to reach out to her, but he had. And now, not telling Joanna and Georgie that information somehow felt like she was actively lying to both of them. She hated the feeling of carrying secrets that she'd never wanted in the first place. She wished that she could extricate herself from the web she'd crawled into last night. But it was too late.
"Excerpted from SOMEONE ELSE'S SECRET by Julia Spiro. Copyright © 2020 by Julia Spiro. Published and reprinted by permission of Lake Union Publishing. All rights reserved."
The Betches Summer 2019 Reading List
It's that time of year again! The sun is out, the temperatures are rising, and all you want to do is go to the park in your bikini and read a good book. Or, maybe that's just me. In any case, I've been powering through advance copies all season to get you the Betches Summer Reading List 2019. Whether you're into romance, mystery, fun character sketches, etc., you'll likely find something you will enjoy on this list. Now, as a warning, here is how I am classifying my summer reading list: books that come out during the spring and summer. So don't be salty if some of these picks aren't available yet. That's why God invented preorder.

This book is so cute and fun and I'm obsessed with it. It's about Alex Claremont-Diaz, the heartthrob son of the first female President of the United States (if only), and Prince Henry, the Prince of England. The two start out as rivals and are forced to fake a friendship, until that fake friendship turns into a real friendship… and then more. Told through narrative, texts, emails, and even a podcast, this book is inventive and fun, and super heartwarming. I finished it today and low-key teared up on the subway.

Yes, I wrote about this one before, and yes, I'll likely do it again. This book was that good. Literally think Gone Girl, except better. I promise you. My Lovely Wife is about a typical suburban married couple with children… who hunts and murders women for fun. I swear to you, you won't see the twist coming. And if you do, kindly drop your location in the comments, so I can alert the police.

I loved The People We Hate At The Wedding, so I was not surprised that I loved Grant Ginder's next book, Honestly, We Meant Well. Here's the gist: a family takes a trip to Greece. But in that family, you have Dean, a famed writer and now-professor who just cheated on Sue Ellen, his wife. Oh, and they have a son, Will, who just broke up with his boyfriend, only to have him move on immediately and steal his job. There's not a lot of action (until the climax), but there's plenty of character development to keep you hooked. This fun family portrait is a perfect summer read.

Fiona and Liv are two best friends who became inseparable after Fiona experienced a family tragedy. Senior year of college, their lives are headed in different directions, and their differences are only highlighted by the sudden arrival of famed writer and controversial figure, Oliver Ash. It's not what you think—at least, not entirely. This novel, through different perspectives, explores loss, grief, sex, friendship, power dynamics, and much more.

If you're into horoscopes, and romantic comedies that are told through vignettes that ultimately come together in the end, you'll love Star Crossed, which has both of those elements. The novel focuses on a few characters, namely, Justine (a Sagittarius and a serious skeptic), who starts working at a newspaper. One of her projects? Laying out the horoscopes. All is proceeding normally until Justine takes the horoscopes into her own hands… and ends up changing other people's lives, not just her own.

If you're only going to read one thriller this summer, make it this one. It takes place in a nice neighborhood of Bristol, England, where everyone is hiding something—and everyone is watching each other. When someone in the community ends up murdered, all these secrets start scratching at the surface, threatening to come to life. Told via first-person narrative and transcripts of police interviews, this is a page-turner you won't be able to put down. And with so many twists, it's guaranteed that at least one will surprise you.

This book is literally going to be huge, and Reese Witherspoon loved it so much she made it a book club pick. Told like a biography (that's not a real biography), the book follows Daisy Jones, a girl coming of age in LA in the late sixties, and her life is all sex, drugs, and rock 'n' roll. When she joins forces with The Six, they become one of the biggest bands of the seventies. Remember—this is all fictional, but it reads like an oral history. It's an extremely inventive format and a captivating story that you and all your friends will love.

It's 1987, and Eve Rosen, aspiring writer and lowly assistant at a publishing house, is desperate to prove her mettle in the arts and literary scene. So when famed New Yorker writer Henry Grey extends an invite to a party at his summer home in Cape Cod, Eve jumps at the opportunity. Henry takes a liking to her and hires her as his personal assistant, giving her even access to the world she previously only dreamed about. She also scores an invite to the famed "Book Party," an end-of-summer celebration where everyone dresses in elaborate literary costumes. However, the deeper she gets into this world, the more she discovers that all that glitters is not gold and nothing is really as it seems.  

Another fun suspense-filled novel, this one follows Juliette, who was just dumped by Nate. She'll do anything to win him back… literally. She's convinced she and Nate are meant to be and has devised a truly crazy plan to win him back. So crazy, it just might work? You'll have to find out. Juliette is certifiably insane, for sure, but you'll find yourself siding with her more and more as the plot progresses.

If you read and loved last year's The Kiss Quotient, then you need to run out and order Helen Hoang's next novel, The Bride Test, right now. Just like The Kiss Quotient featured a protagonist on the Autism spectrum, this one does as well—so you're not just reading a fun novel, you're also reading a novel that's giving visibility to groups that aren't often written about. So. Onto The Bride Test. Khai Diep doesn't really experience emotions—or at least, he doesn't think he does. He doesn't think he's capable of love, but his family knows better. So his mom travels to Vietnam to find him the perfect bride.

I knew I forgot something I'd read and liked on my reading list, so I updated the post to include this fun read about Nina Hill, a nerdy girl living in LA, whose life is turned upside down when she finds out her estranged father died and left her a whole dysfunctional family who wants to meet her. And, given that Nina is a huge introvert, she would rather not—yes, I know what you're thinking. Even if it means passing up that sweet, sweet inheritance money. If you relate to staying in and JOMO (joy of missing out), you'll relate to Nina. This book was a fun, cute beach read that you'll breeze through pretty quickly, but it's still got a lot of heart.
Images: Link Hoang / Unsplash; Amazon (10)
Betches may receive a portion of revenue if you click a link and purchase a product or service. The links are independently placed and do not influence editorial content.
The Betches Summer 2018 Reading List
Summer is fucking here, and no I don't care that it's not June 21st or whatever. If it's between Memorial Day and Labor Day, it's summer. Anyway. With summer comes long days at the pool or beach (or stuck on the subway because Governor Cuomo can't get his fucking act together. You may @ me). While you spend extended amounts of time on your ass, you're going to need some new reading material. So I bring to you, the Betches summer 2018 reading list. The books on this list all offer something different, so you could legit buy each and every one of them. Actually, you probs should.
Look I am fully aware that I've sung the praises of this book too much already. But I'm just passionate, okay? This is a really good summer read to make you appreciate your friends. So just pick up a copy and you can finish it at the pool in like, a day. Just try not to cry in public.

Crazy Rich Asians came out in 2013, which might as well have been last century for some of you, but the movie is coming out this summer, so now you really are running out of time to read the book first. And trust me, with a cast like Constance Wu and Henry Golding, you're gonna want to see the movie, ergo, you're gonna want to read the book. Crazy Rich Asians is about an American Chinese girl named Rachel, who goes to Singapore to meet her boyfriend's family. Only nobody warned her that her boyfriend, Nick, is well… crazy rich, and his family is crazy judgmental. It's fun, it's smart, and it's chock full of sarcastic footnotes. How many books can you say that about?

'Vox' by Christina Dalcher
Vox is about a not-too-far-off future where women are given a quota of 100 words per day that they are allowed to speak. Any more, and they are punished with a series of painful shocks delivered to the device they are all required to wear around their wrists. Yeah. Not gonna lie, I don't feel great that Christina Dalcher gave the Republican party an idea they will surely work into the 2020 election campaign, but for the time being this a thrilling, if terrifying, read that will hook you from page one. It's basically the new Handmaid's Tale.

The Kiss Quotient is a romance novel, and I just need you all to know before we proceed any further that "romance novel" is actually a euphemism for "sex book". I did not know that, and thought I was genuinely opening up a love story, then proceeded to get annoyed (and ok, slightly aroused) by all the sex I was reading. Anywhooo, as far as romance novels go (yes this was my first, if you couldn't tell), this one is pretty different. It's about Stella, a super smart economist with Asperger's, who hires Michael, a male escort, to teach her about sex. They both end up getting more than they bargained for, in more ways than one. Wink.

It's a classic tale of girl meets boy. Boy turns out to be a fuckboy. Fuckboy ghosts in and out of girl's life throughout college and her 20s like a manipulative, lying Casper. This book is so relatable it's upsetting. Plus, it takes place in New York, so it's an extra-urgent must-read for all you New York betches. But what makes Tell Me Lies different from your diary is that we also get insight into the fuckboy's perspective and his version of events. I'd advise you to delete that guy's number before picking up a copy of Tell Me Lies—you know exactly which guy I'm talking about.

This fiercely anticipated novel that I am positive is going to be made into a movie follows two women, Clara Darden and Virginia Clay, during two different time periods, 1928 and 1974, respectively. Grand Central Station and art link these strangers together, when Virginia finds one of Clara's old paintings and sets out to learn more about her. But Virginia's not the only one who wants to know more about Clara Darden and the enigmatic painting. A little mysterious, a little historical, a little feminist, and a lot exciting, this is one book everyone in your book club will love.

The author behind Luckiest Girl Alive is back with her second thriller. This one's about two competitive sisters who sign onto a reality TV show together, along with three other equally successful and jealous women. All want the spotlight. All have secrets to hide. And then somebody ends up dead. You've got to pick up this one before it becomes the next plotline of Unreal—hopefully not Bachelor in Paradise.

Full disclosure, this is part of a series, but I have a feeling you can pick this up on its own just fine. I read UNSUB by Meg Gardiner earlier this year, and I was fucking haunted for days. Into The Black Nowhere is the sequel, and it follows Detective Caitlin Hendrix of the Behavioral Analysis Unit (yeah, like in Criminal Minds) as she tracks an UNSUB who is hunting female victims, then posing them in white nightgowns, surrounded by Polaroids. It's inspired by real-life serial killer Ted Bundy, and you'll devour this faster than you can binge a season of your favorite crime TV show. Let's just see if you'll be able to solve the crime before Detective Hendrix.

'Hey Ladies!' by Michelle Markowitz and Carolina Moss
Y'all remember that book TTYL we all read in middle school that was told entirely through instant messages? Those were the days. Even though AIM is dead (RIP), we'll get to relive the glory days with the new book Hey Ladies! It's based on the column in The Toast of the same name, and it follows a fictional group of twenty- and thirtysomething women through one year of summer houses, disaster dates, brunches, breakups, and weddings. And the most interesting part: it's told completely via emails, texts, DMs, and other forms of communication. I know, I kinda buried the lede there. Doesn't it sound fun?

If you haven't read our dating advice book, you need to get on that shit before our third book comes out (v soon). We'll give you the brutally honest dating advice your friends won't and give you a no-bullshit guide to dating from figuring out if you're ready to date to online dating to how not to sound psycho during the beginning stages and beyond. Trust us, your friends are sick of hearing you bitch about the last fuckboy who screwed you over.

Images: Angello Lopez / Unsplash; Amazon (10)
Betches may receive a portion of revenue if you click a link in this article and buy a product or service. The links are independently placed and do not influence editorial content.
The Best Books To Read While You Tan: The Betches Summer 2017 Reading List
Summertime is officially upon us (it's June 21st, I'll forgive you if you just had to Google it), so that means you officially have no excuse not to pick up a fucking book for once. We've rounded up some great books that, even if you're taking an Adderall vacation, you'll actually be able to get through this summer. Yes, they're that good. Whether you're on the subway (we feel sorry for you), at the beach, or standing in front of your open freezer, we've got the best summer reads for every betch in your life.
For The Betch Who's Dead Inside: 'Standard Deviation' By Katherine Heiny
Simply put, this book is about a married couple and the ins and outs of their lives. I know, it sounds like a snore, but hear me out. The characters are so vivid you'll feel like you know them—and honestly, it's about a family in the Upper East side so like, you probably do know a family a lot like them. But this book is betchy because everyone's divorced. Everyone's cheating on each other and everyone's divorced. If you need reaffirmation that love does not exist and marriage is a sham of an institution (aka #TeamDeadInside), read Standard Deviation. And then delete your Bumble profile.

If you love scandals and mystery but like, murder scares you, then you'll love The Misfortune of Marion Palm. It's about a young Brooklyn mom (I'm sure you know the type) who embezzles $180K from her kid's fancy private school and then runs away to Sheepshead Bay. Someone who commits a felony in Brooklyn and then runs away to a different part of Brooklyn and evades police… sounds like the ever-incompetent Rosewood PD had something to do with this, making this book equally perfect for the Pretty Little Liars fan.

For The Betch Who Thinks She's Olivia Benson: 'The Perfect Stranger' By Megan Miranda
Another mystery, this one's good for your friend who keeps re-reading Luckiest Girl Alive. Like, girl, you already know the twist. What's the point? Anyway, in this suspenseful read, a millennial who doesn't know wtf she's doing with her life (same girl) is forced to live in exile rural PA to figure out her shit and help her friend who got in too deep with a fuckboy. But things get weirder than the contestants on this season of The Bachelorette when her BFF ghosts her….perhaps literally.

For The Betch Who Can't Stop Keeping Up With The Kardashians: 'Rich People Problems' By Kevin Kwan
It's Keeping Up with The Kardashians meets The Real Housewives, except set in Singapore. Everyone should read this because 1) the first book in the series is going to be a movie soon so you'll look cultured AF if you've read it before the movie trailer comes out 2) it's scandalous, vindictive, and hilarious (also adjectives I use to describe myself on Bumble just btw) and 3) it'll finally convince people that Asian dudes are hot (important).

For The Betch Who Loves Murder: 'I'll Eat When I'm Dead' By Barbara Bourland
When Hillary, a betch who works at a magazine, dies alone in a locked, windowless conference room (y aren't there windows tho?), people initially think she died as the result of an eating disorder. But Hill's best friend knows she wasn't like that, and two months later a note in Hill's handwriting ends up at the NYPD. The case is reopened and the best friend and colleague have to put up with party girls, Type A narcissists and half-dead socialites (sounds like my squad tbh) to solve the case. If UnReal, The Devil Wears Prada, and Sex & The City had a vindictive, hilarious, betchy baby it would be this novel.

The book is not, I presume, simply the word "everyone" written over and over. Rather, it's about a super dysfunctional family whose daughter is marrying some bougie-ass British guy in London. The mom is a pothead, the single daughter is facing a quarter-life crisis (hi), the gay son has a shitty boyfriend, the bride is a hot mess… no, I promise I didn't just look through your family tree and come up with that. It's really what the book is about. Oh, and lots of wine is involved.

For The Betch Who Watches Too Many Rom Coms: 'The Hating Game' By Sally Thorne
Yah this came out in summer 2016 but I'm including it because it's just that good. This book honestly starts out just like every rom com: Boy meets girl. Boy and girl hate each other with the fiery passion of a thousand suns. Boy and girl constantly throw shade at each other at the publishing company at which they work. This one has Pam and Jim vibes written allll over it, but like less annoying and more sexy. It's light and fun and you'll probs finish it before your sunburn tan sets in.

For The Betch Who's Having A Quarter-Life Crisis: 'Chemistry' By Weike Wang
If you're in grad school or just hate your life in general, you'll relate to this breezy read by Weike Wang about a millennial-aged female who's dealing with a PhD-induced nervous breakdown and grappling with uncertainty about whether or not she should marry her nice guy boyfriend. I mean, that's what was happening when I started this book earlier today, and I'm already v into it, so.

For The Betch Whose Family Deserves Their Own Reality Show: 'Spoonbenders' By Daryl Gregory
This is a novel about a lovable family of psychics, and no I'm not high. This novel has everything: psychics. The mob. The CIA. It's kind of like Arrested Development meets The Incredibles since every member of the family has their own special psychic powers and they're all batshit. Since I already fulfilled my quota of dysfunctional familes on TV aka I binge watched all of Schitt's Creek on Netflix, and because bringing my laptop to the pool is highly inadvisable, I'm going to be reading this shit ASAP.

Let's say you have a friend who dates fuckboy after fuckboy and thinks getting a "WYD tonight?" text before 11pm is romantic. You've tried everything short of a sit-down intervention with this girl because you just can't listen to her cry over the same asshole YET AGAIN. Save yourself the awkwardness of a confrontation and just give her our dating advice book. We cover every stage of a relationship, from your first Bumble meet up (and how not to sound like a psycho in your profile), to the first date, to becoming FB Official and beyond. We'll give you our signature advice every step of the way, in the way only the Betches can do it: snarky and real AF. I Had A Nice Time is newly available on paperback so bringing it to the beach is less of a schlep.