7 Non-Basic Rompers That Will Seriously Up Your Instagram Likes
Rompers are nothing new, unless you were homeschooled so, chances are you obviously know what this one piece fashion staple is. When we're too lazy to find a clean pair of shorts or when we've Instagrammed the same dress way too many times, rompers are our go-to in the summer. They're the most casual thing in our closet that makes our lives so much easier, hence why we're okay with peeing naked because if we're honest, that's not the worst thing we've done.
With the thousands of styles to choose from, you can easily throw one on for your next GNO, take it from the beach to bar, and even get away with wearing one to work—if you pull it down enough. However, since you're constantly day drinking trying to forget your work week, you're def going to rooftop bars with a view that makes it forgivable to pay for an overpriced drink. Taking a faux candid in front of a skyline probably gets you a decent amount of likes, but add the perfect romper and watch those likes turn into triple digits. Get your credit card ready, because these fab rompers will flood your next Insta with a ton of "omggg, I love your romper, where did you get it?!" comments.

So like, this is basically our homegirl Lilly Pulitzer on crack. Inspired by gypsy free-spirited hippie shit, this romper is full of bright colors that are bound to turn heads for sure. Pair this with your fave sunnies and a white or neutral wedge for the perfect summer OOTD. Have your partner in crime find good lighting (because what else are friends good for) and slay in your Insta photoshoot. #DoItForTheLikes

I've seen this pattern honestly everywhere this summer and although it reminded me of my grandma's chinaware at first, I've come to enjoy the homey feel. As usual, white and blue are plastered over every summer fashion trend and this romper is no different. With bell sleeves and off the shoulder fit, you'll pull off an effortless look like no other. Just swipe some gloss on and you're good to chug.

This brand's name sounds like a literal diaper brand but, they actually have cute af clothes so whatever sells. It focuses on bringing back the 90s—as if that wasn't a trend since forever already—with laid-back, carefree styles made for doing the bare minimum. This modern versatile romper will become your first choice to the next wedding you're invited to or a spontaneous night full of bar hopping. Don't try to wear it with Vans like the model—let's not get carried away. Instead, opt for strappy sandals and Y necklace to complete this trendy look.

Made in the world's second best color ever (don't try to disagree), this classy romper features an elastic waistband that you can adjust each time you feel bloated. The flirty, feminine style will probably get some guy to buy you tons of cranberry vodkas so in addition to getting a shit ton of likes, you'll probs get free alcohol. What more do you need?

Today's fashion basically says we were born in the 90s, wishing we could be back in the 70s, and this romper is no exception. Another romper, another brand inspired by "gypsy life". To dress up this easygoing romper for an upscale rooftop, strut in a pair of v sexual black thigh-high boots and a chic crossbody. Since it comes with an attached choker, you obviously don't need to wear another fucking choker.

Who needs to wear another basic white dress when you could slay in this sleek secret romper? With an open back and plunging neckline, you'll stay refreshingly cool for a day that's full of binge-drinking in 90 degree weather. Pair with block heel sandals, a tequila sunrise, and be sure to always take a pic on your good side in this romp.

Stripes, stripes, and more stripes are all anyone who's relevant is wearing right now. Impress your snobby friends by staying in tune with the latest trends in this tied off the shoulder romper. The vertical stripes will elongate your nonexistent abs so you look skinny in whatever picture you decide is worthy of making both your ex and loyal followers jealous of how good you look.
5 Lightweight Summer Backpacks That Won't Cause Back Sweat
Complaining about the weather is totally one of our favorite pastimes, until shit gets real and we're actually like, sweaty or something. God forbid. There's really nothing worse than sweating, and unless you're paying $300 a month for a workout class that makes you sweat, you should obviously avoid perspiring at all costs. Seriously, it's disgusting.
While antiperspirants and deodorants take care of common problem areas like your underarms, sweltering NYC heat encourages another kind of sweat to rear its ugly head—back sweat. Not only does back sweat make your morning commute that much more unpleasant (and I'm already in a bad mood when I have to wake up before noon), it also leads to bacne (I don't even like looking at that word) and really puts a damper on all those slutty backless dresses and swimsuits you want to wear. The cute and unnecessarily expensive leather/suede backpack you haul around could, unfortunately, be contributing to the issue since leather isn't a particularly breathable or moisture-wicking material. So, here are a few backpacks we've found in summer-appropriate materials, just in case the one you use for work is making you sweat like any one of us in church.


This isn't like, a regular backpack. It's a cool backpack. The absolute angels at Rebecca Minkoff took the Julian leather backpack and made it lightweight for summer. Dreams do come true.

This cotton canvas backpack looks like it belongs on the floor of a minimalist Tumblr bedroom, but you're probably going to just fill it with shit like chopsticks you'll forget about and crumpled up receipts. It also has a laptop sleeve, which you'll probably leave something important in and find two weeks later.

If it didn't sound like a bad line from an Old Navy commercial, I'd tell you that this Marc Jacobs backpack is fashionable and functional. Backpacks are typically kind of nerdy, but this one is Marc Jacobs so it's actually sorta edgy (which isn't easily achieved by nylon bags, but whatever).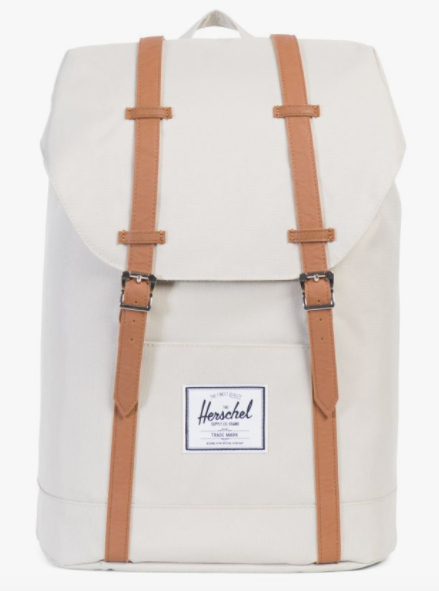 Herschel is kind of like, the Vans of the backpack world. Pretty much everyone has one now, and they're kind of making us all look like hipster dudes from Brooklyn. But they're functional, not ugly and can probably fit a bottle of wine, so why not?


I know we like, just said that Kate Spade isn't cool anymore because of the whole Coach thing, but I've pretty much already talked shit about every other designer that you preppy betches probably love, so I'll let you have this one thing, as long as you don't get carried away. This nylon backpack is actually so cute and black and white stripes go with everything (just ask Kris Jenner).
5 Beach Cover-Ups You Can Wear To The Bar
I deal with stressful things in life like most rational people: procrastinate incessantly by doing other equally important things (shopping, thoroughly organizing my closet, eating takeout…etc.) and delaying until the last possible second. Then I wonder why my anxiety level is constantly that of Britney Spears' 2007 meltdown. For example, this often happens with packing. Like, running a mile sounds better than packing for anything ever, even a vacation that I know will be fun. It is literally so annoying to plan out your outfits because no matter how hard you try not to, you end up packing enough clothes to last you 6 years, even when you're only staying 3 days. Whether it's for a tropical vacation or just spending the day at the beach, I know overpacking is almost as bad of a habit as binge drinking. To (slightly) condense your beach suitcase bag, here are cover-ups that you can easily throw over your swimsuit and also run to the closest happy hour in. Because time is money when two-for-one specials are involved.

1. Kimono

I'll only accept the fact that you don't own a kimono by now if you were like, homeschooled or something. If you have yet to buy one, find a bright, fun-printed style like Camilla Open Front Cardi Carpe. If you're feeling extra bold, keep your bikini top on or opt for a lacy bralette underneath, and pair with denim shorts or jeans.
2. Off-The-Shoulder Dress

Why wear pants to the beach (or at all, honestly) if you can just wear a dress? Wear a comfortable, loose-fitted one like Lush Stripe Off The Shoulder Dress, so that way, you can slip off your swimsuit when you're ready to leave. If tan lines make you feel better about yourself, find a strapless dress so everyone can compliment your dramatic transformation.
3. Romper

Rompers are my go-to because nobody has the time to search for both a shirt and a pair of pants. Whether you laid outside or on a tanning bed recently, you can show off all your hard work by wearing white like this Topshop Jersey Wrap Cover Romper so that it's bound to highlight your (faux) tan on a rooftop. I'd say don't forget to pack a strapless bra, but it's 2017 so no one really gives a shit whether you wear one or not anymore.
4. Bodysuit

Even though it's basically like wearing a sexualized child's onesie, bodysuits are the easiest and most convenient thing to make a hot AF outfit ASAP. Find one like the Chase Me Down Plunging Bodysuit that comes with a strappy design and attached choker. Pair with dark jeans and your fave pumps—just don't fucking forget that you need to unclasp before you break the seal.
5. Matching Set

It's about time fashion companies came to the realization that we need everything already done for us because like, life is hard and I shouldn't have to stress over whether my outfit matches too. It just leads to frustration aka settling on wearing all black. Get a matching set from Fashion Nova (a company celebs also buy from). This ivory La La Land Set can be worn together (fucking duh) or you can mix and match the items with other pieces in your closet. It's cute and you're getting two for the price of one so, get ready to buy multiples.