The Cutest & Comfiest Shorts For $50 & Under
I know it's hard to believe (and actually almost sad to realize), but summer is right around the corner. The unofficial summer kickoff, Memorial Day weekend, is LITERALLY next weekend. Sh*t, time sure flies during a quarantine. But hey, even though we can't enjoy our favorite beach bars this holiday weekend, at least we still have a three-day weekend to look forward to. Great, an additional day to do more of the same thing you're doing every other day!
ANYWAY, warmer weather is almost here, which means it's almost time to switch from sweatpants to shorts. However, after living these past two months in oversized sweatpants, I know none of us are running to go grab our best denim cutoffs any time soon. That being said, I found some great shorts options that are stylish enough to (hopefully) leave the house in yet comfy enough that, if stuck in the house, you'd still want to wear them.

Obviously these shorts are cute, but what makes them that much better is that, according to the reviews, they're also super comfy. And we all know, if someone is willing to take the time to go leave a positive review then they must really actually like it. Linen shorts are ideal for summer because they look effortlessly cool but are still comfortable, and also won't weigh you down in the heat. 

These Billabong shorts are the perfect combination of comfy and cute, making them your go-to shorts all summer long. Amp up the style factor by pairing them with the matching top for a full beach-vibe set that you'll still feel comfortable enough to lounge in. 

Nothing says "warm weather" like the color coral—just ask all the frat boys who think owning a pair of coral chino shorts makes them somehow stylish. Unlike the aforementioned frat stars, you can actually be considered stylish with these cute coral shorts. The front button detail automatically makes them look more sophisticated than a lounge short, while the elastic band and soft material makes them just as irresistibly cozy.

One of my favorite summer trends right now is bandana print (AKA paisley), so I'm obsessed with these shorts. They'd be cute dressed up with the matching top or with a fitted bodysuit, or dressed down with a graphic tee. The ultra flowy fit is super breezy, too.

These knit shorts from White Fox are super comfortable and will pair seamlessly with all your fav lounge looks. However, they also could just as easily transition out of the house for a casual athleisure look thanks to their fashionable ribbed detailing and trendy knit material. You can pair them with chunky sneakers and either an oversized T-shirt or fitted bodysuit for instant cool-girl style.

I'm not really into a cliche floral print, however I'm a total sucker for a tropical floral print in the summer. The print is on-trend with its vintage tourist-dad feel, but not overdone like, say, the palm print. These shorts are ideal for all your summer outings (fingers crossed) with their stylish belted paper-bag waist combined with their comfortable, flowy fit.

Not only are these shorts super stylish, they're also made of tencel, which is one of the softest and comfiest materials ever. We love the chic camel color, button detail, and ruffle waist.

These woven H&M shorts are the ideal combination of comfort and style with their flowy silhouette paired with stylish pleat details. Not to mention, you can't beat that price. Sidenote, I missing finding fashionable finds off the floor at H&M *insert Lauren Conrad slow tear.*

I'm obsessed with these floral shorts that are so flowy they can almost pass as a skirt. Imagine how perfect they'd be to wear for your first in-person date with the guy you've been Zoom dating for the past two months.

If you haven't heard of Blush Mark, it's because they're a brand new company. As in, they just launched during quarantine. However, the company was born from well-known bridal brand Azazie so they already have some established credibility. Which honestly, you'll be glad to have the reassurance of because their prices are so low that you'll probably question whether it's too good to be true.
Who knows when this quarantine will end—maybe next week, maybe two months from now. All I do know is that the weather forecast is a strong indicator that warm weather is on the horizon. And since we don't know how much longer we have in quarantine, we might as well start our summer shopping, but just with the quarantine in mind. My hope for all of us is that we're not stuck spending summer 2020 "catching rays" from the comfort of our bedroom windows.
Images:  Ben Weber / Unsplash; Princess Polly; South Moon Under; Shore; Pretty Little Thing; White Fox; JustFab; Revolve; H&M; Beginning Boutique; Blush Mark
Betches may receive a portion of revenue if you click a link and purchase a product or service. The links are independently placed and do not influence editorial content.
5 Cover-Ups That Effortlessly Go From Beach To Bar
I'm sure that with all your upcoming beach weekends you've already began swimsuit shopping. However, I'm not so sure that you've started shopping for the other v important beach essential, a great cover-up. And like, cover-ups are just as important, if not more. Hear me out.
It's not just about what you're wearing to and from the beach. Cover-ups also serve as your "outfit" when going to the bar for happy hour post-beach. Cause, tbh, once you start drinking at happy hour, the likelihood you'll want to go home, shower, and change just to go back out is slim. And luckily, since it's summer, you're not expected to be at the bar each night in your best club attire. You really don't need to go home and change if you reallllly don't want to. (Which like, feels.) But you also can't get away with wearing a blatant beach cover-up still once it's 7pm. All that being said, here are some cover-ups that can pass for a casual beach outfit so you don't have to interrupt your day drinking buzz.

This button-up and shorts set is the perfect cover-up outfit combo for both on and off the beach. It's lightweight, with a neutral stripe print that makes it totally suitable for the beach. Yet, it's also nice enough to wear as an actual outfit to the bar. Not to mention, both pieces individually will make excellent versatile additions to your beach weekend wardrobe. They can easily be worn separately or together, and still be super cute both ways. 

This striped cover-up dress could easily just pass for a cute summer mini dress. It's ideal for that post-work week Friday afternoon when you know you'll want to hit the beach for an hour before heading to happy hour right after. This dress is pretty much your new ride-or-die drinking buddy. Wear it over a strapless swimsuit and no one will have any clue you actually just went straight from the beach to a night-long personal bar tour. Well, unless you take a little too much advantage of those early happy hour deals, then your stumbling might just give you away.

Sure, you might look a bit extra wearing this onto the beach. But being extra is "in" (at least I think it is, according to memes on Instagram). You'll look totally flawless hitting the bar in this set after a full beach day lounging in the sun. Realistically, you could even just wear the skirt with your bikini top onto the beach, and then just pack the top to slip on before you head to the bar after. It's basically the perfect set to accommodate your vacation agenda of beach, then booze.

This striped linen jumpsuit from one of my fav swim brands, L*Space, is the epitome of a beach-to-bar outfit. Again, you can easily wear it over a strapless swimsuit and no one will have any clue you still have your bikini on underneath. As long as you don't have one of those obnoxious backpack beach chairs on your shoulder as your accessory, everyone will totally believe you changed into this cute jumpsuit specifically to go out for the night!

This loose-fitting dress is stylish and chic, and just like the aforementioned sets, works just as well on the beach as it does off the beach. It's casual and lightweight enough to be worn as a cover-up, yet polished and stylish enough that no one would think twice about you wearing it post-swim. You could even toss some heeled sandals in your beach bag to switch into before the night's festivities, and voilà!
I get that these cover-up options aren't exactly cheap, especially if you usually get yours from Marshalls for $14.99. However, these are more than just cover-ups; they all work as actual outfits. So even if you aren't necessarily wearing it from the beach to the bar as suggested, you could easily wear it as a casual summer outfit just as well. Plus, I'm going to go ahead and assume that these ones are all a hell of a lot cuter than the one you got from Marshalls (no shade, just stating the facts). But again, that's just a hunch, like, what do I know???
Images: Seth Doyle / Unsplash; Revolve (2); Nordstrom; Shopb0p (2)
Betches may receive a portion of revenue if you click a link and purchase a product or service. The links are independently placed and do not influence editorial content.
16 Trendy Swimsuits Under $100
Look, I work in retail we were sell some nice-ass swim brands. So, I know better than anyone how expensive swimsuits are these days. Like, just the top alone can cost you $100. Which is UNREAL, and I'll remind you again, I work in retail. Thus, my personal alotted swim budget is pretty minimal. But, finding on-trend swimsuits that are reasonably priced is easier than ever with all the online fast fashion brands we have access to nowadays. Look, it's unlikely that your bright green neon swimsuit is going to be trendy come next summer, so why spend your life's savings on something that's just a passing trend? Here are this season's swimsuit trends and affordable options for each.
1. High Cut
A high cut bottom is not only trendy, it's v flattering. It has an effortless retro sex appeal for the ultimate summer vibe. It's very vintage Baywatch-cool and allows for some variety with your summer tan lines. A flattering swimsuit that looks sexy, stylish, cool AND allows for a more even flawless tan? Could you ask for anything more???

Missguided Mix and Match Bikini Set, $24.50

Asymmetric Colorblock Swimsuit, $17.99
2. Animal Print
We already know animal print is super trendy in general for spring and summer. So it only makes sense that the trend would translate to swim as well. Whether you go leopard, snake, or any other print, pick one in a neutral color to ensure it looks expensive, not cheap. As Countess Luanne would say, "Money can't buy you class," so don't go wasting yours on a pricey swimsuit. Rather, use your best judgement to pick one that just looks expensive. And, if you don't trust your own judgement in doing so, I'm here for you, just take one of my suggestions below.


Snake Print Straight Swimsuit, $50
3. Underwire
This is another retro swim trend coming back this season. It's an awesome trend for both small-chested and busty girls alike. For those who are smaller chested, it creates an illusion of fullness and depth. For those bigger chested, it gives added lift and support. So, regardless of your body type, this is def a trend worth getting behind.

Billabong Sol Searcher Underwire Bikini Top, $49.95 and Sol Searcher Hawaii Bikini Bottoms, $39.95

Out From Under Tulip Underwire One-Piece Swimsuit, $79
4. Belted
Belts are back, and they're here to elevate your swim game now, too. The belted swimsuit trend gives your one piece more shape by accentuating your waist, and gives your high waisted bottoms an added element of fashion blogger-level style. Like, if your swimsuit doesn't have a belt this season, do you even know "fashion" at all???

River Island Plunge Bikini Top, $38 and High Waisted Briefs with Belt, $29

Warehouse High Leg Swimsuit With Belt, $45.50
5. Textured
A great way to spice up your swim wardrobe this summer is adding some texture. Whether it's through ribbed detailing or shirred smocking, an element of texture makes even the most simple bathing suit more feminine and cool. So bring on the texture, baby!


Shirred Ring Plunge One Piece, $52
6. Neon
This season, it's all about the bright neons, and this trend is the perfect complement to your summer tan. In regards to your swimsuit, it's important to glam up your neon suit as much as possible so as not to look tacky. You want to look like Erika Jayne in the Bahamas, not like you got your bikini at one of those souvenir shops on the boardwalk.

Aerie Ribbed Side Scoop Bikini Top, $29.95 and High Cut Cheeky Bikini Bottom, $29.95

New Look Color Block Shirred Swimsuit, $40
7. Metallics
Done correctly, metallics are chic and add an element of glam to your beach day style. Of course, key words here are "done correctly." If you go buy a slinky gold triangle bikini top from Wet Seal, I can't guarantee it's going to be the epitome of glam. Opt for a more subtle bronze or rose gold shade to ensure you look effortlessly beach chic.

Topshop Metallic Ribbed Triangle Bikini Top, $38 and Ribbed Bikini Bottoms, $28

Topshop Metallic Cami Swimsuit, $60
8. Knotted & Bows
Knots and bows add a feminine flair to any swimsuit. Additionally, they allow for another way to adjust your swimsuit to make it fit best to your individual body. Or, if you just want to tie your suit tighter to make your boobs look bigger, you do you, sis.

ASOS DESIGN Neoprene Bow Front Bandeau Bikini Top, $23 and Hipster Bikini, $18

Gidget One-Piece Swimsuit, $84
The official start of summer is right around the corner, so stock up on these trendy swimsuits now before all the good sizes are gone! This way, as you're getting blacked out on random men's boats, the one Sunday Scary you won't be having is whether you looked good or not. Sure you got kicked out of the bar and called your ex 42 times, but we're all about the small wins here, people.
Images: Roberto Nickson / Unsplash; ASOS (5); Urban Outfitters; Free People; Topshop (4); Aerie; Nordstrom (3); Zara
Betches may receive a portion of revenue if you click a link and purchase a product or service. The links are independently placed and do not influence editorial content.
5 High-Waisted Bathing Suits That Don't Look Like Diapers
Is it just me or is bathing suit shopping more stressful than wedding dress shopping? At least the dressing rooms at bridal boutiques don't deploy meth lab lighting or mirrors that convince me I'm a chubby ghost who should just lead with my personality when I meet people. Look, when it comes to donning a bathing suit, I think every woman should wear whatever makes her feel her sexiest, but for me, that's def not a string bikini that exposes a casual 97% of my translucently pale body. Don't get me wrong, I like my body, but that doesn't mean I want to focus all of my beach/pool time silently praying that my SoulCycle ass doesn't swallow my bikini bottoms. Enter: high-waisted bathing suits!
Do you guys know about high-waisted bathing suits? I've always ignored these because they can look very diaper-esque if worn incorrectly. But there are some people out there who demonstrate the beautiful magic of high-waisted bathing suits, and I am here for them! There are so many flattering, non-diaper, high-waisted bikini bottoms out there, and if you don't have the energy (or time) to sift through them all, I got you. Whether you're thin, curvy, tall, or short (or any of the other 102 body types out there), accentuating your waist is always a good idea. These high-waisted bathing suits don't look like diapers, I promise you.

J.Crew slays bathing suits. This blue-and-white striped number is no exception. How cute is this thing, people? I always like to incorporate pale colors and/or white into my suits because lighter shades—especially white—make you look tanner than you are. As someone who actually wears a foundation shade called "Ivory," I can confirm that I don't look like a corpse in light-colored swimwear. No matter what skin tone you are, this color combo will def flatter your complexion and figure. Plus, this subtle red moment is giving me all the life I'll ever need. Yes, J.Crew, yes.

While trying on thousands of bikinis, I noticed that aggressive patterns weren't working for me. This could just be because my look already has a lot going on so patterns aren't really my vibe, but like a wedding dress, bathing suits shouldn't have too many elements because said elements take away from the shape. This Beach Riot bikini has the right idea, though. It has enough going on with the stripes, bold colors, and sexy shape, but doesn't overpower anyone wearing it. Most important to note, it's ribbed for her pleasure. Contrary to my summer internships at fashion houses, which, on a scale of Arya Stark's Faceless Men of Braavos apprenticeship to loving life, was a solid three, I'm not a fashion expert. However, I can confidently say that any simple shape or bright colors should be complemented by a ribbed material, otherwise it kind of looks like a sports bra. 

Concerning facial expression aside, this model looks absolutely fierce in this studded ensemble. I am living for the subtle sparkle and overall simple vibe here. Idk about y'all, but I will def be purchasing. The straps are removable (bless), so you can wear this as a tube top until you get sick of pulling it up every time you move, like, at all. I stan. Secondly, these bottoms are simple and chill enough that you can wear pretty much any top with them and not look like a complete idiot. I'll take it in all the colors, please!

If you don't want to spend more on a bikini than you would on dinner, Zaful has your back. As its prices imply, the bathing suits and other clothing it sells aren't exactly couture, but they get the job done and look cute in pics. The patterns are as trendy as trendy can get (just take a look at their Instagram if you don't believe me) and this mix-and-match situation is no exception. I never thought I could rock flowers and stripes in one look, but here we are and I'm not mad about it. I bought one of these saucy numbers last year for a beach trip and it def did not last the entire summer (do not machine wash, people!), but if you just want to boost your swimsuit collection for trips to the Hamptons, Rehoboth Beach if you're poor (hi), or Mexican bach parties, Zaful is the move. It may not be a huge financial investment, but it's an investment in your Instagram, and what's more important than that?

I love AE's mission statement to be inclusive, chic and fun. Like, I want to be those things, please! Teach me your ways, AE. Anyway, a simple black bikini is such a good call because black is slimming, which we could all use as we prance around the pool without any clothes, amiright? IMHO, what makes this look non-diaper-like is the fact that it is has seams along the sides and is slightly ruched. Otherwise, these bottoms would just be like black Spanx without Spanx's magical powers to hold all your sh*t in. So the ruched aspect is v important here. It's also on 50% off rn, so make it rain on these sales.
Images: Unsplash; Aerie; Zaful; Bloomingdales; Dolce Vita; J.Crew
Betches may receive a portion of revenue if you click a link and purchase a product or service. The links are independently placed and do not influence editorial content.
5 Matching Sets You Don't Have To Be Perfectly Proportional To Buy
It may seem like the majority of fashion trends that exist are those worth sh*tting on, but actually, there are a handful that don't make you choke on your lunch, and are worth trying out. One of those (and a personal favorite of mine) is the matching set trend. This has been a thing since like, Clueless last summer, and it's not going anywhere any time soon. Matching sets are literally the best thing to happen to us since the discovery of iced coffee. I mean, even if you know close to nothing about fashion, the work is already done for you–just wear the coordinating separates. What, like it's hard?

Matching sets are the best, because you're killing two birds with one stone when you buy them. In addition to one matching set, you're also getting two separate pieces of clothing that you can wear a bunch of different times with different tops and bottoms you already own. Seriously, I feel like matching sets don't get as much appreciation as they deserve. No one can make any excuses about why they don't work. The only annoying thing can sometimes be if you are forced to buy the matching set as a set, as in, you can't purchase the top and bottom separately. I'm sorry, name one person who is neither a Jenner nor a Hadid who is perfectly proportional on top and bottom. I'll wait. Luckily for you, I found a number of adorable matching sets whose pieces can be purchased separately, so you don't have to sacrifice fit.

This set is fun, with a cute silhouette and flirty spring florals (so groundbreaking, I know). The puffy sleeves even add an element of "See, I can be trendy without even trying" to a casual summer outfit. The top looks amazing with high-rise jeans, and you can totes wear the shorts with a neutral colored bodysuit, too.

I love this playful, feminine brand, because one time I saw Kristen Cavallari wear it, so…I guess she #influenced me. It's all around ridiculously cute with boho chic vibes. This set is perfect for summertime because white is the season's best color, and enhances everyone's fake tan. The top is kind of flowy, so no one will notice whether you've been working on your beach bod or not, and the skater skirt will look fab with any other color top, too.

There's something about red florals that I'm particularly drawn to. I think it's the combination of a bright color with a festive print that makes me automatically feel like a fashion blogger or some sh*t. Imagine all of the Instas you can take in this outfit! When worn together, it basically is a cute wrap dress you can wear out anywhere, from bottomless brunch to a casual wedding

Another major trend this year is animal print. I mean, f*cking duh. You can't walk two blocks without seeing someone dressed head-to-toe in snake or leopard print these days. I love this set because yeah, you'll look like an influencer, but also because it comes with a duster jacket you can wear a million times to dress up any other outfit.

Bohemian pants are always a big win when the weather permits, aka when it reaches 70 degrees and above. Look, sometimes jeans just aren't worth it. Anyway, these soft, stretchy pants make your legs look miles long, and also help elongate your torso. The overall effect is that you look like you've been hitting the treadmill, even if you the only time you run is to catch a train. The tie-front crop top is just an added bonus if you're feelin' frisky at like, a beach bar, but the day after, you can always pair it with high waisted shorts, too.
Matching sets are the ultimate spring and summer wardrobe staple this season, and with these, you can seriously mix and match to find your best and most flattering fit.
Photo: Ben Weber / Unsplash; Giphy; Revolve (2); Shopbop; Alice McCall; Showpo; Asos
Betches may receive a portion of revenue if you click a link and purchase a product or service. The links are independently placed and do not influence editorial content.
10 Affordable Sunglasses That Look Expensive
You've never truly experienced hardship until you've dealt with the disappointing reality of losing a pair of designer sunglasses. Fun fact about me: I've officially lost three pairs of Ray-Bans, and yes, my wallet does cry at the thought of how much money I've consequently wasted. Predictably, I lost all three pairs during day drinking festivities. *Sigh*. I mean, it's all fun and games 'til you're three shotguns deep and all of a sudden wondering where the f*ck your sunglasses went. The point here is that I'm done paying good money for designer sunglasses just for some other lucky b*tch to find them. But, I'm also not trying to wear the tacky free ones I got during college Welcome Week. Like, I still gotta look good; I have a reputation to uphold. That being said, I've found the best pairs of sunglasses that won't break the bank and you won't feel guilty about losing. 
Edgy
Edgy and trendy sunglasses are having a moment right now. From matrix styles to light colored lenses, here are the edgiest shades that will look fire in all your Instas.

Free People 'On A Mission' Aviator Sunglasses

Free People 'City Slicker' Aviator Sunglasses
Round
There's something very Hollywood rock-and-roll about round frame sunnies. They elevate all of your outfits and make you look instantly stylish. Yes, please!

Free People 'Dyllon' Metal Round Sunglasses

AJ Morgan Double Round Circle Frame Sunglasses
Oversized
Oversized shades naturally have a very Olsen twin feel. They give that effortless vibe we all strive for, like, "omg is she famous? Or… just hungover?" Since you can't see sh*t behind those thick black frames, no one will ever know!

AJ Morgan Oversized Square Sunglasses

Free People 'Real Deal' Oversized Sunglasses
Cat Eye
Classically sexy and cool-girl retro, cat eye sunnies look good on pretty much everyone. They're feminine, fierce, and effortlessly bougie. And of course, these pairs won't break the bank.

Free People 'Creamsicle' Cat Eye Sunglasses

Free People 'Florence' Cat Eye Sunglasses
Aviator
Aviators are effortlessly badass and will help prevent unwanted small talk with overly chatty Uber drivers. Try a gold frame or even a rimless pair, for an undeniably expensive feel.

AJ Morgan Round Metal Sunglasses

AJ Morgan 'Showbiz' Small Rimless Sunglasses
You can't go wrong with any of these inexpensive yet super stylish shades. And, even better, you can now partake in every day drinking activity worry free! Shots to that, betches.
Images: Kahari King / unsplash; Free People (6); South Moon Under (2); Asos (2)
Betches may receive a portion of revenue if you click a link and purchase a product or service. The links are independently placed and do not influence editorial content.
The 10 Cutest Matching Sets For Summer
Whether you're naturally stylish or Britney Spears level inept, matching sets are summer must-haves and TOTALLY worth adding to your closet. For the unstylish, matching sets are a godsend because they're an easy full outfit that automatically makes you look like a style blogger. For those who already have great style, matching sets are a great investment—the pieces can either be worn together or separate to create more outfit options. Matching sets work for legit every summer event. Ranging from styles that are wedding appropriate to ones that are a dinner date necessity, there's a set out there for every occasion. And, since I'm just like, the nicest, I found the 10 best matching sets under $150, along with styling tips for how to wear each one.
Here are the best matching sets under $150, ranked from least to most expensive (cause I know I'm not the only one who sorts by prices low to high).
This set screams "summer" louder than a guy in Chubbies and a straw fedora. The off-the-shoulder top plus ruffled skirt is flirty, feminine, and daytime appropriate. Even if you only ever wear the two pieces together as a set, at a whopping total of $30.80, this matching set is a no-brainer.
To wear separately: Rework the top with a distressed denim skirt, or try wearing the skirt alone with a fitted bodysuit.

This set is chic, glam, and only costs a total of $54.80. The white color and thin black stripes give this set a polished, yet effortless summer vibe. You can wear it for brunch or date night. And once you've worn the set as an outfit a few times, wear the the blazer with your work ensemble for the office.
To wear separately: Wear the blazer separately by pairing it with a bodysuit and boyfriend jeans, and rewear the shorts with a cropped band tee.

Subtly sexy and effortlessly chic, this set is understated and a def must-have for summer. Like, I could totally see Kylie arching her back and posing for an Insta in front of a Lambo wearing this. Considering you can only get maybe two of her lip kits for the total price of this set ($78), I'd say it is a definite buy.
To wear separately: Wear the tank with distressed high-waisted jean shorts and a pair of dad sneakers, or wear the skirt alone with a plain gray tee and statement earrings.

So, disclaimer, this set is called "Saturday Night Set". Although, realistically, I think it's more of a Saturday daytime drinking or happy hour at the beach look. This set is beachy, easy, and effortlessly boho. Pair it with cool shades and a straw bag and you'll look just like a local (the most stylish local, that is).
To wear separately: Try the tube top with paper bag waist shorts, or try the pants separately with a fitted cropped tank.

I'm obsesssssed with a palm leaf print for summer and even more obsessed with this palm leaf print set! This $116 set is perfect for a vacay dinner date or a nighttime summer party. The set is sophisticated, stylish, and since it shows some midriff, it's also hot af.
To wear separately: Wear the top with a high-waisted distressed white denim skirt, or try the pants with a white cropped off-the-shoulder blouse.

In case you're that clueless, polka dots are a HUGE summer trend. And at $128, this set is everything you need and more. This set is feminine and stylish, and everyone will be complimenting you on this set and asking you where you got it from. If you want to tell them, then go for it. But if not, try a casual, "I'm not sure actually, it was a gift!" Like, sorry!
To wear separately: Wear the top with a flowy white ruffle skirt or wear the pants with a fitted one-shoulder crop top.

Now this is a set that was named appropriately. Like, how ideal is this for Sunday morning brunch? Just throw on this set with a messy bun and a pair of oversize sunnies and you're good to go! No one will ever know you're about to projectile vomit all over the brunch table.
To wear separately: Wear the top with a pair of white gauchos or try the skirt with an orangey-red off-the-shoulder bodysuit.

This is the kind of outfit your mom would love to see you wear. The look is summery and sweet, yet still super stylish. Wear this set to your family party and I guarantee everyone will totally forget about how blacked out you got last year.
To wear separately: Wear the top with a pair of distressed white jeans or wear the skirt with a ruffled white top.

This set is the ideal "dinner-by-the-beach" outfit. At $138, this two-piece denim set would look amazing with an elevated sandal and an embroidered clutch. With an outfit like that, you'll easily be the best dressed person at your bougie-ass dinner by the water.
To wear separately: Try the flowy strapless denim top with a high-waisted fitted skirt, or wear the pants with a straight neck bodysuit.

Gingham is another big summer trend. And at a total of $138, you have no excuse to not get in on the trend. This print is sweet, girly, and versatile. Plus, the set's innocent vibes will help disguise your true shot-pounding, savage self.
To wear seperately: Wear the top with distressed boyfriend jeans or try the skirt with an off-the-shoulder, oversized loose-knit summer sweater.

So, there you have it, the best sets across the internet for under $150. And if you can't afford the cheapest one at $30.80, well that kind of seems like a personal problem. (May I suggest you try driving for Uber?)
Images: Pete Bellis / Unsplash; Forever 21 (2); Revolve(2); Free People (3); Urban Outfitters; Shopbop (2)
Betches may receive a portion of revenue if you click a link in this article and buy a product or service. The links are independently placed and do not influence editorial content.

5 Trendy Summer Sandals You Should Invest In
Summer is here, and I swear to God if I see any of you bitches in nasty, dirty, smelly, run-down Rainbow flip-flops that you've had since high school, you will be dead to me. Summer is the time to show some skin—including your feet. So get a pedicure and upgrade your sandal game so you can live up to the chic summer outfits you've already purchased. Here are the types of summer sandals you need to add to your closet.
1. Slides
Slides are the new have-to-have summer sandal. They're easy to put on, are super comfy, and can be super chic with the right outfit. If you're bougie af, these Givenchy ones are on my wishlist. Otherwise, if you're a poor like me, waiting for everyone to recognize that you're actually this artistic genius and pay you a bunch of money for it, buy these (considerably less chic) Ivy Park dupes.


2. Birks
Birkenstocks have been back in for ages, and I feel like a total hypocrite because I hated these hippie monstrosities in 7th grade. However, they've grown on me, and they're super fashionable right now (which, like, what does that say about our current fashion?) and they're comfy af. Get a cute color, like metallic, studs, or white—NOT those hideous greenish suede ones. Those give me PTSD flashbacks.

Birkenstock Arizona Soft Footbed Sandal
3. Mule
STFU about mules being old or ugly, they're cute af and they're the top pick for summer sandals. They're casual but give you a little bit of height. I recommend getting both a black and a neutral, like this pretty blush.

Steve Madden Relax Platform Mule
4. Wedge
Wedges are always a summer classic, and you can wear them to a Vegas pool party or your friend's outdoor summer wedding. And you won't even get stuck in the grass. Win, win. These ones are also perforated and espadrilles, both styles that are so hot right now. They're the basic wedge upgrade. Plus, they add ventilation so you don't have nasty foot sweat.

Marc Fisher LTD Annie Perforated Espadrille Platform Wedge
5. Decorative
To add a little glam to your summer casual wardrobe, add in a sandal with some embroidery or design. These little sandals from Michael Kors are gorgeous, espadrilles, and have this super cute leaf design to add some interest. It's the perfect vacation sandal. Or if you're not into chic and classic looks, here are slides with cats flipping you off. Whatevs.

Michael Michael Kors Fisher Espadrille Sandal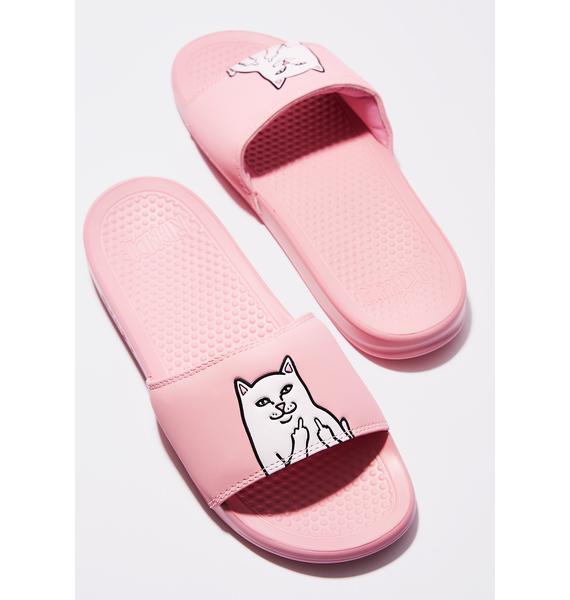 RIPNDIP Pink Lord Nermal Slides
Images: Nordstrom (6); Dolls Kill
Betches may receive a portion of revenue if you click a link in this article and buy a product or service. The links are independently placed and do not influence editorial content.