5 Trends From Last Summer You Have No Business Wearing This Year
New year, new season, new wardrobe. I expect you to repeat this mantra to yourself when you're sloughing off the excess in your closet to downsize for this summer. It's hard to believe that we're already in talks of summer when it feels like spring just decided to shadily dip on us this year. First of all, mad rude and second of all, I'm seriously over wearing my winter jacket already. Despite how excited we are to dig out our high waisted shorts, floral rompers, and boho maxi dresses, it's time to toss some these tacky and overrated last year trends to the side for good. As if you needed a legit reason to go shopping, here are last year's summer trends you should most def not be wearing this summer and alternatives to splurge on instead.
1. Flannel
You'd think this was a given for many, but you'd be surprised. Contrary to what the temperature feels like on the east coast, don't even think for a second that your oversize flannel or button-down plaid is appropriate—not even tied around your waist for whatever country music festival you plan on going to this summer. Wear that shit inside the house. Instead, consider going for this year's trending gingham and check print.
2. Peasant Tops
Just, no. Absolutely fucking not. They're hardly flattering and now, they just remind me of my grandma. Swap out the tacky style for flirty ruffled tops you can pair with mini skirts or jeans, like the one below.

Lover + Friends X Revolve Rebecca Top
3. Over-The-Top Boho & Fringe
I will have a special place in my heart for Vanessa Hudgens' Coachella aesthetic for as long as I live, and refraining myself from buying gladiator sandals and fringe accessories will probs break my heart. The festival style we all know too well had its moment way back when, but has definitely become subtler in the new year. We'll probs see a shit ton of fanny packs, low-key mules, and belted maxi dresses in place of overly boho pieces.
4. Skinny Jeans
But honestly, who is even wearing skinny jeans anymore? Clearly these are v outdated with the amount of mom, boyfriend, and girlfriend jeans retailers are shoving down our throats. This is only a benefit to us, because no one like sucking in all day long. Search for loose cut-offs you can still pair with slides, heels, and wedges.

5. Millennial Pink
This is not a drill. We're actually trying to make millennial pink not happen this summer. The overly Instagramed color is being taken over by lavenders alike and the bold Gen-Z Yellow. Slowly, but surely, think twice before grabbing the pink and consider obsessing over the new and better. Whatever you do, don't choose orange. Fucking duh.
Images: Ali Morshedlou / Unsplash; Revolve; Urban Outfitters
How To Dress For Work When It's Hot AF Outside But Freezing In Your Office
Being an adult is shitty year-round, but it especially blows in the summer when you have to figure out how to dress for work when it's really hot out. For some reason, every office in the world is fucking freezing, as if air conditioning was invented yesterday and everyone's fascinated with it. Your options are either to arrive to work with pit stains because you're dressed for the arctic but it's 105 degrees outside or to chill with your nipples showing all day because you didn't dress for the AC. You're pretty much screwed no matter how you dress, but these tips should help a little. I'm also not even going to try to sell that any better…betches love to complain so being a little bit uncomfortable with the temperature is sometimes kind of fun.
1. Wear Linen Pants
Wearing linen in the summer to stay cool when you have to cover up is like, the oldest trick in the book. It's probably why linen even exists in the first place. The trick with wearing linen is to look for it in trendy silhouettes, or else you'll end up looking like Barbara Streisand in Meet the Fockers or a recently divorced woman who decided to take a year off and do the whole Eat, Pray Love thing. These linen joggers from the Gap are actually super versatile and go with pretty much any kind of shoe you can imagine. (I have a black pair that I've already worn like a million times and I usually hate being an outfit repeater.) Plus, they're available in tall and petite lengths.

GAP cotton-linen utility joggers
2. Switch Denim For Chambray
If you work in an office with a dress code that allows you to wear jeans, try picking up a pair of these chambray pants by Seafolly instead. It's basically the same look, but chambray is much more lightweight than denim. If you work in an office that forbids jeans, slip a Xanax into your boss's coffee and tell her to chill the fuck out.

3. Throw A Sweater Over Your Dress
Every stupid "how to transition your wardrobe" guide that comes out every season of every year tells you to wear a sweater with a dress, so like, I'm sorry about this. It's pretty much the shittiest advice ever because 90% of the time, you're going to end up looking like Taylor Swift. To make this look acceptable, ditch the floral sundress and go for something cool that you can wear to happy hour after, like this slip dress from Topshop. Don't try to get cutesy with the shoes, either. Like, T. Swift would def wear Keds or some shit, so…don't. Also, make sure to lint roll the cat hair off your sweater first.
P.S. If you're like a "fashion risk taker" and/or have a secret Tumblr page filled with photos of Kate Moss and Winona Ryder in the 90s, wear the sweater under the slip dress.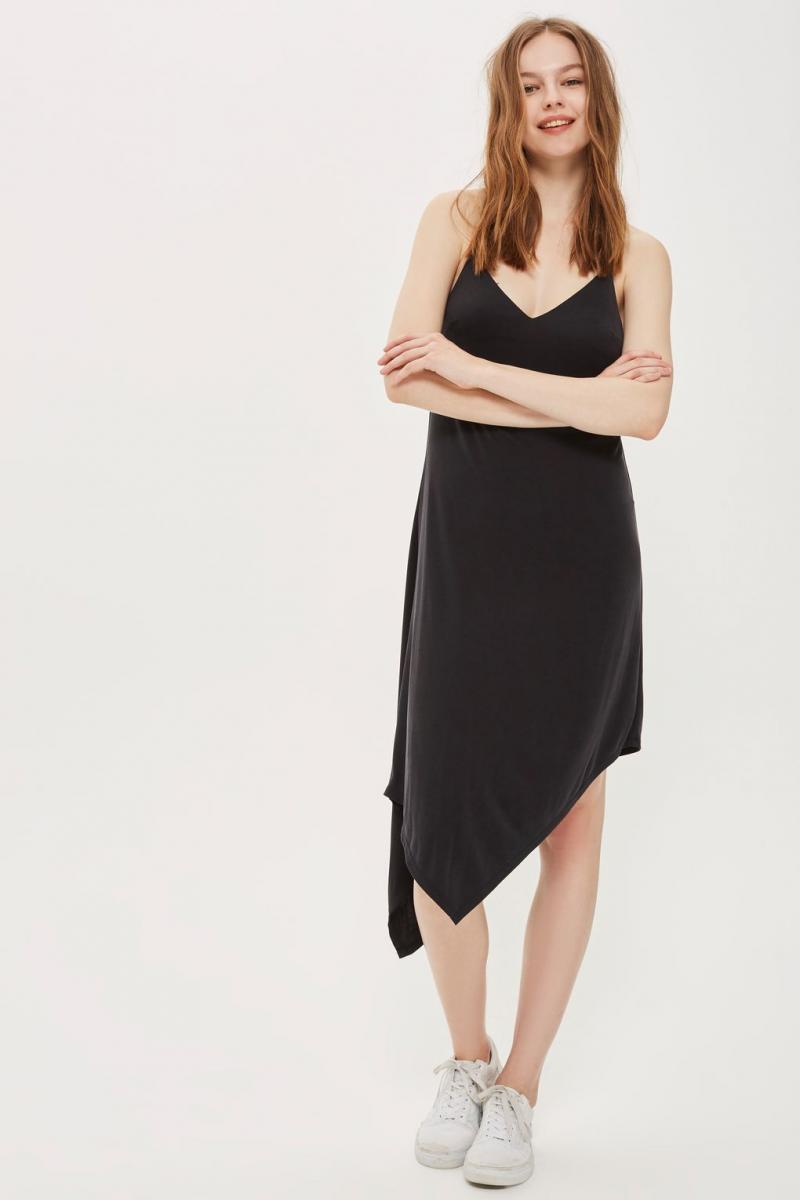 Topshop asymmetric hem slip dress
4. Dress Like A Frat Boy
LOL, jk, I'd rather die. You could not pay me to wear Vineyard Vines. However, if you work in an office where you have to wear a suit, listen to the advice I already gave you and wear linen. Obv, most of the linen suiting in this world is fugly and will make you look like your idea of fun is blacking out while playing lawn games with freshman girls. Zara usually has some decent clothes for profesh betches, like this linen blazer, so maybe you check them out.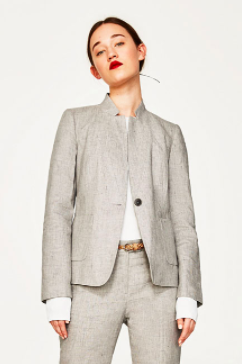 Or you can try Sears.


5. Wear Cotton
Cotton is another really breathable material, so anything that's totally made from it should help save you from being known as the sweaty girl at work. (Every office has one and if you think yours doesn't…it's you.) You've probably seen those ads on TV that are as annoying as a triple text, but The Fabric of Our Lives is actually pretty helpful because it pulls cotton products from all different kinds of stores into one searchable spot. However, even if it's a fast way to shop a bunch of brands at once, the database probably isn't updated super frequently, so occasionally, the listed products are sold out. Such a pain in the ass.
But yeah, apparently this Sanctuary bomber is cotton, so you can use it to layer when some asshole cranks up the AC. Also, shoutout to bomber jackets for still being relevant after Forever 21 almost killed them off.

6. Wear A Longline Cardigan
Longline cardigans are probably the summeriest cardigans in the game, so this metallic version from Nasty Gal is a good layering tool to have. It's kind of the same idea as the "beach sweater" you convinced your mom you'd need from Abercrombie in middle school, except now you have an actual purpose for it.