5 Last-Minute Summer Cocktails You Can Make From A Corner Store
Unless you're like, a Stepford Wife in training, the odds that you've promised to bring "like, really cute cocktails that will get us so drunk" to a dinner, pregame, or pool party, and then totally dropped the ball are pretty high. If you are a Stepford Wife-in-training, I'm going to need you to stop taking Snapchats of the mildly interesting meals you cook for dinner and captioning them "wife me." If you're like the rest of us, read on.
Nearly every single time I've ever promised to bring a cool drink to a get-together, I've spent an hour at work scrolling through Pinterest, saving ambitious cocktails, and forgetting about them when I realize that someone's probably watching me. Then, the event rolls around, and I'm already like, 20 minutes late, and have no interesting ingredients. I have found myself at so many bodegas, convenience stores, and even gas stations, desperately typing in the depressing selection of ingredients I saw in front of me into the Pinterest app with the word "cocktail" behind them. So here are some of the tastiest summer cocktails you can make when you are somewhere that doesn't even sell tampons with plastic applicators, let alone triple sec or peach schnapps. Oh, and, all of these recipes make enough to fill a pitcher. You're welcome.
Hawaiian Mimosa
1 cup Malibu

2 cups pineapple Juice

A full bottle of prosecco
Literally just pour a bottle of prosecco into a pitcher and add a bit of Malibu and pineapple juice. Feel free to play around with the proportions, but note that this basically tastes like a bubbly Capri Sun so you will end up texting someone you shouldn't.

Get the full recipe here.
White Strawberry-Lemon Sangria
2 lemons

1 apple

1 cup of strawberries

1 bottle of white wine

½ cup of rum

4 cups of lemon-lime soda
Sangria is a solid option, because it's such a vague kind of drink. I mean, what even is sangria? Just wine with a bunch of other sh*t poured into it? I think so. Anyway, this recipe is just a light suggestion. You can basically throw anything into a pitcher of wine and let it sit for like, four hours, and it'll be decent. For the wine selection, I'd advise a dry white wine or even white zinfandel, because even liquor stores with the lamest selections will have a box of Franzia or a bottle of Barefoot White Zinfandel. It's just a fact of life.
Get the full recipe here.
Paloma
1 ½ cups of silver tequila

4 ½ cups of grapefruit soda

However many limes you feel like using as garnishes
Okay, so there are plenty of ways to make a Paloma, but if you're just swinging by a corner store, you probably don't have time to find all of the garnishes or actual grapefruit juice. This recipe will make a pitcher of Palomas. It calls for the juice from six limes, but like, if you're swinging by a bodega last minute on a Friday night, your options may be limited. It's totally fine if you just grab however many you feel like slicing and use them for garnishes instead.
Get the full recipe here.

White Wine Spritzer
1 bottle of white wine

12 oz of lemon flavored seltzer

Sliced lemon or lime wedges
Wine spritzers are another really great cocktail to make when you're totally unprepared because again, what even is a wine spritzer? They can truly be as half-assed or as extra as you'd like. Just dump a bottle of wine into a pitcher, and then throw in some seltzer and lemon or lime wedges. If you're in the mood to blackout, you could even use a Spiked Seltzer.
Get the full recipe here.
Last-Minute Margarita
Coconut Water

Pineapple Juice

Tequila
Guess what? This recipe doesn't tell you how much of anything to use because it's not a real recipe. It's basically a non-disgusting version of the Redneck Margarita from Queer Eye. I literally just once texted my dad from a gas station while I was on my way to visit friends because I had promised to bring stuff to make margaritas, and forgot to. (Save the judgment. This is who I am as a person. Back off.) He was like "IDK, just throw some coconut water, pineapple juice, and tequila into a shaker and pour it in a cup. And also, when's the last time you got an oil change?"

Anyway, another gem I learned from this phone call was that you can actually just use two solo cups as a shaker. Because, obviously, I do not have my life together enough to carry a shaker everywhere I go, and you probably don't either. Sorry.
Images: Pexels (1), Giphy (3)
5 Perfect TV And Cocktail Pairings For Your Summer Shows
Watching your favorite TV shows is only made better by watching it with friends. And if you're watching it with friends, the only improvement is to drink while you watch, especially because most of the TV I watch is so fucking stupid I could not possibly get through it sober. Instead of downing a bottle (or two) of wine while screaming at Becca for LETTING LINCOLN THE FLOOR SHITTER STAY on The Bachelorette, maximize your viewing party chicness by pairing your fav show with a cute on-theme cocktail. Also?? Have food. If I have to go wear pants, put on makeup, and hang out at someone's house instead of my bed, I expect to be fed. GOD. You can thank me for these genius TV and cocktail pairings in the comments.
'The Bachelorette' + Will You Accept This Frosé?
If you haven't had frosé yet, you're not trendy enough to be my friend. Sorry. A frosé is a frozen rosé cocktail. It is my favorite summer drink, it's not super high in calories, and it goes with the sad roses Becca tearfully passes out to racists and flat-Earthers. Plus, frosé is totally Instagrammable. All you need is rosé, sugar, strawberries, lemon juice, ice, and a blender. Your friends will be hammered, having a great time, and on theme.

'Jersey Shore' – The Long Island Dump
Celebrate the trash that is Jersey Shore: Family Vacation with an equally trashy drink, like a Long Island Iced Tea guaranteed to get you so drunk that you feel on par with the cast. Much like our favorite guidos, this drink is a mess of alcohol all poured into one fuck-you-up beverage. Also, aren't some of them from Long Island? My sense of geography for that part of the country is v flawed. I don't pay attention in one class freshmen year of high school because it was at 7:30am, and I somehow never take or learn geography again. Like, I didn't know that would forever fuck up my ability to find shit for the rest of my life. Anyway, get your friends drunk enough to tolerate Angelina shitting her pants on TV with vodka, gin, white rum, Triple Sec, lemon juice, cola, and lemon wedges!

'The Handmaid's Tale' – Gilead Water
Do people have viewing parties for The Handmaid's Tale? Do you guys just like, cry into each other's shoulders about the realization that this is going to be our reality in the near future? Well, if so, drink a cocktail the same color as our sad, black hearts watching it. This drink is actually called LA Water, because it's the exact color of the LA river. Super sad and super gross, much like our impending doom! Make this dystopian cocktail with vodka, gin, rum, Triple Sec, Blue Caracao, raspberry liquer, and sweet and sour mix. Hopefully you'll forget about the state of our country.

'The Real Housewives Of Orange County' – You Are Orange, Jesus Jugs
Coming back this July, my OC Real Housewives are back to ruin lives and accuse each other of faking cancer. Can't wait! I just binged the entire series on Hulu, so I'm sure that will tell you everything about my current mental state. I'm actually from Orange County, and I can tell you, it's exactly like that. Anyway, watch Vicki and Tamra mak eup and then call each other whores five minutes later with a fun, orange-themed drink like an Orange Blossom. But I gave it a cute name involving Jesus Jugs because that is the best insult of Housewives history. Fight me. Make this orange drink in honor of our fav orange-holding ladies with gin, vermouth, and orange juice.

'Bachelor In Paradise' – Consensual Sex On The Beach
Ok, this one doesn't come out until August but I am so. Fucking. Excited. It's the only reason I tolerate all the other Bachelor shitshows is to pregame for BIP so I know who everyone is. Which was an especially huge burden this year because we had that fucking disaster that was Winter Games. Hopefully this year everyone gives explicit consent before having oral sex on camera in front of an entire crew, because I will cut a bitch if production gets shut down again and we miss several weeks of iconic trash TV. Make a ~Consensual~ Sex on the Beach for this slut-fest with vodka, peach liqueur, orange juice, and cranberry juice, and pretend you've also instantly found true love with randos in Mexico.

Two Kombucha Cocktail Recipes For Your Next Hair Of The Dog
With America turning another year older, we needed a fucking patriotic cocktail. Actually, scratch that—we needed two. But like, instead of the usual alcohol + fruit/mixer = drunk, we decided to add in our good friend kombucha, who always seems to come through for us in times of hangover tough shit. You may think the fermented tea tastes a little weird, but this is America, where we experiment with weird vinegar-flavored things and see what alcohol we can add to make it better.
If you shop hard enough, you'll find plenty of flavored kombuchas which give you the health benefits plus not-gross flavor. So you can get your July 4th party on knowing that you're like, better than everyone else. And that's really what's it's all about.
Blueberry Mojito

– 1 cup blueberries
– 6 oz. white rum
– A bunch of fresh mint
– 2 tsp. sugar
– Juice from 2 limes or like, some bottled stuff if you're povo
– 6 oz. kombucha — we used LIVE Soda Pomtastic Blueberry because it's like, blueberry flavored and doesn't taste like vinegar and feet but still has kombucha goodness
Got all your patriotic shit? Good. Blend or otherwise smash your blueberries, mint, and sugar together until everything is like, relatively smooth. Stir in the lime and rum until everything is niiiiice and mixed. Divide the mixture between two glasses and top the rest with the kombucha. Add some ice and fuck yes, America.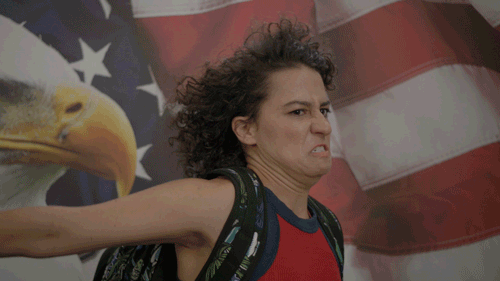 Kombucha Mimosa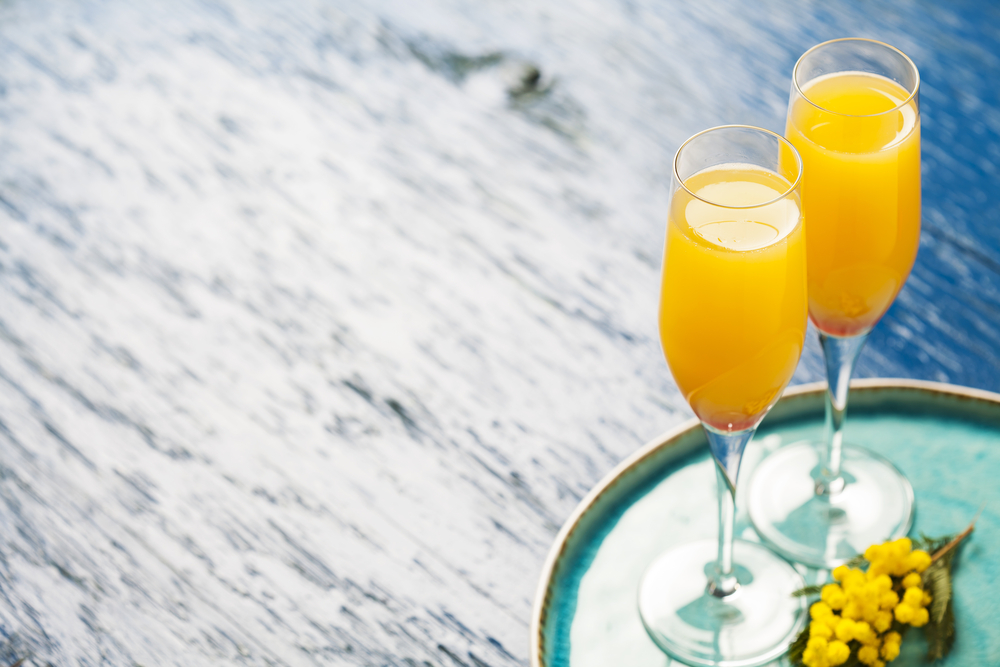 – 1 bottle Champagne or prosecco (as you do)
– 2 bottles berry-flavored kombucha — we used LIVE Refreshing Rhuberry
– 1 ½ cups orange juice
Have you made a mimosa before? Cause like if you haven't idk why you're on the site. Probably as a dare. Or you're a Russian spy. Anywho, grab a big pitcher and combine the Champagne, kombucha, and juice. Stir to combine, pour into glasses, and garnish with berries. Like honestly I shouldn't have to explain this to you. There's nothing like a mimosa to kick off a day of explosions and hot dogs for America.
This Blackberry Gin Spritzer Will Keep You Skinny While Getting You Drunk
So, like, summer is officially here, and somehow I don't have the bikini body of Gigi Hadid despite working super hard on not eating and only drinking vodka sodas. Rude. Since I'm all about giving up and giving in to temptation these days (lol yolo), I figured we skip the low-cal vodka drinks and questionable hard seltzers (we've hit a new low as a society) and go right for the drink of psychopaths—gin. Weirdly, this liquor reminiscent of cleaning solution goes beautifully with things like fresh berries and mint aka the prime farm-to-table crops of summer. To get in the spirit, we mashed 'em all up together and made an alcoholic bev that'll keep us cool and happy when we're getting our tan on.
Ingredients
1 6-oz container of blackberries OR raspberries … or a combination of the two. IDGAF, it's your life.
½ cup white sugar
2 cups gin
1 cup fresh lime juice
1-2 bottles of that hard seltzer shit—we used Spiked Seltzer
Mint
1. Grab your Vitamix or poor people blender and combine the blackberries and sugar. Once you're done blending, stir the concoction until the sugar looks dissolved, which honestly may take a while. You can also put it on the stove in a small saucepan and heat the mixture until the sugar is alllllll gone.
2. Once you've got that where you need it, strain the mixture through a fine sieve into a pitcher so you can throw out the seeds. Ain't nobody want those.
3. Grab your gin and lime and pour into the pitcher with the blackberry stuff. Then divide among glasses and top with the hard seltzer and sprigs of fresh mint.
It's like totally healthy because there's fruit in it, fucking duh!