Easing Of Pandemic Restrictions Gives Woman Time To Focus On Body Insecurities
NEW YORK—With temperatures rising in the parts of the country that experience seasons, along with vaccine injections, residents are excited for summer and hopeful they can resume something resembling a carefree lifestyle of drinking in public parks and hookups with strangers. And now that bikini season is right around the corner, one New York area woman came to the jarring realization that it is once again time for her to hate her body.
"Is it really time for me to get my bikini body into gear already?" gasped Kelsey, a resident of the Upper East Side. "Without all the constant messaging of how I need to shed my love handles or get rid of my stretch marks, I simply lost track of the time of year!"
For the past 12 months, Kelsey found herself preoccupied not with the newest technology that promised to freeze your fat off or the latest iteration of the thigh gap, but with simply staying alive.
"As nice as that was, I'm glad to be back in my comfort zone of feeling extremely uncomfortable in my own skin, like I just want to rip it off," she says. "I mean, literally—I fantasize about this a lot. I think I'd start with the flap of skin under my arms."
And while last April, Kelsey's main wardrobe concern was locating an effective face covering that wasn't marked up 6,000%, the 29-year-old says she's excited to get back to her roots, which include agonizing over her reflection in dressing room mirrors and storefront windows, trying on every single bikini in the Bloomingdale's swim section and leaving empty-handed because "bikinis just look weird on me, I guess", and working salads into every topic of conversation.
As her friends stress over the expectation to wear less clothing after an uncharacteristic year of moving less and drinking and eating more, Kelsey has found another silver lining: "Although small businesses and restaurants have suffered nearly insurmountable setbacks due to the pandemic, on the bright side, there are more companies than ever promising to get me to my goal weight in 30 days!"
"Do I go with the effective, but expected keto? The more glamorous Intermittent Fasting? Maybe I should try that ProLon thing all those influencers are posting about," she says. "All the options are almost making me nostalgic for the simpler times when all I had to worry about was if dropping groceries off at my parents' house would kill them."
Kelsey's friends have noticed the change, too. They report that during the pandemic, her usual diet talk and hemming and hawing over her jeans size were replaced by nuanced conversations about current events, sexism, and societal double-standards. Now, she's back to interrogating everyone in her friend circle about how many calories they think are in her tofu and goat cheese scramble.
"Thank god we're starting to return to normal," she said with a sigh of relief. "I was starting to become interesting."
Image: Bruce and Rebecca Meissner /Stocksy
12 Common Sunscreen Myths Debunked
You've heard it from your mother, your dermatologist, your first-grade teacher, and even Baz Luhrmann: Wear sunscreen. With the wealth of knowledge we now have on sunscreen's ability to reduce our risk of skin cancer and to protect against sun damage like wrinkles, dark spots, and sagginess, it seems wild to think that some still skip this crucial step in their daily skin care routines. But in reality, the increasingly oversaturated sunscreen market and the onslaught of information, studies, and data surrounding it can often have a detrimental effect on consumers, leaving them unsure of what to believe and whom to trust. Over the years, certain myths about sunscreen have permeated our culture, and even the wisest of skin experts have fallen victim to them. With a scorching summer already upon us, it's more important than ever to not only debunk these misconceptions but also to understand why they're inaccurate.
Myth #1: Sunscreen Is Not Necessary Indoors, On Cloudy Days, Or Inside A Car
"False, false, false!" says Dr. Shereene Idriss, a board-certified dermatologist in New York City. "Yes, clouds do reduce some of the harmful UV rays, but they don't block them all, particularly in areas where the ozone layer is dramatically reduced." It's also important to realize that UV light is not alone in its ability to cause harm. Outdoors, UV light, in the forms of UVA and UVB, can impact skin aging and increase the risk of skin cancer. Some of that light can travel indoors through windows, but we're also exposed to other types of light indoors, including visible light and blue light, which can also impact the skin. For that reason, it's crucial that sunscreen be worn daily, and it should not be skipped just because you're inside.
Myth #2: One Application Of Sunscreen Will Last All Day
"If you have discovered the sunscreen that lasts up to 24 hours, please let us all in on that secret!" Dr. Idriss jokes. In fact, not only will one application of sunscreen not last all day, but it will last just a couple of hours. "Most sunscreens are tested for a specific amount of time, and that's on average two hours," explains Dr. Caroline Robinson, a Chicago-based board-certified dermatologist and founder of TONE Dermatology. "After two hours, the SPF protection goes down significantly, so you do need to reapply to maintain that initial level of protection." If you are in the sun, reapplication every two hours is imperative, but if you're mostly indoors, you can be slightly more lenient in reapplying so long as you apply before stepping outside again. "I tell people to bring a sunscreen brush, like ISDIN's, with them wherever they go and quickly apply that to their arms and face and any exposed skin before going back outside," Dr. Robinson notes.
Myth #3: The Higher The SPF, The Better The Protection
While this is not totally true, there is some logic behind the belief. "The SPF number does not reflect the duration of efficacy of the sunscreen; it indicates how long it would take for your skin to redden when using the product," Dr. Idriss says. "So, for example, if you are using an SPF of 30, it would take 30 times longer for you to burn while using the sunscreen versus if you didn't use it all." There is also proof that the higher the SPF, the more protected you will be—but only to a certain point. "SPF 15 blocks 93% of UVB, whereas SPF 30 blocks 97%, and SPF 50 blocks 98%," the New York dermatologist explains. "This may seem like a negligible gain in protection, but if you are prone to sunburns or skin cancers, that little gain can make a world of a difference."
Once you go above SPF 50, though, the difference in protection is quite small. Dr. Robinson says a nickel-sized amount of sunscreen is required to cover the whole face and about a shot-glass full is necessary to cover the whole body. "But if you know that you're not going to follow those recommended amounts—and most don't—then you can actually benefit from a higher SPF," she advises. "In doing so, you can get a similar protection to an SPF 30, which is what those measurements are based on, but you can get it with less than the nickel- and shot-glass-sized amounts." Essentially, it will be more thinly spread than the recommended amounts would, but because it's a higher SPF, it will be roughly as powerful.
Myth #4: People With Darker Skin Tones Don't Need To Wear Sunscreen
"This is a misconception I've been fighting for a very long time," says Dr. Robinson. "While people with darker skin tones are indeed less likely to burn, they aren't immune from sun damage, and oftentimes, it will develop in the form of hyperpigmentation—potentially even more dramatically than sun damage would manifest on lighter skin tones." Additionally, certain conditions, including post-inflammatory hyperpigmentation (dark spots that result from acne or irritation to the skin) and melasma, can be worsened by sun exposure, especially in people of color. So, even if your sun damage doesn't come in the form of the traditional sunburn or freckles, it's still important to wear sunscreen in order to protect your skin from other damage.
Myth #5: If You're Not Prone To Burning, You Don't Need To Wear Sunscreen
Much like the belief that those with darker skin tones don't need sunscreen, there's a misconception that if you don't burn, you similarly don't need SPF. "There's this idea that just because you tan, you're fine, but tanning can actually be a system of sun damage," Dr. Robinson explains. "You can have enough exposure to the point where you no longer burn; your skin just goes straight to tan, and that's not a good thing." Immediate tanning can be an indication that your skin has skipped the warning response of burning entirely, and that's actually a sign that your skin is damaged.
Myth #6: If You Wear Sunscreen, You Won't Get A Tan

Many refrain from wearing sunscreen because they claim it will keep them from achieving that oh-so-coveted sun-kissed glow. But, as Dr. Idriss says, this is once again false. "Sunscreen makes your skin slower to react to UV rays," she notes, "but it doesn't prevent it from reacting altogether." You can definitely still get a tan while safely protecting your skin with sunscreen.
Myth #7: Wearing Makeup That Has SPF In It Is Enough
Absolutely not! "Most makeups that include an SPF are not tested to the extent that sunscreens are, especially compared to the sunscreens that carry extra credentials, like an endorsement from the Skin Cancer Foundation, or anything like that," Dr. Robinson explains. In order to reap the full benefits of the SPF listed on your makeup, you would need to use a hefty amount, up to the size of a nickel, and unless you're a Kardashian, you're probably not equipped to wear that much makeup. You also likely won't be putting makeup on your ears, neck, chest, or any of the many regions of the body that are not the face but are equally susceptible to sun damage, and you won't be reapplying makeup every two hours as you would sunscreen.
Myth #8: Spray Or Powder Sunscreen Is Just As Effective As Lotion
As new agents of delivery have come to the sunscreen market over the years, they've often appeared to be solutions to the stickiness and getting-it-in-your-eye tendency of traditional lotion, and while that can be true, spray and powder sunscreens can also have their shortcomings. "They can definitely be as effective, but a lot more needs to be applied in order to reach the same level of effectiveness," says Dr. Idriss. Unlike lotion sunscreens, applying a spray or powder means that some of its contents will not land on the actual skin, so you'll need to as much as double the amount you're using.
Myth #9: Sunscreen Can Lead To Cancer Or Other Health Problems
While an alarmingly common belief, the idea that sunscreen can cause cancer or any other health issue is founded in no truth. "I wish this myth would go away because it's been disproven time and again," Dr. Robinson says. "Sunscreen does not cause cancer, and there have been so many studies to show that, but they sadly don't make the headlines as much." And if you're really worried, do as Dr. Idriss suggests and simply opt for a physical sunscreen instead of a chemical one.
Myth #10: There's No Real Difference Between Chemical And Mineral/Physical Sunscreens

Although both types of sunscreen achieve the same goal, scientifically, they work very differently. "Mineral and physical are interchangeable terms, and the most common ingredient in those sunscreens is either zinc oxide or titanium dioxide," explains Dr. Robinson. "Those are metals, and if you think about a sheet of metal, you know that it literally just reflects light; so, physical sunscreens sit on top of skin and reflect the UV rays and scatter light." Chemical sunscreens, on the other hand, absorb the UV light and put it through a chemical reaction (their namesake comes from this) that converts the light to heat. "Because the chemical sunscreens have to first absorb the light, they take a little longer to become active, so you can't apply them while you're outside or even right before," the Chicago dermatologist notes. "You have to allow at least a few minutes, which the bottle will tell you."
Some people can be more sensitive to the ingredients in chemical sunscreens, so for babies, children, and anyone with sensitive skin, a physical sunscreen is the way to go. Historically, some consumers have shied away from physical options because they can leave more of a white film, but some recent additions to the sunscreen market have gotten around that with advanced technologies. Dr. Robinson recommends SkinBetter's SunBetter Stick, a physical SPF 56 sunscreen which uses a new technology to uniquely shape the zinc particles so that they sit atop the skin without leaving the familiar white cast. She also loves Eryfotona Actinica from ISDIN, another physical option that uses DNA Repairsomes to repair DNA damage that can come from sun exposure, and Revision Skincare's IntelliShade TruPhysical, which has Vitamin C in it and effectively serves as two necessary products in one.
Myth #11: If You Didn't Wear Sunscreen When You Were Younger And Already Have Sun Damange, There's No Point In Wearing It Now
"Although most of the damage is actually accumulated while you're younger (typically before the age of 18), it doesn't make you immune to worsening damage," Dr. Idriss says. Indeed, sunscreen protects from the visible signs of aging caused by sun exposure, but it also reduces your risk of skin cancer, and that alone is reason to start or continue wearing it even if you've already suffered some sun damage. "I recommend you adopt a 'never give up' attitude," suggests Dr. Idriss. "You only have the skin you're in, and hopefully your life will be long, so you might as well protect and enjoy it every step of the way."
Myth #12: Sunscreen Never Expires
Of all the myths that exist about sunscreen, the notion that it doesn't expire might be the most outlandish. "Sunscreen is doing a lot of work, so when you're applying it, you want to be confident that you're getting the coverage you think you are," Dr. Robinson explains. Like everything in life, sunscreen has an expiration date, and you can find it by looking at the back or bottom of the bottle. As for any wiggle room when it comes to that expiration, like the "five-day rule" for milk, Dr. Robinson says, "we don't take chances with sunscreen."
Images: Retha Ferguson / Pexels; Maciej Serafinowicz / Unsplash; Antonio Gabola / Unsplash; Taylor Simpson / Unsplash
So, You Ate Too Much—Here's How To Reframe Your Thinking
We've all been there: doing super well with our workout routine, eating super clean and healthy, and then the holidays roll around, and you feel like you ate so much mac n cheese, you could literally die. You had the best of intentions. You told yourself you were going to fill up on salad and green beans and turkey. (Okay, so maybe you were a bit unrealistic). That didn't happen, because food is delicious. If you're like a lot of people, you might be feeling a whole lot of emotions, and probably not a lot of them are positive. I don't need to tell you that beating yourself up over not being perfect is counterproductive… but I'll tell you anyway. Don't worry, I'm here to help.
When all is said and done (and eaten), you probably came to one of two different conclusions, right? One, you say f*ck it, you already messed up, might as well give up. Two, you own up to your sh*t, recover, and get back on track. If you picked one, then we need to switch your whole mindset. How are you ever going to reach your goals (in fitness and life in general) if, for every one mistake you make, you give up and make another four or five? One bad meal or one bad day doesn't have to set you back for a week or more. So take a deep breath, stop beating yourself up, and take a look at my best tips to helping you get back on track.
Instead Of Beating Yourself Up… Forgive Yourself
I already touched on this a little, but first and foremost, realize that you're human and no one on Earth has ever stuck to a diet or lifestyle change perfectly. Diets are not designed for perfect execution, but that's a whole different topic of discussion that I could talk about forever. Bottom line, if you went harder at Thanksgiving than you had initially intended, forgive your mistake and dust yourself off. It's just a speed bump, you didn't crash and burn. You'll be okay.
Instead Of Feeling Regret… Find Appreciation
Instead of focusing on all the negative feelings, focus on the upside. Did you have a great time with your friends and family? Did you enjoy the food? Did you avoid getting into an argument with Uncle Paul by making sure your mouth was full with mashed potatoes at all times? Regret nothing. The more you focus on the negative, the more you'll stress yourself out, which will raise your cortisol levels and cause you to further demonize food. If you follow my school of thought, then you know we don't demonize food—doing so will just make you want more of the "bad" foods you have deemed off-limits, and in the long run, sabotage your own goals and happiness.
Instead Of Doing A Cleanse… Hydrate And Eat Fiber
Okay, so instead of just not eating the next day to counteract the damage, drink a lot of water and make it a point to eat something green and crunchy like a salad (crunchy because of the lettuce, not croutons, sorry) for either lunch or dinner. The water and fiber will help move things along, literally and figuratively. Salad, soups, feel free to add whatever lean protein you want. Avoid processed foods and try to limit your sodium intake, because it will just make you more bloated. But, for the love of God, eat! Don't try to crash diet or deprive yourself of food or go on a juice cleanse—that's setting yourself up for more struggle, disappointment, and bad feelings in the long run.
Instead Of Working Out As Punishment… Do It As Motivation
If you feel so motivated, try to get a workout in. To be clear, this is not a punishment for your mistakes. Don't approach it like that, but approach it like, now that your gas tank is full, you have the resource to go the extra mile. You may find that you are able to lift heavier, run faster and go for more reps and sets. Use the extra fuel as a resource for achieving new fitness goals, but make sure not to over-exercise to the point of injury.
Remember: As long as you don't give up, you'll be okay. Keep the vibe and self-talk positive, because literally, EVERYONE on Earth goes through this. What matters is if you choose to bounce back from these setbacks. The difference between progression and regression not just in fitness, but in life, is realizing you're bigger than your mistakes.
Images: Element 5 Digital / Unsplash; @dietstartstomorrow, thefuckitdiet /Instagram
3 Habits That Could Be Keeping You From Hitting Your Fitness Goals
Not to sound like a Baby Boomer or anything, but we totally live in a time of instant gratification. Whether it's a shirt you bought off Amazon, finding the love of your life, or seeing the results from a new diet and exercise routine, we all feel like we have to get the things we want immediately. But, just like you can't rush USPS (no matter how many angry phone calls you make), you can't rush your body. No matter what your fitness goals are, you're probably not going to see changes immediately. I know how frustrating it can be to not see changes right away when you've been putting in the work, hitting the gym, and eating right. But don't give up! Before you throw in the towel, let's investigate what could be hindering your progress.
1. You've Only Been Consistent For 2 Weeks
Changes don't happen overnight or even in two weeks, unfortunately. Give yourself a six to eight week timeline to realistically start seeing or feeling results. Like anything else in life, it takes time, and you need to work at it first to see change. Two weeks of consistency is still a milestone, though, and you should for sure reward yourself for that, but continue to stick to your routine. Give your body some time to adjust.
2. You're Not Sore Anymore
Really ask yourself if you're still going as hard in the gym as you did on day one, or if you're kind of just going through the motions now. To see results, and keep them coming, you have to constantly challenge your body. To change and progress your workouts, the key is to keep your body working as hard as it did when you were starting out. Progressions can include adding more weight, more reps, or more sets. They can also include advancing the movements, such as doing a full push-up instead of doing modified ones on your knees. This is where you're going to have to dig deep and find that motivation or try out a few sessions with a trainer.
3. Your Diet Isn't As Clean As You Think It Is
Okay, let's think about it. Let's say it's oatmeal for breakfast, a salad for lunch, and grilled chicken and veggies for dinner. Sounds great, but you might be overlooking a few things. Is there a ton of sugar on your oatmeal? Did the salad have croutons, cheese, and ranch dressing on it? Were there free mini muffins in the office, so you grabbed a few, or snacked on a few handfuls of chips throughout the day? It's nothing to be ashamed of, but it is something to be mindful of. Little things really do count, and most times we forget about small stuff like condiments, drinks, and bites we have throughout the day. If you're not seeing the results you want to see, look at things most of us consider negligible.
Most times people will stick to their diet and workouts for not even two weeks before they give up due to lack of results. Stick with it for a little longer! You don't quit your job two weeks in because you're not making six figures, right? I hope not. Keep pushing yourself in the gym and keep being mindful of what you're eating. You got this.
Images: @dietstartstomorrow/Instagram; Luis Quintero / Unsplash
The Top 5 Mistakes People Make When Trying To Get In Shape For Summer
I know summer is approaching. Some of you might be a little concerned that you're not looking in the best shape this pool party season, and that is totally understandable. As far as we've come in terms of body positivity and acceptance, many of us still feel insecure about the way we look.  A lot of concerns I hear from new clients this season deals with time constraints. They have a high school reunion coming up, they have a huge event like a wedding coming up, they have to sh*t on their ex at this July 4th party…all of that. I understand the time crunch factor can push people to do illogical things, and I'm here to talk you out of making some crucial mistakes when you're trying to get your summer body right.
1. Buying Detox Tea
Quick fixes are not your friend, as tempting as their Facetuned promotion pictures may be. You're going to end up messing with your gut health and digestive system in the long run by resorting to these methods, and that is SO not worth it. Instead, I suggest making sure you're getting in enough water throughout the day. I would LOVE if you could work your way up to a gallon a day, but slowly increase your water intake day by day or you'll risk diluting the sodium in your blood. By increasing your water intake, you're naturally suppressing your appetite (thirst often manifests itself as hunger) and providing your body with the resource it needs to naturally "detox" your body.
2. Working Out Too Hard
If you are not already consistently in the gym, do not start going every damn day and working yourself to the bone. Not only does that not translate to quicker results, but you're also risking injuring yourself. I would rather you be able to work out efficiently for three days a week for next four months (ideally for years to come, but one step at a time) than work out six days a week for the next two weeks then you're out of commission because you hurt yourself. For workout ideas, check out this circuit you can do right at home or my Instagram's Fit Friday posts.
3. Going On A Fast Or Extreme Diet
Instead of using this time to further reinforce yourself in a cycle of restrictive fad diets that don't work, why don't we try something new? Let's try something a little more achievable so that this will be the last time you have to feel this kind of pressure during the summer. Start making little changes every week, whether that's swapping soda for unsweetened tea or water, or replacing the buns on your burgers with lettuce, and see how these little changes positively contribute to your physical and mental health.
4. Consuming Artificial Sh*t
View this post on Instagram
So let's say you've already got the workout and diet part on lock and want to give it a little nudge because we're prepping for some parties. Starting right now (unless you're a week away from your event date), start to increase your intake of fiber and prebiotics. The reason I have you starting now is that sometimes the side effect of increasing fiber intake is bloating, which can last up to a week. But after the bloating, the fiber helps your stomach stay on flat-flat. So double that intake of vegetables and keep it that way all through the summer. Trust me. A week out from the event, I suggest decreasing your sodium intake and limiting sugar in your diet to fruits only. And don't try to cheat with Splenda or Sweet-n-Low. Stop putting fake, artificial sh*t in your body.
5. Expecting Dramatic Results
View this post on Instagram
At the four-week mark, if you've been working out consistently and eating cleaner, you could expect slight weight loss and increased overall tone. You'll definitely fit in your clothes better, and I'm hoping, you'll gain a whole lot of confidence. If you're hoping for a Princess Diaries-style transformation in four weeks, it's probably not going to safely happen. Here's the deal: if you're unhappy with your body, chances are it didn't take four weeks to get you to that point, so don't expect four weeks of good behavior to completely transform you. A lot of people you see with bangin' bodies have put years of work and consistency into their diet and fitness routines, so stop comparing yourself to someone who's already completed three laps when you just got in the race. That's unfair to yourself. You're you and that's enough. You're trying to be a better version of you, and I commend you for that. Let's look long-term, and schedule your transformation for next summer, instead of aiming for a one-month transformation, because desperation never leads to anything good.
Images: @overheardla(3) @dietstartstomorrow(2)/Instagram; Charlotte Karlsen / Unsplash
7 Hacks To Help You Stay Healthy At The Beach
Summer seems like the most fun time of year almost by default, but it can be tricky to navigate for the people who are trying to stick to healthy habits. Temptation is everywhere: there are drinks constantly being poured, fried food, ice cream, and your skinny friend who orders whatever the f*ck she wants because she has that gene you weren't blessed with that allows her to eat literally anything without gaining a single pound. While all this swarms you, there also exists the perpetual thought looming over your head of most of your body being exposed when you want to lay out in the sun or go for a swim. It seems almost impossible, but surviving a beach weekend really doesn't have to be so difficult if you keep some healthy hacks in mind that will trick yourself into feeling like you're actually indulging, which we talked about on the latest Diet Starts Tomorrow podcast episode. Here are some of the best ways you can skip both the food FOMO and the diet-breaking regret.
1. Bring Frozen Fruit To The Beach

Eating frozen grapes, mangos, or pineapples is basically like eating nature's version of an ice pop. Freezing these fruits not only turns them into healthy and delicious snacks, it also makes them stay cold and fresh for longer when it's hot out and slows down your eating to add a little extra control. If I went and ordered ice cream and then my friend whipped out some frozen mango I would feel like an unhealthy piece of sh*t who is jealous of her tasty-looking frozen mango.
2. Start Your Day With A Walk Or Bike Ride

It's scarily easy to spend an entire weekend at the beach lying on a lounge chair and barely moving a muscle. If you decide to start your day with a nice walk, though, you will feel good about taking in the summer air and being somewhat productive, which will set the tone for a healthy rest of the day. You can also post an early morning Insta story to show everyone that going out the night before didn't stop you from being the epitome of wellness and serenity that you obviously are.
3. Don't Fall Prey To High Calorie Drinks

Squeeze half a grapefruit into a vodka on the rocks and you have yourself a nice, refreshing summer drink that will get you good and f*cked up without the calories of rosé or a margarita. Plus, grapefruit is great for your metabolism. You could also soak berries in vodka if you feel like supplementing your alcohol with some antioxidants, or if you want to go the extra mile, you can even put seltzer in a wine glass and then just use your imagination.
4. Do Not Skip Any Meals

Skipping breakfast or lunch during a beach weekend seems like an easy way to cut out calories but it ends up working in the opposite way. You'll be so hungry that you'll want to eat like a pig later, and you'll feel like you deserve it because you didn't eat before.  It may seem annoying to stay on top of your usual eating schedule when you're trying to enjoy and relax at the beach, but your body will thank you for it later.
5. Bring Sporty Games To The Beach

If you bring fun activities to the beach, you'll get in a workout without even realizing it. Bring a volleyball to play with or a football to throw around so you get your body in motion. The best way to do a workout in disguise, though, is by playing paddleball. Passing a tiny ball between wooden paddles is all fun and games, but when the little f*cker gets caught in the wind and you have to chase after it through the sand, you get some serious cardio in. You could also take advantage of the body of water in front of you and actually go for a swim. Fighting the current takes some exertion and makes you do more than just snore under the sun.
6. Bring Healthy Crackers Instead Of Chips

All the delicious crunch and none (or at least not as much) of the fat. If you must snack, eating fiber-filled crackers instead of chips will satisfy you AND keep you full. Keep the Lays out of sight and out of mind so you can stay on track like the healthful goddess that you are. I believe in you.
7. STAY HYDRATED.

This seems like an obvious one, but for some reason, it is truly so hard to remember to drink water. If you're out in the sun all day and especially if you're drinking, your body literally needs you to stay hydrated. Also, drinking water will keep you full so you won't feel like you have to snack as much. So just do it! Drink water and while you're at it put on some sunscreen so you can make the most out of your beach weekend as YOUR! BEST! SELF!
For more healthy eating hacks that will save you this summer, listen to the full episode of Diet Starts Tomorrow below.
Images: Giphy (7); Vitaly Sacred / Unsplash
The Full-Body Workout You Can Do In A Corner Of The Gym
If you go to the gym right before 9am or right after 6pm, you know how annoying it can be to get around the place during workout rush hour. As much as we'd all love to work out in an empty gym with the whole place to ourselves, it's v unrealistic unless you're like, a psychotic morning person or like, super rich. Luckily for you, we've put together a workout can literally be done with one mat in a tiny corner of the gym, so you don't have to bother waiting for a machine to become available or for people to step away from the dumbbell racks. Here's a quick workout that will tone your whole body and burn a ton of calories while staying in one space the whole time.  
1. Walkout Push-Ups
The walkout push-up is a great warm-up move because it gets your lower and upper body working without diving right into a cardio or strength move. The idea here is to first warm up your hamstrings by starting in a standing position and folding your arms and head forward, and then get your upper body warmed up by crawling your hands out to a plank position. Once you're in your plank, perform one push-up (drop to your knees if you have to) and then crawl your hands back to your ankles to stand back up, engaging your core at the top each time. Start off slow, and then try to speed up on your last few reps. Do 10 of these in total.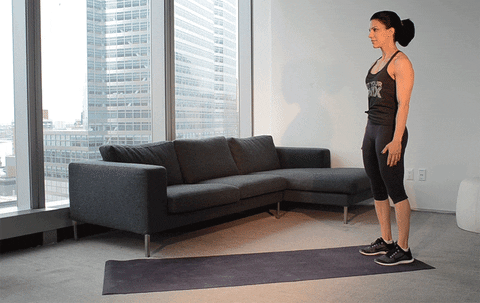 2. Glute Bridge To Oblique Reach
This is another lower and upper body movement, but this time you're working your butt and your obliques, aka your side abs and love handle region. Start by lying on your back with your knees bent and your feet on the ground. Then, extend one leg straight out and lift your hips into a bridge, squeezing your glutes and specifically feeling the burn on that same side. After the bridge, lower your hips back to the ground and reach your arms toward the straight leg while extending the leg upwards. Remember that you're crunching with your abs, so don't just use your arms to swing your body up. This combo is slightly complicated since it's technically two moves in one, so you can take your time on these until you get the hang of it. Do eight reps on each side.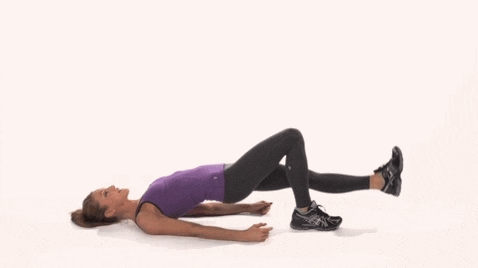 3. Tricep Extensions
You'll need a weight for tricep extensions, but it shouldn't be too hard to find because you can literally use whatever you want—a dumbbell, a weighted medicine ball, or a kettlebell. If you have a kettlebell available to you, you're gonna hold it by its horns (AKA the non-bell part) and lift it up over your head, keeping your elbows straight forward and your arms tight. Then, extend the bell toward the back of your neck, using your triceps to bring the weight up and down each time. If you feel like your elbows are widening out to the side, take a break and reposition yourself. The tricep muscles are really what give your arm that toned, sculpted look, so go heavy on these and take your time. Aim for 10-12 reps.

4. Deadlift To High Pull
The good news with this move is that you can use the same weight you were just using. Again, this is a combo move, so you're totally killing two birds with one stone by working your legs and your arms in one exercise. Place your kettlebell on the ground in front of you, and make sure it's between your legs, but like an inch or two forward. Then, bending your knees slightly, you're going to hinge your hips backward and lift the kettlebell keeping your arms straight, bringing it to your waist as you hinge the hips forward. That's the deadlift part. Then, you're gonna pull the kettlebell up to your chin, using your shoulders to row upright, with your elbows wide towards the sides. Once you complete one rep, bring the kettlebell down to the ground and do five more.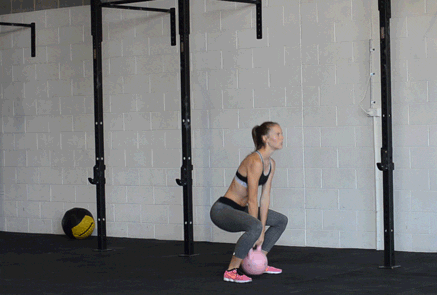 5. Squat Jumps
Now that we've done a bunch of strength work, it's time for some cardio. Your legs burn the most calories out of all the muscles in your body, so doing jumping exercises while combining squats or lunges is super effective. It's also really hard, so pace yourself. Start in a squat position, making sure your knees are behind your feet so you don't hurt yourself. Get super low, and then jump up explosively while straightening out your legs and arms. Aim for 20 reps here, but you might want to die by the time you get to 15. Try to fight through it.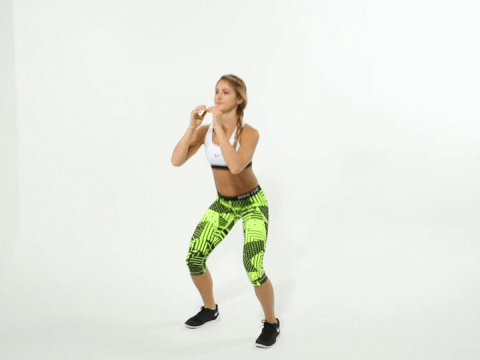 6. Burpees
Burpees are annoying and difficult, but there's a reason you see them in every fitness magazine and at every workout class—they WORK. Start by standing with your feet shoulder-width apart and your arms at your sides. Then, lower your body into a squat and place your hands on the floor in front of you, jumping your feet back so that you're in a plank position. Once your body is in a straight line, lower your chest to the floor and then bring it back up as quickly as you can. Then, jump your feet forward, outside of your hands, and jump up with your arms in the air. Do 8-10 of these, depending on your energy at this point in the workout. Also, keep in mind this is a full-body move, so make sure you follow the motions without just slamming your body down to the ground in the sloppiest way possible.

Images: Trust Tru Katsande; Unsplash, Giphy (5), Pinterest (1)
Upper Body Exercises To Target The Muscles You're Ignoring
When it comes to choosing workouts, some exercises just seem obvious, like doing squats for a perky butt or planks for rock-hard abs. And don't get me wrong, I'll do squats and planks until they're out of style. *BUT* I think it's also important to work on the muscles we don't often think about, especially as girls. We tend to think we just need a little toning and cardio here and there, but there are a lot of important muscles that we neglect at the gym, especially our upper body muscles. It's time to address WTF to do about them. Here are some underrated upper body exercises and why you should be working them.
1. Chest Presses
Aside from a few modified push-ups as a warmup, most girls never think about working their chest muscles. I mean, the chest press seems like a guy's exercise, and it can be super intimidating. What many women don't realize is that your chest muscles just create a stronger upper body in general, which literally makes it easier to do basic activities, like opening doors and holding heavy bags. People also find that chest presses can even give yourself a little chest lift, so you can stop buying push-up bras. So start your upper body exercises with chest presses. Grab two dumbbells and lie flat on a bench with the weights at chest height and your elbows out toward your sides. Then, press the weights upward, keeping them over your chest the entire time, and bringing them back down after every rep and avoiding pushing with your shoulders.
2. Lying Back Extensions
People tend to do a lot of rowing and lat pulldowns to target back muscles, and these exercises are great, but we tend to forget about our back extensor muscles, which are located at the lower back. They're super important for core engagement, stability, and avoiding injury. Doing lying back extensions will help you avoid hurting yourself at the gym, considering you basically use your back in any exercise, like even running or spinning. Lay out a mat and then lie on your stomach with your head facing the floor and your arms out over your head in a "Y" shape. Then, slowly lift your legs and arms off the floor, keeping only the area from your stomach to your thighs on the mat (if that's too hard, leave your legs alone and just lift your upper body). Lower back down and then lift back up, feeling the tension in your lower back.

3. Inner Core Leg Lifts
We do a lot of ab movements around here, but there's a major difference between your ab muscles and your core muscles. Most ab workouts, like bicycles and Russian twists, don't target the transversus abdominis, which is the muscle that connects to our pelvic floor and internal organs. In order to strengthen these inner muscles, do inner core leg lifts. Start by lying on your back with your knees bent, and slowly lift your right foot off the floor, keeping your core engaged as you lower it back down. Then, do the same on the left, and switch back and forth, exhaling with each rep. These are supposed to be slow and controlled movements, so don't worry if you're not getting your heart rate up or sweating, but DO worry if you're just kicking the ground without feeling it in your abs. Then you're probs doing it wrong.

4. Lateral Raises
Toning your shoulder muscles will make your whole arm look more defined and just so much better, and the most ideal way is to work the front of the muscle and the side of it in one workout to tone every angle. The lateral deltoid, aka the side of your shoulder, is really what gives your arms a toned look, and it's often neglected because people just don't realize what a difference it makes. Standing up with a dumbbell in each with your palms facing your thighs, keep your elbows slightly bent and raise your arms to the side until the weight reaches shoulder height. Then, slowly lower the dumbbell back down to your thigh. Keep raising them up and down, and try not to bounce your legs to use momentum to lift them. The goal is to keep tension in your shoulders the whole time and not get any help from your lower body.

5. Single-Arm Planks
Obviously your abs aren't a "forgotten about" muscle, but we often overlook the most basic functions of our core muscles, which include stability and balance. Upper body exercises like single-arm planks strengthen the core while testing your stability. By doing moves like these, you'll notice that yoga poses get easier to hold, being in third position on a spin bike feels more natural, and other ab movements are just less painful. So basically, the single-arm plank is essentially a regular plank, but you only use one hand at a time. Duh. It's easier to start with your hand centered in front of your chest, but try to work it back out to under your shoulder as you get stronger. The idea is to keep your body square to the ground without raising your hips on one side, and keep your core tight the entire time.

Images: Ayo Ogunseinde /Unsplash; Giphy (4), Pinterest (1),