7 Cozy Sweaters You'll Want To Literally Live In This Winter
If there are two things in this world that I really hate more than anything (like, even more than whipped cream flavored vodka), they're adulting and cold weather. If you enjoy being financially responsible and sitting by the fire, watching snow fall through the window, you're a) crazy and b) probably on this website by mistake. Anyway, to remedy the fact that it's freezing outside and you also probably have a million adult things you're supposed to be doing, here's something you can do to kill two birds with one stone: shop the Outnet for comfy designer sweaters. I mean, there's pretty much nothing more responsible and grown-up than a designer sweater, right? There's just something about a cashmere turtleneck that screams "hey world, I have my shit together." Plus, everything on the Outnet is like, a million percent off, so it's genuinely such a responsible way to shop. Here are seven sweaters you totally need.

This 100% cashmere sweater will make you look cozy AF, but it also has a v-neck that could potentially serve as an opportunity to show off some cleavage, so you can trick people into thinking you didn't just roll out of bed.

Finding a slouchy, loose-fitting turtleneck that doesn't look like something your dad would wear to shovel the driveway is actually way more difficult than it should be. Luckily, Alexander Wang created the T by Alexander Wang brand specifically for simple, laid-back styles, so obviously this one is perfect.

Just when I thought mesh panels were officially dead, I found this sweater. Because the mesh paneling isn't doing anything ridiculous, like giving you a chance to be basically naked at brunch, it's actually a really cool detail. This sweater is ideal for those situations where you just want to wear jeans and a sweater, but like, want to look like you're wearing something more than jeans and a sweater.

For some, winter can feel like a total bummer, because there aren't a lot of easy ways to be a thirst trap show off the body you've worked so hard for. Lucky for you, this sweater has an asymmetrical hem that will make your butt look really good.

Leave it to the Olsen twins to create a sweater made out of a material that's pretty much the clothing version of laying in your bed while wrapped in a towel after a shower. Everyone knows Mary-Kate and Ashley invented the whole "sleeping bag as casualwear" trend, so an Elizabeth and James sweater is something every lazy betch truly needs.

In the words of our lord and savior Cardi B, a hoe never gets cold, so you should prob get this really cute open back sweater.

It's a sweater and a sweatshirt, so you can totally pull off a hoodie in a situation where you normally might not be supposed to be wearing a hoodie. (Like, IDK, maybe when you're pulling an Ilana Wexler and taking a nap at your desk at work.)
The Ultimate Fall Apple Picking Looks That Will Get You Max Likes On Insta
As you've heard like, a million times, it's the season for all that is basic and betchy. You can deny having a soft spot for shit like fall scented candles, a new pair of Uggs, and pumpkin shit, but we all know you fucking love it. Just like they told you at that binge-drinking informational during your freshman year of college, admitting is the first step towards accepting your problem. So, now that we've established you're just as guilty of being one of us the most basic girl to ever to exist (congratulations), we can now discuss the highly Instagram-ed fall activity that will get us off the couch faster than the delivery guy bringing you your Pad Thai: apple picking. Whether it's for an awkward first date, sorority recruitment video, or simply because your annoyingly spontaneous friend coerced you into it, you *will* go by the time November rolls around. It's honestly a guarantee at this point. With going—assuming you're going to Instagram the shit out of your outing, because I'd expect nothing less from a basic betch—comes careful outfit planning. Here are the essentials you need for people to envy your (totally fake) outdoorsy, yet chic apple picking attire.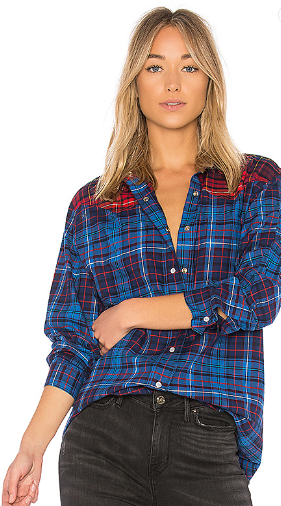 Surprise, surprise. I've included a flannel. I know. You can't deny owning (and correctly wearing) a flannel is as much of a must-have for the season as is a black leather jacket. It's just one of those things you NEED. To avoid looking like a lumberjack, the flannel has to have a feminine cut so it's slightly fitted and looks proportional on your body, versus having it look like a smock or a farmer's old shirt. The new Tommy Hilfiger collab with Gigi Hadid is 90s-inspired with a flair of carefree street style, so this flannel has way too much fashion sense to look anything other than fab.

For true New Yorkers, we all know that anywhere worth trekking to for real apple picking is in upstate New York. I mean, there's obviously no way we're going into the Long Island boondocks, NO THX. (I'm only slightly kidding.) In all seriousness, upstate can be brick tits. You think NYC winters are bad? Then you've clearly never ventured more than an hour away from the city. And no, your camp friend in Westchester doesn't fucking count. For this mini trip, wearing a lightweight vest will keep you warm from any chilly winds, have you looking trendy af, and prevent you from sticking out like a sore thumb if you've never been to an apple orchard. Bible.

If flannels aren't your thing, a low-key sexy sweater def will be. Turtleneck sweaters are still a thing for reasons I couldn't fucking tell you. Since I'm positive you don't want to look like a girl with no neck, this modern style comes with a looser version of the turtle neck, making it an effortless dressy choice. You can dress down the day-into-night look with mid-rise jeans, casual tennis sneakers, and throw a vest or scarf over it for extra autumn vibes.

Don't go apple picking in jeans. Don't go apple picking in ripped jeans, don't go apple picking in tight skinny jeans you have to suck in for, just… don't do it, promise? It's the worst and like, really uncomfortable. This fall activity requires minor stretching, possible tree climbing, and a shit ton of apple cider-induced bloating. Jeans are your worst enemy rn. Aim for leggings that make your legs look phenom and come with a high waist to make you look skinny (and kind of fit) while you work to grab those apples.

Since most of us—I won't say all because unfortunately some of you like to work out and whatever the fuck else to keep you "healthy"—aren't going to be hike-ready with high-quality sneakers and riding boots, but we can still opt to wear really cute shoes that are totally walkable and v fashionable for all of the "I'm-grabbing-this-apple-that's-way-too-high-for-me-to-reach-and-not-at-all-posed-for-the-Insta-likes" candids you'll def be taking. These feature a thick boot heel that makes walking bearable and these are absolutely diverse for various occasions.
5 Tips To Transition Your Outfit From Office Professional To Thirsty Thursday Thot
Transitioning an outfit from the office to happy hour is a feat that fashion magazines love to act like women will never figure out. Every year there's a new magic blazer that's going to hide your scandalous shoulder-less dress during the work day or a skirt that unbuttons to create a slightly more scandalous silhouette. Anyway, pretty much every happy hour outfit solution requires you to buy shit you probably don't even like or to carry a bunch of stuff to work, and these are two things you should obviously avoid at all costs. Here are a few super easy ways to spice up your work outfit for happy hour. Although let it be noted that in my opinion, basically all of these are plan B. Honestly, I think everyone should just take after Ilana from Broad City and wear crop tops to work. It's 2017.
1. Hoops

Urban Outfitters 18k Gold + Sterling Silver Plated Basic Hoop Earring
You know what they say! The bigger the hoop, the bigger the hoe. Hoops are totally a thing again (moment of silence for Gretchen Wieners), so if you want to feel a little hoe-y for happy hour, obv just throw some hoops on. Urban Outfitters has tons of awesome hoops right now, which I'd totally recommend over investing in a more expensive pair (if you don't have super sensitive ears) because this trend prob won't last forever and they're also not super heavy and uncomfortable to wear.
2. Bold Lipstick

I know this is like the most obvious option, but throwing on a crazy lip color before going out will make you look way less office-y. MAC Liptensity comes in like a million (okay, 24) shades that literally don't come off no matter how many boneless chicken wings you steal off your coworker's plate by the end of the night.
3. Trendy Outerwear

Topshop Washed Faux Leather Biker Jacket
Fashion bloggers make everything more fashion blogger-y by throwing a leather moto jacket or bomber over it. Seriously, if these betches can throw a jacket over a silk slip dress that looks like your grandmother's tablecloth and make it fashion, you can pull your fav coat over a simple work outfit to liven it up, too.
4. Casual (But Not Too Casual) Shoes

Vans Women's Old Skool Platform Sneakers
Obviously I don't know your life story, but depending on your job, there's a decent chance you don't wear Vans or Converse to work most days. Balancing casual sneaks with tailored trousers is definitely a thing right now (thanks, Hadids), so throw some platform Vans in your bag to make your work outfit look trendier. The trick is to make sure to keep them in awesome condition so you don't look like you're just tossing on your regular commuting shoes.
5. Bralettes

Victoria's Secret Lace Lightly Lined Keyhole Bralette
Again, this isn't fucking rocket science. In college, you def wore a button down with a slutty bra and a pencil skirt to a CEOs and Office Hoes mixer. Now, those frat boy are finance bros and instead of a lukewarm Bud Light, you can drink an actual drink. Wear a bralette that's acceptable to subtly show off in public, and pop a few buttons open before you rip into happy hour.