The Full-Body Workout You Can Do In A Corner Of The Gym
If you go to the gym right before 9am or right after 6pm, you know how annoying it can be to get around the place during workout rush hour. As much as we'd all love to work out in an empty gym with the whole place to ourselves, it's v unrealistic unless you're like, a psychotic morning person or like, super rich. Luckily for you, we've put together a workout can literally be done with one mat in a tiny corner of the gym, so you don't have to bother waiting for a machine to become available or for people to step away from the dumbbell racks. Here's a quick workout that will tone your whole body and burn a ton of calories while staying in one space the whole time.  
1. Walkout Push-Ups
The walkout push-up is a great warm-up move because it gets your lower and upper body working without diving right into a cardio or strength move. The idea here is to first warm up your hamstrings by starting in a standing position and folding your arms and head forward, and then get your upper body warmed up by crawling your hands out to a plank position. Once you're in your plank, perform one push-up (drop to your knees if you have to) and then crawl your hands back to your ankles to stand back up, engaging your core at the top each time. Start off slow, and then try to speed up on your last few reps. Do 10 of these in total.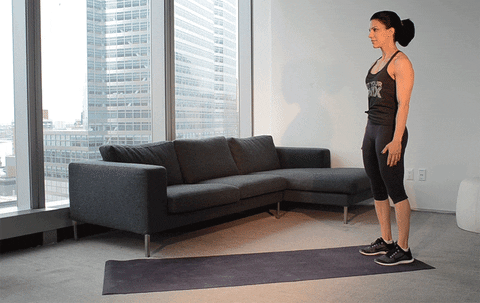 2. Glute Bridge To Oblique Reach
This is another lower and upper body movement, but this time you're working your butt and your obliques, aka your side abs and love handle region. Start by lying on your back with your knees bent and your feet on the ground. Then, extend one leg straight out and lift your hips into a bridge, squeezing your glutes and specifically feeling the burn on that same side. After the bridge, lower your hips back to the ground and reach your arms toward the straight leg while extending the leg upwards. Remember that you're crunching with your abs, so don't just use your arms to swing your body up. This combo is slightly complicated since it's technically two moves in one, so you can take your time on these until you get the hang of it. Do eight reps on each side.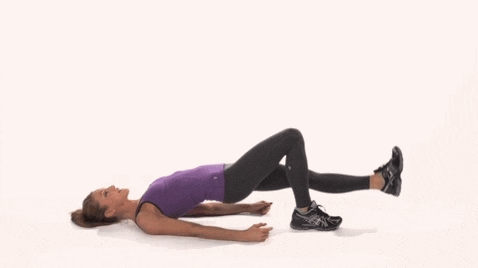 3. Tricep Extensions
You'll need a weight for tricep extensions, but it shouldn't be too hard to find because you can literally use whatever you want—a dumbbell, a weighted medicine ball, or a kettlebell. If you have a kettlebell available to you, you're gonna hold it by its horns (AKA the non-bell part) and lift it up over your head, keeping your elbows straight forward and your arms tight. Then, extend the bell toward the back of your neck, using your triceps to bring the weight up and down each time. If you feel like your elbows are widening out to the side, take a break and reposition yourself. The tricep muscles are really what give your arm that toned, sculpted look, so go heavy on these and take your time. Aim for 10-12 reps.

4. Deadlift To High Pull
The good news with this move is that you can use the same weight you were just using. Again, this is a combo move, so you're totally killing two birds with one stone by working your legs and your arms in one exercise. Place your kettlebell on the ground in front of you, and make sure it's between your legs, but like an inch or two forward. Then, bending your knees slightly, you're going to hinge your hips backward and lift the kettlebell keeping your arms straight, bringing it to your waist as you hinge the hips forward. That's the deadlift part. Then, you're gonna pull the kettlebell up to your chin, using your shoulders to row upright, with your elbows wide towards the sides. Once you complete one rep, bring the kettlebell down to the ground and do five more.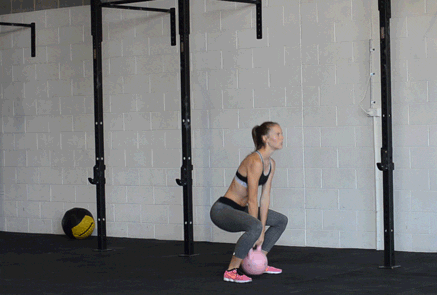 5. Squat Jumps
Now that we've done a bunch of strength work, it's time for some cardio. Your legs burn the most calories out of all the muscles in your body, so doing jumping exercises while combining squats or lunges is super effective. It's also really hard, so pace yourself. Start in a squat position, making sure your knees are behind your feet so you don't hurt yourself. Get super low, and then jump up explosively while straightening out your legs and arms. Aim for 20 reps here, but you might want to die by the time you get to 15. Try to fight through it.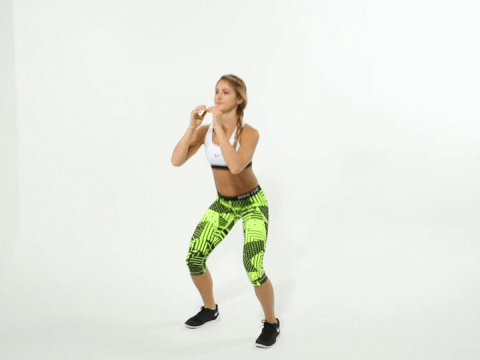 6. Burpees
Burpees are annoying and difficult, but there's a reason you see them in every fitness magazine and at every workout class—they WORK. Start by standing with your feet shoulder-width apart and your arms at your sides. Then, lower your body into a squat and place your hands on the floor in front of you, jumping your feet back so that you're in a plank position. Once your body is in a straight line, lower your chest to the floor and then bring it back up as quickly as you can. Then, jump your feet forward, outside of your hands, and jump up with your arms in the air. Do 8-10 of these, depending on your energy at this point in the workout. Also, keep in mind this is a full-body move, so make sure you follow the motions without just slamming your body down to the ground in the sloppiest way possible.

Images: Trust Tru Katsande; Unsplash, Giphy (5), Pinterest (1)
Upper Body Exercises To Target The Muscles You're Ignoring
When it comes to choosing workouts, some exercises just seem obvious, like doing squats for a perky butt or planks for rock-hard abs. And don't get me wrong, I'll do squats and planks until they're out of style. *BUT* I think it's also important to work on the muscles we don't often think about, especially as girls. We tend to think we just need a little toning and cardio here and there, but there are a lot of important muscles that we neglect at the gym, especially our upper body muscles. It's time to address WTF to do about them. Here are some underrated upper body exercises and why you should be working them.
1. Chest Presses
Aside from a few modified push-ups as a warmup, most girls never think about working their chest muscles. I mean, the chest press seems like a guy's exercise, and it can be super intimidating. What many women don't realize is that your chest muscles just create a stronger upper body in general, which literally makes it easier to do basic activities, like opening doors and holding heavy bags. People also find that chest presses can even give yourself a little chest lift, so you can stop buying push-up bras. So start your upper body exercises with chest presses. Grab two dumbbells and lie flat on a bench with the weights at chest height and your elbows out toward your sides. Then, press the weights upward, keeping them over your chest the entire time, and bringing them back down after every rep and avoiding pushing with your shoulders.
2. Lying Back Extensions
People tend to do a lot of rowing and lat pulldowns to target back muscles, and these exercises are great, but we tend to forget about our back extensor muscles, which are located at the lower back. They're super important for core engagement, stability, and avoiding injury. Doing lying back extensions will help you avoid hurting yourself at the gym, considering you basically use your back in any exercise, like even running or spinning. Lay out a mat and then lie on your stomach with your head facing the floor and your arms out over your head in a "Y" shape. Then, slowly lift your legs and arms off the floor, keeping only the area from your stomach to your thighs on the mat (if that's too hard, leave your legs alone and just lift your upper body). Lower back down and then lift back up, feeling the tension in your lower back.

3. Inner Core Leg Lifts
We do a lot of ab movements around here, but there's a major difference between your ab muscles and your core muscles. Most ab workouts, like bicycles and Russian twists, don't target the transversus abdominis, which is the muscle that connects to our pelvic floor and internal organs. In order to strengthen these inner muscles, do inner core leg lifts. Start by lying on your back with your knees bent, and slowly lift your right foot off the floor, keeping your core engaged as you lower it back down. Then, do the same on the left, and switch back and forth, exhaling with each rep. These are supposed to be slow and controlled movements, so don't worry if you're not getting your heart rate up or sweating, but DO worry if you're just kicking the ground without feeling it in your abs. Then you're probs doing it wrong.

4. Lateral Raises
Toning your shoulder muscles will make your whole arm look more defined and just so much better, and the most ideal way is to work the front of the muscle and the side of it in one workout to tone every angle. The lateral deltoid, aka the side of your shoulder, is really what gives your arms a toned look, and it's often neglected because people just don't realize what a difference it makes. Standing up with a dumbbell in each with your palms facing your thighs, keep your elbows slightly bent and raise your arms to the side until the weight reaches shoulder height. Then, slowly lower the dumbbell back down to your thigh. Keep raising them up and down, and try not to bounce your legs to use momentum to lift them. The goal is to keep tension in your shoulders the whole time and not get any help from your lower body.

5. Single-Arm Planks
Obviously your abs aren't a "forgotten about" muscle, but we often overlook the most basic functions of our core muscles, which include stability and balance. Upper body exercises like single-arm planks strengthen the core while testing your stability. By doing moves like these, you'll notice that yoga poses get easier to hold, being in third position on a spin bike feels more natural, and other ab movements are just less painful. So basically, the single-arm plank is essentially a regular plank, but you only use one hand at a time. Duh. It's easier to start with your hand centered in front of your chest, but try to work it back out to under your shoulder as you get stronger. The idea is to keep your body square to the ground without raising your hips on one side, and keep your core tight the entire time.

Images: Ayo Ogunseinde /Unsplash; Giphy (4), Pinterest (1), 
The Worst Mistakes You're Making On Gym Machines
As much as I love bodyweight movements and at-home workouts, using machines at the gym is a good option if you know what you're doing. The gym is filled with intimidating equipment, and it usually takes a few tries to figure out how to use some of it. In fact, even some of the most simple machines are confusing, and you end up using them wrong, which ruins your workout and could cause you an injury down the line. Here are the workout mistakes you're making on six basic machines and how to fix your form. 
The Treadmill
The treadmill seems super intuitive, but people still screw up their form all the time, and it can sabotage your workout and lead to serious injuries. For example, a lot of people look down when they're on the treadmill, and that's a recipe for disaster. Not only can you lose your balance and eat shit on the Equinox floor, but you can also strain the back of your neck and misalign the rest of your body. To run on the treadmill properly, keep your gaze straight and your chest open. You'll be able to run for a longer amount of time and you'll probably be less sore the next day.

Elliptical & StairMaster
The Elliptical and the StairMaster are both go-to cardio machines, but they're only effective if you're positioned in the right way. Instead of hunching over and holding onto the side handlebars like your life depends on it, keep your hands to yourself and keep your posture straight the entire time. You're supposed to feel a burning sensation in your legs on these machines, so if you're death-gripping the rails to take the pressure off your legs, you're not doing yourself any favors. The machine is just there to support you, so you don't have to clutch the handles like you're gonna fall over. Plus, when you're hunched over, you're taking the exercise away from your legs, so you just end up burning less calories than you could have if your form was right.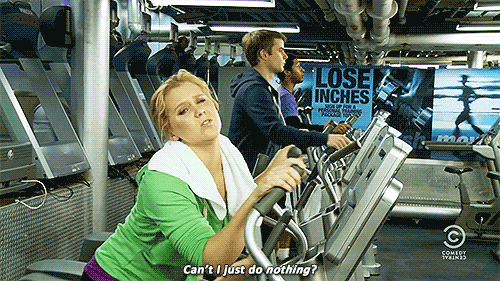 The Rower
The rowing machine is an even better workout than the electronic cardio machines, because you literally have to use your entire body to operate it. This includes your legs, arms, back, and abs. So, if you feel like you're just pulling in the bar with your arms, you're not using the machine correctly. Instead, think about pressing down with your heels and pushing outward, like you're standing up from a deadlift. The idea is to use momentum from your legs to generate the pull, and then use your back and arms on the second part to finish the pull. And again, if your posture sucks here, you'll probably injure yourself, so remember to keep your core engaged and your shoulders pulled back.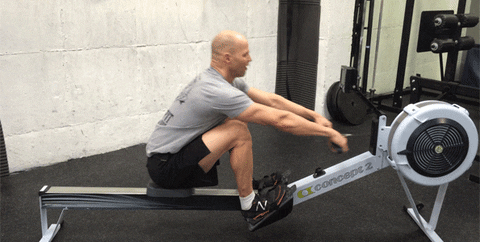 Lat Pulldown Bar
The lat pulldown bar can be difficult to use because it's hard to engage your lats. In fact, most people don't even know what their lats are, so that's problem number one. The lat muscle, aka the latissimus dorsi, is the huge muscle on your back that goes all the way behind your arms. If you strengthen this muscle, your back will look toned and tight, and your waist will end up looking more narrow in result. So, in order to pull down this bar using only your lats and not your shoulders, you need to really think about squeezing your back and engaging the muscle before you pull down. If you're leaning back too far or bringing the bar to your waist, you're overextending. Focus on bringing the bar to chest height and on keeping tension away from your neck and shoulders.

Hanging Leg Raise
This is a great piece of equipment for ab exercises, and it's super effective for leg raises, knee-tucks, and holds. It's also a tricky one because people tend to start doing leg raises before their core is engaged, so only the hip flexors are being worked. Instead, prop yourself up and get comfortable first. Engage your core by pulling your belly button in toward your spine, and then start the exercise. Another mistake people make is by keeping their shoulders too close to their ears. Instead, draw your shoulders down and think about pulling them away from your neck. This will help prevent tightness and injuries that are caused by locking out your shoulder and neck muscles.

Leg Press Machine
The leg press machine is basically a squat variation in a different position, so you need to make sure you're not just bouncing up and down and screwing up your back. A lot of people accidentally do partial reps on this machine, so they're not getting the full range of motion that they would in a standing squat. Position the seat so that when your knees come in, they come close to your chest, so you can target your glute muscles. Also, avoid locking your knees when you straighten out your legs. It's bad for your knees and you could really hurt yourself, so remember to keep a slight bend even while extending. There's no need to get injured at the gym if you just take your time to make sure you're not zooming through every movement.

Images: Giphy (6)
6 Exercises To Improve Your Balance And Flexibility
I follow a lot of #fitspo type of social media accounts, and every now and then I'll watch a workout clip on Instagram and literally bug out seeing what some of these girls can do with their bodies. I mean, no, I'm not talking about how cute their sponsored shaker cups look next to their butt-facing-forward mirror selfies. I'm talking about these crazy moves that require more balance and coordination than 99% of America can handle. Like, I work out regularly,  but honestly my flexibility and balance are pretty shitty, and it's something I'm trying to work on. Here are six exercises to improve balance and flexibility that I'm incorporating into my own routine . Please join me so I'm not the only one struggling through pistol squats at the gym.
1. Bosu Ball Split Squats
The bosu ball is meant to make any exercise harder, and that's because it screws with your balance, making you use your own body to stay aligned throughout the movement. If you do split squats regularly, try adding the bosu and it'll really help any imbalances you have in either leg. The idea is to prop one leg in a lunge on the bosu behind you, and then use your front leg to move up and down, pushing with your glutes throughout the movement. If you're a newbie, you'll probably start tipping over when you start, so just take your time and focus on grounding yourself with your front leg. If you feel like one side is easier than the other, that's completely normal and it's because we're usually stronger on one side. That's why we're doing this. Once you master this, try putting the front leg on the bosu, because variety is the spice of pulled muscles life.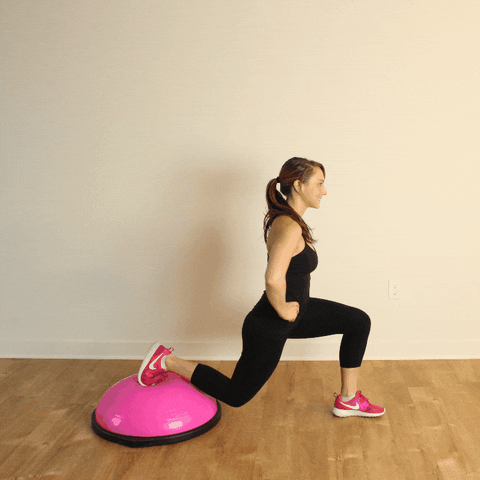 2. Lunge Hip Flexor Stretch
This move looks like more of a stretch than a real exercise, but honestly it's a must and it'll help with other exercises. It helps with mobility, flexibility, and coordination, so you'd be missing out just by skipping it. Especially if you sit at a desk all day, this move is amazing for opening up your hips and relieving any tightness from sitting for so many hours. Start by placing your hands on the ground and stepping back with your right leg, like you're stepping into a reverse lunge. Then, straighten out the back leg and feel the stretch in your hip flexors as your front leg bends in front of you. Hold for a few seconds before switching to the other leg.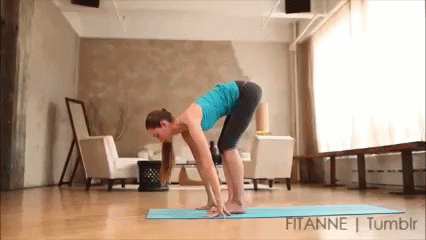 3. Alternating Arm Plank
This one is harder than it looks, so again, TAKE YOUR TIME. No one has ever rushed you through a plank, and the stability aspect here is key. The idea is to hold a regular high plank, but alternate arms so that you only have one hand on the ground at a time. This move hits your shoulders, abs, and arms all at once, and it also ensures you're not relying on one side of your body during other ab exercises. Remember to keep your hips as square as possible without swaying or lifting to one side. If this starts to feel like a side plank, take a break and start again.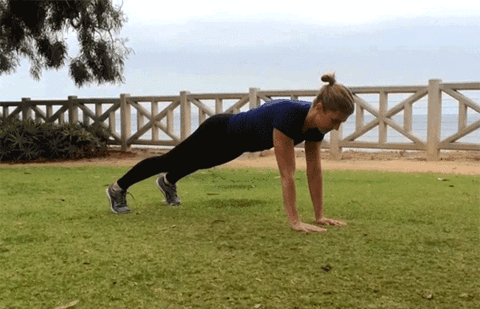 4. Pistol Squat
Ugh, pistol squats. Ask any trainer and they'll tell you this exercise is QUEEN of one-legged training. You're basically putting all your bodyweight on one leg at a time and squatting with only that leg, so yeah, it's hard. If you need to hold onto a bench or TRX straps at first, do it. In a standing position, raise one foot off the floor and descend into a squat. As you squat, try to extend your front leg forward without losing your balance. Then, get as low as you can before slowly rising up, straightening out your knee and driving through your heel. You should feel this in your glutes on the working side. Again, take your time and just focus on the balance part. The rep count doesn't really matter here, so just try to do a few without falling over. You'll go deeper, do more, and need less assistance as you get stronger.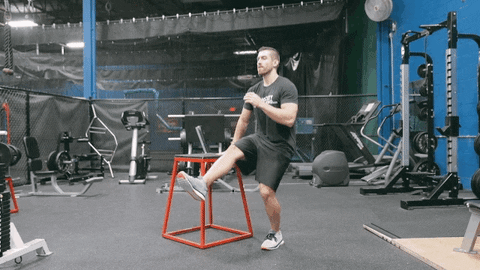 5. Opposite Arm & Leg Raises
Contrary to its name, the opposite arm and leg raise is actually more about your core and torso region. You're basically raising your right arm and your left leg at the same time while on all fours, so the goal is to keep the rest of your body as still as possible. You'll need to keep your back flat and engage your core. Squeeze your abs while you slowly extend your arm and leg, and then take a second to look forward at your reaching arm before lowering down and switching sides. This should also help strengthen your back, so make sure not to arch your spine and ruin your form. Think about pulling your abs in before lifting, and then when you reach out, keep your arms and legs parallel to the floor. For extra credit, get off your knees and do this from a full plank. Good luck in advance, is all I have to say.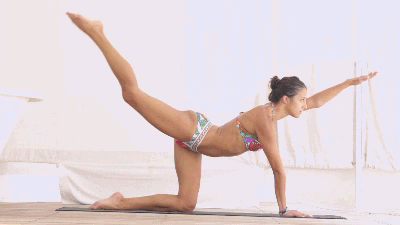 6. Standing Crunch With Clap
Balancing on one leg is already difficult AF, so adding in a crunch and an under-the-leg clap may take some patience. This move has two parts, so let's discuss both. It's kind of like tapping your stomach while rubbing your head. Takes a shit ton of coordination, is what I mean. Balance on one leg, keeping your other knee 90 degrees with your hands over your head. Then, crunch forward, bringing your hands under the raised leg for a little clap underneath. Bring your hands up and then back down for a few reps, and then switch to the other side. Also, try looking as happy as the girl in this GIF.

Images: Squarespace / Pexels; Giphy (5); Pinterest 
The Right Foods To Eat Before Working Out
There's nothing worse than showing up to your workout feeling nauseous, lightheaded, dizzy, or like you're about to throw up the slice of leftover pizza you ate as you left the house. My esteemed colleague Betchy Crocker recently suggested some good things to eat after you work out, but your pre-workout food is just as important. You want to make sure you're eating enough to give you energy, but not something you'll regret as soon as you start doing cardio. Here are some of the best foods to eat before working out.
1. Oatmeal
Whole grains, like oats, are complex carbs that break down into glucose and fuel your muscles during your workout. Try going for a bowl of oatmeal or some granola about an hour before your workout. Professional nutritionists swear by these options because they're simple and will give your body immediate energy.
2. Apple Or Banana
Apples and bananas are simple carb sources, which means they'll give your body the energy it needs almost immediately. They digest faster than whole grains do, so even though they won't keep you as full, they'll give you a boost of energy if you eat them 20-30 minutes before the workout. Mostly any fruit is good to eat before working out, but stay away from high-fiber fruits like berries and pears because they'll take longer to digest and may hurt your stomach if you're jumping around a lot. Also, has anyone in the history of the world gotten full off berries? Lmk.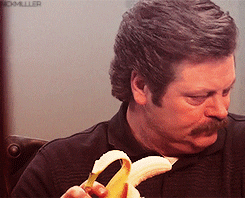 3. Greek Yogurt
People like to eat yogurt after their workouts because it's mainly a source of protein, but protein is super important to eat before working out as well. Especially if you're doing weight training, you'll need the protein in your body to help your muscles repair themselves from the microtears that occur during your session. Try looking for simple ingredients and minimal sugar in your yogurt. Siggi's and Fage both make great nonfat yogurts. Chobani works too, but watch the sugar count depending on the flavor.
4. Eggs & Toast
If you have an hour or two before you head to the gym and need something more substantial than a piece of fruit to eat before working oat, the eggs and toast combo is your best bet. The toast will give you the energy from its complex carb makeup, and eggs are a simple protein source with a little bit of fat. It's enough to fill you up without making you nauseous halfway through.

5. Maca
Maca root, often found in the form of maca powder, is an ancient Peruvian plant that is literally filled with nutrients that will boost your workout. Maca is rich in amino acids and vitamins, and it's also an adaptogen, so it aids in adrenal function, increasing your energy levels and enhancing workout performance. Blend it into a smoothie before your workout or mix it into your oatmeal. It's a game-changer.
6. RX Bars or Lara Bars
Bars are a go-to option to eat before working out if you're going straight from the office and don't have time to stop and pick up legit food. Natural protein bars have been all over the health food market recently, and two great pre-workout options are RX Bars and Lara Bars. They're both made with dates and nuts, so you have a quick carb and natural sugar source from the dates, and a little healthy fat from the nuts to keep you full. RX Bars even include eggs for extra protein. The Maple Sea Salt flavor is a personal fav. Just saying.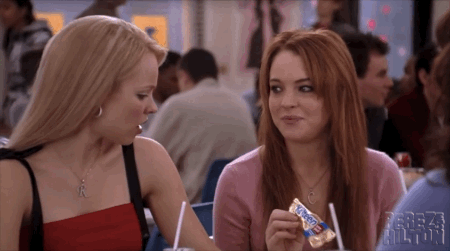 7. Caffeine
I know this isn't actually a food, but having a cup of coffee or green tea before your workout is KEY if you want a real energy boost. I would pair this with some real food too, but caffeine has been scientifically proven to boost your workout by tapping into your central nervous system and recruiting muscle fibers in your body. Basically, it helps you fight fatigue and improve physical performance. So like, order the venti. It's the responsible thing to do.
Images: Melissa Belanger / Unsplash (1); Giphy (2); nbcparksandrec / tumblr
The 6 Muscle Groups You're Neglecting & The Best Exercises For Them
91 percent of Americans give up on their New Year's resolutions, and I'm guessing they just got bored on the treadmill and decided to call it a day. Working out is boring, obviously. Every online fitness article shows us the same squat challenges and stupid 10-minute ab routines, but like, how many times can we keep working the same muscles? It's repetitive and annoying, and it's time we start working the muscles that we're not always told to care about on Instagram. Before you dismiss these muscle groups because you're "scared of machines" or "don't wanna get bulky," listen to why you should definitely pay attention to them. I mean, you can do burpees and sit-ups forever, but don't complain when you completely plateau and start Googling Gigi Hadid's workout routine. Here's a breakdown of the muscles you should stop neglecting, and what exercises you should start doing for each one.
1. Deltoids
What Are They?
Your deltoid muscles are basically your shoulder muscles, and there are different parts to the muscle, but the two you should care about are the front delts and the lateral delts. You might be scared that by working your shoulder muscles you'll bulk up like a football player, but realistically, that's not gonna happen unless you're literally lifting your bodyweight and consuming a shit ton of protein. Toning your shoulder muscles will make your whole arm look more defined and just so much better, and the most ideal way is to work the front of the muscle and the side of it in one workout to tone every angle.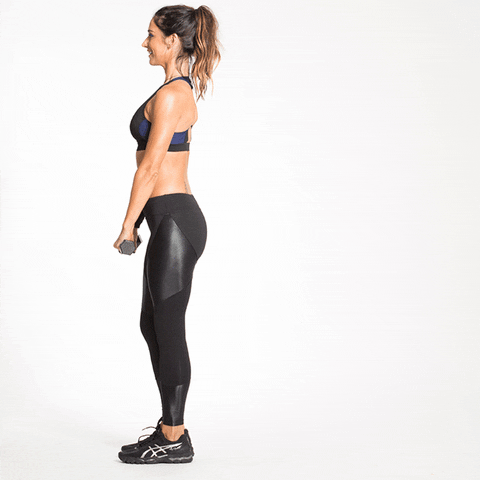 What Exercise Should I Do?
The Lateral Raise to Front Raise. Choose two dumbbells that are lighter than what you'd usually pick up. Your shoulder muscles are strong, but the side and front parts of the muscle can usually only handle very light weight, so think anywhere between three and eight pounds—maybe 10 if you do these regularly. Standing up while holding a dumbbell in each hand and your elbows slightly bent, raise the weights directly in front of you, bringing them to shoulder height with your arms extended. Then, lower them back down, and raise them again, this time laterally to the sides of your body. It should reach shoulder height again, but they're raised out to the sides instead of in front of you. You can even add in a lunge if you want to make this a total body move. Aim for 10 reps total, then rest for a minute and do another 10.
2. Lat Muscles
What are they?
The biggest muscle in your back is called the Latissimus Dorsi, and it basically gives your whole torso its shape. It's technically the muscle that makes up your upper back, which you've probably never even thought about.  When you  work your upper back, you're strengthening the muscles all around your core and back, which will actually help your back get stronger, your posture get better, and your waist look smaller. You've neglected this muscle till now, but it's never too late to start sculpting a sexy back.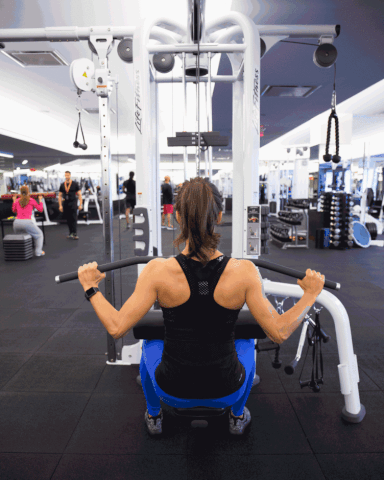 What Exercise Should I Do?
Lat Pulldowns. Find the lat pull-down bar at your gym. You've probably passed this in fear a million times, but it's really not that scary, so it's time to use it. Start by choosing a light weight, and then add weight as you get the hang of it. The idea is to put your hands on both sides of the pull-down bar, sit down on the seat facing the machine, and pull the bar down, squeezing the muscles under your armpits and around your upper back to bring the weights down. If you feel like you're using your shoulders too much, think about keeping your shoulders as far away from your ears as possible. You're using your arms, but the strength should be coming from your back, so it's super important to think about the muscle here.
3. Lower Ab Muscles
What are they?
If you spend your time in the gym doing planks, crunches, and twists, you're doing really good work for the top of your abs and your obliques, but most people tend to neglect the lower muscles in their abs because they're the hardest to hit. Most people's bodies tend to store fat in this region, so it can be hard to picture what I'm even talking about, but think about that V-shape at the bottom of Zac Efron's abs. Those are the lower abs.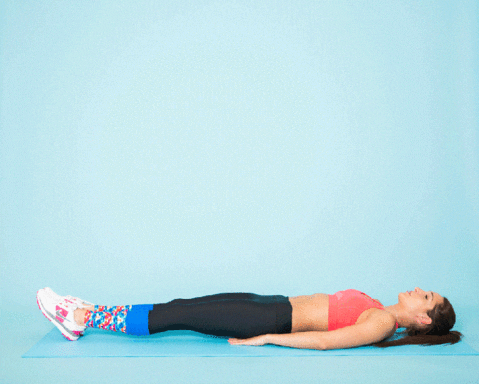 What Exercise Should I Do?
Lying Leg Raises. Start by lying on your back with your hands under your low back/the top of your butt. This will help protect your lower back from getting injured. Then, lift your legs off the ground, keeping them as straight as possible as you bring them up to 90 degrees. Then, SLOWLY lower them back down to the ground. These are meant to be done slowly and carefully, so if you find yourself kicking around and screwing up your form, slow the hell down. Also, a lot of people tend to hold their breath when doing this exercise, but don't. Inhale as you lift your legs up, and exhale as you lower. Your breathing makes a huge difference here, so don't forget about that part.
4. Hamstrings
What are they?
Your hamstring muscles are located on the back of your legs, right under your butt and above your knees. People neglect their hamstrings because we're so into squats and booty donkey kicks, but by strengthening your hamstrings, you'll actually help tone your butt at the same time. Plus, if you're into spinning, you'll get SO much better at it by strengthening your hamstrings. Like, your FlyWheel score will literally double.
What Exercise Should I Do?
Swiss Ball Hamstring Curls. This exercise is based on using a swiss ball or stability ball, but if your gym doesn't have one, this can also work using TRX bands or the rowing machine. Begin on the floor by lying on your back with your feet up on top of the ball. You want your ankles to be on top of the ball when your legs are fully extended. Raise your hips off the ground, keeping your weight in your shoulders and your feet. Then, flex your knees, pulling the ball inward toward your body while squeezing the backs of your legs. Once the ball is "curled" inward, straighten out your legs again, rolling it outwards. Do 10 reps, then take a quick break and do another 10.
5. Inner Core Muscles
What are they?
Let's clear something up.  There's a difference between your ab muscles and your core muscles. You can do a thousand unweighted sit-ups everyday, but that doesn't necessarily mean you're strengthening your core. Your pelvic floor, for example, is part of your inner core, and it's important to strengthen these inner muscles—not only to make us better at planking, but also to pretend our internal organs and actually have better control over our bladder. Most women don't even know about these muscles, but they're super important, especially if you plan on giving birth at some point in your life.
What Exercise Should I Do?
Oppose Arm and Leg Raises. Aside from your gyno-prescribed kegels, it's important to work on core stability to work these inner muscles, and working opposite sides of your body at once is the best way to challenge your core. Starting on your hands and knees, lift your right arm out in front of you and your left leg out behind you. Hold for five seconds, and then return to starting position, preparing to do the same on the other side. Try doing five reps on each side and remember to keep your core tight the entire time.
6. Back Extensor Muscles
What are they?
These muscles make up your lower back, and if you're used to doing ab workouts, squats, deadlifts, or even spinning, you've probably had some pain in your lower back at one point or another. This is because these muscles are easily injured if you don't warm up before exercising. Your extensor muscles are connected to your spine and to your glute muscles, and you'll find that once you get stronger in your lower back region, picking things up and other regular activities will actually get easier.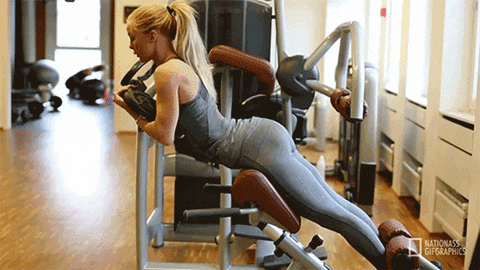 What Exercise Should I Do?
Hyperextensions. Most gyms have a specific bench that these are performed on, but any regular bench will do the trick if you're limited. Lie down with your stomach on the bench and your head facing the floor. If you're on the hyperextension bench, put your feet under the ankle pads. With your body straight, put your arms behind your head or crossed on your chest and bend slowly forward at the waist while keeping your back flat. Then, slowly raise your torso back to your starting position, and remember not to round your spine or swing your torso. If you're advanced, hold a weighted plate at your chest for extra resistance. Either way, remember to go slow and take your time on your way down and up. 
Images:  Geert Pieters / Unsplash. Giphy (5)