I Tried A Professional Stretching Service To See If They're Legit
Now that I've been kickboxing several times a week, (early 2019 me would have guffawed at that sentence) my joints and lower back could use some TLC. They feel strained from overuse (getting old, amiright?), and I figured I needed to do something about it. Even though I follow my fitness instructor's cooldown stretches after each class, my seated trapezius stretch still needs improvement. Plus, there's only so much I can do with the few minutes I have before I rush to my next task. For that reason and more, I finally decided to hire someone to do the "heavy lifting" for me and help me stretch my sh*t out. After seeing Stretch*d, an assisted stretching space, pop up on my social media feed like an encouraging omen (or, Instagram is just listening to my conversations), I was interested to see what the hype is all about. 
Social media influencers, celebrities, and athletes like The Fat Jew, Sienna Miller, and Brooks Nader have graced Stretch*d since they opened in early 2018. As the health and fitness industry grows, more people (like me!) are taking an interest in their body's recovery. We put in so much time and effort to get our bodies into shape, and then we abandon them when they need us the most—after our workout sessions. Of course, stretching is more than recovery from stiffness and soreness. It can increase your range of motion, activate key muscle groups, and reduce the risk of injury by alleviating joint stress. It can also help people with neuromuscular diseases and motor function difficulties treat their chronic pain. 
The company's motto "Get Loose" was definitely the clincher for me; everybody from my manicurist to my physical therapist is always telling me to loosen up. It was about time that I finally took their advice. 
What Is Your Problem Area?
When I first met Stretch*d's Program Coordinator, Jeff Brannigan, he asked me about my problem areas. I told him that ever since my ankle surgery a few years ago, my left knee bore the brunt of my weight during recovery, and still feels out of whack. During our 55-minute Flex*d session (they also offer a 25-minute Quick*e and 70-minute E*longated) Brannigan mostly targeted my knees, in addition to my hips, lower back, neck, and feet. Most people, he said, have problems with their neck and lower back—which makes sense if you hunch over a desk or computer screen all day. Plus, tension and stress tend to sit in those areas like a pesky younger sibling who won't get off your back. So, why didn't I just get a massage, you ask?
Stretches and Massages Are Two Different Things

Before I began my session, I was curious, like many of you are, to know the difference between getting stretched and getting massaged. It turns out, Brannigan gets asked this question a lot. "This is more of a corrective exercise. It will help change the state of the resting muscle. Stretching is a more permanent fix over time. Massages are certainly helpful—it can help reduce tension and pain, but it's more of a temporary fix," he explains. In addition to the Stretch*d Method, many of the facility's stretchers have degrees or certifications in physical therapy, massage, personal training, dance, and yoga. Which, by the way, you can totally tell play major parts in this lauded stretching practice. 
Their Ultimate Goal Is to Chill You Out
Brannigan, who worked on me, has the hands of a healing angel. His movements were very calculated and slow, which is the method he employs to effectively stretch his clients. I almost dozed off halfway through from how relaxed I felt (according to him, no one has ever fallen asleep during a session, which I find hard to believe). The heated tables and neck pad were definitely an added bonus. Giving up control is something I've always been reluctant to do—but I was happily surprised to see myself *actually* relaxing and allowing someone else to move my body like a puppet. The most Oh My God moment of the whole experience was when Brannigan implemented the Hyperice Hypervolt Plus—a percussion therapy tool—to relieve any muscle stiffness and soreness in my back. It was such a game-changer that I'm even thinking of buying one to use at home. 
Stretch*mmendations For The Day

After my session (still sad that it's over), Brannigan wrote a list of target areas with 10-12 reps that I should work on stretching daily. Because yes, there is a wrong way to stretch. "If you do it the right way, it's a simple solution to seemingly complex problems. With a little bit of time every day, you could see issues that have been plaguing you for a long time, can maintain quite easily," His team sent over their Stretch*mmendations with accompanying how-to photos including Hello Hammies (lower hamstrings), Side Sweep*r (inside the thighs) Twist and Dipp*r (side/low back), Chest Open*r (chest muscles), and more to practice. He said:
We suggest practicing these stretches on a daily basis – 10-12 Reps / 2-3 Seconds to Hold .
Your stretch*r also recommends coming 1X/ week for a 25 min session to ensure you are getting the maximum results. 









When I got off the table, I definitely felt more loose, but more than anything I felt way, way more relaxed than I did when I walked into the Stretch*d studio. If I had to rate this place, I'd give it a ten out of ten. If I continue to exercise and hunch over my computer screen through 2020 (the latter is more likely) they'll definitely see my sore butt back on their table in the near future. 
Images: Courtesy of Strech*d
4 Exercises To Improve Your Balance And Flexibility
Do you struggle with balance and flexibility? If you do, first off, you should seek care from a medical professional, since there are many potential causes of balance and flexibility issues other than just "I can't touch my toes and I'm clumsy". There could be an actual medical issue, so you want to speak to your doctor to make sure you identify the cause of your balance issues in order to receive proper treatment. That said, you can also improve your balance and flexibility by performing certain exercises. Your doctor may even recommend you look to direct access physical therapy. Working with an expert will ensure you're working safely and within your abilities.
If you're struggling to improve your balance and flexibility, give the following moves a try.
Alternating Arm Plank

A plank simply involves modifying a typical push-up position so your elbows rest on the floor. When looked at from the side, your arms should appear to form as close to a 90-degree angle as possible.
For this exercise, you may need to rest on your palms (like a typical push-up) when you first attempt it, as it can be difficult to maintain balance otherwise. That's because this version of a plank requires you to balance on just one arm for a few seconds, before switching to the other arm. As you get more comfortable with the exercise, you can try balancing on your forearms or extending your opposite leg.
BOSU Ball Split Squats

A BOSU ball is a piece of equipment you may have seen people using at your gym. It essentially looks like half of a stability ball. Instead of being a complete sphere, it has a flat base running through what would otherwise be the middle of the sphere.
Using a BOSU ball when performing split squats can be a very effective way to improve your balance and flexibility. For this exercise, step forward with one leg far enough so you have to raise the heel of your back foot. The toes of your back foot should rest against the BOSU ball. With your torso straight, bend your front knee so your back leg almost rests against the ball, before returning to a standing position. Alternate sides for the best results.
Pistol Squats

Pistol squats are useful when BOSU ball squats start to feel too easy. For this exercise, stand on one leg and bend the knee of that leg until its thigh is almost parallel with the floor. Try to extend your other leg in front of you as you do so. The straighter you can keep it, the better.
Return to a standing position and repeat to your comfort before switching to the next leg. This is a difficult move to perform, but it can be very helpful if you struggle with balance issues.
Standing Crunch With Clap

This is another exercise you may need to work up to. However, it is a very effective way to improve your balance and flexibility.
To perform it, stand up straight on one leg, with your other knee bent to form a 90-degree angle. Keep your hands raised above your head. Your raised leg's thigh should be parallel with the floor.
Next, bring your stomach forward to your raised leg as if performing a crunch from a standing position. While doing so, bring your arms below the leg and clap your hands together, then raise your arms back up as you return to your original position. Repeat to your comfort, then switch to the next leg.
Again, it's important to see your physician if you have balance and/or flexibility problems. An underlying medical condition may be the culprit. However, it's also helpful to perform these exercises. They'll provide you with the strength you need to stay balanced and comfortable throughout life.
Rae is a graduate of Tufts University with a combined International Relations and Chinese degree. After spending time living and working abroad in China, she returned to NYC to pursue her career and continue curating quality content. Rae is passionate about travel, food, and writing, of course.
Images: Shutterstock (3); Giphy; Unsplash
8 Pilates Exercises To Tone Your Abs
As soon as the weather hits 60 degrees, all I want to do is wear a bikini, sip on prosecco, and eat some watermelon as I scroll through Instagram, poolside. Even if swimsuit weather is still a whopping three(ish) months away, it's the time of year where we all start to evaluate juuuuuust how confident we feel strapping on our most revealing attire and showing off our beach bodies.
As a Pilates instructor, I frequently get requests for stronger, more toned abs, especially the obliques. Since Pilates was created specifically with the idea that your core is the powerhouse of the body, almost every exercise in mat or reformer Pilates will get your abdominals fired up. And while a lot of us want toned abs to show off in a strategically taken thirst trap for our followers, a strong core is more important to help our bodies function properly, improve posture, and stop low back pain as we sit at our desks all day. If you're looking to get as strong as possible before Memorial Day weekend hits, here are the best eight ab exercises to try without leaving your apartment:
The Plank

Your basic plank is one of the best exercises ever invented, IMO. You'll work your full body when you're correctly executing a plank. Keep your hands stacked right underneath your shoulders, keeping palms (or forearms) pressing down into the floor to help stabilize your shoulder girdle. Pull your belly button into your spine and think about lengthening your body from the backs of the heels through the crown of the head. This will help find your glutes while finding the isometric contraction of the muscles.
Hold your plank for as long as you can! If you're new to planks, start by holding this position for 30 seconds (remember to continuously breathe!) and then work up to one or two minute intervals.
The Plank Plus Mountain Climbers

Once you've mastered just holding your basic plank, it's time to up the ante. While a basic plank will definitely help you strengthen your transverse abdominals (the corset-like muscles that wrap around your middle), adding mountain climbers will challenge and tone your obliques (the "side" abdominals the Dua Lipa flaunts in every single crop top).
Add mountain climber variations by bringing your knee to your elbow. Bringing your knee inside of your elbow will work your internal obliques, bringing it outside of your elbow will work your external obliques, and bringing it diagonally to your opposite elbow will help your oblique slings work congruently.
As you get fancy with your footwork, don't lose shoulder stability and let your chest collapse. This can result in dumping the work of the exercise into your lower back, causing pain. Think about pressing into your palms and pushing into the floor to help keep your scapula (the "chicken wing" part of your shoulder blades) secure.
If you feel yourself arching your low back or if you feel a pinching sensation, work on your basic plank form until you feel confident enough to add the mountain climbers back in.
See if you can challenge yourself to hold your plank for at least one minute as you add your mountain climbers.
Bird Dog Plus Windshield Wipers

This exercise seems innocent enough, but be prepared to fall over on your first attempt. You can start by getting into an all fours position, knees stacked underneath hips, hands underneath shoulders.
Next, lift opposite arm and opposite leg off of the floor. Think about reaching both limbs as far as possible in opposite directions. Press your supporting hand down into the ground to help keep your shoulder supported. Hips should be level (you can place a book on your low back to see if your hips are squared. If it falls off, you'll need to adjust). To finish the movement, move each limb to their respective sides 2-3 inches like a windshield wiper. You'll want to keep it small. Pull it back into your starting position. That's one rep. You should feel your obliques and transverse abdominals fire on to help maintain stability and balance. Aim for 8-10 reps per side.
Crisscross

You've probably done "bicycles" before, but chances are, your form is incorrect. The objective of Crisscross—the official term for the exercise in Pilates—is to find your oblique slings. When done too quickly or with poor form, you're not squeezing the most you can out of the exercise.
First, move slowly. A lot of times I see clients whip these out as fast as they can, but moving with purpose will actually help you find more work in the exercise, which means efficiency! Pretend you're moving through peanut butter as you start by coming up into a mini ab curl. Then think about twisting your armpit over to your opposite hip point while simultaneously extending the leg on the same side you're twisting from.  
Instead of pulling your knee closer into your face, think of it staying in space while twisting your upper body to it. You want your pelvis and lower body to stay as still as possible. Imagine your upper body ringing out like a wet towel, finding every inch of rotation through your thoracic spine.
See if you can work continuously for 30 seconds, alternating sides.
The Side Plank Plus Mountain Climbers

In case you didn't notice, I LOVE planks. Side planks are even better because they're super hard and super humbling, even if you work out a ton.
Before you add mountain climbers, make sure you can maintain a strong side plank. Similarly to a regular plank, you should feel like your bottom shoulder is stable as it bears the weight of your upper body. Your elbow (or hand) should be directly underneath your shoulder, and as you press into your forearm, avoid keeping all of your weight in the elbow—I know it's tempting. Think of the bottom waist lifting up to help recruit your obliques into the exercise. This will help take some of the workload off from your shoulder. Keep your feet flexed. You can have them stacked ankle over ankle or scissored, totally your preference.
If a side plank is super challenging for you, you can also leave your top hand (or fingertips for lighter support) on the ground to help stabilize. Just make sure you're not rounding your top shoulder too much. Your chest should be squared to the side of the room.
Once you feel confident with your plank form, take your top hand behind your head and lift your top leg into a tabletop position. Think of it "crunching" into your waist to fire up your top oblique. You might feel the outside of your butt/hip area start to work. Totally normal! That's where your gluteus medius and gluteus minimus are—two helper muscles for your gluteus maximus, aka your booty! They're jumping in to help bear the support of the side plank.
Try holding your side plank for 30 seconds and fit in as many mountain climbers as you can.
Double Leg Stretch

The double leg stretch is a great way to find the hard-to-reach low abs. This will challenge your entire core while also feeling fun. (OK, maybe it's just me who thinks chillin' in a little ball is fun…)
To begin, lie down on your back and curl up into the tiniest little fetal position you can. Let your knees come into your chest and think of your tailbone tucking under (this will protect your low back) and place your hands lightly on your shins. Take an inhale to prepare and as you exhale, shoot both arms and legs out in opposite directions. Circle your arms back to your shins. That's one rep. The lower you aim your legs, the harder it'll be for your abdominals. Pick what feels most challenging to your body, but if you feel a pinch in your low back, aim your legs higher toward the ceiling.
Repeat for 10-12 reps.
Scissors

The Scissors move is a little twist on the crisscross. Instead of staying up into an ab curl, let your upper body stay down and place your hands on either side of your body in a low "V" shape. Spread out your fingertips and make sure you're pressing into the ground (this will help give you more support from your triceps). Take your legs up toward the ceiling and begin by alternating the legs like a pair of scissors—oooh, see what we did there?—on a 45-degree angle. Again, the lower you go with your legs, the more challenging it'll be for your abdominals.
If you feel a pinch in your low back at any point for this exercise, make a diamond shape with your hands and place them underneath your sacrum (right between your low back and your tailbone). This will help keep your pelvis supported and make you're working safely.
Try to work continuously for 30 seconds.
The Rollup

Last but not least, the roll up! The next time you find yourself lying on the floor hungover, trying to find the meaning of life, try getting up using only your abdominals.
Start by lying flat on your back and place a little pressure into your heels. This will help you "push" against gravity. Bring your arms above your shoulders, palms facing in. Inhale to prepare, exhale to begin, nodding the chin toward your chest as you roll up through your spine, pulling your belly button in toward your middle like you're trying to zip your tightest pair of jeans. Arrive seated on your sitz bones, the bony parts of your butt. Inhale again, and exhale as you reverse the direction, returning to the starting position. That's one rep.
Go for 8-10 reps.
Images: Emi Gutgold
How To Do Face Yoga, Meghan Markle's Go-To Anti-Aging Treatment
Ok, so, after some procrastination at work internet digging, we've discovered that you can make your face look more toned by moving your head around and being bougie while you do it (I paraphrase). It's called face yoga, and it's apparently a real thing. Hear me out. According to an interview with Birchbox, Meghan Markle—ever heard of her?—is a YUGE fan of face yoga or "facial massage techniques," and credits it with her toned-looking and wrinkle-free visage, which got us to pay attention.
In said interview, Meghan said:
"I do facial exercises from one of my favorite aestheticians, Nicola Joss, who basically has you sculpt your face from the inside out. I swear it works, as silly as you may feel. On the days I do it, my cheekbones and jawline are waaaay more sculpted."
So, there you have it—and if it's good enough for the future princess or whatever her title will be, it's good enough for me. Apparently, doing these face yoga exercises can strengthen your face muscles and, therefore, relax lines and tension that can cause you to look tired. Here are the three funniest best face yoga exercises we found from Harpers Bazaar, Marie Clare, and the New York Times.
1. Stretch Your Eyes Like A Weirdo
Take your index finger and thumb and stretch your eyes, making a C shape. Your index finger should be on your eyebrow and your thumb on your cheek. Pull down with your index finger while trying to raise your eyebrows and make your eyes super wide. Hold, then repeat. Apparently this will make your forehead look better, although you'll look really fucking stupid doing it.
2. Crane Your Neck To Search For Drama
Look straight ahead with your chin center and level. Then turn your head to the right so that your chin is directly over your right shoulder and even, then tilt your head back. Return forward and repeat with the other side. Do this until you give up or feel hotter, whichever comes first.

3. Pretend To Give A Blow Job
Hide your teeth with your lips, make an O shape with your mouth, then smile as wide as you can while keeping your teeth hidden. You'll look really fucking stupid, but this will help with cheek wrinkles or saggy skin.

May smooth skin, princes, and blessings be upon you.
Images: Shutterstock; Giphy(2)
7 Yoga Moves That Will Undo The Damage Of Sitting At A Desk All Day
There are so many things about a desk job that are so not betchy, but we put on a brave face from 9 to 5 because we need money. Sitting at a desk all day obviously makes you stiff and tight, and your muscles feel like shit by the end of the day. I mean, unless you're that freak with a standing desk or the psycho who runs to Barry's Bootcamp at her lunch break, you're sitting all day and not doing your body any favors. These yoga moves will stretch your body out and activate the muscles you've been neglecting all week, so go through each one and feel free to thank us when you feel amazing by the time you get to happy hour.
1. Downward Dog
Most yoga classes start with a downward dog because it warms up your shoulders, back, and legs so you can get a full body stretch in one move. Start on your hands and knees, and stretch your elbows and relax your back. Then, press onto your palms as you tuck your toes and lift your knees off the floor, pressing the floor away from you as you lift your butt upwards. You should immediately feel the stretch in your calves, and you can even peddle through each foot to stretch your legs out more. If you're doing this right, your body should be in a V-shape with your arms out in front of you.

2. Pigeon Pose
Pigeon pose is the ultimate hip opener, so if you do a lot of running or spinning, this will be a game changer for you. I mean, that three-second stretch at the end of SoulCycle is bullshit anyway. In your downward dog pose, bring your right shin forward with the right knee toward your right wrist, and your right ankle toward your left wrist. Lower your hips to the ground with your back leg extended and reach your torso as far down to the ground as possible. Switch sides after holding the stretch for a few seconds, or stay longer if it feels amazing.

3. Child's Pose
This pose has nothing to do with children, so don't mind the name because it's slightly creepy. Child's pose stretches your thighs and your upper body, so it's amazing if you've been sitting all day. Start on your hands and knees, spreading your knees wider than your hips while keeping your toes touching. Sit on your heels and bow forward so that your torso is in between your thighs and your chest is on top of your thighs. If you want the extra stretch, bring your forehead all the way down to the floor or reach your arms out in front of you.

4. Forward Fold
This move is the yoga equivalent of taking your 6-inch heels off at the end of the night. It just feels SO GOOD and you wonder why you didn't do it earlier. Forward fold is literally just folding your torso over your legs so that your body is literally folded over with your hands as close to the ground as they can go. Make sure your knees are slightly bent and that you're folding your torso with your hips and not your lower back. Hang in this position for a few seconds, and shake around if you have any tightness in your neck or shoulders.

5. Cat-Cow Stretches
This move is the ultimate back stretch, so if you have any back pain whatsoever, cat-cow stretches will literally save you. Don't mind the name because we're not sure WTF it has to do with a cat or cow, but it definitely does the trick and you'll be obsessed. Start on all fours with your wrists directly under your shoulders and your knees directly under your hips. Make sure your head is in a neutral position, and drop your belly downwards while lifting your chin upwards to look at the ceiling. Then, round your back and and look downwards, stretching your lower back. Alternate between the two and take your time on each bend. Your body will thank you when you don't have to crack your back at your desk chair five times a day.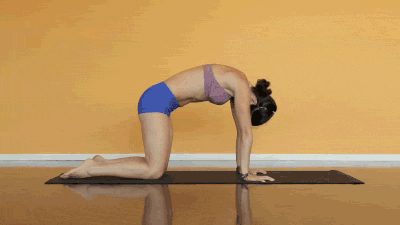 6. Cobra Pose
Not only does Cobra pose make you look like a zen, green juice-drinking version of Cleopatra, but it also has amazing benefits for your body. It turns out stretching your body out like a cobra is amazing for your back, chest, and even your abs, so it's also a great stretch to know if you just did an ab workout and want to be able to laugh tomorrow. Start lying on your stomach with your head facing down, and then keep your elbows close to your body, lifting your chest off the floor. Your legs and feet should press into the ground as you press your upper body away.

7. Savasana
Anyone who has ever been to a yoga class knows that Savasana is literally everything. At first glance, Savasana pose just looks like you're lying on the floor. Upon second glance, that's exactly what it is. And that's why we fucking love it. There's nothing better than lying on your back and doing absolutely nothing while some woman with a soft voice tells you to invite peace and silence into your practice. I mean, we might not be the most flexible or advanced yogis, but we can deal with lying on the ground and postponing all our responsibilities for a few more minutes. Namaste.

Read: How To Work Out At Your Desk Without Freaking Out Your Coworkers