5 Gym Machines You Need To Stop Being Intimidated By
I don't know about you guys, but I always feel a little weird in the weights/machine section at the gym because I'm usually the only woman amongst a gaggle of retired frat bros who I don't want to talk to, look at, or breathe near, and yet they somehow always manage to pump iron right next to me. Truth be told, I don't really spend a ton of time in this area because it's always been a little bit intimidating to me, but after realizing that I lack the upper body strength to lift my MacBook air, I did a reassessment of my workout regimen. So, I swallowed my insecurities, wommaned up and asked a fitness, expert to help me become the most Beyoncé circa Coachella 2018 version of myself (while still eating sugar, dairy, and carbs). I asked Mike Clancy, lifestyle coach, certified personal trainer, and founder of MikeClancyTraining, about which gym machines I should stop being afraid of and start using . Mike knows what the f*ck he's talking about, so if you're trying to get strong for 2020, listen up and stop tiptoeing around these pieces of gym equipment.
1. Yoga Ball

There are so many things you can do with a yoga ball that have absolutely nothing to do with yoga. Clancy says, "Consider using the yoga (Swiss) ball for ab exercises, since the roundness allows your spine to fully flex and extend, unlike crunches and sit-ups. The ball is also great for providing support for your lower back when you are curling up and down." As a new fan of the yoga ball, I'll share a few of my favorite exercises. Get in the plank position with the tops of your feet on the ball. Slowly lift your butt in the air and lower. The ball will roll toward your straight arms with every lift and back with every lower. This targets every part of your abs and you will be so sore the next day that breathing will be a chore.
Another option is to lay on your back with your legs extended in front of you and hold the ball between your ankles. Reach for something behind you for stability if you need to, and do everything in your power to keep your lower back on the ground as you lift the ball straight up and back down. Your upper abs will be screaming to make it stop, but they'll thank you when you're rocking those cute little muscle indents. Lastly, if you're having an off day and want to have a more chill ab day, sit on the ball with your back as straight as you can. Put your hands behind your head and lean back enough so that your back is parallel to the floor. Use your abs to pull you up without breaking your posture or letting your elbows cave in.
2. Hip Extension Machine

Do you guys know about these? Not all gyms have them, but if my Murray Hill sh*thole Crunch does, I feel like a lot of gyms have to. I've also learned that, unlike treadmills and rowing machines, all hip extender machines are a little different. Mine, for instance, is a padded metal pole with hand grips behind it and pedals in front of it. Am I creating a brilliant visual or failing miserably? I realize this kind of sounds like I'm describing a torture device. Anyway, so one of your feet is on the ground and the other is on the pedal. Bend both of your knees slightly and push on the pedal with the ball of your foot. You don't need to push back really far, maybe just a few inches. This targets your lower ass, which creates that scoop of ice cream shape. Isn't that all we want in life? You can also adjust the pedal so it's next to you instead of behind you and do the same exercise to the side which works your side glutes.
If you've ever taken a barre class, this machine is like the glutes section, but way more effective because there's resistance with the machine. It's also a lot easier on your joints than trying to lift your leg in the air while putting all of your body weight on your wrists and one knee. Ouch! 
3. Cable Biceps Bar

The bicep machine is pretty self-explanatory, but I will walk you through it just in case you need a little bit of motivation. The machine is pretty small, which makes it way less intimidating that those terrifying full-body workout machines. So you set the weight you want to lift, grab the bar, and do your bicep curls. I usually start with eight pounds and work my way up from there. Clancy says, "Try using the bar attachment on the cables for performing strict bicep curls. By keeping your elbows in a fixed position, the bar will help build and sustain tension in your arms, dramatically increasing the effect compared to normal sets."
The key is to go slowly so that you're lifting and lowering with muscle, not momentum. You can bend your arms in a 90-degree angle starting at your hips and do a half curl or fully extend your arms down your lefts for the lower and fully bend them for the lift.  If you're not feeling it, don't push it. 
4. Hanging Leg Raise

This is another ab machine that targets your lower abs and it is very, very effective—speaking from experience aka my sore abs. The hanging leg raise is a machine that's shaped like a "T" with padded poles for you to put your arms on while your legs and abs do all the work. Your arms are bent in a 90-degree angle in front of you while your legs are fully extended beneath you. 
Slowly lift your legs without separating or bending them and slowly lower. According to Clancy, "The flexion of your hips using straight legs will highlight and target the ever-popular lower abs, and get you one step closer to the V in your stomach. Lean back and slowly raise and lower your legs to really enhance the contraction." You can also do this same exercise with your legs extending on a slight angle to work your side abs. And if you're really feeling yourself, you can bend your knees at your chest and extend in front of you without putting them down. I've only seen one person do that and she was my trainer at the time, so you may need to work up to that one.
5. TRX Bands

These are fab. They take up no space and are actually really easy to use. If you don't want to do push-ups on the ground for whatever reason, TRX bands are for you. You can perform two different types of push-ups with these, and both are as painful as hell to do. But it's the kind of pain that will later remind you that you're getting strong. Clancy says, "Those yellow TRX bands are great for calisthenics and bodyweight exercises because they move in all directions, the movement options are endless. In particular, TRX bands are phenomenal for doing rows and other pulling motions. You can incorporate fully-body, multi-joint movements such as a squat-to-row, or a reverse lunge to one-leg knee lifts." If all of that sounds really confusing, just remember that if YouTube can teach you how to expertly execute a smokey eye, it can teach you how to do a one-knee leg lift. 
I personally only really use the bands for arm exercises and sometimes abs, but because they are just two bands hanging from the ceiling, you can really use them for anything your heart desires. Get swole.
Images: Unsplash; Shutterstock (5)
The Worst Mistakes You're Making On Gym Machines
As much as I love bodyweight movements and at-home workouts, using machines at the gym is a good option if you know what you're doing. The gym is filled with intimidating equipment, and it usually takes a few tries to figure out how to use some of it. In fact, even some of the most simple machines are confusing, and you end up using them wrong, which ruins your workout and could cause you an injury down the line. Here are the workout mistakes you're making on six basic machines and how to fix your form. 
The Treadmill
The treadmill seems super intuitive, but people still screw up their form all the time, and it can sabotage your workout and lead to serious injuries. For example, a lot of people look down when they're on the treadmill, and that's a recipe for disaster. Not only can you lose your balance and eat shit on the Equinox floor, but you can also strain the back of your neck and misalign the rest of your body. To run on the treadmill properly, keep your gaze straight and your chest open. You'll be able to run for a longer amount of time and you'll probably be less sore the next day.

Elliptical & StairMaster
The Elliptical and the StairMaster are both go-to cardio machines, but they're only effective if you're positioned in the right way. Instead of hunching over and holding onto the side handlebars like your life depends on it, keep your hands to yourself and keep your posture straight the entire time. You're supposed to feel a burning sensation in your legs on these machines, so if you're death-gripping the rails to take the pressure off your legs, you're not doing yourself any favors. The machine is just there to support you, so you don't have to clutch the handles like you're gonna fall over. Plus, when you're hunched over, you're taking the exercise away from your legs, so you just end up burning less calories than you could have if your form was right.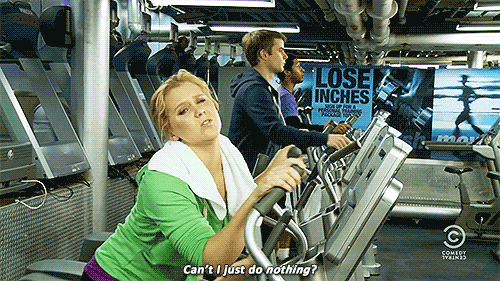 The Rower
The rowing machine is an even better workout than the electronic cardio machines, because you literally have to use your entire body to operate it. This includes your legs, arms, back, and abs. So, if you feel like you're just pulling in the bar with your arms, you're not using the machine correctly. Instead, think about pressing down with your heels and pushing outward, like you're standing up from a deadlift. The idea is to use momentum from your legs to generate the pull, and then use your back and arms on the second part to finish the pull. And again, if your posture sucks here, you'll probably injure yourself, so remember to keep your core engaged and your shoulders pulled back.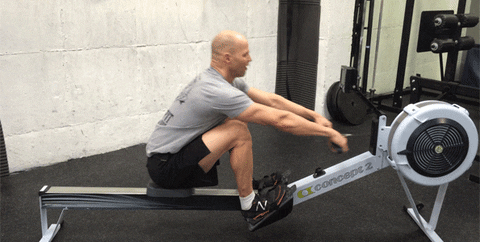 Lat Pulldown Bar
The lat pulldown bar can be difficult to use because it's hard to engage your lats. In fact, most people don't even know what their lats are, so that's problem number one. The lat muscle, aka the latissimus dorsi, is the huge muscle on your back that goes all the way behind your arms. If you strengthen this muscle, your back will look toned and tight, and your waist will end up looking more narrow in result. So, in order to pull down this bar using only your lats and not your shoulders, you need to really think about squeezing your back and engaging the muscle before you pull down. If you're leaning back too far or bringing the bar to your waist, you're overextending. Focus on bringing the bar to chest height and on keeping tension away from your neck and shoulders.

Hanging Leg Raise
This is a great piece of equipment for ab exercises, and it's super effective for leg raises, knee-tucks, and holds. It's also a tricky one because people tend to start doing leg raises before their core is engaged, so only the hip flexors are being worked. Instead, prop yourself up and get comfortable first. Engage your core by pulling your belly button in toward your spine, and then start the exercise. Another mistake people make is by keeping their shoulders too close to their ears. Instead, draw your shoulders down and think about pulling them away from your neck. This will help prevent tightness and injuries that are caused by locking out your shoulder and neck muscles.

Leg Press Machine
The leg press machine is basically a squat variation in a different position, so you need to make sure you're not just bouncing up and down and screwing up your back. A lot of people accidentally do partial reps on this machine, so they're not getting the full range of motion that they would in a standing squat. Position the seat so that when your knees come in, they come close to your chest, so you can target your glute muscles. Also, avoid locking your knees when you straighten out your legs. It's bad for your knees and you could really hurt yourself, so remember to keep a slight bend even while extending. There's no need to get injured at the gym if you just take your time to make sure you're not zooming through every movement.

Images: Giphy (6)
4 Exercises That Are Wasting Your Time, And 4 Better Ones
As a gym-goer (you cannot visit this site without being a member of a gym that costs almost as much as your monthly rent), you're surely aware of the CrossFit-ization of our once-great nation's fitness fanatics. This is largely bad, because it's caused many a dork to delude himself into thinking that exercise is a sport in and of itself, despite their newfound quadriceps making them no better at hitting a baseball or sinking a free throw than they were back when they were getting picked last for grade school kickball. There is, however, one silver lining: the rise of "functional fitness," i.e., exercises that actually get you in better shape.
Now, everyone's living that #squatlife, even novices. Which is great! But for people just starting out, it's sometimes wise to work up to an exercise before loading up a couple hundo' on the olympic platform and deadlifting until you shit out your own colon. Those people can gently introduce themselves through modified exercises, colloquially called "modifiers." This is also great , but the problem is that not all modifiers are created equal. I've put together a list of popular "functional" exercises, the most common modifiers, and better alternatives for people who want to get Khloé Kardashian's bod without the ass injections.
The Exercises
Push-Ups
Before there was such a thing as "plank," everyone else knew it as "the top of a fucking push-up." With your body taut, feet together, and your hands underneath (and roughly as wide as) your shoulders, lower yourself until your chest jussssst touches the ground, and push back up (hence the name!). It's a great way to build strength and endurance in your chest, shoulders, and triceps, and it involves core and stabilizing muscles in ways that machines and even free weight exercises don't. Unfortunately, because God knew damn well that men would be insecure as hell, he blessed us with naturally superior upper-body strength that makes these a breeze—but lots of women might find them difficult.

The Modifiers
Bad: Partial/Kneeling Push-Ups
I don't mind knee push-ups, which I'll get to in a second. The bigger problem is that I've noticed some trainers/online fitness idiots recommending women instead do push-ups on their feet, only going "as far as they can," i.e., about halfway. This is bullshit. You wouldn't do half a squat, half a bicep curl, or give half of a hand job and declare it "the same as the real thing," would you? I sincerely hope not, otherwise you are WEAK and/or bad company in uncrowded movie theaters.
Better: Elevated Push-Ups
The key with push-ups is that they get harder the smaller the angle between your body and the ground gets. Ergo, instead of doing 15 half push-ups and fucking off to the juice bar or whatever, find a way to elevate your hands. Every gym has some of those aerobics platforms for old ladies that you can stack about 18 inches high. If that's still too hard, grab a weight bench or even a low wall and perform the motion with good form. As you get stronger, lower the platform. Kneeling push-ups should actually be your last step on this journey. Basically, if you can perform 15 or so push-ups at your current level of assistance, it's time to lower your angle. There's still a decent jump from kneeling to actual push-ups, in which case it's totally fine to start out on your toes and drop to your knees as needed to finish the set.

The Exercises
Squats
Ah, squats. They're the foundational exercises for every THOT who gets fired from Panera and decides they're going to start a #fitspo Instagram—and tbh, they should be foundational for everyone. Resting a weighted bar across your shoulders as high up as your trapezius muscles will allow, stand with your feet shoulder-width apart and toes pointed slightly out. Drop your butt back and down, feeling as though there's a string pulling your head upward as you drop your ass as low to the ground as possible. Get the crease in your hips at or below your knees before extending from your heels back to full height. It's a MONSTER exercise for your entire lower body, but not everyone is ready to step into a squat cage with all those meatheads flexing and milling about. Plus, even just the 45-pound bar can be a lot for newbies, and a lack of trapezius muscles can make it uncomfortable.

The Modifiers
Bad: The Sled/Leg Press
This is that big contraption where you lay down in a recumbent position near the ground, using your legs to push the weight out and away from you. You feel like an absolute GOD on this machine, because even fairweather gym-goers can put up solid weight. The problem? It fucking sucks. For starters, it's the opposite of "functional"—of course you can push a lot of weight when you're braced against something solid, but do you envision a situation where you'll ever be lying on your back and have to leg-press a Toyota? I sure hope not. What's worse, it can genuinely and sincerely fuck up your back six ways from Sunday. Do you want to spend the rest of your life walking around like that? Hell no.
Better: The Hack Squat
I'm tempted to include dumbbell squats here too, because there's nothing wrong with those as exercises on their own. But if you really want to prepare for the squat cage, the hack squat machine is your friend. It's that machine usually located somewhere near the leg press that looks like a medieval torture device, except it's anything but. Load on an experimental amount of weight, settle your shoulders into the cradle, and use the levers to unlock it. Making sure you place your feet so that your knees don't extend too far out over your toes, lower yourself as low as possible, just like a real squat. The beauty is that it does a much better job of simulating the movement, and if you get stuck it's easy to lock the machine and bail out (plus, everyone's too busy herniating their spines on the sled so it's always open). It's kinda tough to determine how much weight you're pushing because of the angle, but I'd say that if you get to a point where you can do 8-10 good hack squats with 100 pounds on the rack, you're ready to move to the cage.

The Exercises
Pull-Ups
I probably don't need to explain pull-ups too much: grab onto a bar/rings/the skid of the helicopter with which terrorists are trying to abduct the president, and pull yourself up until your chin reaches or passes the bar. There are any number of hand positions you can use to make the exercise easier or harder, but that's not the point. The problem is that I would wager most men can't do more than one or two pull-ups, to say nothing for how hard it is for most women. Honestly, you may never be able to do more than one, if any. But that's ok! It's still a goal to work towards.

The Modifiers
Bad: Lat Pull-Downs
This is the rig usually found on the end of a larger cable machine: a seat with pads to hold your knees in place, with a pulley above with a bar that you pull down to your collarbone (or behind your head, if you're feeling spicy). Like a lot of modifiers, there's nothing inherently bad about it—it is, in fact, a great way to strengthen your lats, and your lats are a big part of a pull-up. But it does fuck-all to simulate a pull-up, and that's what we're after here. We can do better.
Better: Assisted Pull-Ups
There are two mechanisms for this, and they're kind of a progression. The first (and easiest) is a machine specifically designated for assisted pull-ups: select an amount of assistance to counteract your own body weight, either step or kneel onto the assist bar/platform (depending on the design), and get to pull-uppin'. Even in machine form it's better than a lat pull, because you're moving your body through space. It's also closer to how your body actually moves on a bar, i.e., no excessive leaning back like you see people do on the lat pulls. The second option is to use a pull-up assist band (or collection of bands) on a by-God pull-up bar: attach the band according to the instructions, rest your knee or foot in the loop, and do pull-ups as the elastic gives you a little boost. This is just like doing real pull-ups, because your body can swing freely just as it would with no assistance at all. Real talk, if 6-8 band-assisted pull-ups are as far as you ever get, you're still doing better than 90% of the population. No shame in that game.

The Exercises
Deadlifts
If squats are the NY style pizza of exercises (iconic, foundational, and unimpeachable), then deadlifts are Chicago deep dish—similar yet a little different, but no less important. With an olympic bar at your feet, stick your butt out and squat down as far as you need to grab it with extended arms. Then, keeping your chest high and your back straight, again feel that string pulling your head up as you push through your heels back to upright. The bar should ride jusssttt in front of your shins, and finish on your thighs. It's not entirely un squat-like, but a) you aren't squatting as deep, and b) because the weight is in front of you, it works the back of your body more—specifically the glutes, hamstrings, and lower back. It does, however, present similar challenges to squats: big scary weights and the people who use them, and discomfort (this time, in the form of potentially skinning your shins with the bar).

The Modifiers
Bad: The Hex Bar
If you've ever worked with a trainer, you may have used this device. A closed hexagon with extensions for barbells on either side, you step into it, reach down and grab the handles, and then do your deadlifts that way, avoiding unpleasantness like the olympic platforms and skinned shins. Easy, right? Wrong. While the hex bar is great for big dudes who want to do shrugs, it's no good for deadlifts because you're not doing a deadlift at all—because the bar moves the weight from in front of you to in-line with your center of gravity, what you end up doing is a glorified dumbbell squat. A fine exercise, but not what we're after here.
Better: Stiff-Legged Dumbbell Deadlifts
I'm breaking the theme here because this doesn't exactly mimic an olympic deadlift, but remember what a deadlift is supposed to work: the hamstrings, glutes, and lower back. The only reason a regular deadlift involves the quads is because you have to squat down to pick it up without fucking up your back, but there's no need to do that to hit the core areas. Grab a couple of reasonably heavy dumbbells (IDK, in the 20-pound range to start?), and stand with them in front of your thighs, palms facing in. Let the air out of your knees (i.e., don't lock them out, but don't bend them either), and bend from the waist, moving your butt out and back and keeping your back straight, feeling like your chest is high. The dumbbells should track pretty close to your legs the whole time, as they would if you were doing these with a bar. To start, you might want to do these sideways in front of a mirror—watch yourself, and as soon as you see your lower back start to round, that's as far as you can go. You'll be able to go deeper as your hamstrings stretch and get stronger, but for now take it slow. You should feel your quads brace as you go down, but on the way back up you should feel a deliberate pull from your glutes and hamstrings. I think if you get to a point where you can do a few sets of 10 reps with 35- to 40-lb dumbbells in your hands, you're more than ready for the bar.

This girl actually goes a little too far, note how her back starts to round.
The 6 Muscle Groups You're Neglecting & The Best Exercises For Them
91 percent of Americans give up on their New Year's resolutions, and I'm guessing they just got bored on the treadmill and decided to call it a day. Working out is boring, obviously. Every online fitness article shows us the same squat challenges and stupid 10-minute ab routines, but like, how many times can we keep working the same muscles? It's repetitive and annoying, and it's time we start working the muscles that we're not always told to care about on Instagram. Before you dismiss these muscle groups because you're "scared of machines" or "don't wanna get bulky," listen to why you should definitely pay attention to them. I mean, you can do burpees and sit-ups forever, but don't complain when you completely plateau and start Googling Gigi Hadid's workout routine. Here's a breakdown of the muscles you should stop neglecting, and what exercises you should start doing for each one.
1. Deltoids
What Are They?
Your deltoid muscles are basically your shoulder muscles, and there are different parts to the muscle, but the two you should care about are the front delts and the lateral delts. You might be scared that by working your shoulder muscles you'll bulk up like a football player, but realistically, that's not gonna happen unless you're literally lifting your bodyweight and consuming a shit ton of protein. Toning your shoulder muscles will make your whole arm look more defined and just so much better, and the most ideal way is to work the front of the muscle and the side of it in one workout to tone every angle.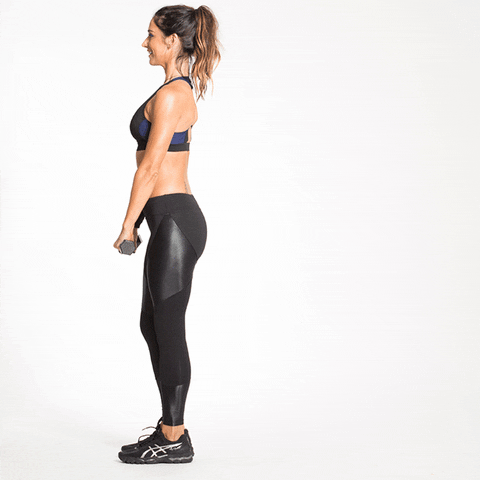 What Exercise Should I Do?
The Lateral Raise to Front Raise. Choose two dumbbells that are lighter than what you'd usually pick up. Your shoulder muscles are strong, but the side and front parts of the muscle can usually only handle very light weight, so think anywhere between three and eight pounds—maybe 10 if you do these regularly. Standing up while holding a dumbbell in each hand and your elbows slightly bent, raise the weights directly in front of you, bringing them to shoulder height with your arms extended. Then, lower them back down, and raise them again, this time laterally to the sides of your body. It should reach shoulder height again, but they're raised out to the sides instead of in front of you. You can even add in a lunge if you want to make this a total body move. Aim for 10 reps total, then rest for a minute and do another 10.
2. Lat Muscles
What are they?
The biggest muscle in your back is called the Latissimus Dorsi, and it basically gives your whole torso its shape. It's technically the muscle that makes up your upper back, which you've probably never even thought about.  When you  work your upper back, you're strengthening the muscles all around your core and back, which will actually help your back get stronger, your posture get better, and your waist look smaller. You've neglected this muscle till now, but it's never too late to start sculpting a sexy back.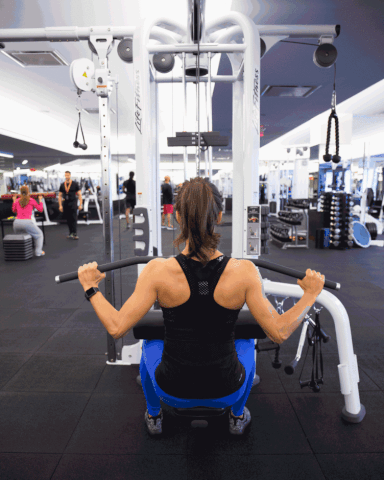 What Exercise Should I Do?
Lat Pulldowns. Find the lat pull-down bar at your gym. You've probably passed this in fear a million times, but it's really not that scary, so it's time to use it. Start by choosing a light weight, and then add weight as you get the hang of it. The idea is to put your hands on both sides of the pull-down bar, sit down on the seat facing the machine, and pull the bar down, squeezing the muscles under your armpits and around your upper back to bring the weights down. If you feel like you're using your shoulders too much, think about keeping your shoulders as far away from your ears as possible. You're using your arms, but the strength should be coming from your back, so it's super important to think about the muscle here.
3. Lower Ab Muscles
What are they?
If you spend your time in the gym doing planks, crunches, and twists, you're doing really good work for the top of your abs and your obliques, but most people tend to neglect the lower muscles in their abs because they're the hardest to hit. Most people's bodies tend to store fat in this region, so it can be hard to picture what I'm even talking about, but think about that V-shape at the bottom of Zac Efron's abs. Those are the lower abs.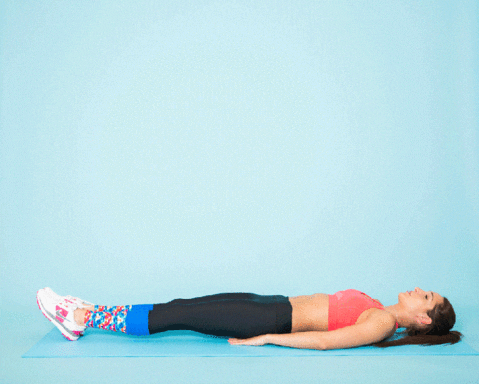 What Exercise Should I Do?
Lying Leg Raises. Start by lying on your back with your hands under your low back/the top of your butt. This will help protect your lower back from getting injured. Then, lift your legs off the ground, keeping them as straight as possible as you bring them up to 90 degrees. Then, SLOWLY lower them back down to the ground. These are meant to be done slowly and carefully, so if you find yourself kicking around and screwing up your form, slow the hell down. Also, a lot of people tend to hold their breath when doing this exercise, but don't. Inhale as you lift your legs up, and exhale as you lower. Your breathing makes a huge difference here, so don't forget about that part.
4. Hamstrings
What are they?
Your hamstring muscles are located on the back of your legs, right under your butt and above your knees. People neglect their hamstrings because we're so into squats and booty donkey kicks, but by strengthening your hamstrings, you'll actually help tone your butt at the same time. Plus, if you're into spinning, you'll get SO much better at it by strengthening your hamstrings. Like, your FlyWheel score will literally double.
What Exercise Should I Do?
Swiss Ball Hamstring Curls. This exercise is based on using a swiss ball or stability ball, but if your gym doesn't have one, this can also work using TRX bands or the rowing machine. Begin on the floor by lying on your back with your feet up on top of the ball. You want your ankles to be on top of the ball when your legs are fully extended. Raise your hips off the ground, keeping your weight in your shoulders and your feet. Then, flex your knees, pulling the ball inward toward your body while squeezing the backs of your legs. Once the ball is "curled" inward, straighten out your legs again, rolling it outwards. Do 10 reps, then take a quick break and do another 10.
5. Inner Core Muscles
What are they?
Let's clear something up.  There's a difference between your ab muscles and your core muscles. You can do a thousand unweighted sit-ups everyday, but that doesn't necessarily mean you're strengthening your core. Your pelvic floor, for example, is part of your inner core, and it's important to strengthen these inner muscles—not only to make us better at planking, but also to pretend our internal organs and actually have better control over our bladder. Most women don't even know about these muscles, but they're super important, especially if you plan on giving birth at some point in your life.
What Exercise Should I Do?
Oppose Arm and Leg Raises. Aside from your gyno-prescribed kegels, it's important to work on core stability to work these inner muscles, and working opposite sides of your body at once is the best way to challenge your core. Starting on your hands and knees, lift your right arm out in front of you and your left leg out behind you. Hold for five seconds, and then return to starting position, preparing to do the same on the other side. Try doing five reps on each side and remember to keep your core tight the entire time.
6. Back Extensor Muscles
What are they?
These muscles make up your lower back, and if you're used to doing ab workouts, squats, deadlifts, or even spinning, you've probably had some pain in your lower back at one point or another. This is because these muscles are easily injured if you don't warm up before exercising. Your extensor muscles are connected to your spine and to your glute muscles, and you'll find that once you get stronger in your lower back region, picking things up and other regular activities will actually get easier.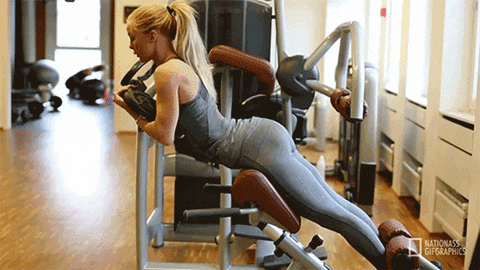 What Exercise Should I Do?
Hyperextensions. Most gyms have a specific bench that these are performed on, but any regular bench will do the trick if you're limited. Lie down with your stomach on the bench and your head facing the floor. If you're on the hyperextension bench, put your feet under the ankle pads. With your body straight, put your arms behind your head or crossed on your chest and bend slowly forward at the waist while keeping your back flat. Then, slowly raise your torso back to your starting position, and remember not to round your spine or swing your torso. If you're advanced, hold a weighted plate at your chest for extra resistance. Either way, remember to go slow and take your time on your way down and up. 
Images:  Geert Pieters / Unsplash. Giphy (5)
5 Exercises To Tone Your Legs So They Look Amazing In Heels
Not only is it Chrismahanakwanza season and gain 15 pounds season, it's also holiday party season. That means that more than likely, at some point in the next month, you will have to dress up in some sort of cocktail attire and squeeze your blistered, frozen, malformed toes into heels. But all those cookies likely didn't do much good for your calves. You may be waltzing around sporting some cankles for all I know (gross).
Because this is the time of giving or something, here are five ways to get your legs heel-ready without having to go to the gym with the other losers promising themselves that this is like, REALLY the year they're going to lose 10 pounds. Stop lying to yourself—I'll see you at Taco Bell in February.
1. Planks With Leg Raises
Ugh, planks. Get into plank position, but lift your right leg up so it's at least parallel to the floor, higher if you can. Put it back down and do the same with your left leg. Keep doing this till you die (or for 10-15 reps per side, whichever comes first).

2. High Knee Toe Taps
Grab a chair and put your hands on your hips like you mean it or something. Tap your left food on the bench, then swap and tap your right foot. Do this until you're so tired you can't breathe. This is more of a cardio exercise than a leg move, so go fast, like you're running away from a guy who puts "good vibes only" in his Hinge profile. Anyway, with this exercise, go for bursts of 30 seconds and work up to longer intervals.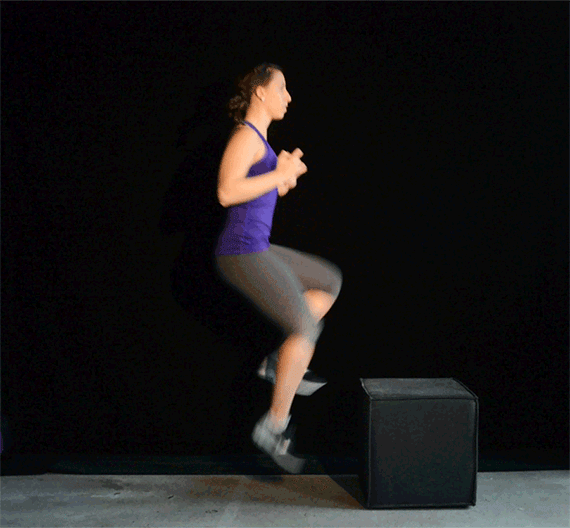 3. Side Lunges
You should know how to do a lunge, and if you don't? Shame. Stand with your feet together, then take a big step to your left—bending your left knee and pushing your butt back—while keeping your right leg straight. Repeat on the other side, and alternate until the lure of cookies outweighs your desire to look nice. 10-20 reps per leg should be enough.

4. Inverted Inner Thigh Openers
These are my fav cause I can lie down and pretend I'm not actually working out. Lie on your back with your knees bent and feet flat on the floor, then lift your right leg up, keeping your thighs touching, and extend your leg up to the ceiling. Lower your right leg—still straight—out to the right side as far as you can without moving your hips off the floor. Repeat with your other leg until your boyfriend/husband/roommate comes in and laughs at you, or 10-20 reps depending on your fitness level.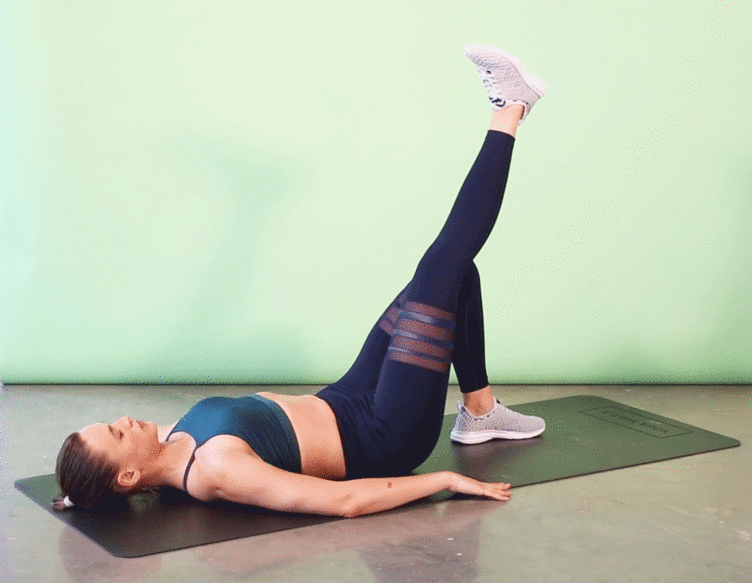 5. Lying Side Leg Raises
Like planks, but easier! Lie on your side with one arm flat on the floor in front of you, or propping up into a side plank for some additional ab work. Leave the other arm at your side, behind your head, whatever is easiest. Place one foot on top of the other with your legs out completely straight. Keeping them straight, raise your top leg until you like, can't bring it up anymore, then bring it down. Do this 10-20 times on one leg, then switch to the other side until you feel like you've reached a new plane of consciousness via exhaustion.

The One Workout That Will Eliminate Your Love Handles Once & For All
We're all about loving ourselves over here, but sometimes there's just a little stubborn stomach fat right above our jeans that's not so easy to love. Like, we can admit that we're a work in progress, even though it's obviously the really expensive work that has a VIP exhibition line down the block. Everyone has love handles, and making them go away isn't as easy as drinking a green juice and taking a spin class one time. Trust us, we've tried. This workout combines cardio moves with oblique-targeting exercises, and it's only six moves total, so you can do each one for 45 seconds and then repeat the circuit as many times as you want. Here's how to lose the love handles.
1. Mountain Climbers With Twist

This move is also sometimes called the cross-body mountain climber, but we prefer twist because you need visualize your entire torso twisting as you jog your legs in toward your chest. Starting in a plank position, keep your shoulders over your wrists to engage your core and not put too much pressure on your shoulders. Then, jog your legs into your torso one at a time, twisting the leg to the opposite side of your body. So, if you're bringing your right knee up, try to reach it towards your left elbow. Then, do the same on the other side. Do a few reps slowly and then pick up the pace once you get the hang of it. Remember to squeeze your core at the top every time.
2. Side Plank With Pulse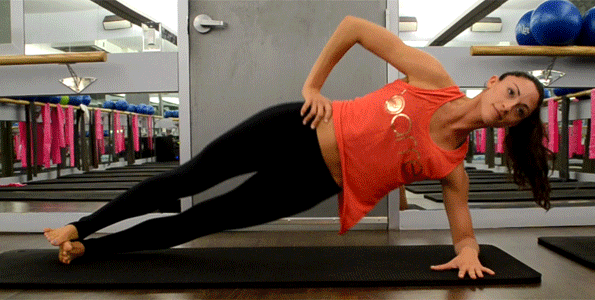 If you feel like your side planks aren't doing anything for you, your form is probably wrong, and you need to be engaging your obliques, which are the sides of your abs that should burn throughout this exercise. Start on one side by placing your right elbow on the ground and stacking your feet, making sure your body is in a straight line with your hips about 5 inches of the floor. Lower your hips slightly and then lift your pelvis up, squeezing your right oblique. Try to pulse for a few seconds at the bottom of every dip to really burn out the muscle. You should aim for about 20 pulses in the full 45-second interval. Then, do the same on the left side.
3. Russian Twists

A Russian Twist sounds like a funky cocktail you'd get at a speakeasy, but it's SO much better than that. Okay, kidding. These suck. But they get the job done and they're so effective if you're doing them right. Start by sitting on the ground with your feet out in front of you while holding a weight or medicine ball in your hands. Lift your feet off the ground and tilt backwards, twisting the weight from one side of your body to the other, basically touching the ground on each side. Remember to twist using your core and take your time on these. If they're too hard, drop your feet to the ground to make it easier on your core.
4. Plank Jacks

Holding a plank can get super boring, so by adding a jumping jack, you get to raise your heart rate and burn calories while working out your core muscles. It might hurt when you try to laugh tomorrow, but it's worth it. Start in an elbow plank with your feet behind you, keeping your right and left foot close together. Then, without lifting your butt at all, jump your feet out and in, like you're doing horizontal jumping jacks. By combining a cardio move with an ab move, you're toning and burning cals at the same time. Like, can we get more impressive?
5. Sprinter Sit-Ups

The sit-up exercise gets a lot of flack in the fitness industry because a lot of trainers feel like people are hurting their backs and not really engaging their core. By doing sprinter sit-ups instead, we're activating the sides of our core, and work out our hip flexors as well, which will help with your total body strength and won't put as much pressure on your back. Basically, this move is a winner. Sitting down on the ground, lean back slightly as you lift your right leg up and bring the left elbow to the right knee, engaging your obliques as you twist toward the right side. Alternate between right and left for the full 45-second interval, and make sure you're using your core to twist, not your elbow.
6. Squat Thrusts

Squat thrusts sound like they'd be a lower body exercise, but they're low-key amazing for your abs, and they target other parts of your body too, which is just a win-win. Squat thrusts are basically burpees, but with a focus on the plank, so there's no push-up at the bottom. You're welcome. Standing with your feet about shoulder-width apart, lower into a squat position and place your hands on the floor. Then, kick your legs back into a high plank position, and then jump them forward, back to your squat. Stand up and add a jump at the top, and then keep going. The point of the squat thrust is to burn calories using your abs, legs, and arms, so your whole body is involved. This move is basically the icing on the cake. But like, a very healthy, low-cal cake.
The 6 Machines You Need To Start Using At The Gym
Think of your workout routine like your profile picture. You might be happy with yours from 2012, but you still need to change it up once in a while—no matter how tan and skinny you looked in Cancun that time. If you tend to cling to your elliptical routine or the same three ab exercises every time you step foot in Equinox, you might want to consider trying out some of the machines you're scared of. Like, it's 2017 and girls are still scared of picking up anything heavier than an eight-pound dumbbell. It's sad. There are so many machines in the gym that can tone your body while making you stronger and leaner, so it's time to face your fears and try a machine you would usually use as a towel rack. Let's start with these six staples.
1. The Lat Pull-Down Bar
If you've seen people using this machine and wondering why repeatedly pulling down a bar is a good workout, it's time to get educated on your lat muscles. The biggest muscle in your back is called the Latissimus Dorsi, and it basically gives your whole torso its shape. When you pull down the bar using your upper back, you're strengthening the muscles all around your core and back, which will actually help your back get stronger, your posture get better, and your waist look smaller. Try the machine at a light weight, and then keep adding when you see how non-intimidating is actually is. You might have never said you wanted sexy lats before, but once you see how good you'll look, you'll change your mind.

2. The Cables
You've probably walked by the cable pulley machines a million times, but you've never tried them out to realize how great they are for a workout. The cables can be used for literally any body part, so you can pull them with your legs, your arms, or your abs. The idea of using cables is that you're doing your regular exercises you would do with dumbbells, but there's constant tension on the cable machine, which makes each move even more effective. Plus, you can do different exercises while standing in one place, so you don't have to run around the gym and waste your time. Stop doing 100 bicep curls with a two-pound weight and instead try doing the move with a cable pulley. You'll never go back.

3. The Hanging Leg Raise
This isn't really a machine, but if you've ever seen those white poles with a blue Bosu ball in the middle, it's meant for hanging leg raises, which is basically an amazing ab workout. We have nothing against bodyweight ab moves, but doing hanging leg raises changes up your positioning and targets different parts of your abs that you can't hit just by doing lying crunches or bicycles. Hold onto the handles with your handles and lift your legs up toward your waist, trying not to bend your legs too much. Once your legs hit waist level, slowly lower them down to complete one rep. Do as many reps as you can, but the goal here is to go slowly and engage your abs, not speed through it by swinging your legs around.

4. The Smith Machine
We totally understand that the Smith machine looks super scary and intense, but think of it as the training wheels for barbells. We're not telling you to be a bodybuilder, but using a real bar in your workouts can help with your form and cause less injuries than just throwing around dumbbells. The Smith machine bar is attached to the poles on the sides, so you can't really screw up or hurt yourself. Try to do some squats or lunges without any weight on the bar, and then add weight once you get used to it. It's not as intimidating as it looks.

5. The Rowing Machine
The rowing machine is actually a cardio machine, but it's totally different than the treadmill or StairMaster because you're using your entire bodyweight to pull the machine toward you. Instead of just setting the machine to a number, you're using your legs and arms to pull the machine in and out, rowing from the front to the back. This machine is amazing for HIIT training, and you'll be out of breath SO fast because it basically works every muscle in your body, so you're getting a more effective workout in less time than other cardio machines. Try rowing as hard as you can for 20 seconds, and then take a 10 second rest. Do this pattern for four to five minutes straight and you'll burn more calories than you would in 20 minutes on the treadmill.

6. The Leg Press Machine
Everyone thinks the leg press machine is just for guys who wanna get jacked, but if you spread your legs a little wider than usual on the machine, it's actually an amazing workout for your butt and thighs. The leg press machine is basically just doing a squat in a slightly different position, so you're pushing the surface away with your legs while using the muscles in your butt and thighs to do it. You can do this with one leg at a time or use both together. Your call. Either way, it's worth a shot if you're sick of your regular squats and leg moves. Like, you're not gonna get very far by doing a bunch of donkey kicks without any weights involved. No offense to the 100 donkey kicks you've been doing. I'm sure those were very hard.