How To Train For Your First Triathlon
Robert Jackson is an Ironman UK finisher and certified personal trainer based in Canary Wharf, London. He specialises in training time-poor office workers who want to get back in shape, and first time triathletes. Find out more at www.minimalfit.co.uk
So, you'd like to take on your first triathlon? You probably have lots of questions already, such as "how should I train for my first triathlon?", "Can I use a mountain bike?" and "what distance triathlon should I choose?" I'll be covering all that and much more in this helpful guide on how to train for your first triathlon. Before we get started, let's clarify a few key points…
What Does A Triathlon Involve?
As the name suggests, there are three (tri) parts to a triathlon, which are completed in this order: swimming, cycling, then running. There are four main race distances you can complete, which are Sprint, Olympic, Half, and Full. Full distance is also commonly referred to as an Ironman Triathlon.
How To Pick A Distance
It's good to set lofty goals, but only the brave or foolish would consider taking on a half or full distance triathlon for their first outing. Most people start with a sprint distance triathlon. In fact, some even start with a super-sprint, which is a newer addition to the scene to help accommodate first timers. I would personally recommend choosing either a super-sprint or a sprint distance, depending on your previous sporting experience.
The longer the distance, the more hours you need to spend training each week, and for more weeks leading up to your event. Because this post is aimed at first timers, I'll assume you're training for a sprint distance triathlon. A short answer is that you'll want a good 12 weeks to prepare. There will inevitably be days or weeks where you can't train because life gets in the way, so it's rare you'll actually be training for 12 solid weeks.

Let's break down each discipline and see what kind of sessions we need to do for each one to make good progress. For swimming, you would ideally do 3-4 sessions a week. Little and often is key in order to keep your "feel" for the water, so the sessions need not be long, maybe even just 15 minutes. For cycling, you'll want at least two sessions a week. 1 long ride, getting used to the distances and being comfortable on the bike, one interval session to improve your fitness, and, if possible, one hill sprint session to develop power. For running, again, at least two sessions a week following the same structure as cycling.
In total, that's at least seven sessions a week. No one said triathlon training was easy! You also need a rest day, so you have to fit seven sessions into six days. First, let's take a look at the first part of a triathlon, the swim.
Leg 1: Swimming
Swimming is the first stage of a triathlon. In most races, you will start in waves of different age groups which are separated by men and women. This is the case for most outdoor swim events, but for indoor (pool) swim events it will differ. Let's start by taking a look at the differences between them so you can choose what's best for you and your first event.
If you're confident in the water and can get some good practice in open water before your event, go for an open water one. If you're not a confident swimmer and are unlikely to join any courses or practice in open water, you're probably better off starting with a pool swim. It's entirely up to you, but I have seen many first timers have to get out of the water in open water events because they were not used to it and had not practiced.

Swimming in open water is incredibly intimidating just by itself. There are some key skills you need to master before you can swim in open water safely, effectively and efficiently, which include sighting, drafting (staying behind another swimmer), turning, wearing a wetsuit, and learning to be comfortable in cold and crowded water.
Because swimming is mostly about being comfortable in the water and being relaxed, the key part to all your swim sessions is about technique and being calm. There are a few different sessions you could do. One is a long steady swim, where you should aim to build up to swimming 1km in distance without stopping. Don't worry about how long it takes, just aim for the distance and remaining relaxed. Another is an interval session. Aim to swim four lengths at a time (assuming a 25m pool) then rest for 60 seconds. Repeat those intervals for up to 30 minutes in total. The last is a technique session. Spending time improving your technique will pay dividends, but since swim technique is complex, make sure to get help from a local triathlon club or swim coach.
Let's now transition into the second leg of the race, cycling.
Leg 2: Cycling
The cycling leg of nearly every triathlon is proportionally the longest part, which means that strong cyclists do quite well in triathlons unless they are terrible swimmers and runners. As a result, it pays to spend more time practicing cycling than any other area. For your first tri, there will be some key points to consider, so let's get stuck in with the first one…

If you don't have a road bike, don't worry, but make sure that the race you enter allows mountain bikes. This is important, because a lot of events will not allow them. If you're semi-serious about cycling or triathlon, a road bike is a must-have item. You don't have to spend thousands, but a half-decent one will make a world of difference. Regardless of your bike selection, you can still perform the same style of training to maximise your performance.
Without going into too much detail, there are three main types of session you want to perform. Longer, steady pace rides (to get used to the distance you need to ride), interval sessions (aimed to do a set amount of time at a speed faster than you can hold for your steady ride, with a set amount of lower speed riding), and hill repeats (designed to improve your leg strength, fitness and ability to tackle hills).
Leg 3: Running
OK, now we're onto the final leg of the race. The run. After swimming and cycling you are going to be tired, so this is where all your training sessions will help you. Let's start by looking at brick sessions, which are called as such because they're when you complete one exercise session after another.
A 'brick run' is where you run immediately after cycling, which is what you will do in the race. This is a very important technique to test out in training. If you have not done this before, it will be a shock. If you've pushed hard on the bike, your legs will be tired so when you start running they might cramp up. That's why we practice it in training first.

After one of your bike rides, come home and have everything ready to go out for a run. You can treat it like a practice transition two. Get off your bike and as quickly as you can get out running. You should aim to do at least one of these types of session a week so you know you can run straight off the bike without getting cramp.
There are also other run sessions you can complete. These are the same as the cycling sessions and for the same reasons as already mentioned, longer, steady pace runs, interval sessions, and hill repeats.
Images: Coen van den Broek / Unsplash; Giphy (4)
3 Signs You Need A New Workout Routine
When you're already going to the trouble of working out, it can feel like unfathomable betrayal to hear that you should, in fact, be doing a completely different workout. Or at least, that's the logic I once used to justify doing nothing but yoga for six months, while slowly ceasing to fit into my pants. As someone who really wants to be fit but is decidedly not an athlete, I've spent a of time and energy on different gyms, classes, and even trainers and physical therapists over the years, trying to find the perfect workout that would turn me into a *fit person* once and for all. As all those professionals have explained to me repeatedly, not all workouts are created equal. What's more, switching up your workout routine has consistently proven to show better results. So, while I reluctantly follow this advice myself, here are my past trainers', physical therapists, and preferred internet authority's tips for knowing when it's time for a new workout routine.
1. You're Not Getting Sore Anymore
Sorry! But also, not really because you should know this. If a workout stops making you sore, it's not a sign that you have ascended to a new level of athleticism in which your muscles are no longer capable of strain. It does probably mean that you have strengthened the specific muscles involved in this particular workout (congrats!). But if you don't up the difficulty of the workout, or switch out the muscles you're working on, you won't keep seeing results. At best, you'll maintain the very specific strength you've gained. But even that isn't a guarantee, since you're continuing to do a workout that was appropriate (and difficult!) for you in a less fit state. Trainer Faheem Mujahid explains it as your body realizing "it doesn't need to expend as much energy anymore:" meaning you burn fewer calories, get less tired, and are less likely to feel sore. Time to level up, b*tch!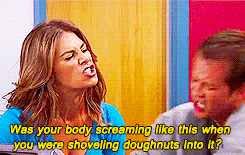 2. You're Getting *Too* Sore
The flip side of the whole soreness thing is that you have to be careful not to overdo it. There's a difference between it hurting when you laugh the day after an ab routine and needing to strap on a knee brace every time you leave the gym. Fitness instructor Trish DaCosta puts it plainly: "A reoccurring injury or too many injuries is often a sign we're doing too much of an exercise program." Pulled muscles, joint pain, or persistent aches are clear signs that your body needs a break. Injuries aside, extreme soreness—or persistent soreness in only a few, select places—also mean you should switch out your routine, or at least add some variety. Trainer Jessica Thiefels stresses the importance of making sure your body feels "balanced in strength," and adds that "working the same muscles, time and time again" is a bad idea. Muscles need rest periods in order to get stronger; so you're really just robbing yourself of #gainz if every day is focused on the same body part.
Obvs, if you're repeating the same workout over and over it's because you like it, and I get that it's tough to motivate yourself to make the switch. I once spent two weeks obsessed with barre and loving my life. Then I promptly re-pulled an old thigh injury, and my physical therapist at the time told me that barre was "the worst thing" I could do for my body.  The fact that I had just purchased both a "barre so hard" tank and a month-long barre studio membership apparently meant nothing to her. As much as I was dying to be a fancy barre girl, I had to accept that my body just wasn't built to benefit most from that particular workout.
Me to my useless barre studio membership: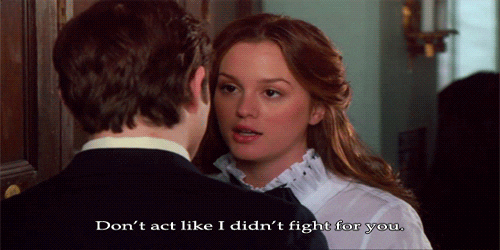 3. You're Not Getting The Results You Want
So, this goes back to my whole "only doing yoga" period in time—despite feeling like I was gaining weight, or at least sort of…spreading out. Before my yoga phase, I'd been getting most of my workouts in at the gym, where I lifted weights and ran intervals on the treadmill. Then, I moved to NYC and decided a gym was a luxury I could no longer afford. Even though I'd read countless times that yoga is not the most effective calorie-torching workout out there (particularly not when done for 15 minutes at a time in one's living room), I hated the idea that completing any workout wasn't enough for my stupid body. I felt more flexible and balanced for sure—but I felt like I was losing muscle, and my clothes weren't fitting as well.
The point here? Don't be like me! Yes, some exercise is better than no exercise at all. But that doesn't mean you can go on a jog and expect your triceps to be more defined after. DaCosta notes the importance of seeing "continued progress" from your workouts, which could come in any of the following forms: "more muscle definition, decreased body fat, more energy, stronger lifts, faster recovery times, weight loss, faster pace, etc." While yoga was pushing me on some of those fronts, it wasn't satisfying others. For a fully varied workout routine that pushes you on all these fronts, Mujahid recommends trying for a mix of "cardiovascular, strength, agility and flexibility sessions," making sure you're "hitting every muscle group" in a week's worth of workouts.
If that sounds totally unattainable to you (same girl), take some comfort in knowing a lot of these categories overlap. For example, a HIIT workout could be your lower body workout, and combines a cardiovascular and strength workout. Then you could work your upper body with yoga on alternate days, which would count as your agility and flexibility sessions. Throw in an ab day and you're done for the week. (And if that sounds like a month's worth of workouts to you, once again I say SAME GIRL. I'm just the messenger for what the pros are recommending.)
Me during my yoga phase:*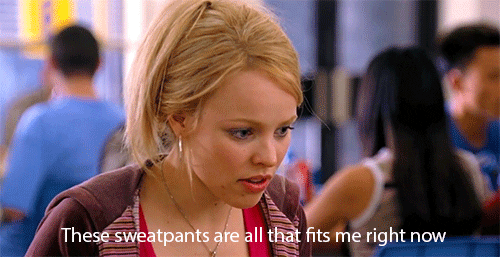 *To be clear, yoga absolutely can and does help people with all kinds of body goals. But my refusal to do any other workout meant I really hit a wall.
This article is not meant to shame anyone out of the workout routine that they're doing. Everyone who has broken a sweat (on purpose) in the past week: I am proud of you. But I also know firsthand how frustrating it can be to feel like you're making a huge effort and not getting anything for it. If anything, this article will hopefully inspire you to make a change and find the workout that leaves you sore, satisfied, and not feeling like you need a wheelchair. Everyone's body is different, and once you find the (healthily varied & not at all overwhelming) routine that works for you, working out will feel 1000% more worth it. I promise.
Images: Giphy (3); Pexels / bruce mars
The Full-Body Workout You Can Do In A Corner Of The Gym
If you go to the gym right before 9am or right after 6pm, you know how annoying it can be to get around the place during workout rush hour. As much as we'd all love to work out in an empty gym with the whole place to ourselves, it's v unrealistic unless you're like, a psychotic morning person or like, super rich. Luckily for you, we've put together a workout can literally be done with one mat in a tiny corner of the gym, so you don't have to bother waiting for a machine to become available or for people to step away from the dumbbell racks. Here's a quick workout that will tone your whole body and burn a ton of calories while staying in one space the whole time.  
1. Walkout Push-Ups
The walkout push-up is a great warm-up move because it gets your lower and upper body working without diving right into a cardio or strength move. The idea here is to first warm up your hamstrings by starting in a standing position and folding your arms and head forward, and then get your upper body warmed up by crawling your hands out to a plank position. Once you're in your plank, perform one push-up (drop to your knees if you have to) and then crawl your hands back to your ankles to stand back up, engaging your core at the top each time. Start off slow, and then try to speed up on your last few reps. Do 10 of these in total.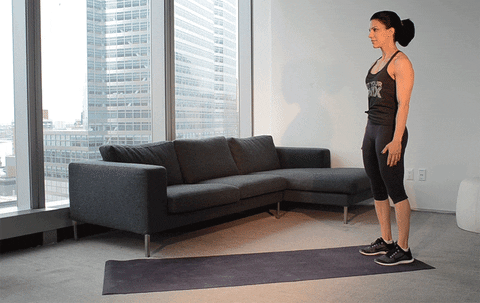 2. Glute Bridge To Oblique Reach
This is another lower and upper body movement, but this time you're working your butt and your obliques, aka your side abs and love handle region. Start by lying on your back with your knees bent and your feet on the ground. Then, extend one leg straight out and lift your hips into a bridge, squeezing your glutes and specifically feeling the burn on that same side. After the bridge, lower your hips back to the ground and reach your arms toward the straight leg while extending the leg upwards. Remember that you're crunching with your abs, so don't just use your arms to swing your body up. This combo is slightly complicated since it's technically two moves in one, so you can take your time on these until you get the hang of it. Do eight reps on each side.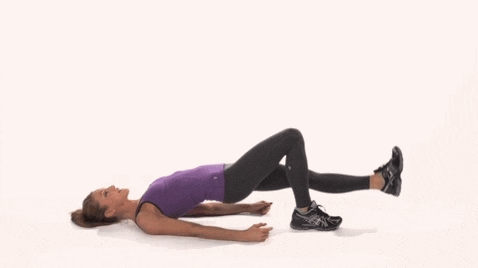 3. Tricep Extensions
You'll need a weight for tricep extensions, but it shouldn't be too hard to find because you can literally use whatever you want—a dumbbell, a weighted medicine ball, or a kettlebell. If you have a kettlebell available to you, you're gonna hold it by its horns (AKA the non-bell part) and lift it up over your head, keeping your elbows straight forward and your arms tight. Then, extend the bell toward the back of your neck, using your triceps to bring the weight up and down each time. If you feel like your elbows are widening out to the side, take a break and reposition yourself. The tricep muscles are really what give your arm that toned, sculpted look, so go heavy on these and take your time. Aim for 10-12 reps.

4. Deadlift To High Pull
The good news with this move is that you can use the same weight you were just using. Again, this is a combo move, so you're totally killing two birds with one stone by working your legs and your arms in one exercise. Place your kettlebell on the ground in front of you, and make sure it's between your legs, but like an inch or two forward. Then, bending your knees slightly, you're going to hinge your hips backward and lift the kettlebell keeping your arms straight, bringing it to your waist as you hinge the hips forward. That's the deadlift part. Then, you're gonna pull the kettlebell up to your chin, using your shoulders to row upright, with your elbows wide towards the sides. Once you complete one rep, bring the kettlebell down to the ground and do five more.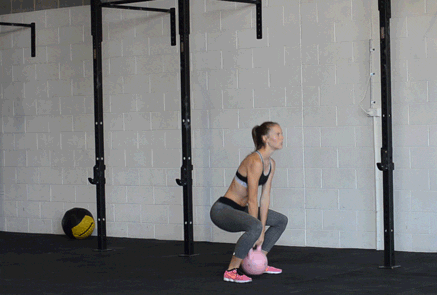 5. Squat Jumps
Now that we've done a bunch of strength work, it's time for some cardio. Your legs burn the most calories out of all the muscles in your body, so doing jumping exercises while combining squats or lunges is super effective. It's also really hard, so pace yourself. Start in a squat position, making sure your knees are behind your feet so you don't hurt yourself. Get super low, and then jump up explosively while straightening out your legs and arms. Aim for 20 reps here, but you might want to die by the time you get to 15. Try to fight through it.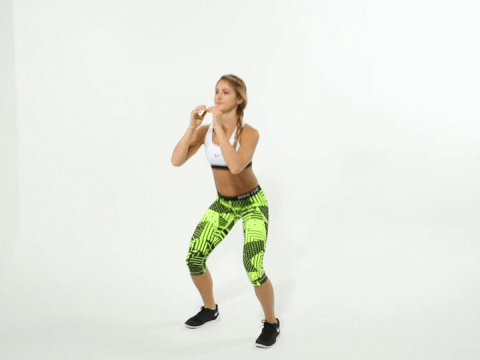 6. Burpees
Burpees are annoying and difficult, but there's a reason you see them in every fitness magazine and at every workout class—they WORK. Start by standing with your feet shoulder-width apart and your arms at your sides. Then, lower your body into a squat and place your hands on the floor in front of you, jumping your feet back so that you're in a plank position. Once your body is in a straight line, lower your chest to the floor and then bring it back up as quickly as you can. Then, jump your feet forward, outside of your hands, and jump up with your arms in the air. Do 8-10 of these, depending on your energy at this point in the workout. Also, keep in mind this is a full-body move, so make sure you follow the motions without just slamming your body down to the ground in the sloppiest way possible.

Images: Trust Tru Katsande; Unsplash, Giphy (5), Pinterest (1)
Upper Body Exercises To Target The Muscles You're Ignoring
When it comes to choosing workouts, some exercises just seem obvious, like doing squats for a perky butt or planks for rock-hard abs. And don't get me wrong, I'll do squats and planks until they're out of style. *BUT* I think it's also important to work on the muscles we don't often think about, especially as girls. We tend to think we just need a little toning and cardio here and there, but there are a lot of important muscles that we neglect at the gym, especially our upper body muscles. It's time to address WTF to do about them. Here are some underrated upper body exercises and why you should be working them.
1. Chest Presses
Aside from a few modified push-ups as a warmup, most girls never think about working their chest muscles. I mean, the chest press seems like a guy's exercise, and it can be super intimidating. What many women don't realize is that your chest muscles just create a stronger upper body in general, which literally makes it easier to do basic activities, like opening doors and holding heavy bags. People also find that chest presses can even give yourself a little chest lift, so you can stop buying push-up bras. So start your upper body exercises with chest presses. Grab two dumbbells and lie flat on a bench with the weights at chest height and your elbows out toward your sides. Then, press the weights upward, keeping them over your chest the entire time, and bringing them back down after every rep and avoiding pushing with your shoulders.
2. Lying Back Extensions
People tend to do a lot of rowing and lat pulldowns to target back muscles, and these exercises are great, but we tend to forget about our back extensor muscles, which are located at the lower back. They're super important for core engagement, stability, and avoiding injury. Doing lying back extensions will help you avoid hurting yourself at the gym, considering you basically use your back in any exercise, like even running or spinning. Lay out a mat and then lie on your stomach with your head facing the floor and your arms out over your head in a "Y" shape. Then, slowly lift your legs and arms off the floor, keeping only the area from your stomach to your thighs on the mat (if that's too hard, leave your legs alone and just lift your upper body). Lower back down and then lift back up, feeling the tension in your lower back.

3. Inner Core Leg Lifts
We do a lot of ab movements around here, but there's a major difference between your ab muscles and your core muscles. Most ab workouts, like bicycles and Russian twists, don't target the transversus abdominis, which is the muscle that connects to our pelvic floor and internal organs. In order to strengthen these inner muscles, do inner core leg lifts. Start by lying on your back with your knees bent, and slowly lift your right foot off the floor, keeping your core engaged as you lower it back down. Then, do the same on the left, and switch back and forth, exhaling with each rep. These are supposed to be slow and controlled movements, so don't worry if you're not getting your heart rate up or sweating, but DO worry if you're just kicking the ground without feeling it in your abs. Then you're probs doing it wrong.

4. Lateral Raises
Toning your shoulder muscles will make your whole arm look more defined and just so much better, and the most ideal way is to work the front of the muscle and the side of it in one workout to tone every angle. The lateral deltoid, aka the side of your shoulder, is really what gives your arms a toned look, and it's often neglected because people just don't realize what a difference it makes. Standing up with a dumbbell in each with your palms facing your thighs, keep your elbows slightly bent and raise your arms to the side until the weight reaches shoulder height. Then, slowly lower the dumbbell back down to your thigh. Keep raising them up and down, and try not to bounce your legs to use momentum to lift them. The goal is to keep tension in your shoulders the whole time and not get any help from your lower body.

5. Single-Arm Planks
Obviously your abs aren't a "forgotten about" muscle, but we often overlook the most basic functions of our core muscles, which include stability and balance. Upper body exercises like single-arm planks strengthen the core while testing your stability. By doing moves like these, you'll notice that yoga poses get easier to hold, being in third position on a spin bike feels more natural, and other ab movements are just less painful. So basically, the single-arm plank is essentially a regular plank, but you only use one hand at a time. Duh. It's easier to start with your hand centered in front of your chest, but try to work it back out to under your shoulder as you get stronger. The idea is to keep your body square to the ground without raising your hips on one side, and keep your core tight the entire time.

Images: Ayo Ogunseinde /Unsplash; Giphy (4), Pinterest (1), 
6 Exercises To Improve Your Balance And Flexibility
I follow a lot of #fitspo type of social media accounts, and every now and then I'll watch a workout clip on Instagram and literally bug out seeing what some of these girls can do with their bodies. I mean, no, I'm not talking about how cute their sponsored shaker cups look next to their butt-facing-forward mirror selfies. I'm talking about these crazy moves that require more balance and coordination than 99% of America can handle. Like, I work out regularly,  but honestly my flexibility and balance are pretty shitty, and it's something I'm trying to work on. Here are six exercises to improve balance and flexibility that I'm incorporating into my own routine . Please join me so I'm not the only one struggling through pistol squats at the gym.
1. Bosu Ball Split Squats
The bosu ball is meant to make any exercise harder, and that's because it screws with your balance, making you use your own body to stay aligned throughout the movement. If you do split squats regularly, try adding the bosu and it'll really help any imbalances you have in either leg. The idea is to prop one leg in a lunge on the bosu behind you, and then use your front leg to move up and down, pushing with your glutes throughout the movement. If you're a newbie, you'll probably start tipping over when you start, so just take your time and focus on grounding yourself with your front leg. If you feel like one side is easier than the other, that's completely normal and it's because we're usually stronger on one side. That's why we're doing this. Once you master this, try putting the front leg on the bosu, because variety is the spice of pulled muscles life.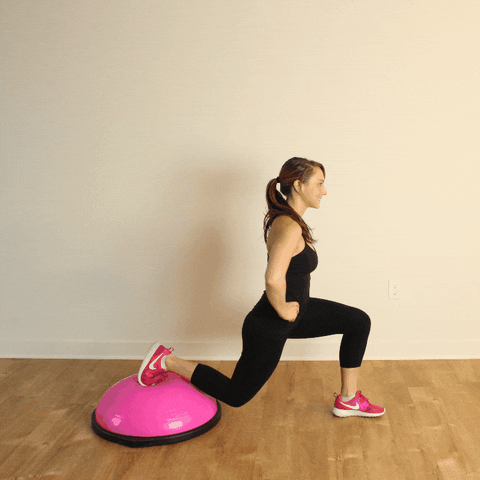 2. Lunge Hip Flexor Stretch
This move looks like more of a stretch than a real exercise, but honestly it's a must and it'll help with other exercises. It helps with mobility, flexibility, and coordination, so you'd be missing out just by skipping it. Especially if you sit at a desk all day, this move is amazing for opening up your hips and relieving any tightness from sitting for so many hours. Start by placing your hands on the ground and stepping back with your right leg, like you're stepping into a reverse lunge. Then, straighten out the back leg and feel the stretch in your hip flexors as your front leg bends in front of you. Hold for a few seconds before switching to the other leg.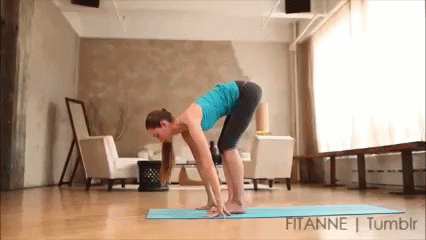 3. Alternating Arm Plank
This one is harder than it looks, so again, TAKE YOUR TIME. No one has ever rushed you through a plank, and the stability aspect here is key. The idea is to hold a regular high plank, but alternate arms so that you only have one hand on the ground at a time. This move hits your shoulders, abs, and arms all at once, and it also ensures you're not relying on one side of your body during other ab exercises. Remember to keep your hips as square as possible without swaying or lifting to one side. If this starts to feel like a side plank, take a break and start again.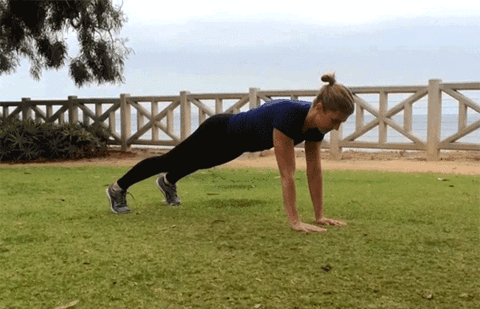 4. Pistol Squat
Ugh, pistol squats. Ask any trainer and they'll tell you this exercise is QUEEN of one-legged training. You're basically putting all your bodyweight on one leg at a time and squatting with only that leg, so yeah, it's hard. If you need to hold onto a bench or TRX straps at first, do it. In a standing position, raise one foot off the floor and descend into a squat. As you squat, try to extend your front leg forward without losing your balance. Then, get as low as you can before slowly rising up, straightening out your knee and driving through your heel. You should feel this in your glutes on the working side. Again, take your time and just focus on the balance part. The rep count doesn't really matter here, so just try to do a few without falling over. You'll go deeper, do more, and need less assistance as you get stronger.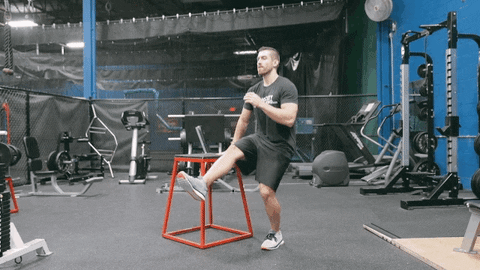 5. Opposite Arm & Leg Raises
Contrary to its name, the opposite arm and leg raise is actually more about your core and torso region. You're basically raising your right arm and your left leg at the same time while on all fours, so the goal is to keep the rest of your body as still as possible. You'll need to keep your back flat and engage your core. Squeeze your abs while you slowly extend your arm and leg, and then take a second to look forward at your reaching arm before lowering down and switching sides. This should also help strengthen your back, so make sure not to arch your spine and ruin your form. Think about pulling your abs in before lifting, and then when you reach out, keep your arms and legs parallel to the floor. For extra credit, get off your knees and do this from a full plank. Good luck in advance, is all I have to say.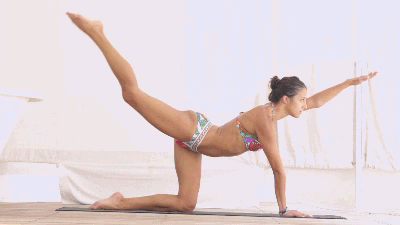 6. Standing Crunch With Clap
Balancing on one leg is already difficult AF, so adding in a crunch and an under-the-leg clap may take some patience. This move has two parts, so let's discuss both. It's kind of like tapping your stomach while rubbing your head. Takes a shit ton of coordination, is what I mean. Balance on one leg, keeping your other knee 90 degrees with your hands over your head. Then, crunch forward, bringing your hands under the raised leg for a little clap underneath. Bring your hands up and then back down for a few reps, and then switch to the other side. Also, try looking as happy as the girl in this GIF.

Images: Squarespace / Pexels; Giphy (5); Pinterest 
The Right Foods To Eat Before Working Out
There's nothing worse than showing up to your workout feeling nauseous, lightheaded, dizzy, or like you're about to throw up the slice of leftover pizza you ate as you left the house. My esteemed colleague Betchy Crocker recently suggested some good things to eat after you work out, but your pre-workout food is just as important. You want to make sure you're eating enough to give you energy, but not something you'll regret as soon as you start doing cardio. Here are some of the best foods to eat before working out.
1. Oatmeal
Whole grains, like oats, are complex carbs that break down into glucose and fuel your muscles during your workout. Try going for a bowl of oatmeal or some granola about an hour before your workout. Professional nutritionists swear by these options because they're simple and will give your body immediate energy.
2. Apple Or Banana
Apples and bananas are simple carb sources, which means they'll give your body the energy it needs almost immediately. They digest faster than whole grains do, so even though they won't keep you as full, they'll give you a boost of energy if you eat them 20-30 minutes before the workout. Mostly any fruit is good to eat before working out, but stay away from high-fiber fruits like berries and pears because they'll take longer to digest and may hurt your stomach if you're jumping around a lot. Also, has anyone in the history of the world gotten full off berries? Lmk.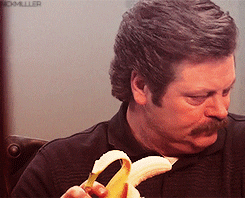 3. Greek Yogurt
People like to eat yogurt after their workouts because it's mainly a source of protein, but protein is super important to eat before working out as well. Especially if you're doing weight training, you'll need the protein in your body to help your muscles repair themselves from the microtears that occur during your session. Try looking for simple ingredients and minimal sugar in your yogurt. Siggi's and Fage both make great nonfat yogurts. Chobani works too, but watch the sugar count depending on the flavor.
4. Eggs & Toast
If you have an hour or two before you head to the gym and need something more substantial than a piece of fruit to eat before working oat, the eggs and toast combo is your best bet. The toast will give you the energy from its complex carb makeup, and eggs are a simple protein source with a little bit of fat. It's enough to fill you up without making you nauseous halfway through.

5. Maca
Maca root, often found in the form of maca powder, is an ancient Peruvian plant that is literally filled with nutrients that will boost your workout. Maca is rich in amino acids and vitamins, and it's also an adaptogen, so it aids in adrenal function, increasing your energy levels and enhancing workout performance. Blend it into a smoothie before your workout or mix it into your oatmeal. It's a game-changer.
6. RX Bars or Lara Bars
Bars are a go-to option to eat before working out if you're going straight from the office and don't have time to stop and pick up legit food. Natural protein bars have been all over the health food market recently, and two great pre-workout options are RX Bars and Lara Bars. They're both made with dates and nuts, so you have a quick carb and natural sugar source from the dates, and a little healthy fat from the nuts to keep you full. RX Bars even include eggs for extra protein. The Maple Sea Salt flavor is a personal fav. Just saying.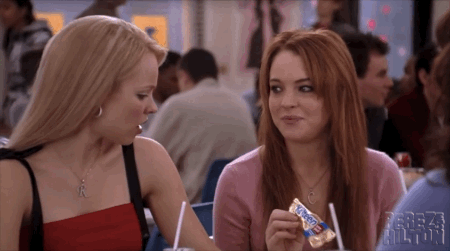 7. Caffeine
I know this isn't actually a food, but having a cup of coffee or green tea before your workout is KEY if you want a real energy boost. I would pair this with some real food too, but caffeine has been scientifically proven to boost your workout by tapping into your central nervous system and recruiting muscle fibers in your body. Basically, it helps you fight fatigue and improve physical performance. So like, order the venti. It's the responsible thing to do.
Images: Melissa Belanger / Unsplash (1); Giphy (2); nbcparksandrec / tumblr
4 Exercises That Are Wasting Your Time, And 4 Better Ones
As a gym-goer (you cannot visit this site without being a member of a gym that costs almost as much as your monthly rent), you're surely aware of the CrossFit-ization of our once-great nation's fitness fanatics. This is largely bad, because it's caused many a dork to delude himself into thinking that exercise is a sport in and of itself, despite their newfound quadriceps making them no better at hitting a baseball or sinking a free throw than they were back when they were getting picked last for grade school kickball. There is, however, one silver lining: the rise of "functional fitness," i.e., exercises that actually get you in better shape.
Now, everyone's living that #squatlife, even novices. Which is great! But for people just starting out, it's sometimes wise to work up to an exercise before loading up a couple hundo' on the olympic platform and deadlifting until you shit out your own colon. Those people can gently introduce themselves through modified exercises, colloquially called "modifiers." This is also great , but the problem is that not all modifiers are created equal. I've put together a list of popular "functional" exercises, the most common modifiers, and better alternatives for people who want to get Khloé Kardashian's bod without the ass injections.
The Exercises
Push-Ups
Before there was such a thing as "plank," everyone else knew it as "the top of a fucking push-up." With your body taut, feet together, and your hands underneath (and roughly as wide as) your shoulders, lower yourself until your chest jussssst touches the ground, and push back up (hence the name!). It's a great way to build strength and endurance in your chest, shoulders, and triceps, and it involves core and stabilizing muscles in ways that machines and even free weight exercises don't. Unfortunately, because God knew damn well that men would be insecure as hell, he blessed us with naturally superior upper-body strength that makes these a breeze—but lots of women might find them difficult.

The Modifiers
Bad: Partial/Kneeling Push-Ups
I don't mind knee push-ups, which I'll get to in a second. The bigger problem is that I've noticed some trainers/online fitness idiots recommending women instead do push-ups on their feet, only going "as far as they can," i.e., about halfway. This is bullshit. You wouldn't do half a squat, half a bicep curl, or give half of a hand job and declare it "the same as the real thing," would you? I sincerely hope not, otherwise you are WEAK and/or bad company in uncrowded movie theaters.
Better: Elevated Push-Ups
The key with push-ups is that they get harder the smaller the angle between your body and the ground gets. Ergo, instead of doing 15 half push-ups and fucking off to the juice bar or whatever, find a way to elevate your hands. Every gym has some of those aerobics platforms for old ladies that you can stack about 18 inches high. If that's still too hard, grab a weight bench or even a low wall and perform the motion with good form. As you get stronger, lower the platform. Kneeling push-ups should actually be your last step on this journey. Basically, if you can perform 15 or so push-ups at your current level of assistance, it's time to lower your angle. There's still a decent jump from kneeling to actual push-ups, in which case it's totally fine to start out on your toes and drop to your knees as needed to finish the set.

The Exercises
Squats
Ah, squats. They're the foundational exercises for every THOT who gets fired from Panera and decides they're going to start a #fitspo Instagram—and tbh, they should be foundational for everyone. Resting a weighted bar across your shoulders as high up as your trapezius muscles will allow, stand with your feet shoulder-width apart and toes pointed slightly out. Drop your butt back and down, feeling as though there's a string pulling your head upward as you drop your ass as low to the ground as possible. Get the crease in your hips at or below your knees before extending from your heels back to full height. It's a MONSTER exercise for your entire lower body, but not everyone is ready to step into a squat cage with all those meatheads flexing and milling about. Plus, even just the 45-pound bar can be a lot for newbies, and a lack of trapezius muscles can make it uncomfortable.

The Modifiers
Bad: The Sled/Leg Press
This is that big contraption where you lay down in a recumbent position near the ground, using your legs to push the weight out and away from you. You feel like an absolute GOD on this machine, because even fairweather gym-goers can put up solid weight. The problem? It fucking sucks. For starters, it's the opposite of "functional"—of course you can push a lot of weight when you're braced against something solid, but do you envision a situation where you'll ever be lying on your back and have to leg-press a Toyota? I sure hope not. What's worse, it can genuinely and sincerely fuck up your back six ways from Sunday. Do you want to spend the rest of your life walking around like that? Hell no.
Better: The Hack Squat
I'm tempted to include dumbbell squats here too, because there's nothing wrong with those as exercises on their own. But if you really want to prepare for the squat cage, the hack squat machine is your friend. It's that machine usually located somewhere near the leg press that looks like a medieval torture device, except it's anything but. Load on an experimental amount of weight, settle your shoulders into the cradle, and use the levers to unlock it. Making sure you place your feet so that your knees don't extend too far out over your toes, lower yourself as low as possible, just like a real squat. The beauty is that it does a much better job of simulating the movement, and if you get stuck it's easy to lock the machine and bail out (plus, everyone's too busy herniating their spines on the sled so it's always open). It's kinda tough to determine how much weight you're pushing because of the angle, but I'd say that if you get to a point where you can do 8-10 good hack squats with 100 pounds on the rack, you're ready to move to the cage.

The Exercises
Pull-Ups
I probably don't need to explain pull-ups too much: grab onto a bar/rings/the skid of the helicopter with which terrorists are trying to abduct the president, and pull yourself up until your chin reaches or passes the bar. There are any number of hand positions you can use to make the exercise easier or harder, but that's not the point. The problem is that I would wager most men can't do more than one or two pull-ups, to say nothing for how hard it is for most women. Honestly, you may never be able to do more than one, if any. But that's ok! It's still a goal to work towards.

The Modifiers
Bad: Lat Pull-Downs
This is the rig usually found on the end of a larger cable machine: a seat with pads to hold your knees in place, with a pulley above with a bar that you pull down to your collarbone (or behind your head, if you're feeling spicy). Like a lot of modifiers, there's nothing inherently bad about it—it is, in fact, a great way to strengthen your lats, and your lats are a big part of a pull-up. But it does fuck-all to simulate a pull-up, and that's what we're after here. We can do better.
Better: Assisted Pull-Ups
There are two mechanisms for this, and they're kind of a progression. The first (and easiest) is a machine specifically designated for assisted pull-ups: select an amount of assistance to counteract your own body weight, either step or kneel onto the assist bar/platform (depending on the design), and get to pull-uppin'. Even in machine form it's better than a lat pull, because you're moving your body through space. It's also closer to how your body actually moves on a bar, i.e., no excessive leaning back like you see people do on the lat pulls. The second option is to use a pull-up assist band (or collection of bands) on a by-God pull-up bar: attach the band according to the instructions, rest your knee or foot in the loop, and do pull-ups as the elastic gives you a little boost. This is just like doing real pull-ups, because your body can swing freely just as it would with no assistance at all. Real talk, if 6-8 band-assisted pull-ups are as far as you ever get, you're still doing better than 90% of the population. No shame in that game.

The Exercises
Deadlifts
If squats are the NY style pizza of exercises (iconic, foundational, and unimpeachable), then deadlifts are Chicago deep dish—similar yet a little different, but no less important. With an olympic bar at your feet, stick your butt out and squat down as far as you need to grab it with extended arms. Then, keeping your chest high and your back straight, again feel that string pulling your head up as you push through your heels back to upright. The bar should ride jusssttt in front of your shins, and finish on your thighs. It's not entirely un squat-like, but a) you aren't squatting as deep, and b) because the weight is in front of you, it works the back of your body more—specifically the glutes, hamstrings, and lower back. It does, however, present similar challenges to squats: big scary weights and the people who use them, and discomfort (this time, in the form of potentially skinning your shins with the bar).

The Modifiers
Bad: The Hex Bar
If you've ever worked with a trainer, you may have used this device. A closed hexagon with extensions for barbells on either side, you step into it, reach down and grab the handles, and then do your deadlifts that way, avoiding unpleasantness like the olympic platforms and skinned shins. Easy, right? Wrong. While the hex bar is great for big dudes who want to do shrugs, it's no good for deadlifts because you're not doing a deadlift at all—because the bar moves the weight from in front of you to in-line with your center of gravity, what you end up doing is a glorified dumbbell squat. A fine exercise, but not what we're after here.
Better: Stiff-Legged Dumbbell Deadlifts
I'm breaking the theme here because this doesn't exactly mimic an olympic deadlift, but remember what a deadlift is supposed to work: the hamstrings, glutes, and lower back. The only reason a regular deadlift involves the quads is because you have to squat down to pick it up without fucking up your back, but there's no need to do that to hit the core areas. Grab a couple of reasonably heavy dumbbells (IDK, in the 20-pound range to start?), and stand with them in front of your thighs, palms facing in. Let the air out of your knees (i.e., don't lock them out, but don't bend them either), and bend from the waist, moving your butt out and back and keeping your back straight, feeling like your chest is high. The dumbbells should track pretty close to your legs the whole time, as they would if you were doing these with a bar. To start, you might want to do these sideways in front of a mirror—watch yourself, and as soon as you see your lower back start to round, that's as far as you can go. You'll be able to go deeper as your hamstrings stretch and get stronger, but for now take it slow. You should feel your quads brace as you go down, but on the way back up you should feel a deliberate pull from your glutes and hamstrings. I think if you get to a point where you can do a few sets of 10 reps with 35- to 40-lb dumbbells in your hands, you're more than ready for the bar.

This girl actually goes a little too far, note how her back starts to round.
7 Pieces Of Equipment You Need To Start Using Today
So you've gotten yourself out of bed and made it to the gym before 9am. We're truly impressed. You hit up your classic Stair Master and dumbbell routine everyday and you know what you're doing. But after a few weeks, the same old equipment is getting boring and irrelevant, and you need a change. I mean, we get it. Why do you think we all got over our ombre highlights after one summer? The gym is filled with a shit ton of intimidating and confusing equipment, and we're not telling you to bounce around to every machine like you're at a Bandier sample sale, but it might be worth it to try out a few new ones. These seven pieces of gym equipment are underrated, super effective, and not that hard to use. Give them a try and thank us later.
1. Bosu Ball
You've probably seen the Bosu laying around your gym a million times and ignored it, but by incorporating it into your regular workouts, it can make your exercises 10 times harder and help practice balance and coordination. The Bosu is technically half of a ball, which means that by standing on its flat side, with the ball side on the ground, your balance is challenged and your body relies on muscles you don't usually work. Try doing bodyweight squats and lunges while balancing on the ball. You can also hold a plank with your hands on the flat surface to help engage your core more than a regular plank would.

2. Concept 2 Rower
The rower is a sick cardio machine, and if you actually use it in the right way, you'll ditch the treadmill and elliptical forever. The rower basically works every muscle in your body, so you're burning twice as many calories as other cardio machines because you're getting a full body workout with every pull. Secure your feet into the straps and pull the handle toward your bra line, pushing outward with your legs and keeping your core tight. Slowly draw the handle back in and repeat this motion again, ending with your body at a 45 degree angle each time.
3. Cable Machine
If you've never stepped foot near the weight section of the gym, you've probably never attempted to use the cables, but they're actually super helpful for making your workouts shorter and more efficient, because you can basically do any regular exercise by using the cables and adjusting the weights. Instead of grabbing separate weights for bicep curls, shoulder presses, or core twists, you can do all of that just by using one piece of equipment. It'll cut your workout time in half so you can spend an extra like, 10 minutes in the sauna. You're welcome.

4. Pilates Ring
A Pilates Ring looks like a basic plastic loop, and that's because it is. But when you incorporate it into your ab workouts, you'll notice they get 10 times harder. Try holding it in between your legs when doing crunches, or holding it overhead while you're holding a hollow-body or boat pose. If you're shaking within 30 seconds, you're doing it right. You probably won't be able to laugh tomorrow, but your abs will look amazing.

5. Booty Band
No, the booty band is not an Instagram scam being pushed by the Kardashians. There are a million great machines and weights that will tone your butt, but the booty band is extremely underrated and really effective. Put the band around your thighs or your ankles and do your typical lower body exercises, like squats, lunges, hip bridges, or skaters. Not only will the exercises be so much harder, but you'll also feel the burn faster and have to do less reps than usual to get great results. Your legs might feel like Jell-O when you take it off, but that just means you got a great workout.
6. SkiErg Machine
The Ski ERG is a newer piece of equipment so it's harder to find in most gyms, but if you're an Equinox betch or a member of other boutique fitness chains, you've probably seen these around. It's called the Ski ERG because it literally looks like you're skiing, but like, wearing less layers and not falling on your ass. The idea is to pull down on the machine's handles over and over again, so you're getting a cardio workout while working your triceps, shoulders, and abs.

7. Vertical Knee Raise Station
If you do all your classic ab workouts lying on a mat, it might be time to switch up your routine, which is where the vertical knee raise station comes in. This piece of equipment is pretty self-explanatory, but basically, the idea is to keep your arms on the handles, engage your core, and bring your knees off the ground into your torso. Once you half your knees near your belly button, slowly lower your legs back down without touching the ground and bring them up again. Let's just say, 10 reps of these will burn more than those hundreds of sit-ups you've been doing on the floor.