What We Learned About Stassi & Beau's Relationship From Stalking Their IG
Season 7 of Vanderpump Rules airs Monday at 9pm, an event I've been anticipating with a fervor my boyfriend some have described as "chilling." I can't help it. As a latecomer to the series, this was the first season I could spy on via the cast's Instagram. As such, there a lot of drama that I'm excited for. Brittany and Lala's engagements, the launch of Kristen's T-shirt line, and the 20-30 meltdowns I anticipate Ariana having over her still-unreleased cocktail book, to name a few. But most of all, I'm excited to watch Stassi Schroeder with her new boyfriend, Beau Clark. I've been stalking the living sh*t out of their relationship, and they are goals in every sense of the word. So you don't go into season 7 totally uninformed, I've compiled a list of what we know about Beau Clark. Let's dig in.
The Timeline
In a February episode of Straight Up with Stassi, Stassi revealed that she and Beau began dating in August 2017. They were introduced by Katie and Kristen, an opening that seems dicey until you realize the still-married Katie and Schwartz were introduced by Kristen too. Hey, maybe she has a career as a matchmaker if the T-shirt line doesn't take off. As a reminder, Stassi's breakup with professional sh*thead Patrick Meagher was also right around that time.
Broken up with on our anniversary after I planned a trip for us to Mexico. Call me Carrie Bradshaw. @rachaelnobrien you're coming w me now.

— Stassi Schroeder (@stassi) August 12, 2017
Don't we all miss Patrick, guys??? JK, and I'm psyched that Beau apparently made an appearance no more than two weeks later. As a little background on Beau himself: he works in commercial casting, lives in LA, and loves the Rams (it's a football team, I had to look it up), country music, and dogs. Here is his Instagram. On the podcast, Beau says he was reluctant to meet Stassi at first after looking through her Instagram. The bleach blonde, Botox, bottle service look was apparently not for him—but on their first meeting, they "closed down the Mondrian talking." He'd never "laughed as hard ever with anybody," and all around it sounds like a fairytale first date.
Flash forward six or so months and Stassi, understandably reluctant to put another relationship in the public eye, goes IG official with Beau. She posted a series of stories documenting the Valentine's Day he set up for her. As proof that the man knows who he's dating and how to make her happy, decorations included "dead people gloves," handcuffs, creepy clown posters, and plenty of images of hearts being stabbed with knives. Plus, a special Valentine's edition of their couple's OOTD. Anyone else's Valentine's Day suddenly feeling totally lame in comparison? Yeah, same.
Stassi's debut couples post:
Their Shared Life
Since then, it seems like it's been pretty smooth sailing for the couple. At the Vanderpump Dogs Gala this past week, Stassi and Beau gushed about how happy they were, admitting that marriage is "on their minds." While Beau had some initial reluctance to appearing on-screen for season 7 (he'd never seen VPR before he and Stassi started dating), it seems like filming went well. Notably, Beau has bonded hard with the whole Vanderpump crew, so much so that Stassi insisted they were no longer " best friends." "Now, they're our best friends," she shamelessly brags. If that isn't the f*cking dream (never putting up with any of your boyfriend's friends again because you both mutually agree on the 4-6 most fun people to hang out with), I don't know what is.
Here's their latest double date night (dogs in tow):
While I can't find any solid proof they live together, I'd largely assumed they do from her Instagram. It's pretty much a 24/7 reel of them eating Taco Bell, lounging on the couch with their two dogs, pulling elaborate pranks on each other and filming it, or getting ready for double dates with their friends. (Most often, actually, Brittany and Jax, which I find surprising.) Though I think the two dogs belong to Stassi, Beau appears to be a dedicated dog dad. And Stassi, for her part, now has plenty of personalized Rams gear and accompanies him to games. Seems like one of them is making the bigger sacrifice there, but he also basically became a Bravo star for her so it's fine.
Here's the Rams gear I mentioned:
And here's a peek at their freakin' cute home life:
Their Vacations
In addition to living a disgustingly adorable life at home, the couple has taken a few extremely sick European vacations. Here they are in Berlin and Paris this November:
Here they are being disgustingly cute in Italy in May:
And while these trips are enviable in their own right, they also seem to be an opportunity to hang out with Beau's sister, Georgia, who—from what I can tell—lives there. The couple has annoyingly only documented their hangouts on their stories (and her IG account is private), but from what I saw, Stassi fit right in with the fam. Also, they've been a fabulous opportunity for Beau to up his Instagram-boyfriend game:
BRB, forwarding this link to my boyfriend with the caption "take notes."
Ultimately, watching Beau and Stassi's relationship on social media has been an absolute joy. They seem to share each other's sense of humor, even while his laidback demeanor provides a slight contrast to the high-strung sh*t-stirring side of Stassi we all know and love. I'm no Us Weekly body language decoder, but they're positively radiating joy in every photo together. Plus, over the course of their relationship, Stassi has invented a holiday, come out with a Witches of WeHo Pinot Grigio, written a book, and risen to 1.4 million followers on Instagram. Not only are they (seemingly) gloriously happy, they're pushing each other to be the best versions of themselves. So, so happy for you Stassi—and can't wait to see this all unfold, starting MONDAY!!!
Stassi Made Crazy Allegations Against Faith & Now She's Getting Sued
Happy Monday, everyone! Stassi Schroeder of Vanderpump Rules is may be getting sued for some shit she said on a podcast—and no, not the time she referred to the #MeToo movement as a "male witch hunt." Or the time she said she was "tired" of people of color talking about race. Against the advice of everyone with a grasp on logic and a desire to see Stassi succeed, Stassi went on another podcast, The Bitch Bible, and proceeded to fuck herself over yet again. This time, she accused ex-VPR cast member Faith Stowers of stealing "over $300,000 worth of stuff," and also maybe Jax's car. I'm not sure who Stassi's publicists are, but I wonder why they continue to let her appear on podcasts, including her own. This story is fucking crazy, so pop an Adderall (but stay away from the tequila) and let's get into the details of what she said.
Stassi & Kristen's "Investigation"
Stassi made a ton of claims during this podcast episode—it was honestly kind of hard to keep up. First, she says that Kristen's friend texted her saying "do you know Faith Stowers? She was out and stole my credit card." If you're thinking this sounds less than rock-solid, don't worry—the text continued to say "I know because her friend came to me and admitted it." Maybe I'm being jaded here, but I feel like it's rare for someone to walk up to you and tell you the first and last name of the person who just stole your wallet. Must be an LA thing.
Kristen, because she's Kristen, obviously goes batshit with this information. She finds a Daily Mail article covering an investigation of a woman who allegedly drugs and robs men in LA night clubs, and decides that woman is "100% Faith." All she has to go off is some grainy surveillance footage that, I guess, could be Faith, but could also be a ton of other people. Kristen and Stassi then do a bunch of psycho shit like screen shotting surveillance footage, comparing it to Faith's tagged Instagrams, and seeing if tattoo placement lines up.
hey tweeties, doesn't this ex #pumprules thief look familiar?

someone put her on mtv & gave her a platform for press. I didn't wanna go there but I'm going there. https://t.co/4682a7jyzG

— kristen doute ???? (@kristendoute) April 26, 2018
After consulting with DJ James Kennedy, they further allege that Faith (or rather, the unnamed woman in the surveillance footage they've been obsessing over who they think is Faith) is wearing Logan's jacket in the video. (Logan is James' ex-friend/spurned lover, in case you've forgotten. God, this cast is messy.)
and she's wearing Logan's jacket!

PS it was his favesies and he would really like it back. https://t.co/SnxmJdcHIo

— kristen doute ???? (@kristendoute) April 26, 2018
Once JacketGate breaks, Stassi and Kristen go full Law & Order and call the authorities. The police tells them in no uncertain terms that they don't give a shit and are not convinced, which seems like as good a time as any to stop telling people about your "findings." Or, you know, go on a podcast six months later, up to you Stass!
Listen to Benson, sweetie, she's better at this than you.

Don't Worry, There's More
Stassi, whose Adderall appears to be furiously kicking in at this point in the podcast, drops a few more bombs. She talks about how Faith was "homeless" while shooting VPR, and says that while Faith was couch surfing, Lala Kent would "plant things in her apartment to see if Faith stole it." A statement that really exclusively makes Lala look bad, but ok. Stassi then goes on to mention Jax's car being stolen the night that the Jax/Faith hookup is revealed. Again, for unknown reasons, she decides this must be Faith too.

As a parting shot, Stassi warns Faith that she has "video cameras all up in house" and "everyone is going to know it's you." First of all, unless Faith stole the car and then stashed it in Stassi's apartment, I'm not really clear on what kind of damning footage she'd have. Also, WHY do you have video cameras all over your house?? Do you watch old footage of yourself on a regular basis? Is it a sex thing? Please explain. (Actually, don't.)
Faith's Response
Unsurprisingly, Faith has a different version of events. On Wednesday, Faith went on The Tomorrow Show and announced that she's suing Stassi, supposedly using Lisa Vanderpump's legal team. On the car-stealing accusation, Faith seems just as bewildered as I am on how Stassi got from "missing car" to "Faith took it." As Faith puts it, "Jax Taylor's car magically went missing and I had to be the person that stole it." As for the other accusations, she recounts Stassi seeing the Daily Mail article, and adds that the woman pictured "was a black woman who looks nothing like me." Hmm. "I don't know if Stassi's been around a lot of black women in her life," Faith continues. "I'm guessing probably not."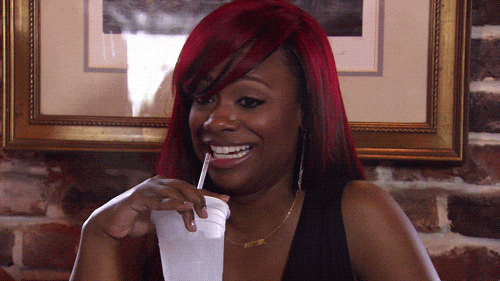 Judging from the general diversity level of VPR's cast, I'd say that's a safe assumption. Faith adds that she was "really shocked" that Stassi would associate her with the woman in the article. But notably, she refuses to label Stassi as a racist outright. "I don't want to put the 'r' word out there and say that she's racist because that can really stick with somebody," Faith says. (Despite the fact that Stassi wasn't particularly concerned about the possibility of false criminal charges sticking with Faith.) As a further insult, Faith reveals MTV "had to do a background check" because of the things Stassi said (for her new show, Ex on the Beach.) V impressed with your restraint, Faith. And good for you for getting off the toxic mess that is VPR (for the not-at-all toxic show that basically Bachelor in Paradise, but with everyone's exes). Also, I kinda think reality shows should be doing background checks in general (Chad Johnson, anyone?), but whatever.
Faith concludes by stating that she doesn't want money from this lawsuit. (I take it with a grain of salt whenever a reality star says in a TV interview that they're not doing something for the money.) She says she just wants Stassi to retract her statements, and more generally, to understand the power of her voice. "You have a reach ma'am," she says of Stassi's VPR fame, "and because you have that reach, you have a responsibility so when you say things…you make a check and you make sure they're true." As for why Stassi might be making these accusations? "Maybe she still likes Jax" is Faith's theory. Truly, the burn Stassi deserves.
Images: Twitter (2); Giphy (3)
Stassi Schroeder Made Some Appalling Statements In A Now-Deleted Podcast Episode
In the latest episode of Straight Up with Stassi, VPR star Stassi Schroeder decided to do something that made a large portion of her very niche fanbase most of America collectively facepalm: She diverged from her areas of expertise (sex, fashion, and wine), and spoke out instead about the recent slew of sexual assault allegations, as well as the #Metoo campaign specifically. While no one expected Schroeder to have a particularly groundbreaking or insightful take here, we certainly couldn't have predicted the 90 minutes of hateful garbage she proceeded to inflict on her listeners—key points of which included her belief that these women are lying about rape for attention (Lena? Is that you?), her fears that "men won't want to be in the same room as her anymore," and her suggestion that women actually wanted to engage in the sexual conduct they're now calling rape, since according to Stassi, "it's the easiest thing in the world to not suck that person's dick if you don't want to."

Everyone done gagging? Still with me? Cool. I'll cushion my recap of this episode with the good news here: Backlash to her commentary has been immediate, with three of her biggest advertisers pulling out overnight and publicly denouncing the views she expressed. Schroeder has also since taken down this particular podcast episode, and posted an apology on Twitter on November 25, in which she states that she "crossed a line" and pledges to "put more thought behind dialogue moving forward."
Unfortunately, that wasn't Schroeder's first reaction. Before she caught wind of the fact that she might actually lose money from this, she took the stance that "about 5 ppl heard this podcast" and everyone else just heard "ONE quote without the backstory or context of a TWO hour episode." So, aside from the fact that that ONE quote was that aforementioned tidbit about how easy it is to not suck someone's dick (which can FYI be loosely translated as "I don't believe that sexual assault can happen"), which I have a hard time believing ANY context would reasonably cushion, I'd like to go on record as someone who did listen to the entire two-hour podcast and say that quote was barely even the worst of it.

The heart of the issue with Schroeder's commentary was this: She used her personal, apparently sexual assault-free, experience in Hollywood as the "correct" version of the state of the industry, and, working from that perspective, proceeded to call the women coming forward liars (either about the events themselves, or the extent of their consent), fame whores (for coming forward with these stories now, when it's "trendy"), and somehow either weak or implicitly guilty for having allowed these events to occur—since again, neither Stassi herself nor any of her acquaintances have personally been raped in hotel rooms. Further, while she drops a line every now and then for the so-called "real victims" (which she believes is around 50% of those who have come forward), the true recipients of her sympathy are the men of Hollywood: those who she fears have been falsely accused, those who are "too afraid to flirt" now that we're amidst a "male witch hunt," and those whose behavior, like "grabbing an ass" or "a breast" does not qualify as real assault, and do not deserve the backlash they're receiving for it.
While my hackles have been up about Schroeder's politics ever since the season 1 episode where her father cracks "you're not a Democrat, are you?" at then-boyfriend Frank, I was still shocked and disappointed at the things I heard Stassi say in this podcast. Some of the best arguments against what Stassi is saying are even made by Stassi herself—when she ponders "who'd want to hire someone who lied about rape," as a way of questioning the intelligence the women she perceives as liars, she's making a good point: women who come forward with allegations are absolutely likely to suffer diminished job prospects, alongside public shaming, discrediting, and character assassination like Stassi herself so happily served up. These women are not, then, simply hopping on a "trend" with little thought of the consequences like that time you bought gaucho pants—they've stayed silent for years due to fear of these consequences, and are speaking up now because the Weinstein takedown has chiseled a tiny crack of light into an institution long believed to be impenetrable. These women have decided that their personal sacrifices are worth it if they can help a larger cause—and when Stassi announces that "it's understood" that young women moving to LA will be propositioned for sex in professional settings, and they "should have known," she's both attacking rape victims' intelligence and stating her acceptance of the system they're trying to dismantle.

Because I was an ardent Stassi fan up to this point, I want to say a few things to her directly: Just because this is the way Hollywood "has always been," you don't have to accept that it won't change. Just because we've "all seen dicks we didn't want to," and all had our "asses grabbed at a party" doesn't make it okay, and you shouldn't use a set precedent as a future goal. Remember how Jax set a precedent of being a cheating, lying asshole, and instead of continuing to date him and being okay with it when he cheated and lied again, you drank his liquor, threw out his things, and cut him out of your life? You think of yourself as royalty, and refer to your fans as Khaleesis: set the expectation that we be treated like queens. Queens don't walk out into this world and tailor their behavior so as to best avoid rape despite the constant, expected threat that it could happen; they walk out and inspire respect, and look the fuckers who would dare treat them otherwise in the eyes as they burn them to the ground. You are a master of revenge, and of inflicting painful justice; for a moment, put some faith in the women whose experiences you don't share, and help them do the same.