The Best Black Friday And Cyber Monday Deals On Beauty
Like many millennials with jobs, my beauty look is pretty consistent day-to-day, but that doesn't mean I don't have 82 tinted moisturizers, 41 mascaras, and about a million different facial mists. I like to mix it up, what can I say? If you, too, are an out-and-proud beauty junkie, welcome. It is my personal belief that the best time to buy beauty products is around Thanksgiving, because not only is everything cheap af, but everything is sold in sets. Yes. Please. Give me a million eyeshadows that have just slightly different undertones. Honestly, I love this holiday so much because we spend the whole day being grateful for all of the sh*t we have, but only until midnight when we'll fight each other to the f*cking death at Target to get that 30% off KitchenAid mixer. #America, right? So if you fully embrace this holiday as a day of gluttony, scoop up these beauty deals before your friends do. 
Ulta
Obviously, I have to start with the DSW of beauty because it just has so much stuff to basically give away this holiday season. Because they have about a thousand different sales going on during Thanksgiving weekend, I'm just going to name the few brands I'd personally recommend. Let's start with 25% off Macadamia Professional hair masques. If you've ever been in a drugstore, you've seen this brand's hair products. I have been using the Deep Repair Masque since high school, and it's never disappointed me. It's meant for people with damaged hair, but as a bitch with proudly virgin hair (hold applause), I love it because it takes my hair to the next level in softness. If you think delayed gratification is stupid, you'll love this masque because you'll feel its effects immediately. 

Macadamia Professional Nourishing Repair Masque
Next is the BECCA Volcano Goddess Eyeshadow Palette, which is 40% off, aka it's $27, aka it's free. Honestly, I don't really wear eyeshadow because I don't know how to put it on without looking like a toddler in drag, but the colors in this palette are pretty wearable. So if you stan an eyeshadow moment, this palette is for you. 

BECCA Volcano Goddess Eyeshadow Palette
And lastly, Ulta is offering 25% off a Chi 1-inch Ceramic Hairstyling Iron. I don't have the time or the skills to give myself Serena-van-der-Woodsen-circa-season-one waves, so I don't even try. However, every now and then after sleeping on wet hair for no reason at all, I wake up with a really unfortunate situation on my head, and this little hero can fix it within 10 minutes. I don't usually curl my whole head, but a few chunks of hair throughout gives me that tousled look that I'm really feeling these days. I know what you're thinking: wtf are you talking about, this is a hair straightener? To you, I say the most natural-looking waves come from flat irons! Twist your hair around the iron and gently pull the iron down the twist. I'm telling you, it's never failed me. 

Chi Original 1" Ceramic Hairstyling Iron
Glow Recipe
Not going to lie, I discovered Glow Recipe at Urban Outfitters, and have been obsessed ever since. The relatively new brand is offering 20% off every single product on their website, so if you haven't already added a slew of skin care to your cart, you're behind, girl. Anyway, if you are the kind of person who can be seduced into buying something simply because the packaging is irresistible, get ready to purchase literally every damn Glow Recipe product. I have the Watermelon Glow Sleeping Mask and am truly obsessed—mostly because it serves as a skin savior and decor on my dresser. Cute appearance aside, the mask itself is actually really good. It's really moisturizing, but has a gel-like quality to it, so it doesn't leave you feeling greasy and oily when you wake up. That ain't cute. 

Glow Recipe Watermelon Glow Sleeping Mask
Tatcha
This Japanese skin care brand is in pretty much every natural or ethical beauty store in the world and from November 28 through December, you can "play for a chance to get either 20% off your $100 purchase, 15% off your $75 purchase, or two free gifts with orders of $50 or more." All of their products are cute and purple, but one of their products is truly better than the rest. I'm talking about the Luminous Dewy Skin Mist. Before you judge me for spending more than I'd like to admit on what you'd call water, hear me out. It's made with botanical oils and humectants, which are responsible for the dew, and tbh it smells so damn good that I literally smile when I spray it, and I don't even smile at puppies walking by.

Tatcha Luminous Dewy Skin Mist
Also, I recently learned that your moisturizer absorbs way better when your skin is moist (get over it) than when it's bone dry. Think about it this way: your skin is like a sponge, and sponges don't work until they're damp, right? Another cult favorite from this brand is the Dewy Skin Cream, which I haven't had the pleasure of trying because I am low on funds, but maybe I'll hit the jackpot on their annoying Thanksgiving game and be able to afford it! 
Kevyn Aucoin
Get ready for the most niche Black Friday sale literally ever: Get 25% off your order and receive a free Exotique Diamond Eye Gloss in "Galaxy" when you spend $75 on November 29. Like, really? Only on November 29? Honestly, I'm sure I'll get an email on November 30 that says, "We're so nice and extending our sale!" The only reason I'm down for this annoyingly specific sale is because I'm so in love with my Neo Blush and feel like she needs friends. I've been dying to try the Sensual Skin Enhancer Concealer because it's a really thick cream (as opposed to a solid, like most concealers are) and comes in a cute little pot. Also, I feel like if I have this, I could just dab it where I need it (because it's thicc af and does its job) and not have to wear foundation or tinted moisturizer. 

Stila
Stila is offering 35% off site-wide plus free shipping on all orders of $50 or more from November 29 through December 1 with the promo code BF35. I own one product from Stila that has truly defined my going out look to a T, and it is the Stay All Day Waterproof Liquid Eye Liner. Executing the perfect cat eye is hard, but Stila's liner is actually really easy to use because it's just a long tapered pen. So all you have to do is angle it as you draw, so the line gets thinner, and that's pretty much it. Easy peazy. Anyway, Stila also has a pretty legit price point for a mid-level brand, so I fully support this sale. Another product I had and loved until I broke it by accident was the Aqua Glow Serum Foundation, because it was pretty full coverage but had the consistency of water, so it didn't feel heavy or caked. 

Stila Stay All Day Waterproof Liquid Eyeliner
Drybar
I am more in love with my six-year-old Buttercup hair dryer than I am with the guy I'm seeing. Seriously. I have a lot of thick hair, so making sure it dries without going rogue is very important to me, and that's why I have the Drybar one, the famous Josh Harry one, and, don't judge me, the Dyson Supersonic. Drybar is shining down on thee and giving you 20% off all products, tools, and kits from November 21 through December 1. The Buttercup was the cheapest and oldest of the three I have, but it's my OG and I use it every damn day. It weighs like, a pound, is pretty quiet, and does an excellent job. Generally, expensive hair dryers are better than drugstore ones because they use more power than they do heat, so they are less damaging to your hair. Cheaper hairdryers work in the opposite way, using more heat than watts, so you're essentially frying your hair for longer. I also have the Drybar heat protectant, which smells so good that I leave it on my hands for as long as I can before the New York City subway system forces me to wash them. Luckily, the smell lingers in my hair for the entire day. By the way, Harry Josh is also having a Dermstore sale for 30% all of his products with the promo code DSGIFT from November 28 through December 2. His hair dryer is def cuter than the Buttercup, so if that matters to you, you can get it for a little less this holiday season!

L'Occitane
L'Occitane (pronounced "lox- ee- tahn"—you're welcome) is giving us 20% off all full-size items with promo code CYBER from December 1 through 4, because they know no one is dragging their hungover asses to a store to buy their favorite hand cream. Speaking of which, I didn't realize this brand sold anything besides hand cream until my grandmother gave me a beautifully packaged perfume (technically an eau de toilette) that smells so good that I spray it on my pillow before I go to sleep. It's the Verbena scent, which is generally pretty clean with a hint of green tea. No complaints. 

L'Occitane Verbena Eau de Toilette
Images: Ulta; Glow Recipe; Tatcha; Kevyn Acoin; Stila; Drybar' L'Occitane; Eco Warrior Princess / Unsplash
Betches may receive a portion of revenue if you click a link and purchase a product or service. The links are independently placed and do not influence editorial content.
Sephora's Weekly Wow Sale Has Tarte & Urban Decay Palettes For Super Cheap
I am so fucking happy that today is Thursday, I literally can't even. Obviously because tomorrow is Friday and I needed this week to end like, the second Monday started, but also because it's the start of another Sephora Weekly Wow. Like, guys, I wish I was exaggerating when I say this one is the best one by far and I won't even feel bad about blowing my entire paycheck in one sitting (#CantStopWontStop), but I'm not exaggerating in the slightest. From a Tarte multi-purpose palette that makes you look like an Amazonian princess and a ~sparkly~ Urban Decay eyeshadow palette to a lip treatment that prevents your lips from looking chapped AF this winter, this is best thing Sephora could ever give us. I'd say start loading your cart now but, if you know what's good for you, you're already grabbing your wallet. These will def sell out ASAP, so shop now or forever hold your peace.

This might be a set of 12 eye shadows, but these special neutral and smokey matte shades are good to use for an intense contour anywhere, including your nose if you want people to think you got a nose job or whatever. All of the shades are seriously to die for, because they look amazing on every skin tone. I mean, LOOK at those swatches. Since they're made with Amazonian clay they will look 100x better than like, regular stuff by making it look natural, crease- and flake-free.

Urban Decay's Moondust palette is everything, in case you haven't noticed just by looking at it. The eight shades fulfill all of our dreams with one-of-kind colors like Lightyear green and a Galaxy blue-purple-gray-whatever that looks something like my next manicure color. Your go-to smokey eye just got a HELL of a lot better.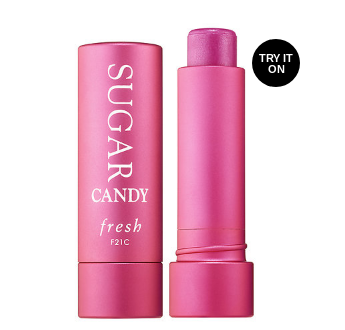 Behold, the Chapstick you've been looking for that works so well, you'll def never want to lose it again. The award-winning treatment (Did anyone know lip balms got awards? No? Okay, that's what I thought) protects and smooths your lips instantly by providing much-needed moisture. It protects from sun damage and also offers buildable coverage from 14 different bright shades. Trust me, you'll want them all.

Who doesn't need new makeup brushes? I mean, it's not like you actually wash yours anyway. Ain't nobody got time for th—JK, that's fucking gross and you should wash them immediately after work today. But if you're like me lazy and most definitely not going to wash your brushes after work today, buy this five-piece kit. Each brush allows you to sculpt gorg eyebrows and make killer smokey eyes. Plus, they come in a little pouch, so… new makeup bag? Yes, hi, sign me up.

This is basically a miracle exfoliator that clears breakouts, erases scars, and fixes discoloration after the first use. If you've used this, you'd know I'm not even exaggerating. It also absorbs excess oil, so like, no more having to buy blotting sheets every week. And it smells like roses, so it's def worth the splurge.

This petite, lightweight, and v powerful blow-dryer was designed to make all of our fantasies come true, namely, achieving a last-minute blowout on-the-go. The portable blow-dryer is made for styling and speed-drying your hair wherever tf you are by coming with a travel pouch and dual voltage options. Although smaller than usual, it eliminates annoying af flyaways and frizz and still provides salon-worthy results for any hair type. Fucking miracle.
Sephora's Weekly Wow Is Back With This Lipstick You're Going To Want To Snatch Up Immediately
Alright guys, it's yet another Thirsty Thursday *and* another Sephora Weekly Wow. Lord knows I need to chug six gin and tonics (hold the tonic, pls) and then indulge in some retail therapy, because how else does one "healthily" cope with the recent Kardashian-Jenner baby boom? Yeah, I thought so. Last week's Weekly Wow wasn't really all that "wow-ing" tbh so I didn't fill you guys in. Believe me, you didn't miss out. BUT, since this week's Weekly Wow is under $15 again (PRAISE BE) and involves must-have lipsticks and non-glittery highlighter. This is worth a look. Below, I present you this week's winners, but remember, once these are gone, you're basically SOL.
Known for their insanely smooth application and comfortable wear, these bold lipsticks provide a highly pigmented look unlike any other lipstick you've ever tried—and I know that's saying a lot. Seriously, Make Up For Ever means what it says. The fun, bright colors are made to stay on basically forever without fading, and most importantly, not drying out your lips, because there's honestly nothing worse than paper mâché mouth.

There's nothing I love more than a lipstick that also works as a chapstick, because like bobby pins, I literally always lose mine. ALWAYS. This full coverage lipstick hydrates your lips for up to six hours a day (um, amazing) and can be bought in either a matte or shimmer finish. It's super lightweight, so you'll probs forget you're even wearing anything. An added bonus? It's made with a betch's fave fruit, avocado.

This #flawless, non-glittery-shit-show of a highlighter is everything our dreams are made of. The cream-to-powder formula allows you to apply seamlessly for model-looking cheekbones and easily blend with its attached soft-glow blender. It's a natural-looking Champagne glow that looks gorge on every skin tone. No wonder why it's a best-seller for us Sephora addicts.

Highly Anticipated Spring Beauty Products To Get You Through The Shitty Winter
Are you bummed about everything happening in the world right now? Is it cold? Are Trump's alternative facts weighing you down? No worries. Since the great US of A is built on the foundations of consumerism, maybe it's time you buy yourself some shit. But not just any shit. Shit to make yourself look pretty. And therefore feel better. Kind of? I guess?
Here are some spring beauty launches to get you through the cold of winter and the nightmare that lays ahead. Some of them are already available for purchase, some are coming out soon. Godpseed!

The cult eyeshadow color, Kitten, is finally available as a highlighter. It only took them like 10 fucking years, but w/e.

As part of their Spring 2017 launch, Urban Decay put out a bunch of new products that help your skin. Not only will this primer make your pores look almost nonexistent (I mean, almost. No one's perfect except maybe me.) It also has SPF which you need so you don't get wrinkly and disgusting.

If you don't want to put face wash on your hands, here's a stick. Congrats. (Read: this is great to use when drunk and/or hungover because during both of those times, washing your face in the sink is the hardest task you'll ever fail to do.)

A "liquid" blotting compact might sound backwards (like, why would I want to put more moisture on my already oily face LOL?) but WRONG. One swipe of this and your face is instantly matte again.

Again, putting more liquid into your already greasy hair sounds like a bad idea right? Well, not according to the experts at OUAI. Apparently this stuff, which was released earlier this month, is like regular dry shampoo on crack. Say crack again.

A limited edition mask inspired by Sonic the Hedgehog (TBT, but nerdy). It does definitely make you look like you're part of the Blue Man Group, though, so I suggest doing it in a locked room. Alone.


Benefit's anticipated new Box o' Blush won't be here until March, but with its warm golden hues and vanilla/grapefruit scent, p sure it'll be worth the wait. P sure.