4 Microaggressions To Remove From Your Vocabulary Immediately
Being Black in a predominantly white space can oftentimes be incredibly uncomfortable, in part because of microaggressions. A microaggression is a constant interaction or behavior that comes across as hostile and prejudiced toward a marginalized group, whether or not the intention was to offend. Read that last part again: whether or not the intention was to offend.
Many Black people have constantly dealt with microaggressions throughout their lives. From the beginnings of our adolescence in the classroom, to our adulthoods in which we must navigate the social climates of our workplaces, these passive-aggressive actions do way more harm than good. They often leave stains on how we view ourselves, which become detrimental to our mental, emotional, and physical health. Below are examples of microaggressions that you might have in your everyday vocabulary, and explanations of why they're inappropriate and offensive.  
1. "Is that your real hair? Can I touch it?"
Black hair has always been a controversial topic. From people mimicking our styles to laws making it illegal to discriminate against our hair, we have always had some type of struggle as it relates to our hair. A lot of us—especially Black women—have also had to deal with passive-aggressive comments about it. Whether it is at school, at the grocery store, or at work, asking a Black person "Is that your real hair?" basically implies that Black people are incapable of having our own hair. It is common for white people and non-Black POC to ask us this because of their negative perceptions of Black hair and the stereotype that Black women only wear wigs and weaves. When a Black person tells you that it is, in fact, their real hair, please do not take it upon yourself to touch it. This is a downright-disrespectful invasion of privacy. Whether it be braids, a weave, or our natural hair, it is not your right to continuously ask about it, or to make us uncomfortable by touching it. This should also give you insight as to why appropriating Black hair is offensive. If we cannot wear it in peace, why should someone else get to wear it with praise? 
2. "You speak " 'white' "
There is a common misconception that Black people are incapable of encompassing vernacular beyond AAVE (African American Vernacular English). Due to stereotypes perpetuated by white media, many people have this idea that, if a Black person is speaking without AAVE, they are trying to be "white". First of all, there is no such thing as speaking "white", so let's debunk that myth. Second, someone who has an advanced vocabulary is not inherently smarter than someone that uses AAVE. An advanced vocabulary should not relate to intelligence, but because we have been told that it does, many people relate intelligence to whiteness. This then feeds into the myth that Black people are uneducated and are trying to "act white" when they use bigger words. The bottom line is: don't assume someone's intelligence based on their vocabulary alone, and don't believe the negative stereotype that Black people have to speak a certain way in order to "be educated". 
3. "Are you sure you didn't cheat?"
Being Black in academia is tough. From the lack of representation in teachers to racism in the classroom, being a Black student from kindergarten through college can be a rather traumatizing experience. One common microaggression we face is teachers—and sometimes fellow students—assuming we've cheated when receiving a grade that is beyond their expectations. When you, a student, ask someone "Did you cheat?" or "How did you get that grade, when I didn't even do that well?" you're once again feeding into the stereotype that Black people are uneducated, and that you believe we are inferior to you. In my experience, many educators also refuse to separate their one or two 'bad' experience(s) with Black people from their Black students. This makes the conversations between themselves and Black students contentious; their negative preconceived assumptions about Black people taint their instruction toward Black students. 
4. "You're super hot for a Black person"
Whether it is on Tinder or on an actual date, many of us have, at a certain point, heard someone tell us that we are "attractive for a Black person". Due to Eurocentric beauty standards, people often correlate beauty with whiteness or fair skin. In my experiences with various dating apps, it's pretty common for me to get a message at least once a week from someone who is white or a non-Black POC saying something along the lines of  "I usually don't date Black, but you are the exception." This is not a compliment, nor will it ever be. Telling someone that you are not attracted to their race but that they are the exception to the rule shows your casual racism and makes them feel interior. If you're against dating someone based off of their ethnicity, you need to take a hard look at yourself. These types of comments should never be stated in the first place. They're not cute and they will never make anyone feel good about themselves. 
These microaggressions are not just things we experience once in a blue moon—sadly, they are things many Black people experience on an almost daily basis. In order for this to stop, we must have these conversations. Whether you're in the workplace, dating someone who is Black, have Black students, or have Black friends, try to have the conversation with those around you. And if you feel as though you have fed into any of these microaggressions yourself, take this time to stop. In the era of learning, there should also be unlearning. 
Image: WOCinTechChat / Unsplash
I'm A Stripper, And I'm Tired Of Hearing These Misconceptions About My Job
The first time I ever set foot in a strip club, I was in awe. I mean, the club was sh*t and the drinks were overpriced, but the strippers were A-MAZ-ING. I pulled a T-pain and fell in love with all of them. Of course, being a fan of strippers isn't groundbreaking. Most people are pretty pumped about a topless woman showing off her athletic abilities. However, most people have a lot of inaccurate ideas about strippers. The way strippers are portrayed in media and the ways in which we talk about them in casual conversation are usually based on false stereotypes. Wow, humans wildly misrepresenting an entire group of people based on assumptions and a desire to belittle that which they don't understand?!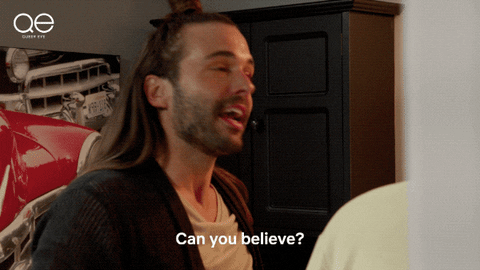 Anyway, what do I know? A bit, actually. For the past five months I have been working nights at both a "gentleman's club" and a traditional strip club. I'm certainly no pro, but one of the first things I noticed while stripping was how infuriatingly off-base people's beliefs about it are. So, I'm here today to share what I've learned and hopefully make you realize that talking sh*t about strippers is dumb as hell. Sex work is work, babe.
False: Strippers Are All Catty B*tches
Pretty much any Law & Order episode that has a scene in a strip club (a lot of them) involves strippers fighting. I've seen this in a lot of other TV shows and movies too. It's portrayed as a cutthroat industry where women see each other as the enemy. While every work space is bound to have some drama, I've noticed that my coworkers at my stripping jobs are the most supportive, friendly, welcoming women I've ever worked with it. It's a lot less, "Get away from my customer, you whore," and a lot more, "Omg babe, you look so hot! Where did you get that corset?!?!" Of course, there is etiquette to abide by, and you should never steal another woman's customer. If you do, you might find her mad at you, but most of what I've seen is someone doing this on accident, realizing it, apologizing profusely to the other woman, and then both of them laughing about it. Often the best part of a stripping shift is going to take a breather in the locker room and talking sh*t about men/trading skin routine regimens with all of the other strippers. People love to paint women as catty bitches who can't work together, but the reality is women tend to love being around other women, and this is often the case at a strip club.
False: Stripping Is A Last Resort Job
Sure, some people may turn to stripping when they can't find other work, but this could be said about so many jobs, such as bartending or working as a receptionist. People seem to think that anyone who becomes a stripper is down on their luck and is only doing this because they have to. That's not always the case. For me, I could easily be working at a restaurant or babysitting or temping as a way to pay my bills, but I've chosen stripping. Why? Because I like it. I like the flexible schedule, the environment, the fact that I get to work with women, and tbh dancing naked beat answering the phone for a startup company run by 21-year-old finance bros in midtown. Also, this assumption implies that just anybody could be a stripper. Like any job, it's not for everyone. It requires an incredible amount of energy, personable skills, and talent. Especially for the women who are expert pole dancers. That sh*t is unbelievable, and most people could never do what they do. So the idea stripping is only meant for those who have run out of options is, to be frank, bullsh*t.
False: Strippers Are Gold Diggers

This one makes me lol. A lot of times, people talk about strippers as if they're these malicious people just trying to get your money…as if that isn't what every business transaction is about. Imagine this scenario:
Plumber: *asks for payment for his services*
Customer: Wow, all you care about is my money. Here I was thinking you liked me, when really you just want to be paid! Slut.
Sex work is work, plain and simple. And yet, I've seen men get all worked up when it comes time to pay for their lap dance. They feel hustled, scammed, bamboozled by the fact that they agreed to a payment plan and then were asked to follow through with it. They feel this woman who is simply asking to be paid for her literal job is somehow taking advantage of them and rolling in dough by means of gold digging and scamming. But really, she's just asking for what every worker asks for: compensation. It's almost as if the fact that she's a woman using her own body as a means for money delegitimizes her as a professional in the eyes of society?
False: Calling Someone A Stripper Is A Sick Burn
"You look like a stripper," is supposed to be an insult, but all that's really saying is, "You look like someone would pay a lot of money to see you naked." Mission accomplished, b*tch. It's the same when people say sh*t like, "She should quit politics and go back to stripping." Stripping isn't any less a respectable job than working in politics. Assigning value to these jobs is classist and sexist. Truth be told, people are just uncomfortable with the idea that a woman is comfortable and confident enough to use her body and sexuality to her advantage, so they react by putting her down, because god forbid she realize her power. So when someone uses "stripper" as an insult, it's actually a compliment commenting on your power. *Drops mic*
False: Strippers Can't Find Love

The question I encounter most often when working is, "How does your boyfriend feel about this job?" Men are always surprised to hear that I'm in a relationship, my partner is aware of the work I do, and he's okay with it. The concept that a man could allow a woman the freedom to do her job, even if it includes using her sexuality, is truly absurd to most. But a lot of the women I work with are in happy and healthy relationships. And why wouldn't we be? We're fun, sexy women, so much so that many are willing to pay for a few minutes alone with us. Imagine how lucky the ones who get it for free are.
Images: Eric Nopanen / Unsplash; Giphy (2)