4 Exercises You Should Do Every Hour If You Work From The Couch
When quarantine first began, working from the couch felt like a much-needed break from the discomforts of office life. Nothing was more appealing than rolling out of bed, grabbing your laptop, and rolling straight back onto the couch. No shower, no shoes, no problem. However, the excitement of working from the couch can start to wane once the aches and pains of too much sitting start to set in. From your neck to your lower back to your hips, sitting on a soft surface with limited back support for a full work day is considerably less comfortable than it seems. And as it turns out, working from the couch for too long is bad for you, both physically and mentally. The good news? You don't have to give up working from the couch completely just to get a bit more healthy.
The Problems
Sitting all day can have a number of negative effects on the body, but sitting slumped on a couch can be even more detrimental. "Sitting allows your muscles to become extremely tight and dysfunctional, which will compromise your posture and increase your risk of pain and injury," says Jeff Brannigan, Program Director at Stretch*d (a New York-based dynamic assisted stretching studio). Furthermore, Brannigan goes on to explain that "working from the couch makes it very easy to sit in a not-so-great position. Many people quickly begin to slouch or slide down the couch."
The problem? "Sitting in a compromised position drastically speeds up the onset of muscle dysfunction. You're far more likely to feel muscle tightness, tension, and pain due to an increased likelihood of developing imbalance throughout the body." In fact, in a 2018 study, the CDC went so far as to say that "high amounts of sedentary behavior and low levels of physical activity are associated with increased risk of premature mortality and some chronic diseases". Yikes.
The good news is that even if you work in an industry that requires you to be sedentary for most of the day, small changes to your routine can make a big impact. Better yet, new work-from-home policies make it even easier to get up and move. Eve Lynn Chrust, a New York City-based fitness and yoga instructor (you can find her classes at Obé, SoulCycle, and Athleta) says that exercise doesn't have to be something you force yourself to do at the end of a long work day. "Make it cumulative," says Chrust. "If you do a little something every hour of the work day, by the end of the day you'll have gotten more done than you might've expected." Chrust says that a few exercises coupled with a few laps around your apartment every hour are enough to counteract some of the negative effects of working slumped down on the couch all day. Her advice? Set a timer on your phone to dedicate four (yes, just four) minutes of every hour to getting off the couch and moving. By the end of a standard work day, you'll have already gotten a half hour workout in.
Here are some moves you should be doing to counteract the effects of sitting all day:
1. Walk It Out

The first one-minute move in your four-minute set? A lap around your house, a walk up and down a set of stairs or a stroll down the block! Chrust says, "there's a mental component of getting off the couch. When you sit for too long, things can feel stagnant and repetitive and you tend to get stuck. Getting off the couch even for just a minute helps you to feel motivated, it gives you energy and might improve your focus."
2. Squats

Chrust recommends doing 10 squats every hour to open your hips, stretch out your legs, and work your booty. "Doing just ten squats every hour throughout the workday is totally accessible, and by the end of an eight-hour work day you'll have done 80 squats!" she says.
3. Planks

Next up is a one-minute plank. Planks are a favorite of most yogis, and with good reason. They're an efficient way to work your entire core, front and back, says Chrust. "Abs are fundamental for posture. If you're hunching on a couch all day, you need core strength to lengthen out your spine."
4. Cat Cow

After you've completed the one-minute plank, move directly into a tabletop position, with your knees on the ground directly in line with your hips, and your hands on the ground directly in line with your shoulders. Flow through one minute of cat cow to create space in your spine, chest and neck, three spaces that are compromised when sitting on a couch for too long, says Chrust.
Images: GIPHY; Maryjoy Caballero / Unsplash
4 Exercises To Improve Your Balance And Flexibility
Do you struggle with balance and flexibility? If you do, first off, you should seek care from a medical professional, since there are many potential causes of balance and flexibility issues other than just "I can't touch my toes and I'm clumsy". There could be an actual medical issue, so you want to speak to your doctor to make sure you identify the cause of your balance issues in order to receive proper treatment. That said, you can also improve your balance and flexibility by performing certain exercises. Your doctor may even recommend you look to direct access physical therapy. Working with an expert will ensure you're working safely and within your abilities.
If you're struggling to improve your balance and flexibility, give the following moves a try.
Alternating Arm Plank

A plank simply involves modifying a typical push-up position so your elbows rest on the floor. When looked at from the side, your arms should appear to form as close to a 90-degree angle as possible.
For this exercise, you may need to rest on your palms (like a typical push-up) when you first attempt it, as it can be difficult to maintain balance otherwise. That's because this version of a plank requires you to balance on just one arm for a few seconds, before switching to the other arm. As you get more comfortable with the exercise, you can try balancing on your forearms or extending your opposite leg.
BOSU Ball Split Squats

A BOSU ball is a piece of equipment you may have seen people using at your gym. It essentially looks like half of a stability ball. Instead of being a complete sphere, it has a flat base running through what would otherwise be the middle of the sphere.
Using a BOSU ball when performing split squats can be a very effective way to improve your balance and flexibility. For this exercise, step forward with one leg far enough so you have to raise the heel of your back foot. The toes of your back foot should rest against the BOSU ball. With your torso straight, bend your front knee so your back leg almost rests against the ball, before returning to a standing position. Alternate sides for the best results.
Pistol Squats

Pistol squats are useful when BOSU ball squats start to feel too easy. For this exercise, stand on one leg and bend the knee of that leg until its thigh is almost parallel with the floor. Try to extend your other leg in front of you as you do so. The straighter you can keep it, the better.
Return to a standing position and repeat to your comfort before switching to the next leg. This is a difficult move to perform, but it can be very helpful if you struggle with balance issues.
Standing Crunch With Clap

This is another exercise you may need to work up to. However, it is a very effective way to improve your balance and flexibility.
To perform it, stand up straight on one leg, with your other knee bent to form a 90-degree angle. Keep your hands raised above your head. Your raised leg's thigh should be parallel with the floor.
Next, bring your stomach forward to your raised leg as if performing a crunch from a standing position. While doing so, bring your arms below the leg and clap your hands together, then raise your arms back up as you return to your original position. Repeat to your comfort, then switch to the next leg.
Again, it's important to see your physician if you have balance and/or flexibility problems. An underlying medical condition may be the culprit. However, it's also helpful to perform these exercises. They'll provide you with the strength you need to stay balanced and comfortable throughout life.
Rae is a graduate of Tufts University with a combined International Relations and Chinese degree. After spending time living and working abroad in China, she returned to NYC to pursue her career and continue curating quality content. Rae is passionate about travel, food, and writing, of course.
Images: Shutterstock (3); Giphy; Unsplash
Why Squats Won't Get You Your Dream Booty, And What To Do Instead
Squats have never been such a popular exercise as they are right now. Every where I look, men and women everywhere are taking up all the squat racks and Smith machines just squatting their lives away. There are booty building guides that have you doing sets after sets of nothing but squats. And still, after all my time in the gym, squats are some of the most incorrectly performed movements I've seen, setting people up for injury. And even after all those damn squats…I always hear people complaining about lack of results. So what TF gives?
Let's start off how I love to start off everything: with the basics, baby. The basis of the squat move is pushing your body away from the floor, extending up from the hip and knee joints. So, going from low to high. Sitting to standing. Sounds simple right? Like, Grandma Edna who is 80 can go from sitting to standing. Now add into that…
The range of motion of your ankle joint, making sure that your heels NEVER leave the ground (and I mean NEVER, even if you're doing a heel elevated squat where your heels are on propped on plates, your heels should not leave contact with the plates).
Focusing on pushing your hips back as far as they can go (this will ensure that the movement is firing your glutes and hamstrings as much as it fires the quadriceps).
Engaging your core as you lower AND as you rise.
Flexing and squeezing your glutes at the very top of the squat as you stand back up.

It's a lot to think about, guys, I know. When done correctly, squats are a fantastic movement for determining strength. I mean, it's the cornerstone movement of many Olympic lifts such as the snatch, cleans, and jerks for a reason. It is a super effective movement for developing strength and size in your lower body…just maybe not so much for your butt.
Studies have shown that the basic squat is actually activating much more of the quadriceps than the hamstrings and glutes, the areas we really want to target. It's no wonder that those who have only been squatting in hopes of butt gains aren't usually satisfied with the results. Please don't get me wrong, squats are GREAT, but for the purpose of booty gains, there are better options out there to help you achieve your goals more effectively.
Instead of squatting like a basic fitness commoner, a study in 2015 (and results I've seen IRL) have shown these movements to be more effective in gluteal activation during an EMG test: a single leg squat, a side step up, and hip thrust. I explain the correct way to do each of the moves below. If you're a beginner, don't add weights until you're comfortable with the movements of each exercise.
Single Leg Squat

You can use the assistance of a TRX rope to help you move through this exercise.
Standing on one leg, flex your other leg so that it is more parallel to the ground in front of you. This way it's not touching the floor, so you're not cheating yourself.
Push your hips back and begin to bend the standing knee like you're sitting in a chair behind you.
Pushing from your HEEL, slowly push yourself back to standing.
Side Step-Up

Stand right next to a bench or elevated step. The leg closest to the step will be the one working.
Stepping laterally, push up on the heels to lift yourself into standing position on the step.
Slowly lower, keeping your working leg on the bench.
Hip Thrust

Lying on your back, place your feet on the ground, knees bent.
Driving up from your heels (sense a pattern here?), lift your hips straight up into the air.
Engage your core to stabilize yourself and prevent OVER-extension of the lumbar (that's not doing you any favors, don't be extra).
Slowly lower your hips back down to the ground.
When it comes down to it, squats are a great exercise, they just aren't doing exactly what you want them to. No one likes to waste time at the gym, so it's all about figuring out which exercises are the most efficient in terms of meeting your goals. Try these other ones out, and you might finally get that Instagram-model ass you've been squatting toward for years!
Images: Giphy; Unity Intensity; Gfycat
7 Simple Exercises To Improve Your Sex Life
I know working out is good for my health, will help me have a longer life, blah blah blah. But most of the time sometimes, lying on the couch with a bag of chips, binge-watching Grey's Anatomy is all I want to do. Working towards a bikini bod is good motivation and all, but sometimes you need a little extra push to go to the gym (or, if I'm being honest, to simply roll out my yoga mat on the floor of my apartment). So I decided to look into exercises can get you toned and improve your sex life. That's got to be the best motivation ever. So here are some moves that can improve your sex life that aren't kegels (since I hope we already all know how important they are).

This is one of the best exercises to strengthen your core and lower back, which are two of the most used muscles during sex. To do a pelvic tilt, lie on your back with your knees bent hip-width apart and feet flat on the floor. Keep your arms by your side on the ground. Raise your hips up into a bridge position. Keep your core engaged and squeeze your glutes as you raise your hips. Slowly lower back to the floor and repeat 20 to 25 times.

Who doesn't want a good ass? This isn't just one of the best exercises to improve your sex life, it also enhances blood flow to your vajay, which helps with arousal and orgasms. Also, your glutes play a major role in thrusts so the stronger the muscles, the stronger the pumps. You might already know how to do a squat, but in case you don't: Stand with your legs hip-width apart. Keep your arms parallel to the floor at shoulder height. Lower your hips to the ground as if you are sitting on a chair. Rise back to standing when your legs are parallel to the ground. Squeeze your core and glutes as you rise back up. Repeat 15 to 30 times, slowly.

One of the best ways to give your sex life a little boost is to increase your flexibility. The more flexible you are, the crazier the positions you can do. Stand with your feet wide apart. Lean to your right. Bend your right leg (keeping your knee over your foot) and straighten your left leg. Rise back to a standing position. Repeat on the left side. Do 10 to 20 reps, alternating sides.

This move may seem like it isn't doing anything, but trust me, it is. By strengthening your core and your ability to lean backward, you'll be strong enough to stabilize yourself while you are doing the dirty, which can help with positions like cowgirl, among others. Start on your knees (as if you're gonna—nvm) , with your knees together, and not resting your butt on your feet. Lean back at a 45-degree angle, keeping your head and neck in line with your spine and legs. Hold yourself there for a few seconds and then return to an upright position. Repeat 5 to 10 times.

This one is a full body workout and is one of the best exercises to improve your sex life. Stand straight with your legs together. Bend at your hips and reach for your toes (to help you improve flexibility). Then slowly reach forward, keeping your legs straight, until you are in a plank position (to work on your core muscles). Then, slowly walk your hands back towards your feet, again, not letting your knees bend. Repeat 6 times.

This yoga pose is incredible to loosen up your lower back, shoulders, chest, and abs. It also helps to strengthen your arms and shoulders. How will this improve your sex life, you ask? It's simple: the looser your muscles are, the better the sex. To do it, lie flat on your stomach with your legs out straight and your arms bent by your chest. Use your hands to push against the floor and raise your upper body away from the ground. Keep your hips and legs connected to the floor.

This is another one of those yoga exercises to improve your sex life, that will loosen your muscles and improve flexibility. Like, complaining of tight hips and lower back pain can really put a damper on the mood. So what you're going to want to do is lie on your back with your knees bent towards your chest. Hold each foot in your hands and open your hips, allowing for a deeeeeeep stretch. The looser your hips, the bendier you are!
Images: Ruslan Zh / Unsplash; Giphy (7)
Everything You Ever Wanted To Know About Celebrity Butt Enhancements
Last week, I wrote about celebrities' semi-permanent face enhancements. As you all pointed out in the comments, celebrities enhance more than their faces—so I'm back, and today we're talking about butts. Having a big butt is the 2013 and beyond Holy Grail of hotness, so it's unsurprising that butt enhancements have skyrocketed in recent years. It's a Kardashian world, and we're all just living in it. So, for those of you squinting at the waist-to-hip ratio in your IG feed and screaming "HOW" into the void, here's a rundown of butt enhancements available (and who's admitted to having them).
What Butt Enhancement Procedures Are Available?
If you're looking to surgically revamp your butt (a phrase I never thought I'd write), you have three basic options. A traditional butt lift involves removing any sagging/excess skin, maybe a little fat, and all around "lifting" the area, as the name implies. Then there's butt implant surgery, which involves placing a silicone implant on each butt cheek. Finally, there's the "Brazilian Butt Lift," which involves grafting fat from other parts of your body via liposuction and then re-adding it to your butt.
The Brazilian Butt Lift is increasingly popular for a few reasons. Implants have a higher complication rate, which makes sense. I'd rather keep my body as silicone-free as possible. Patients are more likely to experience pain and infection, and are banned from sitting directly on the implant for several weeks after the procedure because the placement can shift. (TBH I'm having trouble figuring out how this even works. Do you sleep face down? Are your legs freakishly strong from standing all day for three weeks? I'm exhausted just thinking about it.) Regular butt lifts don't have these implant-specific issues, but in an age where you're really trying to maximize size, a lift won't quite have that effect. So, the "all natural" shifting of fat from other parts of your body is becoming the most popular procedure.
And while Brazilian Butt Lifts are sold as the "safer" option, this procedure also poses a risk of severe complications. Fluid buildup, infection, and pain are all common, not to mention possible complications from anesthesia. Finally, all butt procedures require not sitting down for a while after—and they each cost several thousand dollars. Paying money for the privilege of not sitting down sounds like my daily commute, but whatever.
A quick reminder of the reason we're all getting these procedures: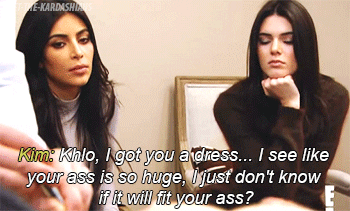 What About Butt Injections Specifically?
But wait! You've probably heard about butt injections too, because it's 2018 and there's little that a carefully placed syringe can't fix. (Except the economy, American democracy, and, oh yeah, your butt. Sorry!) I'm not including injections with the other procedure because for the most part, these are unapproved procedures with huge risk factors.
You may have heard Cardi B's horror story of getting synthetic filler injected into her butt in someone's basement. The aftermath included crazy pain and five days of "leakage." But in the grand scheme of things, it sounds like she got off easy. The reason these procedures are so dangerous is that injectable silicone can break off into small pieces and spread through the body. Your body can react to these bits of silicone with an inflammatory response, creating chunks of hard tissue around the silicone bits. Or you can get a more serious infection that requires a surgeon individually draining "the pus and stray clumps of silicone" floating around your butt. Finally, it can lead to a stroke, embolism, or even death if the silicone continues to move through your body unchecked.
Read all that and still want butt injections? God help you There's something called Sculptra injections. The intended use of this product is for smoothing facial wrinkles, and it hasn't been approved for butt enhancement specifically. Nonetheless, some surgeons are using watered-down versions of the filler and injecting it into their patients' butts for a "gradual volume" effect. The procedure sounds much less intense—only a few minutes, no anesthesia—but still costs several thousand dollars and only lasts 1-2 years. Plus, some patients have reported "dimply skin and uneven results," which sounds to me like they just paid to have cellulite injected.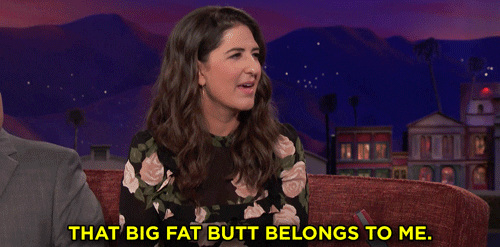 OK, Who Has Them?
Well, this question's honestly a bit trickier to answer. While I complained in my last article about celebs not disclosing their facial treatments enough, butt enhancements are wrapped in a whole other shroud of secrecy. For every one celeb claiming their flawless skin is a result of clean eating and wearing sunscreen, we have 10 more swearing their backsides tripled in size just from a new squat regimen. TL;DR everyone thinks at least Kim Kardashian, if not all Kardashians, have gotten butt augmentation, but no one will admit it.
Celebs who have admitted to it are Cardi B, as outlined above, and surprisingly, Heidi Montag. This was in her marathon 24 hours of plastic surgery back in 2010, which unsurprisingly went super poorly—to the extent that she legally DIED for a full minute. Like, Spencer was told in the waiting room, "she's not going to make it." I digress. The laundry list of surgeries she underwent included butt augmentation (unclear what type).
Other celebs who have admitted to butt procedures are D-List are rare, but I'll give you the names in case you care. Kailyn Lowry from Teen Mom 2, "Queen of Porn" Jenna Jameson, Playboy playmates Kristina and Karissa Shannon, Renee Graziano from Mob Wives, and Only Way Is Essex star Chloe Sims. Not too many surprises there.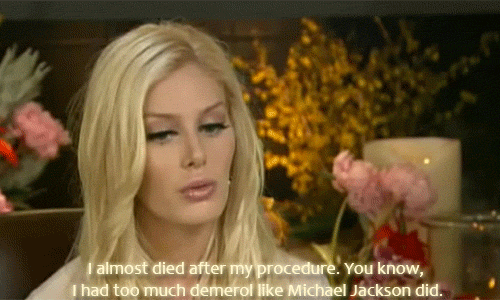 As with any kind of beauty treatment, I'm all for doing whatever makes you feel good. But as I've said before, I start having an issue when celebs claim their results were achieved through natural means. It's annoying, it's obviously a lie, and it makes the people who actually spend hours in the gym squatting—and not achieving those same results—feel bad. Also, in the case of butt augmentation, I'd argue that the risks often outweigh the reward. Not to mention, what are all these people with butt implants going to do in five years when big butts go out of style? At the VERY least, never, ever get injections from unlicensed practitioners—horror stories are frequent and gory.
Images: Giphy (3)
3 Unexpected Ways Show Off Your Butt
You and I both know you haven't been paying for $30 SoulCycle classes because you "just love the way exercise makes you feel." You've been working hard to look good, and now it's time to show off your butt that you've been working so hard for. Sure, you could rock those high-waisted shorts with the hemline that's literally at your ass cheeks, but that might not work in all occasions, like work and family gatherings. Or like, maybe it's cold outside, IDK. So you want to make your butt look round and toned without actually exposing it. Life is hard. Keep in mind as you shop for your own butt-flattering ensemble that there are a few key outfit components that will help draw attention to your derriere. I've styled three occasion-specific outfits that will best show off your butt. And don't worry if you're ass is basically nonexistent—these outfits will work for flat and bubble butt girls alike. There is a god.
For Being Out & About Running Errands…
You probably already know what I'm going to say here. Yup, YOGA PANTS. Ask any guy on a college campus (or like, in existence) and he'll tell you the wonders of yoga pants and the magic they do for a girl's ass. To up the ante even further, wear your Lulus with a crop top to show off your midriff and really accentuate your waist. This will draw attention to the contrast in size between your tiny waist and now-looking-extra-fat ass.

From left: Brandy Melville Serena rainbow top; Lulu Lemon Wunder Under hi-rise tight full-on Luon 28″
For When You're Daytime Casual
Daytime casual can pretty much mean anything from shopping with your friends to dinner with your boyfriend's family. These are the outfits you wear when you want to look like a put-together classy lady and not like your true trash bag self headed to 1Oak. This is the instance when you'll most likely reach for your jeans, so let's discuss what to look for in your denim specifically.
When shopping for denim to accentuate your ass, look for styles that will contour your butt. I know it sounds ridic, but then again what don't we contour these days? You want to look for jeans that have strategically placed sanding—basically, envision your best Mudd jeans from middle school. Remember how the butt was a lighter shade than the rest of the pants? There was a reason for that. That's the same kind of style you'll need now in order to perfectly flaunt the shape of your butt. Lighter washes of denim in general will help draw additional attention to your ass, so get yourself a pair of Levis which are vvvv trendy right now.
Another thing to look for when choosing your jeans is back pocket details. Details, such as pocket flaps and zippers, add volume to your butt and draw more attention to it. But be careful, because huge pockets will make your butt look smaller, so look for smaller pockets. You should also always look for high rise styles to, again, highlight the contrast between your butt and waist. Pair your high waisted denim with a peplum top which automatically accentuates curves.

From left: Ale by Allesandra x Revolve Caridad top; AGOLDE Jamie high rise
For When You're Out On The Town…
Head to your local Body Central or Wet Seal (if that still exists) because the only thing you'll need to show off your ass is a bodycon dress! If you want to look *slightly* more classy, pick one with a high neck and long sleeves. This style will make you look hot without looking like you're trying to look hot, even though you are trying to look hot. I know, being a girl is hard. Anyway, a solid colored style of dress will look chic as hell and show off your ass without distracting away from it.

Cue "Anaconda" by Nicki Minaj 'cause you're ready to show off that ass whatever the occasion!
Images: Brandy Melville; Lululemon; Revolve (2); Free People
6 Moves To Tone Your Legs And Butt For Shorts Season
After a god-awful winter and no spring season whatsoever, summer has arrived, and it literally has no chill. We totally skipped over denim jacket weather and basically went straight to face-directly-in-the-AC-vent weather, so it's time to dress accordingly. If you're putting on your shorts for the first time in a year and notice your legs could use some much-needed toning and tightening, don't panic. Do these six leg exercises, and once you're done, repeat the whole circuit another three times to really tone and strengthen your legs. And also, like, try not to cry when you sit down tomorrow. Consider yourself warned.  
1. Curtsey Lunges
Regular squats and lunges can get boring and repetitive, so trying out different leg exercises and variations help target your muscles in a different way. Curtsey lunges are great because they hit various muscle groups in your quads and glutes, and they also challenge your body's overall balance and stability. They're v underrated. The idea here is to lunge backwards like you would regularly, but instead of bringing your knee directly behind you, bring it in a diagonal direction, crossing behind your other leg. Like a curtsey, get it?? Bend your knees and lower your hips until your thigh is parallel to the floor. Then, return to standing position and do the same on the other leg. Complete 10 reps per leg, and if you feel like it's too easy, hold a weight in each hand to add resistance.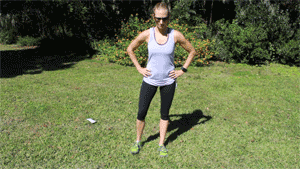 2. Swiss Ball Hamstring Curls
This exercise is based on using a swiss ball, but if your gym doesn't have one, this can also work using TRX bands or the rowing machine. Begin on the floor by lying on your back with your feet up on top of the ball. You want your ankles to be on top of the ball when your legs are fully extended. Raise your hips off the ground, keeping your weight in your shoulders and your feet. Then, flex your knees, pulling the ball inward toward your body while squeezing the backs of your legs. Once the ball is "curled" inward, straighten out your legs again, rolling it outwards. Aim for 15 reps.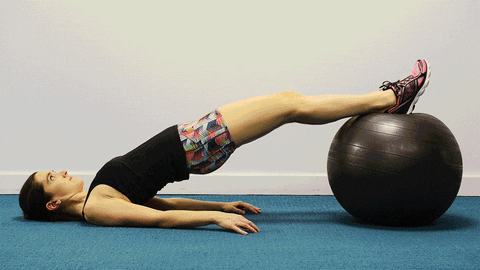 3. Single Leg Glute Bridges
Glute bridges are a classic butt exercise, but by focusing on one leg at a time, you also hit your hamstrings, which are the muscles that make up the backs of your legs. You're basically getting the best of both worlds because you're working your thighs and butt in one simple move. Lucky you. Lying on a mat, keep your hands at your sides and your knees bent out in front of you. Then, extend one leg as you lift your butt off the ground, squeezing your glutes and lifting your hips toward the ceiling. Think about pushing down with your left heel as you lift. Do 10 reps on one leg and then switch to the other.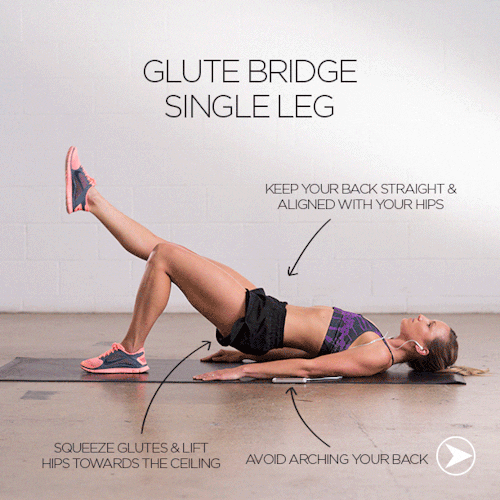 4. Jumping Sumo Squats
We tend to do a lot of squats and jump squats in our leg workouts, but the sumo squat is a different variation that a lot of people ignore. The idea here is to do a jump squat, but your stance is more like that of a ballerina, with your toes turned outward and your legs further apart than they'd usually be. This way, when you squat down, the resistance shifts from your quads to your glutes, and it becomes more of a butt-focused movement. You're also getting your heart rate up and burning calories because like, you're jumping. Duh. Try doing 15-20 jumps without stopping.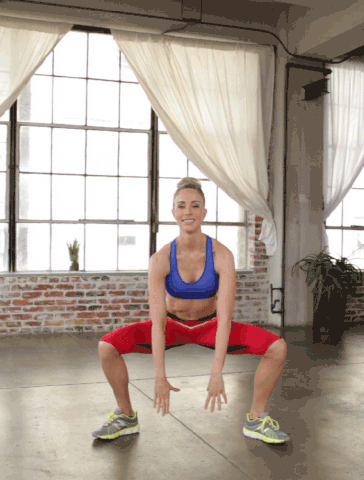 5. Elevated Reverse Lunges
Reverse lunges are a staple leg movement, and by elevating your front leg, you're adding pressure to that leg's quad muscle, and you REALLY feel the burn on these. The idea here is to find some sort of box or elevated step that you can put your front foot on, and then lunge backwards, bringing the back leg even further down than you would on a regular surface. This way, your quads get more resistance—kinda like when you turn up the torq on a spin bike. Remember to keep your chest up and head straight the whole time to avoid leaning forward. If these are too hard, lose the elevation and just do lunges on the ground. And if they're easy, hold a weight, like the badass chick in this gif.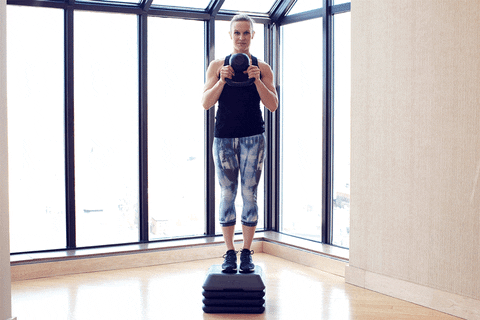 6. Wall Sit
Wall sits look relatively easy, but you might notice after a few seconds that your thighs are on fire and you want to die. This is normal. This move is also great because your body is basically in a squatting position, but your back is protected, so you can really engage all of the muscles in your legs to keep you stable. With your back flat against a wall, set your feet about shoulder-width apart, about two feet out from the wall. Slide your back down the wall, bending your knees as low as you can get. Hold the position for one minute, and remember to contract your abs while you're holding it. Your legs will probably start shaking, but that just means it's working. Just think about how good your legs will look in your new romper.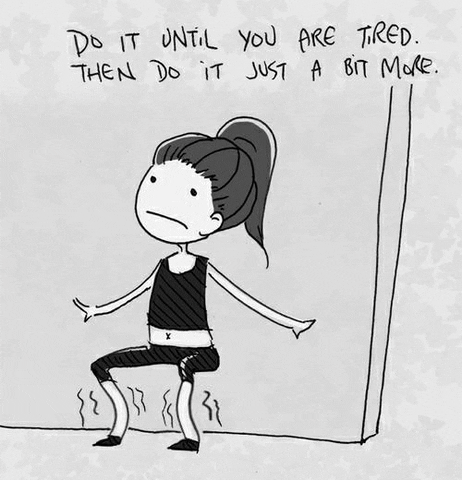 Images: Shutterstock; Giphy (6)
The Ultimate Butt Lift Workout For People Who Can't Afford Injections
We're living in a society that convinces us to drink apple cider vinegar to get skinny and delete Snapchat because Kylie Jenner isn't feeling the new update. It's a weird time to be alive, so let's just pretend this whole perky butt fitness trend is normal. Everybody's trying to get that butt lift look, whether it's because your boyfriend stalks Kim Kardashian or you're deep down a #bootygainz Instagram rabbit hole. If you can't spend a million dollars on plastic surgery and you're looking to do something about your tragically flat butt, stop Googling weird hacks and just do this workout. Do each move in the circuit and try to aim for 3-4 rounds total. And like, you're welcome in advance if you can't sit down tomorrow.
1. Goblet Squats
Goblet squats sound scary, but they're just regular squats that you do while holding a kettlebell for added weight. You can also hold a dumbbell if you prefer. Stand holding a kettlebell at your chest (15-40 pounds) with the handle facing downward. Spread your legs to at least shoulder width, because the idea of this move is that it provides additional butt lift by shifting some of the work from your quads to your glutes. With your weight in your heels, squat down until your hips are at (or below) your knees, and remember to keep your chest and head up to avoid hurting your back. Pause for a second at the bottom, then come back up while squeezing your butt to activate your muscles. 10-12 reps should do it here, depending on the weight.

2. Cable Kickbacks
The cable machines might look intimidating if you usually stick to body weight or free weight movements, but I swear that it's so easy to use and you'll get the hang of it really fast. For cable kickbacks, you'll need to make sure the head of the cable is a foot or two above the ground. Once you have it at the right height, put your right leg into the hook and adjust your weight (anywhere from 10-20 pounds should work). Holding onto the cable pole or anything stable in front of you, kick your leg leg backwards, squeezing your butt at the top. Then, slowly bring the leg back to the ground and repeat, switching legs once you've completed 10-12 reps. Also, if you feel these in your lower back, try doing them on your hands and knees instead. You can still get similar butt lift benefits.

3. TRX Lunge To Knee Raise
These can be done without a TRX as well, but holding onto the straps gives you additional support and ensures you're isolating the glutes of the working leg. Holding onto the TRX strap, lunge backwards with one leg, bringing it to a 90 degree angle behind you. Then, bring the leg back up, raising your knee up until your waist, or higher if you're super flexible. The brilliant idea is that you're actually hitting two muscles at once by lunging back and then bringing the knee up. You'll get more out of these if you go a little slower, so reduce your reps to 6-8 if you find them especially challenging. And, of course, don't forget to do both legs.

4. Single Leg Bridges
Glute bridges are a classic butt lift exercise, and by raising one leg at a time, you can target your glute muscles even more by really focusing on each side. This also means that if both your butt cheeks aren't sore AF tomorrow, you were totally working harder on one side. Lying on a mat, keep your hands at your sides and your knees bent out in front of you. Then, extend one leg as you lift your butt off the ground, squeezing your glutes and lifting your hips toward the ceiling. Think about pushing down with your left heel as you lift. Do 10 reps on one leg and then switch to the other.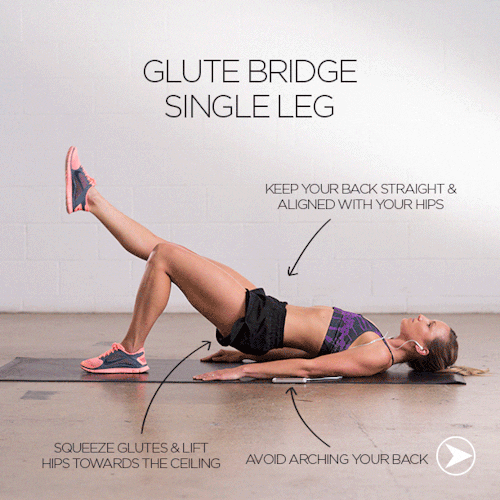 5. Jump Squats
Jump squats are a plyometric movement, so they're different than the slower reps you've been doing so far, but it's been scientifically proven that you'll get a better butt lift by combining high rep and low rep movements together in one workout. AKA, we're obviously doing these even though they suck. Jump squats are exactly what they sound like, and you won't need any weight for this move. Start in a bodyweight squat, keeping your chest high and your knees behind your ankles. Then, jump up explosively, straightening out your legs at the top, and landing back in your squat position. Your rep count doesn't matter as much here, so try to just keep jumping for 30 seconds without rest.

6. Wall Sit
This last move will cause you to feel a slow, painful burn in your thighs and butt, so this is your chance to blast that aggressive Kanye song you save for the final sprint. It's also the last exercise of the circuit, so don't give up until it's confirmed that you won't be able to walk tomorrow. The idea here is simple. You have to find a wall and sit in a squat with your back against the wall and your hands out in front of you. Make sure you're sitting low and don't cheat yourself here. Try to hold for 45 seconds, or go for the full minute if you're psychotic ambitious. For an extra super awesome fun bonus challenge, try extending one leg for 10 seconds before switching to the other one.

Images: Charlotte Winslow / Tumblr, Giphy (5),