This Handheld Device Will Save Your Couch From Your Pets
Contrary to some people's beliefs, I like to think that pet parents are real parents. (Well, my dog is just as messy as a toddler—so that counts, okay!?) As much as I love my little fur baby, he can wreak havoc on my couch—getting an all-white one was a *big* mistake—bed sheets, and literally any corner of my apartment. He sheds like crazy on some days, beats me to his bed before I can clean his paws on others, loves to leave trails of crumbs when he gets his good boy treats, or makes a mess in my car. And, let me tell you, cleaning up after a dog, no matter how big or small, is quite the trip.
I've tried so many different products, whether it's cleaning solutions like sprays, shedding brushes for grabbing excess hair, and of course, regular vacuums and mops. But, thanks to my Instagram feed and TikTok FYP, the Bissell Little Green Multi-Purpose Portable Carpet and Upholstery Cleaner caught my attention. Pet parents on both apps have filmed themselves cleaning even the toughest-looking stains in just a few minutes. It looked like a miracle device and I just knew I had to get my hands on it.
It's small, but mighty, and has a top handle that allows you to bring it along to clean pretty much everywhere. Unlike most portable vacuums, this one has a spray *and* suction feature, so you apply a cleaning solution to whatever surface you're targeting and it just scoops/sucks it right up. And its suction is powerful, like lift-carpet-stains-right-off powerful.
But, I have to say I was the most impressed with how well it cleaned the upholstery on my couch. As I mentioned before, my couch is white. My dog's fur, on the other hand, is dark and super noticeable. There have been days when he hops on there when I'm not looking, rolls around, and has a field day leaving spots and marks across the entire thing. Let's just say it's a less-than-ideal situation for a couch of this color that also wasn't cheap to begin with.
So to say I'm thankful for this Bissell is an understatement. And it's super easy to use. All you have to do is mix the cleaning solution with some water in the tank that comes attached to the device. Once that's settled, you click the spray button on the attached brush to disperse the product, turn on the Little Green, and then get to work. You'll instantly notice results, but it really works the more you pass the brush along the surface. Within minutes stains, spills, and debris are just completely gone.
Each device comes with a travel-sized option of the Bissell Spot & Stain solution, but you can purchase larger-sized bottles for the future on Amazon, too. And if you needed any more convincing, each purchase saves other fur babies through the Bissell Pet Foundation which helps rescue homeless pets. Now, that's a win-win situation.

Shop It: Bissell Little Green Multi-Purpose Portable Carpet and Upholstery Cleaner, $109.59, Amazon

Shop It: Bissell Pet Pro OXY Spot & Stain Formula, $12.98, Amazon
A Guide To Cleaning Your Closet So It's Not Filled With Useless Sh*t
With a lot of us being stuck at home for the foreseeable future, what better time to get ahead on spring cleaning? Or, since spring is basically canceled this year… cleaning. When it comes to cleaning out your closet, mental discipline is key. Start by preparing yourself to say goodbye to a lot of crap. You might think you don't have a ton of useless stuff, but trust me, you do.
Cleansing is a process that you should take one season at a time, and it's best to focus on the task at hand—so begin by storing your fall/winter wardrobe away because it's almost shorts season. (Although whether or not we will be able to spend extended time outside in our shorts is another question, but let's be hopeful here.) When storing large fall/winter items, one tip I recommend is using large, clear and flat sweater boxes that can be slid under your bed and out of the way. They are great for bulky sweaters and larger winter items.

Rubbermaid Cleverstore Clear 16 QT Pack of 6 Stackable Plastic Storage Containers with Durable Latching Clear Lids
When assessing your warm weather wardrobe, categorize each item of clothing into toss, donate, or keep piles. Allow yourself one SMALL drawer for the clothes that you just refuse to let go of, even though you know you're not ever going to wear them, or you're delusional enough to think you just might. (And when I say small, I mean SMALL, so choose wisely my friends.)
Toss
Tossing clothing is easier said than done, but acceptance is key to a successful closet. If an item is stained, has holes, or is hanging on by a literal thread, toss it. Get rid of it, sayonara. There's no point in having a damaged piece of clothing taking up precious real estate in your closet.  Also toss tube tops, tiny sunglasses, and wedge sneakers. You'll thank me later.
Donate
Choosing what to donate takes a more diplomatic approach. Now that you've gotten rid of your pit stained T-shirts, I recommend asking yourself these questions and then ACTUALLY being honest with your answer.  
1. Have I worn this in the last three months? If yes, keep. If no, Donate.
2. Does it fit me comfortably? If yes, keep. If no, Donate.  
Donate all "goal weight" and "fat clothes". You are PERFECT as you are, at the size you are right now.  Share the love and let someone else have that dress that used to fit in college, and rock the dress that fits your fabulous self now.  
Note: If you have a piece that you absolutely love but doesn't fit, a good tailor is key, but also expensive. You want it to be worth the repair price, so only alter pieces that have true staying power. 
3. Can I create at least three outfits to wear this item with? If yes, keep. If no, Donate.  
My favorite quote when considering what to keep versus give away is: "Have nothing in your house that you do not know to be useful or believe to be beautiful." It might be helpful for you to keep that in mind as you go through everything.
Keep
You should love and utilize every piece in your wardrobe. The easiest way to organize your "keep" pile is to separate between what to keep in a drawer and what to hang. Denim, T-shirts, and sweaters should be folded and put in drawers. Sweaters lose shape on the hanger, and can pull, so they are safer folded; store in order of knit weight and color (darks on bottom, lights on top).  
Fold your denim into thirds, separate by style and store by wash, dark wash at the bottom to light wash on top.  

Hang the remainder of your wardrobe and organize it by category (dresses, jackets, tops, bottoms, etc), color (light to dark), and material (keep like fabrics together within each category). Use felt hangers—they save space and are easier on your garments. Once that's organized, arrange each category by sleeve length, going from short to long, left to right, with the hanger facing towards you like a question mark. This makes it easier to "read" your wardrobe. 
The end goal is to have a functional, cohesive and thoughtful wardrobe so you can worry about spring fever (too soon?) and not your closet.
Joey Clark is a native of Tucson AZ.  In April of 2017, Clark focused all of her energy on opening her own boutique in Philadelphia, as the culmination of a decade in the industry. Through Kin Boutique, Clark has created a retail experience focused on inclusivity and community. Her strategy is to invest in everyday, staple items and fill in with lower priced trends. She believes in loving every piece in your wardrobe regardless of the size of your waist or your wallet. For more information visit www.shop-kin.com or @shopkinboutique on Instagram.
Images: Sarah Brown / Unsplash; Elena Mitusova / Shutterstock.com
Betches may receive a portion of revenue if you click a link and purchase a product or service. The links are independently placed and do not influence editorial content.
I Marie Kondo'd The Guys In My Phone & Deleted Everyone Who Doesn't Spark Joy
If you have working eyes and ears, then you probably already know that the internet is freaking tf out over Netflix's latest hate-watch Tidying Up, which is all about the KonMari method of organizing. The revolutionary tidying method that involves rolling your frat formal T-shirts (because, yes, I still have those at 27 years old and, YES, they still bring me joy) instead of stacking them is the one that's sweeping the nation. Never mind that my mother has been telling me to roll instead of stack for the last 15 years of my life. If she wanted me to actually follow that piece of advice then she should have told me how well that content would perform on my IG stories. Just saying, mom!!
In addition to rolling our clothes, Marie Kondo, the cult leader mastermind behind the tidying method, also wants us to throw out all of our sh*t unless it "sparks joy in us." To which I'd just like to say, CHALLENGE ACCEPTED, MARIE. Look, just because I own all seven seasons of Buffy The Vampire Slayer on DVD when I do not own a device with a DVD player anymore doesn't mean those DVDs don't spark immense joy in me anymore!!
That said, Marie Kondo did get me thinking about if I could apply the KonMari method of tidying to other aspects of my life. Just because I'm not ready to throw out the Kappa Sig Semi Formal T-shirt from 2012 doesn't necessarily mean I'm not ready to throw out the former Kappa Sig frat member who gave me said shirt from my phone book, right? So, in the spirit of Valentine's Day I decided to use the KonMari method for organizing the men in my life, specifically the ones still wasting space in my contacts list, to see if it would bring me joy or just bring me more homicidal feelings by having to look at their names again.

Emily gets it.
For the sake of time (I assume if you're reading this you probably don't have the next 1,000 hours free to analyze my love life, no?), I'm only going to touch on a few of the men who inhabit my phone. I'm going to organize them by name, how we met, amount of time he's been in my phone, if he still sparks joy, and finally where I landed on it all. I promise it will only slightly feel like you're being emotionally waterboarded. So let's get started!
Guy #1: Jake*
How we met: College. I had to go back into the catacombs of my contacts list to the very first f*ckboy to ever wreak havoc on my life, Jake. A little bit of background about Jake: I met him in college when he was rushing a fraternity. His favorite hobbies included reading Fight Club and Zen and the Art of Motorcycle Maintenance and then talking about said books as if he were the first white male in a polo to ever do so. His other favorite hobbies included listening to sad country music and dumping me in public places. Damn, I had great taste!
We were on and off throughout college despite the fact that he once dumped me on my birthday, mid-throw in the middle of a beer pong game. I hadn't heard much from him post-college until his satanic 6th sense for my emotional well-being caught wind of me engaging in healthy romantic behavior and he decided to hit me up via several phone calls between the hours of 11pm-3am. That's sort of been our relationship ever since.
How long he's been in phone: 9 years *shudders*
Does his number spark joy: Hmmm. Does hating myself for 48 hours after drunk dialing him count?
Final verdict: Delete, delete, DELETE and maybe call the goddamn police. Tbh, this one was long overdue. I kept his number in my phone for so long mostly to remind myself that I'm better than him and to have on hand just in case. You know, just in case I blackout at 1pm after brunch on a Saturday and want some attention. We didn't even live in the same state for years so I always thought "what's the harm?" As if shame-spiraling for 72 hours after any contact with this person is not harmful. No no no no. Time to go. BYE.
Guy #2: Andy*
How we met: Tinder. Y'all say what you want about Tinder being a hookup app, but I've gotten way more dates off this app than any other one. Andy and I met when I first moved to New York and was living in a self-proclaimed "heartbreak hotel." By "self-proclaimed," I mean me and my roommates at the time made a group Twitter account to document our love lives and thought this was going to be our big break. To this day I think we have approximately 200 followers on that account.
Anyway. Moving on. Andy and I dated for about 4 months. And I don't mean we "dated" between the hours of 8pm-2am, Thursday-Saturday. I'm talking about an almost-relationship here. We went on movie and dinner dates, and I spent enough time at his apartment to warrant having a spare set of contacts in his bathroom—it was that legit. The relationship ended, however, when I had the audacity to DTR right before Christmas break and he disappeared off the face of this earth. Seriously. I'm still thinking about putting his face on a milk carton.

How long he's been in my phone: 1 year
Does his number spark joy: I have more joy for fat free ranch than I do for this person.
Final verdict: Delete. This one was pretty easy to get rid of. Looking back, there wasn't a whole lot of heat in our relationship. I think his most appealing quality was that he took me on dates and, for the most part, treated me like a human being with actual human feelings. I was just starting to like this guy when he went into witness protection (I assume) and we weren't together long enough for me to really get hurt. He doesn't bring me joy or even mild excitement at the thought of him sending me a "u up?" text out of the blue, so I guess that's when you know it's really over. 
Guy #3: Nate*
How we met: A bar. This guy I met after day drinking for six hours in the West Village and then decided to keep the buzz going into the night. I was hammered and he was very cute and it took me at least three outings that were very similar to the first one before realizing that the reason we always met up at the same bar is because he literally couldn't get into any others with his ID. I believe his exact words to me when I questioned him about his age were: "I'm basically 21." When he found out how old I really was (24 at the time), he was a bit too enthusiastic over our age difference. Though I wasn't even old enough to rent a car, he treated me like I was a goddamn Mrs. Robinson and would say things like "teach me" in the bedroom. Did this stop me from hooking up with him for the rest of the summer? Absolutely not. We cut things off when he had to head back to school early for lacrosse pre-season training. We still Snapchat each other occasionally.
How long he's been in my phone: 3 years
Does his number spark joy: Only in the amount of jokes I've been able to tell from the line "basically 21."
Final verdict: Keep. I mean, why not? Maybe when he finally graduates college we can grab a beer with the ID that has his legal date of birth. Nate, if you're reading this, call me!
Guy #4: Patrick Tinder
How we met: Tinder. I'm not even exaggerating when I say this is verbatim how his name is written in my phone. I believe our relationship lasted for about three days in the summer of 2015 where we exchanged deeply intimate conversations Snapchats and he asked me to come "sit on his stoop." I have a feeling he wasn't talking about the beautiful architectural masterpiece he inhabited in Bed Stuy!
How long he's been in my phone: 3.5 years
Does his number spark joy: Lol is this a real question? His number holds about as much sentimental value to me as the extra sock I found in my dryer the other day.
Final verdict: Delete. His number was the cockroaches of phone numbers because it somehow survived two stolen phones and a iCloud memory wipe. Suffice it to say, I shed no tears getting rid of his stoop-sitting ass.
Guy #5: Andy 2.0*
How we met: Tinder. Just to clarify: yes, I did meet two different Andy's on Tinder and date them. I'm saying "Andy 2.0" like he was the better Andy, which is absolutely not true. He was just the second Andy I dated in the span of two years. This guy was interesting because, though I met him on Tinder, he was vouched for my a friend of mine who'd grown up with him. This made me believe that he was not a piece of sh*t when he really, really was. About a month in I realized he was definitely only in it to hook up (and on his terms only) and so I tried to do what Andy #1 did to me: ghost him. It did not go well. If I ignored his texts he would hit me up in earnest for weeks with "I miss you" and "u mad?" and "I just want to see you". IF I would fall into his trap and meet him for a drink, he would immediately bring up going back to his place because didn't I want to see the view from his dick new apartment? Once we'd hook up he'd disappear into the ether for 2-3 months with his views of my IG story the only indication that I hadn't made him up. Rinse and repeat for two f*cking years.

How long he's been in my phone: 2 years
Does his number spark joy: His number certainly sparks something in me. But it's less of a joy feeling and more of "set fire to everything he knows and loves" feeling. Ya know?
Final verdict: Delete. Why I kept this guy around for so long is really just a testament to how low I'll stoop for attention. Thank u, nextttttt.
So there you have it. Do I feel happier now that my phone is a little more f*ckboy free? It's hard to say. I certainly feel less of an urge to set fires so, that's something right? I'll take it. 
*All names have been changed to save them from public ridicule. (Not that they deserve it).  
Images: Giphy (4)
Organizational Products You Need To Channel Your Inner Marie Kondo
Like the rest of the world, I am really, really obsessed with Marie Kondo right now. Like, I need her to follow me around and give me life advice all the time. She could tell me which of my dates are trash and don't bring me joy. She's like Xanax in person form with her little calming voice. There is nothing that woman can't handle, and she'll make it pretty and decluttered in the process. If you want to live as peacefully as Marie, you def can't be throwing all your sh*t around all the time because living in clutter stresses everyone out. I bought a TON of organizational products after moving to smaller apartment last year and even more after watching her show, but here's a list of my favorite have-to-have organizational products if you want to live the Marie Kondo way. It's like I'm Oprah, here are my FAVORITE THINGS:

This rack is the best. Not only is it super cheap, but I was also able to build it in about 7 minutes. I'm no Rob Parks-Valletta, but if you ask Scheana that's pretty impressive. I used to have a way bigger closet and I kept my shoes in clear plastic boxes (which is totally the way to go if you have the space) but in my new tiny af walk-in, this saves soooo much space. I have it against the wall where there isn't hanging space and it fits exactly 30 shoes—booties and heels included. They also have a hanging version for the back of your closet door (I have both for max storage) . Pro tip: Put your heavy shoes on the bottom, which I originally didn't do and eventually my tower started to sag. The tower is also attractive enough that it can be on display in your room without being totally heinous.

I started meal prepping because I never have time to cook, which caused me to eat out all the time, which caused me to gain weight. I've been using old takeout containers for ages to portion out my meals, but they're ugly, they crack, they take up a lot of space in my cabinets, and they come in so many different shapes and sizes and I can never find the f*cking matching lids. I finally decided to buy nice glass containers, and it changed my life. They are easier to clean, look nicer, have locking lids so they don't spill, and are oven/dishwasher/microwave/freezer safe. I have this set of 5 instead of 30 cheap broken ones, and I feel like so much more of an adult.

This is for that "paper" section that makes people cry on Tidying Up With Marie Kondo. Why? Why are you saving old receipts from 2009 anyway? Once you go through all of your paper, photos, etc., save what you absolutely must keep in this adorable organizer. It also folds up in case you don't have an office and don't want it as wall art.

You have no idea how ashamed I am of myself. There is nothing, nothing that excited me more than the day I first used my Joseph Joseph Kitchen Drawer Organizers. This is because I have the World's Tiniest Kitchen™ and I have no drawer space. These trays are so genius. I was able to use both the cutlery one and knife one in one standard kitchen drawer with room to spare. Cutlery used to take a whole drawer by itself and then I had all my kitchen knives haphazardly thrown about in it and risked violent death every time I needed one. Okay, at least a light stabbing. NOT ANYMORE. I have these right next to each other and then in the additional space leftover, I have odd kitchen items like wine openers, chopsticks, pho spoons, rubber wine corks, etc. This is how I know I'm old, cutlery organization brings me SO MUCH joy.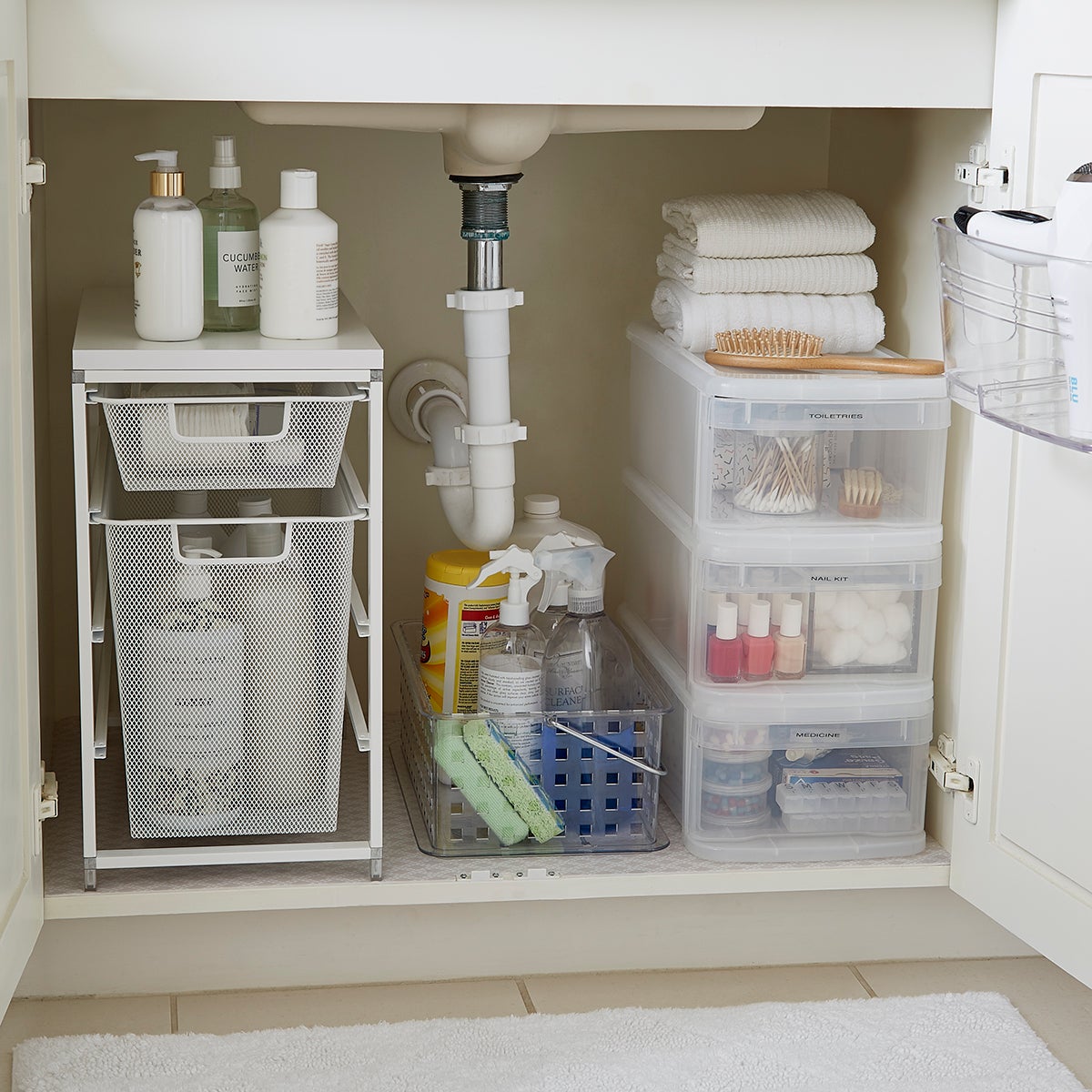 I saw this on Instagram and my mind exploded. Let me ask you, is it weird to be sexually attracted to a bathroom storage set? I mean. Just look at the picture. My bathroom under sink area was full of baskets that were stacked on each other and I had to move each one to get things out of them. This is so much better. However, definitely measure your under sink before you just buy all the stuff. I learned the hard way that my sink pipe is not so neat and narrow as the picture and instead juts out sideways to take up a ton of unnecessary space. I was only able to fit two stacking drawers instead of three, and there was no room for the little caddy in the middle. But I just kept those items and put them under my kitchen sink. I still regret nothing and I can find things so much easier now.

This is one of those weird organizational products that I never knew how much I needed. Since I like to procrastinate doing laundry for as long as possible, I go through a lot of clothes and all my hangers end up all over the place. Usually on the floor of my very tiny closet. Which then I accidentally step on them as I'm trying to get to my clothes. And then they break. And then I cry, because they're those slim-fit velvet hangers, which btw, save so much space and are a total must-have if you somehow missed the boat when they started being trendy 10 years ago. But I saw this hanger stacker recently and was like, "actually that could fit in my tiny closet next to my shoe rack" (see above). So I decided to give it a try and it is so convenient. I just neatly toss all my hangers on it as I use my clothes. It's also way nicer when you need to hang things back up, since they're all in one place, you don't have to go hunting for them. We've had no hanger casualties or closet clutter since!
Images: Amazon (5); The Container Store; Netflix
Betches may receive a portion of revenue if you click a link and purchase a product or service. The links are independently placed and do not influence editorial content.
5 Steps To Organize Your Room And Declutter Your Life
I have to tell you guys something. I am kind of a hoarder. Like, not in a gross A&E kind of way, but just in that I buy too many things and keep them forever "just in case". My bathroom is a super organized graveyard of products in every scent imaginable, and yet I keep buying the same two things I actually use and don't touch anything else. It doesn't help that I'm the reigning queen of bargain shopping, as I can get a lot of stuff for a great price. Meaning I have a lot of stuff I don't need. I'm moving soon, so I am currently on a decluttering spree to completely clean out my entire life and move into my smaller and somehow more expensive apartment (ugh) without every cocktail dress I wore to sorority formals in college. If you need to declutter your life rn too, here are my tips.
1. Follow The One Year Rule
The One Year Rule is simple. If you haven't worn it or used it in a year, it needs to go. The exception is if it's like a cocktail attire or a costume—something you need on hand, but don't use on the reg. A good way to test this out is to put all your hangers in your closet backwards. When you wear and replace an item, you put it in facing forwards. In a year, you donate anything that still has a backwards hanger. I do this, and I still cry when I get rid of the "back hanger" items. On that note, get rid of anything damaged, anything with bad memories, or anything that no longer fits. Look, I want to be optimistic too. I currently have all of my size 0 dresses from my sorority days, ready and waiting or me to give up carbs and alcohol so I can fit in them again. But let's be real, I don't want to do that. And really, those dresses are too slutty for my adult aesthetic. I don't care to be pulling it up to cover my breasts or down to cover my vag all night long. Your clothes need to fit. Get rid of it all, or take it to a place like Plato's Closet that buys gently used clothing, and get some cash to buy stuff that you look amazing in.

2. Toss Everything Expired Or That You Don't Like
You (and okay, fine, I) need to go through all of your (my) old makeup and bath products. If you haven't used it in a year, it needs to go. If it's eyeliner and mascara, it expires after 3-6 months. Most products have a tiny container printed on the back with a number in it—that is the expiration date. And let's be real—if you've had the same lotion for three years and haven't used it yet, you probably just don't like it very much. Toss it and move on. While you're at it, clean out makeup applicators, brushes, and sponges you don't use, and wash the brushes you're keeping. Also? If you have some products that are full/barely used, companies like Sephora and Bath & Body Works will return or exchange them, even if they're super old. So if you have a few candles that you've kept but hate the smell of, go exchange them for things you actually like. If you have a ton of unopened products that you can't return, donate them to a women's shelter.
3. Go Through Your Desk And Shred Your Documents
I really love taking old papers, receipts, bills, and tossing them in a drawer. Now I never open my desk drawers because they're soooo full of random paper. Guess what, guys? Am I ever going to be like, "oh good thing I saved this gynecologist bill that I paid online three months ago?" F*ck, no. Get a couple of chic boxes or folders to keep important paperwork and another for photos (does anyone still have printed photos?) and keepsakes, and toss everything else out. Also, you can get a shredder for documents with important info on them, and also, shredding is weirdly satisfying. But clean all that out, including all the old receipts and papers in your purse. You're never going to look at them anyway and any receipt can be traced from your credit card online.

4. Switch Your Wardrobe By Season
If you want to keep up a minimalist aesthetic and be able to find things quickly in your closet, I highly recommend switching your wardrobe for the season. Do you need to be digging through huge winter coats in July to get to your cute summer tops? Um, no. Double your closet space by dividing your clothing into two categories: Spring/Summer and Fall/Winter. Keep whatever section is out of season in under-the-bed storage containers, or get a chic trunk for the foot of your bed. I live in LA, where we don't even have seasons, but I still do this because I'm not going to wear maxi dresses in fall/winter anyway, nor will I wear my oversize knit sweaters in July. It saves so much space in my closet. I even put special event clothing—like cocktail dresses, etc.—in a container under my bed too, since I don't need to look through it every day.
5. Clean Out (Or Sell) Your Technology
To fully declutter your life, you also should clean out your old technology. If you're hoarding old iPhones or dated laptops, companies like Amazon and BestBuy will actually buy this stuff back from you. It takes up space and you're never going to be like, "hm, forget my awesome brand-new headphones, I really miss the gigantic ones that don't work well from the 90's I've been saving in a box for 15 years for some reason" (wtf is wrong with me, guys?). When you've gotten this old stuff out of your physical space, you should also clean out your current technology. Copy old photos from your phone to your computer so you'll stop getting that super annoying "out of space" message. Backup your important files to an external drive or an online backup service, like Crashplan, that does it automatically daily. As a digital artist and writer, it's saved my life a few times. Delete anything super old or unnecessary, like old homework files, programs you don't use, apps you're no longer into, music you're sick of listening to, etc. While you're at it, clean out your phone contacts, especially ones like "John Painting Class" or "Tom ". Obvi you didn't like them enough to learn their last names, so they've gotta go.

Images: Arnel Hasanovic / Unsplash; Giphy (3)
Trends From Last Year That Have No Business Staying In Your Closet
There's something about Spring that gives us a sense of revival—you're stowing away the heavy winter coats, shedding those few extra pounds you packed on during hibernation mode, and dropping those fuckboys that you kept around strictly for "cuffing season." But before you start spending your Saturdays drinking rosé on a rooftop somewhere, you should probably go through your closet and do some spring cleaning in preparation for the warmer months.
To help you purge your closet just like you've purged your life (by leaving last year's bullshit in 2017), we've come up with a list of the dumpster fire trends you need to ditch just in time for beach week.
Unicorn Everything
For whatever reason 2017 was the year of pastel unicorn everything. From hair trends to clothes to makeup, everything looked like a mythical creature threw up on it—especially on the grounds of Coachella. So with festival season quickly approaching, let's make an effort to do away with the unicorn trend and reach for chicer variations of bright colors and bedazzled pieces.

Oversize Sweatshirts With Thigh-high Boots
Like most absurd trends, this impractical look was made famous by the royal family of Calabasas. Let's assess for a second: The Kardashian/Jenner sisters really convinced us to romp around in thigh-high heeled boots paired with large, oversize sweatshirts. And in some cases, even T-shirts. And like, fine. I love a comfy sweatshirt as much as the next betch who spends her Sundays hungover on her couch ordering Domino's. But what were we really trying to accomplish with this look? Was it supposed to be sexy yet comfortable? I mean sure it's sexy when you can afford like $1,500 Balenciaga thigh-highs, but to me, this trend just feels like KKW is Regina George when she rocks the tank with the nipple holes. We're all just her army of hopeless skanks following suit.
Corset Belts
If you wear an Hourglass Gal waist trainer to work out and your waist is like 20 inches, I'm really happy for you and I'm going to let you finish but we don't need to see your fake corset belt OVER your shirt in 2018. This trend is almost as bad as when we thought it was a good idea to wear belts just sitting on our hips on top of our long Abercrombie & Fitch tank tops back in like '06.
Chokers
If you've been patiently waiting for the dog collar choker trend to die, 2018 is the year. We're layering dainty gold and silver necklaces in 2018 and tossing out the black velvet chokers that we've been holding on to for dear life for the past few years.

Millennial Pink
What kind of sign is it that the color chosen to represent millennials is the same color as Pepto Bismol? At any rate, it's out with the diarrhea medicine hue and in with Gen-Z yellow.

Fur Slides
Bad gal RiRi gave us the OG faux fur slides with her Spring 2016 Fenty Puma x Rihanna collection, and ever since we've seen some of the worst knock-offs. We're really ready to retire this trend in 2018. Although the idea of adding fur to a pool slide didn't make much sense, they were fun while they lasted. But thanks to the oversaturated, tacky knock-offs it's finally time to lay this trend to rest.
Cork-Heeled Wedges And Heels
We really hope that you don't still have cork-heeled wedges and heels in your closet, but if you do, throw them out. Now. There's something about the warmer months that make basic bitches want to break out cork-heeled shoes like they're synonymous with summer, but we're asking you to please do away with this heinous look. If you've found yourself shoeless after throwing out corked shoes, see our spring shoe shopping guide here.
Worn-Out Leggings
This may seem like an obvious item to toss during your Spring cleaning purge. But considering it doesn't look like the athleisure trend is going anywhere anytime soon, it's time we get rid of ill-fitting, over-worn leggings. Toss out those leggings with the hole in the crotch that make your butt look saggy and treat yo'self with a brand new pair of leggings or jogger pants—because why not spend money on the item of clothing that you spend the most time in?

Images: Kourtney Kardashian, closet.nia, fentyxpuma, tonybianco / Instagram; Giphy (4)
5 Heinous Items Of Clothing You Need To Get Rid Of During Spring Cleaning
Spring cleaning is the one time a year you're allowed to put your shit in garbage bags without looking as trashy as Angelina moving into the Jersey Shore house. In fact, I'd even go as far to say that you're not just allowed to do it, but encouraged. Especially if you have any of these things hanging out in your closet. Here are a few heinous items you should purge from your wardrobe during spring cleaning and what to replace them with instead.
1. Anything With Mesh Paneling
We live in an advanced society where there are approximately three billion ways to make your boobs look good, so there's no reason to keep anything with poorly designed mesh paneling for cleavage-related purposes. You should have left that bodycon with a mesh v-neck on the floor of that frat guy's room in 2013, so there's really no excuse to still be holding onto it now.

Go all out and replace it with something that's mesh all over, like a full mesh bodysuit.

2. Ugly Cotton Maxi Skirts
There is literally not one flattering thing about a cheap cotton maxi skirt, yet every Saturday night, girls in clubs across America are raising their vodka crans, trying to make it happen. Like, congratulations. You've found a way to expose both kneecaps in something floor length. Throw it out.

However, a maxi skirt done properly can still give you total a total Jessa Johansson "I just bathed in the stream and then I ran through the field to dry off" vibe.

A long wrap skirt is such a step up. Just do not wear this to the club—that should be obvious but in times like these, I've got to take every precaution.
3. Caged Necklines
I'm not even throwing shade here, but I'm actually pretty certain that caged necklines were designed for flat-chested betches because they're the only ones who can pull this off. However, this look is awful, so they shouldn't even bother.

If you're a betch with a B cup or lower, you can rock anything with a high neck and look amazing. Swap your creepy caged neckline out for literally any other high-neck bodycon.

Pretty Little Things Aniqah white high neck split detail bodycon dress
4. Dumb Bodysuits Like This One
I guess there's nothing like, offensively wrong about wearing one of these, they've just kind of run their course. It's kind of like how college couples always break up during the beginning of senior year. It's not necessarily the worst thing ever, but it's time to see what's out there while you're still hot enough to pull of a bodysuit.

This off-the-shoulder bodysuit is probably going to be the basic betch's go-to top when invited to drink on a week night at the last minute.

Missguided petite scuba bardot bodysuit
5. Crop Tops With Weird Cutouts
"Damn, look at that one inch of exposed skin on that girl's torso," said nobody, ever. Crop tops with weird cutouts are pointless.

If you feel that you like, absolutely need an additional tiny strip of fabric on your crop top, at least go with something that has a tie or some sort of purpose. (And now I have Justin Bieber singing "Purpose" stuck in my head, which I'm so not mad about.)

​