This 'Bachelorette' Contestant Was Sent Home Early For The Craziest Reason
Maybe we misjudged all along why ABC chose Hannah for The Bachelorette. It wasn't how real she was or how bubbly—it was because they wanted to sic the biggest bunch of losers they could find on someone, and they knew Hannah had enough pageant-girl charm to survive it without murdering someone on camera. The latest news to be filed under "ABC doesn't know how to conduct background checks" is about (SPOILERS AHEAD, I REPEAT, SPOILERS AHEAD. STOP READING IF YOU DO NOT WANT IT SPOILED) Tyler G., otherwise known as Jared Haibon with a stronger jaw. Hannah picked him for her first one-on-one this week, and while America largely napped through their time together, it honestly puts him in a great position. Or so we thought. According to Reality Steve, Tyler G. is going home next week—and the reason is shocking. And I mean actually shocking, not in the way Chris Harrison says it.
Here's what Reality Steve had to say about Tyler's departure from the show:
While the guys were out on date, production came to the mansion and removed Tyler G. from the show. They had been given some information about his past relationships and told him it wouldn't be good for him to remain on the show and he needed to leave immediately. If you search hard enough on the internet, you can find out what was said. I don't believe any of the women have come forward publicly with their names attached to it yet that I've seen, so while we don't know if there's receipts and proof of anything, the accusations were disturbing to say the least and production and legal for ABC thought it was serious enough to remove him from the show. Don't wanna make it worse for the guy than it already is, so I won't repeat what the accusations were. But they're out there if you look.
Wow. Wow wow wow. Since Steve doesn't "wanna make it worse for the guy," I'm happy to take the reins from here. Given that the behavior in question is about "past relationships," that the accusers involved all seem to be women, and that the accusations were "disturbing to say the least," I think it's fair to say that—if these allegations are true—I will have zero qualms making this guy's life as bad as possible. I'm certain each and every guy who has ever gone on the Bachelor franchise has been a sh*tty boyfriend at some point in their lives, but if it's sh*tty enough for multiple women to air their concerns—and for ABC to take those concerns seriously and remove the guy from the show—then I'm guessing we're dealing with more than a petty complaint.
Just watching this Tyler G date knowing what's coming next week is cringeworthy.

— RealitySteve (@RealitySteve) May 21, 2019
It took roughly 2.5 seconds (and this Cosmo article) to find the "disturbing" accusations Reality Steve is referring to—of course, they're on Reddit and posted on a throwaway account. Here's what it says: "two of my best friends went to high school with Tyler Gwozdz. They both say that he is the BIGGEST asshole douche of all time. My friend used the words 'extreme misogynist.'" Ok, so far—don't kill me—forgivable! I have several male friends who were genuinely terrible people in high school; change is, in fact, possible.
But the post continues: "The story that most caught my attention involves his treatment of an ex. Apparently he dated a really sweet girl but they would get in public screaming matches often. The relationship ended horrifically – while in Europe he SPIT ON HER and left." Okay, yeah, I'm out. Even public screaming matches I think I could sort of get past—it's not clear if they're both yelling equally, and maybe they were both toxic to each other. But spitting on her? When James Kennedy spit on Kristen Doute's door back in 2015, it was a moment of disrespect heard 'round the world. Had he spit on her directly—knowing what I do now about Kristen—I genuinely think she might have killed him. The point here? Spitting on someone is never cool, and dramatically colors my perception of who was being the more aggressive party in those aforementioned screaming matches.
I mean, are we really surprised?
Word of Tyler G.'s behavior may have gotten back to ABC via Ashley Spivey, an ex-Bachelor contestant with a habit of ferreting out Bachelorette contestants' worst behavior. (She got both Garrett and Lincoln's shady pasts exposed on Becca K.'s season.) Per the comment thread of this Reddit post (investigative journalism at its finest right here), someone sent the thread to Ashley, who then replied and promised to share that information with ABC. Judging from Reality Steve's update, it sounds like she made good on that promise.
All that remains to be seen is how this information will be presented to Hannah next week. Reality Steve says that Tyler is removed while the others are on a group date, so will they just pretend nothing happened? Or will Chris Harrison announce Tyler's alleged crimes for the world to hear? Only time (and Reality Steve) will tell…
Images: @tygwozdz (2) / Instagram; @RealitySteve / Twitter; DisneyABCPress
Facebook Finally Has A Way To Let You Block Annoying Wedding Posts
Even if you don't use Facebook as much as you did a few years ago, there's no denying that most of us are still pretty addicted to it. I mean, how else am I supposed to see what my high school ex's gross current girlfriend is up to? The Facebook News Feed always has some great updates from friends and family memes, but sometimes it's tough to sift through things you don't want to see. Thankfully, Facebook's newest feature, Keyword Snooze, will make it easier to avoid content you don't want to see, whether it's Westworld spoilers or another status from your gun-loving Uncle Rick.
Keyword Snooze is here, and it sounds almost as tempting as the snooze button on my morning alarm. Hopefully it won't make me late for work like that snooze button, but I'm really good at finding new and different reasons to be late. Keyword Snooze lets you pick out certain words and phrases that you want to be blocked from your News Feed for 30 days, so it's the perfect amount of time to catch up on a show that you don't want spoiled. And if everyone you fucking know is getting engaged, you can Keyword Snooze that shit so you don't have to see the proposal pic, the staged engagement photos, the engagement party, the #cantwaittomarrythisman… BRB, I have a few Keyword Snooze tags I need to set.
Facebook also lets you Snooze specific people, which is basically like a more savage version of the Keyword Snooze. A full Snooze is basically just a convenient way to block an annoying AF family member without making things awkward at the next big holiday gathering. Like sorry Aunt Janie, but I don't need to see seven statuses a month about how "libtards" are ruining this country, thanks but no fucking thanks. Snooze and Keyword Snooze are basically my dream tools, because I'm incredibly petty but I don't want to block someone, but then not be able to stalk them later to see how much better I am. Isn't social media great?
So yeah, Keyword Snooze is still brand new so we'll see how well it actually works, but I could definitely see this coming in handy in the near future. It looks pretty easy to use—basically you just find a post you don't like (not hard), hit the "options" button, select "snooze keywords from this post", and then snooze whatever annoying keywords you don't want to see, like for instance #cantwaittomarrythisman (can you tell I hate that hashtag??).

Look, this is Trump's America during Bachelorette season AND wedding season—I'm sure you can find plenty of shit to Keyword Snooze.
So have fun out there Snoozing people's annoying statuses, or just go back to scrolling Instagram like you were before. Either way, all this shit is owned by the same people. ¯\_(ツ)_/¯
The Juiciest 'Bachelorette' Spoilers We've Read So Far
We're in that weird stage of spring where nothing good is on TV. More importantly, there's no one good on TV to mock. How am I supposed to live a fulfilling life without a healthy dose of The Bachelor, watching 20 beautiful, smart, Instagram famous women fight for the attention of a guy on whom they would have otherwise swiped left? Tbh I have no idea what to do with my Monday nights anymore. I feel aimless and depressed, because reality TV gives me structure as well as something to mercilessly mock other than my coworker's new bangs. Never get bangs, ladies! And now that Summer House is also over, I'm just walking around my apartment clapping "Monday nights should be fun!" Thankfully, I have Bachelorette spoilers from the upcoming season to fill the void in my soul. Reality Steve is doing God's work, y'all. Since his site/Twitter constantly shuts down my computer, I figured I'd relay some of the juiciest spoilers for you here, and save all of you the trouble of getting an email from HR. (Step OFF, Heather!) Obviously major Bachelorette spoilers ahead, so exit this page now if you're a purist or whatever.
1. The First Impression Rose
If you know anything about The Bachelor, you know that they're all there for the Insta followers the first impression rose is the holy grail. The bachelor/ette hands it out on the first night to the person they think is the hottest. I'm sorry, did I say hottest? I meant the contestant they have an instant "connection" with.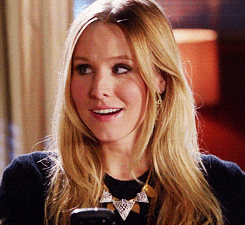 So basically, Becca wants to bang this dude named Garrett Yrigoyen. Reality Steve reveals Garrett lives in Reno, is a surgical technology consultant, and is a former baseball player. Garrett's Instagram is currently set to private, but thankfully he forgot to watch the news and didn't realize that Mark Zuckerberg would step over his mother's dead body to grab a quick buck. Thank you Facebook! Now I have some pictures of our new frontrunner:
Our friend Gary (Can I call you Gary?) is clearly an outdoorsman who likes to wear light makeup on a reality dating show. The last three Bachelorettes have all picked their first impression rose as their winner, so I'd say Garrett's chances of winning and then breaking up with Becca in six months to be the next Bachelor are pretty good. Reality Steve also reports that Garrett has been divorced, which means that he already knows how to make a big commitment and then irreversibly fuck it up. Dream guy!
He recently went on a 1-on-1 with Becca where he danced like I imagine every white dude from Reno does:
(SPOILER): More pics… pic.twitter.com/ivwNLDNZ0l

— RealitySteve (@RealitySteve) March 28, 2018
2. One Of The Guys Used To Date Tia And Aly Raisman
Ok ladies, get ready to light the next man you see on fire. One of the Becca's contestants is rumored to be Colton Underwood, the thirsty benchwarmer NFL player that asked Aly Raisman out via video. Remember that? They started dating and eventually they broke up because she is Aly FUCKING Raisman, and she was put on this earth to do more important things than stroke the ego of practice-squad fuckboys. Too harsh?
After they broke up, Colton grabbed a glass of rosé, started a bracket challenge with his girlfriends, put together a nice charcuterie platter, and watched Arie's season of The Bachelor to scout his newest conquest. He set his sights on Tia, proving that the only thing he is a professional at is sliding into DM's. And it worked! He flew her out to see him, which seems like an expensive booty call, but Tia did seem freaky tbh. Maybe Raven loaned her a pair of stilettos for some BDSM play. Apparently Colton thought Tia was going to be the Bachelorette, as even a trash bag like him couldn't predict the ways in which Arie would completely obliterate the competition for "Shittiest Bachelor of All Time." When broken-hearted Becca was announced as the Bachelorette, Colton ghosted Tia and went on her season.
Then, THE PLOT THICKENS. Becca had one of those group dates where she brings three sets of fake tits her friends on a group date with some of the guys. Tia and Colton were both on this date, and admitted to Becca that they had seen each other before filming. And Becca KEPT COLTON. Girl, red flags left and right. Colton is just a red flag with a dick. Would you like my lighter to set him on fire?
Me trying to keep this Colton drama straight: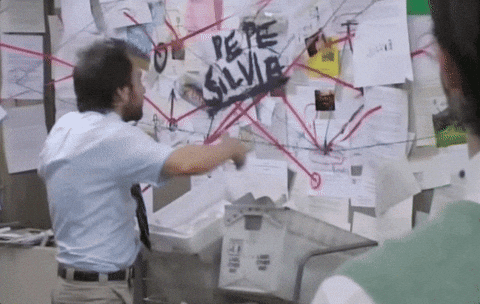 3. Lincoln Sucks
We all remember Lincoln, right? He was the first guy to introduce himself to Becca on After the Final Rose, and had some sort of accent that was apparently not just a speech impediment. He called Arie a wanker, so most of us liked him immediately. Hopefully you didn't fall for his act, though, because it turns out Lincoln is a flaming pile of shit. Literally.
Lincoln and some dude named Chris make it to the traveling stage of the show, and go on a group date in Richmond. Lincoln proves he has all the emotional maturity of a gum wrapper, saying that Becca would only be into Chris "if she was a lesbian," and asking him if he needs a tampon. BURN. Personally I like to save the jokes about tampons for ten after never, but not everyone is as funny and eloquent as I am. So we've now established that Lincoln is weirdly homophobic, and definitely a bully. If only that were the worst of it!
Life & Style Magazine, a magazine that's usually such garbage I wouldn't even deign to cut up its pieces and use them on my vision board, reported some very alarming news about Lincoln. Both Reality Steve and THREE of Lincoln's former coworkers have confirmed that while at work, Lincoln would rather shit on the ground than in a toilet. Apparently, he thinks the toilets are unsanitary. So, he would rather just build a mound of toilet paper on the ground and poop on that? I AM CALLING THE POLICE.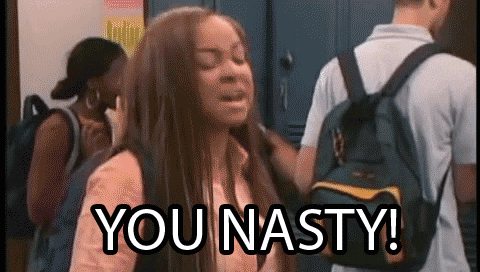 No word on what he would then do with the poop. Fingers crossed he slipped on it at least once! I don't have the best track record with men, but I do have one piece of advice: Find you a man that can poop in the toilet.
4. Banjo Guy Is Already Gone
I just threw a lot of info at you, so I'm going to keep this simple. The dude that introduced himself to Becca by playing the banjo and wearing his grandmother's drapes is already gone. We do know he went on at least one group date, so the others didn't immediately maul him to death on the first night. See you and that banjo in Paradise, Ryan. I hope you saved enough material to make a bathing suit.

5. Impressive Celeb Cameos
As always, ABC is breaking the budget on celeb cameos. This year they managed to secure the ONE AND ONLY Wayne Newton. Ya know, the guy who tries to steal Clark Griswold's wife in Vegas Vacation? I'm sure the producers never took into account that that movie came out before half the contestants were even conceived. I'm honestly praying that Beyoncé and Jay-Z fall on some dark and desperate times so we can get them on next season.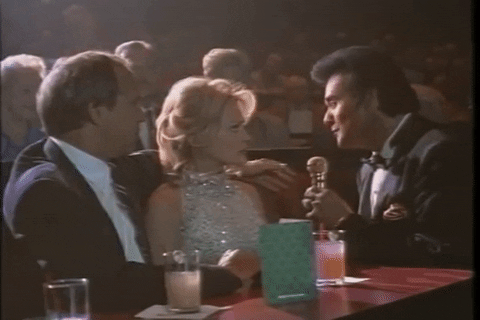 Based on these Bachelorette spoilers alone, Becca's season and the men's bathroom is bound to be a shit show. So stock up now on your wine, cheese, hopes, and dreams, and prepare to have them all crushed by episode 1. Is it May 28 yet?
Images: Giphy (4), ABC