How Many Calories Your Favorite Workout Classes Actually Burn
Group workout classes are great. You're motivated by the overachieving people in the front row to work harder, but you also don't feel super sh*tty about yourself because there is usually someone who's just as lost as you. But even if you're not perfectly coordinated (me in dance cardio classes), you will likely still be dying at the end of a class, if you're doing it right. Obviously, not all workout classes are created equal, and some will burn more calories than others. So I did the research to find out if cycling is really kicking your butt, if CrossFit is really worth it, and more. Read on to find out how many calories workout classes burn. For reference purposes, I reported the number of calories burned for a woman who is 155 pounds. So your mileage may vary, but here's a good reference guide to the calories burned in your favorite group fitness classes.
HIIT

Also known as high-intensity interval training, HIIT classes involve lots of sweating, heavy breathing, and typically burpees. As the name implies, they are structured in intervals of high-intensity workouts. Typically, you push yourself to the maximum for 20 to 90 seconds before taking a short break and doing it all again. Due to the intensity of the workout (say "intensity" again), you can burn up to 900 calories in an hour. The harder you work, the more you'll burn. Either way, you'll for sure need a shower and nap after this workout.
Kickboxing

If you want a major confidence boost, take up kickboxing. This high-intensity workout will test your balance, endurance, strength, coordination, and flexibility. Not to mention, you'll feel like a total badass when you master a mean uppercut. A 155-pound woman could burn around 740 calories in an hour of kickboxing class. Speaking from experience, you'll work legit every muscle in your body, and I can guarantee you'll be so sore the next day. Have fun walking upstairs!
Cycling

Personally, cycling is my favorite workout. The high energy and fun music makes me forget about how much the instructor is kicking my ass. According to this calculator, you could burn 637 calories for a one-hour spin class working at mid-intensity (which means that you could still have a conversation). Personally, I can barely breathe midway through a spin class, let alone have a conversation, but sure.
CrossFit

Say what you want about the people who swear by it, but this workout is no joke, and you're able to burn almost 800 calories in an hour (so I guess those bros are doing something right). It's a high-intensity, constantly changing workout that involves exercises like push-ups, pull-ups, and squats. Honestly, I don't feel like I need to explain it further—if you want to know more just go up to the nearest person you know who does CrossFit and breathe in their direction and they'll tell you all about it.
Circuit Training

This workout may be hard, but it is never boring. It combines a variety of different exercises to work different muscle groups that you move through with a short or no break in between. Your heart will be racing basically as soon as you start. In a one-hour class (or workout you do yourself, which I'm v impressed you are motivated to do), you could burn up to 547 calories.
Hot Yoga

Well for starters, it's hot, which some people hate but I personally love. You sweat balls, which always makes me feel like I'm working 10 times harder that I probably am. The heat also helps you release toxins and loosens your muscles so you can have a deeper stretch. For an hour hot yoga session, you could burn up to 500 calories. You can also improve flexibility and reduce stress.
Barre

I don't think I've ever left a barre class when my legs don't feel like Jell-O. Even though I danced ridiculous hours as a child, these classes are very hard. In case you missed the trend, barre is a combination of ballet, yoga, and pilates poses and exercises to work muscles you never even knew you had (or at least, that's the case for myself).  You can burn more than 400 calories in an hour class and tone your muscles. These ballet-inspired classes will make you feel like a classy ballerina.
Images: Scott Webb/Unsplash; Giphy (7)
The Full-Body Workout You Can Do In A Corner Of The Gym
If you go to the gym right before 9am or right after 6pm, you know how annoying it can be to get around the place during workout rush hour. As much as we'd all love to work out in an empty gym with the whole place to ourselves, it's v unrealistic unless you're like, a psychotic morning person or like, super rich. Luckily for you, we've put together a workout can literally be done with one mat in a tiny corner of the gym, so you don't have to bother waiting for a machine to become available or for people to step away from the dumbbell racks. Here's a quick workout that will tone your whole body and burn a ton of calories while staying in one space the whole time.  
1. Walkout Push-Ups
The walkout push-up is a great warm-up move because it gets your lower and upper body working without diving right into a cardio or strength move. The idea here is to first warm up your hamstrings by starting in a standing position and folding your arms and head forward, and then get your upper body warmed up by crawling your hands out to a plank position. Once you're in your plank, perform one push-up (drop to your knees if you have to) and then crawl your hands back to your ankles to stand back up, engaging your core at the top each time. Start off slow, and then try to speed up on your last few reps. Do 10 of these in total.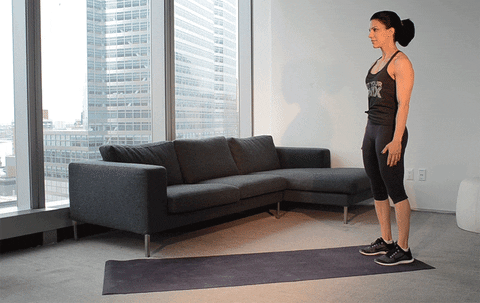 2. Glute Bridge To Oblique Reach
This is another lower and upper body movement, but this time you're working your butt and your obliques, aka your side abs and love handle region. Start by lying on your back with your knees bent and your feet on the ground. Then, extend one leg straight out and lift your hips into a bridge, squeezing your glutes and specifically feeling the burn on that same side. After the bridge, lower your hips back to the ground and reach your arms toward the straight leg while extending the leg upwards. Remember that you're crunching with your abs, so don't just use your arms to swing your body up. This combo is slightly complicated since it's technically two moves in one, so you can take your time on these until you get the hang of it. Do eight reps on each side.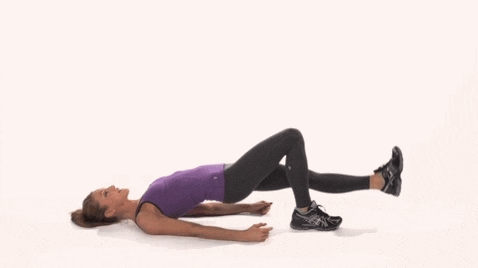 3. Tricep Extensions
You'll need a weight for tricep extensions, but it shouldn't be too hard to find because you can literally use whatever you want—a dumbbell, a weighted medicine ball, or a kettlebell. If you have a kettlebell available to you, you're gonna hold it by its horns (AKA the non-bell part) and lift it up over your head, keeping your elbows straight forward and your arms tight. Then, extend the bell toward the back of your neck, using your triceps to bring the weight up and down each time. If you feel like your elbows are widening out to the side, take a break and reposition yourself. The tricep muscles are really what give your arm that toned, sculpted look, so go heavy on these and take your time. Aim for 10-12 reps.

4. Deadlift To High Pull
The good news with this move is that you can use the same weight you were just using. Again, this is a combo move, so you're totally killing two birds with one stone by working your legs and your arms in one exercise. Place your kettlebell on the ground in front of you, and make sure it's between your legs, but like an inch or two forward. Then, bending your knees slightly, you're going to hinge your hips backward and lift the kettlebell keeping your arms straight, bringing it to your waist as you hinge the hips forward. That's the deadlift part. Then, you're gonna pull the kettlebell up to your chin, using your shoulders to row upright, with your elbows wide towards the sides. Once you complete one rep, bring the kettlebell down to the ground and do five more.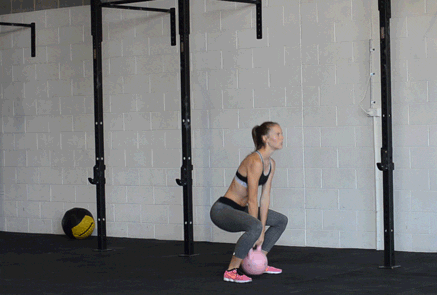 5. Squat Jumps
Now that we've done a bunch of strength work, it's time for some cardio. Your legs burn the most calories out of all the muscles in your body, so doing jumping exercises while combining squats or lunges is super effective. It's also really hard, so pace yourself. Start in a squat position, making sure your knees are behind your feet so you don't hurt yourself. Get super low, and then jump up explosively while straightening out your legs and arms. Aim for 20 reps here, but you might want to die by the time you get to 15. Try to fight through it.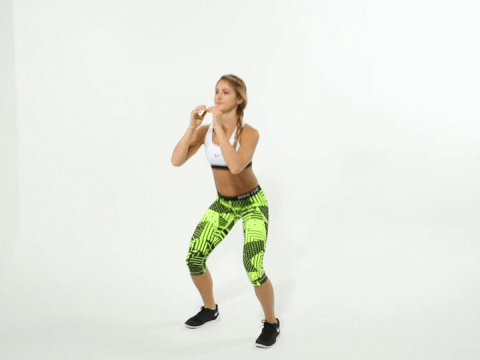 6. Burpees
Burpees are annoying and difficult, but there's a reason you see them in every fitness magazine and at every workout class—they WORK. Start by standing with your feet shoulder-width apart and your arms at your sides. Then, lower your body into a squat and place your hands on the floor in front of you, jumping your feet back so that you're in a plank position. Once your body is in a straight line, lower your chest to the floor and then bring it back up as quickly as you can. Then, jump your feet forward, outside of your hands, and jump up with your arms in the air. Do 8-10 of these, depending on your energy at this point in the workout. Also, keep in mind this is a full-body move, so make sure you follow the motions without just slamming your body down to the ground in the sloppiest way possible.

Images: Trust Tru Katsande; Unsplash, Giphy (5), Pinterest (1)
4 Myths About Spin Class We've All Fallen For
Welcome to spin class, betches. You get on the bike, you sweat your ass off, you wonder how the hell this superhuman of an instructor exists, you yell "fuck" at least five times, and by the time you know it, class is over and you're onto happy hour. #fitness. Betches have been spinning ever since treadmills got boring and SoulCycle apparel became the new Wildfox. But even though we can book our bikes, tap it back, and compare instructors like Bachelor contestants, there are still a lot of shit that people believe about cycling that just isn't true. Luckily for you, we looked into some major myths and found the hard facts behind each one. So here's the myths about spin class that you've probably fallen for at one point.
Myth: Spinning Is Only Good For Your Legs
Wrong, wrong, so wrong. There are two general types of workouts in this world: cardio training and strength training. Spinning is a cardio workout, which means it gets your heart rate up, burns calories, and causes your body to sweat (no shit). When it comes to strength training, you can target specific muscle groups in your body, but that's just not true with cardio. Any fat loss exercise is technically a total body workout because you can't choose where you lose fat. Although spinning feels leg-heavy, it's basic cardio, so you're getting a total body workout.
Myth: Spinning Will Make Your Thighs Bulky
This myth drives fitness professionals fucking crazy because once again, spinning is CARDIO. Nothing is making your legs bulky unless you're adding a shit-ton of weight along with a protein-packed diet plan. Spinning will make your legs stronger and faster, but they're not getting bulky even if you're spinning every day, so let's move on.

Myth: Spinning Burns A Million Calories
OKAY, so calorie burn obviously depends on your specific body, but most 60-minute spin classes are supposed to burn anywhere from 480-640 calories. That number depends on how hard you're peddling and how much you weigh, but that's the ballpark. So like, can you afford the post-workout treat? Yeah, but like, relax. Just remember you can eat back those calories REAL QUICK when you get ahead of yourself.
Myth: Spinning Is The Same Thing As Biking Outside
This idea sounds pretty rational because the two activities involve the same piece of machinery, but they're not identical. When I say "biking outside", BTW, I mean really biking outside, not just taking a City Bike on a leisurely stroll around the block. For one, there are no hills when you're on a stationary bike. For another, since the bike stays in one place, cycling inside, even while standing, doesn't require as much balance and coordination, and therefore doesn't engage as many muscles as doing the same activity on a regular bike would. That being said, neither one is inherently superior to the other. If you know yourself and know you can't balance to save your life and also have no internal motivation to make it up a hill (hi), maybe stay inside. If you dislike group classes and studios with cult-like atmospheres, keep doing you, Lance Armstrong.

Images: Giphy (2)
6 Exercises To Improve Your Balance And Flexibility
I follow a lot of #fitspo type of social media accounts, and every now and then I'll watch a workout clip on Instagram and literally bug out seeing what some of these girls can do with their bodies. I mean, no, I'm not talking about how cute their sponsored shaker cups look next to their butt-facing-forward mirror selfies. I'm talking about these crazy moves that require more balance and coordination than 99% of America can handle. Like, I work out regularly,  but honestly my flexibility and balance are pretty shitty, and it's something I'm trying to work on. Here are six exercises to improve balance and flexibility that I'm incorporating into my own routine . Please join me so I'm not the only one struggling through pistol squats at the gym.
1. Bosu Ball Split Squats
The bosu ball is meant to make any exercise harder, and that's because it screws with your balance, making you use your own body to stay aligned throughout the movement. If you do split squats regularly, try adding the bosu and it'll really help any imbalances you have in either leg. The idea is to prop one leg in a lunge on the bosu behind you, and then use your front leg to move up and down, pushing with your glutes throughout the movement. If you're a newbie, you'll probably start tipping over when you start, so just take your time and focus on grounding yourself with your front leg. If you feel like one side is easier than the other, that's completely normal and it's because we're usually stronger on one side. That's why we're doing this. Once you master this, try putting the front leg on the bosu, because variety is the spice of pulled muscles life.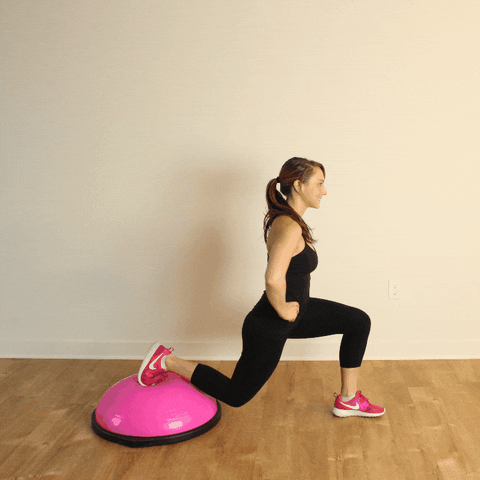 2. Lunge Hip Flexor Stretch
This move looks like more of a stretch than a real exercise, but honestly it's a must and it'll help with other exercises. It helps with mobility, flexibility, and coordination, so you'd be missing out just by skipping it. Especially if you sit at a desk all day, this move is amazing for opening up your hips and relieving any tightness from sitting for so many hours. Start by placing your hands on the ground and stepping back with your right leg, like you're stepping into a reverse lunge. Then, straighten out the back leg and feel the stretch in your hip flexors as your front leg bends in front of you. Hold for a few seconds before switching to the other leg.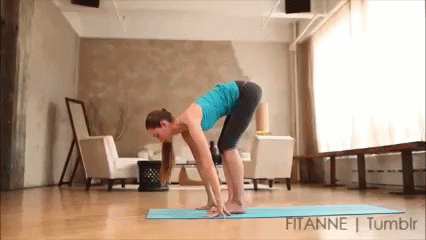 3. Alternating Arm Plank
This one is harder than it looks, so again, TAKE YOUR TIME. No one has ever rushed you through a plank, and the stability aspect here is key. The idea is to hold a regular high plank, but alternate arms so that you only have one hand on the ground at a time. This move hits your shoulders, abs, and arms all at once, and it also ensures you're not relying on one side of your body during other ab exercises. Remember to keep your hips as square as possible without swaying or lifting to one side. If this starts to feel like a side plank, take a break and start again.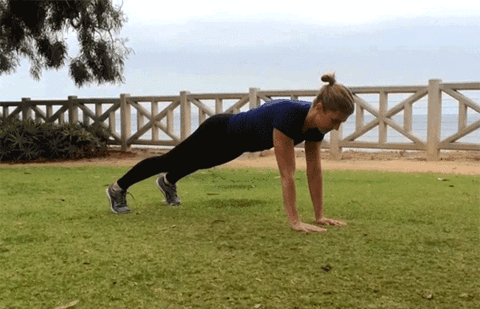 4. Pistol Squat
Ugh, pistol squats. Ask any trainer and they'll tell you this exercise is QUEEN of one-legged training. You're basically putting all your bodyweight on one leg at a time and squatting with only that leg, so yeah, it's hard. If you need to hold onto a bench or TRX straps at first, do it. In a standing position, raise one foot off the floor and descend into a squat. As you squat, try to extend your front leg forward without losing your balance. Then, get as low as you can before slowly rising up, straightening out your knee and driving through your heel. You should feel this in your glutes on the working side. Again, take your time and just focus on the balance part. The rep count doesn't really matter here, so just try to do a few without falling over. You'll go deeper, do more, and need less assistance as you get stronger.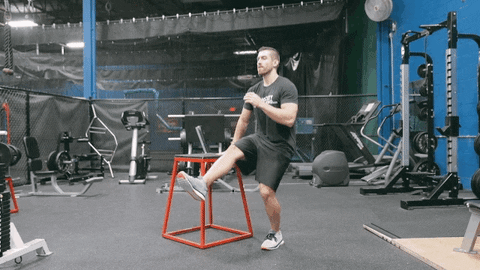 5. Opposite Arm & Leg Raises
Contrary to its name, the opposite arm and leg raise is actually more about your core and torso region. You're basically raising your right arm and your left leg at the same time while on all fours, so the goal is to keep the rest of your body as still as possible. You'll need to keep your back flat and engage your core. Squeeze your abs while you slowly extend your arm and leg, and then take a second to look forward at your reaching arm before lowering down and switching sides. This should also help strengthen your back, so make sure not to arch your spine and ruin your form. Think about pulling your abs in before lifting, and then when you reach out, keep your arms and legs parallel to the floor. For extra credit, get off your knees and do this from a full plank. Good luck in advance, is all I have to say.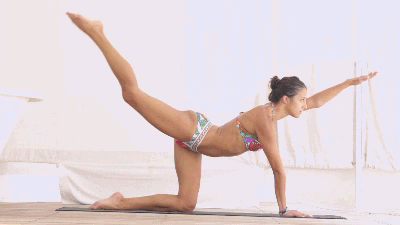 6. Standing Crunch With Clap
Balancing on one leg is already difficult AF, so adding in a crunch and an under-the-leg clap may take some patience. This move has two parts, so let's discuss both. It's kind of like tapping your stomach while rubbing your head. Takes a shit ton of coordination, is what I mean. Balance on one leg, keeping your other knee 90 degrees with your hands over your head. Then, crunch forward, bringing your hands under the raised leg for a little clap underneath. Bring your hands up and then back down for a few reps, and then switch to the other side. Also, try looking as happy as the girl in this GIF.

Images: Squarespace / Pexels; Giphy (5); Pinterest 
How Many Calories You Really Burn At SoulCycle, Barre & Other Workout Classes
Ever since Lady Gaga replaced her personal trainer for her own SoulCycle bike and we started shopping at Bandier instead of Lululemon, there's been a shift in the world of working out. Boutique fitness is trendier than ever, and betches across the world are drinking the organic sugar-free Kool-Aid. I mean, there's a Barry's Bootcamp open in Milan, so you know this shit has gone global. Workout classes are the new jog in the park, but are they really worth the price tag? We've been dying to know how many calories we actually burn in these classes, so we did some digging and the results are in. Keep in mind that everyone's bodies are different so it's hard to give you a straightforward number, here's how many calories you (approximately) burn in your go-to classes:
1. Spin
Spin classes have surprisingly been around for decades, but they didn't really get big until SoulCycle developed a cult following the size of China's population and was then followed by Flywheel, Peloton, Swerve, and a few other wannabes. A lot of these studios tell people they can burn up to 1,000 calories in a class, but that's ambitious, even if you're like, really pretty athletic. If you're working as hard as the teacher is telling you to work, you're probably burning around 500 calories in a 45-minute class. This obviously varies depending on the person, the class, and how much effort you're putting in, but just think logically. Like, if I'm drenched and crippled by the end of a spin class, I know I burned a shit ton of calories. I mean, It's like I have ESPN or something. Can I take all these free bananas now?

2. Circuit Training & HIIT
Circuit-style classes are becoming more and more popular recently, and it's not just because girls have realized they'll look good if they step off the treadmill and start lifting some weights. HIIT classes are short and effective, because the class is scientifically built to make you work in short, intense intervals that are meant to spike your heart rate and keep your body burning calories for a day after the workout. The scientific term for it is called EPOC, and the results are dope. So, even if you're only burning like, 300-400 calories in a 40-minute HIIT class, your body is put in a calorie-burning mode, which can last up to 36 hours, depending on how hard you worked. Thank you, science.
3. Barre & Pilates
Barre and pilates classes are obv different in many ways, but they're both focused on muscle toning and pulsing movements, so we're grouping them together for convenience reasons. Basically, whether you're on a pilates reformer or doing pulsing squats with a bouncy ball in between your legs, you're doing resistance training, which means you're damaging your muscles in class. Afterwards, the muscle fibers repair themselves, which makes your muscles grow and your body get toned AF. So, these classes usually burn only 200-300 calories, but the point of them is to spike your metabolic rate and strengthen your muscles, so don't freak out if you're not soaked and exhausted by the end of class—you're getting more long-term results that are not just about the amount of calories you burn in class.

4. Boxing
Boxing has had a trendy revival lately, so we've been dying to know what's so damn life-changing about these classes. Gotham Gym and The Dogpound have always been packed with celebs like Gigi Hadid, Shay Mitchell, and Karlie Kloss, but now new studios like Rumble and Shadowbox are taking over the NYC fitness scene, and it's not just because the trainers literally look like the strong versions of Victoria's Secret models. Boutique boxing studios incorporate traditional boxing drills in their classes, but they also usually have HIIT and strength training segments built into the class. With the cardio of boxing and the effects of weightlifting combined, these classes can burn anywhere from 500-800 calories. It's also a cheaper form of therapy if you're particularly angry at the moment. Just saying.
5. Hot Yoga
We know there are a lot of different types of yoga classes out there, but we can't sit here and dissect the caloric differences between Vinyasa, Bikram, and Ashtanga (pretty sure that's the name of a bomb sushi restaurant, though). We're talking about hot yoga because people tend to think they're burning a million calories due to the yoga poses being done at such a high temperature. While it's true that hot yoga classes take place in rooms set at over 100 degrees, the extra heat just makes your body lose extra water, not fat. If you're taking a rigorous yoga class, you could technically burn up to 400 calories, but most probably clock in at around 200. Basically, the "hot" part doesn't mean more calories burned, it just means one more day that you can't rely on dry shampoo again. Kind of a bummer.

6. Dance Cardio
Although Zumba hit its peak in 2009 and pretty much died since then, there are a lot of types of dance-based workouts that burn a ton of calories. Again, everyone's bodies are so different, but if you're really jumping around and kicking your legs in the air for an hour straight, you can probably burn up to 500-600 calories. 305Fitness in NYC claims you'll burn 800 in a class, but that's probably a stretch, unless you're that annoying person in the front row who does the absolute most the entire time (you know the one). Most dance cardio classes take breaks and have active rest periods, so it's obviously not as intense as spin or boxing. But then again, a workout is a workout, so if you'd rather dance than peddle on a bike until your quads feel like they're literally on fire, we totally get it. Do the dance class.
SoulCycle Is In Big Trouble (Again)
Donna Wood, 42, was just trying to have a relaxing California vacay in hopes of shedding 2016's bad karma, when she learned the hard way that 2017 is actually going to be a bigger bitch than any of us had ever dreamed possible. According to a suit filed in Manhattan Supreme Court, Wood was attending the 8:30am class at Wilshire Boulevard SoulCycle when she was allegedly "impaled" by her stationary bike and forced to "dangle by her right leg" for several minutes. Wood is now suing SoulCycle, claiming that the loud music they play to drown out the voice in your head that's screaming for you to get off your bike drowned out her literal screams for help as she dangled precariously off her bike like an earring with no back.
What's worse is that, according to court documents, the class was in "cool down" mode, which means that the room was totally dark, leaving the SoulCyclers totally oblivious to the fact that one of their classmates was having her leg torn off. Eventually, a classmate finally checked out of workout mode enough to realize, "Oh fuck someone in this class is being amputated by the very bikes we thought would save us," and freed her before she went full Lieutenant Dan, but nobody in the class called an ambulance or seemed at all phased by the fact that their classmates may have lost her entire right leg, and burned like, 500 calories. 

But hey, can you blame them? I go to SoulCycle to focus on me, not to worry about other people's bullshit like whether or not their leg is being accidentally amputated. Like, when the instructor said to focus on my own destiny I took that to heart and my destiny does not include your leg, I'm sorry. 

But back to Donna…
Wood then took an Uber to the hospital, like ya do, where she allegedly required 50 surgical staples to close the gaping wound in her leg, which then developed an infection. Wood finally "recovered" in April (not sure you ever recover from being nearly amputated in a room full of stationary bikes TBH), though she does now have a deep permanent scar on her right leg as a fun and appropriate souvenir for her very first vacation attempt of 2017. And that, friends, is why you don't go to 8:30am SoulCycle classes while on vacation. You never know wtf might happen.