7 NYC Workout Studios That Give Free Classes To New Members
You know how you don't really like cupcakes that much, until they're in your office and free? (Okay, maybe that was a bad example because everybody loves cupcakes, but you know what I mean.) That's because it's basically a scientific fact that things are significantly better when they don't cost money. Another prime example of this phenomenon in action is workout classes, which, if you live in New York, usually cost the equivalent of a human soul, so finding any kind of deal that offers free workout classes is better than your f*ck buddy telling you he's finally ready to date you. Still waiting that one out, but you get what I mean.
Anyway, even though New York robs us every damn day, sometimes this godforsaken city gives back and offers us free workout classes when we're new to a studio. So if you want to get swole while you save (I hate myself) then check out these seven workout studios offering very generous new member specials. Yes, I've done every single one of these places because I live in the seventh most expensive city in the world on a writer's salary, so I take what I can get, especially when it comes to free workout classes. 
Okay, after I read GRIT's deal online, I called to make sure it wasn't a typo because it was that good. Rest assured, it's not a typo. If you buy the new customer intro offer, for the price of one class, you get a free class, a "bring a friend pass," a GRIT gym bag, and two free drinks at the GRIT bar. To put that in perspective, one class is $36, so you get all of this swag, a free class and a buddy pass for basically nothing. If you don't buy this special right the f*ck now, I am judging you. 
If you've never heard of GRIT, you're welcome. It's interval training with three stations: heavy bags, treadmills, and floor exercises. So basically, it's Barry's but with boxing. It also has serious night club vibes, so if that sounds like your cup of tea, drink up!
Swerve is your basic spin studio, but believe it or not, I don't mean that in a bad way! One class is $34, but if you buy the new member special, you can get two classes for $40. That's basically buy one get one free, which sounds like a pretty good deal to me. If I had to compare it to another spin studio, I would say that it's most similar to FlyWheel, except for the fact that you're assigned to a team and the teams are racing each other. If that isn't really your jam, you don't have to buy into the whole team/race thing and can just ride your bike instead, but if you are Tonya Harding-level competitive (hi neighbor), then you will love this place. 
Tbh, I've only done the barre classes here, but Exhale is not your average barre class. It's really f*cking hard and well worth the price. However, if you're not down to shell out the money you were going to spend on a new fall jacket, you'll love the new client two-for-one special for $37! As a writer, I was taught to write what I know, so I'm only going to talk about the barre classes, but this place also offers cardio and yoga classes. 
The actual workout at Exhale is really great. Thankfully, there are no little inflatable balls that you're somehow supposed to balance on your joints while tucking, micro-moving, or whatever else you do in other barre classes. The only equipment you use at Exhale includes a resistance band, weights, and sometimes a TRX band-like strap that's fastened to the barre. You will most definitely be shaking by the end of the class, but it's very much worth it. I bought a 10-pack of barre classes and noticed a serious difference in my arms and abs, which is something I never thought I'd say. 
I will never not LOL at this studio's name, but they have a fab new member deal that makes up for it. One class is $34, but they're offering two classes for $28! Either they're really bad at math or really generous. This place offers three types of classes, all of which take place in a 50-degree studio. I know what you're thinking, "Wait, that sounds les mis!" And it is for the first few minutes, but you actually get a way more effective workout in the cold than you do in the heat because science. (And because you're not sweating like a grease monkey—my less science-backed opinion.) Whether you choose a HIIT, Slide, or HIIT + Slide class, you'll definitely feel the brrrn (sorry, I had to). By the way, HIT uses battle ropes and weights for total body strength and conditioning, Slide is a low to mid-impact class focused on light resistance training and lateral training on the Brrrn Slide Board to improve balance and core strength. 
For the mother of all deals, CorePower offers a full week of yoga classes for free. In other words, seven free yoga classes. Back when I lived in Atlanta, my apartment was above a CorePower, so I did the free week, and after the free week, I ended up purchasing an unlimited membership and went nearly every day. CorePower's free week is definitely a gateway to spending a ton of money, but it's so worth it. This is a hot yoga studio, which offers a great workout that also feels very relaxing. Like most yoga studios, they offer a variety of types of yoga classes that range in difficulty, but my personal favorite is the Yoga Sculpt, which is just a regular flow, but with weights. Look, no one is neutral about hot yoga since you either love it or you'd rather die than be stuck in a hot room for an hour, but if you do enjoy Bikram, you will definitely like CorePower. 
Tbh I felt like I was training for the f*cking Marines when I took Orangetheory, but I did it for the free class they offer new clients. There's an OT on like, every block in every city, so if you haven't noticed this place exists, I don't really know what to say to you other than be just a little bit more observant? If you've walked by them a million times but don't understand what they are, allow me to explain. To me, OT is a less intense version of Barry's Bootcamp. It's high-intensity interval training, but you won't feel like you need to chop all of your limbs off because they ache so badly after a class. There's a treadmill section, a floor section, and a weights section, so if you're into that, definitely sign up because your first class is free, so why not? Plus, apparently you're still burning calories even after you leave because the exercises are designed that way. Something about the orange fat-burning zone…or something. Look, I was focused on not dying in class, not learning. 
If you like boxing, you will like Overthrow, especially because you get a class free when you buy your first one! More importantly, the workout is really good. Most of it takes place on a heavy bag, but there's also some light sparring and, of course, a miserable ab workout toward the end. Why must all boxing classes force us to do ab exercises after we've spent all of our energy beating the sh*t out of a 100-pound bag? Anyway, Overthrow's bag section is really intense and you will def need a nap afterwards. First, the instructor will go over the basic punches and then assign each one a number so that he can quickly make up combinations for you to use on the bag. Ever heard the phrase "1-2-punch?" That comes from boxing! 1 is a jab and a 2 is a right arm cross. These are things you'll learn at Overthrow. So the combinations are obviously a little more challenging than two punches at a time and they are absolutely a workout. During the last few minutes, it becomes very clear that everyone is dead, but not before sparring and abs! 
Images: GRIT BXNG; gritbxng, swerve fitness, exhalespa, brrrn, corepoweryoga, orangetheory, overthrownewyork / Instagram
10 Workout Classes To Try In New York Right Now
The one thing I hate almost as much as public displays of affection is people who never shut the f*ck up about how much they work out (you know who you are). Like, we have eyes so we get it it, you're fit! The thing is, I also work out a lot, but I keep that sh*t to myself and pretend that all I do is eat pizza and binge SVU marathons, and just happen to have toned arms. Like, Emily Ratajkowski does that and she seems to be doing just fine. Even though she famously and allegedly doesn't work out, her incredible body indicates otherwise, so like…what's the deal here? Anyway, for those of you who want to get swole for the Soho House pool or the Coney Island beach (see ya there, homies), these New York workout classes are a must. They are hard enough that you're actually doing #werk, but not so hard that you feel like you've just joined the Marines.
Full disclosure, I mostly spin because I need the most effective cardio to rid my body of evidence that I eat cheeseburgers more than once a week, so there may or may not be more than one spin studio on here. However, because I'll give anything a go, as my sex injuries can attest, I've tried almost every workout class New York has to offer. Here are my favorites.
The Monster Cycle
I love SoulCycle as much as every other Pumpkin Spice Latte-loving betch, but since my favorite instructor left me to open London's first Soul, I had to look elsewhere for my dose of spin. TBH, I refuse to go to FlyWheel because my Tanya Harding-level competitiveness cannot handle the scoreboard situation there, so I headed to The Monster Cycle in Soho, and let me just say, I f*cking love this place. It's adorned with hardcore S&M decor, which definitely made it feel really welcoming (lol, kidding).
In all seriousness, this place has a v specific vibe (S&M/goth), but it's so cool and everyone who works there is actually incredibly nice, which I wasn't expecting considering the mannequins f*cking upside down in a harness hanging from the ceiling is fully a thing in the reception area. Ok, so you go downstairs to the studio where there are no assigned seats, so get there early otherwise you will end up behind a pole in the back. No thx! Two things set this place apart and will keep me coming back forever. The first is the fact that there are two giant TV screens on either side of the instructor and the screens project the music video of the song that's playing, which is really helpful because they give me something to think about other than how much my legs hurt. The second is that this place literally always has flash sales. This feels really refreshing, considering every other New York studio just wants to make sure I won't be able to afford to send my future children to college. The amount of calories you burn depends on your intensity. So when Demetre tells you to turn the knob to the right and sprint, you should, because there is potential to burn 400-700 calories in the 45 minute class. 
305 Fitness
The only reason I tried this place is because it's three blocks away from my apartment. 305 is a f*cking dance party, y'all. If you follow their Instagram, you'll notice that every single instructor has an incredible wardrobe and can dance like they're about to be hand-selected for Coachella performances by Queen Bey herself. I was initially nervous to try 305 because I'm a good dancer, but I'm truly horrible at remembering choreography—which is probably why my dance career ended in 10th grade, but whatever. It's fine. I'm fine. Here's the thing: 305 requires zero memorizing! PRAISE F*CKING BE! Katie is my fave teacher and she is like a tiny blonde ball of energy who can make a really accurate siren sound with her mouth. I'm sure you're wondering why that tiny detail is important, and it's because she makes that sound when it's time to switch sides, turn around, get low, or what have you. 305 isn't dancing like, pirouette and leaps, it's like high-intensity Miami-style club dancing. Wow, cool, that's the whitest thing I have ever said in my life! No wonder Miami club dancers always have bikini ready bodies because you can burn up to 900 calories per class. My point is, it's fun dancing that requires you to give absolutely no f*cks if you want to enjoy it. Highly recommend, especially if your dance floor moves need a little face lift.
Exhale Barre
Not all barre classes are created equal, and that is a fact! When I used to live in Atlanta, I lived above a Pure Barre, so I got a membership because it was convenient, but I literally took a class five days a week for three months and looked the exact same on day one as I did on day 90. What's that about? It about the fact that barre classes generally focus on toning rather than calorie burning. The average barre class burns 250 calories (along with your ability to walk for the next week). Anyway, I was skeptical to try any other barre classes after Pure Barre, especially really expensive ones in New York. Then I tried Exhale and may never be able to lift my arms again because this class is werk. Exhale is no joke, people.
So if you're looking to half-ass a workout class during a fatal hangover to make yourself feel like you're at least kind of doing something, don't go to Exhale. It is so f*cking hard (in a good way) that I brought a male friend who, until that day, thought barre classes were too easy for men, and he is still sore. The moves are really hard. There's one where you lay on your side with your legs bent toward your chest and you lift and lower your top knee while keeping your feet together. Sounds easy? Try it right now and you'll see what I mean. So, yeah, that was really hard, but then they'll come around and tie a resistance band around your legs. Fun! Then they'll put a weight in one hand and ask you to side-crunch as you lift your top knee. All I gotta say is, Exhale barre classes hurt so, so good. I've been going for about two months now and I think I can see the beginnings of an ab crack! Goals met!
Hit House

If you don't want to switch from the bag to the floor or whatever else, Hit House is a straight Muay Thai kickboxing studio. So, what the f*ck is Muay Thai? Muay Thai directly translates to "Thai Boxing," and the class consists of jabs, crosses, hooks, uppercuts, kicks, knees and elbows. You'll get your own personal bag (or bishop) and you'll get to attack it to the rhythm of your favorite hit songs right now. This class takes the intensity of a kickboxing class to the next level, which inevitably means more calories are burned. Women usually burns 762 calories while men typically burn 888 calories during an hour of Muay Thai, so you don't need to feel guilty for finishing that pint of Ben Jerry's alone or an entire bottle of wine. And, as an added bonus, you'll probably feel like a badass after almost an hour of beating up a punching bag.
Y7
If you don't like hot yoga, just stop reading now because it feels like it's at least 400 degrees in any given Y7 class. As you can see, I like v basic types of workouts, but I like going to non-basic studios that do something to set themselves apart from the millions of other workout places in this godforsaken city. Y7 is three sets of flows that each include three sub-flows. The first is slow, the second is one breath per movement, and the third is flow on your own. So what sets Y7 apart? You're not flowing to the soothing sounds of birds in a forest. Instead, the instructors play hip-hop. YES! Lastly, there are no mirrors and it's pitch black save for a candle in each corner of the room. Yes, the darkness and lack of mirrors makes it a little harder to balance, but personally, I like the no mirror/darkness situation because I don't feel self-conscious. Also, not to be the most annoying yogi ever, but not being able to see yourself forces you to just focus on the poses instead of the ungodly shade of red your face is. Another thing I love about Y7 is that toward the end of class, there's a little strength push that usually involves some sort of ab workout. The pushes are literally never more than two minutes, so that motivates me to just do it instead of half-assing it until it's over. As the instructors say, "You can literally do anything for two minutes!" I mean, not true, but you can definitely hold boat pose for 120 seconds. And if you can push, it's worth it:  women can expect to burn around 350 calories and men 450.
Overthrow
My good friend Gigi Hadid got me into boxing. I KID, Gigi and I do not know each other, but if Gigi Hadid looks the way she does from boxing, then bury me in the ring. This could be the case because boxing burns around 400 calories per hour for women and 500 for men. Now, as far as boxing workout classes go, Overthrow is the opposite of Rumble in that it's not ~trending right now~ and never will be because the instructors don't give a sh*t if you Instagram your heart out at the Bleecker Street studio. Overthrow is legit boxing, though. After you get your wraps on, you head downstairs to a large rectangular ring that's almost littered with heavy bags tethered to the ceiling via chain locks. The first half of the class is you beating the sh*t out of the bag and the second half is sparring with either your friend or a stranger. Bring a friend if you feel awkward about hitting someone you've never met. Before the bag part begins, the instructor turns the music off and tells everyone what the different types of punches are, which are all referred to by numbers. That way, he can say a bunch of different numbers really fast and you can correspond with the right punches. Am I Rocky? Honestly, maybe. The music is so loud that you get so into it and start beating the actual f*ck out of the bag and it feels so good. Like, I may just quit my job and become a professional boxer now.
Brrrn

Want to work out, but don't want to break a sweat? Head to brrrn. But don't get it twisted: these classes will still kick your ass, even if you're not drenched afterwards. Why? Unlike most other fitness classes that crank up the heat to make you think you've gotten in a better workout, brrrn takes the opposite approach. It's the first fitness studio to operate at temperatures below 72 degrees, which gives you benefits like burning more calories and working out more efficiently. There are three different types of workout classes, all 50 minutes long and conducted at 50 degrees: hit, slide and hit + slide. The hit class is a high-intensity class that incorporates battle ropes and a dumbbell circuit series for a full body strength and conditioning workout. The slide class is a mid-impact class that consists of core exercises and a cardio slide board series which aims to increase balance and core strength along with a full body conditioning. The hit + slide class is most definitely a high-intensity class which includes the slide board, battle rope, and a dumbbell circuit series for a full body strength and conditioning workout. It's proof you don't have to sweat to get a great workout in.
Box + Flow

If you can't decide whether to take a high-intensity boxing class or low-intensity yoga class, head here. Box + Flow is the first class that allows you to do both, splitting your time between boxing and yoga. The 35 minute "box" portion of the class is first, then you move onto the 15 minute "flow" portion. It's great because many workout classes give you, like, three minutes to stretch, which as we all know from trying to walk after an interval running class, is not enough. The yoga portion of the class really gives you the ability to stretch and center yourself after punching for over half an hour. As for the calorie count, a person usually burns between 300-450 calories in a 30 minute boxing class and burn 80-120 calories in 20 minutes of yoga. Taking into consideration the 35 minutes of boxing and 15 minutes of  yoga, you could expect to burn 410-615 calories total. Not bad for a two-in-one workout!
Solidcore

The entire class is done on top of a megaformer machine they like to call "Sweatlana." Ever heard of her? The class itself consists of "50 minutes of high-intensity, low impact, slow and controlled movements." You can burn 500-700 calories per 50 minute megaformer class so don't let the slow, isolated movements fool you. Every workout sequence starts with a plank, squat or lunge to strengthen your whole body, and ensure you can't walk so when people ask why, you can say "it's from Solidcore." #Ad, and suddenly you're an influencer. They offer beginner, fully body and muscle-specific workout classes so you can go whether your body type is "works out, "works out but definitely eats dessert," or just "eats dessert." It's the holy grail of pilates classes being that they define themselves as "pilates-intensified."
Fhitting Room

We all know the struggle of going into a fitting room, trying on an outfit, and only seeing the burger, fries, and ice cream you devoured last night. The struggle is real. You convince yourself in that moment that you need to workout. Fhitting Room is a workout studio that ensures you'll get that killer mirror selfie next time you're in the fitting room. Is that why they call it that? I have no idea, but it works. Its classes consist of High Intensity Interval Training (HIIT) workouts, like every other workout class in America nowadays, but for good reason. Speaking from experience, this class will kill you—but like, in a good way. You will get a good workout, and you'll likely learn moves like snatches, cleans, and other kettlebell movements you can use at the gym on your own time, or in other fitness classes. They also offer small classes at certain locations (10ish people) so you can get all the personalized attention and none of the intimidation of a big class.
Images: overthrownewyork, y7studio, exhalespa, 305fitness, themonstercycle, brrrn, hithouse, boxandflow, solidcore, fhittingroom / Instagram
4 Myths About Spin Class We've All Fallen For
Welcome to spin class, betches. You get on the bike, you sweat your ass off, you wonder how the hell this superhuman of an instructor exists, you yell "fuck" at least five times, and by the time you know it, class is over and you're onto happy hour. #fitness. Betches have been spinning ever since treadmills got boring and SoulCycle apparel became the new Wildfox. But even though we can book our bikes, tap it back, and compare instructors like Bachelor contestants, there are still a lot of shit that people believe about cycling that just isn't true. Luckily for you, we looked into some major myths and found the hard facts behind each one. So here's the myths about spin class that you've probably fallen for at one point.
Myth: Spinning Is Only Good For Your Legs
Wrong, wrong, so wrong. There are two general types of workouts in this world: cardio training and strength training. Spinning is a cardio workout, which means it gets your heart rate up, burns calories, and causes your body to sweat (no shit). When it comes to strength training, you can target specific muscle groups in your body, but that's just not true with cardio. Any fat loss exercise is technically a total body workout because you can't choose where you lose fat. Although spinning feels leg-heavy, it's basic cardio, so you're getting a total body workout.
Myth: Spinning Will Make Your Thighs Bulky
This myth drives fitness professionals fucking crazy because once again, spinning is CARDIO. Nothing is making your legs bulky unless you're adding a shit-ton of weight along with a protein-packed diet plan. Spinning will make your legs stronger and faster, but they're not getting bulky even if you're spinning every day, so let's move on.

Myth: Spinning Burns A Million Calories
OKAY, so calorie burn obviously depends on your specific body, but most 60-minute spin classes are supposed to burn anywhere from 480-640 calories. That number depends on how hard you're peddling and how much you weigh, but that's the ballpark. So like, can you afford the post-workout treat? Yeah, but like, relax. Just remember you can eat back those calories REAL QUICK when you get ahead of yourself.
Myth: Spinning Is The Same Thing As Biking Outside
This idea sounds pretty rational because the two activities involve the same piece of machinery, but they're not identical. When I say "biking outside", BTW, I mean really biking outside, not just taking a City Bike on a leisurely stroll around the block. For one, there are no hills when you're on a stationary bike. For another, since the bike stays in one place, cycling inside, even while standing, doesn't require as much balance and coordination, and therefore doesn't engage as many muscles as doing the same activity on a regular bike would. That being said, neither one is inherently superior to the other. If you know yourself and know you can't balance to save your life and also have no internal motivation to make it up a hill (hi), maybe stay inside. If you dislike group classes and studios with cult-like atmospheres, keep doing you, Lance Armstrong.

Images: Giphy (2)
6 Moves To Tone Your Legs And Butt For Shorts Season
After a god-awful winter and no spring season whatsoever, summer has arrived, and it literally has no chill. We totally skipped over denim jacket weather and basically went straight to face-directly-in-the-AC-vent weather, so it's time to dress accordingly. If you're putting on your shorts for the first time in a year and notice your legs could use some much-needed toning and tightening, don't panic. Do these six leg exercises, and once you're done, repeat the whole circuit another three times to really tone and strengthen your legs. And also, like, try not to cry when you sit down tomorrow. Consider yourself warned.  
1. Curtsey Lunges
Regular squats and lunges can get boring and repetitive, so trying out different leg exercises and variations help target your muscles in a different way. Curtsey lunges are great because they hit various muscle groups in your quads and glutes, and they also challenge your body's overall balance and stability. They're v underrated. The idea here is to lunge backwards like you would regularly, but instead of bringing your knee directly behind you, bring it in a diagonal direction, crossing behind your other leg. Like a curtsey, get it?? Bend your knees and lower your hips until your thigh is parallel to the floor. Then, return to standing position and do the same on the other leg. Complete 10 reps per leg, and if you feel like it's too easy, hold a weight in each hand to add resistance.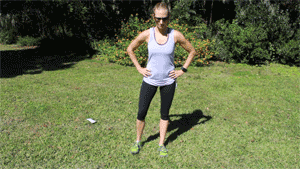 2. Swiss Ball Hamstring Curls
This exercise is based on using a swiss ball, but if your gym doesn't have one, this can also work using TRX bands or the rowing machine. Begin on the floor by lying on your back with your feet up on top of the ball. You want your ankles to be on top of the ball when your legs are fully extended. Raise your hips off the ground, keeping your weight in your shoulders and your feet. Then, flex your knees, pulling the ball inward toward your body while squeezing the backs of your legs. Once the ball is "curled" inward, straighten out your legs again, rolling it outwards. Aim for 15 reps.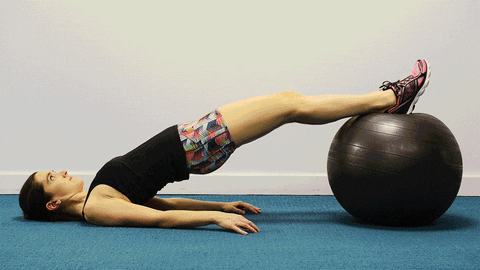 3. Single Leg Glute Bridges
Glute bridges are a classic butt exercise, but by focusing on one leg at a time, you also hit your hamstrings, which are the muscles that make up the backs of your legs. You're basically getting the best of both worlds because you're working your thighs and butt in one simple move. Lucky you. Lying on a mat, keep your hands at your sides and your knees bent out in front of you. Then, extend one leg as you lift your butt off the ground, squeezing your glutes and lifting your hips toward the ceiling. Think about pushing down with your left heel as you lift. Do 10 reps on one leg and then switch to the other.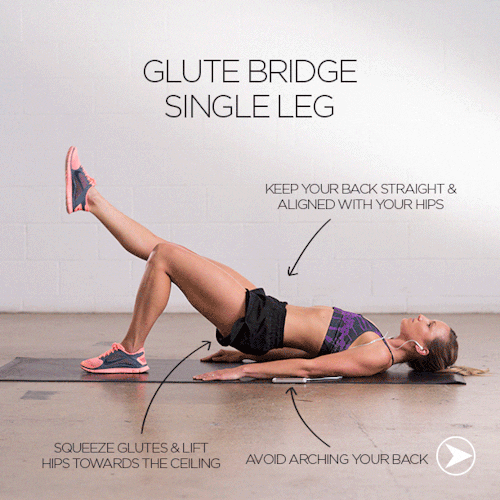 4. Jumping Sumo Squats
We tend to do a lot of squats and jump squats in our leg workouts, but the sumo squat is a different variation that a lot of people ignore. The idea here is to do a jump squat, but your stance is more like that of a ballerina, with your toes turned outward and your legs further apart than they'd usually be. This way, when you squat down, the resistance shifts from your quads to your glutes, and it becomes more of a butt-focused movement. You're also getting your heart rate up and burning calories because like, you're jumping. Duh. Try doing 15-20 jumps without stopping.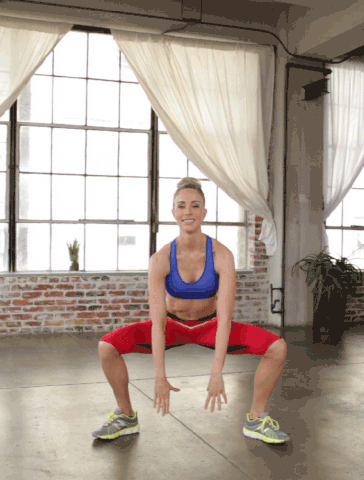 5. Elevated Reverse Lunges
Reverse lunges are a staple leg movement, and by elevating your front leg, you're adding pressure to that leg's quad muscle, and you REALLY feel the burn on these. The idea here is to find some sort of box or elevated step that you can put your front foot on, and then lunge backwards, bringing the back leg even further down than you would on a regular surface. This way, your quads get more resistance—kinda like when you turn up the torq on a spin bike. Remember to keep your chest up and head straight the whole time to avoid leaning forward. If these are too hard, lose the elevation and just do lunges on the ground. And if they're easy, hold a weight, like the badass chick in this gif.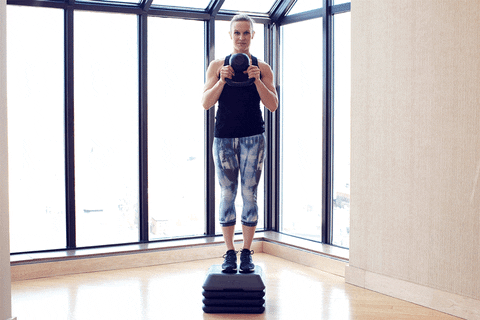 6. Wall Sit
Wall sits look relatively easy, but you might notice after a few seconds that your thighs are on fire and you want to die. This is normal. This move is also great because your body is basically in a squatting position, but your back is protected, so you can really engage all of the muscles in your legs to keep you stable. With your back flat against a wall, set your feet about shoulder-width apart, about two feet out from the wall. Slide your back down the wall, bending your knees as low as you can get. Hold the position for one minute, and remember to contract your abs while you're holding it. Your legs will probably start shaking, but that just means it's working. Just think about how good your legs will look in your new romper.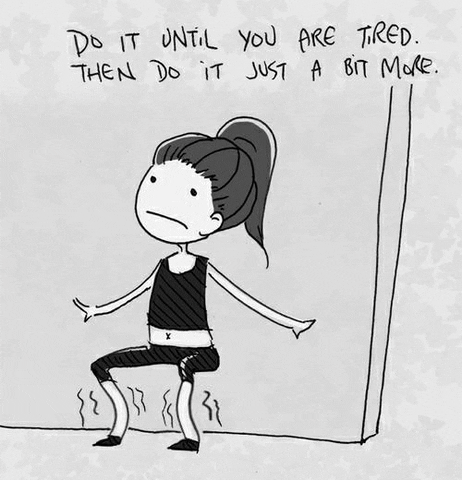 Images: Shutterstock; Giphy (6)
How Many Calories You Really Burn At SoulCycle, Barre & Other Workout Classes
Ever since Lady Gaga replaced her personal trainer for her own SoulCycle bike and we started shopping at Bandier instead of Lululemon, there's been a shift in the world of working out. Boutique fitness is trendier than ever, and betches across the world are drinking the organic sugar-free Kool-Aid. I mean, there's a Barry's Bootcamp open in Milan, so you know this shit has gone global. Workout classes are the new jog in the park, but are they really worth the price tag? We've been dying to know how many calories we actually burn in these classes, so we did some digging and the results are in. Keep in mind that everyone's bodies are different so it's hard to give you a straightforward number, here's how many calories you (approximately) burn in your go-to classes:
1. Spin
Spin classes have surprisingly been around for decades, but they didn't really get big until SoulCycle developed a cult following the size of China's population and was then followed by Flywheel, Peloton, Swerve, and a few other wannabes. A lot of these studios tell people they can burn up to 1,000 calories in a class, but that's ambitious, even if you're like, really pretty athletic. If you're working as hard as the teacher is telling you to work, you're probably burning around 500 calories in a 45-minute class. This obviously varies depending on the person, the class, and how much effort you're putting in, but just think logically. Like, if I'm drenched and crippled by the end of a spin class, I know I burned a shit ton of calories. I mean, It's like I have ESPN or something. Can I take all these free bananas now?

2. Circuit Training & HIIT
Circuit-style classes are becoming more and more popular recently, and it's not just because girls have realized they'll look good if they step off the treadmill and start lifting some weights. HIIT classes are short and effective, because the class is scientifically built to make you work in short, intense intervals that are meant to spike your heart rate and keep your body burning calories for a day after the workout. The scientific term for it is called EPOC, and the results are dope. So, even if you're only burning like, 300-400 calories in a 40-minute HIIT class, your body is put in a calorie-burning mode, which can last up to 36 hours, depending on how hard you worked. Thank you, science.
3. Barre & Pilates
Barre and pilates classes are obv different in many ways, but they're both focused on muscle toning and pulsing movements, so we're grouping them together for convenience reasons. Basically, whether you're on a pilates reformer or doing pulsing squats with a bouncy ball in between your legs, you're doing resistance training, which means you're damaging your muscles in class. Afterwards, the muscle fibers repair themselves, which makes your muscles grow and your body get toned AF. So, these classes usually burn only 200-300 calories, but the point of them is to spike your metabolic rate and strengthen your muscles, so don't freak out if you're not soaked and exhausted by the end of class—you're getting more long-term results that are not just about the amount of calories you burn in class.

4. Boxing
Boxing has had a trendy revival lately, so we've been dying to know what's so damn life-changing about these classes. Gotham Gym and The Dogpound have always been packed with celebs like Gigi Hadid, Shay Mitchell, and Karlie Kloss, but now new studios like Rumble and Shadowbox are taking over the NYC fitness scene, and it's not just because the trainers literally look like the strong versions of Victoria's Secret models. Boutique boxing studios incorporate traditional boxing drills in their classes, but they also usually have HIIT and strength training segments built into the class. With the cardio of boxing and the effects of weightlifting combined, these classes can burn anywhere from 500-800 calories. It's also a cheaper form of therapy if you're particularly angry at the moment. Just saying.
5. Hot Yoga
We know there are a lot of different types of yoga classes out there, but we can't sit here and dissect the caloric differences between Vinyasa, Bikram, and Ashtanga (pretty sure that's the name of a bomb sushi restaurant, though). We're talking about hot yoga because people tend to think they're burning a million calories due to the yoga poses being done at such a high temperature. While it's true that hot yoga classes take place in rooms set at over 100 degrees, the extra heat just makes your body lose extra water, not fat. If you're taking a rigorous yoga class, you could technically burn up to 400 calories, but most probably clock in at around 200. Basically, the "hot" part doesn't mean more calories burned, it just means one more day that you can't rely on dry shampoo again. Kind of a bummer.

6. Dance Cardio
Although Zumba hit its peak in 2009 and pretty much died since then, there are a lot of types of dance-based workouts that burn a ton of calories. Again, everyone's bodies are so different, but if you're really jumping around and kicking your legs in the air for an hour straight, you can probably burn up to 500-600 calories. 305Fitness in NYC claims you'll burn 800 in a class, but that's probably a stretch, unless you're that annoying person in the front row who does the absolute most the entire time (you know the one). Most dance cardio classes take breaks and have active rest periods, so it's obviously not as intense as spin or boxing. But then again, a workout is a workout, so if you'd rather dance than peddle on a bike until your quads feel like they're literally on fire, we totally get it. Do the dance class.