Scary & Ginger Spice Hooked Up, Plus 5 Other Celeb Hookups You Forgot About
For the past few years, we've been in a major wave of '90s nostalgia. Your favorite TV shows, clothing brands, and recording artists are back in business, and the Spice Girls are no exception. They'll be heading out on a short reunion tour this summer (without Victoria Beckham), which means they're all back in the press. Most interviews are pretty boring, but last Friday, Mel B (aka Scary Spice) revealed in an interview that she once hooked up with Geri Halliwell (aka Ginger Spice). You guys. As much as I hate to use the word shook, I. AM. SHOOK.
Let's be real—it's not that crazy that two hot ladies who were spending all their time together happened to hook up once. Girl power! But I'm more surprised that Mel B is telling the world about it all these years later. She told Piers Morgan in the interview, "She is going to hate me for this because she is all posh in a country house but it wasn't 'a thing.' It just happened, we just giggled at it and that was it. We were best friends. It just happened."
I would normally say that I have a lot of questions, but really I just want to know absolutely everything about this. Mainly, did Mel really share this information without checking with Geri? Because that would seem a little uncool, but who knows. Are these two the only Spice Girls hookup, or were there others? Has Victoria Beckham dipped in the lady pond? I'm losing my mind over here. What other random celebrity hookups don't we know about?
In honor of this earth-shattering news, let's take a look at some other random celebrity hookups you most likely forgot about, if you ever were aware that they had happened in the first place.
1. Mel B & Zac Efron

Ginger Spice isn't Mel B's only intriguing celeb hookup story. Many sources have confirmed that she hooked up with Zac Efron back in 2017 after splitting up with her husband. Apparently, they "met on an exclusive dating app" (aka Raya), and "he ended up driving over to her pad. They hit it off and spent a few enjoyable hours together." Lol at the wording of "a few enjoyable hours," but this sounds like a pretty run-of-the-mill app hookup. Stars, they're just like us!
2. Matthew McConaughey & Janet Jackson

This one really threw me for a loop. Matthew McConaughey and Janet Jackson just don't even feel like they're from the same planet, but they briefly dated in 2002. Matthew denied it at the time, but Janet finally confirmed it in 2006. She said "it was just for a minute," but it still happened. My mind is truly blown.
3. Lenny Kravitz & Nicole Kidman

This must have been interesting when Nicole showed up to film Big Little Lies with Lenny's daughter Zoë Kravitz. Nicole Kidman talked about her relationship with Lenny in 2017 when the show was premiering, saying that they were actually engaged briefly in 2o03. This wasn't a secret at the time, but it's easy to forget among her other high-profile relationships.
4. Rihanna & Ashton Kutcher

This pairing is the ultimate example of BDE (and random celebrity hookups). Before Ashton officially got with Mila Kunis (he has amazing taste), he and Rihanna dated for eight weeks in 2012. We forget these things so quickly. They were obviously never that serious, but at the time there were even reports that Rihanna wanted to study Kabbalah for Ashton. This is so 2012, I can't. Realistically, I don't think Ashton could handle Rihanna.
5. Kim Kardashian & Nick Cannon

The Kardashians have many famous men in their hookup graveyard, but I'll limit myself to just one for today. (That topic will be another article for another time.) Right after breaking up with Ray J (RIP to the greatest love of our generation), Kim had a brief relationship with Nick Cannon. This was shortly before he got with Mariah Carey, and he apparently broke it off when Kim's sex tape was released. Wow, that's sh*tty. You guys, I really miss 2006.
I hope you enjoyed that brief trip down memory lane. What other random celebrity hookups deserve to be investigated? Comment below!
Images: Shutterstock; @therealgerihalliwell / Instagram; Giphy (5)
The Spice Girls Reunion News Is A Little Disappointing
If you've been paying any attention to fashion trends lately, you'll know that everything '90s is completely back in style. If Gigi and Bella are doing it, we all have to. For better or worse, it's time to dig out the denim, and basically just dress like your mom did when you were a baby. Along with the clothes, it makes sense that '90s music is making a comeback too. To me, that basically means one thing: SPICE. Yesterday, we finally got the details on the Spice Girls Reunion Tour, which the girls have been teasing for approximately seven million years.
Okay, so I'll be honest, I'm a little disappointed. While any Spice Girls reunion moment is a blessed gift from the pop gods, I was hoping for a little more? The biggest problem here is obviously the lack of any dates in the United States, or literally anywhere outside the UK. I totally understand that the Spice Girls are a British group, and they have a ton of fans there, but what are us stateside '90s babies supposed to do? (Yeah, I know we're supposed to fly to London, but idk if that's in my budget.) If you're in the mood to hop across the pond next June, here are the dates, all six of them:
6/1 – Manchester
6/3 – Coventry
6/6 – Sunderland
6/8 – Edinburgh
6/10 – Bristol
6/15 – London
Tickets for all six dates go on sale this Saturday (11/10) at 10:30 AM UK time, which means us East-coasters will have to wake up at 5 AM if we want to get those tickets. Sorry ladies, but I'm probably not waking up for that. The cheapest tickets are 60 pounds, which is like $80, which is honestly not that bad.
But aside from the lack of American dates, there's a second very disappointing piece of news we need to discuss. I'm sorry to be the one to break this bad news, but Victoria Beckham isn't doing the tour. That's right, Posh is out, so there will only be four Spices. Everyone kind of suspected this from the beginning, but it was confirmed when Victoria posted an Instagram basically congratulating them on their tour, pretending like she isn't above the whole thing at this point. I know she's a big fancy fashion designer, but it's only six shows! Come on Victoria, you can let David handle the fashion stuff for two weeks!
So yeah, the tour announcement is a little bit disappointing, but I'm sure the shows will still be an amazing time. Let me know if you're actually buying tickets, so that way I can make you FaceTime me in the entire time. Or at least for "Wannabe." Aaaaand now I have to go listen to the entire Spice Girls catalog for the rest of the day, but this has been fun.
Images: Shutterstock; @victoriabeckham / Instagram
All Our Predictions For The Spice Girls' Royal Wedding Performance
The royal wedding is less than three months away, and details are starting to fall into place about the special day. Earlier, we got a closer look at the itinerary for the special day, but today we got even better info: The Spice Girls are performing at the royal wedding.
Start crimping your hair and put on your shortest minidress, because this is a full-fledged pop culture emergency. We got early confirmation of the exciting news on Wednesday, when Mel B appeared on The Real (it's a knockoff of The View) and spilled the beans. The ladies on the show first asked if Mel knew anyone going to the wedding, to which her response was basically like "bitch please I'M going to the wedding." She revealed that all five Spice Girls got invitations, and the ladies put two and two together that this meant a performance was likely. Mel B acknowledged that this was correct, before adding that she would probably get fired for sharing the top-secret information.
With the wedding happening on May 19, this performance should serve as a good warmup before their alleged world tour this summer. Victoria Beckham says the tour isn't happening, but I really need her to be wrong.

So now let's discuss what this already iconic wedding performance will look like. As we reported previously, the wedding day will consist of a traditional ceremony, followed by a large reception, and then a private family party later in the evening. So there are lots of possibilities for what Posh, Scary, Sporty, Baby, and Ginger could be cooking up.
Honestly, there's no reason that the Spice Girls, patron saints of girl groups everywhere, shouldn't perform at the ceremony. They could wear sequined angel costumes (complete with wings, obvi), and sing pop arrangements of classic Anglican hymns. There wouldn't be a dry eye in the house, and it would have nothing to do with Meghan Markle looking stunning.
More realistically, the Spice Girls will probably perform at the bigger reception. We're hoping it's a super legit setup with lasers, fog, and wind machines, and that they perform for a minimum of 45 minutes. Think Super Bowl halftime show, but with a bigger budget and more time. The world deserves this, so there will obviously be an HD livestream for all of us to enjoy. There is nothing about this that seems unreasonable to me.

That just leaves the smaller, private family event, and the Spice Girls would be a great choice for that as well. I'm thinking a chill acoustic setup, with just five stools and a guitarist, so that the artistry of each individual Spice Girl can really shine through. They'll perform an hour-long set of some of their lesser-known hits, as well as covers of Adele songs. Hopefully the space will be really small, so Queen Elizabeth will be seated less than 10 feet from these five other British Queens. I also require that Ginger Spice wears her bedazzled Union Jack minidress, because patriotism.

So, that's what the real itinerary should look like for the royal wedding Spice Girls reunion weekend extravaganza. Prince Harry and Meghan Markle can direct any questions to me, because I am now in charge of planning this whole thing. But really, the Spice Girls are performing, and we couldn't be happier about it.
Images: Columbia Pictures; Giphy (3)
Heads up, you need to keep up with the news. It's not cute anymore. That's why we've created a 5x weekly newsletter called The 'Sup that will explain all the news of the week in a hilarious af way. Because if we weren't laughing, we'd be crying. Sign up for The 'Sup now!
10 Iconic 90s Music Video Outfits That Inspired Your Slutty Middle School Wardrobe
Before style trends were dependent on the Kardashians, CW teen dramas, or even our Cheeto president there was the 1990s. Ah, the 90s. A simpler time, a time when Britney Spears was still a "virgin" and boys in matching denim ensembles were considered sex symbols. What a time to be alive.
It could be nostalgia kicking in or it could be this $8 bottle of red wine that's mostly empty, but either way I'm about to revisit some of my favorite shit shows fashion choices and beauty looks from the best 1990s music videos.
1. "JUST A GIRL" — GWEN STEFANI (1995)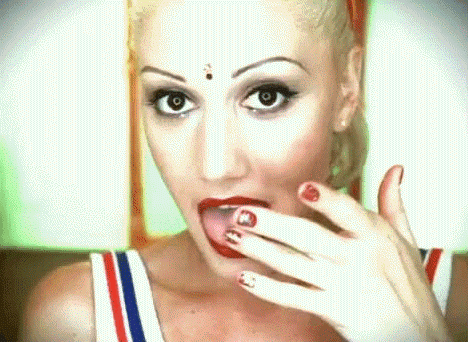 Oh, Gwen. Where do I even begin with you? Perhaps with the semi-culturally offensive red jewelry in the middle of your forehead? The fugly giant hair barrettes? Or the men's track pants you're wearing? Please also keep in mind that this person has a very successful FASHION LINE today, which I can only imagine Twitter is responsible for. Gwen's style is something I'll understand about as much as I understand clear plastic boots, which is to say I don't fucking get it. Let's also not let this moment pass without discussing how Gwen's eyebrows are thinner than my will to live. They are actually making me so uncomfortable. I need an adult.
2. "MMMBOP" — HANSON (1997)

Seeing prepubescent boys with better hair than me makes me want to heavily drink. Seriously, shouldn't you be getting head lice from kids on the playground, not giving a grown woman hair envy?
3. "I WANT YOU BACK" — N*SYNC (1997)

I mean seriously wtf were we thinking? To be fair, this music video actually features some of the less offensive fashion choices from their time in the spotlight. Shocking, I know.

Also #neverforget JT's ramen noodle hair. I love that since Justin went solo and didn't become a has-been like the rest of the band, he thinks he's better than everyone. Like, you might be married and successful and actually pretty funny anytime you appear on SNL, but you still wore a JEAN SUIT to the American Music Awards. Know yourself.
4. "(HIT ME )…BABY ONE MORE TIME" — BRITNEY SPEARS (1999)

An iconic Britney moment that forever made me want to dress like a baby prostitute. Thanks for giving us years of slutty Halloween costumes. You the real MVP, Brit.
5. "SAY MY NAME" — DESTINY'S CHILD (1999)

You know I had to add in the Queen here. And I guess I have to mention her backup singers band mates too. Aside from the fact that the lyrics in this song are fire and I use them in daily in my life, Beyoncé also looks like a fucking goddess in this music video. Groundbreaking, I know. I'll even forgive her for those gold hoops because we all know hoops are Regina's thing. An important note, though: If your skin burns in the sun, you should absolutely, under no circumstances, attempt her hairstyle at home.
6. "GOOD VIBRATIONS" — MARKY MARK AND THE FUNKY BUNCH (1991)

Fuck, this boy is ripped talented. The original fuckboy, his signature look was not wearing a shirt, touching himself, and giving white people hope of becoming a rapper. 10/10 would hit that.
7. "DIRRTY" — CHRISTINA AGUILERA (2002)

While not *technically* a 90s song, I'm still including it because Kylie Jenner made this video relevant again. Those dirty AF blue hair extensions, the assless chaps, THE BODY JEWELRY—she made slutty chic. Not all heroes wear capes, people. She was also single-handedly responsible for every dress code violation phone call my mother received about me from grades 8-12. *starts a slow clap*
8. "ALWAYS BE MY BABY" — MARIAH CAREY (1995)

Aka the reason I thought butterfly hair clips were a statement piece. She spends this entire music video swinging over a lake in a classic jean-on-jean ensemble, looking as angelic as her voice sounds.
9. "WANNABE" — THE SPICE GIRLS (1996)

The original Plastics, these girls are responsible for stereotypes in cliques and my hideous metallic mini dress in middle school. Also for giving my boyfriend an excuse to "get with my friends."
10. "AARON'S PARTY (COME GET IT)" — AARON CARTER (2000)

Again, not exactly a 90s song but I couldn't not include this one. First of all, Aaron Carter is, what, 9 in this music video? Maybe? And he's throwing fucking ragers while his parents are out to dinner? I applaud you, son. Also the fact that a third grader is rapping on a bicycle in a fur coat while middle school girls grind up on him. I'd be lying if I said I didn't want to be one of those middle school hoes. And you'd be lying too.
Anddd now I have "Aaron's Party" stuck in my head. Brb I'm just going to do something productive bang my head against a wall until I stop singing rap lyrics written by and for a 12-year-old.