Quarantine Turned Me Into An At-Home Workout Person
If you told me four months ago when quarantine first started that I wouldn't be itching to get back to the gym or a group fitness class, I would've told you that you don't know me at all. Well here I am, five months into quarantine, and all that's been on my mind is that I never want to go back to a gym again, and when am I going to pull the trigger on a SoulCycle at-home bike?
For me, a group fitness class was more than a way to burn calories—in fact, that was probably the last thing on my list. The most important thing these classes offered me was an escape from the real world for 45 solid minutes. $36 for a spin class may seem absurd to you, but it's way cheaper than talking to a NYC therapist for the same amount of time. This was my me time, time when I didn't have to answer a single work message or be accessible to anyone. It's rare to be able to unplug during the day and this was the best excuse I could find, plus endorphins make you happy and happy people don't kill their husbands… unless they're locked inside with them 24/7 during a pandemic (JK).
I used to think you couldn't get as good of a workout at home or that I'd be way less motivated, but I can without a doubt say that's not the case. So even if gyms open and they're clean and COVID miraculously isn't a concern anymore, here's why I'm quitting the gym in favor of working out at home.
The Money Factor
Like a lot of New Yorkers, I was paying out the ass for an Equinox membership before we got locked in our homes for the foreseeable future. I was going to hide the amount of that annual membership, but for the sake of transparency, I'll risk getting ridiculed in the comments section—but please, before you come for me, remember we're in NYC and everything is inflated. When I first joined, the membership started at $240/month and as the years went on, they upped their price to $255/month, aka $3,060/year. Nothing says being a loyal gym member like upping the price of an already overpriced membership. But as any gymgoer knows, you know you're still spending money on a SoulCycle class here, a solidcore class there, and that adds up real quick considering a single group fitness class in NYC ranges from $30-40.
When the pandemic hit, saving all of the money I was spending on fitness was something I really felt. No sh*t, it was a small fortune. Myself, along with the rest of the world, abruptly turned to at-home workouts, something I never really did in the past, because who voluntarily wants to workout when they get home? But as soon as I started taking live Zoom classes, I realized I actually liked them, with the number one reason being they cost ~$14 or less per class, and if you're a saint like Gina DiNapoli, $9 or less, praise f*cking be.
This is a hell of a lot cheaper than an in-person class. For the price of one in-person class you can take almost four at-home classes, and that's not even factoring the money you're spending on the commute to get to/from the class. Plus, you can get away with washing your hair less frequently and repeating gym outfits, since no one even sees.
Convenience
As if money wasn't enough of a motivator to never leave my house again to workout, the convenience is next level. You know what the worst part about taking a morning group fitness class is? Actually, there are two. The first: leaving your apartment with a 20 minute buffer time and still being late to class because the subway was delayed yet again for no reason. The second: the increased anxiety you feel during the last few minutes of class before you have to sneak out to race to get into one of the three showers offered for over 40 people in the locker room.
My favorite part about working out at home is finishing my workout, sitting my ass on the couch to recover for a few minutes, then taking my sweet time getting into my own shower, to use my own products without having to wear shower shoes. As much as I liked using the gym's towels and amenities, thanks to COVID, I realize this was probably really disgusting.
Flexibility
As with everything else in NYC, fitness classes are at high demand, oftentimes forcing you to sign up a week in advance. How are you going to know what you're in the mood to do a week from now? Working out at home allows you to cater your workouts to whatever mood you're in the day of. Some days you're super motivated to wake up early and work out, other days you'd rather squeeze them in between meetings—with at-home workouts, you can decide on a moment's notice to do them whenever you want and not feel any unnecessary pressure to decide in advance.
No More Late Fees
You literally never have to worry about getting penalized for either missing, or being late to, a workout again, since they're based off your schedule. Sure, that can lead to pushing off a workout until you no longer feel motivated to do it, but if you create a schedule, it'll help hold you accountable. Think of all of those times you wishfully booked a 5:30pm class hoping your 4:30pm meeting would end in time, only to find yourself still in said meeting well past 5:30. It's bad enough spending over $30 for a class, it's even worse when you lose the class and get a penalty charge.
Variety
Since quarantine, everything has been adapted to be broadcast online, even workouts like solidcore that normally require a megaformer machine. Obv the workout is not the exact same, but my obliques hurt regardless, so I guess they're doing something right. Basically any workout that was offered in a studio can now be streamed online, done via Zoom, or watched on IGTV. My latest obsession is Sydney Miller's Housework, which is the closest I've gotten to a nightclub since the world shut down in March. So many places are also doing free trials so you can test out a bunch of things for free before even committing to purchasing.
It's Mobile
If you're one of the blessed who have access to a vacation home or you're able to go away for a weekend, you can bring your workouts with you. No longer are you stuck looking for a substitute class at a random studio—now you can bring your fav instructor with you. Sure you have to bring your equipment with you, but that's a real small price to pay for convenience.
In the time that I've written, read, re-read, and edited this article I am happy to announce that my husband and I finally splurged on the SoulCycle At-Home Bike. I'll be even more happy to announce when I make my money back on it as soon as we hit 68 rides, which between the two of us, will probably be in six months.
Images: @littpro / Unsplash; houseworkofficial, jabsbygina / Instagram
Equinox Is Reopening, But How Much Will Your Bougie Gym Protect You?
I don't need to tell you all that these are unprecedented times. Many of us have been worrying about keeping ourselves and our loved ones healthy. Healthcare workers have been preoccupied with having adequate access to PPE. Millions have been filing for unemployment. And, apparently, rich people have been itching to get back to their luxury gyms, because Equinox announced over the weekend their plan to reopen facilities—excuse me, I mean clubs. 
Equinox detailed the plan to reopen in an Instagram post, writing, "The past several weeks proved something we knew all along: Equinox is not just a place – it's a mindset. It's in our hearts. It's in our homes. It's who we are." Maybe I'm just jealous because I can't afford Equinox, and the human petri dish of a Planet Fitness to which I belong probably started coronavirus, but no, I'm pretty sure Equinox is just a place. 
But, okay, the post broke down Equinox's plan for reopening, which they called The Equinox Standard (or what Murray Hill bros will adopt as their new system for rating women's appearances). The plan features a number of elements. First, members must complete a "self-health check" in the Equinox app before visiting. That description is vague, but thankfully, members won't have to put blind trust in their fellow club members to stay home if they are feeling sick. "Body temperatures will be taken via touchless thermometers," the Instagram post explains, and members must register under 100.4° to come in. 
But is that enough? Dr. Purvi Parikh, immunologist with Allergy & Asthma Network, told Betches that taking temperature "can help identify people who may not realize they are sick who have a high temperature," but warned, "since fever is a symptom it doesn't cover all asymptomatic carriers, as many will have a normal temperature." 
Dr. Melanie Graber, an internal medicine resident at the University of Connecticut, echoed, "Temperature screening is a good tool to catch people who are having a fever, but it isn't necessarily effective at identifying people who are infected with coronavirus." She also said, "Temperature checking would not screen out people who are infected but asymptomatic," whom she said can be "highly infectious". But, even though checking temperatures may not control for all potential infections, it probably beats the Florida method of "open and pray".
Probably the biggest change is that gone are the days of just rolling up to the gym and lying down on the mats for two hours; now, members will be required to book a club visit in advance using the Equinox app. They can schedule three 90-minute "appointments" in any seven-day period (I too use the same terminology for my workouts as for my doctor's visits), "with additional visits subject to club capacity." 
A source close to the company told Betches, "Members are not limited to visiting the club three times per week, rather they can have up to three appointments booked at one time," adding, "members can book up to 7 days in advance or as soon as 15 minutes before visiting if space is available." Same day drop-ins are also permitted, but subject to availability. 
Some members worry that the new booking system, combined with modified club hours to make time for thorough cleaning and disinfecting, will not allow sufficient time to get all their workouts in. And with Equinox memberships starting at $185 per month in New York City, they don't think they'll get their money's worth. 
One member commented on Instagram, "Is this permanent? Will membership fees be reduced due to these restrictions?" Equinox replied on Instagram that, while the restrictions are temporary, "we are not amending membership dues at this time." The source confirmed to Betches, "We are not reducing membership rates and are confident that members will be able to continue their normal routine and that many of our measures are temporary."
Despite the company's confidence that workouts will not be impacted, a few members are not so thrilled about taking a $200-ish gamble with the new system. Hunter Duplisse, an Equinox member in Vancouver, had a bone to pick in a post in Betches' Diet Starts Tomorrow'ers Facebook group. While she acknowledged the necessity of booking workout spots in advance to maintain distancing, she said, "it's really frustrating that we're not receiving a reduction of fees considering our access to the gym is extremely limited." 
Another aspect of the new policies that drew confusion had to do with the PPE requirements for members, which allow room for ambiguities. The post states, "Members will be required to wear face coverings at all times in the club, except while vigorously training." Why they're making an exception for intense exercise is unclear, and Dr. Parikh told Betches, "I actually would recommend wearing masks or face covering  at all times if possible," not just when not-vigorously training, because "we know it reduces spread of droplets by 70 percent if all people are masked. 
Further, you don't know who has been in that area training or walking or running before you—we know the virus can stay in the air even for a few hours. If it is uncomfortable to exercise vigorously with a mask, it may be better to exercise in your home if possible."
Also ambiguous is exactly constitutes "vigorous training" and who will make that call. Margaret Doherty, another member of the Diet Starts Tomorrow'ers Facebook group, asked, "How does one know what each person's 'vigorous training' looks like?" Equinox's source didn't clarify, telling us, "We are continuing to define what constitutes vigorous training in coordination with our team of medical experts and will update our members prior to opening so they can make the decision that is best for them." 
On top of that, Equinox's Instagram post stated, "It is recommended but not required that members wear gloves during their visit." Considering Americans' track record of abiding by gentle suggestions, I predict that we will see more gloves in an Alabama sex ed class than in any given Equinox club. 
Still, if you're looking for your fancy gym to protect you from coronavirus, you may want to look elsewhere. As Dr. Graber put it, "when people go to a public space, they assume the risk that someone else who is there may be infected and contagious." Guess the founding fathers fought for your right to decide for yourself whether you want to risk catching coronavirus from the guy with a six pack running on the treadmill six feet away from you. 
Some are praising the new measures, though. @swoleengineer commented, "This makes me so proud to be an Equinox member. I've been missing the gym, but more importantly very hesitant about showing up again if you guys reopen without any safety measures. All of this is more than good enough for me…" @scottfishman echoed, "You guys are AMAZING – great stuff providing so many awesome safety protocols!" And, despite her dissatisfaction with the membership costs not being adjusted, Duplisse admitted she's not actually that concerned with sanitation, writing, "I do trust that they will be able to keep locations clean because I've always been incredibly impressed with the cleanliness of my club." 
The post did not specify when Equinox will be reopening, or which markets will see these new policies in effect first. Their rep explained, "We will evaluate each city's situation in coordination with health officials and our team of medical and infectious disease experts to determine when it is best to reopen." 
Sorry, New York members, I have a feeling that means you're just going to have to do at-home workouts for a little while longer—though your apartments probably have the space. And, the source assured us, not all of the measures are permanent. "This is a dynamic and fluid situation and we will continue to adapt and evaluate existing and new protocols with the safety of our teams and members in mind," they said, echoing the one thing we all really can say with conviction: nobody is totally sure of anything right now, and we're all just kind of making it up as we go.
Images: Sundry Photography / Shutterstock.com; Equinox / Instagram
SoulCycle CEO Melanie Whelan Suddenly Resigns
The Whelan wheels are no longer spinning on their stationary bike, it seems! Melanie Whelan, who has been with SoulCycle for about eight years, announced her resignation yesterday, and it was effective immediately—I guess she didn't want to burn off her Thanksgiving turkey at the studio Friday. She not only is leaving her position as CEO, but also is vacating her role as the director of the company's board. She confirmed this news on Instagram:
This allegedly was a mutual agreement, with both sides thinking it was time for a change in SoulCycle leadership. But, as any fan of the Real Housewives knows, no one just "mutually decides to leave" on great terms and they ride off separately into their own sunsets. This is especially an interesting time for her to resign because it's coming off of the heels of one of SoulCycle's more tumultuous years. In case you forgot (because I think a lot of people actually did), there was a large conversation sparked in late-Summer when Stephen Ross, who is the majority owner of The Related Companies—which is the parent company of Equinox and SoulCycle—held a fundraiser to raise major cash for Donald Trump. It's not surprising that a good chunk of people who like to run to a "Lizzo vs. Beyoncé" spin class were not thrilled with this news, which led to a boycott.
Besides social opinion, SoulCycle also faced competition in a way it potentially never expected this year. That's right, the call came from inside the house—in the form of Peloton, which basically lets anyone with an apartment bigger than a walk-in closet to have their own spin studio in their living room. With premiere classes available 24/7, Peloton is not only extremely convenient for a user, but also has the same level of chicness that you used to get from saying you were going to a Soul class. Additionally, SoulCycle also tried to file for an IPO (initial public offering) which would have allowed them to sell a portion of the business to public investors. Companies usually do this in efforts to raise money, with Soul hoping to pay off debts and also open additional studios. This started in June 2015, and was the major project that Melanie Whelan was overseeing, until it ended in 2018 due to "market conditions." Ah, market conditions, the same reason all of my relationships from dating apps end. It should be noted that Peloton was able to go public, which must have stung a little… and by a little, I mean a lot.
This news has also been met with some confusion online, mainly due to the fact that there has been no explanation from SoulCycle's team about why this shake-up is happening. If we've learned anything from this company from its past year, it's that they will just try to wipe off this story with a sweaty towel, light a few candles, and pray the media attention just goes away. In the meantime, Sunday Reddy, the chief financial officer, will be stepping in as the interim CEO until a replacement is found, with Whelan advising the transition. And I mean, since SoulCycle is basically a cult, I'm sure they'll find someone from Herbalife or NXIVM to take it over in no time.
Images: melanieanya / Instagram
This Type Of Class Is The Hardest F*cking Workout You Will Ever Do
Let me first start off by saying I'm not one of those people who believes in a particular workout like a religion despite exercising religiously—for instance, I have no patience for yoga and certainly don't believe those small movements and soft sayings are going to yield the six pack I've been chasing since high school. I kid you not when I say I've tried every workout under the sun: yoga, HIIT, barre, pilates, boxing, spinning in every form they're offered in NYC. I've done Fhitting Room, Barry's Bootcamp, SoulCycle—I literally could go on and on. When it comes to working out, the only thing I believe in are results.
With that said, I was looking for a class that would complement my personal training sessions in anticipation of my upcoming wedding. And while it took me a good half of my adulthood to find what I was looking for, praise be that I actually found it in the shape of a reformer machine named . No, I'm not talking about that thing you see in introductory pilates classes, I'm talking the real thing that makes you curse under your breath and has your limbs shaking for almost an hour. My goal was to find a low impact full body workout that would get me toned, fast.

Enter , a torture chamber class that will challenge your body as much as your mind (if not more). What goes down in this room is some sh*t I have never experienced, and I truly don't know if there is anything that I hate and love more than this type of class. While this is hands down the hardest workout I've ever done, it is also one of the easiest on your joints since there is little to no impact. So, for all my other cardio haters, rejoice, because there's no jumping or running during any part and your knees won't hurt.
You spend the entire duration of the class on the machine, which is broken up into three different parts: a back platform and a front platform on either end, and a middle part, referred to as the carriage, which moves in either direction. How difficult it is to move the carriage depends on how many or how little springs you have on (see image above). There are various weights of spring load which can be adjusted throughout the entire class. There are specific moves that target different areas: think moving lunges for thighs, twisted v-ups for obliques, and kneeling shoulder presses for arms.
The core tenet for this workout is time under tension. During class, you do a series of exercises based off of planks, squats, and lunges with lots of variety to break down your muscle fibers all the way to second stage muscle failure, specifically, your slow twitch muscle fibers. This creates micro tears/trauma, which is why the workout hurts so f*cking much. But unlike most fitness classes, you will never once wonder to yourself, "is this sh*t actually working?" like I do every 30 seconds in a Pure Barre class. After class, your body will go into repair mode to heal the muscles, so they grow back stronger. During this time, your metabolism is heightened for the next 24-48 hours.
View this post on Instagram
The workout challenges you to stop focusing on calories, and to focus instead on the development of muscles you're creating. You are literally making yourself stronger, but I feel like the fact that you can endure this type of tension for 50 minutes straight will challenge your mind more than your body. Your brain will quit working out before your body actually will, so during these extreme moments of tension, you will need to mentally fight against yourself, something that you can take with you outside the classroom that will help you way past the 24-48 hours the workout will take you.
You don't need to take a million classes to see results either. "If you can only do 2 times per week, we guarantee you will see and feel changes in your body. In fact, I don't even take class every single day," explains Senior Master Coach Jacob Griffin who has been working for since their first studio opened in Washington, DC. "If you choose to show up and work hard for the 50 minutes you choose to be here, you're set." P.S. Jacob used to teach Michelle Obama, and we all know what her arms look like so…
Images: solidcore / Instagram
This Politician Is Trying to Make it Easier to Cancel Your Gym Membership
Who among us has never kept a gym membership that we never use just because canceling it is too complicated and frankly requires too much work? It's a tale as old as time.
Well, after recent news that owner of Equinox, Soulcycle, and Blink Fitness Stephen Ross threw a high-ticket fundraiser for Donald Trump, a lot of people became inspired to actually follow through with canceling their gym memberships. However, people quickly found that canceling their memberships wasn't as easy as they would hope.
Canceling your membership at Equinox requires going in person to fill out forms, which is gross. If I can't do it with the click of the button, it's an undue burden. Plus, places like Equinox have certain requirements that must be met if you want to cancel your membership, meaning you may have to continue to pay for a certain amount of time even if you no longer want to be a member.

But a certain local official is trying to change how difficult and complicated this process can be. New York City Councilman Keith Powers tweeted:
I am drafting legislation that would make it easier to cancel memberships at businesses, like gyms or fitness clubs.

The recent Equinox experiences highlighted what many New Yorkers experience daily — a complicated maze just to cancel a single membership. https://t.co/36Bs3bi5M3

— Keith Powers (@KeithPowersNYC) August 9, 2019
Essentially, Powers wants to make it a requirement for fitness clubs to have an online cancellation option. His bill also asks these companies to alert members when their memberships are scheduled to auto-renew. You love to see it.
Companies would receive a financial penalty if they failed to meet these requirements, and Powers hopes to introduce the bill right after Labor Day. So, just in time for you to cancel all your memberships once bikini season is over and start preparing for winter hibernation. Perf!
Everyone Is Boycotting Equinox & SoulCycle Because of Trump
When you first hear that everyone is mad at Equinox and SoulCycle, you assume that it's because the location they just went to was somehow out of Eucalyptus towels. Unfortunately, this past week has proved that these gyms can be doing much worse than just playing the same Kylie Minogue remixed song 15 times in two hours — their financial success could be indirectly benefitting the president.
This first came to light after it was reported that Stephen Ross, a New York real estate developer and the chairman plus majority owner of The Related Companies was throwing a fundraiser for Donald Trump's 2020 campaign in the Hamptons tomorrow, where tickets would cost up to $250,000. So like, six spin classes.
What does The Related Companies have to do with these overpriced exercise chains? Well, when you're an extremely rich man, you start to collect companies like college juniors collected empty alcohol bottles to display in your kitchen — because you have nothing better to do. So basically, The Related Companies is the parent company of Equinox, which has other fitness brands like SoulCycle, Blink Fitness, and PURE Yoga under its wing. Ross also owns the Miami Dolphins.
With Equinox and SoulCycle becoming almost statement pieces in the lives of many young professionals in various cities across the country, you could assume there was some immediate outrage when they saw that the owner of the company they pay hundreds of dollars to a month is potentially pocketing their change and donating it to a candidate — especially a candidate who does nothing to support the communities that these establishments claim to want to lift up (just this past June, Equinox did a Pride campaign called 'Life's A Ball'). Almost immediately, the story went viral with both celebrities and everyday members (myself included) calling to ask for a response from the gym. Both brands released statements that basically danced around the greater issue — calling Mr. Ross nothing more than a passive investor. Which, from my crash course MBA degree from watching hours of Shark Tank, what means that he's not involved in the day-to-day of the business making, but he's definitely still pocketing some change. On top of that, sure he's a private investor to Equinox… but that is a brand that is owned by — ding, ding ding, his parent company.
As you could probably assume, this response… didn't really change too many people's mind. It was reported that both Equinox and SoulCycle are currently being overwhelmed with calls of members wanting to cancel, on top of a ton of notable celebrities canceling their membership and urging people to do the same. I mean, if you have Chrissy Teigen and the guys from "Queer Eye" against you, do you really stand a chance?
Just contacted @Equinox to cancel my membership after many years. Money talks, especially with these monsters. If it's too inconvenient for u to trade one LUXURY GYM for another, then you should be ashamed. (No disrespect to the many wonderful employees at my local Equinox). Bye!

— billy eichner (@billyeichner) August 7, 2019
everyone who cancels their equinox and soul cycle memberships, meet me at the library. bring weights

— christine teigen (@chrissyteigen) August 7, 2019
Cancelled that membership @Equinox & as if! I never paid those outrageous non discounted ass soul cycle prices ?️‍? pic.twitter.com/L3Pf5N18P5

— Jonathan Van Ness (@jvn) August 8, 2019
Ross himself responded to the outrage in a statement to CNN last night:
"I have always been an active participant in the democratic process. … I have known Donald Trump for 40 years, and while we agree on some issues, we strongly disagree on many others and I have never been bashful about expressing my opinions," he said. "I have been, and will continue to be, an outspoken champion of racial equality, inclusion, diversity, public education, and environmental sustainability, and I have and will continue to support leaders on both sides of the aisle to address these challenges."
Samantha Bonizzi, a spokesperson for Equinox and SoulCycle, reiterated the brands' social statements in a statement to CNN. "Neither Equinox nor SoulCycle have anything to do with the event later this week and do not support it. As is consistent with our policies, no company profits are used to fund politicians," she said.
Now the waiting game is: Will Ross cancel his fundraiser tomorrow? Doubtful. Will Equinox find a way to break out from his company? Outlook hazy. Will I have a better chance at finding love at my local Crunch and not Equinox? Here's hoping.
10 Workout Classes To Try In New York Right Now
The one thing I hate almost as much as public displays of affection is people who never shut the f*ck up about how much they work out (you know who you are). Like, we have eyes so we get it it, you're fit! The thing is, I also work out a lot, but I keep that sh*t to myself and pretend that all I do is eat pizza and binge SVU marathons, and just happen to have toned arms. Like, Emily Ratajkowski does that and she seems to be doing just fine. Even though she famously and allegedly doesn't work out, her incredible body indicates otherwise, so like…what's the deal here? Anyway, for those of you who want to get swole for the Soho House pool or the Coney Island beach (see ya there, homies), these New York workout classes are a must. They are hard enough that you're actually doing #werk, but not so hard that you feel like you've just joined the Marines.
Full disclosure, I mostly spin because I need the most effective cardio to rid my body of evidence that I eat cheeseburgers more than once a week, so there may or may not be more than one spin studio on here. However, because I'll give anything a go, as my sex injuries can attest, I've tried almost every workout class New York has to offer. Here are my favorites.
The Monster Cycle
I love SoulCycle as much as every other Pumpkin Spice Latte-loving betch, but since my favorite instructor left me to open London's first Soul, I had to look elsewhere for my dose of spin. TBH, I refuse to go to FlyWheel because my Tanya Harding-level competitiveness cannot handle the scoreboard situation there, so I headed to The Monster Cycle in Soho, and let me just say, I f*cking love this place. It's adorned with hardcore S&M decor, which definitely made it feel really welcoming (lol, kidding).
In all seriousness, this place has a v specific vibe (S&M/goth), but it's so cool and everyone who works there is actually incredibly nice, which I wasn't expecting considering the mannequins f*cking upside down in a harness hanging from the ceiling is fully a thing in the reception area. Ok, so you go downstairs to the studio where there are no assigned seats, so get there early otherwise you will end up behind a pole in the back. No thx! Two things set this place apart and will keep me coming back forever. The first is the fact that there are two giant TV screens on either side of the instructor and the screens project the music video of the song that's playing, which is really helpful because they give me something to think about other than how much my legs hurt. The second is that this place literally always has flash sales. This feels really refreshing, considering every other New York studio just wants to make sure I won't be able to afford to send my future children to college. The amount of calories you burn depends on your intensity. So when Demetre tells you to turn the knob to the right and sprint, you should, because there is potential to burn 400-700 calories in the 45 minute class. 
305 Fitness
The only reason I tried this place is because it's three blocks away from my apartment. 305 is a f*cking dance party, y'all. If you follow their Instagram, you'll notice that every single instructor has an incredible wardrobe and can dance like they're about to be hand-selected for Coachella performances by Queen Bey herself. I was initially nervous to try 305 because I'm a good dancer, but I'm truly horrible at remembering choreography—which is probably why my dance career ended in 10th grade, but whatever. It's fine. I'm fine. Here's the thing: 305 requires zero memorizing! PRAISE F*CKING BE! Katie is my fave teacher and she is like a tiny blonde ball of energy who can make a really accurate siren sound with her mouth. I'm sure you're wondering why that tiny detail is important, and it's because she makes that sound when it's time to switch sides, turn around, get low, or what have you. 305 isn't dancing like, pirouette and leaps, it's like high-intensity Miami-style club dancing. Wow, cool, that's the whitest thing I have ever said in my life! No wonder Miami club dancers always have bikini ready bodies because you can burn up to 900 calories per class. My point is, it's fun dancing that requires you to give absolutely no f*cks if you want to enjoy it. Highly recommend, especially if your dance floor moves need a little face lift.
Exhale Barre
Not all barre classes are created equal, and that is a fact! When I used to live in Atlanta, I lived above a Pure Barre, so I got a membership because it was convenient, but I literally took a class five days a week for three months and looked the exact same on day one as I did on day 90. What's that about? It about the fact that barre classes generally focus on toning rather than calorie burning. The average barre class burns 250 calories (along with your ability to walk for the next week). Anyway, I was skeptical to try any other barre classes after Pure Barre, especially really expensive ones in New York. Then I tried Exhale and may never be able to lift my arms again because this class is werk. Exhale is no joke, people.
So if you're looking to half-ass a workout class during a fatal hangover to make yourself feel like you're at least kind of doing something, don't go to Exhale. It is so f*cking hard (in a good way) that I brought a male friend who, until that day, thought barre classes were too easy for men, and he is still sore. The moves are really hard. There's one where you lay on your side with your legs bent toward your chest and you lift and lower your top knee while keeping your feet together. Sounds easy? Try it right now and you'll see what I mean. So, yeah, that was really hard, but then they'll come around and tie a resistance band around your legs. Fun! Then they'll put a weight in one hand and ask you to side-crunch as you lift your top knee. All I gotta say is, Exhale barre classes hurt so, so good. I've been going for about two months now and I think I can see the beginnings of an ab crack! Goals met!
Hit House

If you don't want to switch from the bag to the floor or whatever else, Hit House is a straight Muay Thai kickboxing studio. So, what the f*ck is Muay Thai? Muay Thai directly translates to "Thai Boxing," and the class consists of jabs, crosses, hooks, uppercuts, kicks, knees and elbows. You'll get your own personal bag (or bishop) and you'll get to attack it to the rhythm of your favorite hit songs right now. This class takes the intensity of a kickboxing class to the next level, which inevitably means more calories are burned. Women usually burns 762 calories while men typically burn 888 calories during an hour of Muay Thai, so you don't need to feel guilty for finishing that pint of Ben Jerry's alone or an entire bottle of wine. And, as an added bonus, you'll probably feel like a badass after almost an hour of beating up a punching bag.
Y7
If you don't like hot yoga, just stop reading now because it feels like it's at least 400 degrees in any given Y7 class. As you can see, I like v basic types of workouts, but I like going to non-basic studios that do something to set themselves apart from the millions of other workout places in this godforsaken city. Y7 is three sets of flows that each include three sub-flows. The first is slow, the second is one breath per movement, and the third is flow on your own. So what sets Y7 apart? You're not flowing to the soothing sounds of birds in a forest. Instead, the instructors play hip-hop. YES! Lastly, there are no mirrors and it's pitch black save for a candle in each corner of the room. Yes, the darkness and lack of mirrors makes it a little harder to balance, but personally, I like the no mirror/darkness situation because I don't feel self-conscious. Also, not to be the most annoying yogi ever, but not being able to see yourself forces you to just focus on the poses instead of the ungodly shade of red your face is. Another thing I love about Y7 is that toward the end of class, there's a little strength push that usually involves some sort of ab workout. The pushes are literally never more than two minutes, so that motivates me to just do it instead of half-assing it until it's over. As the instructors say, "You can literally do anything for two minutes!" I mean, not true, but you can definitely hold boat pose for 120 seconds. And if you can push, it's worth it:  women can expect to burn around 350 calories and men 450.
Overthrow
My good friend Gigi Hadid got me into boxing. I KID, Gigi and I do not know each other, but if Gigi Hadid looks the way she does from boxing, then bury me in the ring. This could be the case because boxing burns around 400 calories per hour for women and 500 for men. Now, as far as boxing workout classes go, Overthrow is the opposite of Rumble in that it's not ~trending right now~ and never will be because the instructors don't give a sh*t if you Instagram your heart out at the Bleecker Street studio. Overthrow is legit boxing, though. After you get your wraps on, you head downstairs to a large rectangular ring that's almost littered with heavy bags tethered to the ceiling via chain locks. The first half of the class is you beating the sh*t out of the bag and the second half is sparring with either your friend or a stranger. Bring a friend if you feel awkward about hitting someone you've never met. Before the bag part begins, the instructor turns the music off and tells everyone what the different types of punches are, which are all referred to by numbers. That way, he can say a bunch of different numbers really fast and you can correspond with the right punches. Am I Rocky? Honestly, maybe. The music is so loud that you get so into it and start beating the actual f*ck out of the bag and it feels so good. Like, I may just quit my job and become a professional boxer now.
Brrrn

Want to work out, but don't want to break a sweat? Head to brrrn. But don't get it twisted: these classes will still kick your ass, even if you're not drenched afterwards. Why? Unlike most other fitness classes that crank up the heat to make you think you've gotten in a better workout, brrrn takes the opposite approach. It's the first fitness studio to operate at temperatures below 72 degrees, which gives you benefits like burning more calories and working out more efficiently. There are three different types of workout classes, all 50 minutes long and conducted at 50 degrees: hit, slide and hit + slide. The hit class is a high-intensity class that incorporates battle ropes and a dumbbell circuit series for a full body strength and conditioning workout. The slide class is a mid-impact class that consists of core exercises and a cardio slide board series which aims to increase balance and core strength along with a full body conditioning. The hit + slide class is most definitely a high-intensity class which includes the slide board, battle rope, and a dumbbell circuit series for a full body strength and conditioning workout. It's proof you don't have to sweat to get a great workout in.
Box + Flow

If you can't decide whether to take a high-intensity boxing class or low-intensity yoga class, head here. Box + Flow is the first class that allows you to do both, splitting your time between boxing and yoga. The 35 minute "box" portion of the class is first, then you move onto the 15 minute "flow" portion. It's great because many workout classes give you, like, three minutes to stretch, which as we all know from trying to walk after an interval running class, is not enough. The yoga portion of the class really gives you the ability to stretch and center yourself after punching for over half an hour. As for the calorie count, a person usually burns between 300-450 calories in a 30 minute boxing class and burn 80-120 calories in 20 minutes of yoga. Taking into consideration the 35 minutes of boxing and 15 minutes of  yoga, you could expect to burn 410-615 calories total. Not bad for a two-in-one workout!
Solidcore

The entire class is done on top of a megaformer machine they like to call "Sweatlana." Ever heard of her? The class itself consists of "50 minutes of high-intensity, low impact, slow and controlled movements." You can burn 500-700 calories per 50 minute megaformer class so don't let the slow, isolated movements fool you. Every workout sequence starts with a plank, squat or lunge to strengthen your whole body, and ensure you can't walk so when people ask why, you can say "it's from Solidcore." #Ad, and suddenly you're an influencer. They offer beginner, fully body and muscle-specific workout classes so you can go whether your body type is "works out, "works out but definitely eats dessert," or just "eats dessert." It's the holy grail of pilates classes being that they define themselves as "pilates-intensified."
Fhitting Room

We all know the struggle of going into a fitting room, trying on an outfit, and only seeing the burger, fries, and ice cream you devoured last night. The struggle is real. You convince yourself in that moment that you need to workout. Fhitting Room is a workout studio that ensures you'll get that killer mirror selfie next time you're in the fitting room. Is that why they call it that? I have no idea, but it works. Its classes consist of High Intensity Interval Training (HIIT) workouts, like every other workout class in America nowadays, but for good reason. Speaking from experience, this class will kill you—but like, in a good way. You will get a good workout, and you'll likely learn moves like snatches, cleans, and other kettlebell movements you can use at the gym on your own time, or in other fitness classes. They also offer small classes at certain locations (10ish people) so you can get all the personalized attention and none of the intimidation of a big class.
Images: overthrownewyork, y7studio, exhalespa, 305fitness, themonstercycle, brrrn, hithouse, boxandflow, solidcore, fhittingroom / Instagram
The Full-Body Workout You Can Do In A Corner Of The Gym
If you go to the gym right before 9am or right after 6pm, you know how annoying it can be to get around the place during workout rush hour. As much as we'd all love to work out in an empty gym with the whole place to ourselves, it's v unrealistic unless you're like, a psychotic morning person or like, super rich. Luckily for you, we've put together a workout can literally be done with one mat in a tiny corner of the gym, so you don't have to bother waiting for a machine to become available or for people to step away from the dumbbell racks. Here's a quick workout that will tone your whole body and burn a ton of calories while staying in one space the whole time.  
1. Walkout Push-Ups
The walkout push-up is a great warm-up move because it gets your lower and upper body working without diving right into a cardio or strength move. The idea here is to first warm up your hamstrings by starting in a standing position and folding your arms and head forward, and then get your upper body warmed up by crawling your hands out to a plank position. Once you're in your plank, perform one push-up (drop to your knees if you have to) and then crawl your hands back to your ankles to stand back up, engaging your core at the top each time. Start off slow, and then try to speed up on your last few reps. Do 10 of these in total.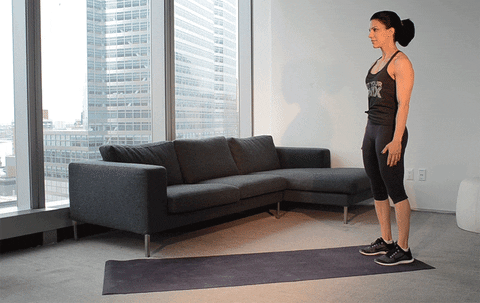 2. Glute Bridge To Oblique Reach
This is another lower and upper body movement, but this time you're working your butt and your obliques, aka your side abs and love handle region. Start by lying on your back with your knees bent and your feet on the ground. Then, extend one leg straight out and lift your hips into a bridge, squeezing your glutes and specifically feeling the burn on that same side. After the bridge, lower your hips back to the ground and reach your arms toward the straight leg while extending the leg upwards. Remember that you're crunching with your abs, so don't just use your arms to swing your body up. This combo is slightly complicated since it's technically two moves in one, so you can take your time on these until you get the hang of it. Do eight reps on each side.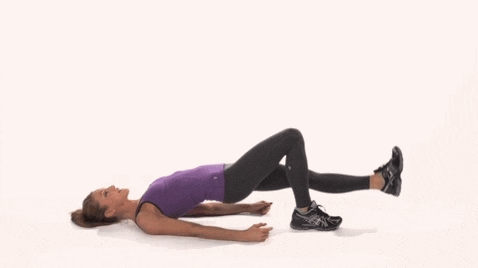 3. Tricep Extensions
You'll need a weight for tricep extensions, but it shouldn't be too hard to find because you can literally use whatever you want—a dumbbell, a weighted medicine ball, or a kettlebell. If you have a kettlebell available to you, you're gonna hold it by its horns (AKA the non-bell part) and lift it up over your head, keeping your elbows straight forward and your arms tight. Then, extend the bell toward the back of your neck, using your triceps to bring the weight up and down each time. If you feel like your elbows are widening out to the side, take a break and reposition yourself. The tricep muscles are really what give your arm that toned, sculpted look, so go heavy on these and take your time. Aim for 10-12 reps.

4. Deadlift To High Pull
The good news with this move is that you can use the same weight you were just using. Again, this is a combo move, so you're totally killing two birds with one stone by working your legs and your arms in one exercise. Place your kettlebell on the ground in front of you, and make sure it's between your legs, but like an inch or two forward. Then, bending your knees slightly, you're going to hinge your hips backward and lift the kettlebell keeping your arms straight, bringing it to your waist as you hinge the hips forward. That's the deadlift part. Then, you're gonna pull the kettlebell up to your chin, using your shoulders to row upright, with your elbows wide towards the sides. Once you complete one rep, bring the kettlebell down to the ground and do five more.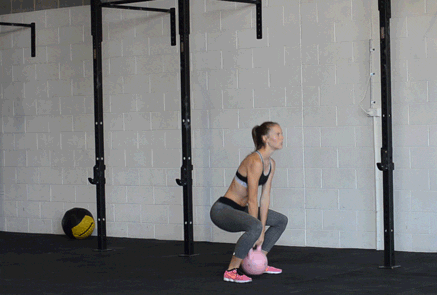 5. Squat Jumps
Now that we've done a bunch of strength work, it's time for some cardio. Your legs burn the most calories out of all the muscles in your body, so doing jumping exercises while combining squats or lunges is super effective. It's also really hard, so pace yourself. Start in a squat position, making sure your knees are behind your feet so you don't hurt yourself. Get super low, and then jump up explosively while straightening out your legs and arms. Aim for 20 reps here, but you might want to die by the time you get to 15. Try to fight through it.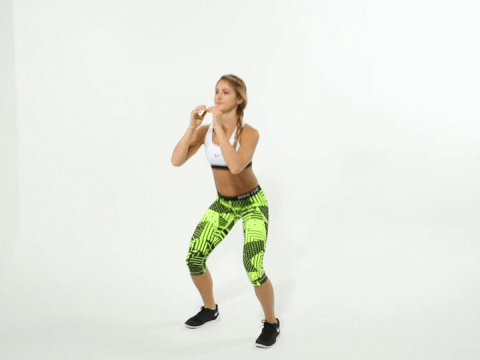 6. Burpees
Burpees are annoying and difficult, but there's a reason you see them in every fitness magazine and at every workout class—they WORK. Start by standing with your feet shoulder-width apart and your arms at your sides. Then, lower your body into a squat and place your hands on the floor in front of you, jumping your feet back so that you're in a plank position. Once your body is in a straight line, lower your chest to the floor and then bring it back up as quickly as you can. Then, jump your feet forward, outside of your hands, and jump up with your arms in the air. Do 8-10 of these, depending on your energy at this point in the workout. Also, keep in mind this is a full-body move, so make sure you follow the motions without just slamming your body down to the ground in the sloppiest way possible.

Images: Trust Tru Katsande; Unsplash, Giphy (5), Pinterest (1)