SoulCycle CEO Melanie Whelan Suddenly Resigns
The Whelan wheels are no longer spinning on their stationary bike, it seems! Melanie Whelan, who has been with SoulCycle for about eight years, announced her resignation yesterday, and it was effective immediately—I guess she didn't want to burn off her Thanksgiving turkey at the studio Friday. She not only is leaving her position as CEO, but also is vacating her role as the director of the company's board. She confirmed this news on Instagram:
This allegedly was a mutual agreement, with both sides thinking it was time for a change in SoulCycle leadership. But, as any fan of the Real Housewives knows, no one just "mutually decides to leave" on great terms and they ride off separately into their own sunsets. This is especially an interesting time for her to resign because it's coming off of the heels of one of SoulCycle's more tumultuous years. In case you forgot (because I think a lot of people actually did), there was a large conversation sparked in late-Summer when Stephen Ross, who is the majority owner of The Related Companies—which is the parent company of Equinox and SoulCycle—held a fundraiser to raise major cash for Donald Trump. It's not surprising that a good chunk of people who like to run to a "Lizzo vs. Beyoncé" spin class were not thrilled with this news, which led to a boycott.
Besides social opinion, SoulCycle also faced competition in a way it potentially never expected this year. That's right, the call came from inside the house—in the form of Peloton, which basically lets anyone with an apartment bigger than a walk-in closet to have their own spin studio in their living room. With premiere classes available 24/7, Peloton is not only extremely convenient for a user, but also has the same level of chicness that you used to get from saying you were going to a Soul class. Additionally, SoulCycle also tried to file for an IPO (initial public offering) which would have allowed them to sell a portion of the business to public investors. Companies usually do this in efforts to raise money, with Soul hoping to pay off debts and also open additional studios. This started in June 2015, and was the major project that Melanie Whelan was overseeing, until it ended in 2018 due to "market conditions." Ah, market conditions, the same reason all of my relationships from dating apps end. It should be noted that Peloton was able to go public, which must have stung a little… and by a little, I mean a lot.
This news has also been met with some confusion online, mainly due to the fact that there has been no explanation from SoulCycle's team about why this shake-up is happening. If we've learned anything from this company from its past year, it's that they will just try to wipe off this story with a sweaty towel, light a few candles, and pray the media attention just goes away. In the meantime, Sunday Reddy, the chief financial officer, will be stepping in as the interim CEO until a replacement is found, with Whelan advising the transition. And I mean, since SoulCycle is basically a cult, I'm sure they'll find someone from Herbalife or NXIVM to take it over in no time.
Images: melanieanya / Instagram
3 Signs You Need A New Workout Routine
When you're already going to the trouble of working out, it can feel like unfathomable betrayal to hear that you should, in fact, be doing a completely different workout. Or at least, that's the logic I once used to justify doing nothing but yoga for six months, while slowly ceasing to fit into my pants. As someone who really wants to be fit but is decidedly not an athlete, I've spent a of time and energy on different gyms, classes, and even trainers and physical therapists over the years, trying to find the perfect workout that would turn me into a *fit person* once and for all. As all those professionals have explained to me repeatedly, not all workouts are created equal. What's more, switching up your workout routine has consistently proven to show better results. So, while I reluctantly follow this advice myself, here are my past trainers', physical therapists, and preferred internet authority's tips for knowing when it's time for a new workout routine.
1. You're Not Getting Sore Anymore
Sorry! But also, not really because you should know this. If a workout stops making you sore, it's not a sign that you have ascended to a new level of athleticism in which your muscles are no longer capable of strain. It does probably mean that you have strengthened the specific muscles involved in this particular workout (congrats!). But if you don't up the difficulty of the workout, or switch out the muscles you're working on, you won't keep seeing results. At best, you'll maintain the very specific strength you've gained. But even that isn't a guarantee, since you're continuing to do a workout that was appropriate (and difficult!) for you in a less fit state. Trainer Faheem Mujahid explains it as your body realizing "it doesn't need to expend as much energy anymore:" meaning you burn fewer calories, get less tired, and are less likely to feel sore. Time to level up, b*tch!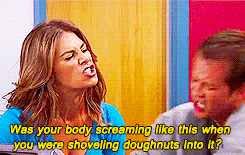 2. You're Getting *Too* Sore
The flip side of the whole soreness thing is that you have to be careful not to overdo it. There's a difference between it hurting when you laugh the day after an ab routine and needing to strap on a knee brace every time you leave the gym. Fitness instructor Trish DaCosta puts it plainly: "A reoccurring injury or too many injuries is often a sign we're doing too much of an exercise program." Pulled muscles, joint pain, or persistent aches are clear signs that your body needs a break. Injuries aside, extreme soreness—or persistent soreness in only a few, select places—also mean you should switch out your routine, or at least add some variety. Trainer Jessica Thiefels stresses the importance of making sure your body feels "balanced in strength," and adds that "working the same muscles, time and time again" is a bad idea. Muscles need rest periods in order to get stronger; so you're really just robbing yourself of #gainz if every day is focused on the same body part.
Obvs, if you're repeating the same workout over and over it's because you like it, and I get that it's tough to motivate yourself to make the switch. I once spent two weeks obsessed with barre and loving my life. Then I promptly re-pulled an old thigh injury, and my physical therapist at the time told me that barre was "the worst thing" I could do for my body.  The fact that I had just purchased both a "barre so hard" tank and a month-long barre studio membership apparently meant nothing to her. As much as I was dying to be a fancy barre girl, I had to accept that my body just wasn't built to benefit most from that particular workout.
Me to my useless barre studio membership: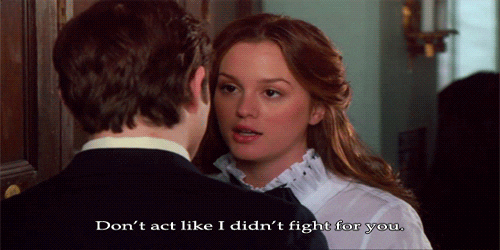 3. You're Not Getting The Results You Want
So, this goes back to my whole "only doing yoga" period in time—despite feeling like I was gaining weight, or at least sort of…spreading out. Before my yoga phase, I'd been getting most of my workouts in at the gym, where I lifted weights and ran intervals on the treadmill. Then, I moved to NYC and decided a gym was a luxury I could no longer afford. Even though I'd read countless times that yoga is not the most effective calorie-torching workout out there (particularly not when done for 15 minutes at a time in one's living room), I hated the idea that completing any workout wasn't enough for my stupid body. I felt more flexible and balanced for sure—but I felt like I was losing muscle, and my clothes weren't fitting as well.
The point here? Don't be like me! Yes, some exercise is better than no exercise at all. But that doesn't mean you can go on a jog and expect your triceps to be more defined after. DaCosta notes the importance of seeing "continued progress" from your workouts, which could come in any of the following forms: "more muscle definition, decreased body fat, more energy, stronger lifts, faster recovery times, weight loss, faster pace, etc." While yoga was pushing me on some of those fronts, it wasn't satisfying others. For a fully varied workout routine that pushes you on all these fronts, Mujahid recommends trying for a mix of "cardiovascular, strength, agility and flexibility sessions," making sure you're "hitting every muscle group" in a week's worth of workouts.
If that sounds totally unattainable to you (same girl), take some comfort in knowing a lot of these categories overlap. For example, a HIIT workout could be your lower body workout, and combines a cardiovascular and strength workout. Then you could work your upper body with yoga on alternate days, which would count as your agility and flexibility sessions. Throw in an ab day and you're done for the week. (And if that sounds like a month's worth of workouts to you, once again I say SAME GIRL. I'm just the messenger for what the pros are recommending.)
Me during my yoga phase:*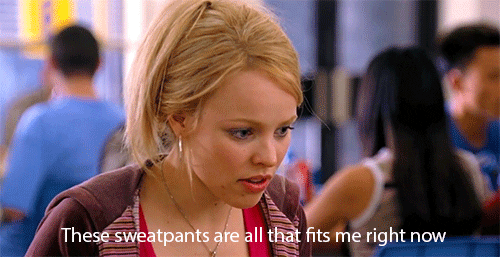 *To be clear, yoga absolutely can and does help people with all kinds of body goals. But my refusal to do any other workout meant I really hit a wall.
This article is not meant to shame anyone out of the workout routine that they're doing. Everyone who has broken a sweat (on purpose) in the past week: I am proud of you. But I also know firsthand how frustrating it can be to feel like you're making a huge effort and not getting anything for it. If anything, this article will hopefully inspire you to make a change and find the workout that leaves you sore, satisfied, and not feeling like you need a wheelchair. Everyone's body is different, and once you find the (healthily varied & not at all overwhelming) routine that works for you, working out will feel 1000% more worth it. I promise.
Images: Giphy (3); Pexels / bruce mars
The Best Instagram Trainers For Quick At-Home Workouts
Don't get me wrong—I have nothing but
deep-seated disgust
respect for all the SoulCycling betches out there. But for me, paying $40 to feel bad about my Target sports bra and distinct lack of abs is not really something I'm willing to do. In my very busy, #adulting life, I have specific requirements for my workouts. They should be free, doable from home, and under 30 minutes. Oh, and actually feel like a workout—aka I should break a sweat and/or actively find it difficult. As it turns out, not everyone is as
lazy
innovative as me, so finding workouts that met all these criteria actually took a while. We all know the queen of quick at-home workouts,
Kayla Itsines
, but here are a few others for when you want to mix it up/be able to walk the next day. Without further ado, here are my favorite trainers with quick at-home workouts that actually work. You're so welcome.
Pamela Reif
I don't remember how or where I came across
Pamela Reif
, but she now plays an alarmingly large role in my life. Like, my boyfriend knows her name because I show him her Instagram so often. It's weird. Anyway, a quick scroll through her IG will reveal that her fitness routine is no joke—and neither are her abs. While she does legit gym sessions too, she's also the creator of several 10- and 20-minute
no-equipment workouts
that will leave you feeling like you just got out of Barry's in one-third of the time. She also reposts pictures on her story of ~regular people~ who do her YouTube workouts and tag her, and no lie, over half have mini six packs. My favorite videos are the 10-min "
Booty Burn
," 10-min "
Sixpack Workout
," and 20-min "
Flat Belly & Round Booty
". (Leg day freaks, don't @ me). If you only have 10 minutes to work out but want to be sore for three days, I can't recommend her ab workouts enough. Oh, and here's what HER abs look like, if you needed more convincing:
Gina M. Florio
I came across Gina Florio for the first time through
Popsugar Fitness
, which posted
this kettlebell workout
. Yes, the fact that it requires equipment is a little more high-maintenance than I care to get, but if you don't own two kettlebells (pro tip, dumbbells will work too), you should seriously consider investing. It'll cost less than a month's access to a very cheap gym, and you can do SO MUCH with them.
Gina's Instagram
is filled with quick at-home workouts with kettlebells, and every one I've tried so far is brutal in the best way. She breaks her workouts down so you're only doing 2-4 reps at a time, but you'll do 4-5 sets total. Personally, I love this system because it's much easier to trick your body into doing just 2 more than it is to do just 25 more. You'll definitely feel like you're dying between rounds, but you'll be done in 20 minutes and feel like a badass now that you know how to do things like snatches and dead cleans.
Fiji McAlpine
Some days, any kind of jumping/lifting seems like too much—even if it's only 20 minutes. When I really can't stomach HIIT-type action but want to justify the cookie I ate a lunch, I turn to my all time favorite yogi: Fiji McAlpine. You'll note that I did not link to an Instagram there. In demonstration of what a pure and legit yoga-teaching soul she is, she doesn't have one. Instead, you can find her workouts on
DoYogaWithMe
, an amazing website that shares a ton of free yoga videos for all lengths/focuses/levels. I discovered Fiji in particular early on through a friend's recommendation, and I'm obsessed with all the videos in her
14-Day Challenge
. Especially, as I'm sure you guessed, the ones that are
20
or
25 minutes
. Her classes are labeled as Intermediate, but I am by all accounts a Beginner and really didn't struggle with her classes. I just had to work my way up to certain poses, which she assures you in her very soothing voice is normal and ok. Fiji's approach to yoga is a perfect combination of deep stretches and active movement, so you don't get burnt out on either way but you never feel like you're wasting your time. If you're up for some light core work and can't remember the last time you stretched, Fiji's yoga classes will feel amazing. Just trust me.
There you have it! My fave ab/butt-focused, full body, and yoga workouts. All free, all minimal equipment, and all under 30 minutes. So next time your flaky friend pulls a bad sushi excuse and bails on SoulCycle, maybe put the $40 toward a new pair of shoes and try one of these instead.
6 Mistakes You're Making At Every Spin Class
From the moment you walk into a cycling studio until the moment you leave, the whole experience is one sweaty blur. I mean, unless you're the front row freak wearing only a sexy sports bra who arrives 15 minutes early to chat with the instructor, no one really knows what they're doing. You get there, set your bike settings to whatever looks right, and just start peddling, immediately regretting your decision to get out of bed for this shit. While you can't screw it up that badly, you're probably doing a few things wrong, and you could get a much better workout if you get your shit together a bit. Here are the mistakes you're making in spin class.
1. Bouncing Side to Side Too Much
Spinning is all about the music, so a lot of people think it's normal to start bouncing around the bike like a fucking bobble head. Like, you could literally be biking to a 12-minute Demi Lovato trap remix and you don't even care how awful it is because you're here already and the only thing that can make the class better is to dance around a bit. As tempting as it is, swaying your hips from side to side could actually ruin your workout. When cycling, your abs should be engaged the entire time, so your legs are the muscles doing the work while your core is staying stabilized. When you move your hips around, you're destabilizing your core and moving too much to get the ab workout the bike was designed for. Stop bouncing from side to side and you might start seeing a huge difference.

2. Setting Your Handlebars Too Close To You
Somebody once told me the world is gonna roll me made up a rule about measuring your elbow to your fingertip as a good benchmark for where your handlebars should be. Not only is this distance super random and ineffective, but it's probably too close, and everyone's bodies are different so it's just about trial and error. Plus, our arms aren't always in the same proportion to the rest of our bodies, so you could end up straining your lower back or leaning on your shoulders too much. Try getting on your bike first, and then seeing where your handlebars are most comfortable. You want to feel like you're reaching outwards a bit without going over your handlebars when you're in third position. You're already way too close to the person's ass right in front of your face. Don't make this worse than it needs to be.
3. Keeping Your Seat Too Low
When you're setting up your bike before class, you probably think you need to keep your seat lower than the handlebars, because it feels natural like riding a bike. Most people don't realize that cycling bikes are actually built so that your quads, glutes, and hamstrings are all working at once. When you're too low, you're only using your quad muscles and not getting the total leg workout that you would by being up a bit higher. Put your seat on a higher level than you'd think it should be without your legs going completely straight in between peddling. It should feel like somewhere in between your childhood bicycle and an elliptical machine.

4. Death-Gripping The Handles
This is a mistake that a lot of people do without even realizing, but it could majorly jeopardize your workout. When you hold onto your handles super hard, you're taking the workout away from your core and legs. It's kind of like going on a run downhill. You're still running the same amount of miles, but it's obviously a million times easier because you're not actually working your legs as much as you would on a flat road. I mean, we're not saying you're literally cheating if you hold onto the handlebars too tight, but you're basically making the workout a LOT easier on yourself, so you'll just end up burning less calories. The handlebars are really only there for support, so unless you're about to fall off and embarrass yourself in front of the entire back row, stop holding on so tight.
5. Holding Your Breath
Holding your breath is pretty tempting when you're 35 minutes into the class and you literally can't feel your legs anymore. In fact, it may even seem easier just to stop breathing completely so you can be dragged out of class early by some much-needed medics. As much as we understand your thought process, holding your breath while spinning is just a bad idea. When your body is working hard and your muscles are moving, you need your breath to give your muscles energy. When you stop breathing, you're just making the whole process harder for yourself, and you'll end up just getting dizzy and probably falling off the bike. Like, that's just a waste of everyone's time and money.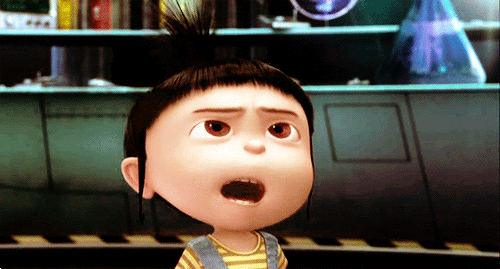 6. Skipping The Stretch
When class is finally over and the teacher invites you to stick around for two minutes of stretching, don't be the bitch that throws your towel on the ground and sprints to the shower line. It's literally two minutes of stretching, and your legs could use it. Skipping the stretch will just make you more sore tomorrow, and could make your legs cramp up in the middle of the night if you're taking a PM class. By simply stretching out your quads and glutes for those few moments, you'll help release lactic acid in your muscles and prevent yourself from being too sore to move tomorrow. I mean, you've come this far, so don't bail now.
Is SoulCycle Over? We Investigate
In this episode the Betches discuss the lady who sued SoulCycle, the fantasy suite Bachelor episode, International Women's day, WTF they're gonna do at SXSW, and more. Audience submitted advice questions are about a girl who needs to come out as a lesbian to her friends, and a long distance messaging relationship.
Today's episode is sponsored by Parachute. Go to parachutehome.com/betches to get free shipping and returns on bedding!
Read our recap of the Bachelor fantasy suite episode here!
SoulCycle Is In Big Trouble (Again)
Donna Wood, 42, was just trying to have a relaxing California vacay in hopes of shedding 2016's bad karma, when she learned the hard way that 2017 is actually going to be a bigger bitch than any of us had ever dreamed possible. According to a suit filed in Manhattan Supreme Court, Wood was attending the 8:30am class at Wilshire Boulevard SoulCycle when she was allegedly "impaled" by her stationary bike and forced to "dangle by her right leg" for several minutes. Wood is now suing SoulCycle, claiming that the loud music they play to drown out the voice in your head that's screaming for you to get off your bike drowned out her literal screams for help as she dangled precariously off her bike like an earring with no back.
What's worse is that, according to court documents, the class was in "cool down" mode, which means that the room was totally dark, leaving the SoulCyclers totally oblivious to the fact that one of their classmates was having her leg torn off. Eventually, a classmate finally checked out of workout mode enough to realize, "Oh fuck someone in this class is being amputated by the very bikes we thought would save us," and freed her before she went full Lieutenant Dan, but nobody in the class called an ambulance or seemed at all phased by the fact that their classmates may have lost her entire right leg, and burned like, 500 calories. 

But hey, can you blame them? I go to SoulCycle to focus on me, not to worry about other people's bullshit like whether or not their leg is being accidentally amputated. Like, when the instructor said to focus on my own destiny I took that to heart and my destiny does not include your leg, I'm sorry. 

But back to Donna…
Wood then took an Uber to the hospital, like ya do, where she allegedly required 50 surgical staples to close the gaping wound in her leg, which then developed an infection. Wood finally "recovered" in April (not sure you ever recover from being nearly amputated in a room full of stationary bikes TBH), though she does now have a deep permanent scar on her right leg as a fun and appropriate souvenir for her very first vacation attempt of 2017. And that, friends, is why you don't go to 8:30am SoulCycle classes while on vacation. You never know wtf might happen. 
The Exact Bare Minimum of Exercise You Need To Be Healthy: You're Welcome
Correct me if I'm wrong, but I'm gonna assume the first two weeks of January went a little something like this: 1) Catch a glimpse of your bloated, hungover body on New Year's Day. 2) Lose your shit and decide to 3) start a cleanse. 4) Abandon said cleanse within 48 hours because pizza exists. Now you're at 5) Decide to get your beach body back by exercising harder than a 45-year-old actress who just had a baby.
The only problem is that working out, while fun for about thirty seconds, takes valuable time away from other activities, e.g., drinking and/or watching Fixer Upper in bed for six hours.

But, lazy betches, science has finally come to the rescue and calculated the bare minimum of exercise you need in order to not (scientifically) be considered a lazy piece of shit. According to University of Sydney researchers, it's possible to get all your exercise done in one or two sessions per week.

The World Health Organization says we're all supposed to get at least 150 minutes of moderate intensity exercise per week. People who have no social lives probably do the whole "30 minutes a day, five times a week" thing, but a betch's time is precious. We inevitably wind up cramming six SoulCycle classes into a single Saturday to make up for the week's binge drinking. Honestly, I kind of deserve an Oscar for all the times I'm pretending I love the pain when I'm 30 seconds away from puking in the instructor's gym bag.
In a study published in JAMA Internal Medicine, researchers compared people who don't exercise at all (dream), people who only work out once or twice a week (reality), and people who exercise regularly (ew). Obviously, people who worked out all the fucking time were healthier, but apparently, people who only worked out a few times were also less likely to get cancer, have heart attacks, or straight-up die in general.

In conclusion? You're def not going to get a beach bod by only working out once a week, but at least you'll be alive to take a beach pic in the first place. Just suck in your gut, work on your skinny arm pose, and you'll barely look like Jabba the Hutt in the Insta.