Colleges Still Don't Know How To Approach COVID-19
You might recall that a few months ago I wrote an article about my own college shutting down. Well, at the end of the article I made a promise that might not pan out: that gross frat basements would be ready and waiting for us this fall. It turns out that not only was that super wrong but also super naive. 
Here's the thing, universities have even less of an idea what fall will look like than I have about what I'm going to do in the spring when I graduate. So, having no plan for the future is just one of the things that America's most prestigious institutions and I have in common. 
Every university has just been super shady about their reopening plan, mostly to avoid making any real commitments. Even Tulane, which is where I go, sent out an email confirming that campus will be open in the fall but the email was filled with a ton of caveats and since then the school has started to push optional remote learning.  School's plans pretty much fall into one of three categories: full in-person learning (let's call that denial), a hybrid learning plan, or full remote learning. 
Regardless of their school's official plans, students and administrators are desperate to have some sense of normalcy come the fall. Whether that means heading back to their off-campus apartments to take online classes, abiding by mask-wearing requirements, or creating plans for shortened semesters that limit how often students leave and return to campus. 
But, even at schools that move forward with an in-person learning model in the fall, it is pretty unlikely that life will be returning to normal. Like, it's honestly never a great idea to be in a tiny frat house with 100+ random people, but it's an even worse idea now. And, if frat boys insist on coming up with any possible reason to not wear a condom, how can we trust them to socially distance and wear masks at their own parties? 
It's important to remember universities' plans for the fall have a much deeper impact on society than whether or not I'll get to wear a sparkly mini dress at my semi-formal this semester. Universities have to consider what they will do about tuition, international students, and all employees and faculty members. Universities are huge ecosystems that have major impacts in surrounding communities, and any decisions about the fall have to take these things into consideration. 
Many schools that have moved online for the semester are still having students pay full tuition. Sure, classes are being offered online and people will still be learning, but online learning does not come close to in-person learning. Students are losing out on personal relationships with their professors, hands-on instruction, and some of the campus services that make a world of difference when it comes to actually understanding class material. 
On Monday, ICE, Immigrations and Customs Enforcement, reported that they would be issuing a regulation prohibiting international students whose universities have adopted online learning for the fall from staying in the country. As schools continue to change their plans based on developments in research and changes in their communities, this f*cks over more than a million students. 
ICE said in a news release yesterday that students "may not take a full online course load and remain in the United States," adding, "The U.S. Department of State will not issue visas to students enrolled in schools and/or programs that are fully online for the fall semester nor will U.S. Customs and Border Protection permit these students to enter the United States."
Here's the thing: while I disagree with ICE and the government in general, they make an interesting point. The government is saying that learning remotely is different than in-person college, which is correct. So, if the college experience is different when it is done online, maybe, just maybe, we shouldn't have to pay the same tuition as if it was in person. Just a thought. 
All that said, politicians and some universities are pushing for full reopenings next semester – citing financial concerns. Ok, sure. There are legitimate economic concerns especially when we think about service workers and the impact students and professors have on local businesses. But, when colleges express concerns about their own bankruptcy, it's like a. what about your endowments and b. ok way to make a great case for federally funded college. 
At the same time that schools, parents, and students are grappling with hard decisions about the fall, students are returning to their off-campus apartments for the summer. IMO, there's nothing wrong with heading back to school, especially if you're paying for an apartment that you were unable to sublet. But, you have to be safe. There's a huge difference between spending the day working on remote internships and summer classes and going to huge parties where no one is wearing a mask. I'm not saying that you can't do anything but sit in your living room and stare at your roommates, but it's important to remember to wear a mask, socially distance, and keep your circle small. 
Here's the deal, there is a direct correlation between the way we act now and what the rest of the year is going to look like. If we want this shit to end we have to wear masks, socially distance, and avoid big parties. Until this happens, the likelihood of life returning to any sense of normalcy is extremely small. 
Hate to break it to ya, but the only thing guaranteed about fall 2020 is that it's going to be a clusterfuck. 
To stay up to date on all things COVID-19, sign up for the Betches Sup newsletter.
5 Fall Jackets Under $35 That You Won't Mind Losing
At one point or another, we've all been guilty of walking across campus in nothing but a crop top and pencil skirt for the latest "CEOs and corporate hoes" party. Not only is walking through populated streets in one-third of an outfit almost as degrading as the title of the party ("corporate hoes…" are we kidding?), it's also not great for your overall well-being, especially when winter rolls around. Do I sound like your mom yet? Wear a jacket or you'll catch a cold! Even if you feel hot as hell in your outfit, there's no f*cking way you're enjoying tip-toeing across campus in heels with your arms crossed so tightly across your body that you're cutting off your own circulation. You may think you can beat the cold because you have on your "liquor jacket" (aka you pounded shots* until your body heated up) or because you're going to take an Uber, but let me tell you from firsthand experience, both of those excuses are absolute B.S.
Cold air has some seriously fast-acting sobering qualities, and just because you're coherent enough to run directly to your Uber on the way to the party doesn't mean that by the end of the night you and your friends won't be drunkenly running around like chickens in the freezing cold, approaching every passing vehicle looking for your ride. 
As someone who only started wearing jackets out sophomore year onward, believe me when I say it's not worth freezing your nipples off just to maintain the aesthetic of your look, or because you don't want to have to look after a jacket when you get to the frat party. You'll be so thankful for your sober self when you realize she had your back and made your now-drunk ass wear a jacket out. Here are five frackets (frat jackets) that are cute enough to seamlessly be incorporated into your look, keep you warm(er), and won't break the bank, because let's be honest—all of us are broke as hell in college, and you're not going to hang onto this for more than a season before you forget it somewhere. 

This jacket is a classic fall staple. It's versatile enough to be a great layer for your sorority's apple picking photoshoot during the day, and to cover the bra you're trying to pass off as an actual top at night. Let me assure you, no one's buying your "no it's just like a really short crop top, like a bralette" bullsh*t, but you will look a lot less like a try-hard freshman if you have this cute jacket over it. The Army green also provides a nice pop of color, which can be a good change for someone like me who lives in strictly black clothing year-round.

Every basic bitch loves a denim jacket. They go with everything and provide juuuust enough warmth for the walk from your dorm to the frat house. This denim jacket will give you a trendy yet relaxed look and can easily be tied around your waist without looking stupid once you inevitably start having hot flashes in the frat basement. 
Pro tip: only wear your denim jacket if MAX one or two other people in your friend group have one on too. It may be purely coincidence that you all decided to sport black ripped jeans and a blue denim jacket, but in reality you just look like a group of glorified girl scouts, and it's not cute. 
This bomber is a great addition to give your look a more relaxed vibe. Its lining provides a bit of extra protection from windchill, and the best part is you can dress it up or down. Also, if you manage not to lose or forget your bomber jacket at the party, it can make you look like you actually put in effort for your 8am as opposed to your usual bed-rat-chic aesthetic. It's a win-win! 

Whether you're dressing up as a slutty biker chick (how original) for Kappa Sig's infamous Halloween party or you were invited to a winter frat formal and can't sacrifice not wearing that minidress just because it's -16 degrees outside, a classic black (faux) leather jacket is the way to go.
Don't waste your money (or lack thereof) on an expensive leather jacket. Trust me, no one in college or in a dingy frat basement will give a f*ck or ask about the $500 vintage leather jacket you got from the leather market in Italy when you were abroad.

Another basic bitch staple is the teddy coat. While the majority of these coats don't provide any actual warmth, this SHEIN teddy coat is lined with fuzzy fabric on the inside, making it the perfect addition to your look for the winter months. You may think you can live by Cardi B's "a hoe never gets cold" philosophy, but trust me, the second the winter air smacks your bare skin, you'll be bitching the entire way to the party about how much you wish you had a jacket. 
Investing in any of these jackets (or anything similar) will literally be one of the smartest decisions you make in college. For those of you who are concerned about losing your fracket, getting it stolen, or looking like a mom in Disney World by having it tied around your waist, not to worry, we've got a few tips that even your drunk self will be able to follow. 
As soon as you get to the party, try putting your jacket in the oven (after you've checked it hasn't been used recently). There's a zero percent chance anyone in the frat or at the party will get the urge to bake cupcakes in the middle of the action, so your jacket should make it through the night. If you know someone who lives in the frat house, you should first of all, reevaluate the company you keep, and secondly just throw your jacket in their room. Try to make it a little hidden because people are allllways stealing sh*t from frats, but this is probably your best option because you can at least blame it on them if something were to happen to your fracket. 
Basically, as long as you never leave your jacket lying around in the open or "hidden" somewhere outside the house, you should be fine. Let this be your formal warning that the girls who go to frat parties are ruthless; they're just as cold and drunk as you are, and will sniff out your fracket and steal it without a second thought. 
*As always, please drink responsibly, betches. Your roommate doesn't want to have to call your mom to tell her you had to get your stomach pumped because you were trying to keep up with Brad and Chad on the shotski. 
Images: Jesus Desanto / Unsplash; H&M; Forever 21 (2); Nasty Gal; SHEIN
Betches may receive a portion of revenue if you click a link and purchase a product or service. The links are independently placed and do not influence editorial content.
5 College Stereotypes To Avoid Becoming
As you embark on the sh*tshow adventure that is college, you have the ability to be whoever you want. Whether you join the yoga club and turn into a Birkenstock-wearing queen or get tapped into a secret society and fall off the face of the earth, there's no wrong identity, and college is the perfect time to experiment. However, while you're going through your waves of being a hipster stoner to a frat bro enthusiast, try your best to avoid falling into the following stereotypes, otherwise your academic and social status will suffer.
The One Who Never Goes To Class
Congratulations on getting into college, you deserve a break! Too bad that break was summer and college is NOT the time to sleep through the day. Trying to pass off "staying in bed all day" as a personality trait is such a cop-out because it's actually just you being f*cking lazy. Don't waste the literal tens of thousands of dollars you or your parents are dropping on tuition, because there are some people who would risk going to jail (#fighton) to be sitting where you should be—in class!! Go learn something, we love a smart betch. 
View this post on Instagram
The One Who's Stuck In High School
This person spends all their free time FaceTiming their high school boyfriend and searching for a new "cliquey" girl squad to replace the one they left behind. You swear you were super popular back home, but sadly no one gives a f*ck about who you were in high school. College is time for a fresh start, so ditch your home life dependence and join us adults in the present. 
Sad how some adults are still stuck in the bitchy high school phase, grow up bbs xo

— M A D Z ? (@madison_16xox) September 6, 2019
The One Who Lives For Her Srat
Joining a sorority is great—fabulous, actually—but if the second you get a bid you can't be caught dead not wearing your letters, we have a problem. Your identity and self-worth should not be defined by a four-year hierarchical social construct, and quite frankly, it's pretty embarrassing if it is. Explore your university, talk to some non-Greek people, and stop spending time researching every item you can possibly print your letters on!
The One Who's "One Of The Bros"
You like to chill at home and watch TV, you shotgun beer, and you "haaaate drama" (aka you're a fraternity groupie). I don't care how much time you spend sitting around the bong coffee table littered with empty bottles and unidentifiable substances, at the end of the day you don't have a d*ck and you're not part of the "brotherhood." Swooning over the boys by picking up their Chipotle and watching them play Fortnite is not a basis for lifelong friendship. Ultimately, all your efforts going toward the boys means you'll probably miss out on the impressive solitude of female friends. Sad. 
the girls who say "they hate drama" are usually the ones starting it all?

— bean ?? (@analyssemayraa) November 10, 2016
The One Who Already Added You On LinkedIn
All of your special skills on LinkedIn have been exclusively endorsed by your best friend and your mom, and you posted allllll about your "life-changing" summer internship on every social media platform (so glad your parents found time to make that phone call for you, sweetie). You joined seven clubs your first weekend on campus, and followed half the freshman class on Instagram before classes even started. While there's nothing wrong with striving for excellence, no one likes a show-off. Let's cool it on the public persona and desperation to "connect." Put the f*cking phone down and try making real friends offline. 
Everyone says college is the best four years of your life, and they're not wrong. However, in the midst of going to darties, making bad decisions about texting the guy who ghosted you last week, and shoveling pizza into your mouth at 1am, you need to make a conscious effort to keep your priorities (which should be academics) in check and stay true to yourself. 
Speaking from experience, you'll definitely become your truest self in college, so don't waste your time and efforts being an obnoxious fake bitch because spoiler alert: NO ONE likes that behavior in college and they'll hate it even more in the real world.
Images: Tim Gouw/Unsplash; Betches/Instagram; madison_16xox/Twitter; Lien Caputo/GIPHY; TeamCoco/GIPHY; Analyssemayraa/Twitter
We Watched Lala Kent's Movie 'The Row' So You Don't Have To
If you follow any of the stars of Vanderpump Rules on Instagram, you'll notice that Lala Kent's new movie came out. It's called The Row, and was released July 27th on iTunes and very few theaters. I first heard about this movie while listening to a podcast Lala was on. She said they decided to make her the star of the movie halfway through production. Sounds totally legit and not at all like someone dropped out. I'll be honest and say I wasn't expecting this sorority horror movie to be good. I was hoping it would at least be fun (it wasn't). It required the same number of drinks as The Bachelorette to get through, so don't see it in theaters. Be like me and rent it on iTunes with a bottle of vodka nearby. Or just read this recap instead.*
*Obviously, all of this contains spoilers.
The movie opens with some very extra EDM music and strobe light effects interspersed with hot women partying. This both makes me nauseous and sets a very accurate tone for the rest of the movie. Lala, a 28 year-old woman freshman in college, is being dropped off on campus by her muscular bald dad. I Googled her dad to see if he was older than Lala's boyfriend (sorry!) and his name is Randy Couture. You're welcome. Randy Couture turns out to be a detective, and immediately busts a meth lab. The lab is run by exclusively Victoria's Secret models in bras and he kills one. This will have almost no bearing on the rest of the movie.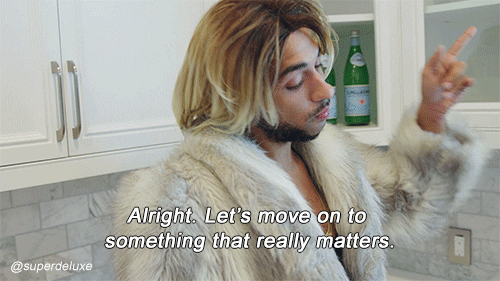 What the slutty meth lab does prepare us for is twofold. 1) Every woman cast in this movie looks like a lingerie model. 2) The women will rarely wear more than lingerie.
Back on campus, Lala's friend talks about how much she likes sleeping with professors. They decide to rush the "Victoria's Secret sorority" (told you this movie had a theme), Lambda Phi, where it turns out Lala's mother was president. Gasp. Lala is shocked, because her mother died when she was a kid and Muscle Dad doesn't open up much. Lala, who has spent the first half hour of this movie wearing knee-length dresses and refusing alcohol, reacts to this news by getting sh*tfaced. In case we forgot this was a horror movie amidst all the underage drinking and lingerie, one of the sorority girls is violently stabbed to death outside in lingerie and a robe.
TBH, I kind of expected this stabbing to have more of an effect on everyone. The police force literally says "this won't be the last," which like…is it not your job to stop it? The Lambda Phi girls take molly "for Isabel" (the dead girl), which makes me very sad for the state of female friendship in this movie. Lala is driven home by a stalker valet who tells her his sister was in Lambda Phi. Another girl is stabbed to death in hot pink lingerie.
Every girl in this movie five seconds before being murdered: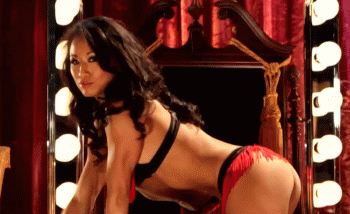 The rest of this movie pretty much drifts away with more of the same. Detective Dad struggles with case-solving and opening up emotionally to his daughter. Valet Guy shows up everywhere Lala goes without her questioning it. The Lambda Phi house mother, who very clearly wants to bang Detective Dad, tells Lala that her mom hazed a girl so badly she killed herself while she was Lambda Phi president. Lala is super upset with Detective Dad for not telling her this, which is very legit but also couldn't she have Googled this information? Two more girls are stabbed in the shower without any significant leads on the murderer. It honestly does not seem like the police are interested in this case.
I won't tell you who the murderer is, because I think that knowledge should be saved for those of us who actually had to suffer through  watch this. I can tell you that there are plenty of suspects, because every guy who hits on Lala in this movie has the facial hair and demeanor of someone who murders for sport. If you're wondering about the acting range Lala displays in the movie, she bounces solidly between "Lala trying not to get in trouble with Lisa" to "Lala drunkenly yelling at a party." She laughs, she cries, she only wears a bikini once—which makes her 600x more clothed than the rest of the female cast—and she manages to refrain from calling her detective dad "Daddy."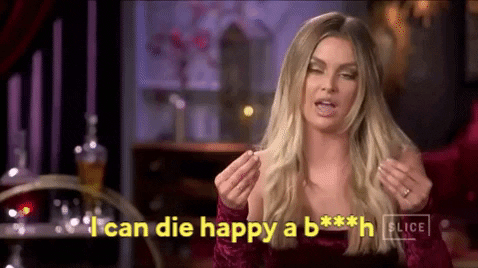 Mostly, this movie is 87 minutes of frat parties interspersed with bodies being hacked up, with lots of gratuitous nudity. If you want a reason to feel bad about your summer body, this movie will do the trick. But while it at least delivers on the promised "hot people partying" premise, the dialogue and soundtrack are honestly so bad that it's not worth blowing a Sunday afternoon on. Lala should maybe stick to reality TV where she can be her hilarious self, not star in someone's first shot at a legit movie after a long career in porn. I'm not saying that describes The Row's director, I'm just saying that's really what it felt like.
Images: Giphy (3)
The Types Of Girls You Meet During Sorority Rush
Whether you're a bright-eyed freshman who just discovered what jungle juice is, or an alum who used her sorority connections to get a job, you've experience rush. And if you didn't want to join a sorority, well…bye? I don't know what to tell you, but you're not going to get this one. You'd probably still be "The One With No Idea What's Happening" if you did partake anyway. Sorority rush is like speed dating with girls who have already extensively judged the fuck out of your Instagram feed and know if you've hooked up with their exes. Yikes. Regardless of what school you attend(ed), you've probably come across the types of girls we have displayed for you in our latest video…and maybe you even became one. All of these girls have issues, so no one really wins. I'm not naming specific sororities, but I definitely know which sorority chapter has the most blonde girls…and believe me, they fucking know it. "This is like a cult right?" Watch for some self discovery and nostalgia:
For more hilarious videos just like this one, subscribe to our Youtube channel and follow betchflix on Instagram!
You Can Pay An Insane Amount Of Money To Get Into A Good Sorority If You're Ugly & Boring
Ahhh… sorority rush. The one time of year where a bunch of fake af basic betches recruit a bunch of younger, newer fake af basic betches to pay to be their friend. The only problem is if you're ugly or stupid or or poor or have the personality of a fucking brick wall, you're pretty much SOL. Especially those first three because god knows all they really care about is you being hot, sitting next to a nerd all through high school having a good GPA, and what your dad's bank account looks like. But don't worry. If any of that describes you, we're here to make your shitty-ass Wednesday better and tell you about sorority rush consultants aka middle-aged women who you can pay to help you become a college version of a Stepford wife. Lucky you!
Town & Country did a whole write up on the mysterious life of these rush consultants, and tbh, I can't tell if their take is "holy fuck this is terrifying" or "yippee what a brill idea." But I'm here to say that this is the thirstiest, most pathetic shit I've heard in my whole life. And while I read the entire thing in all its glory, I'm taking a bullet for you betches and just breaking down the most important parts to save you both time and brain cells. I accept both cash and wine as forms of payment as a sign of your gratitude. Oh, and the asterisks mean the girls' names were changed to prevent further hazing for paying someone to make them cool.
"The cards were stacked against Hannah*, a PNM—or 'prospective new member'—entering rush week 2017 at the University of Alabama. She was a sophomore, for one thing, not a freshman like most of her fellow PNMs. She wasn't a legacy, but worse than that, she wasn't even from the south."
Not from the South?!?! THE HORROR! As a person from the South who was in a sorority at an SEC school, I can tell you that no one gives a flying fuck if you're from the South or not. It's not like northerners or westerners are fucking lepers or something. And wtf is a rush consultant do about that? Forge your birth certificate. Fucking doubt it.

"She was down an internet spiral when she happened upon Pat Grant, the founder of Rushbiddies, a Birmingham-based consultancy dedicated to helping girls, in Grant's words, 'prepare for one of the most important aspects of higher education'—that is, rush week."
First of all, I wouldn't take sorority advice from a woman named Pat. Sorry. But that's just a fact. Second of all, of course this shit it based out of Birmingham. And third of all, "one of the most important aspects of higher education"? Are you serious? I'm all for getting shitfaced and dressing like a slutty highlighter for a neon-themed mixer but I wouldn't exactly describe that as "one of the most important aspects of higher education" for women. But thanks for your opinion, Pat.
" will do damage control when needed, like in the case of the PNM whose winter break Snapchat showing her dancing with another girl went viral in the days before her second semester rush. 'All it takes is one image to be misconstrued,' says Grant. 'I say, I don't care if this guy is just a friend of yours. If you've got your arms all over him, they're not gonna know he's not your boyfriend. Or maybe that swimsuit doesn't make the best impression.' Over the summer, at Grant's recommendation, Hannah edited her feeds to delete anything political. 'I didn't want to give anyone any reason to cut me,' says Hannah. 'It has to be super vanilla, all the way through.'"
Wow. There's so much bullshit here I can barely fucking breathe. Did I miss the part where dancing with other girls, hanging out with guys who aren't your boyfriend, and wearing bikinis aren't pretty much the only thing sororities do? I can honestly say in the four years I was in college all I did was dance like a hoe with my friends, hang out with fuckboys without being their girlfriend, and skip class to go to the pool in the smallest bathing suit I could find. Who fucking cares? Are these people trying to join a sorority or a convent? PLEASE ADVISE, PAT. And god forbid a good Southern girl care about politics. Or have opinions of any kind, for that matter. There are more important things a sorority sister should focus on—you know, like contouring and shopping and husband hunting. Obvi.

"'Grant tells the story of one girl who showed up to a pre-rush workshop wearing a dress and cowboy boots. 'I said, why did you choose cowboy boots?' Grant recalls. 'She said, everyone knows cowboy boots are my signature. I told her, maybe back in high school they were your signature. But here, you don't have a signature. You have to meet what's expected until you're established. Then you can wear your cute little cowboy boots.' Sarah* worked with Lorie Stefanelli of Manhattan-based Greek Chic to prepare for rush at Texas Christian University. Over the phone, they'd practice typical conversations to determine 'what elements of my personality to play up,' she says. 'We also paid a lot of attention to my outfits. Lorie was very particular about looking classy, not wearing super-short shorts or revealing dresses. More Audrey Hepburn.' Safe looks included anything Kate Spade, Tory Burch, or monogrammed. At Alabama this year, says Hannah, some girls "didn't get that you should cover up. They'd show up in backless dresses and they'd get released."
Let me start by saying, I personally do not believe cowboy boots are ever a good wardrobe choice. Like, are you hear to rally the cows or fucking drink? But I digress because there's a bigger issue. If by "meet what's expected" you mean "wear fucking Lilly Pulitzer like a massive toddler on Easter," that's gonna have to be a hard pass from me, dawg. And idk where sorority girls get off telling people to cover up. Have you gone through your Explore page on Insta recently? It's pretty much boobs and labia and sorority hand signs. So excuse the fuck out of me for showing my back.

"Grant aims to get her girls into one of their top two houses, and says she hit the mark for every one of the 20 girls she put through recruitment last year. She charges $1,500 for her most popular package, which includes 40 hours of text, chat, and Skype, as well as workbooks and handouts, but of course, it's not about the money."
$1,500 for texting someone a few times about what to wear for rush? Of course it's not for the money! Pat is practically a philanthropist. Idk if you heard, but she's actually being considered for the Nobel Peace Prize this year.

"Sarah says she talked to Stefanelli every night during rush week, usually for two hours. 'She'd help me decide the order of the houses I liked,' says Sarah. 'Or I'd say, is this OK to say tomorrow if I am invited back? PNMs like to talk. And when you're insecure, it's much better to have someone outside of the process to talk with.'"
Hey "Sarah", here's some fucking advice. Say whatever you wanna say. You are literally determining what group of girls are to haze and judge tf out of you be your friends so if shit's awkward, they're probs not the right house for you. Is that not fucking obvious?