Scott Disick & Sofia Richie Finally Broke Up
Okay, I realize I am going to sound extremely soft when I say this—and maybe I am—but Page Six's new report that Scott Disick and Sofia Richie broke up is actually shocking me. I mean, a little—it hasn't like, upended my world view or anything. Not because I thought Scott and Sofia were perfect together (or even because I knew a single thing about them as a couple), but actually the opposite. They seemed so mismatched (and yes, I'm mostly talking about the age gap) that if they managed to stay together for three years, I figured they were in it for the long haul. But, at least according to sources who've spoken to Page Six and Us Weekly, this time Scott and Sofia are done. (Bad week for Sofias, amiright?)
Earlier this month, Page Six reported that Scott had checked into rehab to "work on his past traumas", denying any drug or alcohol abuse. However, he checked himself out of the rehab and returned home after, obviously, it got leaked the the media that he was there. And I know I sound like that time Karen Smith told everyone when Gretchen got diarrhea in Barnes & Noble, but the reason I'm bringing it up now is because sources told Page Six that Scott's traumas contributed to the split, saying, "Scott had gone back to his old ways and Sofia got fed up."
The source also said that Scott and Kourtney's relationship weighed on Sofia, adding, "Kourtney didn't make it easy for her." Yeah, I'd imagine it would be tough to be in a relationship with a guy when the entire world is rooting for him to get back with his ex and the mother of his children. Over Memorial Day Weekend, Scott celebrated his birthday with Kourtney and the kids in Utah, with Sofia nowhere in sight. UsWeekly claimed they were on a break at the time, so it looks like the break just became permanent.
And to add yet another blow, apparently Scott and Sofia weren't quarantining together, which took a toll as well. Though I can't exactly blame Scott for not wanting to quarantine with a 21-year-old; she'd probably want to spend all their time making TikTok dances.
I would normally take this time to insert some boiler plate "I feel bad for , but they'll be fine", but honestly, I'll save my sympathies for some other time. Sofia is 21, I'm sure she will have plenty more relationships, and Scott is a grown-ass man who is almost a decade older than me and also, I'm sure, fine. If I could give Sofia some advice, even though she's definitely never reading this because she's a celebrity and I'm just a rando with an internet connection, it would be this: Pour yourself a glass of wine now that you can legally drink it, go make fun of Scott's insane quotes on Keeping Up With The Kardashians, you'll get through it.
Image: Andrew Toth/Getty Images for Dujour
Kylie Jenner Took All Her Friends On The Most Extra Instagram Vacation Ever
The two things I love to hate on most, Kylie Jenner and influencer trips, converged over the weekend when Kylie Jenner posted pictures from her #kylieskinsummertrip. Oh boy *rubs hands together like Bird Man* this is going to get good. I know what you're thinking (because I was already thinking it), and yes, Kylie Skin already launched, but this trip is to promote a few new products that are launching on July 22—namely, the BODY line. So, there is a reason for the Kylie Skin Summer Trip besides just Kylie Jenner being extra and flaunting her wealth (however flimsy that reason may be).
Me to me: Wait, but doesn't Kim already have a perfume named Body?
Guess it doesn't matter. Just goes to show you how original these so-called billionaires are. Anyway! In an Instagram post on Saturday, Kylie posted a video of the new products, writing in the caption, "This summer trio is all about B O D Y ✨ Coconut Body Lotion, Coconut Body Scrub, and our Broad Spectrum SPF 30 Sunscreen Oil. You will fall IN LOVE with these products launching July 22nd along with the restock of our first drop!"
My immediate impression of these products was twofold: one, this is some sparse packaging. Like, this looks like the kind of skin care your friends from high school try to hawk on Facebook for $300 a bottle. Two, the term "sunscreen oil" sounds misleading (is it sunscreen or is it tanning oil?), and I would not trust any type of sun protection from Kylie Jenner, a woman who is rocking a year-round tan. A tan is still skin damage, people!
But that's not why we are here today, friends. We are here because instead of just dropping this sh*t on her website and Instagram or wherever, where it will likely sell out immediately anyway, Kylie Jenner orchestrated her own one-woman Revolve trip to promote these products. Just as fast-fashion apparel companies will invite a bunch of influencers to Turks and Caicos to promote their products, Kylie Jenner invited her friends also to Turks and Caicos to "celebrate" (read: promote) her launch. Along for the ride, according to PEOPLE, are her BFF Stassie Karanikolao (@stassiebaby), Sofia Richie, makeup artist Ariel Tejada, Kylie's assistant, Victoria Villarroel, her photographer, Amber Asaly, and of course, Stormi.
As we know from the party Kylie threw for Stormi's first birthday, when Kylie Jenner (or her event planner) put on an event, they put out all the stops. (Must be nice to have unlimited access and funds.) The party started on an actual private jet that Kylie had wrapped with the Kylie Skin logo and branding colors. Casual. There were also flight attendants decked out in matching outfits, in the Kylie Skin pink and white, to greet them at the end of a pink carpet. For Kylie's sake, I hope those flight attendants were fake, because I'd be concerned that someone in a 1950s pinup wig and skintight dress might have some difficulties saving my life in the event of an emergency.
View this post on Instagram
Everyone also got matching tie-dye sweatsuits, because apparently 2008 is back in a big way. And, it looks like, silk Kylie Skin pillowcases, eye masks, and scrunchies. Kylie also gave everyone a gift bag of Kylie Skin product, as well as pink clothes from Scott Disick's clothing company. There are even personalized coconuts, but as a person who went to an event that had personalized coconuts, that's not really that big of a deal. I'd reserve your jealousy for the free tropical vacay and trip on a private jet.
View this post on Instagram
Kylie and friends are apparently staying at a gorgeous mansion with a pool—of course, I would expect nothing less. That brought about this Instagram:
View this post on Instagram
"Hakuna matata"? Easy for you to say, Kylie. I would have no worries too if I was a billionaire.
Basically, this trip is ridiculous and ostentatious, but so is everything that Kylie Jenner does. I know everyone is freaking out about this trip, but I'm like, not that impressed. Not because I can even come close to affording any of this sh*t, but because this is pretty par for the course for Kylie. Honestly, given what we know she is capable of putting off, dare I say, it's pretty tame? Aside from the wrapped PJ and the coconuts (which I looked up and are not really that expensive, at about $14 per coconut), there's not that much that's totally crazy. Yeah, they're staying in a mansion, but they'd do that at Kylie's house. I'm just waiting for some huge blowout bash where Kylie like, constructs a club in the shape of a sunscreen bottle (and if she does that, I will be hunting her down for a commission).
View this post on Instagram
I don't know how long this trip will last, but if you really care, you can follow the #kylieskinsummertrip hashtag on Instagram (but if you do really care that much, might I recommend seeking help?). You can also buy the Kylie BODY products when they launch on July 22. They probably won't give you Kylie Jenner's body, but they will give you a lame dad joke so you can tell people you have Kylie's body—and that's basically the same thing.
Images: kyliejenner / Instagram
Scott Disick Doesn't Have A Wikipedia Page So We Wrote Him One
Okay, so it's been brought to my attention that for some godforsaken reason, Scott Disick doesn't have a Wikipedia page. Even Rob Kardashian has one, and he's best known for…um, selling socks. How can one of the best characters on KUWTK and the most salacious riotmaker of the tabloids not have a Wikipedia page? Since Wikipedia helped us graduate high school (and, let's be honest, college), we decided to do them a solid and make a page for Scott. Check out the SparkNotes version of Scott Disick's life (with some opinions thrown in, obvi).
Childhood
Scott Disick was born to a wealthy family in the Hamptons. He was an only child, which is pretty obvious based on the fact that he's bratty and selfish. Scott attended a ritzy private school called The Ross School, which boasts other famous alumni like Alexa Ray Joel and Tessa Grafin von Walderdorff. And before you say, "who"?? Alexa's dad is Billy Joel, Tessa's husband is Barron Hilton, and Scott swindled his way into the Kardashians. So pretty much they get trained there to piggyback off of famous people in order to become famous.
Scott had his ups and downs in his adolescence. It's actually not known whether or not he really graduated high school. He modeled for a young adult series about horses, and I can't tell whether that's an up or a down. He also was nicknamed "Number One Scum" and "S.T.D." which just so happen to be his initials. He actually found those nicknames funny because they underscored what a party animal he was, and how he was such a player in high school. Scott also got arrested for a DUI under the age of 18, which is a huge foreshadowing of what was to come in his future.
"Career"
Entrepreneur
Okay, I don't even know what this means. I'm pretty sure it's a career you have if you're trying to make it seem like you do a lot of things when in actuality, you do nothing. There was an episode where Kourtney said she doesn't even know what it means, largely because he was so evasive about it. His evasiveness means that a) he doesn't know what it means either or b) he's involved in something sketchy like underground poker games or a drug cartel. With friends like Joe Francis, you never know what this guy will get himself into.
Reality Star
Let's not act like Kourtney was involved with Scott for so long because she was in love with him. I mean, he got caught cheating on her multiple times, he obviously had a substance problem that he barely attempted to get help for, and she was pretty open that she found everything about him annoying. TBH, I'm pretty sure she was only with him because they make adorable babies and he's probably the most interesting character on the show, so they needed a way to keep him tethered to the franchise.
Recently, Scott was given a new reality gig, a show called Flip It Like Disick about flipping houses. It's an eight-episode, hour-long series where Scott and a team of designers, contractors, and other people who actually know sh*t about real estate will renovate luxury homes. Tbh, the only thing Scott Disick is an expert in flipping is Kourtney's world upside down, but sure.
Almost An Actor
Remember American Psycho? Of course you do, because every finance f*ckboy has a quote from the movie as his dating app bio or he makes you watch it on a cozy night in. After all, what says romance more than Christian Bale slaughtering Jared Leto while blasting Huey Lewis and the News? Anyway, the writer of American Psycho announced on Twitter that the way he would ever do a remake is if Scott Disick or Miles Fisher played Patrick Bateman. No, seriously.
I have warned Lionsgate that I will not approve a new version of "American Psycho" unless it stars SCOTT DISICK or MILES FISHER.

— Bret Easton Ellis (@BretEastonEllis) December 9, 2011
Approve! RT @BretEastonEllis I have warned Lionsgate that I will not approve a new version of "American Psycho" unless it stars SCOTT DISICK

— Scott Disick (@ScottDisick) December 9, 2011

So, Bret never ended up making the remake, yet he was willing to make "The Canyons," which starred Lindsay Lohan. So Kanye West took it upon himself to do a remake of "American Psycho" starring Scott Disick and—get this—Jonathan Cheban. My dream come true.
Restaurateur
Remember when Kourtney and Kim took New York the first time around? You probably don't, because that season wasn't too memorable. You also probably don't remember Scott's restaurant, RYU, because it was doomed from the get-go and only lasted 191 days. Kourtney didn't even believe the restaurant would even open. But hey, that's more than 2.5 times longer than Kim's marriage to Kris Humphries, so at least Scott accomplished something.
Royalty
While the fam was in London, Scott had nothing to do because he basically does nothing for a living. He decided to become a Lord because anyone—even citizens of other countries—can be awarded this title. One of my majors in college was History with a concentration in Modern European History, and one thing we learned is that the try-hard social climbers that were so desperate to hang out with the elite would buy these "lord" titles to make themselves seem like they were members of high society. Scott leeches off the royal family of America and posts pictures of himself with overly priced watches and on private jets, so that sounds about right.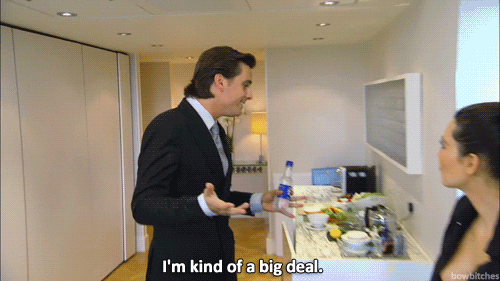 Designer
Scott started a clothing line, appropriately named "Talentless." Way to be self-aware for once, Scott! It donates 3% of the proceeds to a charity called "Fuck Cancer!" which is really sweet. The brand's mission statement is: "'Talentless' is an homage to the new wave of creators, innovators, and influencers who've made a name for themselves by going against the conventions of what it means to be 'talented.'" Okay, cool, that sounds super deep and inspiring or whatever, but how is selling plain old T-shirts with nothing on them for $42 an homage to creative people? This isn't some Derelict-level sh*t like most of Kanye's fashion shows are. But still, you're thinking way too highly of yourself here, Scott.
Influencer
Scott will throw up Instagrams about FitTea, cell phone cases, and asking his followers to follow Lala Kent's fiancé. Yet he barely posts pics with his girlfriend of two years. He also does appearances at clubs like 1OAK, which is where that bratty, try-hard girl from high school wears a leopard print outfit and takes tons of bathroom mirror pics to prove that she is better than you. But you know what? All of these jobs are probably less pathetic than Kourtney's CV. At least Scott tried(ish)!
Relationships
Kourtney
Kourtney and Scott met at the mansion of Joe Francis, best known as the creator of Girls Gone Wild. That in and of itself was a sign that their relationship would not work. First off, I would not wanna use the same toilet as Joe freakin' Francis, much less do body shots with him and his friends. Anyway, a year later, these two fell in love. Her entire family hated him at first. But soon, Kris, Kim, Rob, and Khloé fell in love with him too.
Sofia Richie
Sofia Richie is best known for being Nicole Richie's little sister, modeling (although I can't think of a single brand she's modeled for), and now, dating Scott Disick. But is their relationship serious? I'm not sure *grabs tinfoil hat*, and here's why. Before Scott and Kourtney broke up for the final time, Sofia was dating Justin Bieber. Also, Kourtney Kardashian and Nicole Richie have been friends since childhood. Kourtney's rebound after she broke up with Scott was Justin Bieber. So Scott came up with a conniving plan to hook up with Kourtney's friend since childhood and Justin's ex-girlfriend. Oh, and did I mention Sofia used to be besties with Younes Bendjima before he started dating Kourtney? That's honestly the most brilliant clapback ever—it's almost Shakespearean. Is Scott is totally in love with Sofia, or is this the most convoluted plan to make Kourtney jealous? I'll let you decide.
Hookups
Scott pretty much cheated on Kourtney all. The. Time. But the final straw was Chloe Bartoli. They were in the same group on vacation and she just so happens to be his ex-girlfriend, so inevitably they got handsy. Not too long after, Scott hung out with human glitter bomb Bella Thorne in Cannes, yet she denied any hookup took place. Scott also hooked up with Kourtney's best friend since childhood, Kimberly Stewart, and regulation hottie Madison Beer, who is probably the best catch Scott got out of all these hookups.
Children
Scott has three children with Kourtney (although it is unknown how many children he has had with his side chicks). His eldest, Mason, was always his mini-me, and will probably create a streetwear line that sells T-shirts with one logo on it for $400. Penelope is his only daughter, and the only gift he has ever given her is daddy issues. Reign is his youngest and clearly his favorite, so that little dude is set for life.
And that's pretty much all you need to know about Scott Disick's life! Wow, I have aged 10 years and lost most of my brain cells. If anyone works at Wikipedia, feel free to copy and paste this article directly in for Scott's page.
Wait, Kourtney Said She And Scott Are 'Soulmates'?!
Hi friends. Let's talk about Scott and Kourtney. They were the OG Kardashian power couple, way before Kanye came on the scene and turned them all into robots. Obviously, they had their issues, and the romance didn't last. In the past few years, we've seen them work on their relationship as parents, and it seems like they've come a long way. Of course, it's fun to talk about if they'll get back together, or what their astrology says about their relationship, what does this mean in real life? Are Scott and Kourtney ever going to be together again? Will we ever get more iconic scenes of them being petty about their relationship? Let's discuss, because there have been new developments, courtesy of the most recent episode of Keeping Up With The Kardashians.
On this week's episode of Keeping Up With The Kardashians, the family's group vacation to Bali continued. Scott came along for the trip, because it's normal for a dad to go on vacation with his kids. I'm glad he went, because I'm sure it's better for Mason, Penelope, and Reign that they can make memories together with both their parents. Whatever, I'm not their therapist. While on the trip, Scott and Kourtney went to visit a "healer," who told them that they are soulmates. This isn't a romantic thing, but instead it means that their souls are destined to find each other in every lifetime, and that "tragedy marred their relationship in a previous life." Okay, sure. Mas Joko, the healer, also told them that "It's up to you how you want to end up this life: together or not together."
That's definitely a lot to process, but it's also not that surprising, given that Scott and Kourtney had one of the world's most tumultuous relationships, but still ended up with three kids and going on vacations together. While Kourtney agreed that they're soulmates in some sense of the word, Scott was more content just to define their relationship as "having three kids together." In this moment, I've finally come to realize what Taylor Swift tried to tell us all those years ago: they're never ever getting back together. Probably.
This is really not that crazy, especially given the fact that Scott is literally in another long-term relationship! I feel like people unfairly dismiss Scott's relationship with Sofia Richie. One big reason is that she's much younger than him, but people also can't let go of the idea of Scott and Kourtney getting back together. I get it. I've been one of those people! But Scott and Sofia have been together for the better part of two years, and I don't think that's ending any time soon.
Also on this week's KUWTK (a lot happened in Bali), Khloé talked with Scott about the juxtaposition of Sofia and Kourtney in his life. Khloé said that if she was in Sofia's position, she would feel weird about Scott going on vacation with Kourtney. In a moment that was really eye-opening for me, Scott explained that Sofia knew from the beginning that he was always going to be close with Kourtney. According to Scott, "She was like 'Listen, I will never get between you and your family and your children. Just speak to me and make me comfortable.'" That is actually amazingly mature and real, and I just gained a lot of respect for Sofia, and her relationship with Scott. Maybe these people aren't psychos after all.
Scott and Sofia might not post about each other all the time, but they were literally just at an event together three days ago, so they're doing just fine. Also, Younes Bendjima was a guest at Kourtney's 40th birthday party a couple weeks ago, so it's not like she's sitting around waiting for Scott to break up with Sofia. I have no idea if Younes and Kourtney are hooking up or dating again, but clearly she can get a guy if she wants one. No one here is struggling.
Sofia Richie when questioning Scott about Kourtney being his soulmate: pic.twitter.com/GFAMYVMoxF

— Rosie TG (@rosie_tatiana) April 29, 2019
Are Scott and Kourtney soulmates? Maybe! I mean, who am I to argue with a Balinese guru? But at least for the time being, it seems very clear that there's nothing going on between these two. So maybe we should just cool it for a while. If they ever get back together, trust me, I'll be the first one to write about it. But for now, I'm just glad that everyone seems happy. Oh God, I can't believe I just said that.
Images: @kourtneykardashian, @fairfax432 / Instagram; @rosie_tatiana / Twitter
Scott Disick Is Coming For Chip & Joanna Gaines' Empire
It's been a very busy month for the Kardashian Krew (I say as if Kris Jenner doesn't make damn well sure it wouldn't be any other way). But while we were all out here paying attention to Kanye's Sunday service or Kim becoming the next Elle Woods or even Khloe's latest photo edit abomination, we missed a very big moment for another member of the fam: Scott Disick. I'll be honest, I haven't been paying much attention to The Lord lately. It's like ever since he adopted Sofia Richie as an honorary fourth Disick child, he's been re-focusing his priorities. Now he's more of a family man, and less of a drunken f*ckup shoving $100 bills down innocent waiters' throats. Boooooo. But we're about to see a lot more from our boy Scottie because, this just in, he has a new real estate reality show coming to E! called Flip it Like Disick. Hold on to your empire, Chip and Joanna, you've got some real competition now!
According to E! News, the show is like Fixer Upper but for the stars, and it will showcase Scott Disick's "passion for luxury real estate and house flipping." That's right, the man who once said "I'm a big star, I don't need to be dealing with you peasants" is essentially going to take on the role of the help and fix up his famous friends' houses. K.

And for those of you who thought Scott Disick's talents were more in the realm of riding on the coattails of his ex-girlfriend's fame and drinking on private planes than flipping houses, then you're not wrong shame on you! Apparently The Lord has been dabbling in property development for years. And let's not forget his brief stint as a handy man on KUWTK after Kourtney asked for more romance in their sex life, so Scott pretended to be Noah from The Notebook and almost destroyed the roof of her house.

Do we think they'll include this scene in the series trailer?
But of course, Scott won't be taking on this new business venture alone. He's assembled a crack team to help him flip the homes of Kris's least favorite famous friends. In addition to a man who refers to himself as the second coming of Jesus Christ Scott, the Flip It Like Disick team will also consist of Scott's BFF Benny Luciano, contractor Miki Moor, veteran assistant Lindsay Diamond, and former pop singer-turned-interior designer Willa Ford. I'm going to save you all the Google search and let you know that none of these people are of any importance, save for Willa Ford, whose iconic song "I Wanna Be Bad" was featured in the Amanda Bynes classic What A Girl Wants, and was also the song 10-year-old me sang in the shower every damn day, much to my mother's growing horror. This is the comeback we need in 2019. Just saying.
Not only will Scott and his team be taking on celebrity projects, but I'm told they'll also be taking on the highly classified and v intense job of re-decorating his children's playhouse! Tbh I love where he sets his bar. I mean, why make the stakes high for your first job when you can make the stakes somewhere around just being judged by children—and ones who are genetically obligated to praise you no less! I applaud your shamelessness, Scott. Bravo. 
While, on the one hand, I'm happy Scott will finally be getting out of the Kardashian-Jenner shadow, this sudden career move does make me wonder if Scott and Kourtney have somehow fallen on hard times? Do we think, like, they actually need the money from this show or something? I, mean, Kourt only makes a casual $35 million a year, and Scott makes whatever ends up in the tip jar after his club promotions. And we all know Poosh was a real Hail Mary for her to begin with! Scott, Kourt, anything you want to tell us??
All jokes aside, I'm thrilled we'll be seeing more from the Lord Scott Disick. The memes I've been sending in my group chat were getting a little bit stale anyways. Flip It Like Disick will premiere sometime this summer, and will consist of 8 hour-long episodes, so feel free to mark your calendars, like, right f*cking now.
Images: Giphy (2); @letthelordbewithyou / Instagram
The Lowdown On The Kardashian Christmas Party
How did YOU spend your Christmas Eve? I spent mine pretending to understand my uncles' fancy finance jobs (I'm sorry, but how are BlackSTONE and BlackROCK NOT the same thing?) or acting like my cousins' PR jobs and Etsy shops selling festival accessories for Burning Man are legitimately rewarding and respectable career paths (LOL they aren't). But then again, I write about Shakespearean sh*tshows like Pump Rules and the Kardashians for a website my grandparents think is called "B*tches," so who am I to judge them? And yet I do judge them, because, like my grandparents said, I write for a site that's called "B*tches." At least I got to sneak off to the bathroom for copious amounts of time to vicariously live through the Kardashians and watch their Instagram stories from their Khristmas Eve party! (Special shoutout to lactose intolerance and eggnog for giving me a believable excuse). We've talked about how the Kardashians have the most iconic holiday celebrations, so of course I had to give you the lowdown on what I learned about the Kardashians while I was hiding away from celebrating Christmas with my own flesh and blood.
Over-The-Top Decor
So instead of Kris throwing their annual Khristmas party this year, Kim threw it instead. (Sidenote: do I seriously have to spell everything that has a C with a K for this article? Because I can't go along with this joke for that long.) Anyways, upon entering, there was a tunnel of lights that legit looked electric (no pun intended). That tunnel is literally what Thomas Edison invented the lightbulb for (that was his doing right?), and it is literally what environmentalists are protesting! But oh well, it looks cool on Instagram! The inside of her house was all white. Like, whiter than Sunday brunch at Bagatelle. Let me put it this way: it was as if P. Diddy's white party's event planner and Jeff Koons did a collab on an igloo. That's honestly the only way I can articulate it. Pictures do it way better justice.
And leave it to Kim Kardashian to make it snow in L.A. Because if this chick can make it from being Paris Hilton's closet organizer to being on the cover of Vogue, she can certainly make it snow in L.A. while it barely even snowed in New England. This may sound sacreligious, especially on his b-day, but Kim Kardashian frankly performed a miracle more impressive than Jesus turning wine into water. No offense, Jesus!
The Fam's Outfits
So let's start off with the hostess, Kim, who totally underwhelmed us by wearing a dress that's a knockoff from her Met Gala dress from 2017. Kourtney, on the other hand, looked leggy and gorgeous by wearing a black velvet mini dress with a bow accent (is that what it's called? I'm not Anna Wintour here!). Kendall must've gotten the memo that she was too boring to make our worst Kardashian makeovers list, so she decided to go against the theme and dress in a highlighter yellow full length dress. Sweetie, in a party that is all white, you look like a trail of dog piss that's left in the snow. But at least you got our attention!
Khloé and Kylie had matching outfits with their respective condom accidents–I mean–publicity stunts. But it wasn't some Laura Ashley level sh*t our moms used to make us wear. Kylie wore a sparkly dress and Stormi wore a sparkly onesie, and they both totally worked it. Meanwhile, Khloe wore a star-studded top that matched True's star-studded onesie, but she spared True the embarrassment by being the only one who wore a skirt that looks like…I can't…I don't even know what that monstrosity looks like. A wedding dress on the sales rack at David's Bridal that went through a woodchipper? That's all I got.
And can we please talk about Kris, while we're at it? Kris wore an all silver full length gown and a platinum blonde wiglet. Was Schitt's Creek's Moira Rose based off Kris Jenner or was Kris Jenner based off Schitt's Creek's Moira Rose? These are the questions that we should've answered when I was a Philosophy major instead of meaningless sh*t like "Does free will exist?".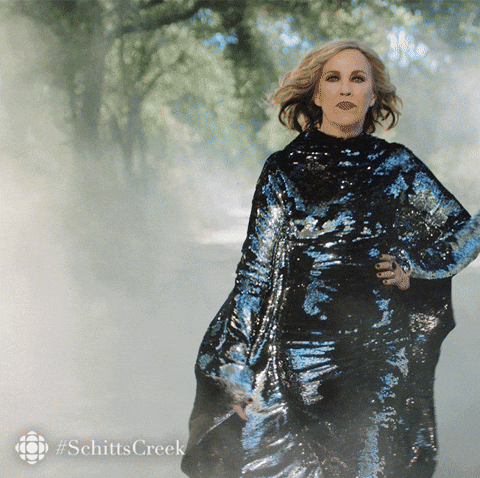 The Guest List
Of course, the Kardashian's annual Christmas Eve fête had the creme de la creme of the C-list with some A-listers thrown in. Jennifer Lopez showed up with her rumored fiancé A-Rod (I don't even know his real name-I just know that he has a giant painting of him as a centaur in his house). Kyle Richards of RHOBH and her fam also showed up. John Legend performed, but it doesn't look like Chrissy Teigen showed face because there's no photographic evidence of her being there and her Instagram stories were surprisingly dead on Christmas Eve. Kimora Lee Simmons was there because apparently they wanted to stay on theme for Christmas and stay on #brand for E! so they invited the Ghosts of Failed E! Reality Shows' Past. Look, if you're gonna do that, at least invite ones that know how to party, like Alexis Neiers from Pretty Wild or the Olly Girls from Sunset Tan. Those girls were my idols in middle school. It looks like Jonathan Cheban was a no-show, which is weird because usually he would be super in-your-face about how he was invited. I suppose they realize that he was so creepy as Santa on their contrived "Christmas Special" they had him dress as the Grinch instead. (Yes, they actually had someone dressed as the Grinch at this party.)
…And The More Interesting Guest List
Paris Hilton ended up showing up again this year, and she actually went sledding with Kim! It was some early 2000s level antics, but I can't help but think they're still frenemies. You know why? She was caught on Instagram cuddling up to Sofia Richie. They made a video selfie together with Paris saying her catchphrase "That's hot." #TBT to 2004 when we all had the dELiA*s t-shirt that said "That's hot" back when it was actually relevant. Stop trying to make "That's hot" happen again, Paris. It's never going to happen. She really is trying to make some Simple Life shenanigans again with the mini Richie, yet Sofia's big sis Nicole Richie clearly can't be bothered to relive the past. Anyways, kinda crazy that Sofia Richie showed up, right? Well, we all saw it coming since she just got back from vacationing in Mexico with Scott, Kourt, and their kids, like, hours before.
But the most controversial guest? Caitlyn Jenner. Kim and Kris both were up on their soapboxes saying how they'll never talk to Caitlyn again after she aired out Kris in her tell-all book, yet there she was. And she brought Sophia Hutchens, her much younger girlfriend? Or companion? Business partner? I'm not sure what they are, and Sophia doesn't either. Oh well! The craziest part is that barely legal Sofia and Sophia (weird coincidence) were up past their bedtimes and out at a party instead of waiting for Santa to come. At least Caitlyn and the Kardashians have made amends in time for the holidays. This was so touching, and if my shrink didn't increase my antidepressants to the point where I didn't feel emotion, I probably would've shed a tear.
Reign Is Still Kourtney's Favorite
I don't even know what Penelope or Mason wore that night. They may not have even shown up. Clearly Reign is the favorite. We told you so!
Kris Jenner's Cooking
First off, props to Kris Jenner for including Travis and Tristan on the family's gingerbread house even though they were no shows at the party to make it seem like their relationships aren't totally doomed. Anyways, Kris talking about getting up at 4 a.m. to make this meal that puts Martha Stewart to shame?
Kris is a queen, but she sits on a throne of lies. I am the proud owner of an autographed copy of Kris Jenner's cookbook, and I can assure you that none of the recipes in that book are this ornate or creative. The only highlight in that book is when she talks about her Hermes dishware. While she clearly is business savvy, she's no master chef and doesn't have a modicum of culinary finesse. Kris so obviously ordered this smorgasbord of diabetes from professional chefs. I mean, I do the same thing when I order off GrubHub for a date and pretend that I made it, so I can't really blame her for passing this off as her own.
I hope everyone had a merry Christmas, and I will be spending the next year trying to secure an invite to the 2019 Kardashian Khristmas.
Images: @kimkardashian / Instagram; @kendalljenner / Instagram; @khloekardashian / Instagram; Giphy; @foodgod / Instagram; @caitlynjenner / Instagram; @kourtneykardashian / Instagram; @krisjenner / Instagram
6 Celebrity Couples We're Shocked Made It Through The Year
Every year, people say "this is the year of devastating celebrity breakups!" Look, we're all really sad that Jenna Dewan and Channing Tatum didn't work out, but 2018 was surprisingly a year of toxic couples staying together (???). Pete and Ariana obviously didn't make it, but things have been weirdly stable other than that. For what it's worth, when these couples actually break up, the fallout and drama will probably be incredible to watch. But for now, here are some of the most shocking celebrity couples that made it through 2018 (relatively) unscathed.
1. Tristan Thompson And Khloé Kardashian
Okay, this is an obvious one, because Tristan cheated on Khloé while she was pregnant. I'm sure that her family is trying to save face right now by pretending to get along with him, but it was obvious in recent KUWTK episodes that they despise him. I get that he's 6'10", makes really cute babies, is 6'10", is extremely good looking, and is 6'10" (I'm terrified), but let's not forget that Tristan cheated on Khloé while she was LITERALLY carrying his child.
He's also been caught since the cheating scandal getting way too flirty with other chicks in public. I get that Khloé wants to try and work things out for the sake of True, but how can Tristan even look that adorable, mushy little baby in the eyes when her name is a reminder that honesty and loyalty clearly isn't his forte? Also, never forget that Khloé and Tristan did that cringeworthy maternity photo shoot. Obviously, I blame him instead of her for that fiasco, because did I mention that Tristan cheated on Khloé when she was pregnant?
2. Scott Disick And Sofia Richie
When Kourtney and Younes broke up, Sofia was in need of, like, a Pez dispenser full of Xanax. I love Sofia, but even after all this time, I can't shake the feeling that Scott is only dating her to piss Kourtney off. Here's what I'm thinking: Justin Bieber was Kourtney's rebound after dumping Scott, and Sofia is Justin's ex. What stings even more is that Sofia is Nicole Richie's little sister, and Nicole and Kourtney basically grew up together. It was also recently discussed on KUWTK that Scott and Kourtney both want another baby. Someone even suggested that they just have another one together. Stranger things have happened.
Let's not forget that Scott refuses to throw Sofia a follow on Instagram, and barely features her on his feed. Meanwhile, he's in every other picture she posts and even had his face as her phone case at one point. This is not the sign of a balanced relationship. He's also literally been photographed borderline cheating on her. I honestly think at this point he's just staying with her to prove to Kourtney that he was dating Sofia out of love and not spite. Maybe Scott and Kourtney will get back together eventually, or maybe they won't, but you'll never convince me that they're not both thinking about it.
3. Justin Bieber And Hailey Baldwin
Did anyone see these two actually making it to the altar? No. Did everyone see them making it to a New York courthouse? Yes, but only in the sense of Justin getting into some legal drama and Hailey serving as a witness. None of us expected them to go their for their marriage license, because we all thought this engagement was a complete joke. Sources close to them justified the engagement by saying she had made him happy for the last three weeks of dating, so they decided to get engaged. They also said he was planning on proposing to her for weeks. How can you be with someone for three weeks and plan on proposing to them for weeks? The math just doesn't make sense!
Fans try to justify it by saying "they got back together" but um, not really. In the past, they were casually dating and hooking up from time to time, but nothing official. Selena was the one who Justin wrote all those songs about and kept pursuing. He even convinced her to break up with The Weeknd. Yet Hailey's The One? A part of me will always believe that Justin and Selena belong together. Sorry Hailey, but Justin can only keep up these thirsty Instagram comments for so long.
4. Emily Ratajkowski And Sebastian Bear-McClard
How is this marriage still a thing? He was her rebound after a three-year relationship. They knew each other for, like, five seconds before getting engaged. Sebastian even proposed with a ring that he made out of a paper clip. They also made it on our trashiest weddings list because they deprived us all of seeing Emily go all-out-influencer for her wedding. Also, it would've been dope to see Emily play the field for a while. In terms of her charisma and disposition, she seems like she has major Rihanna vibes. She's a bad b*tch, and it's a shame we didn't get to see her single phase.
5. Jax Taylor And Brittany Cartwright
All right, allow me to paint you a picture of an actual adult male: he has had numerous affairs with women besides his significant other, an affair with a porn star, adamantly lied about said affair with this porn star at the expense of others, has a sh*tty fake tan, and is a reality star. I'm talking about Jax Taylor. This guy is clearly never going to be monogamous. Whenever I tell someone that I write about Vanderpump Rules, eight times out of ten they will tell me that they know someone that's hooked up with Jax. That's not a great track record, I gotta say. Brittany seems sweet, and I just don't want her to get hurt by Jax more than she already has. Whatever, it's her life, but he's a 39-year-old man, and it seems unlikely that he's going to change his ways at this point.
6. Mod Sun And Bella Thorne
In a lot of ways, Mod Sun and Bella Thorne are perfect for each other. They're obnoxious, questionably talented, and a lot of people find them nauseating. But they're like the Chad Kroeger and Avril Lavigne of America. They're totally a perfect match because they're the only people on the planet who could tolerate each other. Bella Thorne is what would've happened had I never stopped my "double vodka Red Bulls and whipped cream flavored vodka, make out with five guys in one night, scream-sing all the words to "Caribou Lou" by Tech N9ne" phase. But unlike me, Bella still has time to grow out of her questionable phase considering she's barely legal.
Mod Sun, on the other hand, is 31. He's a full adult. His tattoo situation makes him look like the doodles of a 7th-grader, if that kid also spent his time shoplifting from Hot Topic and doing whippits. And did I mention they named their dog Tampon? Is it supposed to be ironic that the most unhygienic couple on the planet named their dog after a feminine hygiene product? Or are they just trying to be obnoxious? Who's to say? Either way, I have a lot of questions here.
But congrats to all these happy couples for making it through the dumpster fire that was 2018! Can't wait to see who will break up and who will get prematurely engaged next year.
Images: @khloekardashian / Instagram; @sofiarichie / Instagram; @commentsbycelebs / Instagram; @emrata / Instagram; @brittany / Instagram; @bellathorne / Instagram
The Evolution Of Sofia Richie And Scott Disick's Relationship
Today is Sofia Richie's birthday, which means now she only has one more year until she can legally drink. Yes, she's literally just turning 20. How does real life feel like it's going ridiculously fast, but Sofia is still basically a fetus? Seems unfair. But yeah, our favorite famous child-turned-Instagram model-turned-Kardashian satellite person is one year older, so let's celebrate. How? By reminiscing on all the twists and turns in her relationship with Scott Disick, which still confuses me. Let's dive in.
We first learned about Scott and Sofia hanging out last year at Cannes, where hot rich people go to hang out every May. This would seem like the perfect location for a first hookup, but things are pretty unclear. If you recall, this is also the exact time and place where Scott was spotted hanging out with Bella Thorne. This feels like approximately seven lifetimes ago. Whatever was going on between Scott and Sofia at this point, they were playing it cool. Sofia even said on Twitter that she and Scott were "just homies."
We first really knew that Sofia Richie was dating Scott Disick last September, so it's been almost a year. While they were in Miami together, they posted Instagram stories together, and they also posed with a cake that said "Congratulations Scott & Sophia" (yes, with her name spelled wrong). The cake was really a confusing factor in the narrative, because it's still unclear what they were being congratulated for. At this point, we would definitely know if they were either pregnant or engaged, so it seems like…a random congratulations cake? Actually, you know what, when I finally get a boyfriend I will celebrate with approximately 10 congratulations cakes, so I get it.
At first, the main issue everyone had with Scott and Sofia dating was their age difference. Okay, that's still the main issue people have with this relationship. Scott was 34 and Sofia was 19 when they got together, which means he could legally drive a car before she was even born. Sorry, not trying to sound judgmental, it's just a fact. A lot of people (myself included), questioned how real their relationship was. At first, based mostly on social media, it definitely seemed like Sofia was a lot more into it than Scott. Note, the trip to Venice when they posted the exact same Instagram, except hers was a couple pic and his was solo. Classic Scott.
By the time spring rolled around, we hadn't heard much more from Sofia and Scott. They were definitely still together, but it was tough to tell how serious things were. There were rumors about them moving in together, but there were rumors about Kendall Jenner moving in with Ben Simmons like a week after they started dating. Basically, no one knew wtf was going on with Sofia and Scott.
Then, in June, we were slammed with breakup rumors. The details around the reported breakup were actually pretty crazy. First, there were allegations that Scott was seen making out with a random woman at Kanye's listening party in Wyoming. How did all of this happen less than three months ago? On top of that, people were saying that Lionel Richie had threatened to write Sofia out of his will if she didn't dump Scott. This sounds like something straight out of a soap opera, which makes sense because it turned out not to be true.
Scott quickly killed the rumors by posting a TMZ screenshot on his Instagram story clarifying that Sofia is still his girlfriend. He also posted a picture of them together at Nobu, which is a sure sign that things are okay in the world of Scott Disick. So yeah, things seem to be good. Sofia hasn't been on the new season of Keeping Up With The Kardashians yet, but Scott still talks about her. In one awkward moment, Khloé asked Scott if he sees himself getting back with Kourtney, and he's basically like "ummmm no and also I have a girlfriend? Khloé, you know this." Gotta love Khloé trying to make drama.
So happy birthday to Sofia Richie! Enjoy your special day, and make sure Scott buys you something really nice. And just to be safe, don't let him go to any more listening parties in Wyoming. You'll thank me later.
Images: @sofiarichie / Instagram; @letthelordbewithyou / Instagram (2)