Why Reading The News Nonstop Is Bad For You—And How To Stop The Cycle
These days, my typical morning routine includes Googling whether it's safe to venture outside today and if there are COVID-19 cases on the rise, followed by how much closer we are to discovering if we've found a vaccine, and finally, scouring articles to figure out if there are any long-term consequences of using so much hand sanitizer. And then before I know it, I'm seeking out more of this depressing and potentially negative info, even though I know it's not helping with my sanity. Apparently, there's even a term to describe this kind of behavior: doomscrolling. Merriam-Webster defines doomscrolling as "the tendency to continue to surf or scroll through bad news, even though that news is saddening, disheartening, or depressing." While I truly believe that knowledge is power, too much of anything can be detrimental to one's health. In fact, going overboard with this kind of activity can have negative consequences on one's mental and physical well-being, especially in these scary times.
As tempting as it may be to constantly hit refresh, we don't have to stay stuck in this endless cycle of terror and misery. There is a way out, and that's to cultivate an awareness of this type of toxic behavior and make a conscious decision to press the pause button on all the craziness that surrounds us. Betches spoke with Dr. Eudene Harry, Medical Director for Oasis Wellness and Rejuvenation Center, and Dr. Braulio Mariano Mejia, Medical Director of The Palm Beach Institute, specializing in Addiction Medicine for insight into what's going on with our minds and bodies. They shined some light on what to do when the line between staying informed and ruining your mental health becomes blurred and offered us some tactics on how to set healthy boundaries between us and the news.
How To Recognize When The News Is Making Us Feel Bad
It can be difficult to attribute our emotions directly to the news—oftentimes we'll think our negative feelings are caused by another trigger. While some types of news can conjure obvious and overt reactions, other times, the feelings can be subtle, like a slow and steady burn. Dr. Harry says that it's important to check in with yourself frequently. She says, "ask yourself if you felt bad after watching the news. Did you feel motivated to act or did it leave you feeling drained and paralyzed? Are you feeling depressed, anxious, overwhelmed, helpless or apathetic? Is your heart racing? Does breathing feel shallow, fast and not enough?" These are the sorts of physiological cues she says you should pay attention to.
Additionally, Dr. Mariano Mejia says that there are behavioral and physical attributes that could be indicative of your emotional upheaval: "ask yourself, 'have I been alienating my loved ones?' 'Have I been isolating from those I care about?' 'Have I been neglecting my family?' 'Have I been slacking at work?' 'Have I been having difficulty sleeping?' 'Has there been a change in my libido/sexual interest?' Have there been any recent weight fluctuations?'" All of this matters and it's important to take time for yourself to answer these questions honestly. It's like going through your own personal mental checklist (it may also help to run through this aloud or write it down). If you're answering yes to any of these questions, both doctors advise that you should regroup and recharge, stat.
Actually, It's About Introspection
Dr. Mariano Mejia says that the first thing to understand about doomscrolling is that it speaks to our human nature more than anything else. "This phenomenon is more about the need to have some introspection. It's about recognizing the need to stop for a second and ask yourself if repetitive news (fake or not) is necessary to get you emotionally or professionally where you want to be."
The most important thing here is to determine whether this information will make a difference in the comfort of your professional and personal life. If not, you can do without this unhelpful stimuli. Dr. Mariano Mejia points out that we as humans have a tendency to obsess over minute things in our lives and that "in order to reduce our anxiety we act on these obsessions, which is a compulsion. In this instance, this compulsive behavior to turn to the media/news evolves into a negative pattern, thus creating a temporary relief." However, if this tendency is left unaddressed, he says that it could lead to negative consequences.
The good news is that conversely, with this same ability, you can train your brain to be a more healthy and balanced one, simply by actively recognizing that you have the power and opportunity to step away from anything you deem to be detrimental to your health. "Introspection is more than simply taking a break. It requires you to stop, evaluate your conscious thoughts and feelings," Dr. Mariano Mejia remarks. "This process allows you to look at yourself in order to determine what is most important in your life." In a nutshell, think of it as an empowered  "you do you" sentiment.
Why You Have All Of These Feels

Dr. Harry says, "your body and mind are being overwhelmed, and as a result, it is constantly activating the stress response system over and over again, continuously flooding the mind and the body with stress hormones." She references clinical studies from Harvard and the National Library of Medicine in which voluntary participants were shown stress-inducing/upsetting pictures and videos. Though they were not actually subjected to the turmoil itself, ultimately, viewing upsetting material resulted in the body exhibiting the same level of heightened stress and trauma. She surmised from these studies that if these feelings are left to fester, it can result in an increased risk of developing psychological trauma, anxiety disorders, depression and other psychological conditions—as well as physical ailments such as heart disease and diabetes.
Ok, So I Feel Like Sh*t—How Do I Make It Better?
Say it with me: SELF-CARE. It's not just some buzzword we see hashtagged to death on Instagram, but a real and positive force that can truly help with our health and wellness if we embrace it.
sometimes self care is an everything bagel

— KATY PERRY (@katyperry) May 16, 2020
Create A Routine That Works For You
Dr. Mariano Mejia says that this can include proper hygiene, good nutrition, regular exercise, and healthy social interactions. Examples of healthy social interactions include interactions that limit exposure to negative people, maintaining positive conversations, and setting boundaries with your peers.
Quality Over Quantity
Dr. Harry says to rely on a trusted news source and consume it for 10 to 20 minutes a day to gather the highlights. Additionally, Dr. Mariano Mejia says that when you do seek out information, stick to factual content rather than opinion-based or emotionally biased stories. "A reliable source such as the CDC (Centers for Disease Control and Prevention) would be recommended, but on a limited basis," he explains. "Official information as it changes and advances on the studies of the novel coronavirus will not take place minute to minute or even hourly," so there's no need to obsessively hit that refresh button. He says you can also control how you remain informed by simply consulting your medical professional/family physician. Additionally, you can consider using free resources, such as Nurses On-Call. 
Timing Matters
Dr. Harry advises against starting and ending the day with your news (lol, I suppose I'm doing this wrong then). She says, "you want to set (an optimistic) tone for your day. Starting it with potentially startling content gives you no time to prepare how to approach your day. As a result, you have immediately engaged your stress and vigilance systems that can leave you feeling edgy, jumpy, and anxious all day."
Get Your Beauty Rest
This is related to timing and is why we shouldn't be inundating our brains with news before going to bed at night or when we get up in the morning. "Sleep is incredibly important; however, it will be difficult to get sound slumber if you've just flooded your brain with potentially traumatizing information and events," says Dr. Harry. It can be a lot to process and can leave you tossing and turning all night. She adds, "it's also another sure-fire way to increase your risk of inflammation and illness."
Unplug And Shut Down All The Things
The world can be a Debbie Downer sometimes, so if you want to chill out for the day and decompress, absolutely go for it. "That's completely okay—take even a few days and go offline from all media to regain your equilibrium. No one knows how you are feeling but you. So find out what works for you," offers Dr. Harry.
You Are Not Alone
Through these challenging times, it's understandable to seek out answers and information to decrease feelings of anxiety and to feel more comforted. However, you don't have to go it alone: "don't hesitate to seek out support. If you are still having difficulties and can't seem to break free or reduce the negative impact on your own, you may benefit from seeking the assistance of a trained and qualified mental health professional," says Dr. Mariano Mejia.
Peace And Pleasure
Yeah, we've all been baking to reduce the stress, but it keeps us cooped up inside. Dr. Harry says that as an alternative, why not consider simply getting outside (safely) for an easy means of decompression? "This may be a nature walk, time with friends via a social distancing/park gathering, meditating, yoga/breathing deeply, and art (painting/pottery), etc." It's about actively distancing yourself from the negative cycle and instead, doing something that brings you peace and a sense of calmness. "More importantly, these activities give your body the chance to recover and reset," she explains.
Doomscrolling may sound like some apocalyptic reckoning, but just remember that ultimately, you have the power to wield control over your thoughts and feelings. We may all be susceptible to this zombie-like trance of doomscrolling, but all it takes is a gentle reminder to pull ourselves out of this rut, turn off our smart devices and the news, and reconnect with elements of our humanity that fill us with joy. We got this.
Images: Bongkarn Thanyakij / Pexels; Chrishell Stause / Instagram; Diet Starts Tomorrow / Instagram (2); Tenor; Katy Perry / Twitter
I Didn't Realize I Was A Terrible Person Until I Deleted My Instagram
As a self-proclaimed Instagram addict, I struggled harder than I thought I would after temporarily deactivating the app that basically legalized stalking. Bless up, Mike Krieger. However, like any sort of cleanse, (unless it's a juice cleanse during which you are miserable the entire time), the longer I went on my Instagram cleanse, the less I craved it. And by "it," I mean attention and validation from my followers. I'm aware that sounded very cult-esque, but tell me what Instagram is if not a raging cult with millions of followers? I'LL WAIT. Anyway, going without Instagram is like that episode of Broad City where both Abbi and Ilana's phones break during the most epic rainbow and they are just like forced to enjoy the moment sans filters, hashtags, and posting. That's kind of what I'm doing, except instead of rainbows over the Statue of Liberty on a beautiful summer day, it's more like the cast of Queer Eye walking into Build Series studio near my office on Broadway. My point is, disabling my Instagram account has introduced me to the definition of IRL, and surprisingly, I'm into it. As Giovanna, the skinny blonde Y7 yoga instructor whose real name is definitely Sarah or Haley, says, "Connecting with the world around you is more important in the moment than after it." Truth, Gio, truth.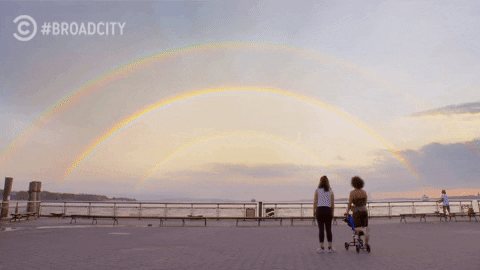 I am not one of those people who deletes Instagram just because it takes up 98% of my phone's storage space or because I never use it. On the contrary, I spent most of my time watching the Foster sisters' weird family dynamics and videos of puppies frolicking in the snow. The reason for my Instagram cleanse? I had just started dating someone, and no one outside of my immediate circle knew about him because there was no photo evidence of our relationship on Instagram or Facebook. (Does anyone even still use Facebook for purposes other than the daily birthday reminders?) The moment I realized this, I had two thoughts: "It's kind of nice to be this cozy social bubble" and "OMG will we be in this tiny claustrophobic bubble forever?" Until I'm back on the ground, I may have to share the news of his existence in person. Gross.
So that got me thinking: Instagram puts so much pressure on its users to keep their followers up-to-date with their lives! I know this isn't a revolutionary epiphany or anything, but for what it's worth, it's true. Look, I am definitely not swearing off Instagram forever, I am just really enjoying my life without it, and here are five reasons why.
I Have More Free Time
Checking Instagram isn't time-consuming the way Marie Kondo-ing your closet or making a cauliflower crust pizza from scratch are, but if you add up all of the minutes you spend on an app (there is an app for that!), you will discover that you probably spend a disgusting amount of time on Instagram on a daily basis. For the first few days sans the 'Gram, I found my thumb constantly reaching for the space where the app used to be in my phone and then accidentally opening my Con Edison app instead because it lives there now. One unexpected benefit of deleting Instagram is that I have accidentally opened the ConEd app so many times that I got to see and pay my bill the exact moment it was due. Kewl, right??
Anyway, after I got used to not checking Instagram the literal second I opened my eyes in the morning, I realized that I didn't need to physically have my phone on me at all times because, let's be real, I have iChat on my computer and does anyone under the age of 60 ever actually call anymore? No. So with 2.7 hours suddenly available in my day, I can spend that time being a real human being instead of a socially stunted child who cannot function in a social setting or watch a movie without a phone in my hand.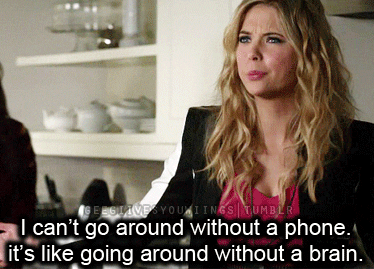 I Am More Social
It's not like I would cancel my plans just to sit in my apartment alone and scroll through Ariana Grande's feed back when I had Instagram (but no judgment if that's your M.O.). I would still go to dinner with my friends and stuff, but I would be having a conversation with them while fully looking at my phone. To paint the picture clearly for ya, we'd take a cute photo at the table, then I'd spend the next 45 minutes editing it and another 15 on the caption. For real, I barely had time to eat my burger! Life was hard. So going to meals with my gal pals without a phone glued to my hand has been an interesting experience with a myriad benefits! For starters, I get to yell at bitches for being on their phones at the table like the angry Jewish grandmother I am, and I get to genuinely enjoy the meal, restaurant, vibes, ambiance, etc. without the added pressure of capturing every moment. Like, unless you're waiting for test results, you don't need to have your phone face up on the table, just saying.
I'm Nicer (Kind Of)
Honestly, once a betch, always a betch, so I'm not about to pretend I'm Gandhi these days, but I'm not as obviously bitchy now that I am not intentionally rubbing my fun dinners and nights out in people's faces. Look, just to keep it real: No one posts an Instagram Story just to share beauty of lovely photo of a beach with the world. No. Everyone just wants to prove they are "living their best lives" (read: in tons of debt and faking it).
Now that I don't have Instagram (feel free to take a shot every time I say that), I am just taking it all in and soaking up everyone's awesomeness because, without a pic to post, there's nothing else to do. Like why did I, and everyone, feel like I needed to prove how fun and cool I am? The only people whose opinion of me that I give a sh*t about are the ones I actually spend time with IRL, not that girl I thought I'd be lifelong friends with during the first two days of freshmen orientation.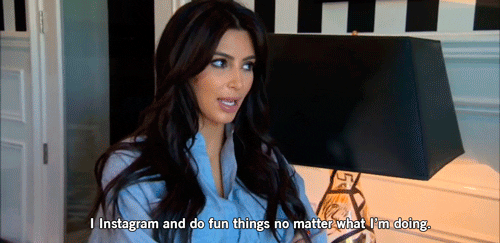 I Don't Hear/See Sh*t I Don't Care About
You know when something happens and then literally every celebrity/person feels the incessant need to post about it? For instance, the death of an icon (RIP Mac Miller), the birth of an icon (hi Blue Ivy), a scandal (anything Trump does on any given day) or an engagement/breakup (howdy Ariana and Pete). All of this ~news~ is fine in small doses (or maybe just one dose), but when every single person with decent wifi stops their lives to post about the Khloé-Tristan-Jordyn drama, I get a little overwhelmed and want to crawl into a dark hole for the rest of my life. To just drive the point home, there can be 100 posts on Instagram, and 99 of them won't be factually correct, but all you need is one that is at least kind of accurate to get the info you need.
Look, I am not swearing off Instagram forever, in fact I'll prob be reactivating my account in a few weeks (if I can remember the unnecessarily complicated password they made me choose). But for the time being, I am enjoying my life without it. If you've ever thought about doing an Instagram cleanse, I would try it. You might not miss IG as much as you think, and you can definitely live without it.
Images: Andrii Podilnyk /Unsplash; Giphy (3)