Muting People Saved My Mental Health
For me, it all started with Myspace's Top 8. In case you're not in your mid to late twenties (b*tch), this was something we cave people were subjected to back in the early 2000s. On your Myspace page where you posted songs by the Black Eyed Peas and wrote your boyfriend's name with a whole bunch of "<333333″s, you also ranked your favorite people on the platform. In order. For everyone else to see.
Now, your Top 8 wasn't to be taken lightly. It was the space reserved for your BFF, your S.O., the popular girl you were trying to befriend, and your sibling who bullied you into putting them as number four. Got in a fight? Your frenemy got demoted or removed from the coveted section. Holding hands with someone new? They quickly got a spot on the leaderboard. It was the first big way to say "here's who I like, here's how popular I am, here's how I'm judging others", and we lapped that sh*t up.
When the Top 8 first started, it didn't make me feel bad, exactly — it was more like a game. Find ways to level up, get on other peoples' boards, gain virtual popularity. It wasn't until my first serious boyfriend moved "Anna" (a random girl from one of his classes) in front of me that social media made me feel like a failure for the first (and definitely not the last) time in my life.
Myspace's Top 8 was how I found out Tyler (name hasn't been changed — hi, Tyler) was cheating on me (again, for the first, but not the last time). It led me on my first ever stalking spree, where I stared at photos of Anna, comments from Anna, likes by Anna all night, trying to figure out what she had that I didn't (besides boobs). Trying to figure out why he wanted her when I was already in love with him. That night led me on a decade-plus long cycle of "feel inadequate, stalk, feel more inadequate, stalk." It's some sick, masochistic sh*t, and while I'd love to say that's all changed in the 10 (okay, 12) years since I sat on my twin bed, crying to P!nk… uh, no such luck.
Social media has absolutely obliterated my self-confidence, my happiness, and my mental health. And it's probably done some serious damage to yours as well.
Now, it's pretty much common knowledge that social media is basically the devil. It's addictive. It's dividing. It leads to depression, anxiety, and unrealistic perceptions of beauty. It gives you sh*tty posture. But, in case you didn't watch The Social Dilemma on Netflix like everyone else (which was probably suggested to you by a friend on, yup, social media), here's the deal. From the National Center for Health Research:
"25% of 18-25-year-olds report having some form of mental illness. Depression is particularly increasing among girls. Some researchers have suggested that this increase in mental illness is, at least in part, connected to the rise of social media use among adolescents and young adults."
Wait, there's more. From Child Mind Institute:
"Teenage and young adult users who spend the most time on Instagram, Facebook, and other platforms were shown to have a substantially (from 13 to 66%) higher rate of reported depression than those who spent the least time … A 2017 study of over half a million eighth through 12th graders found that the suicide rate for girls increased by 65%."
Last one for good measure, from McLean Hospital (affiliated with Harvard Medical School):
"In recent years, plastic surgeons have seen an uptick in requests from patients who want to look like their filtered Snapchat and Instagram photos."

So yeah, social media is super bad, which is something you — just like I — probably already knew. But, much like tequila or texting exes, that hasn't stopped any of us from continuing to pose, post, and peruse. And while once upon a time we had to log onto a computer and search for people to investigate, algorithms are now so smart, they decide who we stalk, when we scroll, and how long to keep us engaged.
It wasn't until my wedding in 2018 that I actually realized how bad Instagram made me feel. After waltzing down the aisle, I quickly found myself jealous of engaged friends — total hater sh*t, I know. But after spending so long planning my own event, the post-wedding blues hit hard, and I hated seeing other people post their ring selfies and bachelorette photos. I was sad, I was uninspired, and I was jealous. So on a whim, I muted every single one of my engaged friends. Every. Single. One of them.
I didn't want to unfollow or block them, because frankly, that felt too b*tchy, and besides, it's not like I didn't like them anymore. I just didn't like seeing them so blissfully happy. I felt empty after spending months DIYing and pinning and being the center of attention. It wasn't exactly rational, but their posts made me feel bad and instead of just continuing to feel bad, I decided to stop seeing their posts altogether. And just like that, my love of muting became a way of life.

After the engaged people came the girl in my friend group everyone else loved but I couldn't stand. Then competitors in my field who always seem to be outpacing me. Then the really hot people. Then some of my best friends whose posts just kinda… annoyed me. I used to think muting someone was the ultimate "f*ck you," but now I look at it as a means of self-preservation. I'm literally under no obligation to look at someone's over-filtered picture. And just because I muted someone, it doesn't mean I hate them IRL (unless, of course, I do). It just means their posts — at least at the moment — make me feel bad. So why not just stop looking at the thing that makes you feel like trash?
Nowadays I mute freely and without thought. Sometimes it'll be just for a brief period of time and then eventually I'll go back and unmute, and other times friends are muted for the long haul. It doesn't really matter, because the worst case is I forget and I never unmute someone. And like, not to quote Kourtney or anything but, "there's people that are dying" — not liking someone's weight loss picture isn't the end of the world. Ultimately, social media made me feel fat and lazy and untalented and jealous. Now, I've whittled down my timeline so it makes me feel, well, not good, but at least a little less horrible.
While it's not a cure-all — muting is an avoidance tactic, and you need to do internal work to figure out why what you're seeing makes you feel inadequate — it's definitely a way to not only make social media more enjoyable, but take back a little control over what you view. It's not a great idea to just stopping looking at things that make you feel uncomfortable altogether. It's important to see differing political views and perspectives to form rounded opinions. But social media doesn't have to be a way of life and if looking at your sorority sister's abs a month after giving birth makes you feel sad, then bon f*cking voyage. Mute away.
Granted, deleting your social media accounts would probably make you feel the best and free you from the toxic cycle, buuuuuut if completely nixing your handles feels off-brand, editing your timeline is the next best thing. The next time you look at someone's post and feel that pang of inadequacy, instead of spiraling down into a vat of self-pity, just mute them! Before long you'll probably find that your self-confidence has risen and your screen time report is slightly less embarrassing. Win-win.
Images: Kate Torline/Unsplash; Giphy (3)
5 Types Of IG Posts That Tell You A Couple Is About To Break Up
Here's to annoying couples: may we know them, may we judge them, may we actively avoid them. Unfortunately, the latter is nearly impossible in our culture of oversharing. The good news is that the most flagrant offenders probably won't be blowing up your feed for too much longer. Read on for the telltale posts that indicate there is trouble in paradise.
1. The -Month "Anniversary"
I feel the need to start this section with a brief etymology lesson. The word "anniversary" comes from the Latin adjective anniversarius, which means "returning yearly," as well as the Latin noun annus, which means "year." So it always baffles me when I see couples commemorating their "3 month anniversary!!!" on social media. While it's severely premature cute that you're celebrating your relationship's survival over the course of a fiscal quarter, it makes absolutely no sense. What's more, it reeks of insecurity. How dicey are things that you feel the need to prove the legitimacy of your relationship with a fake anniversary?

2. Gratuitous Tributes
These eyesores come in many forms, the most common being a weekly #WCW or #MCM post. Don't get me wrong. I love love and think it should be celebrated, but it feels more authentic when it happens organically in the context of an actual milestone, like a birthday or a (real!) anniversary. We should appreciate our partners, but must this appreciation be constantly performed on a public forum on a weekly basis? These posts are where the cracks (say crack again) really begin to show in a relationship. They come across as reactionary, like the poster is trying to make up for something he or she did wrong, leaving the sentiment reading more like a coded mea culpa instead of the undying declaration of love it claims to be. Why should Chad send flowers to his girlfriend after she catches him texting bitches when he can overcompensate by firing off a #WCW thirst trap on the 'gram and call it a day?
3. Incessant Vacation Pics
I will confess that I am guilty of posting way more than I normally do when I am on vacation. But I do try to space out these posts and be cognizant of the fact that while I'm posting basic shots of my third pasta lunch in a row, my followers are toiling away at their work desks, secretly hoping that my Aperol Spritz goes down the wrong pipe. Couples on the brink of a breakup, however, don't seem to have this sort of self-awareness. Instead, they assault your feed with daily posts and endless selfies from their romantic seaside dinner in Santorini (btw, it's kinda hard to see the scenery in your selfies, Susan) to make up for the fact that they spent the majority of said dinner arguing about when Matt is finally going to propose. The frequency of these posts is the big tell: the more they are posting, the more they are trying to convince their followers and themselves that EVERYTHING IS FINE! The reality, though, looks something more like this:

4. PDA Overload
Beware of the PDA pictures, my friends, for these are the death knell for many a relationship. Kissing pictures are generally tough. I'm willing to overlook them, say, on one's wedding day, but anything else feels voyeuristic and leaves me with a lot of questions, the most important being: Who TF is taking these pictures?! The more performative the pose (looking at you, dips), the less likely the couple is to stay together. Case in point: I watched an acquaintance post a monthly kissing pic with her boyfriend for several months, only for this gentleman to disappear in the night from her feed just three months later.
5. Inspirational Quotes
Call the coroner and prepare the morgue, because this relationship is deceased. There is no clearer sign that a relationship is on the outs than when one party begins posting inspirational quotes, especially when those quotes are passive-aggressive digs at the other person. My personal favorite is, "Never Let Anyone Be Your Priority If You Are Only Their Option." In other words, Chad graduated from texting bitches to actually f*cking at least one of those bitches and YA GIRL IS PISSED.
Actual footage of me reading these kinds of posts:

As sure as the Kardashian-Jenners will find a way to remain relevant, annoying couples will continue to torture us with their undying proclamations of love on social media. I only ask that these couples be consistent in their oversharing. If they're going to be this extra when things are going up in flames well, then the least they can do is spill the tea on the circumstances surrounding the breakup. Don't leave us hanging, it's rude. In these dark times, a fire selfie with the full breakdown of how Angela caught Todd in bed with her barre instructor is the kind of post the people need.
Images: Austin Loveing / Unsplash; Giphy (5)
Instagram Knows When You Zoom In On Pictures
You may think Gen Z is all bad dance moves and Fortnite, but Dr. Emily Weinstein, a Ph.D. research fellow at Harvard University, has the most positive view on today's kids. This week on our Diet Starts Tomorrow Podcast, we had Dr. Weinstein discusses with us the impacts social media can have on peoples' mental health, specifically kids grades 8-12. Unlike most doctors and old people, she actually has a lot of hope that social media, in fact, won't rot the youths' brains and subsequently make social interactions a thing of the past. Instead, social media has the power to connect kids to each other, communities they identify with, and social change movements. That being said, there's still a lot of bad sh*t going down, but you'll have to listen to find out. Here are some of the highlights from our conversation with Dr. Weinstein:
Social media does not automatically equal more depression, it's seriously not as clear-cut as you think
It's not about the amount of time you spend on social media, but what you're actually doing on it. Are you stalking your ex's new girlfriend or are you scrolling mindlessly through a Kar-Jenner kids fan page?
Instagram knows when you zoom in on photos to check if that pic was actually Facetuned
Instagram also knows when you linger way too long on that girl from your SoulCycle class's engagement pics
The more you engage with certain content on Instagram (even if you don't press like) the more Instagram will show you it, even if it makes you feel like sh*t
Weinstein has focused a lot of her research on understanding the value kids place on Snapchat streaks (spoiler alert: these are legit life-and-death matters)
Instagram bios are basically the new AIM away message
Boys who play Fortnite probably have PIU's (you'll have to listen to find out what this acronym stands for)
Social media can actually help kids who are feeling depressed or alone
Check out the full Diet Starts Tomorrow episode below to hear Dr. Weinstein's full segment.

Image: Lisa Fotios/Pexels
6 Exercises To Improve Your Balance And Flexibility
I follow a lot of #fitspo type of social media accounts, and every now and then I'll watch a workout clip on Instagram and literally bug out seeing what some of these girls can do with their bodies. I mean, no, I'm not talking about how cute their sponsored shaker cups look next to their butt-facing-forward mirror selfies. I'm talking about these crazy moves that require more balance and coordination than 99% of America can handle. Like, I work out regularly,  but honestly my flexibility and balance are pretty shitty, and it's something I'm trying to work on. Here are six exercises to improve balance and flexibility that I'm incorporating into my own routine . Please join me so I'm not the only one struggling through pistol squats at the gym.
1. Bosu Ball Split Squats
The bosu ball is meant to make any exercise harder, and that's because it screws with your balance, making you use your own body to stay aligned throughout the movement. If you do split squats regularly, try adding the bosu and it'll really help any imbalances you have in either leg. The idea is to prop one leg in a lunge on the bosu behind you, and then use your front leg to move up and down, pushing with your glutes throughout the movement. If you're a newbie, you'll probably start tipping over when you start, so just take your time and focus on grounding yourself with your front leg. If you feel like one side is easier than the other, that's completely normal and it's because we're usually stronger on one side. That's why we're doing this. Once you master this, try putting the front leg on the bosu, because variety is the spice of pulled muscles life.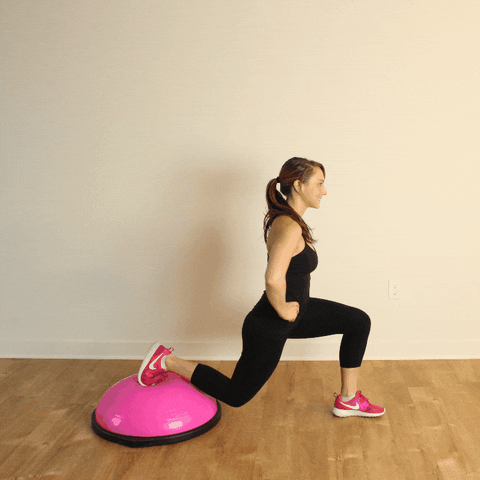 2. Lunge Hip Flexor Stretch
This move looks like more of a stretch than a real exercise, but honestly it's a must and it'll help with other exercises. It helps with mobility, flexibility, and coordination, so you'd be missing out just by skipping it. Especially if you sit at a desk all day, this move is amazing for opening up your hips and relieving any tightness from sitting for so many hours. Start by placing your hands on the ground and stepping back with your right leg, like you're stepping into a reverse lunge. Then, straighten out the back leg and feel the stretch in your hip flexors as your front leg bends in front of you. Hold for a few seconds before switching to the other leg.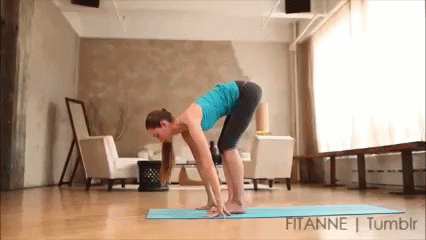 3. Alternating Arm Plank
This one is harder than it looks, so again, TAKE YOUR TIME. No one has ever rushed you through a plank, and the stability aspect here is key. The idea is to hold a regular high plank, but alternate arms so that you only have one hand on the ground at a time. This move hits your shoulders, abs, and arms all at once, and it also ensures you're not relying on one side of your body during other ab exercises. Remember to keep your hips as square as possible without swaying or lifting to one side. If this starts to feel like a side plank, take a break and start again.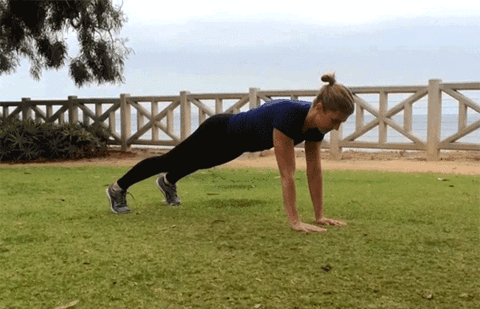 4. Pistol Squat
Ugh, pistol squats. Ask any trainer and they'll tell you this exercise is QUEEN of one-legged training. You're basically putting all your bodyweight on one leg at a time and squatting with only that leg, so yeah, it's hard. If you need to hold onto a bench or TRX straps at first, do it. In a standing position, raise one foot off the floor and descend into a squat. As you squat, try to extend your front leg forward without losing your balance. Then, get as low as you can before slowly rising up, straightening out your knee and driving through your heel. You should feel this in your glutes on the working side. Again, take your time and just focus on the balance part. The rep count doesn't really matter here, so just try to do a few without falling over. You'll go deeper, do more, and need less assistance as you get stronger.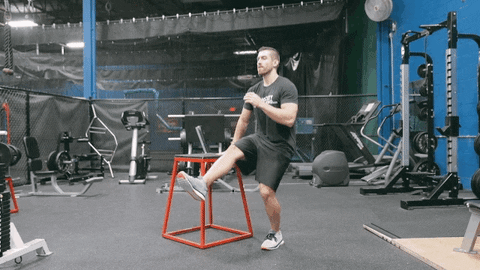 5. Opposite Arm & Leg Raises
Contrary to its name, the opposite arm and leg raise is actually more about your core and torso region. You're basically raising your right arm and your left leg at the same time while on all fours, so the goal is to keep the rest of your body as still as possible. You'll need to keep your back flat and engage your core. Squeeze your abs while you slowly extend your arm and leg, and then take a second to look forward at your reaching arm before lowering down and switching sides. This should also help strengthen your back, so make sure not to arch your spine and ruin your form. Think about pulling your abs in before lifting, and then when you reach out, keep your arms and legs parallel to the floor. For extra credit, get off your knees and do this from a full plank. Good luck in advance, is all I have to say.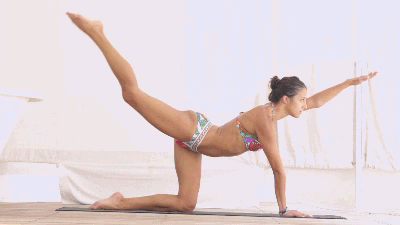 6. Standing Crunch With Clap
Balancing on one leg is already difficult AF, so adding in a crunch and an under-the-leg clap may take some patience. This move has two parts, so let's discuss both. It's kind of like tapping your stomach while rubbing your head. Takes a shit ton of coordination, is what I mean. Balance on one leg, keeping your other knee 90 degrees with your hands over your head. Then, crunch forward, bringing your hands under the raised leg for a little clap underneath. Bring your hands up and then back down for a few reps, and then switch to the other side. Also, try looking as happy as the girl in this GIF.

Images: Squarespace / Pexels; Giphy (5); Pinterest