The 5 Most Annoying Plot Holes In Disney Princess Movies
Over the last six months, I've burned through basically every form of entertainment at an alarming pace. True crime miniseries, dozens of hours of Bravo, every prestigious movie that I missed from the last decade—you name it, I've probably watched too much of it in quarantine. But when I get to the bottom of my watchlist, or don't feel like getting into another documentary about murder, Disney movies are always the perfect solution. Now that Disney+ is a thing, almost every classic animated movie is right at my fingertips, just waiting to be rewatched while I pretend to work spend my evenings at home.
Obviously, revisiting these childhood favorites is a lot of fun, but there are certain things that just don't add up when you're over the age of 13. No shade to Disney or whatever, but some of their movies low-key make no sense. Okay—maybe some shade. From cringeworthy details to plot holes that definitely shouldn't have made the final drafts, here are some of the most burning questions I have about Disney movies.
Why Are The Princesses So Young?
If you want your day ruined, I just found out that Snow White is supposedly 14 years old living in a house with 7 strange men

— Betches (@betchesluvthis) September 22, 2020
The other day, one of my coworkers informed me that Snow White is supposed to be just 14 years old, and after recovering from my initial disgust, I felt the need to do some Googling. Turns out, every single member of the official Disney Princesses lineup is a teenager! While Snow White is the youngest at 14, she's not the only one who's a little too mature for her age. Princess Jasmine is just 15; Ariel, Aurora, Mulan, Moana, and Merida are 16; Belle is 17; Pocahontas and Rapunzel are 18; and Tiana and Cinderella are 19. Keep in mind, these are almost all fictional characters, so there's literally no reason why they need to be so young.
While all of these princesses have different experiences in their respective stories, besides Merida and Moana, they're each either married or happily coupled up by the end of their movies. What's with the child brides? At least Snow White is an 80-year-old movie, but with characters like Belle and Jasmine, Disney was still doing this sh*t in the '90s! Ew! In recent years, Disney has worked to bring more racial and cultural diversity into this group, and introduced Princesses whose stories don't revolve around finding a man, but this age distribution is another problem they should probably look into addressing.
Why Does Pocahontas Speak English?

There's a lot of problematic stuff happening in Pocahontas, but hey, at least our main character is 18! Pocahontas is the only Disney Princess to be based on a real person, but that doesn't mean her story doesn't come with its own set of baffling plot holes. In the movie, we see John Smith coming over from England, and he's the first white person Pocahontas ever sees. While they both teach each other some words in their respective native languages, they have no actual trouble communicating with each other, because Pocahontas conveniently already speaks English! Obviously, I get why Disney didn't want to make a kids movie where half of the dialogue was in an extinct Native American dialect, but they definitely could have tried a little harder to portray the language barrier that these two would have had at first. And for a movie that already has some cringeworthy Eurocentric imagery going on, the fact that everyone magically speaks English isn't helping.
Why Doesn't The Prince Recognize Cinderella?
Okay, let's talk about Cinderella. Great movie, love the mice, really identify with the stepsisters, etc. But I just will not allow us to act like the whole part about Prince Charming searching for his mystery woman makes any sense. This dude was traipsing all around the kingdom, making literally any woman he came across try on this glass slipper (we'll get to that in a minute). I feel like this was a huge waste of time. Did he remember absolutely nothing about what Cindy looked like? Sure, her hair was in an updo, and she was wearing a pretty gown, but it's not like the Fairy Godmother gave her a face transplant or anything. Here's the completed makeover look:

Really, Prince Charming? She's not even wearing one of those dumb little masks like in A Cinderella Story—there's no disguise happening here! If people only recognized me when my hair was freshly washed and I was wearing fancy clothes, I'd be in big trouble. Did Prince Charming black out and only remember that he was in love, but not a single identifying characteristic about the girl he was obsessed with? There's just no reason anyone who wasn't a skinny blonde should have been trying on that nasty shoe in the first place.
WTF Size Shoe Does Cinderella Wear?

Apparently I just have a lot of feelings about Cinderella. Who knew. So, about that glass slipper. Aside from the obvious sanitary issues with dozens (hundreds? thousands??) of people trying on the same shoe in a time when Clorox wipes definitely didn't exist, the logic of this whole thing makes absolutely no sense. For this ~search~ to actually have happened, Cinderella would need to have either the world's largest foot or the world's smallest foot, and for someone with such a perfectly proportioned cartoon body, that just doesn't seem likely. Let's just say Cindy has a size 6 foot. What if the Prince had gone to the house of literally any other woman with a size 6 foot before Cindy's? He would have just married the wrong woman? Was the slipper enchanted so it wouldn't fit on anyone else's foot? I know this is a fairytale, and I'm overthinking it, but that's basically the whole point of this article, so let me live.
Why Didn't Ariel Just Write Sh*t Down?

There are lots of unrealistic things happening in The Little Mermaid, but I'll just accept that most of it is ~Disney magic~. But there's one plot hole so glaring that I can't just let it slide. When Ariel decides to make the deal with Ursula to get her legs, she signs her name on a contract. Yet later, when her voice is gone and she's desperately trying to signal to Prince Eric that she's the one he loves, it never occurs to her to just find a piece of paper and write it down. Or she could have written a message in the sand! Come on girl, be resourceful! There are truly so many ways she could have gotten her point across in writing, but nope, she just watched as her true love was nearly seduced by Ursula. Ariel may not have had a voice, but did Ursula also take her brain?
I know these princess fairytale movies aren't exactly supposed to be realistic, but in my opinion, magic and enchantment only go so far. In general, I feel like the screenplays of all of these movies could've used one more draft to smooth out some of the inconsistencies, but clearly Disney isn't that concerned. But please, for the love of god, stop making all the princesses so young!
Images: Fer Gregory / Shutterstock; Giphy (3)
The Disney Princes Ranked By Hotness
As young betches, after we realized boys don't really have cooties, but before we realized that they're actually all just fuckboys who will ruin our lives, we enjoyed fantasizing about being whisked away by a certain type of bro. This group of bros provided us constant entertainment and were easy on the eyes—yes, I'm talking about the Disney princes. Every Disney movie had one, and they were all hot. Ah, the good old days. Because it's totally normal to judge the physical attractiveness of a bunch of animated drawings, I'm here to rank the Disney princes according to their hotness level. I'm sure you'll all have an opinion, so be sure to leave it in the comments section, which I definitely read.
10. The Prince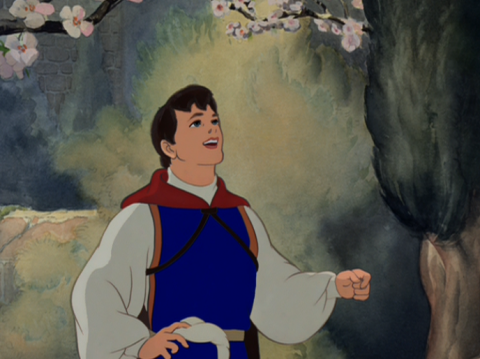 The Prince is the nameless prince in Snow White. He hardly speaks except for when he sings some lame-ass song about wishing for the woman he loves to come find him. Yeah, if love worked that way I'd be married with Shemar Moore's kid by now. Talk about a delusional dater. Throughout the movie, he doesn't do shit besides kiss Snow White and wake her up from a death-like sleep. Uhh, can you not? I was taking a nap. His presence in the movie is largely unnecessary, which is probably why they don't even bother to give him a name. Last place.

P.S. Are you wearing fucking makeup, dude? Ultimate last place.
9. Kristoff

I'm sorry, Kristoff is not hot. What's up with that goofy smile? And that vest? That vest is hideous. He has good hair and is like, a decent person, otherwise he'd be in last.
8. Prince Charming

Prince Charming is okay looking but he's a fucking Nice Guy. Bruh, how low is your self-esteem that you spend all night dancing with a betch and don't even ask her her fucking name?? Also, you definitely took the hard route finding Cinderella. You could have, like, asked a bunch of people if they knew anyone with her physical description, JUST SAYING. Also minus points for the probably foot fetish. Boy bye.
7. John Smith

YES I KNOW John Smith isn't *technically* a prince, but he's Pocahontas' love interest so he fucking counts. Here's the deal. He's handsome, he's got great hair, and he's fucking British. That should be all the info you need. Except for the fact that Pocahontas wouldn't even come with him back to England at the end of the movie, so he obviously has no game. So close, but not close enough. Seventh.
6. The Beast

He gets hot points because he's rich, has a sick house, and is objectively attractive once you get rid of all the fur and stuff. But minus points because he's a raging asshole—probably because he spent his entire adult life alone locked up in a fucking castle with only his kitchenware to talk to. I'd imagine that would take a toll on anybody's personality. Regardless, that's gonna point to some communication problems later on, I'm sure. Also he spends most of the movie as an actual beast, which certainly raises some bestiality questions to say the least.
5. Flynn Rider

Aka Eugene Fitzherbert, which incidentally is my accountant's name. Flynn is like, a less hot and slightly more thug version of Aladdin, except he has a better pet. He's fine, so he is precisely in the middle.
4. Aladdin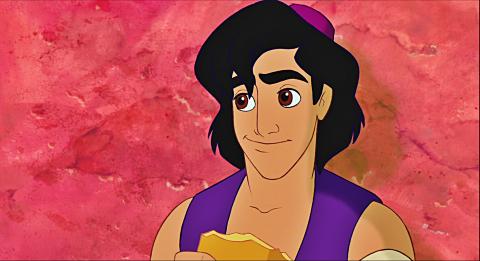 Aladdin is basically that guy with a shady past you dated for a while to scare your dad, but you'd never let him wife you. He hangs out with a literal monkey, FFS. However, Aladdin cleaned up well and showed Jasmine a whole new world, so you know he's dynamite in bed. Solid fourth.
3. Prince Naveen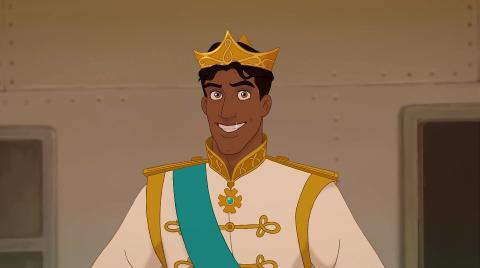 Naveen is definitely a regulation hottie. Tall, dark, and handsome with light-colored eyes? Swoon. Naveen is that confident, funny, attractive guy that every girl thinks is in love with them but really he's just flirty with everyone. It wasn't cute that he was content living as a frog with Tiana for a hot second, which is the only reason he's not in first or second place. But since he got changed back into a human at the end so we're all good here.
2. Li Shang

Shang is a hotshot army captain, and betches love a man in uniform. Plus, he's fucking ripped underneath all that armor. Check out those abs! Shang doesn't take shit and tbh, we need that. Even Mulan's grandma thinks he's sexy.
1. Prince Eric

Prince Eric is OBVIOUSLY the hottest out of all the Disney princes. The black hair/blue eyes combo sure is a winning one. And that smile, man. Is it weird to be attracted to a cartoon character? He may be kind of an asshole for almost marrying another betch like, one day after he met Ariel. Like, why were you in such a rush to settle down, Eric? Could you not just have waited it out? However, gotta give credit where credit is due. That was some solid game-playing, Eric. Major SAB move. For those reasons, but mostly because he's fucking hot af, Eric takes the top spot.
10 Lessons The Disney Princesses Taught Us About How To Look Hot & Snag A Rich Boyfriend
Everything I am (which isn't much, but let's not get sidetracked) is a direct product of the 90s. Ah, yes, it was a simpler time then. Nobody questioned the life-size cardboard cutout of Nick Carter at my 9th birthday party, I never had a bad hair day—shouts out to butterfly clips—and I could stalk all my boyfriends with a simple *69 phone call. But the best part? Disney Princess movies. Take me back to the good old days of binge watching The Little Mermaid six consecutive times, taking breaks for water only when absolutely necessary. Lately, I've been thinking a lot about the princesses. Maybe it's because Hollywood was finally sick of torturing us and finally blessed us with the movie we've been waiting our whole lives for: a live action Beauty And The Beast. Or maybe Disney's on my mind because I can't stop thinking about the princess swimsuit line we were just hit with. I blame lingering daddy issues. Looking past that minor bump in the road, the Disney princesses' style taught me everything I know about looking hot. I can only hope one day I'll be hot enough to literally not talk/be asleep for my entire two-hour feature film and have a husband by the end. Preferably someone with royalty in the blood. And a fat inheritance. Also, over six feet. Idk, I'm not picky. Each princess has her strengths, and we know we couldn't be here without help from all. So let's celebrate the style lessons we learned from the Disney princesses.
1. Cinderella
Cinderella, OG betch princess we know and love, stressed the importance of staying home when your outfit is super average. What did Cindy do when all she had to wear were some last season rags? Not go to any balls, no matter how lit, that's for sure! Her heels were custom-made, which is always a plus. And it's super betchy that her feet were so small. The best lesson Cinderella taught us? When you're hot, guys wanna hook up with you. But the trick to keeping it going is to leave something "accidentally" at his place. You mean to tell me that shoe slipped off? Respect.

2. Aurora
I wish I looked so peaceful when I slept that people called me Sleeping Beauty, rather than what they actually call me, which is, "Is This Bitch All Right?". I'll pass out heavily intoxicated, half-naked, honestly not sure if I'll see another morning. This bitch def gets a better night sleep than me, clocking in way over the recommended 8 hours. Beauty sleep is everything. That's why she has no wrinkles. Science, bitch. I also read that she was Corinne's direct mentor/ultimate inspiration. Two women we could all learn a thing or two from.  

3. Snow White
Literally the hottest in the game, as declared by a talking mirror, Snow White definitely didn't go for a natural look to claim that title. Betch would wear a red lip to breakfast. (Me after any night out.) But her makeup was always on point, proving you can never go wrong with a bold lip and a little blush.  

4. Ariel
Ariel kept herself in shape, knowing it's always bikini season. In a fool-proof plan, she lets her bod do the talking and avoids saying something too clingy early on. Or saying something at all. Works like a charm. And you know that bitch wasn't achieving such perfect hair with just a fucking fork—there had to have been some serious water-protecting serum action going on behind the scenes. Otherwise there's no way she would have been such a hot ginger. Unlike others. See below.

5. Merida
Pass. Pass. Pass. No. Code Red. Literally. Does Scotland have any mirrors? I'm confused. I need you to deep condition, like, yesterday. Color in your brows and throw some mascara on, girl. Why do you look like an unraveled ball of yarn? Does everyone who plays archery look like this? Can you "play" archery? Tune in next week to find out.  

6. Belle
Many say Belle's gown inspired Beyoncé's Lemonade. The yellow was a great move for her complexion, take notes. Also, major props to Belle for keeping up her personal appearance even when she was like locked in an old enchanted castle. Goes to show, you should always look good no matter where you are or who you're being held against your will by. You just might run into, oh I don't know, let's say an old bae, or maybe a beast that will actually transform into a hot prince capable of having sex with marrying you making you rich.

7. Jasmine
We need to collectively praise Jasmine once again for introducing the world to the crop top and bared midriff look. If my waist was approximately one-half the width of my boyfriend's arm and my shoulders were more sculpted than Michelle Obama's, I would want to wear as minimal clothing as possible, too.

8. Mulan
Mulan literally threw away everything that made her hot, chopped off her hair and started dressing in her dad's clothes. This is a no from me. I know, I know, there's some deeper meaning here about going against society and bucking gender norms and shit, but now is not the time or the place to get into that. Like, this bitch got so upset looking at herself with makeup on that she went and sang a song about it. Like, what? You just got a free makeover and you're mad about it?! 0 lessons from Mulan, bye.

9. Pocahontas
I'd like to take this time and thank Pocahontas for teaching my young betchy self all about the free spirit look. While many falsely accredit Mary-Kate and Ashley Olsen for the rise of boho vibes, those people are forgetting it was first our girl Pocahontas who was running around bronzed, barefoot, and in lots of suede/fringe. Can anyone really prove if Coachella would be here today if it weren't for Pocahontas? Didn't think so.

10. Rapunzel
Rapunzel teaches betches what many of us who've secretly been bleaching our hair have known for years: that having long, blonde hair will give you all the power you could ever want in life. Keep seeing your colorist and keep popping Biotin supplements/Sugar Bear hair gummies like they're candy Adderall. Unfortunately, Rapunzel cuts all her hair (and actual magical powers) off in favor of a gross, mousy brown pixie cut "for love" or some shit—demonstrating that while there are plenty of girls who let themselves go the second they enter in a new relationship, you should never be one of those girls.

Channel your inner princess this weekend for maximum hotness. Just as long as we avoid the bathing suits. Never the bathing suits. Still shook. 
These Disney Princess Bikinis Are Perfect For Grown Women Who Act Like Children
I would just like to go one day where I don't want to throat punch someone for sporting the latest dumbass "fashion" trend. But sadly, today is not that day because I just found out that someone is trying to ruin my life just came out with a Disney princess bikini line.
We've already established which bathing suits are best for your summer bod, and trust us, these will not be making the list. Whoever came up with this idea to personally victimize me capitalize on the Disney Princess trend is going in my personal burn book. Because now this heinous trend is invading a v important aspect of my life: the beach. The beach is a sanctuary, people. Someplace where I can do two very important things: nap and day drink. I need this place so I can forget the fact that we live in a world where people wear flower crowns and drop crotch pants of their own volition. But now, because we can't have nice things, the beach isn't even a safe place anymore.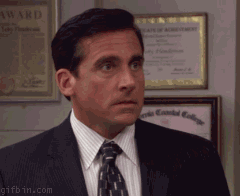 But back to the bikini line. Enchanted Bikinis has taken it upon themselves to create their own line of Disney-themed swimsuits even though no one fucking asked them to. There will be a bikini for each of the major Disney Princesses including Snow White, Belle, Cinderella, Rapunzel, Jasmine, Ariel, and Pocahontas. As if I didn't have enough of a complex with my summer body, now you want me to squeeze into a bikini that channels my childhood heroes? That's asking a lot of someone who just spent the last four months binge eating cheese and drinking red wine.
Also, grown women wearing princess costumes at the beach IS NOT OKAY. I mean, I get that we've all had that fantasy of being a princess and having Prince Charming come and sweep us off our feet, but like, I left that dream behind after my first jungle-themed frat party. Something about watching a guy shotgun a beer in a leopard print skirt really kills that dream for a girl. Sighs.

My favorite part about this bikini line—if you were to like put a gun to my head, threaten my life, and force me to choose—is probs the mission statement: "…To let the princess in you glow and enchant everyone and everything around, when you wear your Enchanted bikini. We believe that every woman can feel this way without putting on a costume." Lol k. Let's just see about this, shall we?

Okay, every girl in this picture is legit wearing a wig to the beach. And that one girl on the end is carrying a braid larger than my body rn. How is this not a costume again? HOW? Seriously. I'll wait…

Jesus. This girl needs to hi-ho her ass back to the castle because if I see this shit on the beach I'm not sure I can be held responsible for my actions.

It's like the people at Enchanted Bikinis thought, "have we humiliated the Native American people enough with this false narrative?" and they said, "no, let's put her in a bikini!"

Tbh I'm surprised they didn't just use her hair as a substitute for a top. This seems like a brand that would cut corners. Also like a brand that fosters my rage issues.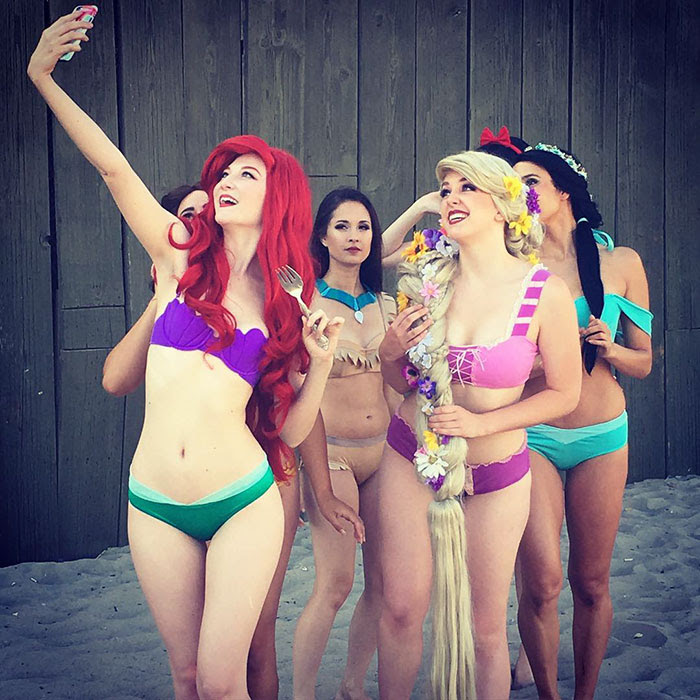 I think Pocahontas' face in the saddest group picture ever just about sums up all of my thoughts regarding this bikini line.

The look of someone who's contemplating how many drinks it will take her to forget that she's a twentysomething woman wearing a child's costume in public.
It's unclear as to how many actual female women will wear such a thing in a public, but then again people sell laxative tea for Instagram followers, so there's no limit to the amount of desperate shit people will pull. The one thing I know for sure is that Halloween costumes are about to be a whole lot sluttier. People were already wearing bras as tops, so I can only image what my sorority sisters people will be wearing this year now that bikini costumes are a thing. So should I start drinking now to prepare myself or…?