The 7 Most Iconic White Sneakers—Because I'll Be Wearing This Style All Summer
—±Betches may receive a portion of revenue if you click a link and purchase a product or service. The links are independently placed and do not influence editorial content.
If you would have told my high-school self that one day I'd be wearing jeans and sneakers, I would have told you to get lost. I mean, there's no greater "dad" look than wearing a pair of white New Balances with a pair of light wash jeans and you won't convince me otherwise. But frankly, this season it's perfectly on-trend to rummage through your dad's closet and borrow a blazer, jeans, and a pair of white tennis shoes. And while the oversized blazer and jeans trend might meet its end soon, there's one thing that remains a classic regardless of what's happening in fashion: a great, comfy, white sneaker. This spring and summer are no different.
Putting on a new, crisp white pair of sneakers is like ordering a caesar salad and table fries, it just feels right. So, I asked the Betches audience which white sneakers were elite and you did not disappoint. Here are the 7 most popular answers.
Veja Campo Sneaker

While these are classic in their own right, they are 100% the new kids on the block. It's like all the sudden in 2017 I saw every single human that graced the streets of NYC wearing a pair, and for good reason. They are sustainably made with organic cotton and wild Amazonian rubber. Something your ego (and wallet) can feel good about.
Shop it: Veja Campo Leather Sneakers, $175, Nordstrom
Superga 2750 Cotu Classic Sneaker

I'd be remiss if I didn't tell you a brief story about why I personally love Superga's. TL;DR It was 2008 and I saw Joe Jonas wearing Supergas, so I bought Supergas. They're super comfy, come in a ton of colors, and make me feel cultured since they're made in Italy. Honestly, TG for Joe Jonas or I would have never found my favorite shoes.
Shop it: Superga 2750 Cotu Classic Sneaker, $69, Revolve
Air Force 1s

Honestly, if you don't know what these are, are you even a zillenial? I swear these paired with a black onesie and an oversized white button-down is the equivalent to the "cool girl" uniform. You can catch me grabbing an iced matcha in these everyday for the foreseeable future.
Shop it: Nike Air Force 1 '07 Lv8 Sneaker, $120, Revolve
Dr. Scholl's Time Off Platform Sneaker

I'm not going to lie, these threw me for a loop. Before I tried these, nothing screamed, "I'm getting old" quite like officially investing in a pair of Dr. Scholls. But, don't judge a book by it's cover, because not only are these cute-AF wearing them is like walking on clouds.
Shop it: Time Off Platform Sneaker, $70, Amazon
Hoka Bondi 8

If you're looking for a new pair of shoes for your hot girl walks, look no further. These might not be your obvious choice for a normal, everyday sneaker but nothing can compete with these if you're walking long distances. Like, they're even approved by ​the American Podiatric Medical Association.
Shop it: Bondi 8, $165, Hoka
Reebok Women's Club C Sneaker

If it isn't broken, don't fix it. That how I feel about these Reebok sneakers. I've seen these for as long as I can remember. (No, really, I remember seeing these on the playground in kindergarten.) They were a staple then, and they're a staple now. A perfect addition to your capsule wardrobe.
Shop it: Reebok Women's Club C Sneaker, $44.71, Amazon
Leather Converse

This wouldn't be a complete list without the obvious classic: Converse. What makes these a bit more trendy (and honestly, grown-up) is the fact that they're leather. They'll also stay clean for a hell of a lot longer than the canvas ones, so it won't look like you just came from a frat party basement even though you're 30.
Shop it: Chuck Taylor All Star Lift Platform Leather, $75, Converse
Father's Day Gifts Dads Will Actually Use
Betches may receive a portion of revenue if you click a link and purchase a product or service. The links are independently placed and do not influence editorial content.
Let's get right to it: Father's Day is coming up, and we know you need ideas for gifts. Sure, we don't know that for fact, since we don't know know you and all, but we can guess you aren't necessarily living and breathing the same shit your dad is living and breathing. That's right, your 65-year-old dad isn't going to have the same batshit crazy reaction you might have to that Milk Bar cake you see all over your basic friends' Instagrams. So, it's on you to do some research and get something he might actually get excited about. But not to fret—we've got those young and hip dads covered in this list, too. We know they're mourning their youth, so the least you can do is get those new dads something cool for Father's Day.

Scentbird Subscription

Scentbird
Scentbird is a subscription that sends new designer/niche fragrances directly to your doorstep each month. We know men love their Old Spice, etc., but this is a great way to force get them to step it up a notch.

Apollo™ Stress Relief Device

Apollo
Dads love gadgets. And being stressed. Enter: the Apollo Neuro Device. Developed by neuroscientists and physicians, the Apollo device offers silent, soothing vibrations that speak to your dad's nervous system, telling him he's safe and in control, meaning it can help him fall asleep, relieve anxiety, etc.

Reparative Moisturizer

Eighth Day
The reparative moisturizer with Peptide-Rich Plasma® is an all-in-one, highly active moisturizing treatment that hydrates and repairs damaged, aging (sorry!) skin. We love a luxurious moisturizing moment, and so will your dad or husband… once you convince him to use it. And if he doesn't, more for you.
This is a minimalist, RFID-blocking wallet. The main cardholder uses elastic to expand to hold up to 12 IDs and credit cards. It literally screams "Hi, I was made for dads".

Tempur-Cloud® Breeze Dual Cooling™ Pillow

Tempur-Pedic
Men—especially dads—always seem to be uncomfortable and hot (and complaining about it). The Tempur-Pedic Cooling Pillow is iconic because it can solve both of those problems (and you can still keep the thermostat where it's at). You're welcome.
This is the nice guy of gifts, because you kind of can't go wrong with monogrammed packing cubes. They're even made sustainably from 16 recycled plastic water bottles. It's a win-win, and if your dad or husband is always the one who's trying to wake everybody up at 6am on vacation, he'll appreciate the organization of this gift.
I mean, let the tee speak for itself. Show off that your dad or hubs is the coolest dad around town in the Cool Dad 2022 Tee. If you're a baby mama reading this, get yourself the Cool Mom 2022 Tee to match.

Cashmere Crewneck Sweater

Nadaam
You can't go wrong with a staple sweater, especially one that's this soft. This specific Cashmere Crewneck is reversible and features a hand-sewn fashion tag, with a contrast seamless stitch. 

Basketball Trucker Hat

Homme Femme
This is for the like, really cool dads (they exist too these days). This is a premium vintage trucker hat with Homme Femme Basketball embroidered on the front. If the dad in your life doesn't appreciate fashion, this probs isn't for him. But the guys that get it, get it…you know the rest.
The movement to make dad sneakers cool again starts here! These Pangaia sneakers are made by repurposing discarded grape skins, stalks and seeds into lightweight grape leather. The sole is made from 86% natural rubber created from industrial waste including unused prototypes and products. They come in a bunch of different colors to choose from, too.

Gold Stainless Steel Watch

Allurez
You knew there'd be a watch on this list, and here is our pick. It's a gold stainless steel mesh bracelet watch that's a great option if you want to go all out this Father's Day, but not ridiculously all-out. You know?
We love a kit, because it requires minimum thinking on our end. This shave kit from Walker & Co. includes the Bevel Safety Razor, Shave Brush, Pre-Shave Oil, Shave Cream, Post-Shave Balm, and 40 Blades. Fancy shit! 
Images: biova-nakou / pexels
Shoes Under $60 That You Won't Care About Ruining
It's no secret that part of being in college means destroying a perfectly good pair of shoes on a night out. You promise yourself you won't get drunk enough to actually do any damage to your brand new booties, only to find yourself in a frat basement full of jungle juice puddles. It f*cking sucks. I get it. If you're someone who refuses to stick to one staple pair of "going out shoes," and has wrecked countless pairs, I come to you today with  shoes under $60 that will allow you to look both great and still be able to afford dinner.
I have used this article as an excuse to online shop done extensive research regarding the cheap shoe selection on the market. I can't promise these shoes will be the highest quality you'll ever own. However, I can attest to the fact that they're cute and you probably won't care when drinks or god knows what else gets spilled on them at a party. These shoes I chose are mostly all black options. Honestly, I don't think is too much of a hot take considering you step into one college bar and your white shoes will look like you just trudged through a sewer. Here are shoes under $60 that you won't care about destroying. 
 Boots
I know what you're thinking. Black booties for going out? Groundbreaking. But if you go to school in a literal arctic tundra like myself, boots are my go-to. Not only do they allow you stay a little warmer while you wait in line for a bar you can't get into, but they also can look cute with quite literally any outfit. Also, if you're on the shorter side, boots can give you a boost in height without wearing heels that make you look like you're trying too hard.

Coming in juuuuust under the $40 mark, these Zara booties are a great way to get a chunky boot look similar to Dr. Martens, but the studs and belt detailing makes them more unique than a plain pair of Chelsea boots.

The Nasty Gal booties have croc details that add layers to a going-out look and give you a good boost of height. If these boots survive a night out, they're a cute addition to an everyday outfit that'll make you look like you actually give a sh*t. Nasty Gal is also aaaaalllways having a sale (literally every day, not even exaggerating). You can easily find other affordable alternatives if these aren't your style. Win-win!

Forever21 has also been having a ton of sales as of late, so like Nasty Gal, it shouldn't be hard to find a good deal on a pair of booties. These faux patent leather ankle boots are kind of edgy and give you a height boost. They have more of a platform heel which should  be more comfortable for long-term wear. The heel also looks pretty water-resistant, which we established is key for surviving a night in a frat basement.
Sneakers
I absolutely love sneakers, but I have one golden rule: avoid white cloth/canvas sneakers like the mf PLAGUE. Normally, I tend to go for a black platforms (because I am lazy) or a white sneaker made of a material I can wipe clean. I also have friends who simply buy a pair of cheap white cloth shoes and replace them once they are too hideous to be seen because they like that style better, so your choice.

ASOS has a sh*t ton of white sneakers to choose from. These are a material you can clean off easily (like I said, my go-to) and have a cool animal print touch above the heel. The platform gives the sneakers a more trendy look, which, let's be honest, no one is looking at your shoes when you're out, but it means they'd be cute to wear in the daytime too. 
This is a more classic take on a white sneaker. Same deal: all-white material that can be easily wiped off, but this pair doesn't have a platform. Although platform sneakers aren't necessarily difficult to walk in, these are definitely a safe alternative for long-lasting comfort.

Similar to the other pair of ASOS sneakers, these black platform sneakers are a staple item that add a little flare to your outfit.
Platform Sandals/Wedges
The only "heels" I am going to include on this list are platforms and/or wedges. The concept of wearing heels out is pretty foreign to me, both because no one at my school does, and because whenever I wear heels, I look like a giant praying mantis. I also feel like the more stability, the better. The last thing you want is to be that bitch walking around outside a bar with her shoes off.

This is a pretty basic pair of black platform sandals that can easily be dressed up or down. The fact that they are leather means they'll hopefully form to your foot, be comfortable, and last a little longer than other sandals.  

If you've seen a photo of your friends or friends adjacent in a pair of strappy sandals over the summer, there's a good chance they had these on. Channel your inner basic bitch and buy these affordable cork-bottom platforms. Just read the size guide carefully because these sites can be hit or miss.

Finally, this pair of platform sandals are fairly similar to the first ASOS pair, but with a lace-up detail that could look sick with any sort of outfit. Naturally, I also saved the most affordable pair for last! You seriously can't go wrong with these sandals for only $19. They're basically free. 
Even if you didn't love a single pair of shoes on this list (whatever, your loss), the places above are great starting points if you're looking for a specific style. No one wants to be spending hundreds of dollars on shoes they know are going to be trashed by the end of the night. Go irresponsibly spend money you don't have on sh*t you're going to inevitably ruin.
Betches may receive a portion of revenue if you click a link and purchase a product or service. The links are independently placed and do not influence editorial content.
Image: Syd Wachs / Unsplash
5 Weight Loss Products That Don't Work
Everyone wants a quick fix. In the age of instant gratification, the concept of waiting for results is lost on everyone. Smh. The diet industry knows this, and over the years, they have capitalized on consumers' lack of patience. Cue late-night infomercials and IG sponsored ads for the next big thing in weight loss. Spoiler alert: none of this sh*t actually works. Real results take time—we have been through this. I know you're better than that, but I also get the temptation. Like, even if something seems too good to be true, you might think to yourself that it can't hurt to try, right? Well, it might not hurt your body, but it will hurt your wallet. Here are five fitness products that promise a quick fix, but really do not work.
1. The Shake Weight

Oh, the infamous Shake Weight. Did you know that "you can get firm and fabulous arms and shoulders in just six minutes a day" with these? At least, that's what the manufacturers want you to believe. The Shake Weight comes in two versions, weighing two-and-a-half pounds and five pounds. That's very…minimal. But the creators of the Shake Weight claim the vibration creates isometric force on the muscles to hold steady, working the muscles more than regular concentric-eccentric movements. Seems scientific sounding and therefore legit, except for the fact that you can create your own isometric force during any exercise by holding the movement at the most force-generating part of the movement. So, by holding a bicep curl halfway for 10 seconds, holding the bottom of a squat, holding a V-sit for your abs, etc. That means you don't need a Shake Weight to do it. You can also work your muscles more by using dumbbells greater than 2.5 lbs, I'm just sayin'.
2. ThighMaster

Suzanne Somers is one entrepreneurial betch. I love and respect her hustle. This vintage little tool is like the at-home version of the hip adductor machines at the gym. For the goal of this product to be thinner thighs, it does make some sense kinesthetically for this movement and product to work. However, there is no way to spot reduce just one area of your body, so this product alone won't help you achieve thin thighs. There are also plenty of superior ways to work the thighs that don't require equipment, such as squats and lunges, as well as plyometric exercises. Plus, keep in mind that when it comes to any fat reduction, diet will always play a major role.
2. Ab Belt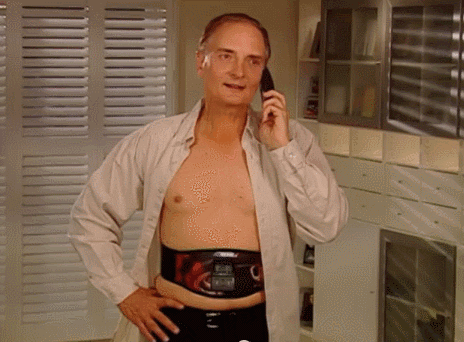 These belts send electronic stimulation to your abdominal muscles, so your muscles contract without you doing the work to contract it. As in, you don't even have to think of contracting your muscles. Who has the time and energy to consciously flex their muscles, right? But you want abs, though. Talk about lazy. Whether or not it works? Well, the Federal Trade Commission sued the makers of these belts in the early 2000s for making false claims, so that's that on that. Here's the real tea: if you can't even put in the effort to contract your own abs, then no product or person can help you. The end.
4. Weight Loss Gummies

So you've heard of the weight loss teas and lollipops that the Kardashian-Jenner clan have promoted. But now, there are also weight loss gummies for you, because diet pills are soooo 1999. This popular brand's gummies contain two steps, because that looks more legit. One gummy is basically caffeine from green coffee beans to give you energy, and the other one is supposedly an appetite suppressant made from garcina cambogia (a tamarind fruit extract). A one-month supply will cost you $49.90. Not only is packaging and marketing weight loss in a candy very ironic and a cheap juxtaposition, none of their claims have been evaluated by the FDA (no supplements on the market in USA are). These gummies could be, at best, ineffective and a waste of $49.90, or at worst, dangerous if you are allergic. On their website, they do not provide a full ingredients list for these gummies, so I would not be surprised if they contain very small amounts of these "active" ingredients. BTW, in 2014 the FTC sued a green coffee bean company for making false claims and false studies.
5. Slimming Creams/Masks

There are no products on Earth that, once applied directly onto the external surface of your body, can melt off fat, which is an internal cell INSIDE your body. Yes, because we have pores and glands on our skin, products do get absorbed. This is why it is important to use products that are clean and do not contain metals (such as aluminum in our deodorant). However, if we still haven't gotten aluminum poisoning after years of using our trusty Secret deodorant, there's no way a cream or mask can make us lose five inches in three weeks. Granted, supple and moisturized skin can appear tighter than dry, dehydrated skin (so don't skimp on your water), but if you ever see a cosmetic product claiming to "effectively burn fat," run from those scammers.
Hyped up fitness products come and go every year, but one thing has remained the same: the hunt for a magic weight loss solution. There is a reason why the diet industry is worth $72 BILLION. But just think—if weight loss was something you could purchase at a GNC, the nation as a whole would be a whole lot fitter and obesity would not as much of an issue. Not only is the hunt for overnight weight loss a waste of money, but it is also a waste of time. Can you imagine if instead, we spent that money on buying fresh produce, a gym membership, a piece of at-home gym equipment, or getting a session with a trainer to show us how to lift and work out properly? Something that breeds healthy habits and not false hope? Before you give this industry another dime, don't let the flashy commercials and edited transformation pictures fool you: there is no product that will give you maximum results for minimum effort. In fitness, just like in life, what you get is what you give.
Images: Giphy (4)
6 Sneakers To Wear At Your Wedding That Aren't Tacky
As your resident fashion expert, it may seem odd that I'm suggesting you have some stylish sneaks to wear for your wedding. Not for like, the ceremony of course, but definitely for the reception. Once you've gotten through all the ceremonial stuff, it's time to let go of your Type-A bridezilla tendencies and partayyyyy. You paid all this money for your demonstration of love, so if you don't let loose to "Yeah" by Usher afterwards, then you're not doing it right. The problem? Heels are uncomfortable, obviously. That's where wedding sneakers come in. When done right, they can be a lifesaver that adds a playful touch to your look. But that being said, I'm def not suggesting you throw on your best Nikes that you wear to Barry's Boot Camp for your big day. Your shoes need to be cute, stylish and go with your bridal look in the least tacky way possible. It's not an easy feat, but I'm here to help.

These ones are a collab between Kate Spade and Keds, and are as predictable as it gets for bridal wedding sneakers. They're sweet, cute, and basic, but unlike other options…not tacky. The platform is great for a little extra height, and the glitter makes them festive in a non JoJo Siwa-adjacent way.

These sneakers are an easy, classic option that you'll totally rewear post-nuptials. They're a great everyday sneaker that would look chic and clean with your wedding dress. They're effortlessly stylish and say "I'm not a regular bride, I'm a cool bride."

I'm obsessed with these sneakers, especially for breaking it down at your wedding reception. They're unique and less predictable than the ones offered at bridal stores. Not to mention, Air Force sneakers are the comfiest of comfy, which will be an amazing relief to put on after your hard day of being your most beautiful self. Hey, beauty is pain!

Yes, these ones are expensive, but if your soon-to-be hubby tries to give you sh*t, just remind him, "It's my f*cking wedding day!" *Said in your best Stassi Schroeder impression.* These sneakers are fashionable and cool, but don't have that dirty old sneaker look that many Golden Goose sneakers are famous for (sry). The last thing you need on your big day is having to explain to your in-laws that yes, you bought your shoes like this. And yes, you did pay for sneakers that look dirty.

I love how feminine and whimsical these slip-on sneakers are! They're perfect for the bride having her fairytale wedding, who's too girly to wear a traditional sneaker with her dress. These have the iconic Marc Jacobs daisies on them, so you know they're both feminine and street style-approved.

Okay, these ones are for the bride who prides herself on her fashionista ways. Again, they're predictably expensive cause like, they're Moschino, but if you ask me, I'd tell you they're worth it. Like, these are totally the sneakers Erika Jayne would wear at her wedding reception. And I mean, if Erika Jayne would wear them, then you should too.
Trust me, after a day full of smiling for the camera and excruciatingly beautiful heels, you're going to be happy to have a cool pair of wedding sneakers to change into. I mean like, I've never been a bride or anything, but I have gone out in heels, and was in so much pain that I HAD to change into those drugstore ballet flats that fit unnaturally into your clutch. No, I wasn't prepared enough to have had them in my purse, my friend did. But let me tell you, I was glad she did. Don't be forced to wear your friend's flats that conveniently yet inexplicably fit into her purse on your big day. Rather, maintain your dignity and prepare by getting one of these stylish pairs of sneakers instead.
Images: @sweeticecreamweddings / Unsplash; Nordstrom; Urban Outfitters (2); Revolve (2); Shopbop
Betches may receive a portion of revenue if you click a link and purchase a product or service. The links are independently placed and do not influence editorial content.
The Best Sneakers To Pair With Every Summer Outfit So You're Stylish And Comfortable
Once thought of as just a workout necessity, sneakers have quickly become THE shoe of summer. And if you don't have a pair yet, it's time to get yourself to Foot Locker. Summer sneakers look good with every single outfit and pair seamlessly with everything in your closet. Like, some brides fucking wear sneakers with their wedding dresses nowadays. Def not suggesting that you take the trend that far, but you catch my drift. There's just something so effortlessly stylish about pairing sneakers with an otherwise feminine or dressed-up look, and you need to get on board. From a guy's perspective, sneakers make you look low-maintenance and chill af and, to girls, you look innately stylish. And, not only do sneakers look good with everything, but they also look good on everyone. Whether you're into dad sneakers (*raises hand*), Old Skool Vans, or even Air Force Ones, there's a perf sneaker out there for you. 
Like, legit, sneakers are the only shoe I've worn so far this summer… I mean, why the fuck would I wear anything else? I'm an intelligent girl, and when a trend comes around that is actually comfortable and makes my life easier, I'm obviously going to get on board. Here are four different examples of summer outfits that look even better with sneakers.
1. Shorts + Nikes
You can elevate even your most basic summer outfit with a hint of cool by pairing it with some trendy af sneakers. For example, you can wear a basic white tee with distressed denim shorts plus a pair of Vans, add a cute crossbody and a pair of sunnies, and BAM! Like, excuse me miss, but are you a fashion blogger? I chose to pair my shorts and Nikes with a graphic tee and a newsboy cap for a v Hailey Baldwin-inspired daytime-casual look.



Brandy Melville Aleena Oxford 1991 top

AGOLDE Parker High Rise black denim shorts
2. Skirt + Vans
Okay, so I'm currently OBSESSING over the skirt and sneakers combo right now. This outfit is the perfect mix of masculine and feminine (very 2018), and just looks so effortlessly chic. Literally any skirt, from denim to gingham, looks super stylish paired with sneakers. I wore my skirt and Vans ensemble with this feminine yellow top and on-trend sunnies. By wearing sneakers instead of a pair of heels, my outfit looks way more casual and Santa Monica-pier appropriate.


Vans Canvas Old Skool sneakers

Forever 21 Ribbed Twist-Front crop top

Revolve Lovers + Friends Cinci skirt
3. Dress Or Romper + Dad Sneakers
This pairing is the easiest outfit combo EVER and makes for a super stylish yet comfortable look. This outfit combo is an ideal going-out outfit, particularly for summer, where most nights you'll be outdoors at either a rooftop bar or beer garden with a more causal vibe. Throw on an otherwise "clubby" dress with a pair of sneaks, and not only do you no longer look like a thirst trap, you look wayyyy more event-appropriate. Plus, everyone from Kendall Jenner to Hailey Baldwin has been rocking this look lately. I wore sneakers to dress down this super girly Forever 21 dress since I was going to a more laid-back dinner spot. 



Forever 21 Strawberry Cami Dress
4. Jumpsuit + Vans
Okay, maybe just as easy of an outfit as a dress/romper with sneakers is a jumpsuit with sneakers. Again, you get to look super stylish while remaining incredibly comfortable. Not only that, this outfit combo is super easy to move around in, which proved necessary for dodging all the "free" mixtape CDs I was being handed at Venice beach. Make sure the length of the jumpsuit is short enough that you can wear sneakers and it doesn't actually require heels. If it's too long, you'll be tripping all over the place and, before you know it, cornered into buying five CDs when you don't even own a CD player (or know anyone that does).



Forever 21 Striped Culotte Jumpsuit

Topshop Oversized Ripped denim jacket
With all of these trendy sneaker outfit ideas, you're prepared to have the most stylish and comfortable summer of your life. Not only that, you're now physically capable of running away from that creepy guy at the bar, or the mean bouncer trying to take your fake. Just be warned—even though your feet don't hurt so you don't have to go home doesn't mean you shouldn't go home. Like my mother always said, nothing good happens after 2am.
Images: @lewisisfobos / Unsplash; Footlocker (2); Brandy Melville; South Moon Under; Vans (2); Forever 21 (3); Revolve; Topshop
Betches may receive a portion of revenue if you click a link in this article and buy a product or service. The links are independently placed and do not influence editorial content.

3 Comfortable Summer Heels You Can Wear All Day & Night
We're a little over two months away from the first day of summer, and praise fucking be considering the weather we've been having. If you're anything like me when it comes to procrastination, then you've most likely done your spring cleaning already. Assuming you've emptied out your closet and cleaned out your dresser, you've miraculously paved the way for new and better shit to take up more room this summer. There's no better motivation to look your absolute best come bikini bod szn than shopping for sexy rompers, skin-tight bodycons, and of fucking course, brand new summer heels. From non-fugly mules and cut-out booties, this summer's shoe trends don't look so hideous. For once. Here are a few summer heels you can go from day to night drinking in.
More often than not, mules are fucking disgusting. It's true, they're most likely worn by the Patricias in your office. Of all the ridiculous trends so far, this year's summer shoes seem to  have one thing in common: comfort. That being said, don't wear regular mules. Wear like, ~cool~ styles like ones with a platform heel in different materials, and especially ones that show off your new pedicure.

Low wedges with ankle ties are a boho chic staple, especially during festival season. They make your legs look miles long and v toned. Bless. With a low block heel we've been obsessed with since last summer, you won't whine throughout the night that your feet hurt, or look like Bambi stumbling home.

Booties are the shit. You can wear them all year round (sometimes the same pair) and still get a ton of likes on your Insta. The heels are always thick, so you can totally last hours in them without having your feet hate you. And with all the different colors, you can never have too many—says someone who owns at least 10 pairs, six of them black. Moving on! This summer is all about the open-toed bootie that come in neutral shades like taupe, so your summer vacay tan looks a whole lot better when you go from the beach to the bars.

Images: Shopbop; DSW; MOBS Design
Betches may receive a portion of revenue if you click a link in this article and buy a product or service. The links are independently placed and do not influence editorial content.
5 Trendy Sneakers That Will Get You Psyched For Spring
Spring
 is most definitely the best season of all time, and if you don't agree you can fight me in the comments. It has the perfect temperature that allows you to wear the cutest effing outfits, without fear of sweating profusely or freezing your ass off. Spring fashion brings out our beloved high-waisted shorts, pastel 
crop tops
,
denim jackets
, and of course, pristine tennis shoes that don't make you look like a regular hipster, but a cool hipster. It is thankfully almost time to ditch the combat boots and instead, buy a chic pair of sneakers in like, every color available, obvi. Here are 5 v trendy pairs to get you started for spring.
Whether or not you've become incredibly basic like the rest of us in white Adidas Superstars, you'd find these just as irresistible. You may barely see the difference between the two styles, but these are clearly a serious upgrade to the overdone tennis shoes you see on every Becky and Kare, simply because they come with subtly trippy holographic stripes.

Although forever a classic, Vans have sort of evolved into trendy sneakers that are no longer limited to sk8er bois. We can thank the socially constructed idea of "street style" for that. NGL, they've had a major glow-up since Avril Lavigne's time, so this millennial pink style is just one of many you'll find yourself adding to your cart this spring.

Kick off spring with none other than a pair of floral tennis shoes you can take from Governors Ball and Coachella to
rooftop happy hours
once it hits 70 degrees. You can talk shit about me in
the comments
your group chat for choosing a floral print for spring, but these are fucking cute, ok?!

Here, a chic all-black sneaker to ease your inner goth mind this spring. The style features mesh detailing and a slight platform heel, so you'll look sleek and trendy in your usual outfit of black leggings and a crop top.

If you're sick of lame af neutrals and still hate almost every color in the rainbow (first of all, what's wrong with you), then you can still opt for a low-key pop of color with this v soft suede baby blue sneaker.

Images: Malvestida Magazine / Unsplash; Off Broadway (1); Vans (1); Nordstrom (1); Lulu's (1); Journey's (1)
Betches may receive a portion of revenue if you click a link in this article and buy a product or service. The links are independently placed and do not influence editorial content.