Stylish Sneakers Made For Walking That Won't Make You Look Like A Soccer Mom
As a betch in New York City, the best and biggest pain-in-the-ass city in the USA, I have to do a lot of fucking walking. So much that by the time my lunch break comes around, I basically burned off the calories in my bagel and Starbucks order from earlier (or at least that's what I tell myself). Since this is my only form of exercise rn, this unverified fact comes as quite a perk and makes me feel slightly better about myself. However, with all that walking comes major outfit and shoe decision-making. Should I look just "alright" and resort to wearing my lame-ass Adidas so I can be comfortable? Or, should I dress like a Waldorf and wear my fave pumps so I can cry in pain by the time 2pm rolls around? I take the mantra "beauty is pain" with a grain of salt and a shot of tequila, so I usually settle for the first option. As a result, I feel like a fucking loser walking around in the world's fashion capital (NBD) looking like an idiot while also low-key writing about fashion rules. For my city betches high and low, I found a happy medium to our first-world problem. Here are 5 v stylish sneakers that are def made for walking and don't look fugly af.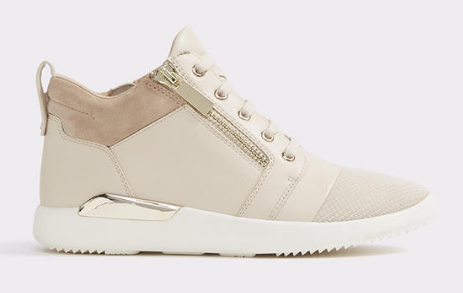 Make these neutral sneaks pop with a bold pattern or bright color. These are the definition of street chic with metallic and zipper detailing. Featuring a foam sole and a "walk-ready cushioned lining" (whatever that means), these are literally made for a long commute on your feet. Wear with a T-shirt dress to take these from office appropriate to happy hour hoe asap.

Choo has never let me down when it comes to my fave dependable Saturday night heels. Just like I fashionably stumble around every weekend, he doesn't fail to provide my hangover with the most comfortable and sophisticated kicks. This pair features two things every betch loves: a shit ton of glitter and a dark neutral color to go with everything else. Dress these up with a mini skirt or keep it chill with a dark pair of jeans, and you'll be finally be the only girl who isn't complaining about how bad her feet hurt.

IDK about you, but whenever I see someone wearing studded shoes, I immediately think that person is not to be fucked with. Not only would they actually do harm if you felt like kicking someone in the face (which is all the fucking time), but they make you look like a badass bitch regardless of how much your Spotify playlist says otherwise. Since they come with a leather lining, which apparently allows your feet to breathe oddly enough, you won't feel like they're suffocating and slowly fostering mold growth inside your shoe all day.

Similar to how we like our shots, waxing appointments, and hook-ups, these shoes are quick, easy, and painless. Whether you're running late for the third time this week or you need a pair of shoes to quickly change into, these slip-ons get the job done without looking like lame af Keds. They come in a color called "pink beige" which happens to also look exactly like the color you probs want for your next mani-pedi.

Naturally, I saved the best for last since it's all black and reminds me of the sneaker version of my worn-down combat boots. Designed to look fierce and feel as light as air, this sneaker features a low profile with removable contoured arch support. Except, the contour is not your face makeup. According to its short bio, it also has an American Podiatric Medical Association seal of acceptance, which sounds like something really official and probs hella good for your feet.
5 Sneakers You Should Be Wearing Instead Of Your Basic Adidas Superstars
With the exception of a few pairs of heinous mom jeans and the fact that people are contouring their butts with glitter, 2017 has been a pretty sick year for trends so far. I mean, fashion has basically evolved to a point where we no longer really have to wear anything that's uncomfortable. Bras? Haven't touched one in years. Jeans? Yeah, no. Sign me up for leggings. Heels? LOL, nope, we do sneakers now.
Wearing sneakers is a lot like being drunk. If you're betchy enough, you can pull off either one of those things whenever you want. Not to get too inspirational on you, but if you're confident enough to rock sneakers with a silk slip dress, you can rock sneakers with a slip dress. It's just like pregaming a trip to Whole Foods. Most people would look like a bum, but if you look good, you can probs pull it off. Anyway, here are the sneakers you should be wearing this year.
If you follow just like, one fashion blogger or any of the Kardashians, you've seen these shoes with every kind of outfit imaginable. From sundresses to sweatpants with fishnets (I'm not sure how this became a thing, but like, whatever I guess I'm into it), Vans Old Skools are to 2017 as UGGs were to 2007. You can literally just wear them with anything.

Gigi Hadid keeps promoting these with Instagram #ads, so you know every 14-year-old mall rat with more followers and prettier hair than you already has them. It's just like how she convinced everyone to wear Adidas Superstars last summer, even though that shell toe makes everyone's feet look effing massive.
Speaking of Adidas Superstars, it's prob time to get rid of those. They've made too many appearances on your Instagram feed as it is. Like the girl in your sorority who got a super subtle nose job one summer, there's something just a little bit prettier about the Gazelle shoes.
​
Vans are like, really having a moment, so they're getting two spots on this list. This style pretty much serves the same purpose as the Old Skool, but because betches hate decision making and love shopping, you might as well get both.
​
5. Literally Any Platform Sneakers
From Fenty Creepers to Gucci's $1,000 platform sneakers, this is the best way to channel your inner Spice Girl. The Kendall + Kylie Reese Platform Sneaker definitely screams "Hi-ci-ya hold tight," but like, not in a weird way.

Read: The 5 Trends You Need To Purge From Your Closet During Spring Cleaning