3 Eating Habits That Are Slowing Your Metabolism
If you're the victim child of a Jewish mother, you're more than familiar with the rhetorical question, "Do you want to mess up your metabolism forever?" I skipped breakfast once when I was 16 and I'm still hearing about it. Little does my mom know, metabolisms are actually really complicated and cannot be "messed up forever" by skipping one single meal. Much like your boyfriend who insists that cargo pants are very much in fashion, your metabolism has to be trained to do what you want. For the sole purpose of proving my mom wrong expanding my knowledge about the human body, we linked up with Samantha Cassetty, RD, Director of Nutrition at The Healthy Mommy, to talk about the metabolism and what habits could be slowing yours down.
Before we dive into some hard science, I will explain what the metabolism is in layman's terms. According to WebMD, the place I go to confirm I'm dying from my run-of-the-mill cold, "Metabolism refers to the process of converting food into the energy that allows your body to function. People who have a fast metabolism use up calories more quickly than those with slower metabolisms." Yes, we all want a fast metabolism, but how the hell do we get one of those? Read on for ways your eating habits may be slowing your metabolism down, from an expert.
1. Picking The Wrong Breakfast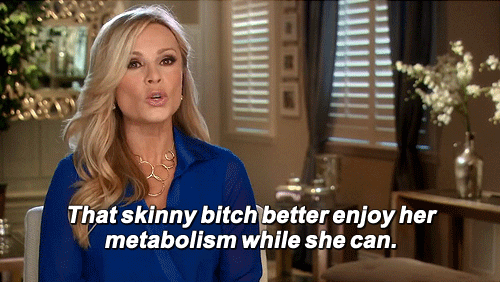 You are what you eat! Kidding…but, like, not really. Cassetty says, "One of the main issues I see is reaching for a carb-rich, protein-poor breakfast option. Common breakfast foods, like cereal, oatmeal, bagels, muffins, and even avocado toast don't supply enough protein to repair muscle tissue that's naturally broken down at night." Your metabolism does its best work at night, which is why you usually wake up needing to spend a few extra minutes in the bathroom in the mornings. Just me? Cool! But it's also why you need a solid breakfast. Cassetty continues, "In order to activate the repair process, you need a meal that provides adequate protein. If you skimp on this, over time, you'll lose muscle tissue, which translates to a slowing metabolism." So, okay, I guess we really do have to listen to what we've been told since middle school and eat breakfast because it is the most important meal of the day.
2. Eating Too Many Processed Foods

Your metabolism breaks down your food, but the speed at which it operates depends, in part, on what you eat. "Eating too many hyper-processed foods instead of whole foods will ultimately cause metabolic issues. Your body can more efficiently grab the energy (read: calories) from heavily processed foods, so if your diet is more heavily processed than whole, you might notice weight gain over time," Cassetty says. These foods also don't really fill you up, so you're probably eating more of them. Cassetty also says, "When you eat whole foods, your body gets a slight metabolic edge by breaking the food down to grab the energy and nutrients it needs. In other words, you're shortchanging your metabolism by making its job too easy." I guess that's why they call it Whole Foods? Everything makes sense now! For real, though, it should be obvious that foods with ingredients you can pronounce are better for you and your internal systems than say, Flamin' Hot Cheetos, which are made with something called thiamin mononitratea, but you can never take knowledge for granted.
3. Eating Too Lightly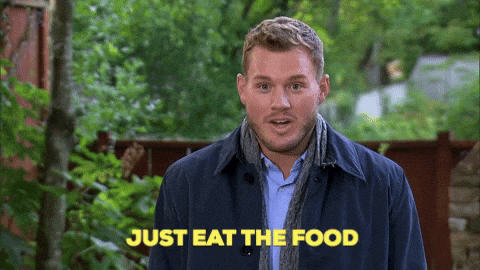 I feel like this is a "you already know the answer" situation. Cassetty explains, "Eating too lightly can slow down your metabolism because your body senses the food shortage and wants to hang on to its stores. Your body works better when it has the energy and nutrients it needs to thrive, and you'll feel better and more energetic when you nourish it properly." That's not that surprising since we've all been told about "starvation mode" probably around the same time we discovered skipping breakfast. Just don't do it! 
I'm loving that the theme of this seems to be "eat food". You don't have to tell me twice. And, in fact, you can eat certain foods to help boost your metabolism. "I usually recommend including two of the three food groups at snack times, choosing a fiber-rich fruit or veggie (the carb group) along with a healthy fat or protein," Cassetty says. It'll be hard to give up my honey mustard and onion-flavored pretzels, but it's for the greater good, I guess. Think of your metabolism as a car, but not like a Volvo or a Jeep. You're a f*cking Maserati, and you wouldn't put Kool-Aid in a Maserati, right? No, you'd put premium f*cking gas.
At the end of the day, everyone's body is different, but regardless of that difference, limiting processed foods and not skipping meals is the move. You'll feel better, look better and, most importantly, be able to talk about how healthy you are to people who really couldn't give a sh*t. And that's the best reward of all, isn't it?
Images: Giphy (3); Tarutoa / Unsplash
Healthy Snacks That Keep You Full Without Causing Bloating
Food—the cause and solution to all my work dilemmas. Keeping snacks on hand (i.e. stuffed into my mini fridge and filing cabinet) ensures that I'm less likely to hunt for free doughnuts or cookies once 2pm rolls around. Also, stashing them away allows me to snack in secret, leaving my coworkers wondering how I got so pretty and skinny when they never see me eat. You, too, can experience the excellence that comes with snacking without regret (and without being hungry in two hours). These are my favorite snacks that keep you full, but without making you feel bloated, tired, or all-around shitty afterwards. Time to head to your local grocery store and stock up.
1. Greek Yogurt With Berries
You're really out of touch if you aren't already singing the praises of Greek yogurt. When the 2pm hangries hit, go ahead and reach for a serving of Greek yogurt topped with blueberries, blackberries, strawberries, or some combo. The protein and calcium from the yogurt will keep you full while the berries provide antioxidants for your glowing complexion.
2. Hummus And Carrots
Duh. Keeping hummus and celery or carrots in your work mini fridge makes you seem fit and betchy. Hummus has lots of protein, and carrots have very few calories but lots of vitamins. It's a solid mix of protein and fiber—perfect for keeping your fingers out of the free doughnut box.

3. Roasted Edamame
Eating this in the office may make you look kinda weird, but the full feeling and health benefits are totes worth it. According to Reader's Digest (because I'm an 85-year-old man who loves puzzles and this shitty magazine), edamame contains calcium, magnesium, phosphorus, potassium, folate, vitamins C, E, and B6, plus a lot more shit that I don't feel like typing. Plus, ¼ cup is only about 130 calories, 8 grams of fiber, and 14 grams of protein—all of which will keep you full until you can order Domino's.
4. Almonds
Wasabi! BBQ! Soy sauce! Cinnamon! Your almonds don't have to be shitty and boring—you can either flavor them yourself or grab a small serving pack of them literally anywhere. They're nutritionally dense and will keep you hella full while you put off doing that spreadsheet for the fourth time.

5. Roasted Chickpeas
Are you too good for hummus? If so, try roasting your chickpeas instead of blending them into the betch food pyramid cornerstone we all know and love. They're crunchy, you can flavor them however you choose, and about ¼ cup of them is only about 120 calories. You can also grab them from places like Whole Foods and Trader Joe's where someone has already lovingly roasted them for you.
6. Jerky
I don't care what you say, jerky is a fantastic food to keep in your desk when you're hungry and sad. There's quite a bit of protein to be had, and if you buy a good and bougie variety, there may be very little in the way of artificial flavors, additives, etc.

7. Hard-Boiled Eggs
Nothing says "I'm hopeless, but at least I'm fit" like shoving a hard-boiled egg into your mouth around 2:15pm on a Tuesday, LOL AMIRITE. But seriously, eggs are a great source of protein and are only about 90 calories each. So either eat a whole hard-boiled egg, or chop it up and put it on a piece of whole wheat toast for a more normal (and satisfying) midday snack that won't result in hunger an hour later.
8. Dark Chocolate
Thank you, God! Three squares of dark chocolate (or even five or six dark chocolate Hershey's Kisses) can help regulate your stress hormones, which, honestly, are probs part of why you're hungry anyway. Plus, dark chocolate has antioxidants and usually lower sugar than the more common milk variety.

9. Pickles
Again, if you really want to just weird out your coworkers (sign me up), dive into a jar of pickles every day at the exact same time. They only have 16 calories per cup, which means you can def eat the whole jar or play "how many can I fit in my mouth" with three to six of them at a time. Since pickles are (spoiler alert) just cucumbers soaked in vinegar, the water content will keep you full and stop your salt cravings.
Images: Anastasia Zhenina, Unsplash; Giphy (8)
The Super Bowl Party Foods To Avoid At All Costs & What You Should Eat Instead
As Americans who proudly DGAF about sports but still want to partake in a national tradition we'll never understand, we really have no other choice than to eat an endless amount of calories during the Super Bowl. Super Bowl parties are known to include every American high-fat culinary embarrassment from mac and cheese to spicy wings, and unless you intend on getting through the game by drinking a room-temp Corona Light and pretending to understand what's going on, you'll be eating. Making healthy choices during the Super Bowl is almost impossible, but if you're looking to host or attend a Super Bowl party without eating a month's worth of calories in one day, here are the foods to avoid and some healthier alternatives to consider:
1. Fully Loaded Nachos
Super bowl nachos are basically a death sentence, but they're also tragically amazing. Like, whoever invented these was definitely stoned and had definitely been working too many hours at Taco Bell. If  you really insist on having some, try grabbing from the corners of the bowl, where the chips aren't completely drenched in cheese and sour cream. If you're hosting your own party, bake your own zucchini chips or kale chips and season the shit out of them. They're obviously not hardcore nachos, but they're way less calories and still taste good, so don't knock it.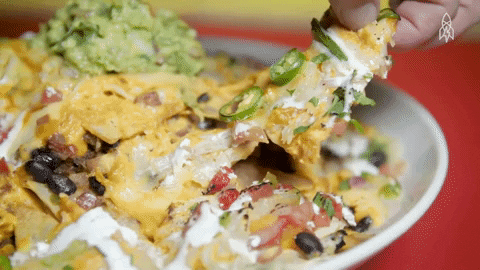 2. Buffalo Wings
Apparently Americans eat 1.33 billion chicken wings during the Super Bowl every year, and they all regret it the next morning. Wings are always a bad call if you're trying to stay somewhat healthy. Don't try to convince yourself that you need protein, because it just doesn't count. If you're making your own, try a basic recipe with no added sugars, using just tomato sauce, garlic, onion, honey, apple cider vinegar, paprika, and salt and pepper. Always bake instead of fry. If you're eating them out of a red KFC bucket, they're probably a lot worse for you than you'd think. Put down the wings.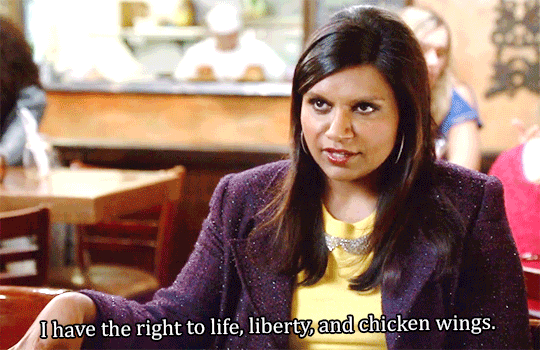 3. Pigs In A Blanket
Okay, YUM. If you didn't spend your adolescent years heating up frozen pigs in a blanket and french fries after school, I'm so sorry for you. These are addictive, but honestly unless you have the self control of a Victoria's Secret model, don't get started with these. You'd think they're so small and harmless, but eating only four of these equates to over 20 grams of fat, so be careful. You tell yourself you'll only have a few, and then suddenly you're Guy Fieri going ham at a random diner in the midwest. If you need something to snack on while refreshing Instagram watching the game, I'd stick with pita chips and hummus as a safer option.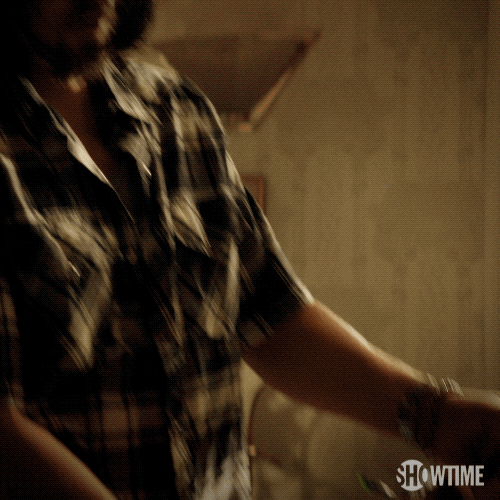 4. Queso Dip
We already spoke about cheesy nachos, but let's take a moment to discuss queso, the dip that is essentially glorified melted cheese. With some butter and milk. Maybe a sprinkle of garlic and cayenne pepper, but we all know the cheese is the real star here. This dip is a heart attack in a bowl, and honestly it's really not worth the calories if you're *basically* sober at 5pm on a Sunday. If there's guac around, go for that instead, and if you're making your own dip, find a spinach artichoke dip recipe made with Greek yogurt and light mayo. It's a fraction of the calories, it's delish, and if it means avoiding 400 grams of fat, we're here for it.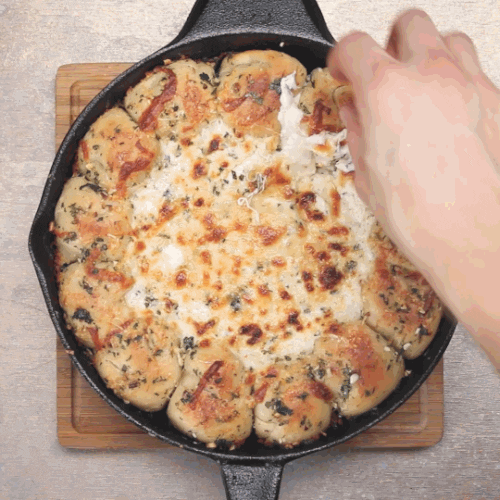 5. Chili
Chili is made in different ways so we can't say all of them are horrible for you, but usually, if you're consuming a dish made from ground beef, beer, and sour cream, we're gonna suggest you stay away. Chili is also one of those dishes where no one really has any perception of a serving size, so you just end up eating it like you're a bottomless pit who just finished a Yom Kippur fast. Instead, go for the salmon burger, the grilled chicken, or even the meatballs would be a better option. At least in that case you can count how many you've had.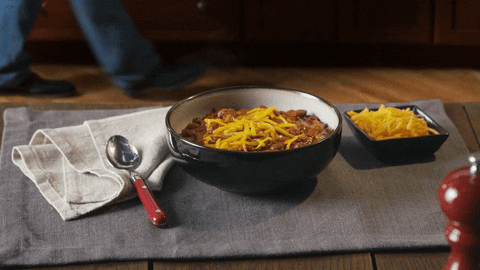 6. Soda
We've already accepted the fact that you'll be blackout by the halftime show, so let's disregard alcohol calories for a second. If you're mixing your drinks with soda, or even worse, just sipping on a Regular Sprite because you're not in the mood for water, put the cup down. You're eating enough calories at this party to feed a small village. You really don't need to drink your (non-alcoholic) calories, too. Keep your alcohol choices simple and avoid all regular sodas and sugary syrups. If you're making a mixed drink, stick with zero-calorie options like La Croix or Diet Coke instead. Straight vodka works too. It's a long game.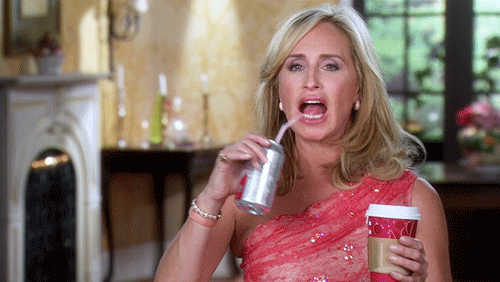 Images: Niklas Rhose / Unsplash. Giphy. 
Get F*cked Up Off This Grilled Pineapple With Tequila Sauce Recipe
Temperatures will ACTUALLY be up this weekend, so it's time to get the fuck outside and grill—or invite your boyfriend over to get outside and grill. Since we're betchy and don't really want to partake in the whole "stuffing our faces with burgers" thing, let's grill fruit and soak it in alcohol, mmkay? MMkay! This grilled pineapple with tequila sauce recipe will let you feel healthy as you get wasted, with none of the bloat that's commonly associated with the food you eat when you're drunk. We don't recommend grilling while intoxicated (aka we don't want to be responsible for you burning your eyebrows off), this is like, pretty easy to make. So without further ado, check out our tequila pineapple recipe.
Ingredients
Pineapple rings — honestly as many as you want/are hungry for
Shredded coconut, shredded and toasted — probably like ¼ tsp for each pineapple ring, so do the math, ho
2 oz. tequila
2 tbsps lime juice
2 tbsps orange juice
1 cup plain Greek yogurt
1 tsp lime zest
1 tsp orange zest
1 tsp brown sugar
Get your fuckboy bf to heat up the grill. Grab your pineapple rings and grill until they're golden—so like, 2 minutes on each side. Remove from the grill and sprinkle with the toasted coconut.
While those cool a lil bit, get a bowl and mix together the tequila, lime juice, orange juice, yogurt, lime zest, orange zest, and brown sugar. This is literally so easy a caveman, or you, could do it.
Drizzle that mothafuckin' sauce all over those pineapples. Serve with margaritas. Consume, preferably on a rooftop.
10 Healthy Munchies To Reach For When You're High AF
It's 4/20: high schooler stoner holiday galore. But before you get ready to puff, puff, pass, make sure you're stocked up on snacks that won't result in next day regrets (i.e. cheese balls and a pack of bologna… I speak from experience). Having healthy grabs around will keep you from inhaling a box of Cheese-Its or polishing off a block of cheddar when the munchies hit. If you don't have any of this shit on hand, it's time to make a high trip to Whole Foods—nothing you haven't done before, we're sure.
1. Hummus
A vital part of the betch food pyramid, hummus is a dippable and delicious (AND nutritious) snack perfect for dipping carrots or pita chips in when you're seeing sounds. Or you can eat it with a spoon and we won't judge. Not only is that shit super high in nutrients, but it'll also help curb the "I'm hungry" feelings.
2. Tortilla Chips And Salsa
No one knows where the blind loyalty to chips and salsa came from, but for betches, this is a bitchin snack when we're sober, drunk, high, waiting for our burritos, etc. Salsa literally has like, no calories, and lots of tortilla chips—like On The Border brands—are organic, baked, use sea salt, and are generally healthier than other alternatives.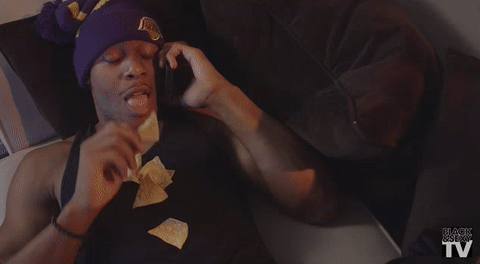 3. Kale Chips
You're dying for some Lays or Cape Cod chips, but kale chips will make you feel one with the Earth AND you won't gain 10 lbs. eating them. Either make them yourself by tossing kale with olive oil, salt, and parmesan and baking at 350F for about 15 minutes (get your hippie friend to make them—she absolutely has a recipe) or buy at—YOU GUESSED IT—Whole Foods.
4. Sweet Potato Fries
Fries are fucking amazing when you're drunk, high, or whatever. Sweet potato fries are better for you, bring that whole sweet and salty thing, and you can eat a shit ton of them (which probs isn't the best but whatever, it's a holiday). Try 'em baked (LOL) which will be less calories and fat than having them fried.

5. Roasted Chickpeas
Totally poppable, full of protein, and not terrible for you, you can make roasted chickpeas yourself or buy them premade in the extra healthy aisle at Whole Foods (Trader Joe's if you're poor). The best part is, these can be made to taste like allllll your fav chips—salt and vinegar, classic, barbecue, pickle—WTF ever.
6. Instant Oatmeal
Cereal somehow becomes extremely appealing and crave-able when you're hitting the jazz cabbage, and instant oatmeal is a perfect comfort food. So, heat that shit up with a little maple syrup, toasted almonds, and brown sugar and bam—not totally horrible snack to nom on. It only really requires a microwave and a few cups of water or milk, so no matter how high you are, you really can't fuck this up.
7. Beef Jerky
So much protein! You'll be reaching for salty goodness, so reach for something that'll help curb the munchies and taste amazing. With the plethora of flavors out there now (chili lime, spicy, classic, bbq, teriyaki), jerky is a great high protein snack that's totally okay to indulge in. Plus they tell them at 7-11 so you can kill two birds with one stone when your bf just needs to get his slushie and questionable pizza fix.

8. Toasted Pumpkin Seeds
You could inhale 1 cup of these and it'd still be better than most of the shit you reach for whilst chasing rainbows. You can buy them pre-toasted or do it yourself by tossing cleaned raw seeds with butter, salt, and pepper and baking in a 300F oven for 40 minutes. Shit, you can even go sweet and do butter, cinnamon, and sugar. The possibilities are endless. Honestly, though, if you're high out of your mind (as you should be on 4/20) we do NOT recommend carving out the inside of a pumpkin with a knife or any other sharp objects.
9. Apples With Peanut Butter
A little grammar school, yes, but these won't result in regret or water retention. Peanut butter is a go-to stoner snack and adding apples will help you slow your roll while you're dipping into it. But like, don't eat too much peanut butter because then it kinda negates the whole "healthy" aspect.
10. Hemp-Infused Shit
You could also always head to the store and grab hemp-infused treats like Activated SuperFood Cereal; LARABAR Organic Bar with Hazelnut, Hemp, and Cacao; or even Organic Hemp Hearts to sprinkle on literally everything. None of that shit will get you high (bummer), but it is super healthy and, like, it has hemp so whatever. It's festive.