I Tried Intermittent Fasting For 10 Days & It Was Not At All What I Expected
As I'm sure many of you can relate to, I did not enter January feeling the best I've ever felt about my body. Honestly, forget holiday weight gain—I hadn't successfully lost weight since a stomach bug last May, and the whole thing was starting to feel hopeless. In 2019, I'd already tried a juice cleanse (painful, results gone within a week), and macro counting (exhausting! very difficult without professional advice on what to eat). So finally, I turned to intermittent fasting. I am in no way a nutritionist, and I cannot tell you whether IF is "good for you," or give you a scathing review of whether or not the science behind it is legit. What I can tell you is that I had a tough 10 days, and a surprising set of results. If that's enough for you, read on for my experience with intermittent fasting
What I Expected From Intermittent Fasting
If you're interested in learning more about the science behind IF (intermittent fasting), or the different ways you can do it, I used these three articles as guides. Like I said, I'm not a nutritionist, and I truly don't want my advice here to be the last word on whether or not you embark on a major diet change. Please believe me—it is a MAJOR change. I understood the merits of IF in two ways before starting. First, I learned that periods of fasting decrease insulin production and boost growth hormones—both of which mean nothing to me, but they apparently help boost metabolism, burn fat, and gain muscle. Second, by limiting your "eating window" (a term my friends would literally pay me to stop hearing at this point), you're meant to limit overall calories (e.g. you can't eat breakfasts anymore; you skip seven breakfasts' worth of calories per week).
Have some objections to that second point? Yeah, me too—don't worry, we'll get there. But just to be clear with my intentions for IF: I wanted to lose weight. Not a drastic amount, especially not in 10 days; I know all too well that that weight just comes right back. But losing maybe 1, 1.5 pounds? If nothing else, just to prove that my body was still capable of weight loss after all the weird diets I'd put it through. So, I decided on a 16:8 routine (16 hour fast, 8 hour eating window), and set off on my 10-day journey.
Actual footage of me putting together diet plans and not shutting the f*ck up about it:
How Fasting Actually Felt
Despite most recommendations for 16:8 suggesting eating 12-8pm (or even earlier), I set mine from 2-10pm. First of all, I struggle way more with snacking at night than I do during the day, and I didn't want to set myself up for failure. Second of all, I have a standing Bachelor date Monday nights, and no way in hell was I sitting through Colton's journey for love without a healthy dose of wine and pizza. The first few days were mostly the same: I showed up to work around 10 (usually when I eat breakfast) and had unpleasant but bearable waves of hunger until 2pm. This included stomach cramps (worst when I woke up, or when someone ate a delicious-looking bagel near me), and a few headaches. Water and black coffee helped, but honestly more in terms of keeping me awake than making me feel better.
The first mistake I made that week? On Day 3, I went to a spin class at 8am (a disgusting habit I picked up in LA). Not only did I nearly die from hunger that morning, I forgot the parameters of my eating window and ate until 10:30pm that night. While I worried I'd messed everything up, and was starting to question how healthy it was anyway, I woke up on Day 4 "feeling LIGHT" (per my detailed notes). My stomach felt flatter, my digestion was good, and my hunger cramps were clearing up sooner. Everything seemed good. And then, as must happen to all diets, the weekend came along.
I was spending that particular weekend in Salt Lake City, crashing some friends' ski trip. (I don't ski, I just wanted to drink in a cabin for a weekend.) In preparation, I switched my eating window for the weekend to 4pm-12am. After all, if I was going to make IF my long-term eating pattern, it had to be something I could do while maintaining a social life. And my social life right now involves ingesting calories after 10pm. (I say "involves," but really that's all my social life is.) I also weighed myself Friday morning, but both of the scales turned out to be broken, and both told me I'd gained 16 pounds in the past two weeks.
So, even though I'd woken up Friday feeling light and lean, I spent most of that day questioning reality and trying not to eat my own hand. By the time I could eat at 4pm, my body went into full animal mode, terrified I would fast for another 18 hours at any moment. Basically, I filled the day with airport snacks, a pasta dinner, and bags of Cheetos and mini Oreos the Airbnb host had left behind. Yes, right up until midnight. Saturday and Sunday, I accompanied the non-skiing group to two massive brunches and fasted through both, for which I would like several medals. (Insta proof below.)

Throughout the weekend, I felt like the bloating and general gross-ness I'd kicked during the week was back—but mostly I blamed the type of food I was eating (processed garbage and desserts, yum), and it was more of an internal "yuck" than an "oh sh*t, these pants are not fun to button." The final few days I focused on drinking sh*t tons of water, eating more real foods and fewer snacks, and bringing my eating window back to a reasonable range. (AKA Monday I ate 4-11; Tuesday I ate 3-10; Wednesday I could eat at 2 again.) But honestly, I never quite kicked the bloated feeling from the weekend and I was still freaked out by the scale disaster Friday. By the time I went back to regular eating, it didn't come a minute too soon.
Pros & Cons I Felt On Intermittent Fasting
I would need a licensed professional to confirm or deny this, but I suspect that I messed up by making my eating window so late on the weekend. Like I said, I am a chronic night-snacker—which means I've read all the advice on how it's the worst thing you can do for your body and how you're meant to give your body 2-4 hours of not eating before bed. I've also been a yo-yo dieter for years, and heard rumors of starvation mode (when your body's metabolic rate slows down bc it thinks you're dying and need the food) if you deprive your body of calories irresponsibly. Again, IDK for sure what happened, but once I started eating from 4pm-12am it felt like my body panicked, shut down any fat-burning processes, and held onto whatever calories I did consume for dear life.
In other words, with a later eating window, my digestion slowed, my usual bloated feeling returned, and it quickly seemed like a terrible idea. And while my 2-10pm eating window had made me feel lighter after a few days, it had also allowed me to stop thinking so carefully about what I was eating. I would try to break my fast with a big, healthy meal, but I was way more relaxed about carb content, afternoon snacking, and eating desserts. As long as I stopped at 10pm, I was still technically on a diet—right?
Yeah, I wasn't right. People who promote IF assume that you'll eat fewer calories if given less time, but they've clearly never been to a timed buffet. I can't say for sure whether I was eating more calories while I did IF, but I really doubt I was eating fewer (and definitely not on the weekend). And overeating with 16-hour breaks isn't a diet: it's just eating the same amount and giving you a better shot at digesting it properly. By the time I found a less f*cked up scale that Friday, I found I was two pounds heavier from the whole experiment.
BUT—and again I have no way of proving this—I felt like it was possible that part of that weight gain was muscle. I'm the kind of person who can (and has) temporarily gained two pounds from a large meal, and I'm very familiar with what that feels like. This weight gain, however, felt different.
To sum up my very scientific impression of how my body changed during this process, I felt like I was roughly the same size but less jiggly—like my pants were maybe a little tighter in the legs, but looser in the waist. It wasn't my goal, and I still have five pounds I'd like to lose, but I've experienced worse results on more painful regimes.
Overall, would I recommend intermittent fasting, or ever do it again? Kind of! I would recommend trying a few different eating windows and seeing what works best for you, for sure. I might try incorporating a 24-hour fast once a week, since I'd had good short-term results with a few days of fasting. Ultimately, I think incorporating a couple fasting periods helped me shed some bloat and regulate digestion—but extending the fasts and confusing my body on when to expect food backfired. As much as I hate to say it, I have to accept that this wasn't a "weight loss hack" by any means. If I actually want to see a lower number on the scale, I will have to consume fewer calories. Until then, I'll be accepting tips on how the f*ck I'm supposed to enjoy an evening at home without eating until the second I fall asleep.
Images: louisabhaus, dietstartstomorrow (2), betches / Instagram
4 Frightening Realities Of Living With Your SO
Before I moved in with my boyfriend, I interrogated everyone I knew who lived with their partner. I'd read plenty of horror stories about couples breaking up after living together too soon. They were all frustratingly vague about how and why exactly things went wrong. My friends, sadly, were similarly unhelpful. "It's just different" was the most common offering, with "the first month was the worst" being a close second. Six weeks into living with my boyfriend, I'd agree that both those things are true. But because I'm paid to write this not a terrible friend, I'll actually explain why. Here's what to actually expect when you move in with a partner.
1. Laundry Will Kind Of Rule Your Life
This aspect of living together is particularly true if you live in NYC and the closest laundry to you is a laundromat that only takes quarters. Totally random example, NBD. But, even if you have a washing machine in the comfort of your home, or go full bougie and get it picked up, there's just going to be a lot more dirty clothing existing in your home. Especially if your partner plays sports and/or is a guy and therefore inexplicably goes through six T-shirts a day. Either way, I miss only thinking about laundry every few weeks. And of course not having anyone judge me when I used my laundry bin as a "backup tees" drawer.
2. Food Is Now A Shared Entity
If you're not already, I highly recommend listening to every episode of the Diet Starts Tomorrow podcast. They spend one episode talking about how hard it is to control your eating in a relationship. I loved it so much that I made my boyfriend listen to it. In the year and a half we dated before moving in together, I'd complained plenty about his constant desire to post up at beer gardens, or his tendency to make the whole box of pasta whenever we cooked. Now that we live together, I deal with all those struggles, plus the fact that he fills our kitchen with chips, Gatorade, and sugary cereals. Not to mention that he buys everything in bulk as though we are a family of seven.
Clearly, many of these problems exist because he also does most of the grocery shopping. I should be more grateful. But I have a late-night snacking problem, so I am instead furious that I now have such binge-able food on hand at all times. Anyway, whatever your weird food needs are (and you def have some), prepare to spend a lot of time arguing about what groceries you actually need. And/or screaming at your partner when you come home hangry at 10pm and the only food available is a microwavable corn dog.
Me to my boyfriend: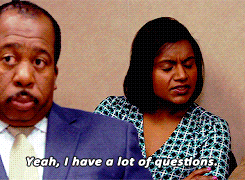 3. "Clean" Means Different Things To Different People
I'm very lucky with my boyfriend—for many reasons, but in this context, I mean because he's relatively neat. He does the dishes, he vacuums occasionally, he's kind of a freak when it comes to crumbs, you get the idea. HOWEVER. Things that I never realized are very, very important to me—like wiping down the bathroom sink/mirror, or having a designated place for shoes—won't even occur to him. This leads to a lot of arguments where I become convinced that he's actively trying to piss me off. And he has literally no idea what I'm talking about. Or where he tells me he cleaned the apartment and I come home and think he's joking. Basically, you're going to need to sit down a few weeks in and tell each other plainly what's important to you in terms of maintenance.
4. You're Probably Grosser Than You Realized
It's not like my boyfriend and I went from seeing each other once a week to living together. But I do think I underestimated how much I used my time in my own apartment to do all the weird stuff I don't think about. Like eating a block of cheese in bed, trying to get a good view of what feels like back-ne in my bathroom mirror, trying on 16 different shirts and flinging every reject on the same chair. All of these activities are made way less fun by being in a room with anyone else. And they're made UNBEARABLE if that other person starts commenting on it, which they definitely will. You are now doing it in a space that they equally live in.
Ultimately, this isn't the worst thing in the world and will actually probably curb some bad habits. But I def had a few moments of deep shame on this road. Like when my boyfriend came storming out of the bedroom demanding to know why there was almond butter on his pillowcase.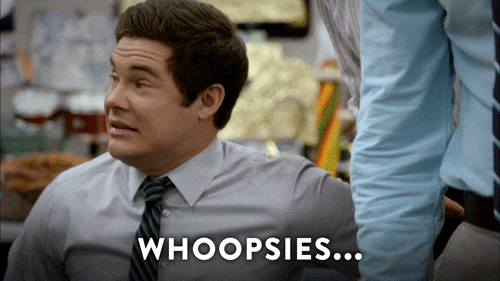 All in all, the biggest thing I've noticed about living with my boyfriend is space, plain and simple. Even with roommates, there's always a spot that's yours alone. Not having that is more of a shift than I expected. There are lots of fun parts too, like the fact that you can be naked all the time, pay way less rent, and just feel smug and happy every time you can reference OUR apartment. So as long as you're willing to have a few screaming fights, a few cool-down conversations, and a few ugh-compromises, I wholeheartedly recommend it. If you try to treat the living arrangement like one of you is renting a room and the other one owns it, I guarantee that won't work out.
Images: bigkidproblems / Instagram; Giphy (2); Unsplash/Jeremy Banks
Healthy Snacks That Keep You Full Without Causing Bloating
Food—the cause and solution to all my work dilemmas. Keeping snacks on hand (i.e. stuffed into my mini fridge and filing cabinet) ensures that I'm less likely to hunt for free doughnuts or cookies once 2pm rolls around. Also, stashing them away allows me to snack in secret, leaving my coworkers wondering how I got so pretty and skinny when they never see me eat. You, too, can experience the excellence that comes with snacking without regret (and without being hungry in two hours). These are my favorite snacks that keep you full, but without making you feel bloated, tired, or all-around shitty afterwards. Time to head to your local grocery store and stock up.
1. Greek Yogurt With Berries
You're really out of touch if you aren't already singing the praises of Greek yogurt. When the 2pm hangries hit, go ahead and reach for a serving of Greek yogurt topped with blueberries, blackberries, strawberries, or some combo. The protein and calcium from the yogurt will keep you full while the berries provide antioxidants for your glowing complexion.
2. Hummus And Carrots
Duh. Keeping hummus and celery or carrots in your work mini fridge makes you seem fit and betchy. Hummus has lots of protein, and carrots have very few calories but lots of vitamins. It's a solid mix of protein and fiber—perfect for keeping your fingers out of the free doughnut box.

3. Roasted Edamame
Eating this in the office may make you look kinda weird, but the full feeling and health benefits are totes worth it. According to Reader's Digest (because I'm an 85-year-old man who loves puzzles and this shitty magazine), edamame contains calcium, magnesium, phosphorus, potassium, folate, vitamins C, E, and B6, plus a lot more shit that I don't feel like typing. Plus, ¼ cup is only about 130 calories, 8 grams of fiber, and 14 grams of protein—all of which will keep you full until you can order Domino's.
4. Almonds
Wasabi! BBQ! Soy sauce! Cinnamon! Your almonds don't have to be shitty and boring—you can either flavor them yourself or grab a small serving pack of them literally anywhere. They're nutritionally dense and will keep you hella full while you put off doing that spreadsheet for the fourth time.

5. Roasted Chickpeas
Are you too good for hummus? If so, try roasting your chickpeas instead of blending them into the betch food pyramid cornerstone we all know and love. They're crunchy, you can flavor them however you choose, and about ¼ cup of them is only about 120 calories. You can also grab them from places like Whole Foods and Trader Joe's where someone has already lovingly roasted them for you.
6. Jerky
I don't care what you say, jerky is a fantastic food to keep in your desk when you're hungry and sad. There's quite a bit of protein to be had, and if you buy a good and bougie variety, there may be very little in the way of artificial flavors, additives, etc.

7. Hard-Boiled Eggs
Nothing says "I'm hopeless, but at least I'm fit" like shoving a hard-boiled egg into your mouth around 2:15pm on a Tuesday, LOL AMIRITE. But seriously, eggs are a great source of protein and are only about 90 calories each. So either eat a whole hard-boiled egg, or chop it up and put it on a piece of whole wheat toast for a more normal (and satisfying) midday snack that won't result in hunger an hour later.
8. Dark Chocolate
Thank you, God! Three squares of dark chocolate (or even five or six dark chocolate Hershey's Kisses) can help regulate your stress hormones, which, honestly, are probs part of why you're hungry anyway. Plus, dark chocolate has antioxidants and usually lower sugar than the more common milk variety.

9. Pickles
Again, if you really want to just weird out your coworkers (sign me up), dive into a jar of pickles every day at the exact same time. They only have 16 calories per cup, which means you can def eat the whole jar or play "how many can I fit in my mouth" with three to six of them at a time. Since pickles are (spoiler alert) just cucumbers soaked in vinegar, the water content will keep you full and stop your salt cravings.
Images: Anastasia Zhenina, Unsplash; Giphy (8)