A Company Shamed An Applicant For Her IG Pic & It's Backfiring Spectacularly
Yesterday started out just like any other mediocre American Tuesday. Birds were singing, politicians were tweeting, and millennials around the country were trying to find jobs that would help them pay off their thousands of dollars in student loan debt while simultaneously not making them want to die (aka: the dream). 
So, naturally, when 24-year-old Emily Clow went to apply for a Marketing Coordinator position with the company, Kickass Masterminds, she didn't exactly have the highest of hopes. I mean, this is 2019. People with their masters are working at The Gap and as the great Pam Beesly once said, "I applied to Old Navy, Target and Wal-mart. None of 'em called me back. Not even for an interview."
Things are pretty bleak in the ol' job market for us. 
Clow's mentality? Best case, she'd get a neat job with what appeared to be a cool, female-forward company in the general direction she was hoping to take her career. Worst case? She'd never hear back from them and will have wasted a few minutes of her life by applying via the Indeed easy application service.
OR SO SHE THOUGHT *bum bum bum*!!!!!!!!!!!
After applying on Indeed around 9:40am, Clow was sent a link with the second part of the application asking about her marketing background, how she would describe herself, to tell a story proving her "grit and toughness," etc. etc. etc. Usual HR bs to weed out the weirdos. This is where things take a turn for the ~scandalous.~
According to Clow, just after submitting the second half of her application, a message appeared saying that "following their Instagram gives applicants an advantage over other applicants."
And because our girl gets after it, she gave the company a follow around 11:15am. She scrolled through its posts. She checked out its audience. And then, she clicked on its stories.
There, posted for the company's followers, interested candidates, and quite literally anyone else with internet access to see, was a bikini photo taken from Emily Clow's very own Instagram that was posted in JUNE. And because words will never do justice to just how f*cked up this post was, I'll allow you to see for yourself:
@kickassmasterm pic.twitter.com/rhVUhMTsZg

— Emily Clow (@emilyeclow) October 1, 2019
Ho-ly f*ck, right?
"I was shocked to see an employer I was intrigued by and hoping to at least interview with would shame me so publicly through their company Instagram," said Clow. "It took me a while to read the captions of the story fully."
And once she did? Things didn't really get better. I mean, imagine seeing one of your (warranted and acceptable, albeit envy-inducing) like-trap swimsuit photos being literally blasted around the internet saying "this is how you don't get jobs." F*cked up, right?
"It made me feel as if they were judging my bikini pics and comparing it to my work ethic, which they hadn't even discussed with me or past employers with at this time."
THEY DIDN'T EVEN TALK TO HER CONTACTS. They just saw her hot-ass profile and were like "nope, this girl posts pictures in her swimsuit. In 2019. Let's shame the sh*t out of her for being hot? Being confident? Understanding the market of her followers? Instead of just casually rejecting her resume without making a fuss (which is still, of course, f*cked up)."
The craziest part? Clow wasn't even following them yet when they posted the picture. She didn't send her Facebook with her resume (because she's not a mom with cats and attachment issues), and she didn't even send a f*cking headshot, which is something I guess hot people do sometimes for influencer and brand ambassador positions. She straight up just sent her resume and got this nonsense. And at first? The shaming worked.
"I sat on the decision to reach out for a bit, but I did eventually stating how I had archived the picture," which is now, thankfully, back. Because a picture that good does not belong hidden in archives because some assholes made you feel falsely inferior, "along with an 'I appreciate the advice' message."
Ready for it guys? Ready? READY? It's so good. Here's the response she got:

"I sent an email shortly after my first DM to the company saying how I recently applied to the Marketing Coordinator position. I attached my resume and cover letter for their convenience, acknowledged that they were going through applications, and said how I hoped to hear from them soon in regard to the position. At the end of the email, I stated, 'PS — Please take down the picture of me from your Instagram story. Thank you for understanding.'"
Even at THIS point, Clow is being gracious despite the fact that this is some mean girl sh*t if I've ever seen it. Wanna guess how the company responded?
"The company blocked me after they replied 'Best of luck,' on Instagram."
They blocked her. This "marketing" (I put it in quotes because this is the silliest example of marketing I've ever seen) "company" (I put this in quotes because I'm on the edge of my seat to see if this will still even be a company by the time this piece publishes) blocked an applicant who politely asked them to take down a harassing photo of her that she didn't give permission for them to use. 
Whew! What is this? The marketing team of Caroline Calloway? Kidding, they would never make a mistake like this. Anyway, I digress. At this point, Clow is starting to get rightfully upset. I would have f*cking burned sh*t down by now, but she's been handling this straight-up sexual harassment with a patience and inner zen that I have never known.
So, after the company put her on blast for no reason, blocked her, AND shamed her, she decided it was time to turn the tables juuuuuust a little bit. 
"I posted a personal story tagging the company and calling out their behavior on my personal Instagram and Twitter after they blocked me."


Now, before we move forward, I need to tell you all a secret: I know Emily Clow. I've worked with Emily Clow. I've hung out with Emily Clow. And I get the whole "how can girls be hot and also smart, driven, AND cool" jealousy that exists, but the thing is? Emily Clow is one down-to-Earth bitch. I hate everyone and trust me, I tried. But she's kinda the full package. So, knowing this, I was outraged (and now officially invested).
So, just after posting to Twitter and getting a HEAP of responses (yet still no response from Kickass Masterminds and STILL no removal of her photo), Clow decided to send screenshots to @sheratesdogs around 1:30pm in the hopes that a large account could help get her photo down. Less than an hour later, @sheratesdogs posted the story.
This girl applied for an internship at a company, and they put up this screenshot of her in a bikini on their company Instagram, publicly telling everybody they wouldn't hire her because of this photo. pic.twitter.com/aRQF7CqfSF

— SheRatesDogs (@SheRatesDogs) October 1, 2019
Less than two hours later, Kickass Masterminds' Instagram went private (not to mention the photo was deleted without comment), and less than an hour after THAT their entire web presence went dark. The job listing was taken down. The website was mysteriously down for "scheduled" lol "maintenance" lol. The company metaphorically (and maybe literally) packed up, shredded the files, burned down the building, jumped ship, and pretended this ish never happened. 

Naturally, as someone who loves drama to fight injustice, I had to get to the bottom of what type of company would pull this punkass move. Turns out? It's a female-founded, female-run company headed by Sara Christensen, who just so happens to be the smiling face of the girl who basically told Clow to eff off. The misogyny is coming from inside the house!
According to The Pitch Queen (where she guest-starred on a podcast):
 "Sara Christensen is the feisty founder of Kickass Masterminds. She's been a successful business owner for more than 20 years, starting and running five of her own profitable companies. Her largest business was producing revenue of $10 million per year and had 75 full-time employees when she sold it. She's also owned a Marketing Communications Firm, a Jewelry Design Studio and a Wellness Business.
Before devoting her work full-time to her own businesses, Sara worked as the Head of Marketing and Business Development for several dot-com and high-tech companies.
She's also a best-selling author and keynote speaker."
Author, you say? Keynote speaker, you say? Let us dig. I (naturally) had to find her book and (naturally) had to see what sort of ideas she was peddling. Maybe tips about what to wear to the pool in 1812? How to feel less confident in your skin? How to be a smokeshow but not let people know you're a smokeshow in your posts even though you're obviously a smokeshow? 
Nah, just a good old fashioned "love yourself and stand up for yourself even though you're a woman in corporate America" bit. Lolz.
Lurve how this is the back of #KickassMasterminds founder, Sara Christensen's book. pic.twitter.com/PfjLyXUUdL

— Rachel Varina (@rachelvarina) October 2, 2019
So, Sara's literal WHOLE brand is about learning to stop caring what people think to get ahead in business. You know, kind of what our girl Clow was doing when she APPLIED FOR THE POSITION. Gosh, I love the irony and trust me, it wasn't lost on Clow.
"I am utterly baffled and appalled that a company started by women and that preaches about rebelling against corporate America would objectify applicants and use a traditional mindset when reviewing someone interested in marketing. I don't believe it is unprofessional to wear a bathing suit during the summer in Austin. I didn't realize being comfortable with my body while embodying a strong work ethic was so taboo."
Neither did we, Clow. Neither did we. To say it's baffling to the entire internet would be a massive freaking understatement at this point. 
this is fucking hilarious, considering pic.twitter.com/dmjABdm4s3

— Emily Clow (@emilyeclow) October 1, 2019
At this point, I don't know if Sara was the one who posted the photo or if some social media intern royally f*cked up, but the point is: Kickass Masterminds is well on its way to going viral, and not for the reason any company would want. But hey, any press is good press, right Sara?
"What I find incredible is the amount of support I have received," said Clow. "Obviously, @sheratesdogs posting my story is the sole reason why the company went completely dark. I don't know if I should thank them or not for it, but being able to have a voice in a generation where you can so easily be ignored really is powerful. Yeah, we made a small company in Austin go dark because they objectified me, but we still made a difference.
If it wasn't me, they would've done it to another applicant and who knows what could have happened. I am glad to have been able to speak out and shed light on an issue that is very common (although I didn't think it was in Austin anymore)."
Unfortunately for any of you wannabe marketers out there dying to join this cutting-edge company, it appears Kickass Masterminds is no longer accepting applications. Womp womp.

The best part? After all of this started going down, Clow received a notification that her application was viewed again by the company at 3:47pm on October 1st, a little over an hour after the story started getting traction online. Guess the applicant made quite the impression, huh?
So, when asked if Clow would take the position if it was offered to her now, (because at this point, who knows what will happen? The company could come back and be like "hey! We'll make you president if you don't sue") she gave a resounding "FUUUUUCK NO." JK, Clow is classier than that. What she did say, however, is:
"Absolutely not. One person said in my mentions to the company that, 'it should make any person afraid to work in your organization for fear that they are going to be objectified and sexualized for just living their lives.' I stand by that statement 110%. While I have considered legal action, with my name and face not being displayed in the story, there isn't much I can do."
So, what does Clow want to do now that she's quite literally proven herself as a bomb-ass marketer, having gained close to 400 followers in like, 12 hours?
"I am looking at sales, marketing, and social media jobs. My dream job would be with Red Bull Media. The number of people, teams, and events they sponsor is absurd. To be a part of an ever-growing marketing team whose exposure is expanding exponentially would be incredible."
Get at it, Red Bull. You know our girl is gonna get poached in a heartbeat because when all is said and done NOBODY PUTS CLOW IN THE CORNER!
Still, Sara Christensen has stated that it wasn't the photo that disqualified Clow. In fact, Clow wasn't disqualified at all. From Daily Mail:
"The woman in question was not disqualified because of her social media profile. In fact, she was not disqualified at all. There was no communication to her saying she was disqualified.
She requested that I remove it and I did immediately."
Weird, because it sort of seemed like she was disqualified when her photo was posted on the company's Instagram with the note about how that's not how you get a job. Curious. Anyway, Clow's response to all of this?
"I would hope they take a step back and reevaluate how they approach the vetting process for applicants. In our day in age, social media has become so loose and accepted by most employers as NOT representing someone's work ethic and experience. I hope in the future that no other applicant has this experience. Although it has sparked a discussion about social media and job hunting, I don't think a bikini pic should judge someone's ability to do a job successfully."
I'll say it again for the folks in the back: NOBODY PUTS CLOW IN THE CORNER!!!!!!!!!!!
Images: emilyeclow (2), sheratesdogs, rachelvarina / Twitter; clowd_nine (2) / Instagram; kickassmasterminds.com; indeed.com
Why Being A Slut Is An Important Part Of My Identity
The first time someone called me a slut (that I know of) was at a bonfire party in high school, and she said it right to my face. Rude, but go off, Elizabeth (I never forget a name). I had just hooked up with two guys in one night (damn, I'm good), so technically she was right, but only in the way that I think the word to mean now. When she walked up to me and sneered, "slut," it was clearly meant as an insult. And when I stood there and let the word slap me across the face, I did what I would do every time I got slut shamed for the next decade or so: pretended to brush it off, but deep down feel the sharp sting of being called something "dirty." For years, I fought in vain to not feel hurt when I got labeled as a slut, but I spent so much time focusing on what this categorization of me meant to other people, and not what it meant to me. Once I realized that being a slut was something I could do for me, not for other people, the power these slut-shamers had over me fell from their hands and into my own. Being a whore is a journey, and I'd like to take you on mine.
I attended high school from 2006 to 2010, so slut shaming was still very much alive and well—dare I say, thriving. Those are the years I began my slut-journey, as I hooked up with randos left and right, and soon became labeled as the kind of girl you "hit it and quit it" with, but not the girl you ask to the homecoming dance and then date on and off until graduation.
On the one hand, it's great that I felt I had the right to bone whoever I wanted, and on the other hand it f*cking sucks that doing so made people think of me as some sort of sexual object that didn't deserve love and affection. I knew what people thought of me, and I took the pain it caused me, shoved it deep, deep down, and then pretended like I had replaced it with pride and a fun 'n flirty "I don't give a f*ck" attitude. Guys didn't want to date me? Good! Boys are gross pigs. I'll beat them at their own game and just use them for sex too.
But here's the problem with that: I was the one being called a stupid whore for sleeping around, not the boys I was doing it with. They got to walk around like kings, confirming my reputation over high-fives and then deciding who was worthy of dating them. Meanwhile, I fought internal battles over whether or not I deserved love because I couldn't seem to keep my legs closed.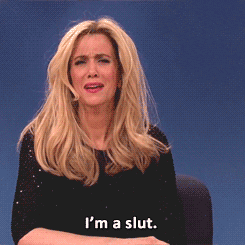 So, why did I keep sleeping around if it led to me feeling hurt and belittled? Lots to unpack there, babe, but I'll give the short version. For one, I was aware of how unfair the double standard was when it came to me being labeled a slut for doing things guys got popularity points for. And that made me angry, so I reacted by defying my role as a girl who cares about the labels that were being unfairly assigned. But it was complicated, because in the end these boys did hold a power over me. They were the gatekeepers after all, and as much as I hated to admit it, I wanted them to like me. And the only worth I had been told I had was my sexuality. So I gave it to them, often hoping that would appreciate my "cool, fun chick who doesn't care" persona and deem me "not like the other girls."
In short, I wanted to show that I could play the game too, but was in denial of the fact that I was simply playing by the boys' rules and feeling helpless/useless because I was never the one that got to call the shots. This all led to years of me acting as a slut for other people, mainly men. Being proud of my sluttiness became a defense mechanism I presented to other people, not something to hold onto for myself. But once I realized being a slut for me was an option, things began to change.
As I grew older, I discovered that my pleasure mattered. It seems obvious, but for me—and I think a lot of women—this concept takes a while to really sink in. It also helped that I started having actual good sex, masturbating more, and stopped putting up with men's bullsh*t. Did you know if a guy is being a f*ckboy you can just walk away? Incredible. And all of these things brought me pleasure, whether it was sexual, emotional, mental, etc. I began to focus on other things that made me feel good: dressing up and feeling sexy, exploring my sexuality, forming my own opinions and saying them loud and proud, and not backing down when people tried to silence me. Slowly but surely, the word slut stopped being something I let people apply to me so I could act accordingly, and became something I decided for myself.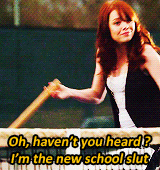 The last time someone called me a slut to my face was when a man I had previously been involved with asked me to go home with him. I said no, I didn't want to, and he responded by calling me a slut. This was a turning point for me. His "accusation" made no sense. I was being called a slut for not sleeping with him, when supposedly this word was given to someone who sleeps around. But here's the thing: he was using this word because he was angry that I wasn't doing what he wanted me to do with my sexuality. That's what a slut really is: a woman in control of herself. He proved that the term is meaningless when applied to me negatively by someone else, because this thing that he was mad at—me doing what I want, not what some man wants me to—was something I could actually be proud of. Hell yeah I'm a slut, but not in the way he wanted me to feel like one.
I love being a slut. I love putting on my freakum dress and feeling my strength. I love having good sex, watching porn, sending fire nudes, masturbating, speaking my mind, fighting trolls on the internet, staying in and taking care of myself when I'm drained, popping my pussy at the club, voting, fighting stigma, taking up space, opening my mind, and so much more. I'm working on loving myself, and doing so proves that I am deserving of love, not because I'm no longer a slut like everyone told me, but because I am a slut, as I have decided, and I f*cking love that for me.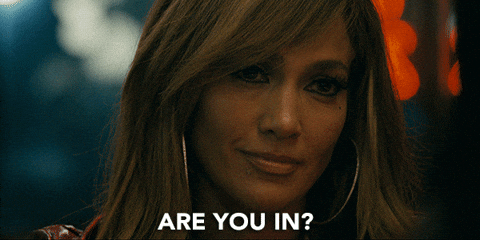 Being a slut means embracing your power and doing what brings you pleasure, even when people tell you you don't have the right. Viva la slut!
Images: Giphy (3)
5 Ways to Celebrate Sex Workers in Honor of International Whores' Day
Ding ding, bitch, it's International Whores' Day! Despite what you might think, this isn't just the one day a year that a girl can dress like a total slut and nobody can say anything about it (that's every day, babe), it's more of a day meant to raise awareness about sex workers' rights. It's a day for sex workers and allies to gather and demand the end of police and state violence, whorephobia, stigma and shaming, and advocate for the decriminalization of all sex work.
June 2 commemorates the 1975 occupation of Église Saint-Nizier church, where thousands of sex workers gathered to protest their inhumane working conditions. Forty years later, sex work is still wildly misunderstood and stigmatized, and sex workers are still struggling to be protected instead of condemned by the law. Again, we totally support your right to dress like a whore in celebration of today, but we also encourage you to do a little more. Here are five easy ways to support sex workers today and tbh every day.
1. Go to an Event
There will be lots of marches, parties, and gatherings to celebrate and honor today. Hit up your friend Google and see what's going on in your city. If you can't find anything, gather your friends and talk about sex work in a positive light. Maybe some of your friends have some problematic ideas about it, or just don't know enough about it in order to have an informed opinion. Maybe you don't either. Change that! Spend the day having a dialogue with people about the issues sex workers face: poor working conditions, police brutality, stigmatization, and laws that actively put them in danger. Wherever you decide to gather, make sure you're reflecting on what today is about. Be the hero you deserve!
2. Donate to an Organization
There are a lot of amazing organizations that help sex workers — The Sex Workers Project, The Sex Workers Outreach Project, and Lysistrata to name a few. Most of these organizations provide legal aid to sex workers who need it, and work to end the stigma and shame that sex work is met with far too often. These kinds of organizations are usually people's first thought when wondering where to donate, so throwing them some money is really helpful. Plus, donating to charity is like, so hot right now.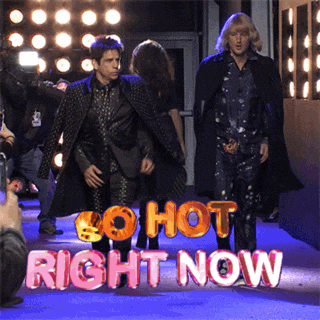 3. Help End the Stigma
I've been talking a lot about stigma, so let's take a deeper dive, shall we? There are many different jobs that are considered sex work, such as stripper, adult film actor, dominatrix, web cam performer, escort, or someone who sells sex for money. Some of these are legal, some are not (mainly selling sex for money). However, they are all stigmatized. People look down on sex workers, as if they are "dirty," "low class," or "desperate for money." This, my good bitch, is f*cking stupid. Sex work is work, and if we're being real, the only reason it has this negative connotation is because sex workers are often womxn, and people are uncomfortable with the idea of a woman using her body as a means for making money. It's a form of slut shaming, and slut shaming is literally so lame. So, once you yourself realize how *rude* it is to look down on sex workers, make sure your friends do the same. Correct people when they say offensive sh*t about sex workers or use words like "hooker," "prostitute," or "whore" in a derogatory way. Speaking about sex workers in this other-ing way isn't just mean, it's dangerous. It persuades people to think that sex workers don't deserve rights or to be treated humanely. And that is what we call "evil bullsh*t."
4. Educate Yourself & VOTE
Okay, let's talk about these laws that are putting sex workers in danger. One of the best examples of this is the Stop Enabling Sex Trafficking Act (SESTA). Now, you're probably thinking, "Wait, sex trafficking is bad…so a law named for stopping it must be good, right?" Think again, b*tch! In theory, SESTA is supposed to make it easier to stop people from using the internet for sex trafficking. However, since people often forget to distinguish between sex trafficking and consensual sex work, this law has made things harder and more dangerous for those who chose to do sex work. Online communities are where a lot of sex workers find their business, and how they communicate with each other and stay safe. Without online, regulated sites, many sex workers are forced offline and into less safe spaces where things aren't monitored as well, such as the streets.  Also, just as a note, Ivanka Trump advocated for this law, so. Anyway, there's a lot to know about these kinds of laws, and it's important to read up on them, know which lawmakers are for/against them, and vote accordingly. Also — and I cannot stress this enough — please remember to decipher between sex trafficking and sex work. Not doing so does a huge disservice to sex workers and only puts them in harm's way.
5. Give Sex Workers Your Money
If you're into it, go enjoy the amazing services of sex workers. Buy some lapdances, purchase some porn, do your thing. Sex workers love getting paid for what they do. I mean, don't we all? Show them some love and TIP THEM WELL, GOD DAMNIT.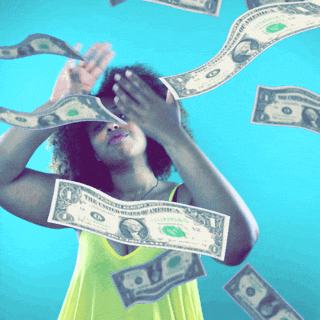 Happy International Whores' Day! Now get out there and live your best whore life!
For more on this topic, listen to this special episode of the Betches Sup podcast with author Angelina Lombardo. She covers her own experiences with sex work, the movement to decriminalize it and the risks of waiting too long to do so. 
Heads up, you need to keep up with the news. It's not cute anymore. That's why we've created a 5x weekly newsletter called The 'Sup that will explain all the news of the week in a hilarious af way. Because if we weren't laughing, we'd be crying. Sign up for The 'Sup now!
Is It Slutty To Tell My Coworker That I Think He's Hot? Ask A Pro
When Head Pro calls you a "slut," he's doing so in a super progressive, feminist way to show his solidarity, and he's honestly offended that you didn't realize he was being an ally. Email him your pressing dating questions at [email protected], and follow him on Twitter and Insta at @betchesheadpro.
Hey Head Pro,
So a few years ago, I had a MAJOR work crush on this guy. I couldn't get him out of my head. He would pop up, totally uninvited, in sex dreams, like all the time. The thing was that back then, I had a really serious boyfriend. Serious enough that I quit that job to move to be with him. Obviously, here we are, with me writing to you—it didn't work out.
I'm moving back to my home city soon and thinking about hitting him up. Here's the question: IF we got back in touch, and IF he was interested, and IF anything happened:
Bad move or okay move to admit to him that I couldn't get him out of my head back in the day?
It's honest, and my nature is to be honest. And I feel like it's a good thing to hear that someone thought you were hot….maybe?? In this context, though, would it just make him think I'm an unserious and kind of slutty girl?
For what it's worth, I feel really good saying me and him never crossed a line when we worked together. Separately, I also kind of feel like he reciprocated? And separately-separately, he might not even text me back so who tf knows if this question is worth any airtime at all! But I really hope he does, and I really hope it is.
Lmk?
Yours truly,
The horniest entry-level ex-coworker in town

Dear Horny Entry-Level Ex-Coworker,
Honestly this probably wouldn't have been worthy of airtime, if not for 1) the little tidbit at the end mentioning that you used to work together, and 2) that it brings up a larger question: When, if ever, is it a good idea to tell a guy that you think he's a sexy studmuffin?
The question itself isn't that interesting (spoiler: you never need to do this), but your reasons for waffling on it are: you're worried he might think you're "unserious and slutty." Shoving aside the ridiculous idea that any reasonable person would ever react to a compliment that way, this is a fine example of the deeply f*cked up way we think of women and courtship!
What is a slut, exactly, and what's slutty? Is it a woman who's had too many sexual partners? How many is too many? Does it matter whether or not she was dating them at the time they were humping? Is someone "slutty" when they flirt too much? When they dress too (in your opinion) provocatively? If so, ok—again, what about her are those actions/behaviors revealing? That she has too much sex? That she sleeps with other women's partners?
You don't know, and you can't answer any of those questions in any way that would *extremely online debate nerd voice* hold up to even mild logic or scrutiny. It's because sluts effectively aren't real; the term is just a pejorative we use when a woman we don't like behaves in a way that's inconsistent with our values and/or worldview and we lack a more precise way to describe our displeasure. Think about it: Guys love easy sex, but plenty will tell you they don't like sluts. How does that compute? It doesn't, because sluts are only real in the sense that that's how we refer to women who don't act the way we think they ought to (in the case of most men, that means "having sex with anyone who's not me").
Thinking about it that way, your "unserious and slutty" descriptor becomes even funnier. Your real self-criticism is right there in "unserious": Most of us have grown up in a world where the default circumstance is men making the overtures to women. Therefore, you hit upon the idea that a woman flipping the script and making the overture to the man is so odd, so unbelievable, that he would think it was a joke before he gave it serious consideration. BUT, because this is also a cultural and sexual norm you'd be breaking, you slapped the "slutty" label on there because it just felt right. We know, for you at least (and probably a lot of people), what defines a slut: a woman who's sexually aggressive outside of established norms (even if that woman is you).
Realistically, these aren't risks—guys really do tire of having to do all the heavy lifting, and an invitation to the Bone Zone Cafe from the cute office girl you used to flirt with would be a godsend. Instead what you have to contend with is the potential embarrassment if he for whatever reason rejects or brushes aside the compliment. I think I'm being scientifically accurate when I say that would be embarrassing enough to cause you to rend your skin from your flesh and throw it into a fireplace.
Don't be an idiot. Did it take your ex-boyfriend saying he cranked his hog to you before you agreed to date him? Of course not. Just do some mild social media stalking to make sure he doesn't have a girlfriend, and then message him on your platform of choice. A text that says "hey I'm back in town, let's catch up :)" is about as clear as you need to be.
Moving twice in a short period of time sounds like hell,
Head Pro
When Head Pro calls you a "slut," he's doing so in a super progressive, feminist way to show his solidarity, and he's honestly offended that you didn't realize he was being an ally. Email him your pressing dating questions at [email protected], and follow him on Twitter and Insta at @betchesheadpro.
Images: Alex Holyoake on Unsplash, Giphy
Younes Bendjima Publicly Slut-Shamed Kourtney Kardashian & It's Not OK
Well fam, I've got bad news. My file folder of men who are trash is looking pretty full these days, but I might have to make room for one more. He might be the hottest of the Kardashian-adjacent men, but, reportedly, Younes Bendjima slut-shamed Kourtney Kardashian on her Instagram, and that's just unacceptable. I'm so mad. I knew he was too good to be true. No one with abs like that should ever be trusted, and that's that.
This whole debacle reportedly happened on Monday, when Kourtney Kardashian posted a photo of herself looking like a damn SNACK. It's a classic sit-on-your-knees-in-a-field-and-look-back-at-the-camera shot, and she looks natural and stunning in a floral bikini and floppy sunhat that's about three times bigger than her torso. Seriously, Kourtney is not wearing any makeup, and I can't get over how pretty and happy she looks. Like, I just want the world for her. Lots of celebs agreed in the comments, with people like Bella Hadid, Travis Barker, and Diplo commenting lots of praise. Okay, Diplo is kind of a sleaze bag, but you get the point, Kourtney looks hot.
Okay, so I forgot to mention the part where Kourtney's ass is the main focus of the picture, but who f*cking cares? It's 2018. If you're offended by a picture of a butt, you should probably just stay off the internet. Well, Younes Bendjima might want to deactivate for a bit, because apparently he's not ready for this jelly. ("Bootylicious" is the song of our generation, don't @ me.) Younes commented on the photo, criticizing Kourtney's thirst for likes, before deleting the comment later. Lucky for us, screenshots exist, leaving us with proof that Younes sucks.

Are you actually kidding me? First of all, Younes, your girlfriend is hot as hell. You love to show off your body on Instagram, so why shouldn't she? This isn't the 1800s, grow up. Also, if you have issues with what your significant other is posting on social media, perhaps you should deal with that in a forum other than public comments. Kourtney has 65 million followers, do you really want all of them to know that you're a misogynistic douche? You know you could, like, text her, right?
But wait, the plot thickens. According to an anonymous source who allegedly knows Kourtney and Younes, this isn't the first time he's expressed frustration with Kourtney's social media presence. The source told People, "He never liked that she posted sexy pictures of herself on social media. He doesn't want his girlfriend to do that. He gets that it's her job, but wants her to post more covered up pictures. He has always had a problem with this. This is the stuff they argue about and what made them split in the past."
Oh, f*ck all the way off. If this is true, Younes is so effing canceled. "He gets that it's her job?" How about, she's an adult woman who can post whatever she wants, whether it's her job or not! She could post a video of her having a threesome with Nick Jonas and Priyanka Chopra, and the only problem I'd have is that I wasn't invited. @Younes, you don't get to police Kourtney's actions!!

So yeah, Younes and Kourtney just spent an amazing few weeks together in Italy, and it seems like they're still happily together, but this slut-shaming needs to stop ASAP. Kourtney can stay with Younes if she wants, whatever makes her happy, but she shouldn't have to put up with a man who can't put away his bullsh*t ideas of what women should and shouldn't do.
Images: @kourtneykardash / Instagram (2); Giphy