4 Ways To Wear *That* Viral Headband (If GRWM Videos Aren't Your Thing)
Betches may receive a portion of revenue if you click a link and purchase a product or service. The links are independently placed and do not influence editorial content.
Are you tired of your hair getting in the way during your morning or evening skincare routine? Look no further because the latest TikTok trend has got you covered–literally. The Arrvee Spa Headband is the must-have accessory for anyone who wants to pamper themselves in style.
Yes, I'm talking about *that* viral headband. The puffy one that every GRWM video on your FYP seems to feature. The one that's become fodder for meme content all over Instagram. This headband's reputation definitely precedes this review, but I don't really care. I'm going to defend this headband. Not only is it totally functional, but it's also really f*cking cute. Made from soft, plush material, it's comfortable to wear and won't leave any marks on your forehead. Plus, the elastic band ensures a snug fit that won't slip off your head. You'll feel like a queen in your own personal spa, even if it's just your bathroom.
But let's be real, the best part about the spa headband is how it makes you look. With its adorable bubble design and pastel colors, you'll feel super Kawaii. And who doesn't need a little bit of fun added to their skincare routine…especially first thing in the morning when you're still attempting to open your eyes and make yourself presentable for the office?
Not convinced yet? Well, have I got something for you. I've compiled a list of ways you can wear your Arvee Spa Headband that have nothing to do with TikTok. Behold:
Wear it to bed and wake up with perfect hair. No more waking up with a crazy mane that takes hours to tame. It'll keep your hair in place while you sleep, so you can wake up looking like a beauty queen.
Use it as a sweatband during an at-home workout. Sure, it might not be designed for that, but who cares? The Spa Headband is versatile enough to be used for more than just skincare.
Wear it as a statement piece. Who says headbands are just for practical use? The Arvee Spa Headband is so cute that it can be worn as an actual accessory.
Step your content creation game up. Start filming some TikTok videos yourself of your own skincare or makeup routine to share it with others.
So, if you want to upgrade your at-home spa game, the Spa Headband is the way to go. It's cute, practical, and affordable. Plus, it's the perfect accessory for your next TikTok #GRWM video—you know, if that's your thing.  Don't miss out on the latest trend–shop the Arvee Spa Headband below.

Does Foundation Make Your Skin Suck?
Does foundation make your skin suck? The short, the frustrating answer is maybe. It's possible that your foundation is making you break out, which is a huge bummer. But that doesn't mean you need to forgo coverage in order to get good skin. Actually, it may be something else you're doing wrong and not the makeup itself causing all the trouble on your face. (Go ahead, breathe a sigh of relief.) So before you toss your makeup bag and that $40 foundation you just bought, check to see if you're committing one of these skin care sins.
1. You're Using The Wrong Foundation
If you feel that your base is breaking you out, it may be because you're using the wrong one. "Look for a product that is non-comedogenic, meaning it shouldn't obstruct pores and create acne," says Los Angeles dermatologist Ava Shamban. This shouldn't be that hard—these options often clearly say non-comedogenic on the bottle, but it also doesn't hurt to take a quick scan of the ingredients label just to be sure. While you're doing that, Shamban says to avoid sodium laurel sulfate, lanolin, coconut oil, and butyl stearate, since they're the most common pore-clogging offenders. These formulas will tend to be more water-based and lighter in texture, which is another good sign a product won't produce acne.
2. It Might Be How You're Applying Your Product
Sometimes it's not about the foundation, but it's about what else is touching your face. I'm not psychic, but I know that you're not cleaning your makeup brushes enough. Literally NO ONE DOES. "You want to wash them once a week," recommends Shamban. Wow, ok, my entire life has been a lie. The reason is that when your brushes are damp, as they get from liquid makeup, it creates an ideal environment to grow bacteria. Ew. Dr. Shamban also warns against using a compact with a reusable sponge, because touching the applicator to your face and placing it back to the compact can contaminate the product. "Something with a pump is cleaner," she advises.
3. Sleeping In Your Makeup Is Still The Wooooorst
"Foundation acts like fly paper," says Shamban. "everything sticks to it—tiny soot particles, air pollutants, car emissions." Are you horrified? I'm horrified. That's why sleeping in your makeup is such a huge no-no. You're leaving all these gross things stuck to your face for extra hours. Up your cleansing game by following your cleanser with a micellar water to make sure you've gotten everything off. In a pinch, if you can't wash your face, it's still better to use a makeup wipe to quickly get it off than to leave it on all night. 
 4. Makeup Doesn't Cover Up Bad Skin Care
Keep in mind most makeup floats on top of your skin and can't fix the fact that you've eaten pizza all weekend and haven't exfoliated since the Obama administration. "I think the biggest problem with foundation is that people use it to cover up all kinds of bad habits," says Shamban. "When the skin gets dull it's because it's not exfoliated or not hydrated."  Without proper prep, foundation can exacerbate poor tone and texture even though the foundation itself is not the cause. Fix that by exfoliating once a week (either physically with a cleansing brush or chemically with a glycolic acid) to remove built-up skin cells that can congest pores and cause acne and dullness. Every day, you should use an antioxidant to protect your skin against the aforementioned pollution, and be sure to moisturize and use SPF.
5. But Foundation Can Actually Be Good For You, Too! 
The confidence you get from having clear, even skin is a benefit in itself, but certain foundations do even more than that. Mattifying formulas can control oil, and foundations containing sunscreen can, you guessed it, protect you from the sun, which provides longer term benefits to your skin. "Sun damage equals fine lines, wrinkles and brown spots," says Shamban, which might cause you to want to wear more corrective makeup. The best way to prevent against the damage is, you already know, sunscreen. Options with SPF 30 can go a long way to improving your skin over time.
So now you're probably wondering what foundations won't make your skin suck. Don't worry, I got you. Here are some dermatologist-approved options at a variety of price points, so you can see what works best for you. Everyone's skin is different, but these options are a good place to start.

It Cosmetics CC+ Cream Oil-Free Matte with SPF 40 — $39

Dermablend Cover Crème Full Coverage Foundation SPF 30 — $39

Clinique Acne Liquid Makeup — $29.50

Dior Backstage Face and Body Foundation — $40

Oxygenetix Oxygenating Foundation — $66

Neutrogena SkinClearing Liquid Makeup — $14.59
Images: Kevin Laminto / Unsplash; betches, nottoopretty, dietstartstomorrow / Instagram; It Cosmetics, Dermablend, Clinique, Dior, Oxygenetix, Neutrogena
I Actually Believe In Day And Night Creams Now—Here's Why
As someone who reads and writes about skincare on a daily basis, I find myself hitting something I call "skincare fatigue." Just when I'd mastered toner (kind of), I start hearing about serums, retinol creams, and whatever the f*ck an "essence" is. Thankfully, the concept of day cream vs. night cream isn't new to me—but actually using a different moisturizer for morning and evening is. I'd always kind of figured that "needing" two different moisturizers was just a way for companies to sell you more products. But three weeks in to my new regime, I'm sold. Here's why.
Night Cream Needs Time To Sink In
The purchase that kicked off this whole venture is Tatcha's Dewy Skin Cream, a moisturizer I feel confident in calling pure magic. From the moment I got my hands on all that silky lavender goodness, I loved it so much I wanted to take a bath in it. This moisturizer has brought my skin back to life after a night out, scared burgeoning pimples back into hiding, and—praise be—NOT activated my rosacea, which just about every other celeb-approved moisturizer does. (Looking at you, La Mer. I wanted so badly to love you.)

Now that my shameless Tatcha evangelizing is out of the way, on to the real point. Because I was so excited about this moisturizer, I was using it morning and night—and quickly realized my mistake. I have a four-step routine I stick to: cleanser, toner, treatment, moisturizer. Because the sun exists, and because my skin is so dry that sunscreen alone does not moisturize it, I have to follow up that four-step routine with an SPF cream in the morning—all before adding any makeup.
Now, anyone who's tried to quickly apply five different face products and then add foundation on top will immediately see the problem here. My beloved Tatcha moisturizer is on the thicker side, which is perfect for my dry skin—but it takes a solid 15-20 minutes to be completely absorbed. That would be fine if it were my only morning skincare step, but I also have to give my toner and treatment steps 5-10 minutes each to sink in. That gets us up to 30 minutes on pre-make-up skincare, minimum. In my week of trying to use the Dewy Skin Cream as a day cream, I don't think I managed to put foundation on once. Since I never had enough time to let the moisturizer sink in all the way, even my sunscreen was barely getting absorbed—which means I was going out looking like a greasy, white-tinged mess.
Note: Dewy Skin Cream isn't advertised specifically as a night cream—there's a different night cream from that product line—but that's how it works best for me. As a rule, night creams will be thicker than day creams, and are formulated to moisturize while you sleep.
Me, waking up post-Tatcha moisturizer: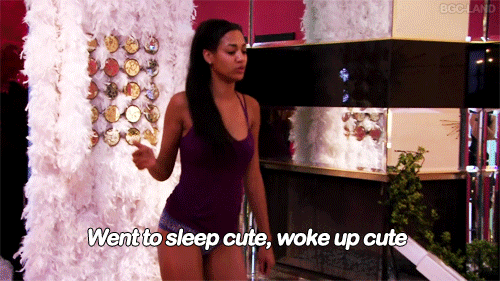 Day Cream Protects; Night Cream Repairs
Day cream, I learned, has one major job: to protect your face from the sun, so basically to contain as much SPF as you can stand. (For reference, I use SPF 46—do not come at me with your SPF 15 liquid foundation). Like I said before, I have a special breed of lizard skin that requires me to pair said SPF 46 lotion with a second day cream—but if you have the option of combining these steps, I strongly recommend you do. I love this one from Origins (so brightening), or this SPF 50 IT Cosmetics CC cream. (No, I don't know what a CC cream is, and my head will explode if I research further.) I own this cream, and would refer to it as somewhere between light coverage foundation and tinted moisturizer.

Scott Disick knows what's up, a sentence I never thought I'd utter.
If you are like me, and SPF products aren't moisturizing enough on their own, I recommend a super lightweight cream that sinks in quickly. My personal fave for this is Cerave, which makes both a day cream and a night cream.
While day cream bears the brunt of sun protection, your night cream can and should have active ingredients too. We've already discussed the benefit of adding retinol to your daily routine, and 2019 is heading toward being the year of glycolic acid. These ingredients are both great, because they help speed up cell turnover, AKA get rid of the dead skin and bring in the new, better skin. Very scientific, I know. However, both of these ingredients also make your skin more sensitive to the sun. I can personally attest to this—this past December, I used a retinol oil and then went out for a day of skiing. Within 24 hours, I developed dark, rough patches of sunburn on my face like I'd never seen before, and they lasted well through New Year's Eve. Happy 2019 to me!
So, while retinol and AHAs are a good addition to night creams, they should absolutely be avoided in your day creams. On the flip side, you're welcome to put on SPF at night—but unless you're sleeping at a campsite, I'm not sure why you would.
Ultimately, you could just say f*ck it and use the same lightweight moisturizer with zero active ingredients for both day and night (plus sunscreen, obv). But if you have skin that's on the dryer side, I highly recommend investing in a thicker night cream—and not making the mistake I did of piling it on in the morning, too.
Images: Tatcha; Giphy (2)
This Is The Best Order For Your Skincare Routine
Judging from all the "gifts to give yourself" guides out there this season, I gather I'm not alone in treating December as "spend yourself blind" month. (Also: go get the Skin Laundry facial that list recommends; it's amazing.) And what better way to spend a sh*t ton of money invest in yourself than by amping up your skincare routine? In the past two weeks, I've added a serum, a facial oil, and an "elixir" to my fairly basic four-step routine. But within twelve hours of my exciting new purchases, I realized I had no idea how to use them correctly. Skincare products all tend to list "apply daily to clean, dry skin," but that's about it. So, in an attempt to not waste my new goodies, I actually sat down and researched. Here's what I've learned about the best order for your skincare routine.
Step 1: Cleanser
All authorities I consulted concurred on this. The first step in any skincare routine should be cleaning your face. If this strikes you as surprising, then I have the perfect gift for you. Enjoy!
Step 2: Toner
Byrdie offers a little dissent here, suggesting that Step 2 should be exfoliator, not toner. However, my skincare-savvy readers will know well that not all skin types require and/or take well to regular use of an exfoliant. And very few exfoliants are suitable for anyone for daily use. (You can go shave your back now Byrdie!) Anyway, exfoliate if you need to, but consider it part of the cleansing step of your routine. Toner then clears away any remaining makeup/product, as well as doing whatever else the bottle promises (tightening pores, evening skin tone, giving you eternal life, etc.).
I've written more about toner types here, but Cosmo offers a key tip I'll include. If your toner contains an AHA (like glycolic acid or lactic acid) or BHA (like salicylic acid), you'll want to wait a "full five minutes" before moving on to your next step. Otherwise, you'll neutralize the acids, rendering the active ingredient useless. (Moment of silence for all the toner I've wasted on my face please.)
Me @ my toner:

Step 3: Serums/Eye Cream
Once again, all my sources voted to use a serum as step 3. Cosmo describes serums as "shots of extremely concentrated nutrients, hydrators, and antioxidants." Like with toner, you'll want to pick the specific one based on your skin's needs. The one I've recently invested in contains Vitamin C, a common dermatologist recommendation. But you can also use different serums in the morning and at night, in which case you could swap in a hydrating serum at night. Again, all depends on your skin.
Eye cream, which I've realized over the course of my research is still lacking in my skincare routine, is a slightly more conflicted issue. Cosmo says to apply after serum and before moisturizer, since eye cream "tends to be lighter and thinner," and can't "penetrate thicker products," AKA your moisturizer. Dermstore suggests using it before serums in the morning, but after serums at night. (And it stresses the importance of applying twice daily from a young age—good thing I have endless money and time, am I right??) For Dermstore, the key thing is to apply eye cream before your "treatments" (more on that in a minute), to "protect your eye area against potent ingredients." Both of these rules make logical sense to me, so if your serums has potentially irritating ingredients, do eye cream first. And def do it before moisturizer.
Side note: this research has also convinced me that I've been applying my new serums at the wrong time, in addition to neutralizing my toner.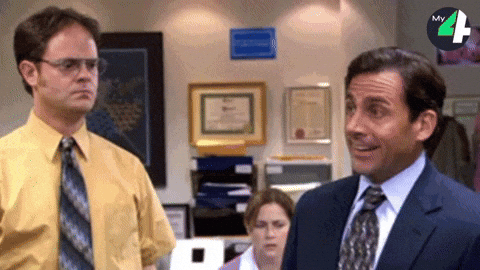 Step 4: Treatment
If you're thinking "treatment? what's that?" you either have perfect skin and I hate you, or you need to get to a dermatologist ASAP. "Treatment" can refer to a spot treatment (active ingredients will vary depending on whether you're treating acne scars or regular old pimples), or prescription treatments for acne or rosacea. (For example, I use my Finacea foam for rosacea during this step—though for the past two weeks I've been using it before my serum. Ugh.)
Dermstore again recommends different things for your night routine here. At night, they suggest you add any "mists, essences, beauty waters, or hydrating (hyaluronic acid) serums" to your toner step—applying "from thinnest to thickest." (I can't really begin to wrap my head around what those products are, but Dermstore sums them up as "skin care boosters" whose purpose is "mainly to hydrate." Cool.) Then, Dermstore recommends chasing your nightly eye cream with whatever treatment serum your skin needs that night. So, not just blindly slathering on every product you own (strike three for me).
Specifically, they advise against using an exfoliating treatment (AHA/BHA pads, peels) the same night as any prescription meds or retinol creams, since the potency can quickly become irritating. And they recommend using an exfoliating treatment no more than three times a week. In simpler terms, it sounds like alternating a prescription treatment or retinol with an exfoliating treatment is the best way to go.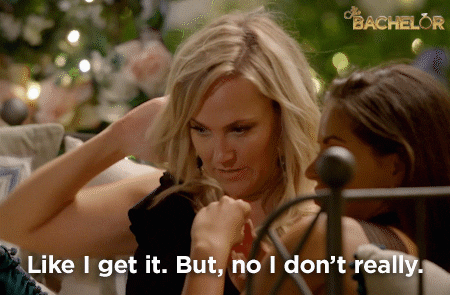 Step 5: Moisturizer/Face Oil
Once you've gotten to moisturizer, you know you're nearly there. (Good job! Now you just have a 16-step makeup routine to get through). For your nighttime routine, Dermstore recommends adding face oil before your moisturizer, with the warning note that "if you are using the right moisturizer…nothing is going to get through it." Cosmo, however, vehemently disagrees, stating "no products can penetrate an oil, which means they need to be applied last." Cosmo also recommends putting a retinol-based product between moisturizer and face oil, while Dermstore lumps in retinols with your pre-moisturizer treatments. One of my new products is a face oil that contains retinol, so no matter what I do I'll be f*cking up one of these rules.
My best advice here is to try it both ways (the order of your oil/moisturizer/retinol), and see what feels best to you. Since oils and moisturizers vary in thickness and active ingredients (and everyone's skin is different!), do whatever feels best for your face. In my case, I've found that mixing the face oil with moisturizer is most effective for absorbing both products.
Step 6: Sunscreen
This is a morning-only rule, obvs, but it's also one you need to follow every single day. Is it annoying? Yes. Does it feel like it will solve all your problems, like serums and essences do? It does not. But just do it, because otherwise you'll get dark spots and sun damage that only a laser can fix. And that's way more expensive than even the fanciest sunscreen option.
Hilary Duff may not be able to name babies, but she can still give good skincare advice!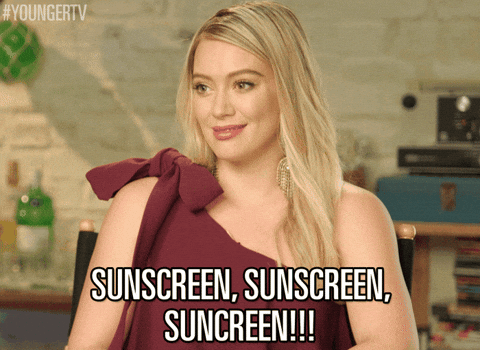 What have I learned from this article? Well, I've wasted at least $50 of skincare products in the past week, that's for sure. And my vague inkling that I was loading on too many products every day was validated. My final note here is that if any of this advice goes against what a dermatologist has told you—go with the dermatologist. My dermatologist gave me the simple outline of "cleanse, treat, moisturize, sunscreen," and actively warned me against incorporating anything else. It's only because I've followed her advice faithfully for six months that I feel comfortable building back in other products. So, listen to your doctor, listen to what your skin tells you, and if you have an eye cream you like, hit me up in the comments—I'll be spending the rest of my afternoon shopping.
Images: Shutterstock; Giphy (4)
5 Sheet Masks To Use On An Airplane
If you've ever spotted a celebrity, influencer, or otherwise just ballsy person post a pic to your Instagram feed of themselves wearing a sheet mask on a plane, you probably thought two things: one, that they're batshit crazy, and two, "why the hell are they doing that?" Well, if you've ever flown on an airplane, you're probably familiar with how dry, dull, and all-around dirty your skin can look and feel post-flight thanks to the recycled air that blows through the plane's vents. Well, those brave souls that you see posting the in-flight sheet mask selfies are actually pretty smart, because they'll be arriving at their destination with purified, hydrated skin while the rest of us experience god-awful breakouts a few hours later. So, if you too want to arrive at your port of call with a clear complexion at the price of looking like a freak, read on for the best sheet masks to use on an airplane so you can join the mile high (skin care) club.
The key to having a good skin day? Hydrated, clear, glowing skin that isn't experiencing any inflammation. Peach & Lily's Good Skin Day Drench + Nourish Sheet Mask uses natural vitamins, nutrients, and antioxidants like chia seeds, algae, avocado, and hyaluronic acid to decrease inflammation (that you're likely to experience while flying), fight off impurities and dangerous environmental free radicals (that tend to float through the recycled air on planes), and increase hydration, so you can arrive at your destination looking like you're having the best skin day ever—regardless how little sleep you got on your flight thanks to the crying baby in the row behind you.
Pacifica's Disobey Time Rose & Peptide Facial Sheet Mask is infused with peptides, rose hip seed oil, chamomile extract, red rice extract, hyaluronic acid, pomegranate, and green tea to target puffy, dull, dry skin. So within just 20 minutes of flight time your skin will be left dewy, bright, and moisturized.
If you're an attention whore who thrives off of getting noticed, Dr. Jart+'s Hydration Lover Rubber Mask is a bright blue rubber mask that is sure to catch the eye of all of your fellow passengers. But the mask isn't just good for getting attention, it actually really works to hydrate your skin, too. The two piece mask contains a highly concentrated serum that hydrates and soothes the skin while the rubber mask seals the active ingredients into the skin and keeps them from evaporating so you can experience maximum hydrating and calming results.
If you want the benefits of a hydrating sheet mask without getting stared at by the grumpy grandma sitting across the aisle from you, then Whamisa's Hydrogel Sheet Mask is a clear jelly sheet mask that is as close to being invisible as a sheet mask gets. The mask is infused with a skin-plumping botanical serum that will not only hydrate and brighten, but also work to make sure skin remains clear and free of breakouts.
If you're extra AF and a plain ol' white sheet mask won't do, Patchology's FlashMasques bare a black lace eye mask on the top half of the sheet mask so you can sit pretty while hydrating your skin and working on your fourth in-flight mimosa. The mask itself works by using licorice and grapefruit seed extracts to gently brighten your skin while Patchology's exclusive HydraSurge5™ Moisture System deeply hydrates to enhance glowing, radiant skin. However, if you're bougie enough to wear one of these masks, you better be sitting in business class, at the very least.