12 Common Sunscreen Myths Debunked
You've heard it from your mother, your dermatologist, your first-grade teacher, and even Baz Luhrmann: Wear sunscreen. With the wealth of knowledge we now have on sunscreen's ability to reduce our risk of skin cancer and to protect against sun damage like wrinkles, dark spots, and sagginess, it seems wild to think that some still skip this crucial step in their daily skin care routines. But in reality, the increasingly oversaturated sunscreen market and the onslaught of information, studies, and data surrounding it can often have a detrimental effect on consumers, leaving them unsure of what to believe and whom to trust. Over the years, certain myths about sunscreen have permeated our culture, and even the wisest of skin experts have fallen victim to them. With a scorching summer already upon us, it's more important than ever to not only debunk these misconceptions but also to understand why they're inaccurate.
Myth #1: Sunscreen Is Not Necessary Indoors, On Cloudy Days, Or Inside A Car
"False, false, false!" says Dr. Shereene Idriss, a board-certified dermatologist in New York City. "Yes, clouds do reduce some of the harmful UV rays, but they don't block them all, particularly in areas where the ozone layer is dramatically reduced." It's also important to realize that UV light is not alone in its ability to cause harm. Outdoors, UV light, in the forms of UVA and UVB, can impact skin aging and increase the risk of skin cancer. Some of that light can travel indoors through windows, but we're also exposed to other types of light indoors, including visible light and blue light, which can also impact the skin. For that reason, it's crucial that sunscreen be worn daily, and it should not be skipped just because you're inside.
Myth #2: One Application Of Sunscreen Will Last All Day
"If you have discovered the sunscreen that lasts up to 24 hours, please let us all in on that secret!" Dr. Idriss jokes. In fact, not only will one application of sunscreen not last all day, but it will last just a couple of hours. "Most sunscreens are tested for a specific amount of time, and that's on average two hours," explains Dr. Caroline Robinson, a Chicago-based board-certified dermatologist and founder of TONE Dermatology. "After two hours, the SPF protection goes down significantly, so you do need to reapply to maintain that initial level of protection." If you are in the sun, reapplication every two hours is imperative, but if you're mostly indoors, you can be slightly more lenient in reapplying so long as you apply before stepping outside again. "I tell people to bring a sunscreen brush, like ISDIN's, with them wherever they go and quickly apply that to their arms and face and any exposed skin before going back outside," Dr. Robinson notes.
Myth #3: The Higher The SPF, The Better The Protection
While this is not totally true, there is some logic behind the belief. "The SPF number does not reflect the duration of efficacy of the sunscreen; it indicates how long it would take for your skin to redden when using the product," Dr. Idriss says. "So, for example, if you are using an SPF of 30, it would take 30 times longer for you to burn while using the sunscreen versus if you didn't use it all." There is also proof that the higher the SPF, the more protected you will be—but only to a certain point. "SPF 15 blocks 93% of UVB, whereas SPF 30 blocks 97%, and SPF 50 blocks 98%," the New York dermatologist explains. "This may seem like a negligible gain in protection, but if you are prone to sunburns or skin cancers, that little gain can make a world of a difference."
Once you go above SPF 50, though, the difference in protection is quite small. Dr. Robinson says a nickel-sized amount of sunscreen is required to cover the whole face and about a shot-glass full is necessary to cover the whole body. "But if you know that you're not going to follow those recommended amounts—and most don't—then you can actually benefit from a higher SPF," she advises. "In doing so, you can get a similar protection to an SPF 30, which is what those measurements are based on, but you can get it with less than the nickel- and shot-glass-sized amounts." Essentially, it will be more thinly spread than the recommended amounts would, but because it's a higher SPF, it will be roughly as powerful.
Myth #4: People With Darker Skin Tones Don't Need To Wear Sunscreen
"This is a misconception I've been fighting for a very long time," says Dr. Robinson. "While people with darker skin tones are indeed less likely to burn, they aren't immune from sun damage, and oftentimes, it will develop in the form of hyperpigmentation—potentially even more dramatically than sun damage would manifest on lighter skin tones." Additionally, certain conditions, including post-inflammatory hyperpigmentation (dark spots that result from acne or irritation to the skin) and melasma, can be worsened by sun exposure, especially in people of color. So, even if your sun damage doesn't come in the form of the traditional sunburn or freckles, it's still important to wear sunscreen in order to protect your skin from other damage.
Myth #5: If You're Not Prone To Burning, You Don't Need To Wear Sunscreen
Much like the belief that those with darker skin tones don't need sunscreen, there's a misconception that if you don't burn, you similarly don't need SPF. "There's this idea that just because you tan, you're fine, but tanning can actually be a system of sun damage," Dr. Robinson explains. "You can have enough exposure to the point where you no longer burn; your skin just goes straight to tan, and that's not a good thing." Immediate tanning can be an indication that your skin has skipped the warning response of burning entirely, and that's actually a sign that your skin is damaged.
Myth #6: If You Wear Sunscreen, You Won't Get A Tan

Many refrain from wearing sunscreen because they claim it will keep them from achieving that oh-so-coveted sun-kissed glow. But, as Dr. Idriss says, this is once again false. "Sunscreen makes your skin slower to react to UV rays," she notes, "but it doesn't prevent it from reacting altogether." You can definitely still get a tan while safely protecting your skin with sunscreen.
Myth #7: Wearing Makeup That Has SPF In It Is Enough
Absolutely not! "Most makeups that include an SPF are not tested to the extent that sunscreens are, especially compared to the sunscreens that carry extra credentials, like an endorsement from the Skin Cancer Foundation, or anything like that," Dr. Robinson explains. In order to reap the full benefits of the SPF listed on your makeup, you would need to use a hefty amount, up to the size of a nickel, and unless you're a Kardashian, you're probably not equipped to wear that much makeup. You also likely won't be putting makeup on your ears, neck, chest, or any of the many regions of the body that are not the face but are equally susceptible to sun damage, and you won't be reapplying makeup every two hours as you would sunscreen.
Myth #8: Spray Or Powder Sunscreen Is Just As Effective As Lotion
As new agents of delivery have come to the sunscreen market over the years, they've often appeared to be solutions to the stickiness and getting-it-in-your-eye tendency of traditional lotion, and while that can be true, spray and powder sunscreens can also have their shortcomings. "They can definitely be as effective, but a lot more needs to be applied in order to reach the same level of effectiveness," says Dr. Idriss. Unlike lotion sunscreens, applying a spray or powder means that some of its contents will not land on the actual skin, so you'll need to as much as double the amount you're using.
Myth #9: Sunscreen Can Lead To Cancer Or Other Health Problems
While an alarmingly common belief, the idea that sunscreen can cause cancer or any other health issue is founded in no truth. "I wish this myth would go away because it's been disproven time and again," Dr. Robinson says. "Sunscreen does not cause cancer, and there have been so many studies to show that, but they sadly don't make the headlines as much." And if you're really worried, do as Dr. Idriss suggests and simply opt for a physical sunscreen instead of a chemical one.
Myth #10: There's No Real Difference Between Chemical And Mineral/Physical Sunscreens

Although both types of sunscreen achieve the same goal, scientifically, they work very differently. "Mineral and physical are interchangeable terms, and the most common ingredient in those sunscreens is either zinc oxide or titanium dioxide," explains Dr. Robinson. "Those are metals, and if you think about a sheet of metal, you know that it literally just reflects light; so, physical sunscreens sit on top of skin and reflect the UV rays and scatter light." Chemical sunscreens, on the other hand, absorb the UV light and put it through a chemical reaction (their namesake comes from this) that converts the light to heat. "Because the chemical sunscreens have to first absorb the light, they take a little longer to become active, so you can't apply them while you're outside or even right before," the Chicago dermatologist notes. "You have to allow at least a few minutes, which the bottle will tell you."
Some people can be more sensitive to the ingredients in chemical sunscreens, so for babies, children, and anyone with sensitive skin, a physical sunscreen is the way to go. Historically, some consumers have shied away from physical options because they can leave more of a white film, but some recent additions to the sunscreen market have gotten around that with advanced technologies. Dr. Robinson recommends SkinBetter's SunBetter Stick, a physical SPF 56 sunscreen which uses a new technology to uniquely shape the zinc particles so that they sit atop the skin without leaving the familiar white cast. She also loves Eryfotona Actinica from ISDIN, another physical option that uses DNA Repairsomes to repair DNA damage that can come from sun exposure, and Revision Skincare's IntelliShade TruPhysical, which has Vitamin C in it and effectively serves as two necessary products in one.
Myth #11: If You Didn't Wear Sunscreen When You Were Younger And Already Have Sun Damange, There's No Point In Wearing It Now
"Although most of the damage is actually accumulated while you're younger (typically before the age of 18), it doesn't make you immune to worsening damage," Dr. Idriss says. Indeed, sunscreen protects from the visible signs of aging caused by sun exposure, but it also reduces your risk of skin cancer, and that alone is reason to start or continue wearing it even if you've already suffered some sun damage. "I recommend you adopt a 'never give up' attitude," suggests Dr. Idriss. "You only have the skin you're in, and hopefully your life will be long, so you might as well protect and enjoy it every step of the way."
Myth #12: Sunscreen Never Expires
Of all the myths that exist about sunscreen, the notion that it doesn't expire might be the most outlandish. "Sunscreen is doing a lot of work, so when you're applying it, you want to be confident that you're getting the coverage you think you are," Dr. Robinson explains. Like everything in life, sunscreen has an expiration date, and you can find it by looking at the back or bottom of the bottle. As for any wiggle room when it comes to that expiration, like the "five-day rule" for milk, Dr. Robinson says, "we don't take chances with sunscreen."
Images: Retha Ferguson / Pexels; Maciej Serafinowicz / Unsplash; Antonio Gabola / Unsplash; Taylor Simpson / Unsplash
What Are Infrared Saunas For, And Are They Worth The Hype?
A few months ago, I came across an article from The Cut about the potential mental health benefits of infrared saunas. Even though I was in Los Angeles at the time, the sun was still setting at 4pm, and my mood levels had definitely been suffering for it. At that point, I'd tried exercising six times a week, meditating, and gratitude journaling to keep my Seasonal Affective Disorder at bay, and frankly, sweating it out in a sauna sounded like a way more appealing option. Once I was back in my beloved NYC, I promptly booked an appointment with HigherDOSE, an infrared sauna spa with locations all over NYC, New Jersey, and Connecticut. It's also the preferred spot of celebs like Leonardo DiCaprio, Michelle Williams, and Bella Hadid, if you're into that. Read on to find out the alleged benefits of infrared saunas, and what I thought after my 60-minute session.
What Do Infrared Saunas Do?
Simply put, infrared saunas claim to make you hotter in every way (obviously, pun intended). Not only does an hour of intense sweating knock off some water weight, but infrared heat may actually help boost your metabolism. According to Dr. Frank Lipman, who spoke to The Cut, just half an hour in an infrared sauna could help you burn up to 600 calories. (That's like, one million squats or an hour on the treadmill. If this is what celebs have secretly been doing instead of working out, I will never feel okay again.)
For those of you less obsessed with losing weight (tell me your secrets), infrared saunas also have major skin benefits. Again per Dr. Lipman, infrared heat boosts circulation, blood flow, and collagen production, giving you an immediate post-sauna glow, as well as long-term benefits from regular use. Lipman, along with HigherDOSE's co-founders, also hype up the detoxing capabilities of infrared saunas. Co-founder Lauren Berlingeri claims that infrared pulls "heavy metals, environmental pollutants, and radiation" from your system, and the instructional pamphlet inside the sauna room advised that some of your sweat may come out as black from all the toxins being released. (Sidenote: I'm still not sure that I believe "detoxing" is a real thing, but I really want it to be.) Other potential benefits include pain relief (from sore muscles to chronic headaches) and a boosted immune system.
Finally, the mental health benefits: a 2016 study showed that whole-body hyperthermia (whole body heating, specifically to 101.3º F, for the non-scientists among us), could have antidepressant effects lasting up to six weeks. Claims have been floating around for years that infrared heat can influence serotonin levels or release endorphins, but evidence is tenuous. The 2016 study, however, focuses on the "stress" aspect of sitting in a sauna—the extreme heat—and how these bursts of stress can better train your brain to deal with non-sauna stressors, like anxiety or depression. Again, no one's claiming that this is rock-solid science, but these studies, along with the fact that everyone seems to feel f*cking amazing after leaving one of these saunas, was enough to make me desperate to try it for myself.
So, What's An Infrared Sauna Like?
I visited the 11 Howard location of HigherDOSE, and was immediately thrilled by the spa-like room I entered. Each sauna room has a private bathroom (with a nicer shower than the one in my apartment), a Bluetooth speaker system, water, chilled eucalyptus towels, and of course, the sauna itself.

You're given a chromotherapy menu, which tells you the different light therapy colors available to you, and the benefits of each type of light. It's pretty intuitive (yellow and orange are more activating, blue is more relaxing), but given that I'm a type-A weirdo, I spent the first half hour cycling through all of them anyway. The first 20 minutes felt like sitting in a colorful, less-hot-than-normal sauna. I was warm, but I didn't have that slowly-being-cooked feeling I get after about 10 minutes in a regular sauna. At the 20-25 minute mark, things got really satisfying, by which I mean sweat started pouring down my entire body. Again, in regular saunas, I'll notice a drip here or there, then walk out and be surprised at how sweaty I actually am. In the infrared sauna, there was no doubt that I was coated in sweat, and steadily producing more.
I also have a pretty short tolerance for regular saunas; I'd say 20-30 minutes and I'm begging to leave. With the infrared sauna, I was happy to stay in there a full 50 minutes (I left 10 minutes to shower), and honestly could have stayed a bit longer. Promptly after showering, I noticed a few things. My skin was baby-soft, the dull full-body ache from yesterday's boxing class was greatly improved, and while I didn't suddenly feel an all-around calm or "mental high," my anxiety was noticeably tamed. I know this because my face, which is highly sensitive to many things, including heat, got some crazy red blotches about ten minutes post-sauna. But the last time I'd gotten blotches like this, I locked myself in a bathroom for two hours, crying furiously and sending my dermatologist selfies. This time, I washed my face, said "f*ck it," and moved on with my day. See? Anxiety calming.

I'm not including a description of my blotchy face to alarm you. Any discoloration was gone within the hour, and I trust that if you have skin like mine, you already know that heat is a trigger. But it was truly remarkable to look in the mirror at something that would have typically ruined my day and be able to let it go. In terms of a mental boost from the infrared sauna, I was expecting something like a runner's high (which I've also never achieved, possibly because I've never run long enough to get there). But the mental boost I got instead was actually way more valuable to my life—for the next few hours, at least, I didn't get derailed by minor sh*t. As far as superpowers go, I'll take it.
So, the only real major con of infrared saunas? The price tag. HigherDOSE sessions cost $45 and up for solo sessions, or $30 and up if you go with two people. As a one-time expense, it's not bad, but given that many of the benefits are unlocked by regular use, I wish the experience were slightly more accessible. Given my experience, I'd love to go more often, but until my wellness influencer career really takes off, I'll likely have to limit it to a once-monthly treat.
Images: Keziban Barry; @higherdose (2), @busyphilipps / Instagram;
This Is The Best Order For Your Skincare Routine
Judging from all the "gifts to give yourself" guides out there this season, I gather I'm not alone in treating December as "spend yourself blind" month. (Also: go get the Skin Laundry facial that list recommends; it's amazing.) And what better way to spend a sh*t ton of money invest in yourself than by amping up your skincare routine? In the past two weeks, I've added a serum, a facial oil, and an "elixir" to my fairly basic four-step routine. But within twelve hours of my exciting new purchases, I realized I had no idea how to use them correctly. Skincare products all tend to list "apply daily to clean, dry skin," but that's about it. So, in an attempt to not waste my new goodies, I actually sat down and researched. Here's what I've learned about the best order for your skincare routine.
Step 1: Cleanser
All authorities I consulted concurred on this. The first step in any skincare routine should be cleaning your face. If this strikes you as surprising, then I have the perfect gift for you. Enjoy!
Step 2: Toner
Byrdie offers a little dissent here, suggesting that Step 2 should be exfoliator, not toner. However, my skincare-savvy readers will know well that not all skin types require and/or take well to regular use of an exfoliant. And very few exfoliants are suitable for anyone for daily use. (You can go shave your back now Byrdie!) Anyway, exfoliate if you need to, but consider it part of the cleansing step of your routine. Toner then clears away any remaining makeup/product, as well as doing whatever else the bottle promises (tightening pores, evening skin tone, giving you eternal life, etc.).
I've written more about toner types here, but Cosmo offers a key tip I'll include. If your toner contains an AHA (like glycolic acid or lactic acid) or BHA (like salicylic acid), you'll want to wait a "full five minutes" before moving on to your next step. Otherwise, you'll neutralize the acids, rendering the active ingredient useless. (Moment of silence for all the toner I've wasted on my face please.)
Me @ my toner:

Step 3: Serums/Eye Cream
Once again, all my sources voted to use a serum as step 3. Cosmo describes serums as "shots of extremely concentrated nutrients, hydrators, and antioxidants." Like with toner, you'll want to pick the specific one based on your skin's needs. The one I've recently invested in contains Vitamin C, a common dermatologist recommendation. But you can also use different serums in the morning and at night, in which case you could swap in a hydrating serum at night. Again, all depends on your skin.
Eye cream, which I've realized over the course of my research is still lacking in my skincare routine, is a slightly more conflicted issue. Cosmo says to apply after serum and before moisturizer, since eye cream "tends to be lighter and thinner," and can't "penetrate thicker products," AKA your moisturizer. Dermstore suggests using it before serums in the morning, but after serums at night. (And it stresses the importance of applying twice daily from a young age—good thing I have endless money and time, am I right??) For Dermstore, the key thing is to apply eye cream before your "treatments" (more on that in a minute), to "protect your eye area against potent ingredients." Both of these rules make logical sense to me, so if your serums has potentially irritating ingredients, do eye cream first. And def do it before moisturizer.
Side note: this research has also convinced me that I've been applying my new serums at the wrong time, in addition to neutralizing my toner.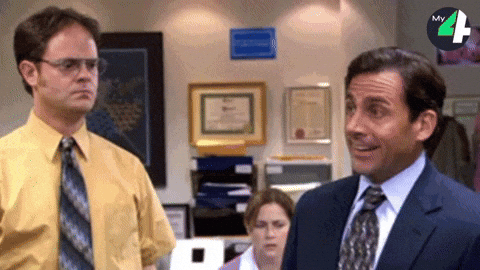 Step 4: Treatment
If you're thinking "treatment? what's that?" you either have perfect skin and I hate you, or you need to get to a dermatologist ASAP. "Treatment" can refer to a spot treatment (active ingredients will vary depending on whether you're treating acne scars or regular old pimples), or prescription treatments for acne or rosacea. (For example, I use my Finacea foam for rosacea during this step—though for the past two weeks I've been using it before my serum. Ugh.)
Dermstore again recommends different things for your night routine here. At night, they suggest you add any "mists, essences, beauty waters, or hydrating (hyaluronic acid) serums" to your toner step—applying "from thinnest to thickest." (I can't really begin to wrap my head around what those products are, but Dermstore sums them up as "skin care boosters" whose purpose is "mainly to hydrate." Cool.) Then, Dermstore recommends chasing your nightly eye cream with whatever treatment serum your skin needs that night. So, not just blindly slathering on every product you own (strike three for me).
Specifically, they advise against using an exfoliating treatment (AHA/BHA pads, peels) the same night as any prescription meds or retinol creams, since the potency can quickly become irritating. And they recommend using an exfoliating treatment no more than three times a week. In simpler terms, it sounds like alternating a prescription treatment or retinol with an exfoliating treatment is the best way to go.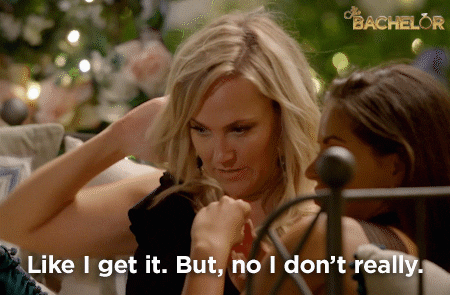 Step 5: Moisturizer/Face Oil
Once you've gotten to moisturizer, you know you're nearly there. (Good job! Now you just have a 16-step makeup routine to get through). For your nighttime routine, Dermstore recommends adding face oil before your moisturizer, with the warning note that "if you are using the right moisturizer…nothing is going to get through it." Cosmo, however, vehemently disagrees, stating "no products can penetrate an oil, which means they need to be applied last." Cosmo also recommends putting a retinol-based product between moisturizer and face oil, while Dermstore lumps in retinols with your pre-moisturizer treatments. One of my new products is a face oil that contains retinol, so no matter what I do I'll be f*cking up one of these rules.
My best advice here is to try it both ways (the order of your oil/moisturizer/retinol), and see what feels best to you. Since oils and moisturizers vary in thickness and active ingredients (and everyone's skin is different!), do whatever feels best for your face. In my case, I've found that mixing the face oil with moisturizer is most effective for absorbing both products.
Step 6: Sunscreen
This is a morning-only rule, obvs, but it's also one you need to follow every single day. Is it annoying? Yes. Does it feel like it will solve all your problems, like serums and essences do? It does not. But just do it, because otherwise you'll get dark spots and sun damage that only a laser can fix. And that's way more expensive than even the fanciest sunscreen option.
Hilary Duff may not be able to name babies, but she can still give good skincare advice!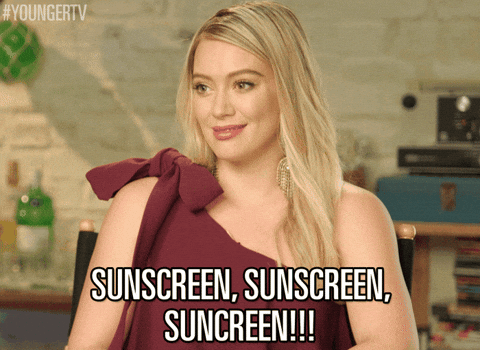 What have I learned from this article? Well, I've wasted at least $50 of skincare products in the past week, that's for sure. And my vague inkling that I was loading on too many products every day was validated. My final note here is that if any of this advice goes against what a dermatologist has told you—go with the dermatologist. My dermatologist gave me the simple outline of "cleanse, treat, moisturize, sunscreen," and actively warned me against incorporating anything else. It's only because I've followed her advice faithfully for six months that I feel comfortable building back in other products. So, listen to your doctor, listen to what your skin tells you, and if you have an eye cream you like, hit me up in the comments—I'll be spending the rest of my afternoon shopping.
Images: Shutterstock; Giphy (4)