What's 'Sex And The City' Without The Woman Who Brought All The Sex?
And just like that, another TV show reboot that we probably don't need is announced. On Sunday, Sarah Jessica Parker, Cynthia Nixon, and Kristin Davis graced our Instagram feeds with a short trailer alluding to the fact that the iconic 1998 show, Sex and the City, was coming back to life. I was fully prepared to leave this franchise behind me after their failed attempt at a third movie, but this revival has left me quite intrigued. As I watched the And Just Like That teaser three different times on each of the stars' accounts, I (say it with me now) couldn't help but wonder, where was Kim Cattrall? Surely, we couldn't have Sex and the City without the woman who brought all the sex?!
As bummed as I am, it shouldn't be a surprise that Samantha Jones would not return in a SATC reboot. Kim Cattrall mentioned in several interviews that she would not partake in another iteration of the iconic show. I mean, who can blame her? The off-screen drama with SJP and other members of the cast was even more dramatic than the scripted fights they got into. (In 2018, following the passing of Cattrall's brother, she dragged SJP on Instagram, writing, "You are not my family. You are not my friend. So I'm writing to tell you one last time to stop exploiting our tragedy in order to restore your 'nice girl' persona.") Kim perfectly put it when she said, I don't want to be in a situation for even an hour where I'm not enjoying myself."
Since we won't get an appearance from Samantha Jones, I'm having trouble figuring out who is going to bring all the entertainment, iconic one-liners, and even an ounce of flavor that this show lacked from its cis, hetero, all-white cast. (Though perhaps HBO will take this moment to shake up said cis, hetero, all-white cast.) Who will be the voice of reason when Carrie is full of sh*t? Who's going to remind Charlotte that she shouldn't be so uptight and stuck in her ways? Is there going to be a fourth character who is equally as successful and ambitious as Miranda, but not an absolute buzzkill? 
If the show "must go on", then I suppose all we have left is to reminisce on the hilarious and completely out-of-pocket moments that Samantha Jones brought to our televisions for six seasons and two feature films. Join me as I pour one out for the unapologetic, pleasure-chasing publicist, and look back at some of her best moments.
Season 1, Episode 1 "Sex and the City"

From the very first episode, Samantha was serving realness to her delusional dater friends. I actually love that the pilot is basically about Carrie deciding to live the way Samantha has always been living and turning this into a revelation all about herself. Kind of telling, if you ask me…
Season 1, Episode 10 "The Baby Shower"

Another moment where Samantha was anything but subtle! While there is absolutely no shame in those who choose to be mothers, it was hilarious (and empowering) to see her not fall to the pressures of society and live exactly the way she wanted. Tbh, I might throw an "I don't have a baby" shower for the gifts — and the Instagrams.
Season 2, Episode 6 "The Cheating Curve"

Okay so this was definitely one of the more problematic episodes. When Charlotte decides to hang out with lesbians because she got cheated on, Carrie gets back with Big, and the whole gang debates the definition of cheating. Even with her dumb views about what constitutes infidelity, Samantha manages to give this nugget of, dare I say, good advice, that is eerily reminiscent of what my therapist has been trying to tell me for years. Who knew I could have just watched Sex and the City and saved myself the copay.
Season 2, Episode 7 "Chicken Dance"

In this episode, Samantha realizes the guy she just slept with, she'd actually already slept with 15 years prior, and it feels like a bleak look into my future. Also, they all attend a wedding where Carrie is reading a poem, which is where Samantha delivers this one-liner that my mid-20s self can relate to all too well. Ok, who am I kidding, this quote is timeless regardless of my age.
Season 4, Episode 10 "Belles of the Balls"


I'm sorry, but does she or does she not spit the absolute truth? One thing about Samantha was that she played like a man living in a man's world (again, as discussed vis-à-vis the pilot episode and overall premise of the show), and did it well.
Season 5, Episode 4 "Cover Girl"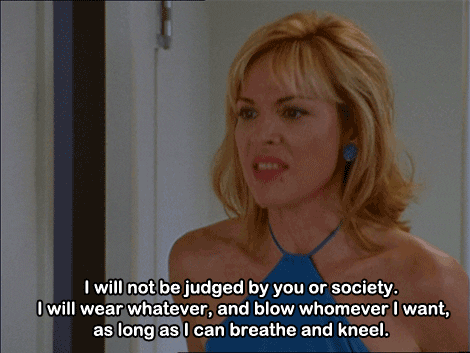 And just like that, we go from profound commentary on sexist double standards to a sexually explicit quote. Gotta love the woman's range. Even from her own best friends, Samantha had to defend herself from being slut-shamed, much like in this episode when Carrie judged her hooking up with a delivery guy. First of all, I would love to see that high-and-mighty attitude amidst the pandemic, when the delivery guy is the only person of the opposite sex with whom I regularly interact. Tbh if any of my friends did this, I'd be applauding them for (hopefully) getting a friends and family discount on Seamless.
Season 5, Episode 6 "Critical Condition"

Kind of conceited to think that any given person in New York City knows who you are, but I'll give her this one. I'll surely miss how unapologetic Samantha is, and how she does and says whatever she wants without worrying about how others will react.
Season 6, Episode 2 "Great Sexpectations"


Where would we be without that one friend who gives top-tier sex advice? Definitely not having as much sex as Samantha was, that's for sure. Thank God Carrie, Miranda and Charlotte had Samantha to remind them to not just have more sex, but good sex. Not sure they ever truly took her advice, anyway.
Images: HBO; Giphy
5 Celebrities Who Have Misunderstood Feminism
Feminism is, at its core, a relatively simple concept. Merriam-Webster defines it as "the theory of the political, economic, and social equality of the sexes." Unless you've been trapped in a bunker since the 1950s or serving in the two highest offices of the United States, you'll probably concede that this is a good idea. Yet according to a survey by GenForward, less than 20% of participants belonging to any racial or ethnic group self-identify as feminist, with most saying they "don't identify as a traditional feminist, but support women's rights and equality." This cognitive dissonance is even more glaring when we look at celebrities' interpretations of the term. Given their power and influence, it also makes it that much more disappointing. Below are five famous women who at one point or another have refused to identify as feminist, despite very clearly supporting feminist ideas. Celebrities—they're just as clueless as like us!
1. Taylor Swift

When asked in a 2012 interview with The Daily Beast whether she considers herself a feminist, Taylor Swift said, "I don't really think about things as guys versus girls. I never have. I was raised by parents who brought me up to think if you work as hard as guys, you can go far in life." So adorable. While this is a lovely way to think, it presupposes, incorrectly, that feminism is a movement fueled by the hatred of men. On the contrary, feminism is about uniting men and women and putting them on equal footing. Luckily, Taylor has since changed her tune.
2. Miley Cyrus

Miley Cyrus skirted around the issue in a 2014 interview with Elle by saying, "I'm just about equality, period. It's not like, 'I'm a woman, women should be in charge!' I just want there to be equality for everybody." Miley's concept of feminism suffers from a similar flaw in logic as Taylor's: it assumes that the movement is about uprooting men and taking away their power. However, it's not an either-or proposition. Both men and women can and should have opportunities to be in power and "in charge". Crazy, I know.
3. Susan Sarandon

Susan Sarandon, actress and occasional problematic person, had this to say about identifying as a feminist in a 2013 interview with The Guardian: "I think of myself as a humanist because I think it's less alienating to people who think of feminism as being a load of strident bitches, and because you want everyone to have equal pay, equal rights, education, and health care." The "humanist" response is a popular one with celebrities and, IMHO, a bit of a cop-out because it doesn't acknowledge the reality that we live in a world where women are the more disadvantaged sex. Even worse, it perpetuates the false notion that all feminists are militant, combat boot-wearing, bra-burning wenches who want to burn down the world and render men obsolete (though I'll admit I'm down for the combat boots). Can we be angry sometimes? Sure. But some anger is more than warranted when we continue to live in a world where we're paid 77% of what men make, account for only 25.4% of board members and 6.6% of CEOs of Fortune 500 companies, are at a greater risk of rape  and domestic violence, and have little to no autonomy over our bodies. Instead of being afraid of appearing angry, perhaps we should ask ourselves why we're so uncomfortable with women being angry in the first place.
4. Sarah Jessica Parker

Ironically, the star of Sex and the City, a show that's supposed to be all about female empowerment, declined to take up the term despite clearly espousing feminist views in a 2016 interview with Marie Claire: "I am not a feminist. I don't think I qualify. I believe in women and I believe in equality, but I think there is so much that needs to be done that I don't even want to separate it anymore. I'm so tired of separation. I just want people to be treated equally." The problem with SJP's response is that she's guilty of the very thing she doesn't like about the movement. Women can't begin to achieve the equality she desires if she and other non-feminist feminists refuse to engage and separate themselves from the cause. There's power and unity in numbers.
5. Beyoncé

It may be hard to believe now, but there once was a time when the woman who closed out the 2014 VMAs by performing in front of a giant "FEMINIST" sign hesitated to accept the label. Just one year earlier in an interview with British Vogue, the one and only Bey said, "That word can be very extreme … But I guess I am a modern-day feminist. I do believe in equality. Why do you have to choose what type of woman you are? Why do you have to label yourself anything? … I do believe in equality and that we have a way to go and it's something that's pushed aside and something that we have been conditioned to accept… But I'm happily married. I love my husband." The reference to her marriage and husband is strange as well as problematic, because it implies that a feminist can't have a healthy and loving relationship with a man. Her aversion to labels sounds more like the Tuesday night musings of your run-of-the-mill f*ckboy rather than a compelling argument coming from one of the most powerful and innovative performers of our time. Without labels, we can't identify ourselves and, in turn, effect meaningful change, something Beyoncé later realized and emphasized with her VMA performance.
It's clear that when it comes to feminism, we can't look to celebrities for guidance—not just because they often fundamentally misunderstand the term, but also because, like most things celebrity-related, it's an exercise in distraction. Roxane Gay points out in a piece for The Guardian that, "We run into trouble, though, when we celebrate celebrity feminism while avoiding the actual work of feminism." Identifying oneself as a feminist is a crucial first step, but it's just the beginning of the conversation and work that needs to be done.
Images: Allie Smith / Unsplash; Giphy (5)
Kim Cattrall Put Sarah Jessica Parker On Blast
We always loved Sex and the City, but honestly the drama between the ladies has been even better since the show ended. This weekend, Kim Cattrall blasted Sarah Jessica Parker on Instagram, and we're still recovering. In the past, Kim Cattrall (Samantha Jones, if you're new here) has been open about not always having the best time on the show, calling out SJP and others, but this new development is a whole other level.
It all began last Sunday, when Kim Cattrall put a text post on Instagram announcing the unexpected death of her younger brother. Now, we normally have some strong thoughts about text posts on Instagram, but these are really sad circumstances, so it's okay. Kim asked for privacy for her family and herself through this difficult time, and obviously tons of people commented their love and support. Pretty normal stuff. Among the commenters were Sex and the City costars Cynthia Nixon (Miranda) and Sarah Jessica Parker. Again, there's just nothing weird about this. Sure, SJP and Kim have had their differences in the past, but it's not that hard to put aside your beef and say you're sorry someone's brother died. But this story is far from over.

Kim responded to Cynthia's comment, thanking her for her kind words, but SJP got no such response. Well, not until Saturday, when Kim returned to Instagram like a bat out of hell, sent here with the sole purpose of destroying Sarah Jessica Parker's fucking life. This time, she went for the text post again, but it was 100% savage.
Um, should we be here for this? Do you want us to like, go outside so you can have this conversation in private? Nope? Okay, we'll happily stay and talk shit. So, like, what exactly was Kim going for here? We've all known for years that she's not exactly Sarah Jessica's biggest fan, but it sort of seemed like she was maybe just trying to be nice? Clearly that's not how Kim sees it. Instead, she calls SJP a cruel hypocrite who's exploiting their tragedy to restore her "nice girl" persona. Wow, is she practicing her SAT words? While we're not sure why anyone would want to be a nicegirl on purpose, Kim really thinks she's the fucking devil.

Sarah Jessica Parker hasn't made any sort of public comment on this whole debacle, but it seems safe to say that Sex and the City 3 probably still isn't happening. Oh well, guess I'll just have to watch all the old episodes on HBO Go like I've been doing for the last decade. We're eagerly awaiting the next chapter in the Kim/SJP feud, which will no doubt take place in a Vanity Fair interview or some classy shit like that where SJP calls Kim delusional while also being so diplomatic it hurts. We love drama, can you tell?
Images: Shutterstock; Giphy (2); @kimcattrall / Instagram