Alcoholic Blondies: A Recipe And A Memoir
It's Singles Awareness Day (vom), and what better way to celebrate than with a dessert-alcohol hybrid? We adapted this recipe by a) making it less fucking work and b) making it slightly more alcoholic.
Also, brownies always have all the fun, and the idea of more chocolate right after Valentine's Day was making us vom. So, we opted for blondies—our favorite butter and sugar combo. Just add whiskey for a super awesome evening date with some sweatpants and hard alcohol.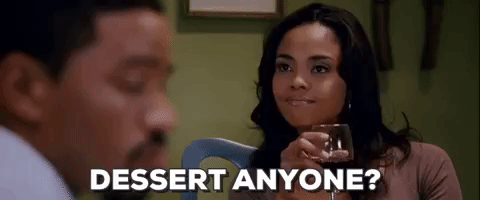 Ingredients
2 sticks of butter, room temperature — YES REALLY OMFG.
1½ cups dark brown sugar
½ cup granulated sugar
2 eggs
1/3 cup of Larceny or Maker's Mark whiskey — PLZ don't use Jack Daniels because ew, you guys
2 tsps. vanilla
1 ½ cups all-purpose flour
½ teaspoon salt
¾ cup candied nuts — we used candied walnuts which we found at a fancy store
Preheat the oven to 350 degrees and while that shit heats, spray an 8×8 pan with Pam. 
Grab a skillet and add the butter, stirring constantly—i.e. try not to be distracted—over medium heat or until it sorta browns and smells nutty. Take off the heat and let cool a bit.
In a giant bowl, cream the butter and sugars together until light and fluffy, then add the eggs, whiskey, and vanilla and mix.
In a totally different bowl, mix together the flour and salt, then slowly pour that shit into the butter and sugar mixture. You want this shit to come together, but like, don't overmix it. Kinda like your love life. Anyway, fold in the candied nuts and pour the batter into your greased baking pan.
Bake for about 25-30 minutes, or until a knife inserted toward the center comes out clean. Let this shit sit for a bit and think about what's it's going to do to you, then transfer to a wire rack to continue cooling.
Feel free to pour on a little extra whiskey because like who the fuck cares, honestly. Cut or eat with a spoon out of the pan. We aren't judging
How To Be Single On Valentine's Day Without Killing Anybody
It's Taco Tuesday—I mean, Valentine's Day—and while your only valentines are your mom and Team Snapchat, there are a bunch of happy people around you who can't stop reminding you that they're in fulfilling relationships. Barf. So what's a single betch to do on Valentine's Day? Do you organize Galentine's Day for you and your besties? How about buy yourself 16 pints of Ben & Jerry's and cry yourself to sleep? Take a fire Snapchat selfie and caption it "Happy Singles Awareness Day"? NO. Do none of those things, floser.
Remember that Valentine's Day is just another fucking day of the year, and tomorrow you won't have to worry about it for 364 more days, so don't do anything embarrassing that's going to cause you to do damage control tomorrow. Being single on Valentine's Day isn't embarrassing; drunk texting your ex and having to apologize the next day certainly is. So we've compiled a handy video on how to celebrate Valentine's Day when you're single without losing your dignity. You're so lucky to have us. 
For more love advice buy our book, I Had A Nice Time And Other Lies: How To Find Love And Sh*t Like That.
10 Things To Avoid On Valentine's Day If You're Single
Valentine's Day aka Singles Awareness Day is here, and if you're feeling anxiety over having to watch couples kiss while getting your latte in the morning, we've got you covered. If watching disgusting displays of love isn't your thing, because honestly whose is it really, just avoid doing any of the following this today and you'll be good.
1. Going To A Speakeasy

Any bar that is remotely classy or cute is not where you want to be on Valentine's Day. Basically if the bartender calls him/herself a mixologist—or worse, artist—you should avoid it at all costs. Go drink somewhere as unimpressive as possible.
2. Ice Skating Or A Wintery Romantic Activity

Sorry, but who goes ice skating on a Tuesday evening anyway? You probably won't have much problem avoiding this, but stay away from any activity that could be a date from an Archie comic.
3. Going Out To Dinner Literally Anywhere

If you go out to eat anywhere but your mom's house, you're literally going to be miserable and surrounded by couples. Yes, even Chipotle, because even fuckboys gotta celebrate Valentine's Day.
4. Looking At Your Ex's Social Media

This isn't 50 Shades of Grey, there's no need to torture yourself. Put down the Instagram and make yourself a cocktail (not alone, though—we'll get to that in a sec).
5. Going To See 50 Shades Darker

Speaking of 50 Shades, stay away from the movie theater altogether on Valentine's Day. Especially this movie glorifying an abusive relationship. You might start missing the fuckboys of your past and forget they were literally the worst.
6. Going To The Mall

You might think the mall is a safe space where you can retail therapy your way to peace, but you are wrong. The mall is the worst place to be on Valentine's Day because every store will find a way to promote the shit out of the holiday to get you to buy stuff. Even a shoe store is going to find a way to make their sneakers about love.
7. Swiping On Dating Apps

It's like how getting a match at 2am lets you know the person is shady AF: If you match with a bro on Tinder on Valentine's Day, you'll just look like you were swiping through your heartbreak…because you are. Answering messages on Valentine's Day is probably fine, but avoid swiping for new matches or you'll just look thirsty AF.
8. Going Through Your Old Relationship Photos And Wondering What You Did Wrong

When a relationship ends, it means you dodged a bullet, almost every time. It's easy to look at old photos and think you had things better, but the truth is if it ended it was never going to last to begin with. Logic. Plus, your ex probably sucked, which is why he's your ex.
9. Drinking By Yourself

You might think it's cute to pour yourself a glass of Chardonnay and watch 13 Going on 30 in the fuzzy socks your mom sent in your Valentine's Day care package, but three glasses in you're just going to realize you made a terrible mistake. If you're going to drink, drink with friends. That way, it's not technically considered alcoholism.
10. Getting A Present For Your Casual Hookup

Valentine's Day is for couples that have exhausted all their excitement and need a lame holiday to pretend they're still in love. If you're just falling in love or dating someone casually, put the candy hearts down. There's no reason you can't go on a date or hook up on Valentine's Day, but don't spend a dime on someone that isn't going to take you as a plus one to their best friend's wedding.