The Best Shows And Movies To Binge On Netflix This Weekend
Sincerest apologies that this list, which usually comes a day or two before the upcoming month, is arriving two weeks late, but I've been very busy trying to force the guy I've been hooking up with to date me so that I can do something other than shrivel up and die on Valentine's Day. No such luck, so here I am with the February edition of must-watch movies and shows on Netflix. You're welcome.
Some months, I can't wait for my flaky-ass friends to cancel our weekend plans so I can stay in and binge all of the newly added movies and shows I once loved and had since forgotten about, but other months, I wouldn't be surprised to learn that a bunch of interns pick movie and show titles out of a hat and put them on Netflix. This month is the latter. Before you decide that nine different anime shows are not worth 13 of your dollars and cancel your subscription, know that there are plenty of classics and goodies coming to Netflix this month, so if you, too, have no plans on Valentine's Day, this list is for you! 
'To All The Boys: P.S. I Still Love You'
The only time I ever felt like I have become my mother was when my editor suggested I add this movie to the list and I had no idea what she was talking about, so I gave it a Google to find out that it is the sequel to like, the biggest and best rom-com of 2018. Great. Already missing out on pop-culture references. So, if there are any others under the age of 54 who don't know what this movie is, allow Netflix to explain. "When her secret love letters somehow get mailed to each of her five crushes, Lara Jean finds her quiet high school existence turned upside down." Yikes! So apparently this is the sequel to that cinematic masterpiece, and it bears the same name plus "P.S. I Still Love You." Sorry, but is the girl naming this movie the same person naming nail polishes? However, the cheese stands alone (I am the cheese) because everyone else seemed to love the first one, and will prob love the sequel. Lmk how it is, k?
'The Stranger': Season One
Based on the best-selling novel by Harlan Coben, this dark thriller will keep you guessing until the end. One day, a mysterious stranger shows up in Adam Price's life out of nowhere, and she spills a secret that could have some major consequences for everyone involved. The book is one of the best thrillers to come out in the last few years, and the show has also gotten rave reviews. Maybe don't watch this alone in the dark, because you will want to stay up all night to finish it, and then you won't sleep for a month.
'A Little Princess'
Before you skip this blurb because of the dumb movie name, wait! As a 26-year-old woman, I am proud to admit that A Little Princess is one of my favorite movies. I used to watch it with my grandfather every time I went to visit my grandparents and then I started to feel like eight viewings was seven viewings too many, so we stopped watching it. However, I saw it for the first time in like 13 years when it appeared on my Netflix homepage a few days ago, and let me just say, it's still a great f*cking movie.
It's about a little girl, Sara Crewe, who is quite possibly the most beautiful child in existence, but that isn't important, I guess. Anyway, she and her dad (who are both American and f*cking loaded) are forced to leave their amazing life in India so that her dad can fight for his country in WWI and she can attend the world's scariest boarding school. Anyway, her dad allegedly dies and she is left penniless, so bebe Sara becomes a servant at her boarding school. I'm already crying. 
'Love Is Blind': Season One
Guys, this show sounds so stupid and I cannot wait to watch it. If you thought The Bachelor was unrealistic, just wait until you get a load of this sh*t. Netflix says, "Nick and Vanessa Lachey host this social experiment where single men and women look for love and get engaged, all before meeting in person." Sooo it's a Married At First Sight rip-off? There is so much to discuss in this very short sentence, so let's start with the hosts. Is this Nick and Vanessa Lachey's attempt to become relevant again? Based on this description alone, I assumed the psychos participants getting engaged before meeting were at least, like, skyping before tying the knot, but no, I assumed wrong! I watched the trailer to discover that the men and women are locked in what Nick and Vanessa are calling "pods" and talking to each other on telephones. Alrighty. I would never marry someone who calls me on the phone. Like, are your fingers broken? No? Then f*cking text me. 
Just because all five of my friends were either out of town or had plans last Saturday night, I spent that time online stalking the cast to find that they are all local Atlantans and ~aspiring~ Instagram models. I kid you not, every male on the show has a fitness account on Instagram and every female concludes her captions with "use my name as the promo code for 20% off!" Here for the right reasons, though, right?? Lol.
'Elizabeth: The Golden Age'
If I relate most to any member of the royal family, it's OG Elizabeth. That bitch ruled a kingdom without assistance or permission from men. Slay, Queen. Anyway, there have been and will continue to be many biopics about our girl Liz, but this one is by far the best. It stars Cate Blanchett, who makes a serious case for elaborate collars and red hair. A lot happened during her lifetime and reign, but this movie's main focus is how she handled the Spanish Armada and her complicated relationship with Sir Walter Raleigh. It's a good watch if you're in the mood to learn something. 
'Who Killed Malcom X?'
What a question. Three people were charged in the human rights activist's murder, but no one really knows who actually did it. This docuseries explores what happened when an activist "embarks on a complex mission seeking truth in the name of justice," says Netflix's description. I'm definitely intrigued because I live for true crime documentaries and this is one of the country's biggest mysteries. Sold.
'Sex And The City 2'
This movie was so horrible, but I mean that in the best way possible. The clothes are as amazing as Samantha's dried-up one-liners, and it's worth your time if you haven't seen it. To sum it up in one sentence: Carries wrote a few books, Samantha hasn't changed, Charlotte is still a whiney hag, Miranda's taste in clothes has improved, and they all go to Abu Dhabi. The end! It's a good movie if you're expecting it to be pure garbage, but it definitely didn't get robbed at the 2010 Oscars, if ya know what I mean. 
'Narcos Mexico': Season Two
I'm going to keep this short since I did not watch season one, but I did watch the original Narcos and it was great. This spin-off is probably even better because it explores the drug wars in Mexico during the 1980s. Also, Jason Bateman isn't in this one, which I count as a plus. It's a show about Felix Gallardo, who heads the fictional Guadalajara cartel, and DEA agent Kiki Camarena, who moves with her family to Guadalajara. Sounds cool; I'm officially interested. 
'The Pianist'
If you want an antidote to Sex and the City 2, definitely give The Pianist a watch. This is by far the saddest movie I've ever seen and it's so factually accurate that we watched it in my AP European History class in high school. It's about Wladyslaw Szpilman (played by Adrien Brody), a Jewish Polish radio station pianist, and his story of survival throughout the course of the Holocaust in Germany. It's truly heartbreaking, but it's done so well that you'd be remiss to skip it. 
'Jerry Maguire'
Believe it or not, there was once a time when Tom Cruise didn't absolutely suck, and that time was in 1996 when Jerry Maguire came out. If you don't know, this is a rom-com starring Tom and Bridget Jones. Long-story-short, Tom is a sports agent who gets himself fired by having a conscience. He teams up with a single mother and together, they start their own management firm, but not before they swiftly fall in love. Simpler times, amirite?
'Dear John'
I am pretty sure Nicholas Sparks wrote all of his sappy male leads for Channing Tatum, and I'm 110% here for it. Not only did I read this book, but I saw the movie…in theaters. Obviously, it was terrible, but it did way better than I thought it would on Rotten Tomatoes, scoring a whopping 29%. Honestly, that's pretty impressive. Just watch the trailer and you've basically already seen the movie, minus a subpar sex scene that takes place in what looks like a barn. K. It's Channing Tatum at his hottest, so this is another good reason to cancel your plans.  
Images: Bettina Strauss / Netflix; Movie Coverage, Movieclips Classic Trailers (2), Netflix (2), Movieclips, End Time News, Warner Bros. Entertainment, Movies & Shows, Sony Pictures Entertainment / Youtube
6 Things You Need To Know About Traveling Alone
Way back when I was ~studying abroad,~ my friends and I tried to organize a trip to Amsterdam. Spoiler: it didn't go well and none of us talk to each other anymore. It felt like that Girls episode when they all visited North Fork to "heal" and Marnie went completely psycho—except in my case, we were all Marnie. Fun! Tbh, I would blame the worst four days of my life on me and my friends all being too poor to do anything aside from smoke weed and feel depressed in the Anne Frank House, but I think the real reason is that traveling in groups, no matter how much money you have, sucks. Don't believe me? Take a look at the cyberwar that broke out in your group chat over where to get dinner this weekend. Like, try doing that, but for four days in a different country. So, after the Amsterdam Incident, I've officially decided that every trip I take from now on will be either by myself or with my boyfriend, and since he is suffering from a brutal case of nonexistence, it looks like I'll be traveling alone. And I am totally okay with that.
I know what you're thinking, "wow, that's so depressing!" and to you, I ask, is it? In my experience, when other people get involved in my plans, everything gets messed up and I become irrationally resentful. In other news, I will likely be dying alone. So if you want to protect your friendships from your own rage without sacrificing the ability to travel, maybe you, too, should consider traveling alone. Here are a few things to think about before you do, though.
Get Over Being By Yourself

If you've ever met me, you're probably rolling your eyes right about now because you know that I don't like to do literally anything alone. Like, if I'm eating by myself, it's behind my closed bedroom door where no one can see me deep-throating a burrito. I have no idea why, but I always feel like when I do things alone in public, everyone is staring at me thinking, "That poor, pathetic girl." In reality, since no one knows who I am and because I'm not doing anything worth staring at, exactly zero people are looking my way or thinking anything about me except for maybe "please get out of the way." If you're thinking of traveling alone, I'd start getting used to going to restaurants in a party of one, seeing movies, and shopping by yourself, just so you get used to the feeling of being out in public without anyone else with you. Being by yourself is nothing to be embarrassed about—and you're really going to have to get over that before traveling alone.
Be Safe

I hate that safety is a concern for women traveling alone, but if you've ever seen Taken, you know that the world is a different place for women than it is for Liam Neeson men. Of course, being on your own isn't a reason to not do things like travel, eat, or party; it's just a reason to be extra vigilant. Obv, Taken is the most ridiculous movie ever made and Kim probably could have avoided the whole being kidnapped thing by just, like, not getting in a car with a French stranger and driving straight to her living quarters, but I don't want to victim-blame. Seriously, though, if all the true crime I watch has taught me anything, it's that there are a lot of crazy people out there, so when it comes to staying safe, take precautions! Basic safety tips include not trusting strangers (see, I knew my trust issues would come in handy one day), choosing a good purse with a secure closure (so you don't get pickpocketed), and keeping your passport and other important documents locked up (pickpockets again).
Another big safety tip is to do your research beforehand and don't just roll up to a foreign city totally unprepared. Make sure you are familiar with the vibes of each neighborhood, how to get around, stuff like that. And make sure you have the emergency numbers (like, the 911 equivalent) of wherever you're visiting on hand. That may seem massively unnecessary, because what could possibly happen? But as someone who has broken a rib from simply falling down, let me just say, things could definitely happen. According to Bustle, "Some countries have separate numbers for crimes and medical emergencies," so it's a good idea to write all the important numbers down beforehand (yes, like on paper) in case your phone dies, you have no service, or anything else goes wrong with your phone. Bottom line is, you don't want to have to look that stuff up in an actual emergency.
Accept That Not Everything Will Go According To Plan 

Like I warned my sister-in-law on her wedding day, every detail in the itinerary will not play out perfectly. Don't react like she did; just be cool and accept it. Look, you can't control the weather or whether or not there will be a huge national strike because the president of France wanted to increase the retirement age and now all the monuments are closed, so you can't let mishaps ruin your whole trip. The best way to avoid having your itinerary getting f*cked up by things outside of your control is to not plan out every second of every day. Rather, choose an area you want to see and have a general idea sketched out of what you want to do there, rather than a minute-by-minute timeline that leaves no room for exploring or detours. I recommend picking one or two specific things you'd want to do in the morning, afternoon, and evening. Being on an aggressively strict schedule on vacation is low-key stressful, and part of the fun of taking a solo trip is being able to wander and explore without your annoying friends reminding you that you were supposed to be on your way to the Prado three and a half minutes ago.
Don't Go Off The Grid

My crazy mother has convinced herself that if I walk back to my Midtown East apartment by myself, I will get murdered, so I can't imagine how much that woman will worry when I go to Madrid, which may as well be North Korea to her, by myself. She's very dramatic, but your friends and family will worry about you, so literally going off the grid isn't a good idea—especially if you're going somewhere unfamiliar alone. Whether you want to post every step you take to your Instagram story or just send a simple "I'm alive" text to a few people every night is up to you, but don't be an asshole and just, like, turn your phone off.
Choose Your Accommodations Wisely

So, obviously you should do a ton of research into where you're going to be staying and read enough reviews that you can feel confident and safe with your choice (but not so many reviews that you go down a rabbit hole and just throw your whole trip in the trash… speaking from experience). But, with so many options (hotel vs. hostel vs. Airbnb), your first bet is to zero in on which type of accommodation is right for you. One thing to consider is the balance of comfort vs. isolation. While it's definitely nice to relax at the end of a tiring day in a non-bunk bed in a private room at a hotel or Airbnb, speaking from experience, staying in one of those can make it more difficult to meet people, which can make you feel even more isolated. So you'll really want to be honest with yourself. Assess how easily you can talk to strangers, and whether you feel energized by being around people. If you like being around people but are not good at starting conversations, you might want to find a more social place to stay. If you literally hate people and/or could chat up a wall, you'd probably be fine staying in a place where you will never so much as bump into another person.
Prepare For FOMO

I once skipped a distant friend's birthday dinner at a restaurant I hate because I had a cold, but then I saw everyone's Instagram stories, and you better believe my FOMO was through the damn roof. So much so that I ripped off my floor-length bathrobe, threw on an outfit, and got my sick ass to Brooklyn because missing out is too much for me to handle. Even if you're having the time of your life, you will probably still experience FOMO traveling alone. If you're traveling alone, you are going to have to be okay with the fact that your friends won't pause their own lives while you're living your best one in a different city/state/country. Remember, you are the prize and you took this trip for the Instagrams yourself! Let this trip teach you a lesson about having fun by yourself and being happy for the people having fun without you.
At the end of the day, I wouldn't actually recommend traveling alone every single time you go on vacation (at the very least, so you can save money by splitting costs), but taking a few days to explore the world on your own is a really good way to grow and, considering how much I hate eating alone at a restaurant, I am definitely in need of a little growth. 
Images: Giphy (6); Unsplash
The Response To Emma Watson's 'Self-Partnering' Is Kinda Sexist
Yesterday, British Vogue released an excerpt online of their interview with Emma Watson, who appears on the cover of the December issue. After briefly discussing her upcoming role as Margaret Meg March in the film adaptation of Little Women, Watson discusses her upcoming 30th birthday and reflects on her life. It was a pretty unremarkable excerpt, except for one phrase: "It took me a long time, but I'm very happy . I call it being self-partnered." Emma Watson called "being single" "being self-partnered", and people across the internet went for her immediately. The Vogue interview itself and every subsequent write-up about it ran with the "self-partnered" comment as the headline. The memes were swift and ruthless, with everyone making the same joke (me to my relatives at Thanksgiving when they ask about my relationship status—a solid joke, but still). And, obviously, I played into this too. Of course we at Betches covered the "self-partnered" ridiculousness. But when I saw everyone clowning Emma Watson over it, I really had to ask myself: is our collective reaction to her comment kind of sexist?
The context of Emma's self-partnered quote is that she discusses the pressures people feel when they approach 30. She said, "…there is suddenly this bloody influx of subliminal messaging around. If you have not built a home, if you do not have a husband, if you do not have a baby, and you are turning 30, and you're not in some incredibly secure, stable place in your career, or you're still figuring things out… There's just this incredible amount of anxiety." That pressure extends to dating as well, as any person in their mid- to late-twenties would tell you. Emma is currently single, and apparently, worries about it sometimes. (Stars, they're just like… well, you know.) She said, "I never believed the whole 'I'm happy single' spiel. I was like, 'This is totally spiel.' It took me a long time, but I'm very happy . I call it being self-partnered."
That's it. That's the quote. It was a throwaway sentence in an interview that spanned 30 minutes, and you can watch the entire thing. Emma simply said that she calls being single "self-partnered". She did not say we all should start calling it that. She did not call for a rebrand of singleness. She was just like, "this is the little term I've made up for myself in my head." She might have even been saying it with a little bit of levity—to me, she appears to smirk a little bit after making that comment, but Vogue immediately cuts right after, so it's hard to tell if she was being serious or not. I took a screen grab so you can judge for yourselves (the comment occurs around 28 minutes into the video).

In any case, it's not like Emma Watson is out here campaigning for "self-partnered" to be a valid relationship status on Facebook (sorry, FACEBOOK), or like, your taxes. So should we really be trolling her this hard over one comment?
Not to mention, saying you're "self-partnered" is really just a fancy way of saying you're dating yourself, or focusing on yourself. The idea of "dating yourself" is one, a concept everyone understands is not to be taken literally, and two, very conventional dating advice! A Google search for "date yourself" produces a slew of results, including an article titled, "You Don't Need A Boyfriend — Here's How To Date Yourself". So, is Emma even off the mark here with this comment? I'm going to argue no, she isn't.
And, as other people point out, the self-partnering thing is one comment she makes in the context of a pretty long interview.
This was a 30-minute interview where Emma Watson talked about activism, Britain's colonial history, and white feminism, among a host of other socially relevant topics, and you idiots chose this throw-away comment she made at the very end as the headline, devoid of any context??

— hwasa rights advocate (@hwasaqueendom) November 6, 2019
I mean, that tweet pretty much sums it all up right there. Vogue made a conscious choice to frame their interview this way, and make it seem like this self-partnership comment was the most interesting piece of commentary Emma had to offer. Even the title of the video purposefully dumbs the interview down: "Emma Watson Talks Turning 30, Working With Meryl Streep, And Being Happily Single". I guess "Emma Watson Talks White Feminism, Education Reform, and The State Of The World" just wouldn't have the same ring to it. On the one hand, this was a clickbait-y choice that was clearly successful, given how many people are talking about it. On the other hand, it's kind of f*cked up.
I do understand the strategy, though. "Self-partnered," as many were quick to point out, smacks of the famous "conscious uncoupling" comment Gwyneth Paltrow made in 2014 in a Goop newsletter when referring to her and Chris Martin's decision to divorce.
Move over "conscious uncoupling," a brand new term for something we already have a word for is taking center stage. https://t.co/yAWYdZDDqT

— Slate (@Slate) November 6, 2019
But what is even the appeal of calling back to Gwyneth's words? On the surface, the instances appear the same: a rich Hollywood type acting pretentious, making up a term for something we already have a word for, in order to try to put a positive spin on it. Making fun of celebrities is a national—nay, international—pastime. And while I feel the impulse to draw comparisons, are these instances the same? One offhand comment is hardly an entire blog post. And Emma Watson is hardly Gwyneth Paltrow, someone who's become known for her hilariously inaccessible gift guides and $200 moon dust breakfasts—in other words, for being out of touch. It doesn't matter, though—the quickness with which people descended on Emma Watson shows how eager we are to come for a woman. We take delight in it, even. When was the last time we saw a reaction like this when a man said something boneheaded in an interview? That's not a rhetorical question—I'm asking because I seriously can't remember. Pete Davidson said in an interview that he used to jerk off to his then-fiancée, Ariana Grande, and outlets just said he was being "pretty explicit". If you ask me, that's a hell of a lot worse than what Emma said. I guess Charlie Sheen got massively trolled back in 2011 for his bi-winning comment (damn, that was 2011? I'm old), but this is hardly the same caliber of ridiculousness. We love to tear down celebrities, but we especially love to tear down female celebrities.
It's also not lost on me that in both cases with Gwyneth and Emma, the offending comments both had to do with their relationship status—and, even more specifically, about being content with their relationship status even though that status did not include a male partner. God forbid Emma be content with being single, or Gwyneth be active in the choice to separate from her husband. And the crazy part? Emma says in the interview (that apparently nobody bothered to listen to) that she is, in fact, dating! She says, "I'm going on dates", though she's not dating one specific person. Again, this comment was blown way out of proportion.
I can't really say for sure until a male celebrity makes a similarly silly remark, but I can't help but wonder how much gender factors in here. And as much as I will be referring to myself as self-partnered from now on, I feel like ultimately Vogue and the rest of us did Emma Watson a disservice by distilling a half hour worth of insight and introspection into one made-up term. It's the easy thing to do, for sure. And it's fun. But was it right?
Images: Shutterstock; slate, hwasaqueendom / Twitter; British Vogue / Youtube
Emma Watson Wants To Rebrand Being Single As 'Self-Partnered'
Time after time, we've seen ways that celebrities are just like us, and apparently that includes being on their bullsh*t about relationships. In a new interview with British Vogue, Emma Watson discussed how she's feeling about life just a few months before her 30th birthday. Personally, I still think of Emma Watson as a 16-year-old Hogwarts student with frizzy hair, so it's pretty jarring that she's almost out of her 20s. Like, I feel very old right now. But anyway, back to her interview. She told the magazine that while she didn't used to understand the big deal about turning 30, she started to feel it once she turned 29 earlier this year. She said, "If you have not built a home, if you do not have a husband, if you do not have a baby, and you are turning 30, and you're not in some incredibly secure, stable place in your career, or you're still figuring things out… There's just this incredible amount of anxiety."
Wow, so I feel like Emma Watson didn't need to personally come for me like that, but I guess it's comforting that even a huge celebrity like her feels the same societal pressure to have your sh*t together. But also, if Emma Watson does not consider herself at a stable place in her career, then what the f*ck am I doing? But from there, Emma Watson talked a bit more about her view on relationships, and that's where she lost me. She said that it took her a long time to believe that anyone is really happy without a partner, but now said, "I'm very happy . I call it being self-partnered."
Self-partnered? Really? I have a tendency to be kind of cynical when it comes to relationship talk, but this just made my eyes do a full 360-degree roll. I'm happy that Emma Watson is in a good place with herself, but this feels like some Goop "conscious uncoupling" type of bullsh*t. If there's really nothing wrong with being single, just say you're single! I can't speak for everyone, but I've never thought of "single" as any kind of insult or negative concept, just a descriptive word to describe a relationship status (or lack thereof). So coming up with a fancier word that means the exact same thing doesn't actually change the way you feel about your relationship status. If you're sad about being single, you're not going to feel any better about your self-partnership.
This need to rename and rebrand normal concepts like breakups and being single as fulfilling, spiritual journeys is a trend that's popped up frequently in the social media era, when people are desperate to show that everything they do has substance. While I often just laugh at the pretentious language that influencers spout and keep scrolling, it's not always so trivial. Just look at the whole idea of "wellness" and "self-care." Sorry, but ordering $40 of food from Seamless for dinner isn't some kind of radical statement about loving yourself, it just means you weren't in the mood to cook dinner. Sometimes it's just not that deep. These Instagram buzzwords originated as trendy ways to describe simple concepts around health and fitness, but they've contributed to a society that now spends trillions of dollars every year on wellness products, most of which don't actually work (looking at you, Flat Tummy Tea).
The temptation to rebrand familiar concepts with Instagram-friendly terms isn't limited to wellness. Earlier this year, Cosmopolitan declared that "zombie-ing" was the newest dating trend, supplanting ghosting as the behavior that sh*tty men could be expected to exhibit. As we pointed out, though, zombie-ing was quite similar to haunting, a term originated in 2016, and even then, the concept of a guy ghosting you then not leaving you alone wasn't new. It can be fun to use new terms to describe a behavior, but there's no reason to pretend that the behavior has not been done before.
Now, I'm not blaming Emma Watson for the toxic wellness culture in our society, or for Cosmo reinventing the wheel with their dating terms, and she didn't even really do anything wrong here, but I still think the idea of self-partnership is dumb. Since her interview came out, she's gotten unnecessary hate from plenty of sad white men on social media, who claim that she's just too ugly or annoying to get a man. Yeah… I can objectively say: no. Emma Watson is gorgeous, her humanitarian work speaks for itself, and I'm sure she's richer than any of us ever will be. I don't think she'll have any problem getting a man whenever she's not feeling her self-partnership anymore.
Even if you are Emma Watson, telling people your partner is Emma Watson is pretty impressive. https://t.co/SJvNXcgpDo

— Michelle Milliken (@MichelleyM) November 5, 2019
But many more fans have taken to social media to applaud Emma's attitude about relationships, saying that she's helped them feel better about their own relationship situation, and that they too will refer to themselves as self-partnered from now on. Objectively, in the big picture, this is a good thing. So many people struggle with depression and mental health issues, and if Emma Watson's words help them through a tough time, that's great. But in general, we should focus more on how we're feeling, rather than which empty buzzword we use to reframe those feelings. At the end of the day, single is single, and there's nothing wrong with it.
Images: Jstone / Shutterstock.com; michelleym / Twitter
Annoying Things People Say To Single People At Weddings (& How To Respond)
Now that spring has finally sprung, that means wedding season is officially underway! For those of you who are still too college young to understand what wedding season is, I'd advise just ditching all of your friends now and getting out while you still can. Trust me, it's better this way! For those of you who do know all about wedding season, then you know this is the time of year when you must forgo all of your free time, vacation days, and any savings you may have managed to build up in favor of lavishly celebrating a couple whose great love story started with the groom sending the bride a "u up?" text 6-8 months after drunkenly hooking up with her at a bar. See what I mean about getting out while you still can, kids?
Now, don't get me wrong—wedding season can sometimes be fun (there's always the open bar), but as someone who has never attended a wedding and/or wedding season event with a date, trust me when I say that this godforsaken season can be pretty treacherous to navigate at times. Luckily for you betches, I've developed a "Stop, Drop, and Roll" safety method but for, like, attending anything wedding themed as a single AF person. Since I'm more of a show not tell type of person, I'm going to throw a few scenarios at you and give some tips as to how to handle said scenario. These tips might go against basic wedding etiquette, but let me tell you they are absolutely essential when you're out there in survival mode. You're welcome.
Scenario #1: Someone Asks If You're Dating Anyone
Survival Tip: Be more vague than a Poosh article.

I recently attended a friend's engagement party and was asked no less than 15 times by various people at said party if I was "dating anyone." And before you ask, no, apparently bringing up the guy who ghosted you in the winter of 2016 doesn't count as "dating" anymore. I've never felt more personally victimized tbh. This is always a fun scenario because in theory asking about someone's love life should be a harmless but fun question. In theory. But that theory goes completely out the window when the question is posed at an event where everyone is paired up like Noah's freaking Ark and you're the last sad muskrat on earth. Like, do these people think you would just show up to an event dateless if you had any other alternative?? Like I haven't been out here propositioning the guy who asks for my spare change outside of Starbucks every morning for this very occasion?? Sighs. That said, if someone does dares ask you this question just know that the key to getting out of that conversation alive (and with your dignity still intact) is to be vague AF. Like, vaguer than Kourtney Kardashian's instructions on what she does to get ready for a big night out. Say something along the lines of "I've been playing the field, just keeping my options for now!" and then run like hell for the booze. Works every time.
Scenario #2: Someone Tries To Give You Dating Advice
Survival Tip: Smile, nod, and haul ass to the open bar.

I'm going to bring up this engagement party again because it's still fresh in my mind. I didn't follow my own advice at one point in the evening and made the mistake of mentioning to the bride's older relative that I wasn't seeing anyone at the moment. She then proceeded to tell me that the reason I can't find a boyfriend is because my Claddagh ring is facing the wrong way! As if a ring, which I bought purely because I saw Buffy Summers wearing one so I wanted to wear one, has the power to make men stop ghosting me. I didn't have the heart to tell the old biddie that the general energy I put out into the world is somewhere between "burn it all down" and "break up with your boyfriend 'cause I'm bored", and it probably has nothing to do with the way I wear a ring on my finger. But, if it's not Aunt Edna trying to give you dating advice, then it will certainly be someone else so you should prepare yourself for this scenario. My advice is to smile, nod, and then haul ass to some corner of the party where you should proceed to chug whatever drink is in your hand. Being proselytized to is always more fun when you're drunk!
Scenario: #3: The Bride Tries To Set You Up
Survival Tip: Be mature about it. Hide in the bathroom.

I'm going to warn you right now, whether it's at the engagement party or the actual wedding, the bride will try and set you up with the only other single person in attendance. This didn't used to happen in my early twenties when more of my friends were single, but now that we're all pushing 30 *shudders* and I'm the last one in my friend group to stay single, it happens A LOT more. And before you say "oh, but that's so great of your friend to hook you up like that!" let me just tell you that they aren't setting me up with a guy who I might be compatible with. No, they're setting me up with any dude who has a pulse and a bare ring finger. As if we're the only two pandas at the zoo and everyone is waiting for us to mate. There's two ways to handle a scenario like this. One, you can lean tf into it and give the guy a chance (or, at the very least, a drunken makeout sesh). Or two, you can hide. The second method is my personal favorite because it combines two of my strengths: avoiding confrontation at all costs and drinking alone in bathrooms. The second part is optional, but highly encouraged. 
Scenario #4: You Make Out With The Bride's Younger Brother
Survival Tip: Deny, deny, deny

Speaking of drunken makeouts, what are weddings if you don't dishonor your family name at least once by hooking up with a relative of the bride or groom in plain sight of the entire wedding party? As a single person at a wedding, it's kind of your duty!! I've been introduced as the "blackout friend" at a wedding season event before, and you know what? You can't be offended if it's true. There's definitely been times where I've made out with people at weddings and had zero memory of said makeout until the next morning when the savage animals I call my best friends reminded me in between dry heaves and wishing I was dead. They're so sweet. The key here is to deny, deny, deny. Even if your friends present you with photographic evidence of said makeout (seriously, why am I friends with these people?) never stop denying it happened. You don't know her. End of story. 
So there you have it. Your survival guide for being single AF during wedding season. For those of you who are about to embark on this journey, stay safe out there, but more importantly—and I cannot stress this enough—stay drunk! Xo.
Images: Giphy (4)
7 Self-Care Splurges For Valentine's Day
If you're more likely to be celebrating Single's Awareness Day this February 14 than you are gushy, mushy, Valentine's Day, it's time to treat yo'self. Whether you choose to sit around in a face mask and eat chocolates or hibernate under a weighted blanket and sniff candles, we're here for you being your best and most single self. After all, the only person who can take care of your lonely ass is you. So, in the interest of treating ourselves, we present a round-up of self-care splurges we're 100% in favor if you blowing your paycheck on. Sure, you could spend your money on the half-off Valentine's Day candy on February 15, or you could spend it on some self-care that will actually help you and make you not feel like garbage the next day. Totally your call, though!
A Weighted Blanket
A lot has been said recently about weighted blankets and their ability to curb anxiety. What better time to test that theory out than Valentine's Day when you're single and your mom just reminded you that she isn't getting any younger and why can't you just give her the grandkids she so desperately wants?? Anyway, the Comfitude weighted blanket comes in heavy to soul-crushing (in a good way, not the actual terms) and several trendy colors (see: 50 shades of grey). I hung out under one while writing this list and, let me tell you, I feel smothered in a cuddly, warm way.

Comfitude Velvet Weighted Blanket in Grey
A Good Body Scrub
If you're trying to scrub away the stench of failure Valentine's Day and couples sh*t, the Sheamoisture Manuka Honey & Mafura Oil Intensive Hydration Hand & Body Scrub is amazing. It replenishes necessary oils (and love) to your sad dry winter skin while exfoliating. Plus, it's made with certified organic and anti-inflammatory ingredients to help soothe your body. Praise be. 

SheaMoisture Manuka Honey & Mafura Oil Intensive Hydration Hand & Body Scrub
Chocolate
I'm not even sorry. If you want to sit around and shove amazingly delicious artisan chocolate into your mouth come Valentine's Day, you do you. Luckily, you don't have to resort to trekking to your local Walgreens and buying yourself a big ugly red cardboard heart. Dandelion Chocolate, Dick Taylor Chocolate, Maverick Chocolate, French Broad Chocolate, Raaka, and Ritual Chocolate all create delicious, incredible, bean-to-bar chocolate that you can feel good about indulging in. They also all ship said goodies, so there's no excuse not to order some.

French Broad Chocolate Signature Collection
An Adult Candle
I know that perusing the $5 deals on the outer rims of Target is appealing, but in the interest of adulthood and treating yourself to something really nice, it's time to invest in a good candle. We love NEST Fragrances because they're clean, they smell like what they're supposed to smell like, and they're just expensive enough for me to feel fancy when I light one.

Amazon NEST Fragrances Votive Candle
Fancy New Clothes
You know when you find an online boutique and you're all, this sh*t gets me? That's me and Sezane. All of the clothes are beautiful, and although they can be a bit pricy, they come packaged in the cutest, prettiest, most amazing boxes complete with stickers and postcards and a little linen bag.  I highly recommend any and all of the dresses; just be sure you get your measurements right, as those European sizes can be a bit tricky.
A Pamper Box From Winston Flowers
Drop major dollas on yourself because you f*cking deserve it. The Spa Indulgence box from Winston Flowers includes Formulary 55 bath bar in sweet pea and clover, paired with a rosehip and clay facial mask. There's also an exfoliating Sasawashi towel, plus a skin brightening citrus and lavender body polish and a smoothing monoi and jasmine body cream by Birchrose. But wait, there's more. They've also included Bee Raw's white peony tea and orange blossom honey which you can drink in the natural clay mug from Pigeon Toe Ceramics. It all comes in a gorgeous crate that's likely going to be reused as decor in your apartment (not mad about it). There's even an air plant for you to kill, and a hand-poured Winston Flowers soy candle.


Winston Flowers Spa Indulgence package
A Comfy Pillow
I'm not going to ignore the need for throw pillows and general coziness when self-care is the topic. Seriously, upping your comfort game with cute pillows, blankets, and soft sh*t can do wonders for your mental state. The Betches Gangsta Napper pillow is honestly one of my favs, since it's super cute, super soft, and goes nicely with my decor.

Shop Betches Gangsta Napper Throw Pillow
Images: Roberto Nickson / Unsplash; Comfitude; French Broad Chocolate; Amazon; Sezane; Winston Flowers; Shop Betches
Betches may receive a portion of revenue if you click a link and purchase a product or service. The links are independently placed and do not influence editorial content
3 Signs You Shouldn't Bring Them Home For Thanksgiving
Ah, it's that time of year again. Even the most die-hard "summer is my season" person is forced to admit we're heading into winter, fast. And that means whatever summer fling (congrats!) or winter cuff (less congrats because that's very basic of you) you've picked up is now entering a weird stage. If they've stuck around this long, you can't exactly keep them in the casual hookup zone. (And I'm assuming you like them if they're still here, so why would you want to?) Faced with the prospect of Aunt Susan slipping you egg freezing pamphlets, it's tempting to bring anyone home for Thanksgiving who's willing. 
But we both know that's a bad idea. Anyone you bring home for Thanksgiving, you'll be asked about for years to come. And your own memories of the holidays could well be tainted by a particularly good or bad visit. So, here are the signs your new relationship isn't ready to be a part of your Thanksgiving. You'll thank me later.
Your Sober Interactions Are Rare
Look, no one here is arguing that Thanksgiving is a sober event—far from it.  But, generally speaking, there are at least a few hours when everyone's still lucid. (This is the portion of the day when your mother will glare at you for "smelling like alcohol.") So, have your interactions in this relationship been mostly inebriated? If so, Thanksgiving is not a great time to discover that sober, the person you brought is actually boring AF, or worse, very rude and kind of racist.
This goes for all layers of a "mostly drunk" relationship. If you've been increasingly branching out into brunches and daytime hangs and it's looking like this could be for real, that's awesome and I'm genuinely very happy for you. But if you're only a month into that vibe, seriously consider how much you know about this person. Is it enough that you want to answer questions about them once a year until eternity? Probably not. You should have been hanging out sober long enough that you've agreed upon a "how we met" story. One that glosses over the 16 vodka sodas and waking up his roommate to borrow a condom.
If you suspect they'll say this to one of your aunts, definitely don't bring them home for Thanksgiving: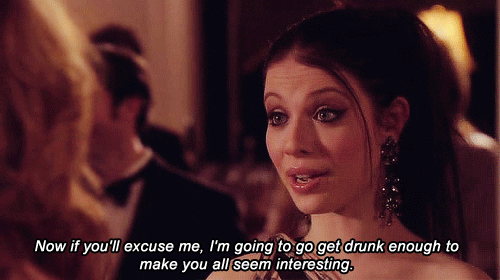 You Haven't Discussed Your Family
For reasons totally unrelated to my aforementioned alcoholic fun-loving tendencies, I have a minor breakdown at most large family events. Maybe it's the uncle who can't understand that ANY comment about my weight is not appreciated. Or my mother saying something that sounds like a compliment—but later reveals itself as an intricate jab. Either way, family time is f*cking tough.
So, who do you want there when that stressful point hits? Will they react poorly if and when you lock yourself in your old bedroom with a bottle of wine? Or will they tell you they're on your side and commiserate with family sh*t of their own? Ideally, the person you bring home will be aware of underlying tensions, and ready and willing to calm you down. And the only way to prepare someone for family sh*t, sadly, is to have those conversations. If you don't tell them what to expect, you can't even really be pissed off when they're surprised by it. (I mean, you can be, but you'll have to apologize later, which sucks.)
So if you haven't gotten into those deeper conversations—or you have, and you felt like they didn't or couldn't respond correctly—maybe think twice before bringing them home. Their feelings aside—and believe me, they'll have some—it'll be an added stressor for you. Don't bring someone home if you're just going to worry all night that you're scaring them off.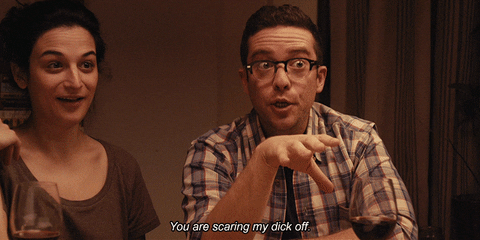 They Haven't Asked What You're Doing
It's November, people! Extenuating circumstances aside—i.e., they're working through the holidays, they're not close with family/not American and therefore this holiday genuinely isn't a thing for them—they probably have at least one Thanksgiving invitation insistently re-appearing on Gmail. If they're anything like me, their family has booked them out months in advance with regular death threats for non-attendance. (In case me writing this article doesn't make it clear enough, my family is not exactly chill about holidays.) Part of the reason that people enter relationships is often for exactly this reason. They want someone to take home for the holidays. Or just someone to spend time with around the holidays and feel less cripplingly lonely when love songs play on the radio Spotify.
So, if the person you've been seeing has kept eerily quiet about the idea of going home for Thanksgiving, it's a pretty sure sign that—sorry—they don't see you being a part of it. This doesn't mean the relationship is doomed. It's perfectly normal not to want to involve your family with a relationship that's still new. It's just a sign of where they're at, and something you should pay attention to—especially if you had thought you were in a more serious place.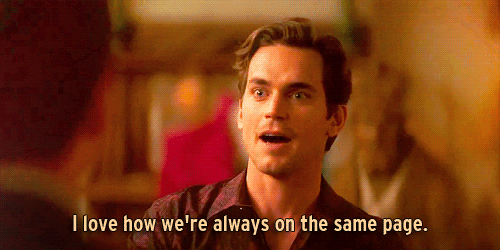 So, if you're with someone who's been sending you calendar nudges for November 22, knows which grandmother expresses love through attacks on your character, and has seen you sober more often than drunk—by all means, invite the f*cker home. Shove it in your smug cousin's face who brought home her high school sweetheart for five years and said "don't worry, I'm sure you'll find someone" while eyeing your fourth piece of pie. But if you think the visit will put undue stress on both your relationship and your time at home, it's so not worth it. Not bringing someone home for Thanksgiving doesn't mean you're over. And in many cases, choosing not to spend it together means you have a shot at still being together next year. Choose wisely, and don't forget the wine.
Images: Giphy (3); StockSnap / Pixabay
'Text Me When You Get Home' Is The Book You Need To Read If You're Single On Valentine's Day
One Thursday night, my friends and I went to happy hour, as we often do, setting our sights on a douchey sports bar in the hopes of finding the slightly overweight frat alumni of our dreams. On the way to the bar, we were discussing the post apocalyptic wasteland that is dating in 2018. You know what I'm talking about— "I'm never getting married," "I'll be single forever," "I might really kill it in the second round, when everyone has divorced their first spouse and is looking for their second marriage." Just me on that last one then? Whatever, see y'all at the altar in 20 years when I'm looking fresh-faced and youthful because I haven't had a husband stressing me out for the past two decades.
"I'm 29," remarked one of my friends who's as single as the rest of us. "You guys can't complain until you're actually pushing 30."
Just then, a middle-aged couple walking in front of us turned around.
"I just turned 60," the woman said to us. So okay, maybe they were a little past middle aged—somebody let me know when the cutoff is. She continued, "And we just got married last year. You have a lot of time."
"Ohmigaaaahd, that's amazing," we all gushed simultaneously. I'd like to say we all were instilled with a newfound optimism about dating, but this is the real world (and New York City) that we're talking about. As soon as we got out of earshot, we all immediately rolled our eyes and started commiserating about how fucking depressing that was. So we're supposed to go on the same shitty dates and maintain unwavering optimism in the face of fuckboy after fuckboy for the next 30 fucking years? I'd rather set myself on fire.
If you read the above and are now checking over your shoulder to see if I was following you and your group of friends around, it's time you pick up a copy of Text Me When You Get Home: The Evolution and Triumph of Modern Female Friendships by Kayleen Schaefer. On the most basic level, it's a book about female friendships. Don't worry, when I first read that, I rolled my eyes too, but Schaefer quickly made me a believer. Have you ever introduced two friends who you both love, but who don't know each other? And you know how hard it can be to explain why you just know they'll get along, other than to say, "This person is literally the best, just trust me, you'll love her"? That's how I feel about this book. Nothing I can really say is going to sound like anything but a line ripped from a trailer for a Lifetime movie, so you're all just going to have to trust me—you'll love Text Me When You Get Home.
Schaefer's book is for any woman who's ever bragged about one of her friends to a complete stranger or had a girl crush or used the hashtag #squadgoals (whether ironically or not). It's for any woman woman who has even one friend who is also a woman—whether that be your mom, your sister, someone you met in middle school, your work wife, whoever. It's for anyone who's ever watched a sitcom in the past 10 years and thought, "Those characters are just like me and my friends."
In Text Me When You Get Home, Schaefer covers female friendships on every level: she chronicles the history of women being friends with other women (in Medieval times, for example, men literally did not believe women were capable of forming significant friendships with each other); she examines the portrayal of female friendships in popular culture; she recounts her own personal journey from Cool Girl to  Girl's Girl, and much more in between.
Text Me When You Get Home will restore your faith in your friendships, and maybe as a by-product, make you realize (again) that men ain't shit. Kidding (not really), but odds are it will make you look around and realize you're looking at things all wrong. It will make you grateful for whatever network of women you have around you, and if you don't have one—if you're one of those girls who "just gets along with guys better" because "girls are too catty"—you just might see the error of your ways. Kayleen Schaefer will (gently) school you on the myth of female cattiness and mean girls, not just through personal anecdotes, but through sociological evidence. You'll finish the book and immediately grab your phone to text your closest friends.
Any woman who's single on Valentine's Day—or any day, or any woman regardless of relationship status, really—needs to read Text Me When You Get Home. 
Text Me When You Get Home: The Evolution and Triumph of Modern Female Friendship is available here.